Marrakech had been high on my bucket list for quite some time. There is truly nothing that compares to the vibrant souks of the medina, the intricate architecture, the delicious tagines and fresh juices and the luxury resorts and spas you can call home during your visit. After spending four days in this beautiful city, I'm very excited to share my favourite things to do in Marrakech including the best activities, restaurants, and hotels.
The best things to do in Marrakech
What to do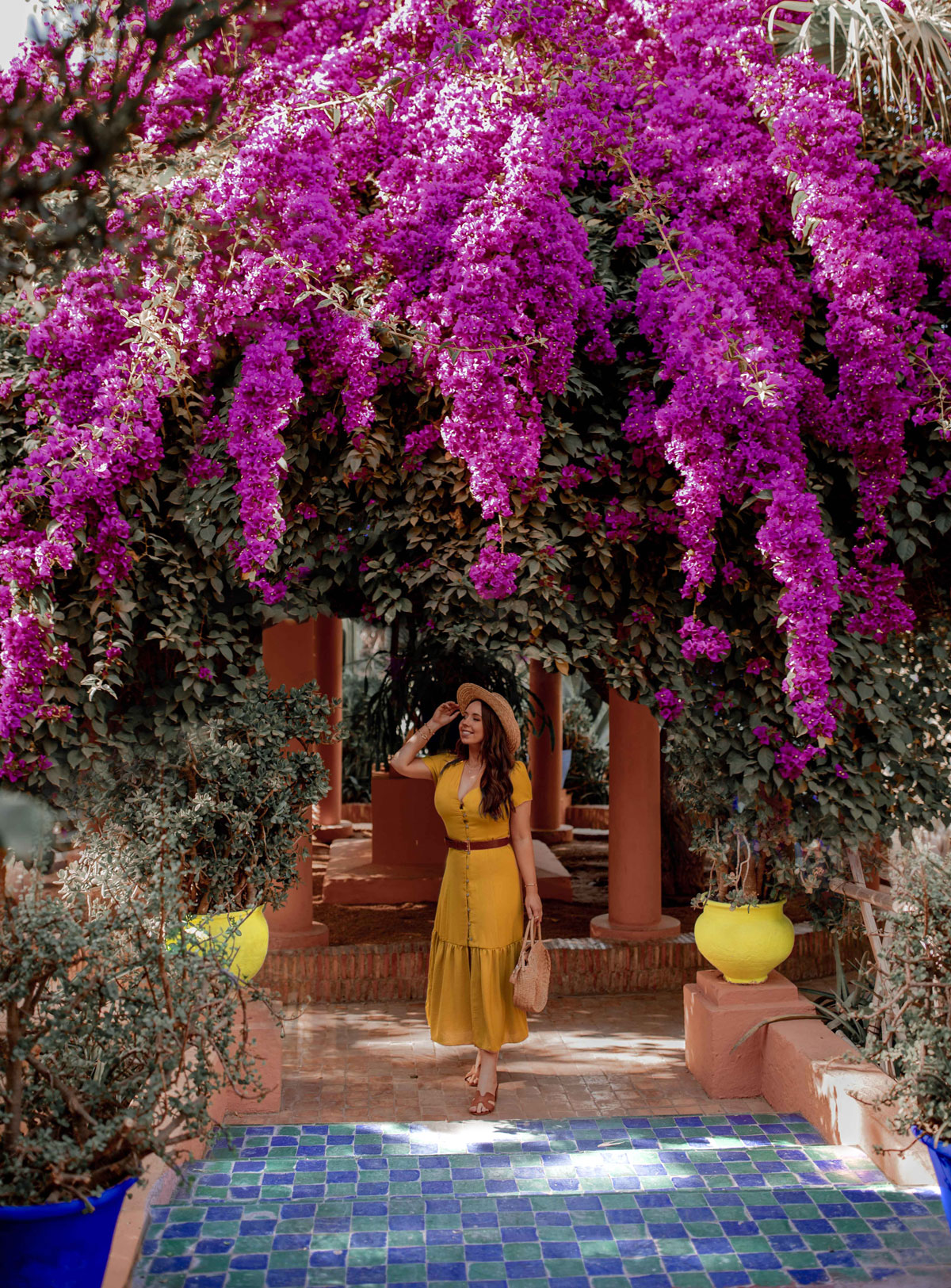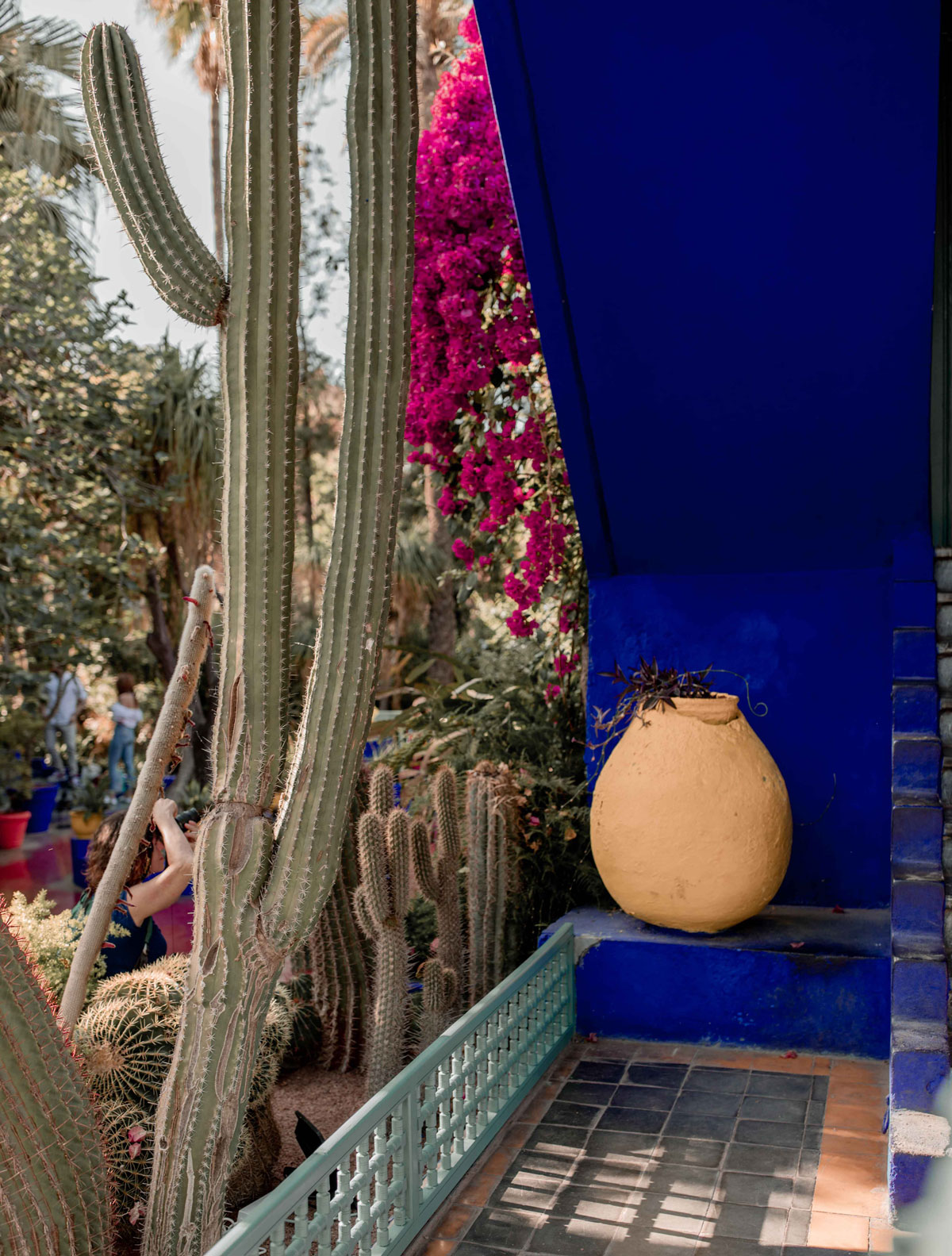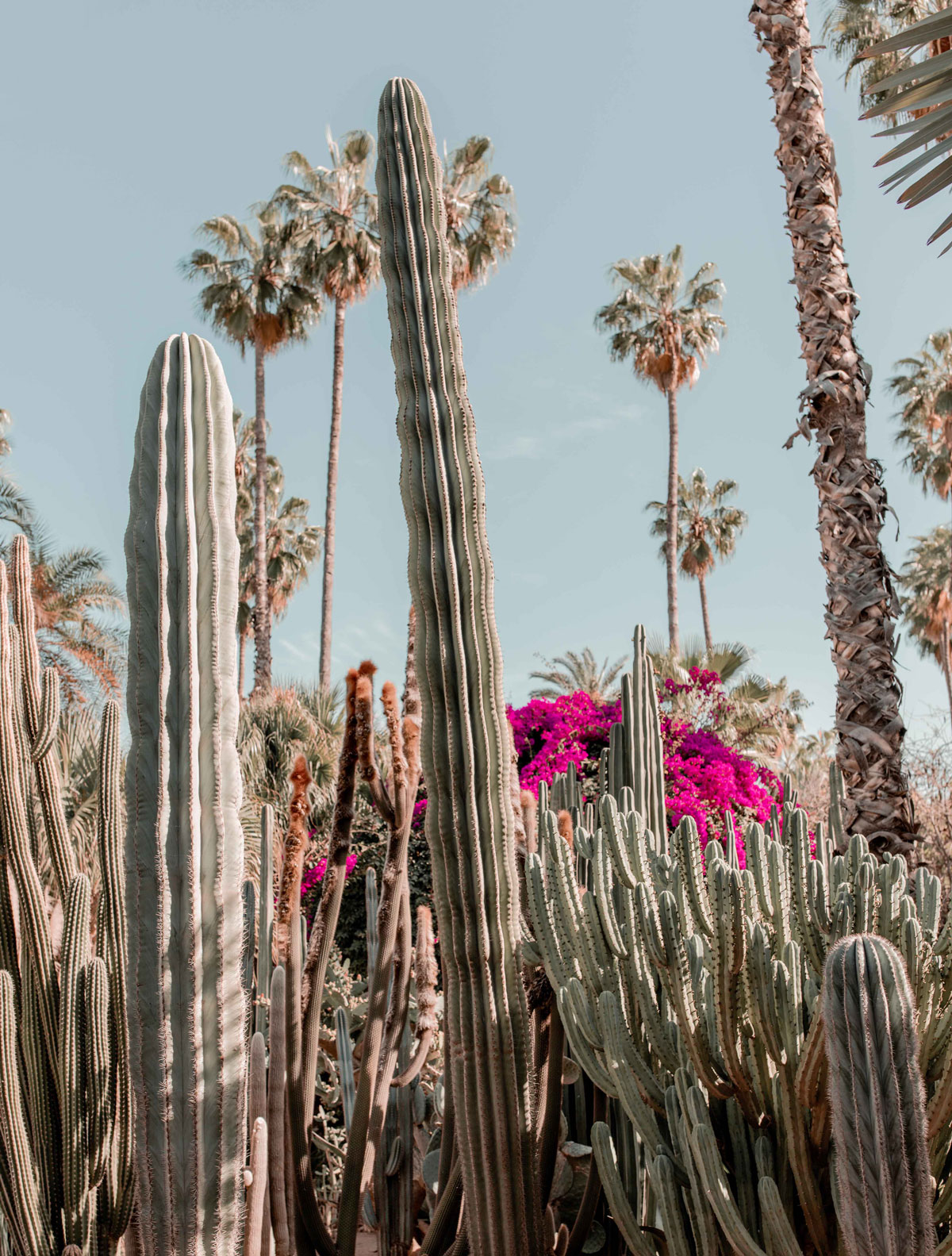 Le Jardin Majorelle
Rue Yves St Laurent, Marrakech 40000, Morocco
The most aesthetically pleasing garden in Marrakech where you can find ornate fountains, more cacti than you can poke a stick at and exotic birds singing sweetly. It's also the place where Yves Saint Laurent ashes were scattered. The gardens can get incredibly busy during the day so I recommend visiting 1 hour before it closes to take the time to enjoy the vibrant colours and wildlife. Then the garden will start to clear out about 10 minutes to closing time which is the perfect time to snap a pic once the crowds have disappeared. This perfect little oasis is definitely a must-visit and a sweet escape from the bustling Marrakech medina.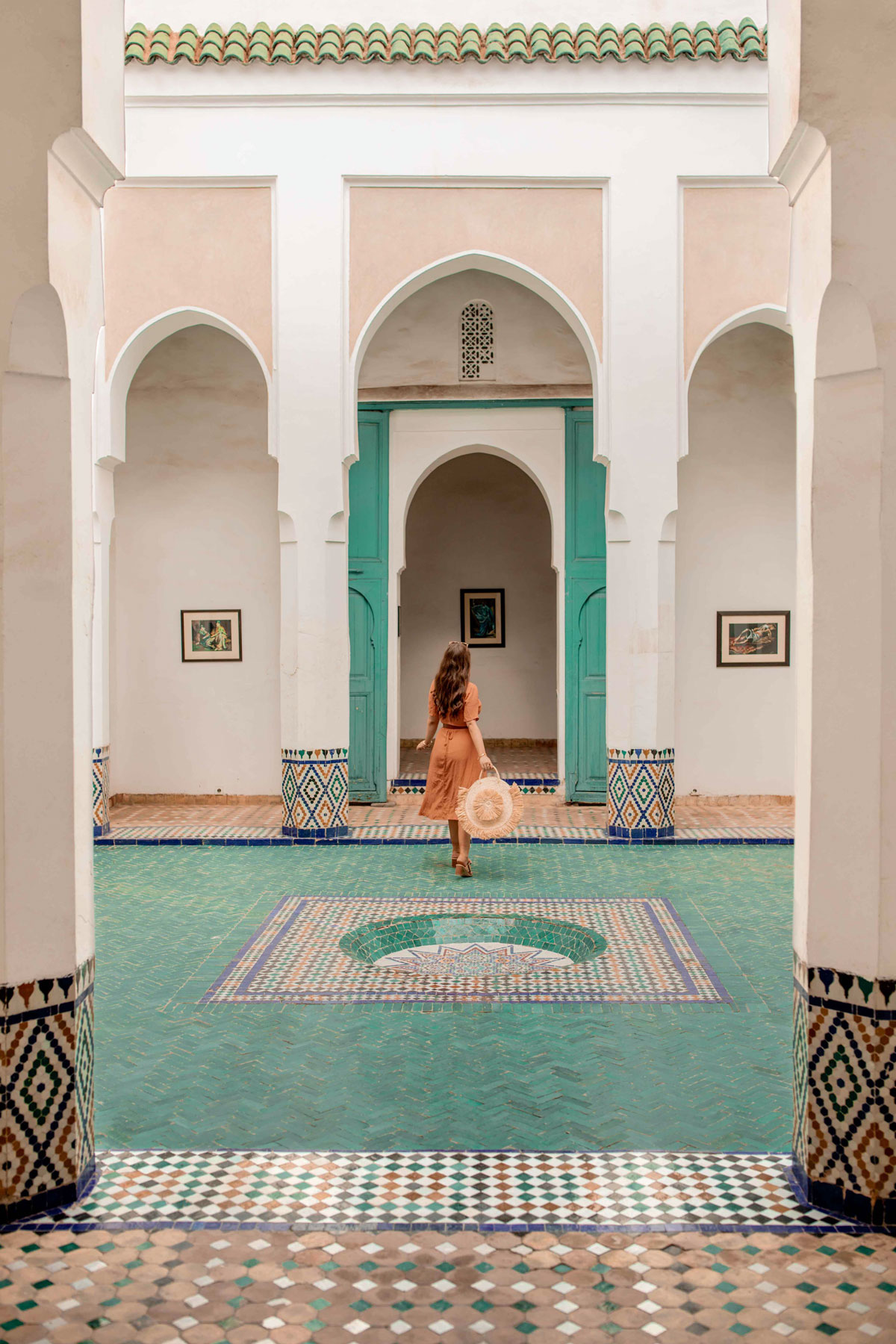 Marrakech Museum
Place Ben Youssef, Marrakech-Médina, Morocco
This art museum is located in the old center of Marrakech, housed in the Dar Menebhi Palace. Here you will find lots of modern and traditional art as well as the beautiful mosaic courtyard. Surrounding the courtyard is the building's patio which holds a collection of weapons, pottery, and beautiful Moroccan lamps. Entry is £2.40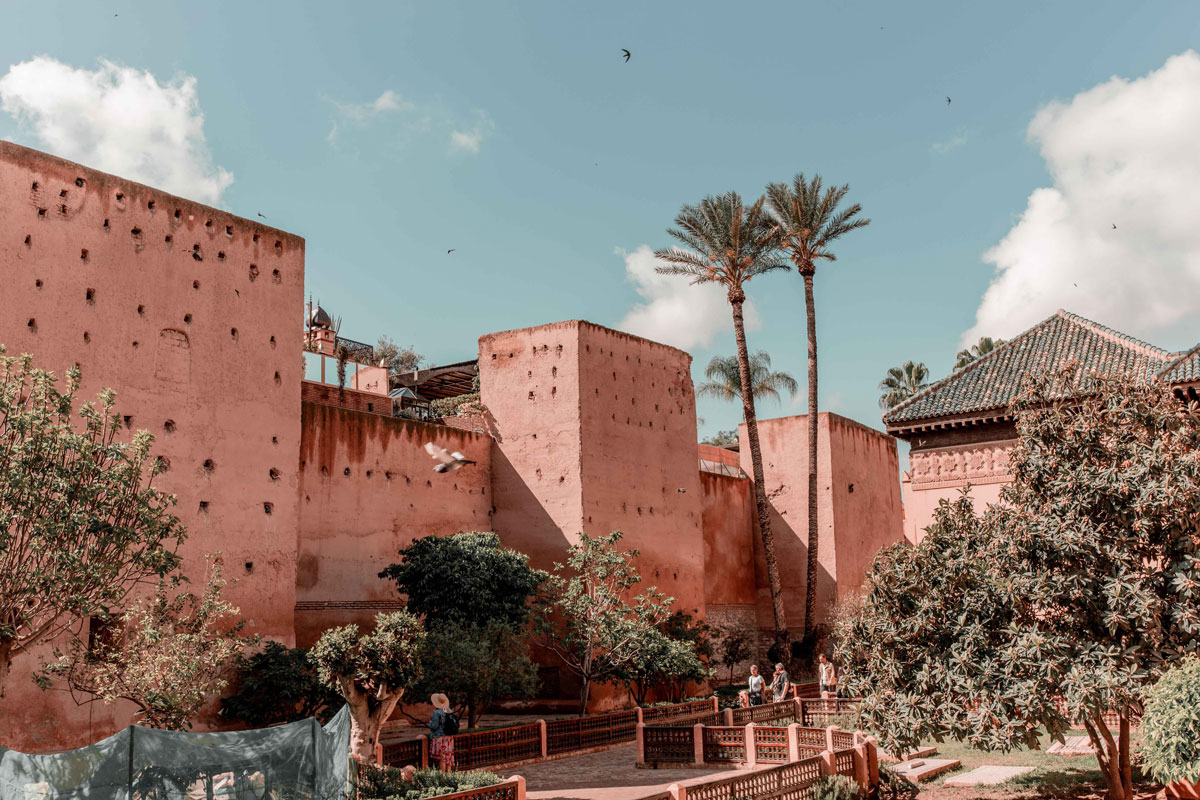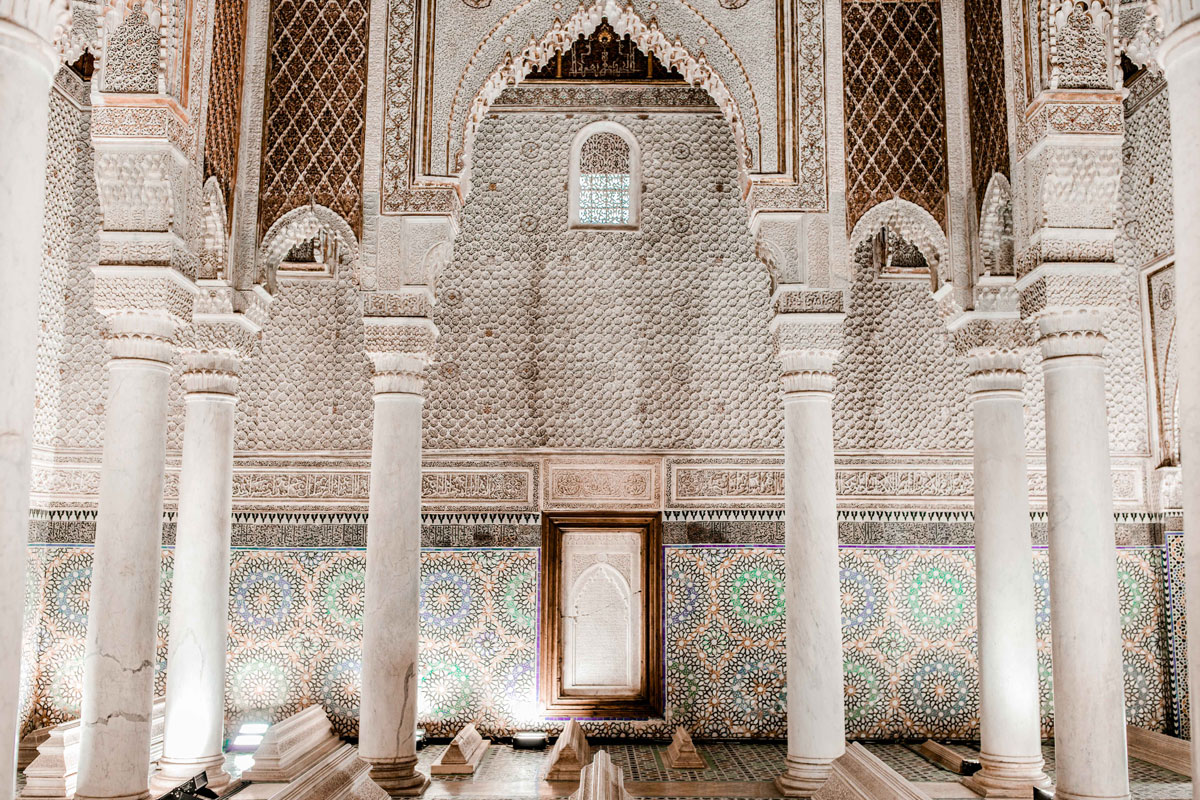 Saadian Tombs
Rue de La Kasbah, Marrakech 40000, Morocco
I know, I know – visiting a graveyard isn't usually high on my bucket list either but The Saadian tombs are well worth a visit. They are the only resting place of the Saadian dynasty and it's sultan Ahmad al-Mansur, although the tombs a popular attraction simply due to the sheer beauty of their ornate decorations. They consist of many opulent structures made of imported Italian marble and gold. I would recommend doing a tour with a guide so you can learn more about the history of this site. Entry is £1.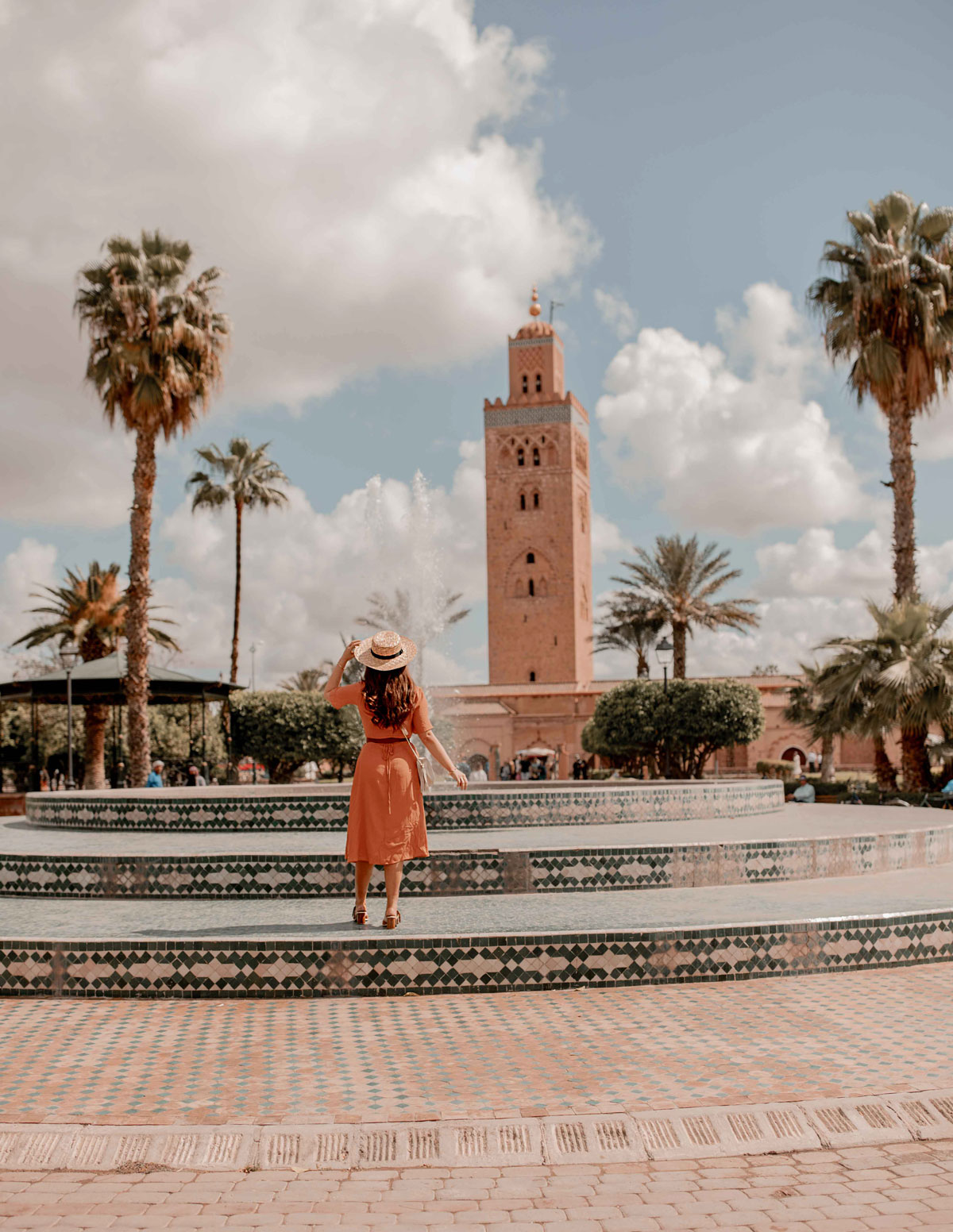 Koutoubia Mosque
Medina Jamaa El Fenna, Marrakech 40000, Morocco
If you only have time to visit one mosque during your stay, go to the Koutoubia Mosque, the largest in Marrakech. While the mosque is off-limits to non-Muslims, you can stroll around the building and the surrounding gardens to catch a good view of the 70-meter high minaret.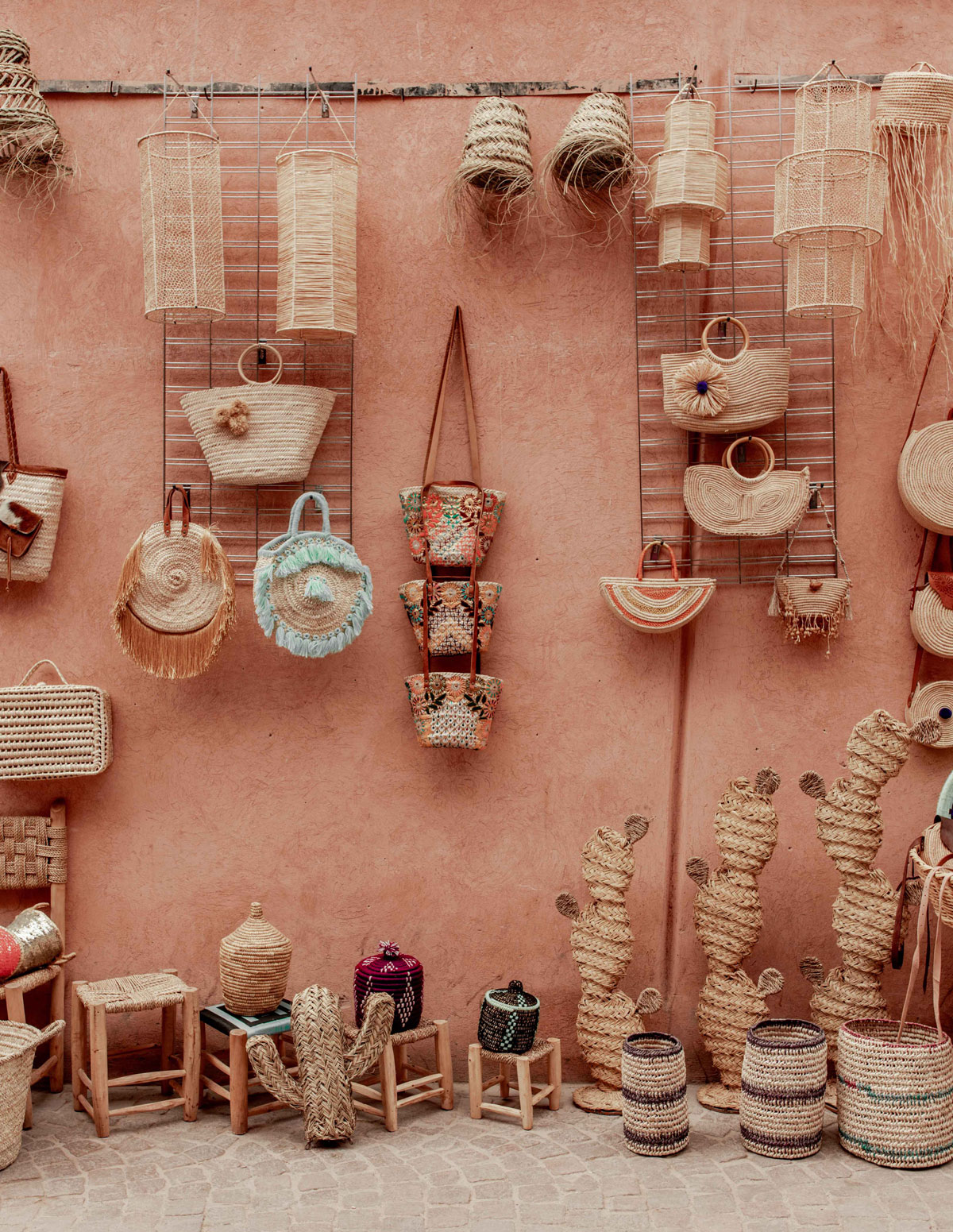 Shop the Souks
The souks and markets in the medina are the heart and soul of Marrakech. There are hundreds of connecting alleyways where you can get lost (literally, keep Google Maps on at all times) and you can find literally anything and everything from spices, antiques, jewellery, bags, carpets, pottery and silks. And just a heads up: you may have been told to be careful of the souks as you will get hassled. Honestly, it's perfectly safe and a simple smile and an audible "la, shukraan" (no thank you in Arabic) will keep most stall holders at bay.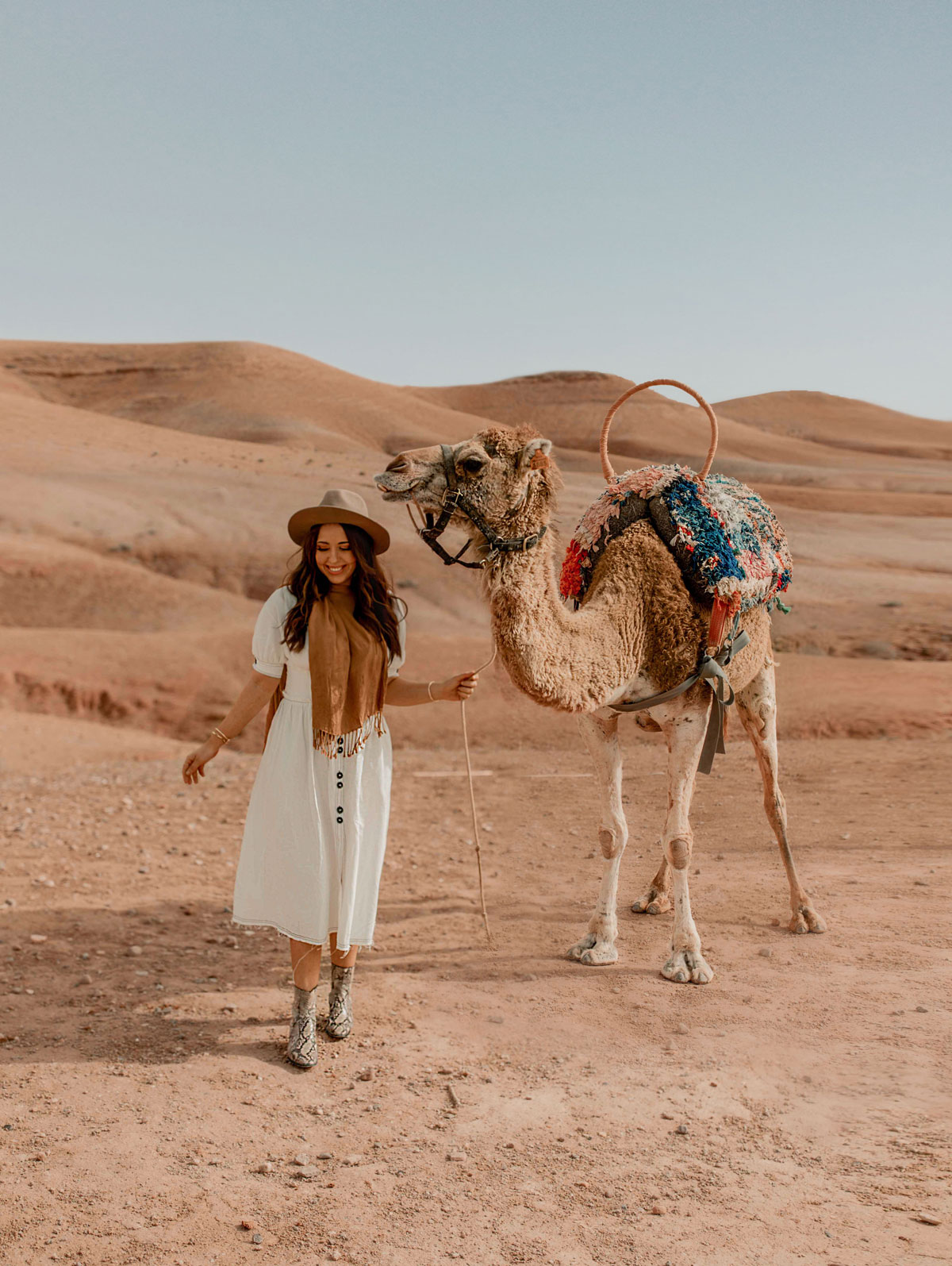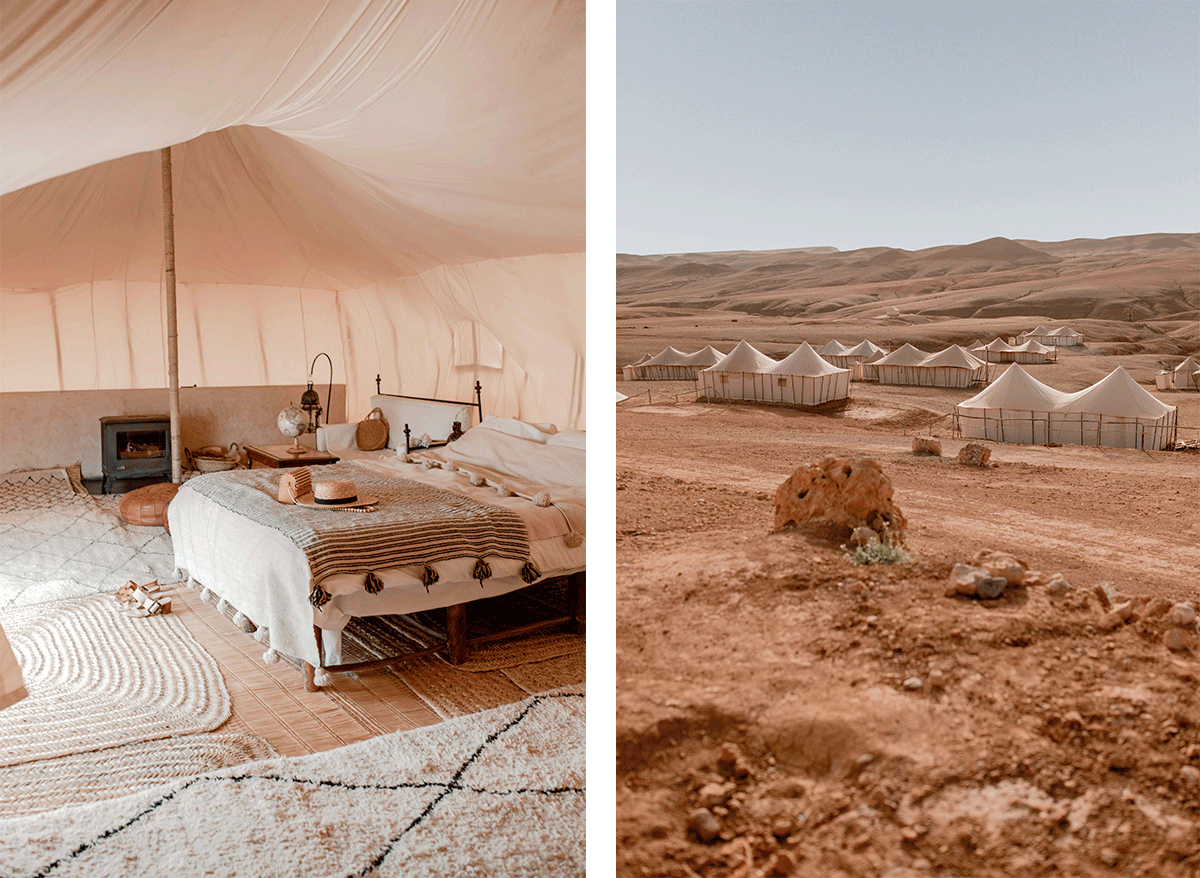 Trip to the desert
If you're not in Marrakech for long but still want to experience some desert vibes then I highly recommend a day trip or even an overnight stay in the desert. Short for time? FYI the Sahara is a long journey from Marrakech (unless you can afford a private jet in which case I am incredibly jealous) and can take around 9 hours.
The next best thing? The Agafay Desert is only a 45-minute drive from the medina and you can stay overnight at the Scarabeo Desert Camp. Dreaming of beautiful rolling red landscapes, sitting under the stars and rubbing shoulders with the most adorable camels ever? Read my full guide on Scarabeo Desert Camp here.
Spa Day

I'll say it louder for the people are the back: TREAT ? YO ? SELF ?. While Marrakech is beautiful and vibrant, it's also incredibly exhausting. Escape the madness of the medina and book yourself in for a spa day. Popular spots are La Mamounia and Es Saadi but are often booked out months in advance – so be quick!
They're also on the expensive side so if you're on a budget but still want to live the glam life, do what I did: visit the Sofitel Pool & Spa for only £19 for the day (that's in comparison to Es Saadi who were going to charge us £80 for 2 hours of pool access? No thanks!). Spa access is also free with any treatment. One pedi later at £40, we then spent the rest of the day chilling by the heated indoor pool with an endless stream of mint tea.
Where to Eat & Drink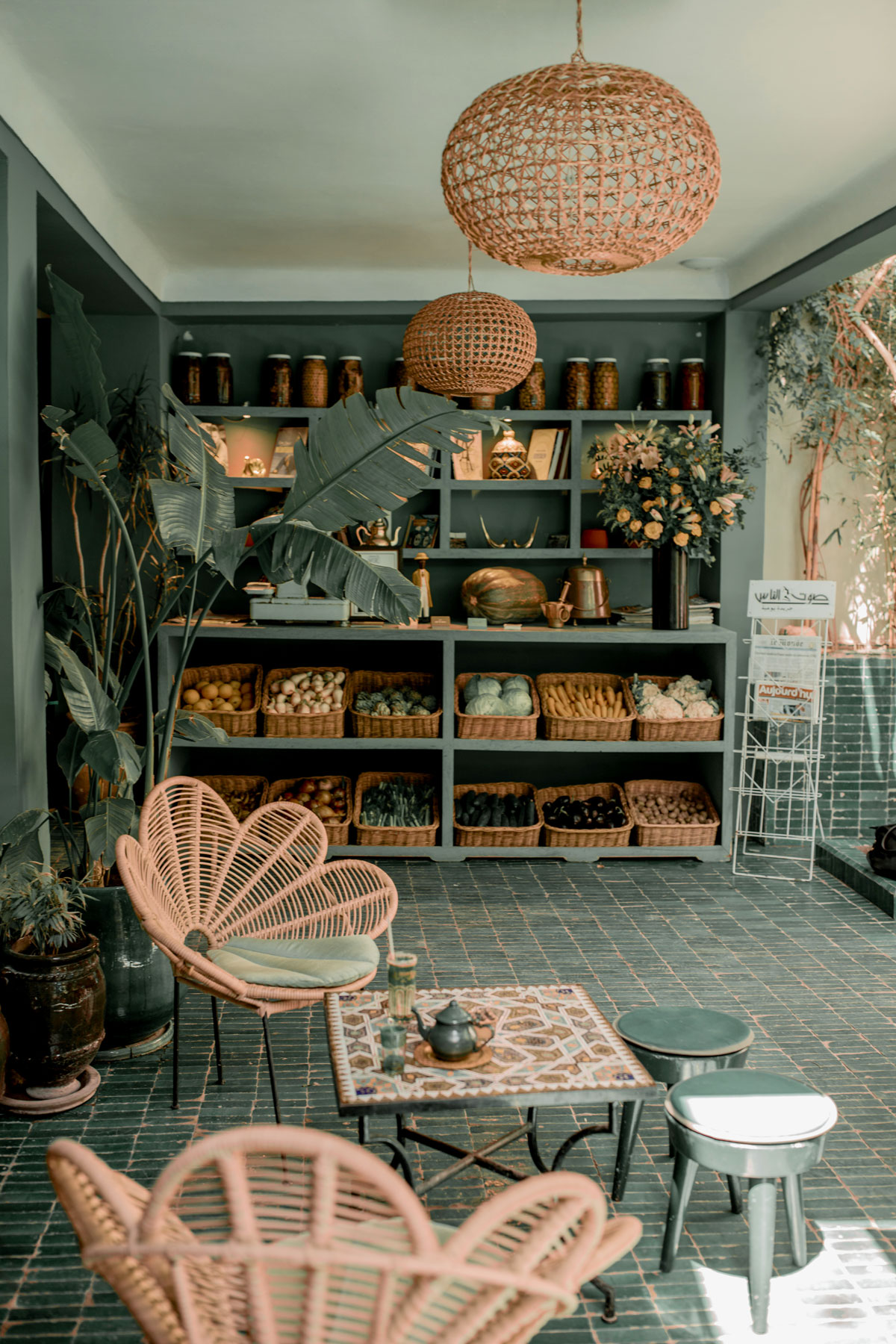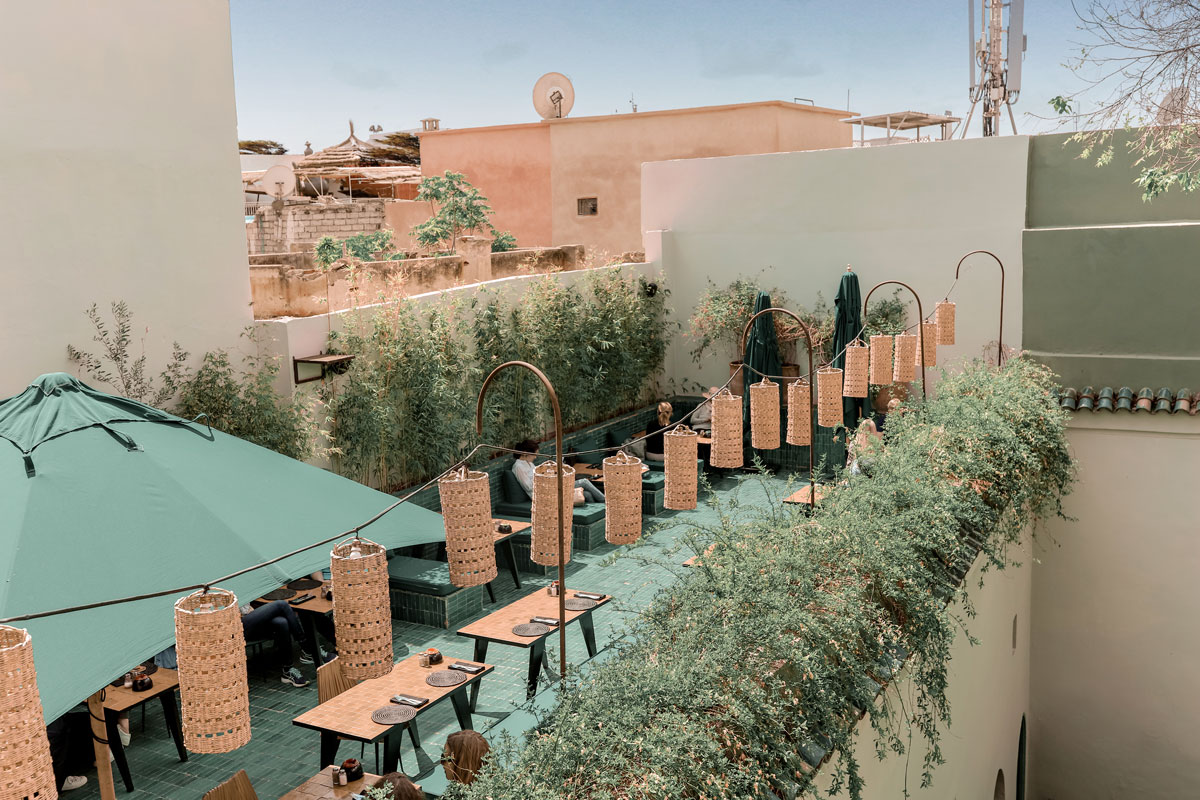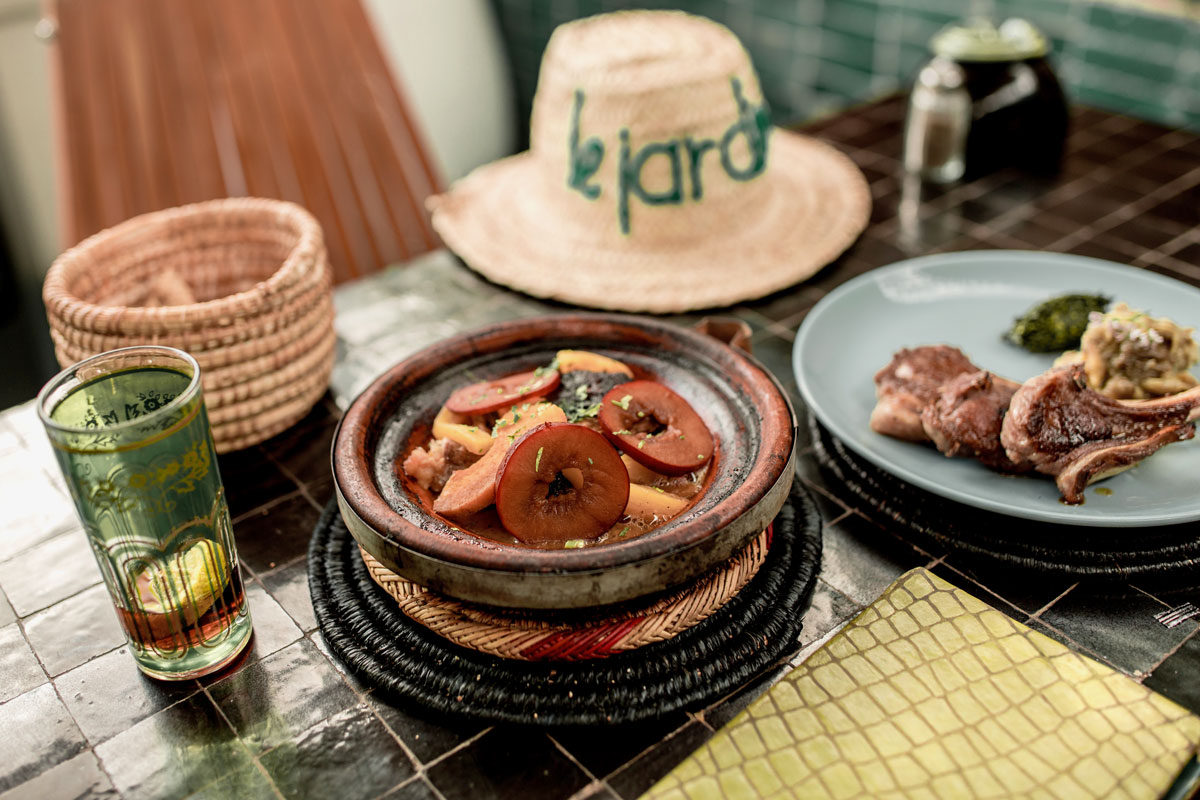 Le Jardin
32 Souk Jeld Sidi Abdelaziz, Marrakesh 40000, Morocco
A hidden oasis in the heart of the bustling Medina. At Le Jardin you will enjoy a luxury dining experience in a stunning tranquil setting. The restaurant is tucked away in an alleyway within the medina. As soon as you enter you are hit with a calming sea of forest green interiors – a stark contrast from the rose-pink you see everywhere else in the city.
There are several levels of rooftop seating which means you can eat in the sun and enjoy a cool breeze or find a shaded spot. We started lunch with Cheese Briouatte (a firm favourite) and Baba Ghanoush bruschetta for starters along with roast cauliflower hummus. For our mains, we devoured the Duck Confit with quince and picked plums and the Lamp chops with eggplant, pistachio and parsley pesto which was absolutely delicious. Don't skip dessert here either: I recommend the lemon tart.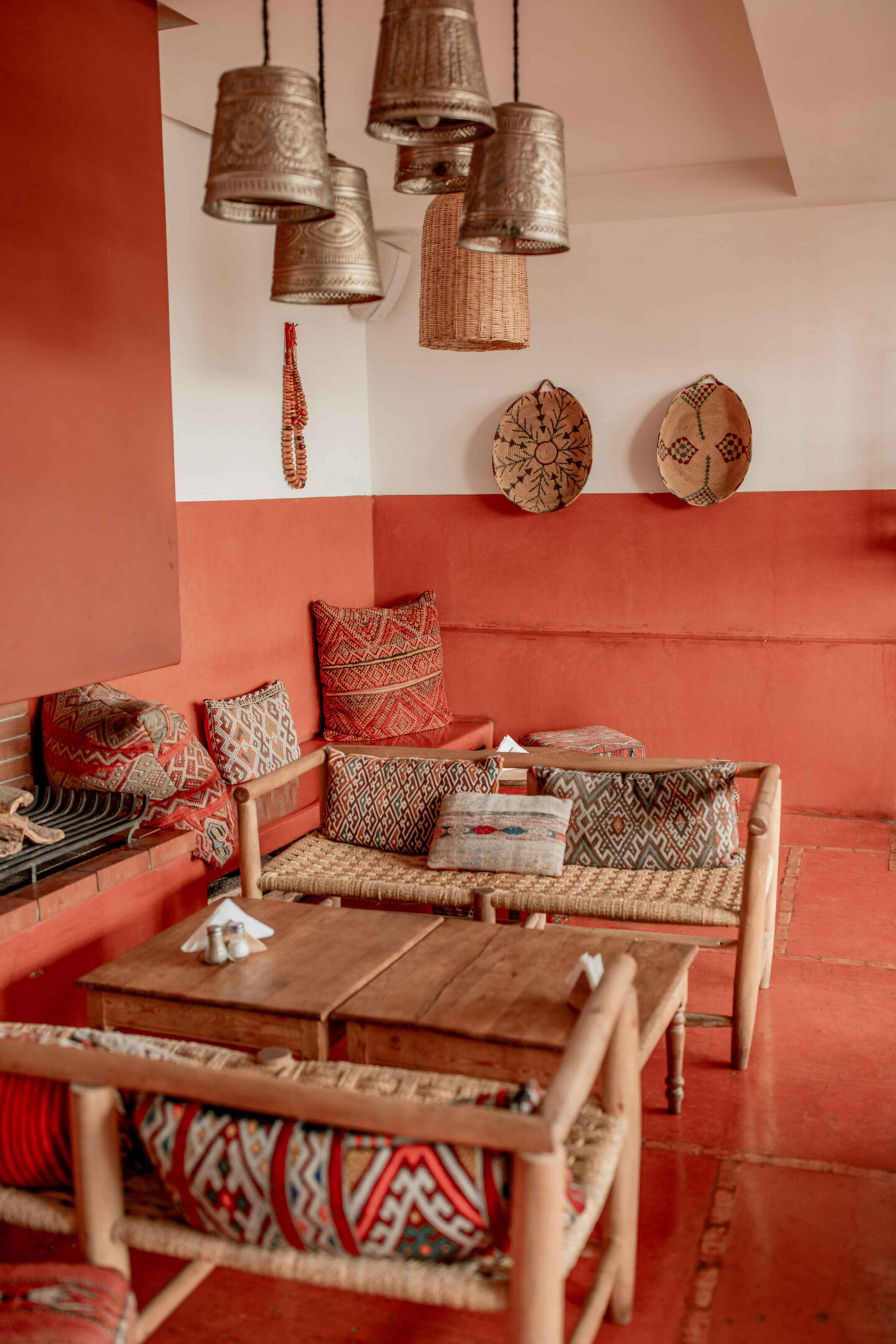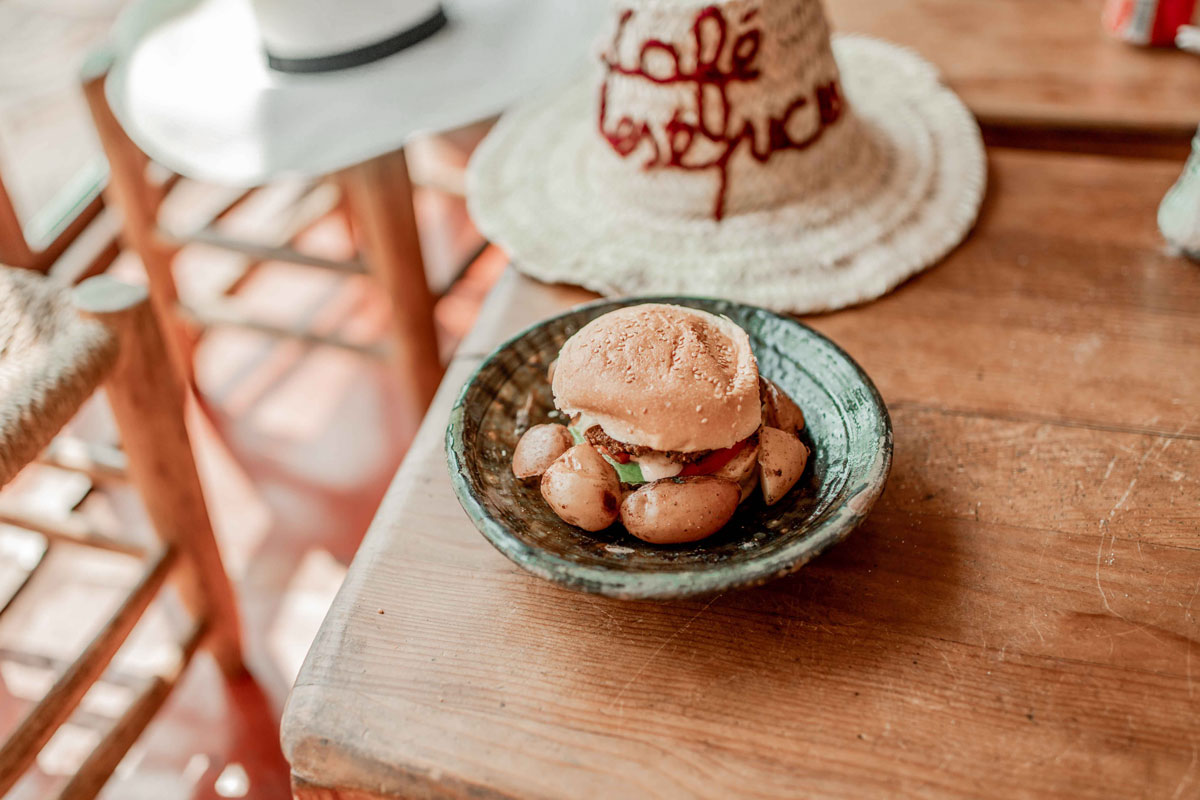 Café Des Épices
75 Derb Rahba Lakdima, Marrakesh Medina 40000, Morocco
This cafe is a go-to for cheap eats in Marrakech and the perfect spot to cool down with a cold drink after shopping in the souks. If you head to the second floor which is usually a bit quiet, you will get a perfect view of the markets below so you can people watch as you munch on some tagine. At Café Des Épices we went for the two burgers which were delish and washed them down with the traditional Moroccan Harira soup.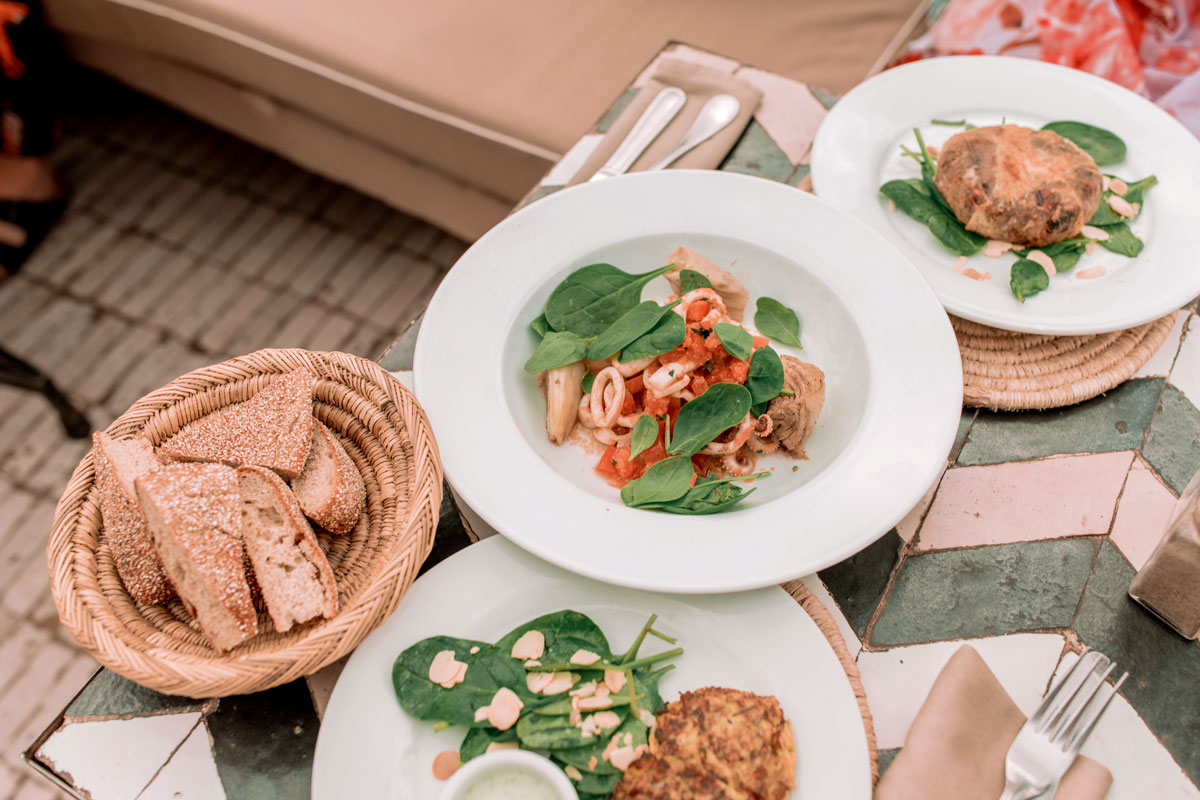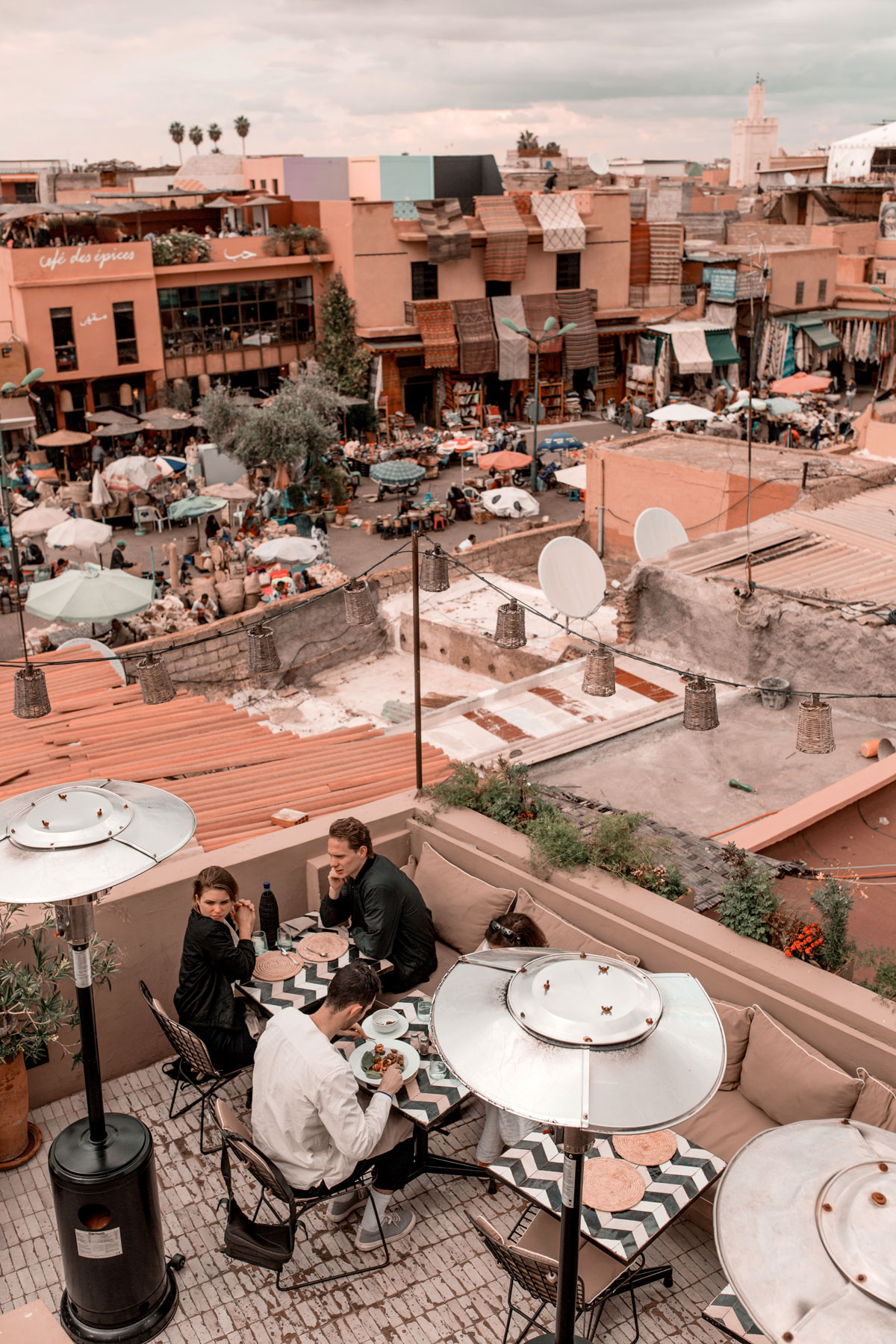 Cafe Nomad
1 Derb Aarjane, Medina، Marrakech 40000, Morocco
Nomad is the most popular cafe in Marrakech and there's no surprise why: it's got a modern upscale vibe and rooftop views looking down on the vibrant markets below. I recommend booking a table at Cafe Nomad here at least 1 week in advance to your visit otherwise it's impossible to get a seat on the terrace if you're just walking in and you definitely don't want to miss out on that. Book a table just before sunrise so you can enjoy eating traditional Moroccan food while watching the sunset over the medina.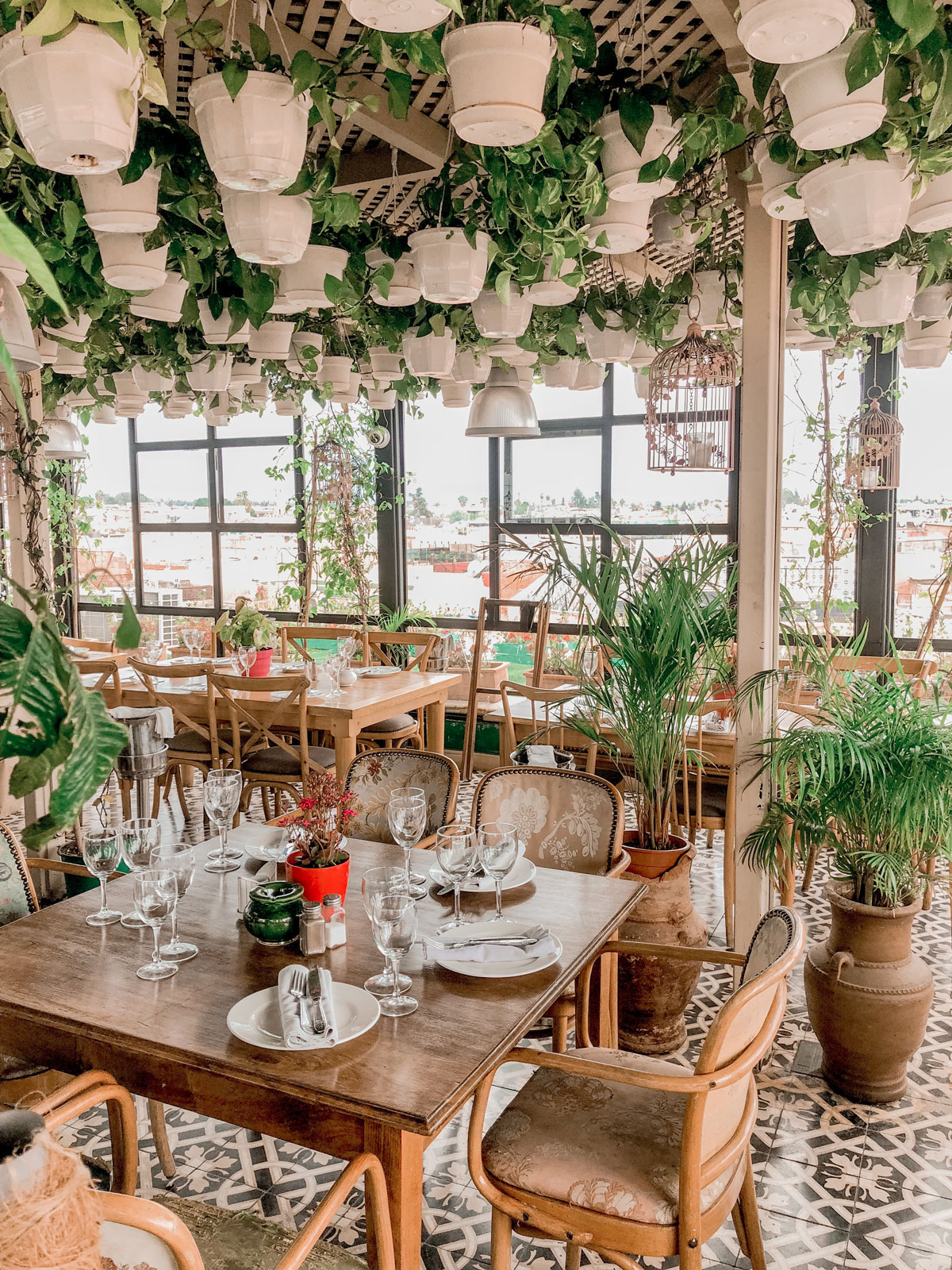 Le Salama
40 Rue des Banques, Marrakech 40000, Morocco
It's no surprise that alcohol is hard to come by in the medina, but just a block away from Jemaa el-Fnaa, you will find Le Salama: a stunning restaurant spread over three levels. Happy hour lasts all evening here til 1 am and you can get two cocktails for £6 – not bad at all. If you stay for dinner you will experience a lively setting with belly dancers darting between tables.

Related:
Making a visit to Fez on your trip to Morocco? Read my guide to Fez here.
Marrakech Bucket list
Check out my ultimate bucket list for the top things to do in Marrakech. Save it to your Pinterest for an upcoming trip or post it on your Instagram stories & check of the places you've been.
If you want to see more of my travel recommendations for other popular cities or travel bucket lists, click the link below.