You can't go to Morocco without experiencing the desert – however, a trip to the Sahara Desert could mean losing two full days of your itinerary just in transit, with most journeys taking 9 hours from Marrakech. We were lucky to find out about Scarabeo Desert Camp which is located just a short 45-minute drive away from Marrakech. The stone desert camp might not boast the endless dunes of the Sahara, but if you don't have time to play with on your Moroccan trip, then this is the next best thing.
Review of Scarabeo Desert Camp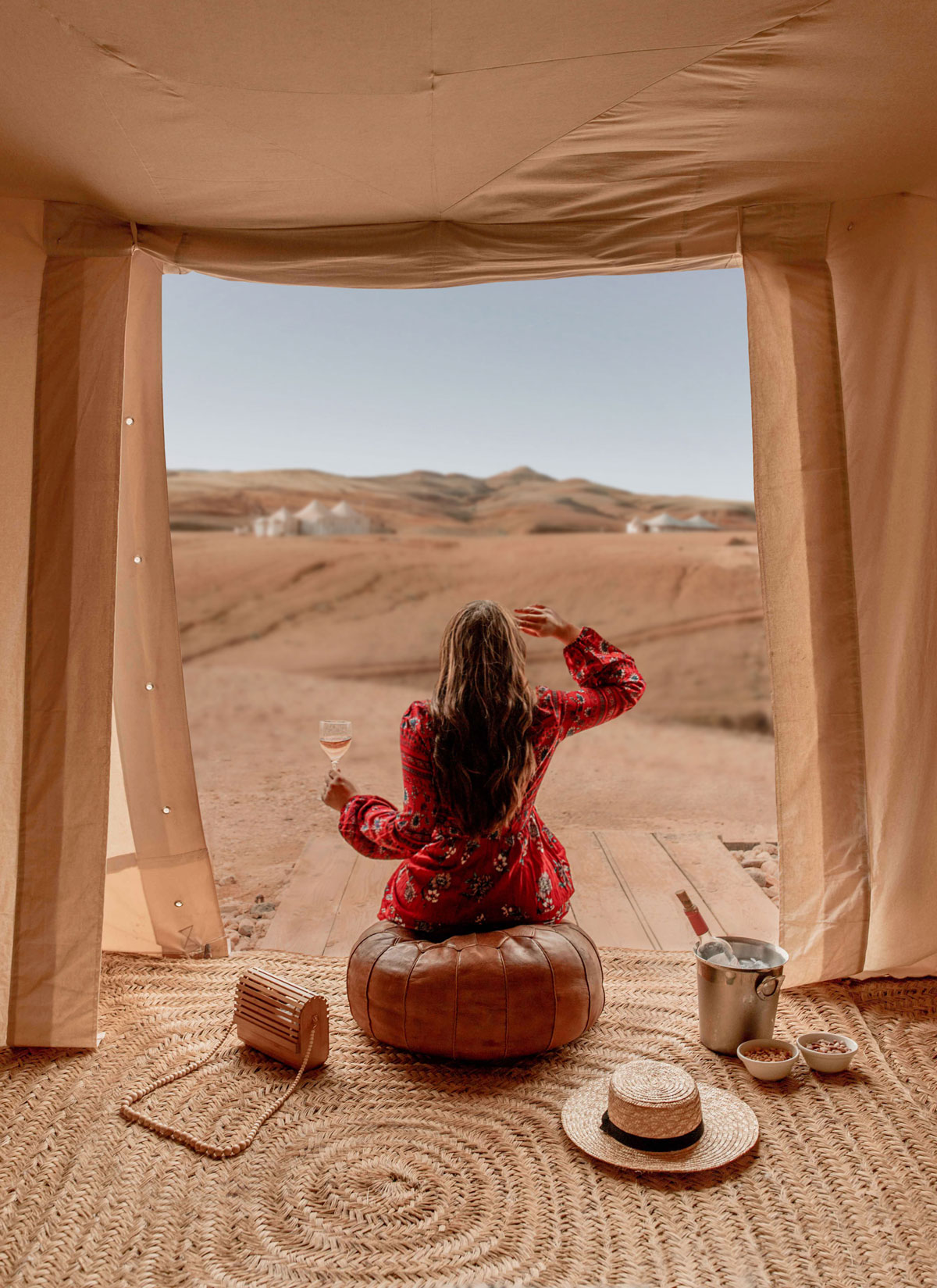 Scarabeo Desert Camp offers luxury camping in a beautiful setting with lots of activities to choose from including camel riding, quad biking and dozens of spa treatments so you can fully immerse yourself and switch off to relaxation mode. The camp is spread across the Agafay Desert and looks out onto rolling hills leading up to the stunning view of the Atlas Mountains – it's postcard-perfect, or should I say Insta-worthy? God knows we took a bazillion pictures during our stay.
Getting there is piss easy too, especially from Marrakech. The camp organised a 4×4 transfer from our Riad in the Medina, which we highly recommend doing as the terrain to get to the camp is a little bit bumpy and rather difficult to scale with any old rental car. We arrived before my podcast had even finished and at the base camp we were greeted by friendly staff, mint tea and an assortment of sweet pastries – I could get used to this sort of welcoming!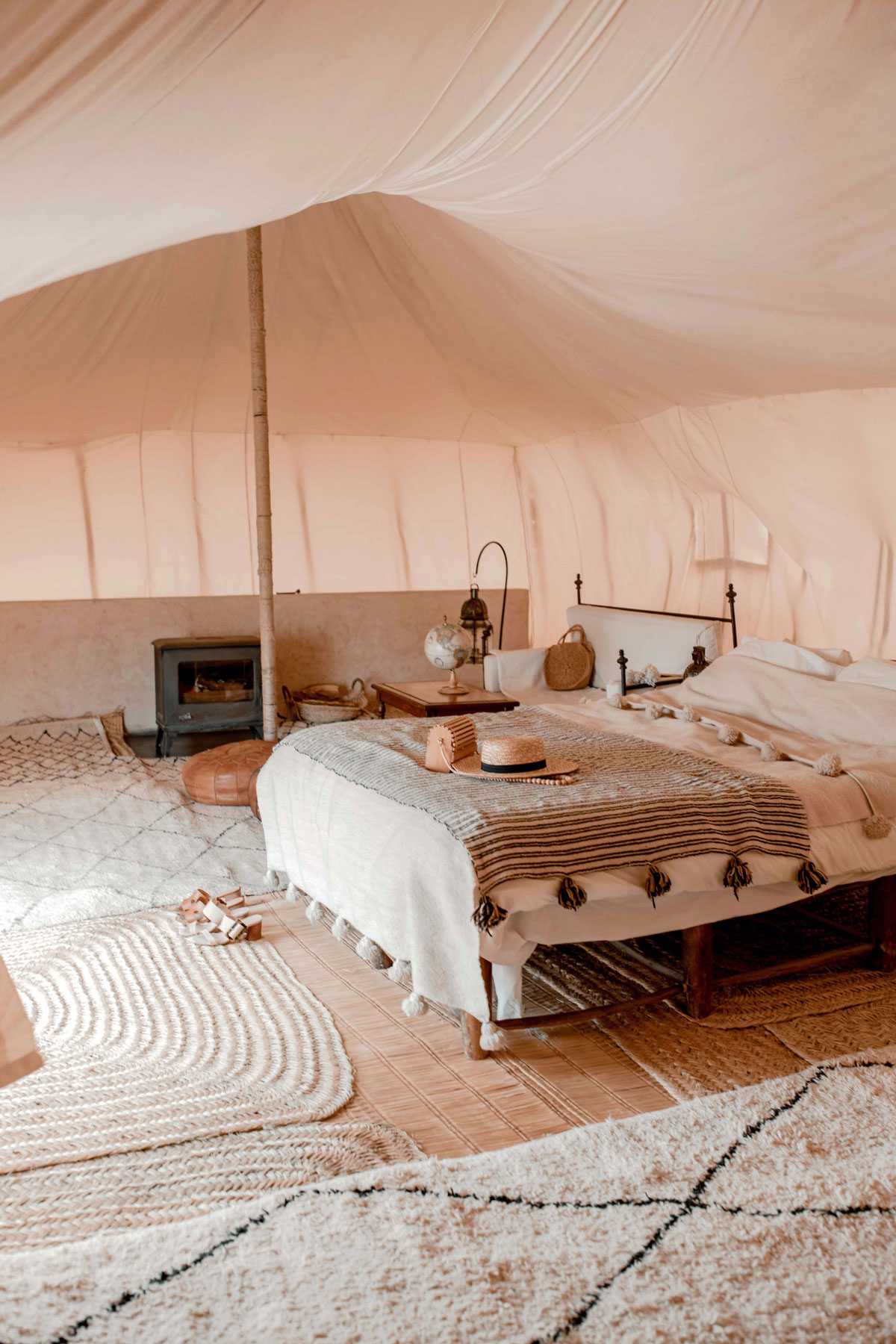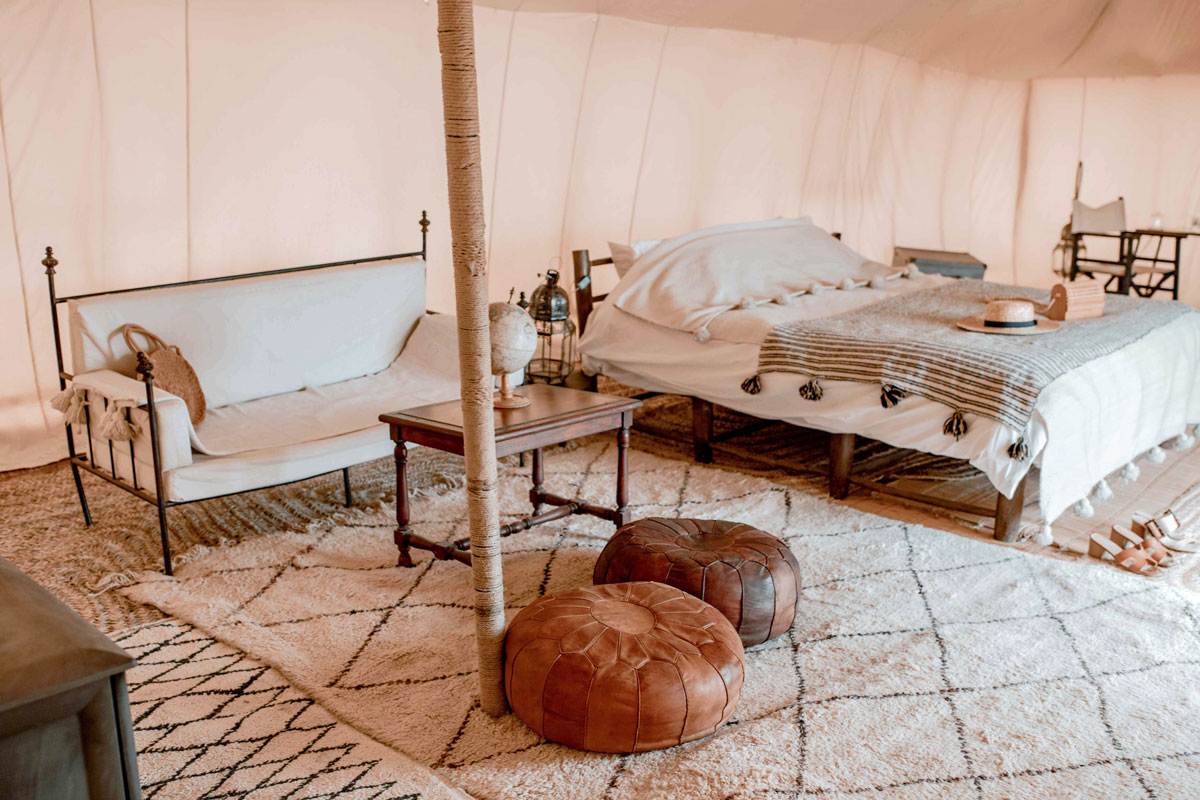 We were then shown to our tent which was the definition of glamping: luxury desert style. The floors are layered with beautiful Moroccan rugs… I've got replicas in my flat in London but these beauties are the real deal. There's a huge bed, living room complete with a fireplace and even a desk (in case you're feeling inspired and want to write a whimsical adventure novel – who knows?).
There's even a private bathroom with a hot shower. The tent is well equipped with USB chargers and a power plug and two big robes so you can relax in style while staying connected. As much as I love to go offline when travelling, I thought I'd let you know that you can indeed access 4g out here in the Agafay. This will give you peace of mind so you can stay in contact with friends and loved ones (or refresh Reddit profusely).
After settling into our abode, we were called for lunch at the communal area. The food served is incredibly fresh and healthy consisting of grilled meat, lentils, and salads. Extremely tasty and followed by more mint tea. For the rest of the afternoon, we chilled in our tent with an equally as chilled bottle of rosé and watch the sunset from our terrace – pure bliss!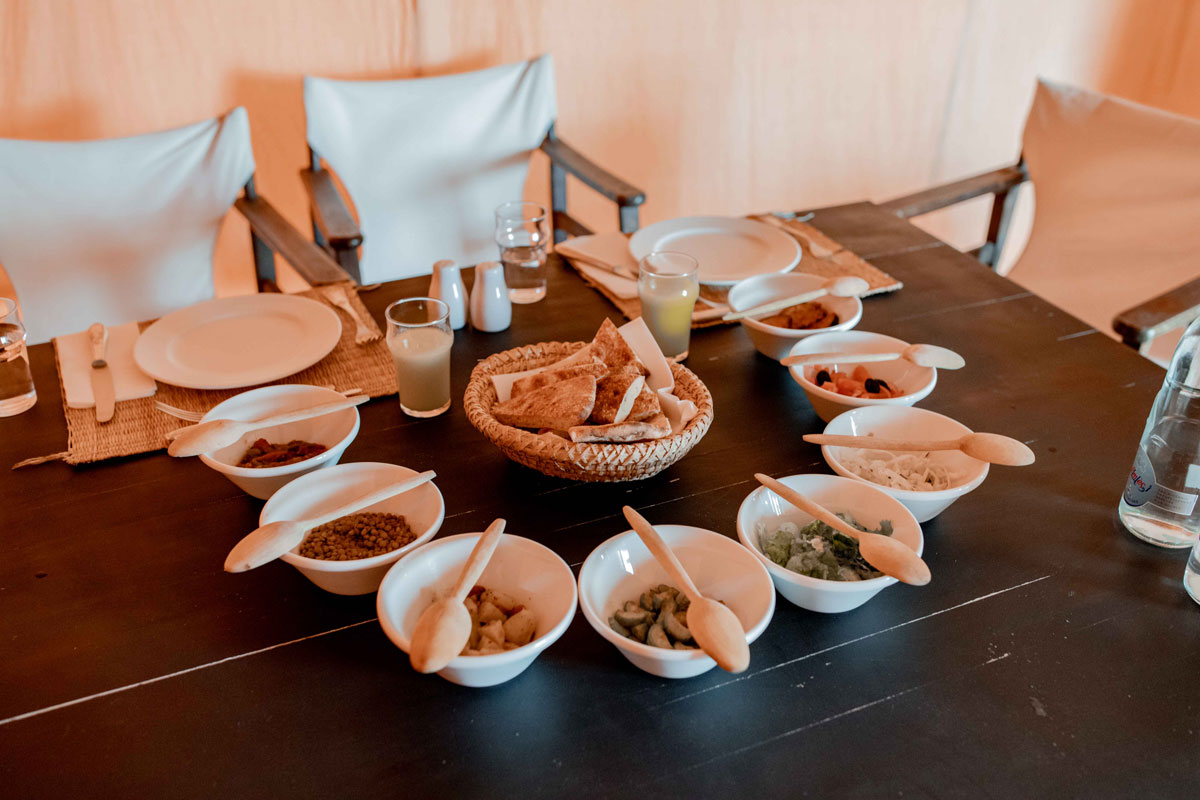 At 8 pm we then headed back up to the communal area for dinner under the stars, complete with a roaring campfire. There was even a guy singing Neil Young along to his acoustic guitar while we ate, this was ticking all the campfire clichés and we were loving it.
For dinner, we were served a hearty beef tagine with couscous, vegetables and more rosé, which we savoured knowing alcohol is quite hard to come by once you're back in Marrakech. Returning to our tent, our fire had considerably been attended to and we drifted off to sleep in our massive bed to the sound of a softly crackling blaze.
The next morning we were up early as we had booked a morning ride with the camels. But first, we headed to the buffet-style breakfast where we devoured the famous crispy Moroccan pancakes, M'smmen, and the homemade goat cheese spread which I will be dreaming about for a long time.
With our tummies full, we then headed off to meet our camels and have our Sex in the City moment. Meet Aisha and Fatima – two cheeky gals who we had the pleasure of getting aquatinted with and who kindly carried us through the desert. It was an experience I'll never forget and I'm very grateful the camels carried me especially considering I ate one too many pancakes at breakfast, oh dear. A camel ride will cost you £32 for an hour.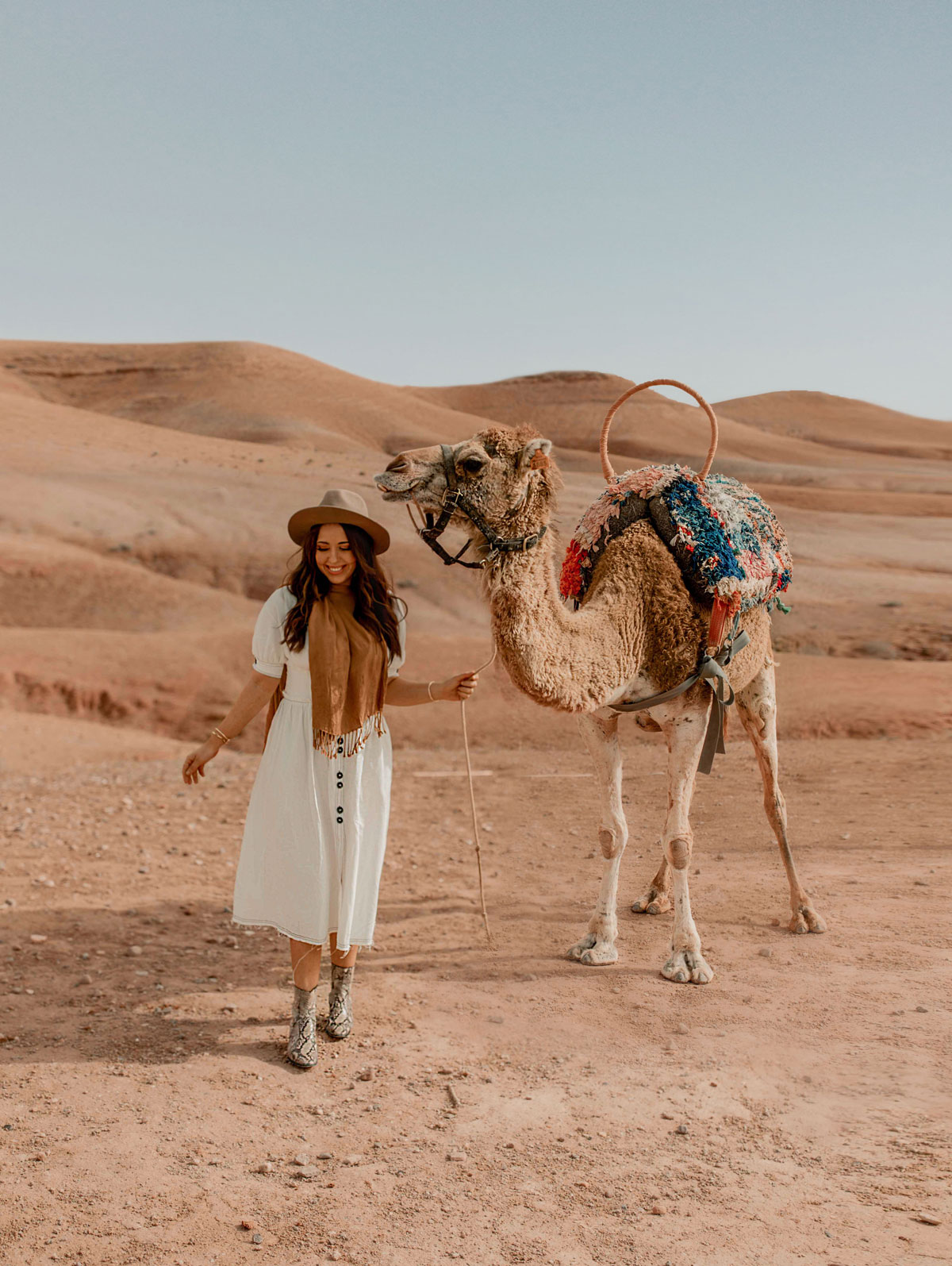 And then it was time to say goodbye to our beautiful desert abode. Our visit to Scarebeo Camp was an unforgettable and unique experience which I know was made more memorable by the friendly staff, beautiful lodgings and exciting activities that the Moroccan desert camp had to offer.

Related:
Looking for more things to do in Marrakech? Read my guide to Marrakech here.
Making a visit to Fez on your trip to Morocco? Read my guide to Fez here.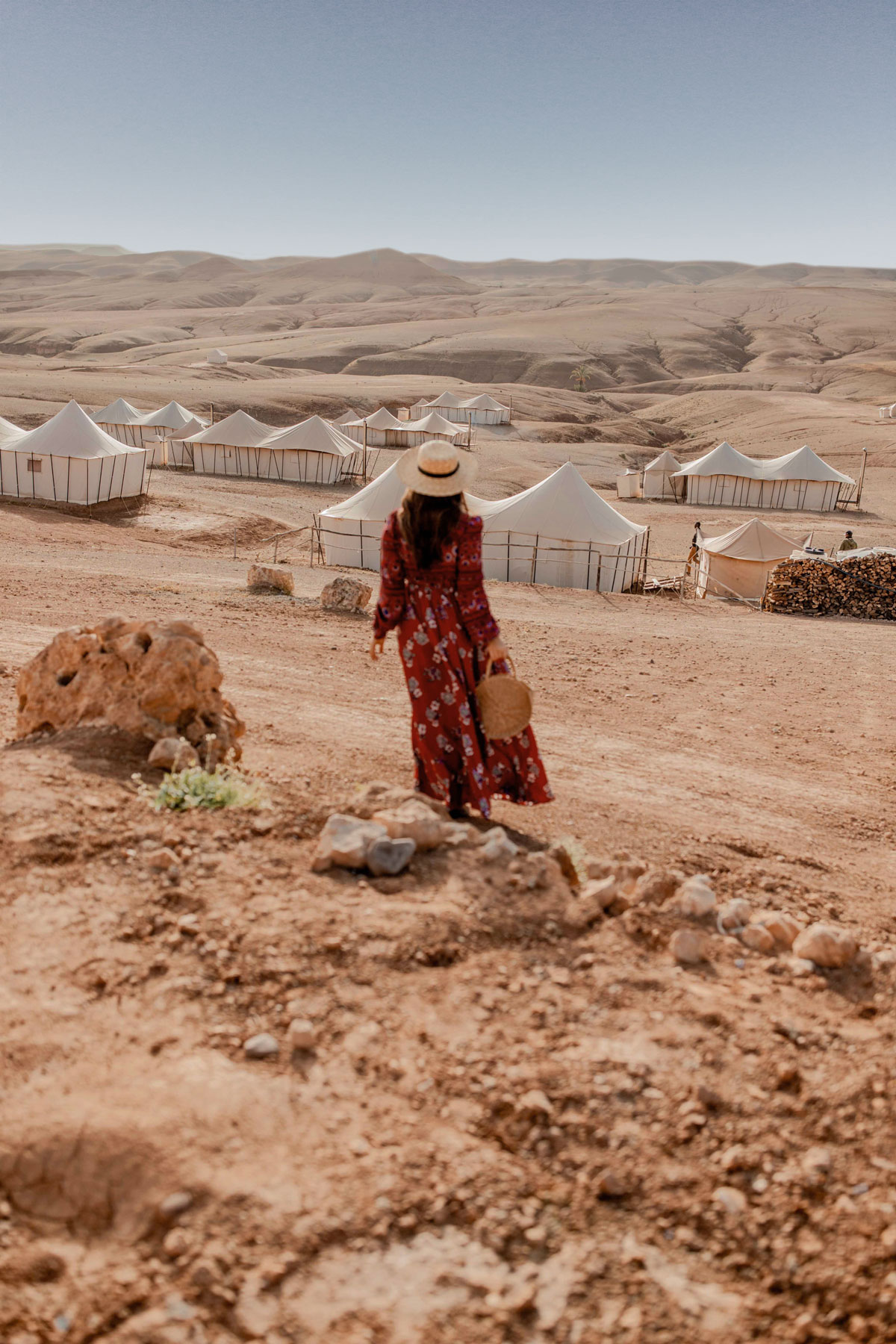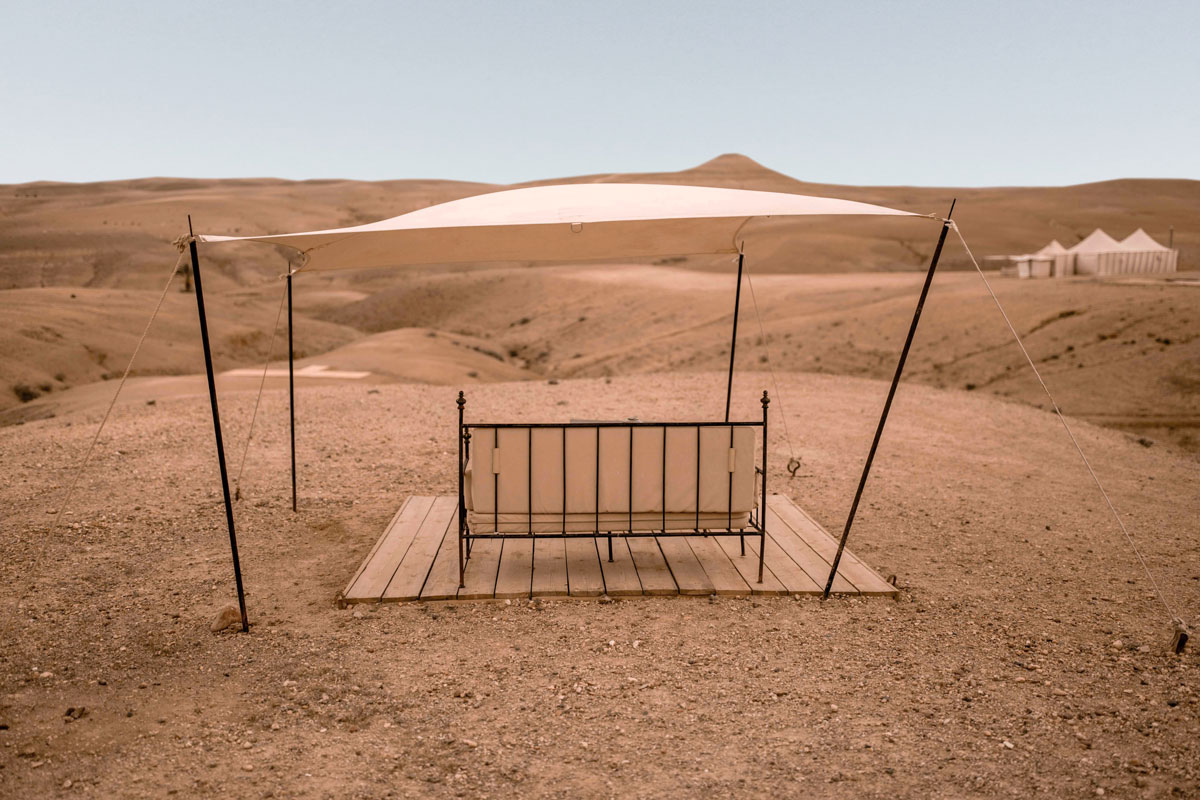 *This stay was kindly gifted. However, all words and opinions are my own.