My second trip to Barcelona, the city famous for its quirky architecture, blue skies, and Mediterranean vibes. I had previously visited to support my boyfriend during the last Barcelona marathon which unfortunately didn't leave me enough time to explore and tick off all the things to do in Barcelona. I was dying to come back in order to eat my body weight in tapas and explore more of Gaudi's architectural masterpieces. Here is my guide to Barcelona including the best places to eat & drink and things to do during your visit.
The best things to do in Barcelona
What to do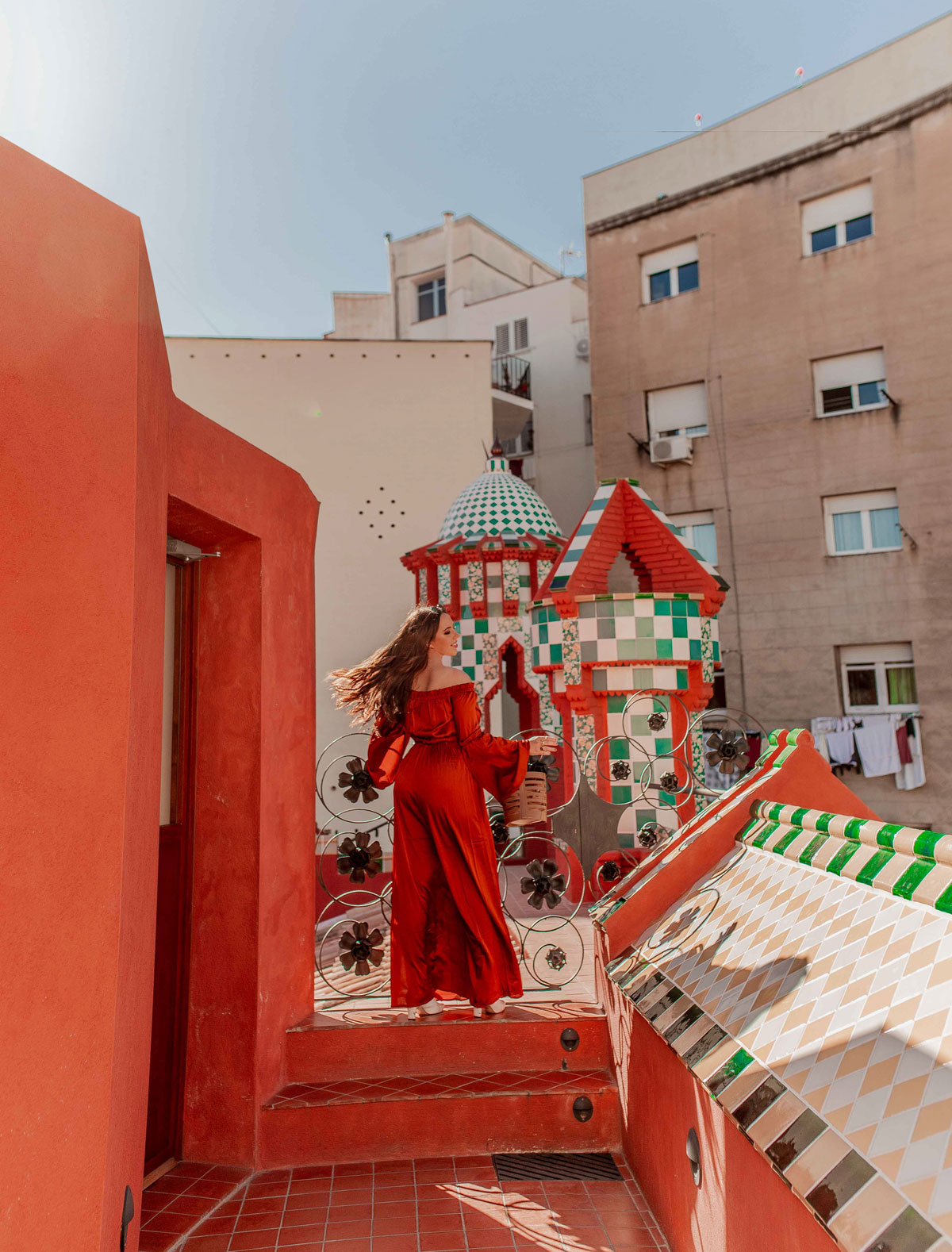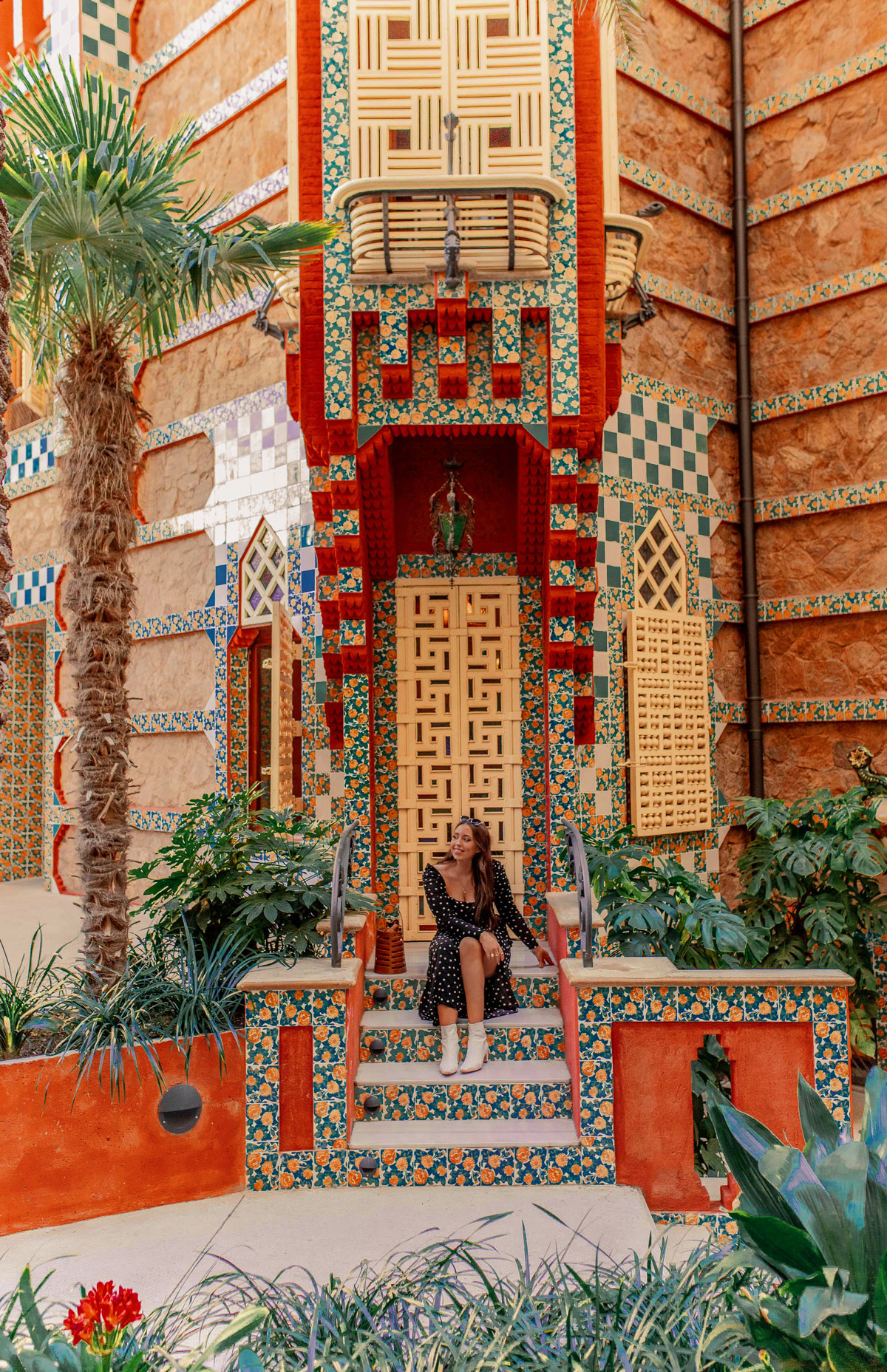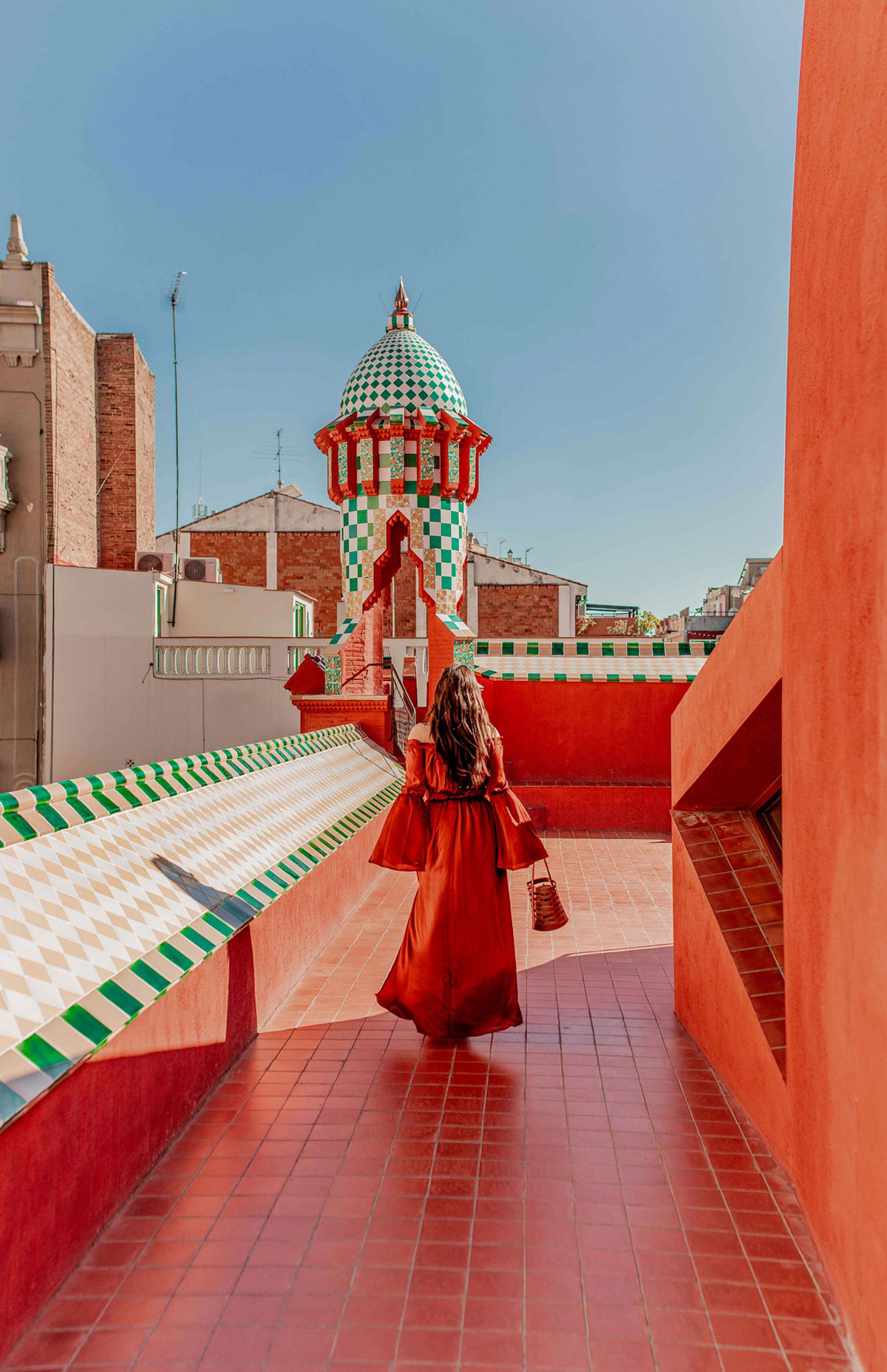 Casa Vicens
Carrer de les Carolines, 20, 08012 Barcelona
One of the lesser-known Gaudi museums but equally one of the most important: Casa Vicens was the first house Gaudi designed and it is absolutely stunning. We went at 2 pm and was surprised that even during the day it wasn't busy at all, which meant we had all the time in the world to admire the amazing architecture and take photos.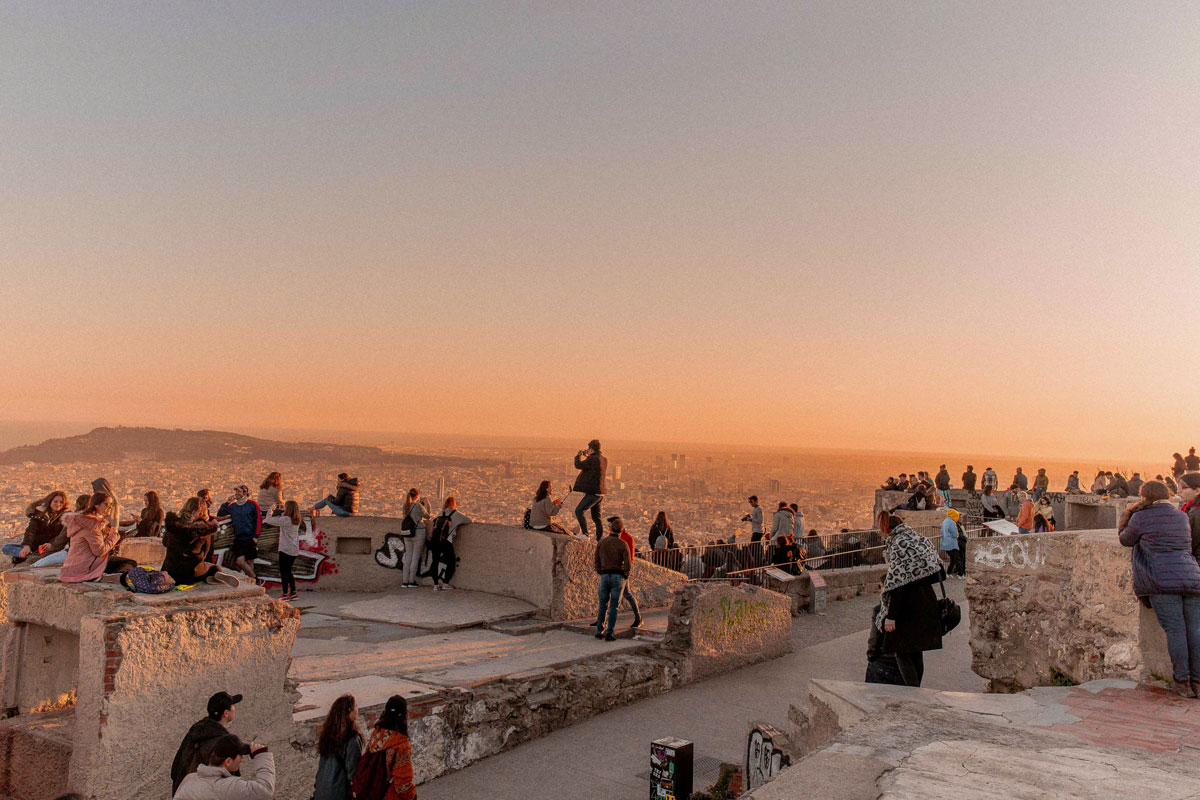 The Bunkers
Carrer de Marià Labèrnia, s/n, 08032 Barcelona
The best view of Barcelona is free to access and located at the top of an abandoned antiaircraft warfare site. Pack some grog, some snacks and catch a taxi up to the viewpoint. Ignore the signs that say "tourist go home!", because although this may have been a local's best-kept secret — I believe all good things in life should be shared! Come for sunset and enjoy a 360-degree view of Barcelona you won't forget.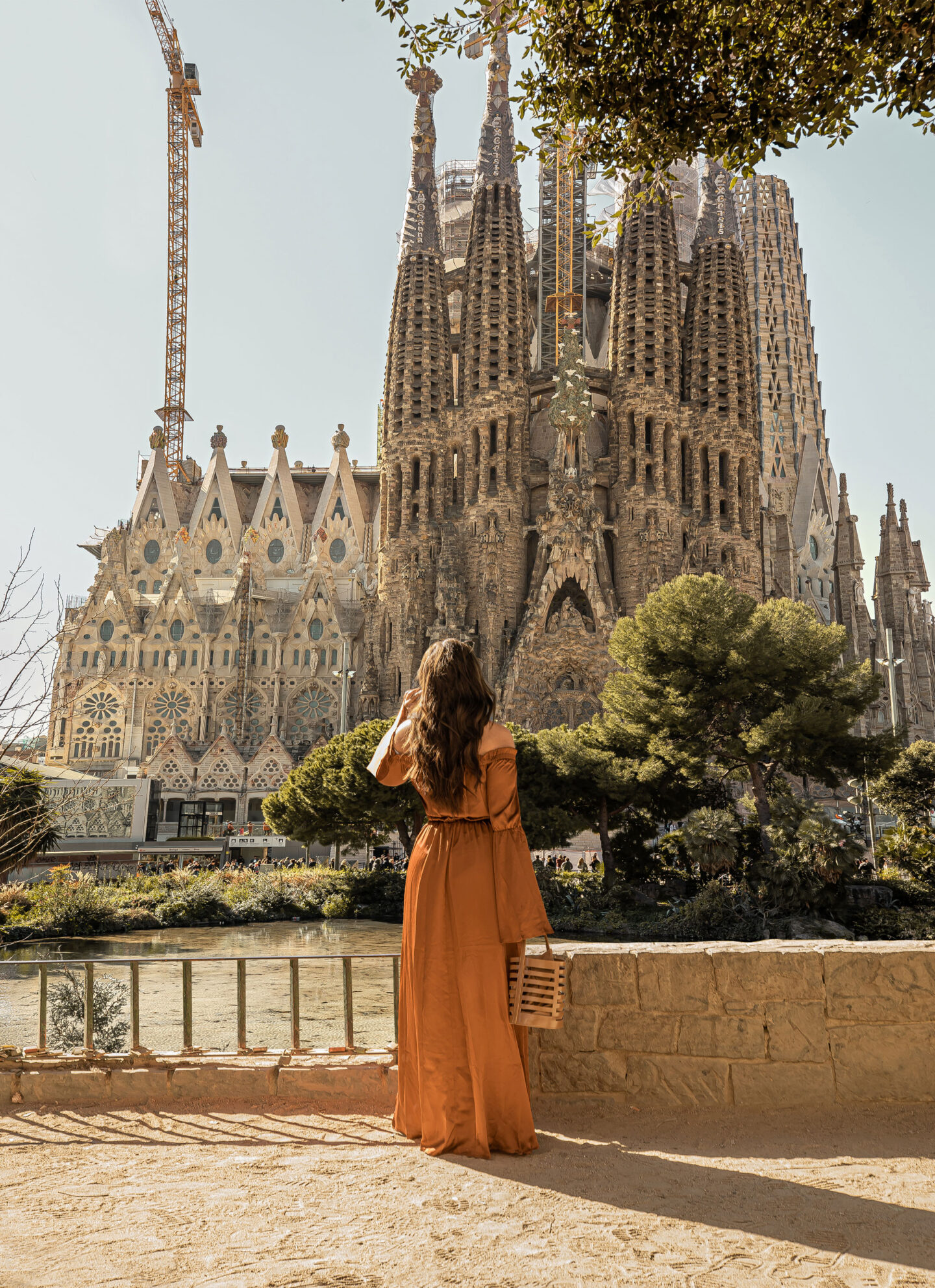 La Sagrada Familia
Carrer de Mallorca, 401, 08013 Barcelona
Easily one of the most beautiful buildings inside and out. There is nothing quite like Gaudí's architecture other than the beauty of nature itself from which he took plenty of inspiration. If you visit on a sunny day, the sunlight shining through the stained glass windows inside will make you feel as if you're walking in the inside of a kaleidoscope. I had actually visited the basilica on a previous trip to Barcelona, so this time I admired the exterior designs from a nearby lake where I took the above photo.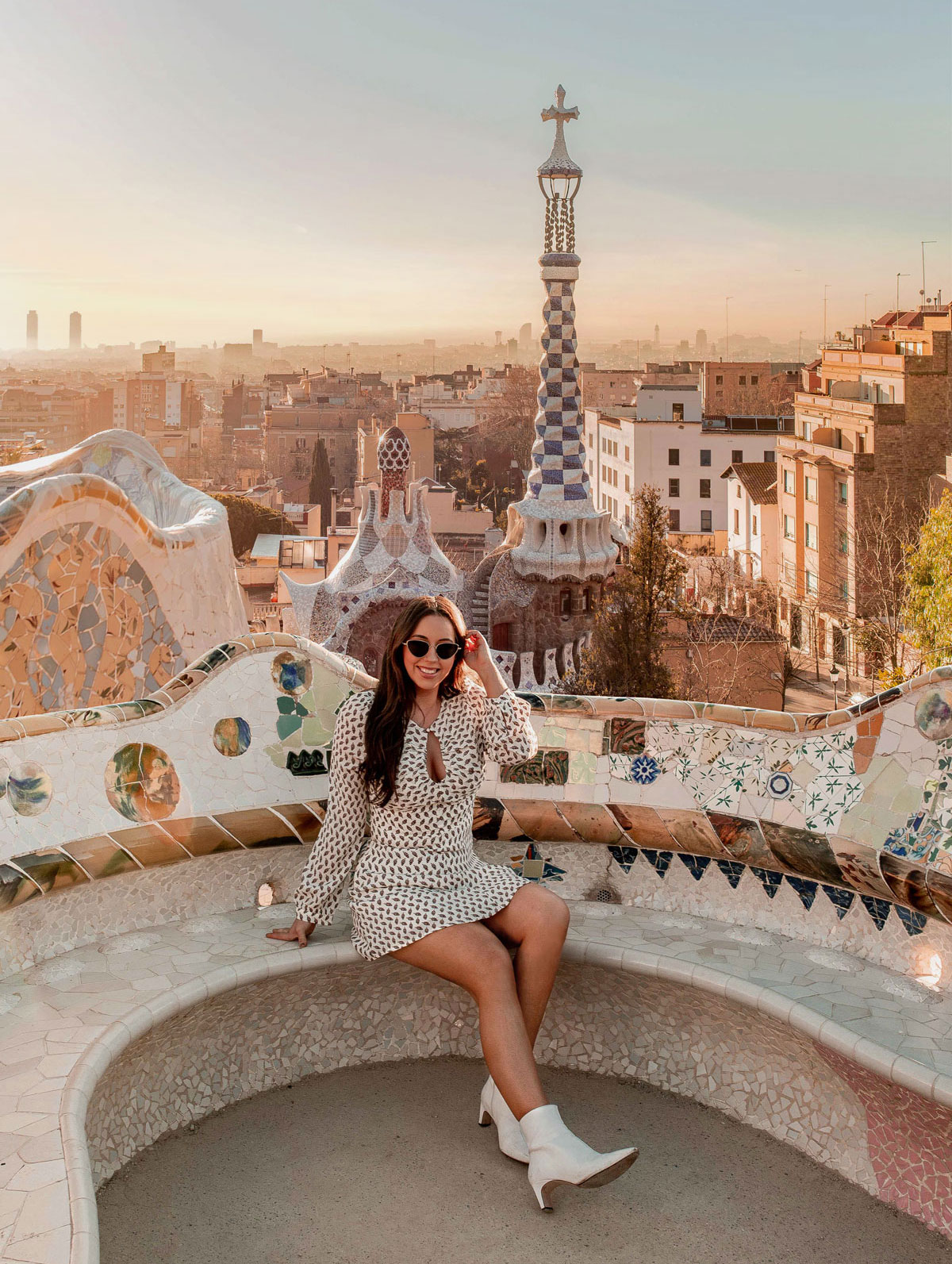 Park Güell
08024 Barcelona
This park is another one of Gaudi's testaments. Designed by Gaudi for Eusebi Güell this park boasts some incredibly unique architecture, mosaic work and incredible views of the city. Tip: Entry is free before 8.30am. Considering the park gets extremely busy during the day, I highly recommend waking up early and enjoying the scenery without the mobs. Plus seeing the sunrise over Barcelona and reflecting off the many mosaic tiles is definitely worth waking up early for.
Where to eat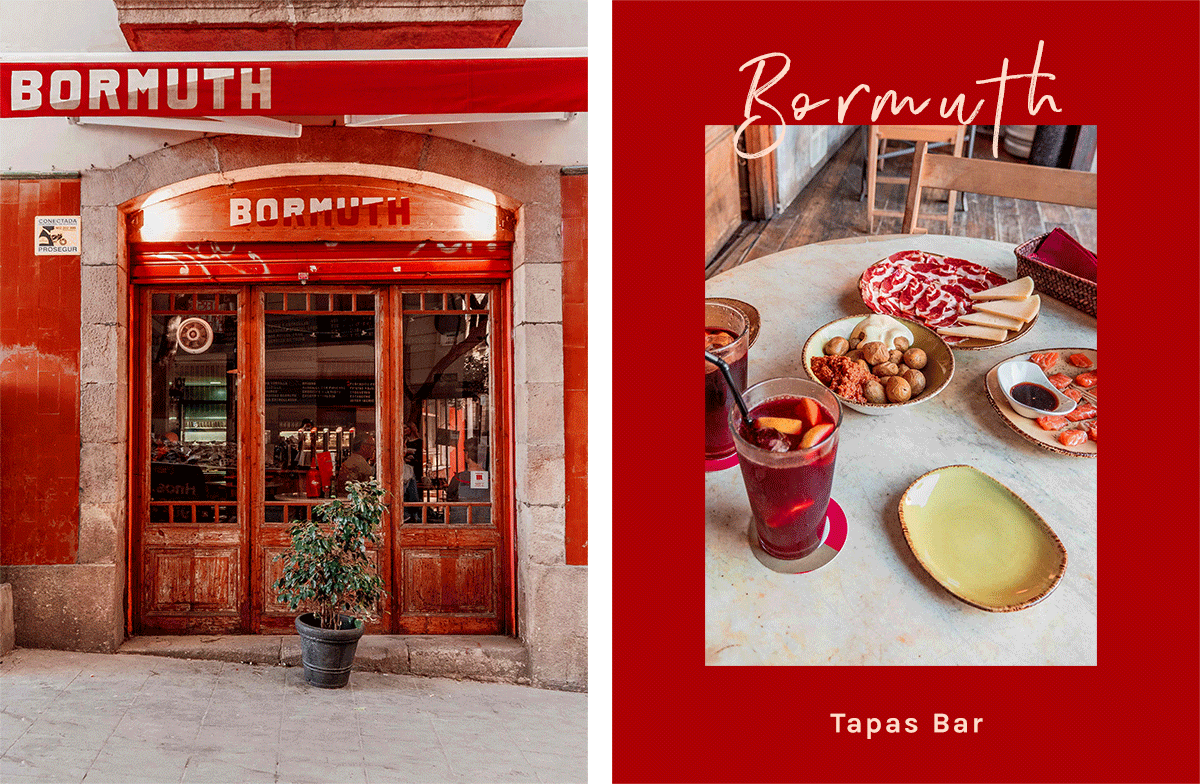 Bormuth
Plaça Comercial, 1, 08003 Barcelona
This was our first stop after checking into our hotel and needless to say, we were starving and about to pass out *so dramatic I know*. We went for a short walk and wandered to Bormuth: a traditional Spanish tapas bar. The waiter didn't speak much English but that was all part of the charm, he was extremely friendly and did his best to interpret the menu to us. We, of course, had to have Patatas Bravas as one of our first dishes in Barcelona, along with delicious sangria, fresh salmon cubes & sliced meat and cheese. This place has incredible ratings online and we were so glad to have stumbled across it.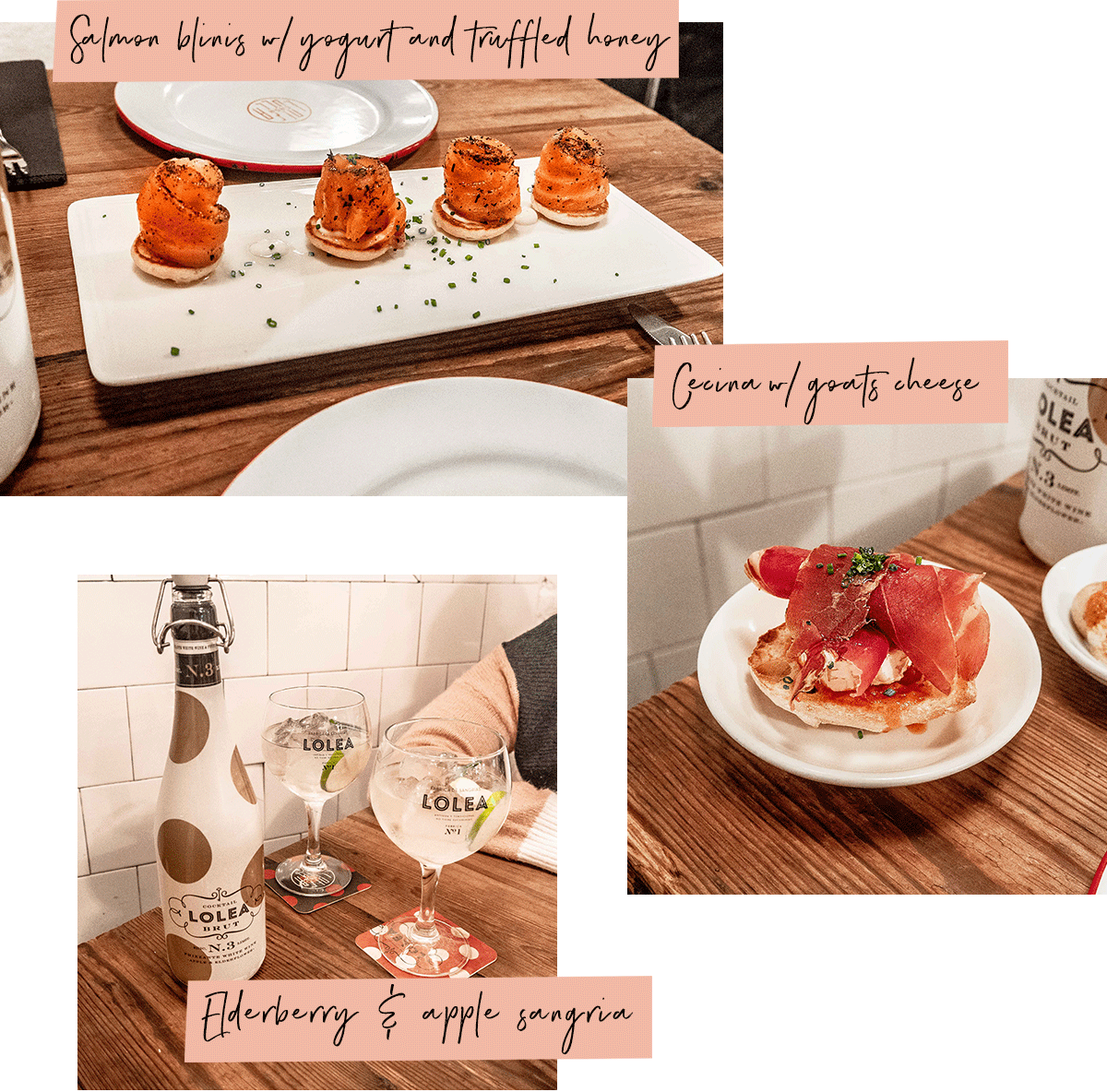 Casa Lolea
Carrer de Sant Pere Més Alt, 49, 08003 Barcelona
Recommended by our hotel, Musik Boutique Hotel, and my followers, we were so excited to eat at the charming restaurant we had passed so many times to/from our accommodation. Casa Lolea is a restaurant AND a sangria factory — they make and bottle their own delicious range of sangrias in the most beautiful packaging. They serve tradition tapas and these were by far my favourite appetizers of the trip. Please note: you'd be a fool to skip dessert at Casa Lolea! We had their famous creme brulee and chocolate mousse which I can't stop thinking about.
Cal Pep
Plaça de les Olles, 8, 08003 Barcelona
We were told we must go eat at Cal Pep "if we were enough lucky to get a seat" (an ongoing theme to Barcelona it seemed), therefore we promptly arrived upon opening and our host guided us to sit down at the bar. We were then told he was going to make us a selection of tapas and we were asked if there was anything we didn't eat (no sardines, please & thank you) and that was that. We really didn't know what to expect but the server and chefs' confidence made us realise we were in good hands. We were quickly served a variety of dishes – all washed down with more Cava of course. The chef prepped and cooked all the food less than a metre in front of us, it was all very methodical and extremely delicious. We had no idea what our bill was tallying up to be but that was a part of the experience — but be wary if you're on a budget. With about 7 dishes and 4 drinks each, our bill came to €100. Cal Pep was by far our favourite unique dining experience in Barcelona.
Brunch & Cake
Multiple locations, we went to Passeig de Joan de Borbó, 5, 08003 Barcelona
Without a doubt, Brunch & Cake is the most Instagrammable cafe in Barcelona but with one catch: the service is excruciatingly slow! That said, the food is definitely worth the wait, I would just recommend coming on a morning when you're not in a rush and don't have a booking/bus/flight to make. And maybe even eat a snack before you come, because no one likes you when you're hangry. The pictures speak for themselves however I would highly recommend the pancakes, the breakfast burrito, and the Ferrero Rocher acai bowl YUM.
Restaurante Rosa Negra
Via Laietana, 46, 08003 Barcelona
For when you want a break from tapas (yep, it's possible to get sick of patatas bravas), you'll want to start looking at other cuisines. We had the most amazing Mexican food at Rosa Negra. This place is extremely cheap (hello €4 frozen daiquiris!). I recommended ordering the starter platter and then eating as many tacos as you can stomach.
Where to drink
La Xampanyeria
Carrer de la Reina Cristina, 7, 08003 Barcelona
€1.50 GLASSES OF SPARKING WINE — need I say more?? I was recommended this traditional tapas bar by so many of you. Reading about the crowds online, we decided to arrive as soon as it was open at 7 pm and promptly ordered a glass of their homemade cava. God, it was delicious. La Xampanyeria is the place to go if you're on a budget but want to enjoy amazing local produce and tapas. We didn't stay around for long though as there is no seating and we wanted a place to relax, but we didn't leave without buying a €4 bottle of their amazing Spanish wine. Salud!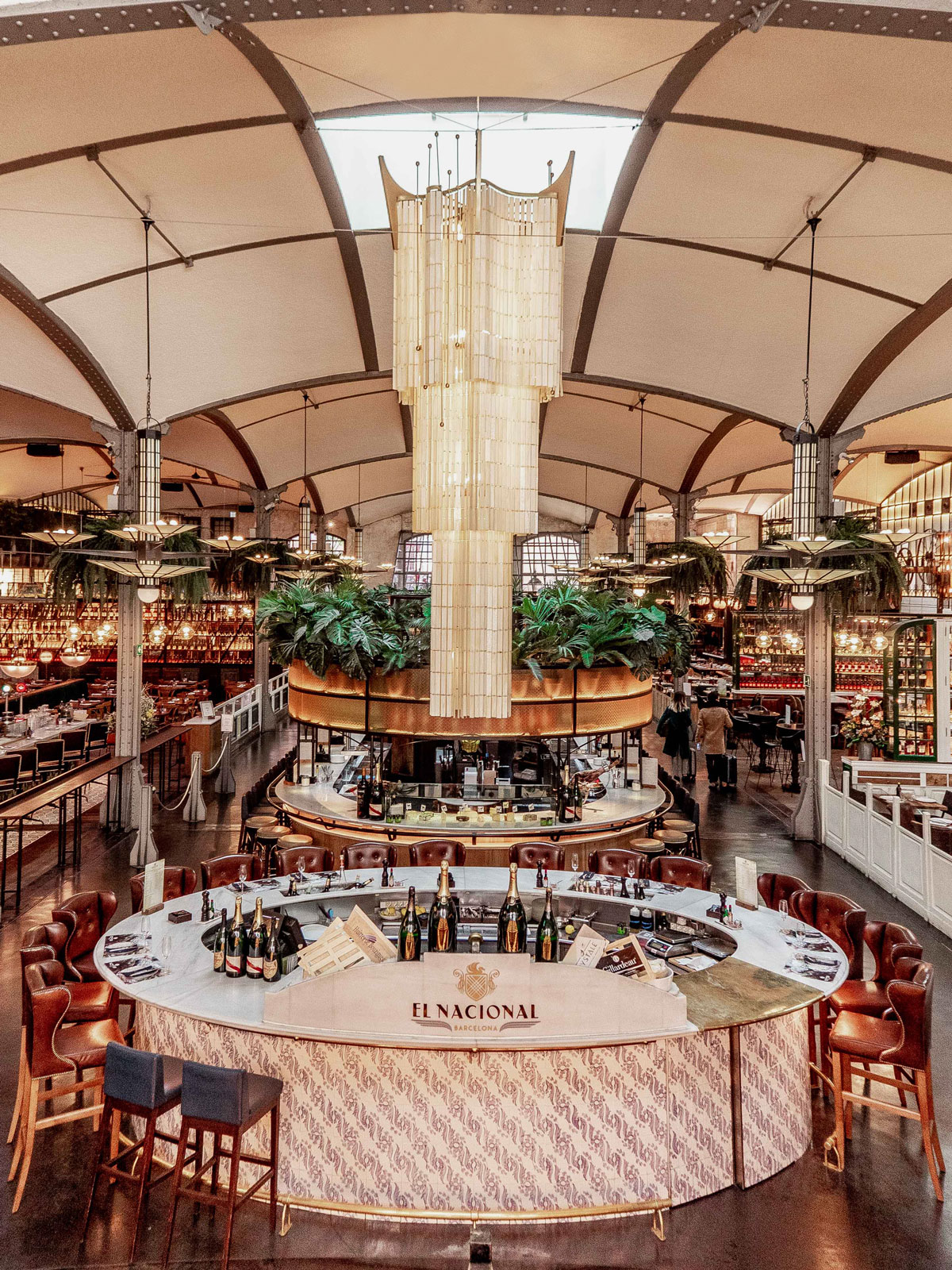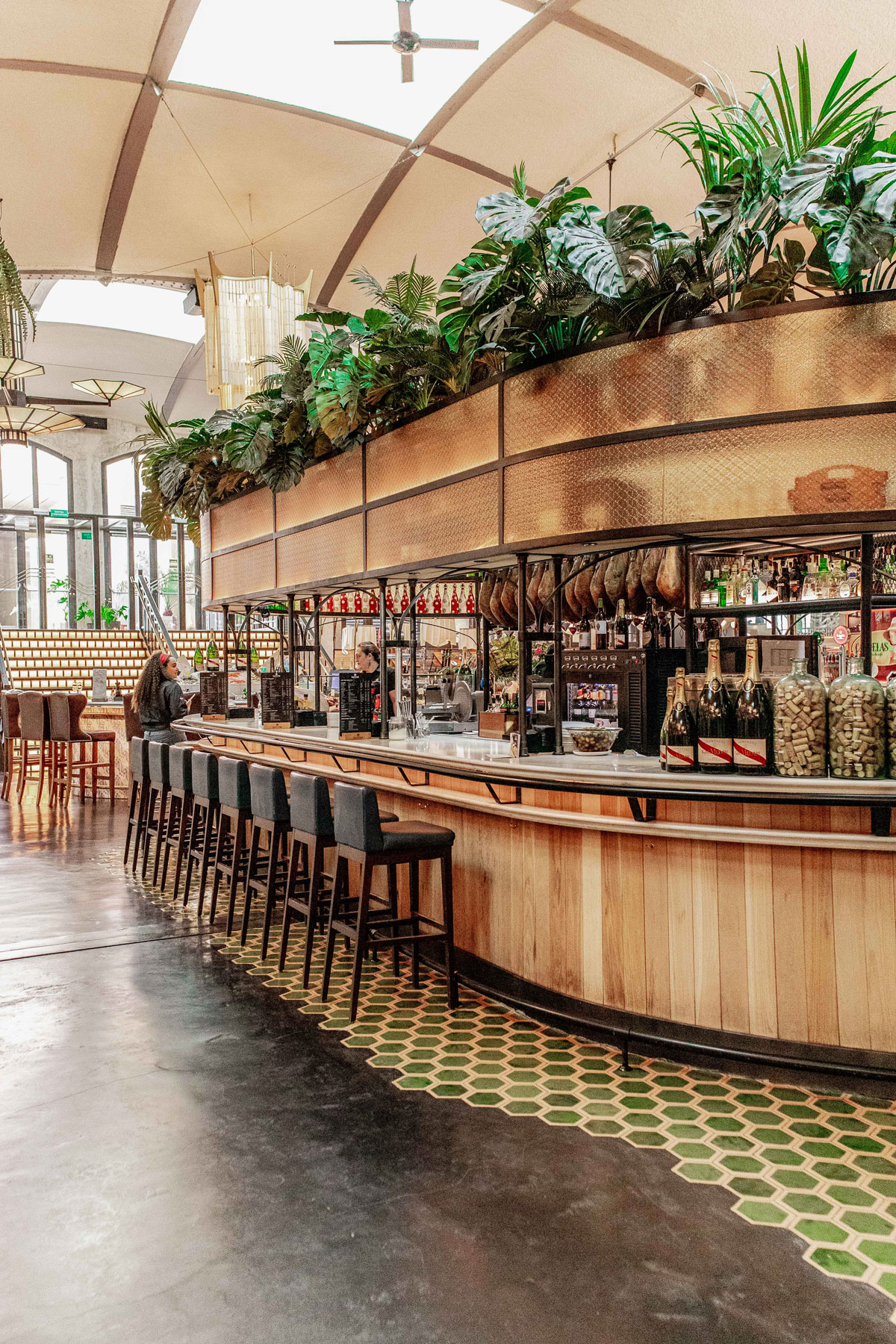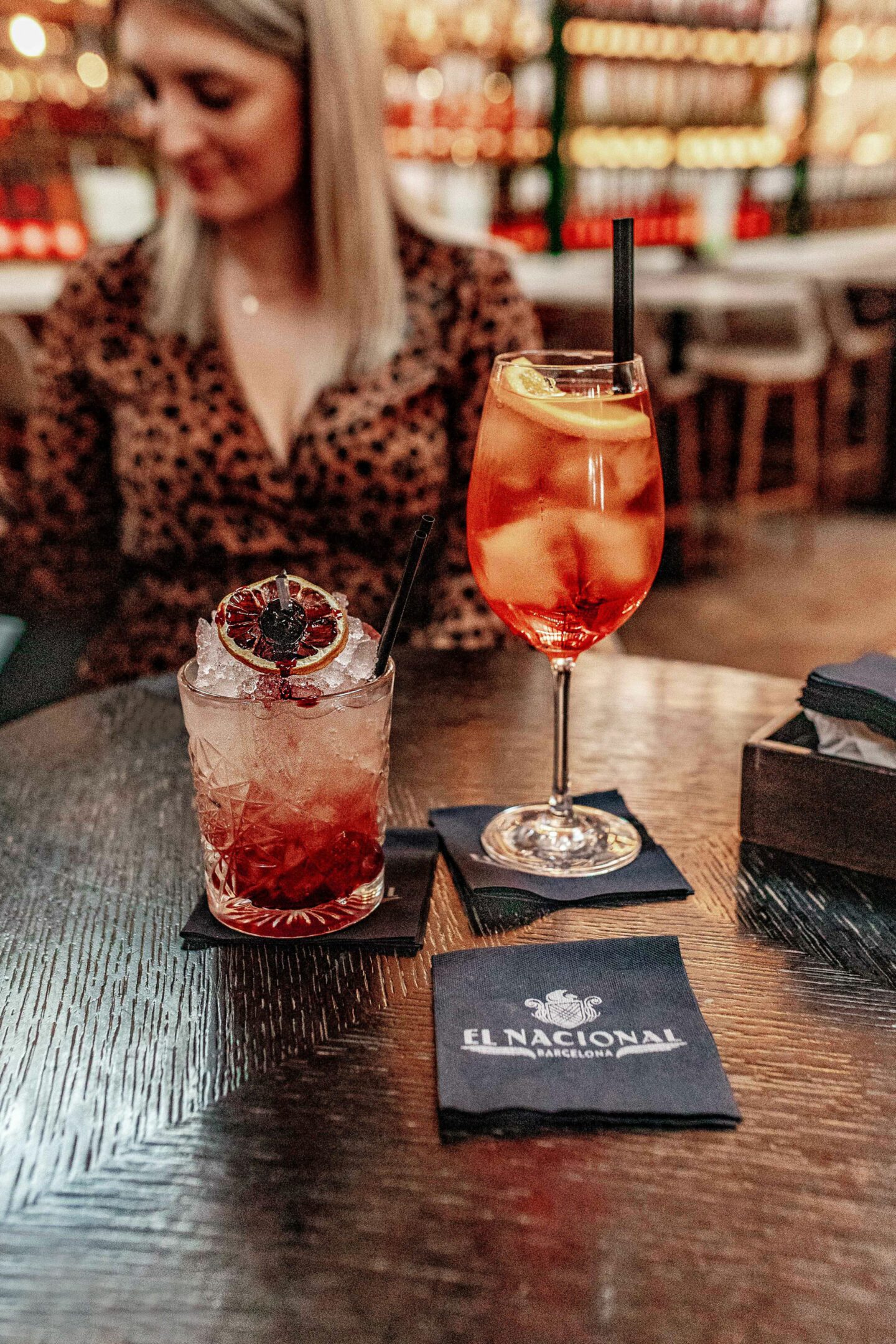 El Nacional
Passeig de Gràcia, 24 Bis, 08007 Barcelona
Tucked down an alleyway off the famous Passeig de Gràcia — you'll find El Nacional. It's not something you'd stumble across accidentally yet so many know about it so I would 100% recommend arriving as soon as it opens to admire the beauty of the building before it gets crammed with people. We arrived at 12 pm on a Thursday and had a quick 5 minutes to snap some photos before the crowds came pilling in. Here we enjoyed a €4 glass of rose (very reasonable for such a boujee venue!) and treated ourselves to a cocktail. El Nacional a place where you can stop by for a cheap drink or lash out on oysters and champagne — there's something for everyone!
Where to stay
Musik Boutique Hotel
Carrer de Sant Pere Més Baix, 62, 08003 Barcelona
During our visit to Barcelona, we stayed at Musik Boutique Hotel, located in the charming gothic quarter of the city where the streets were quiet and filled with locals. Supermarkets, bars, restaurants, and coffee spots are right on your doorstep. In fact, Musik Boutique Hotel gave us their own map of local recommendations which proved to be extremely useful. Upon entering the modern hotel you are hit with a fresh fragrance of grape that follows you throughout the building — I'm guessing this might have something to do with the purple theme of their interior design. We were given our room keys and also a USB connector to connect our mobiles to the in-built sound system within our room, which is soundproof!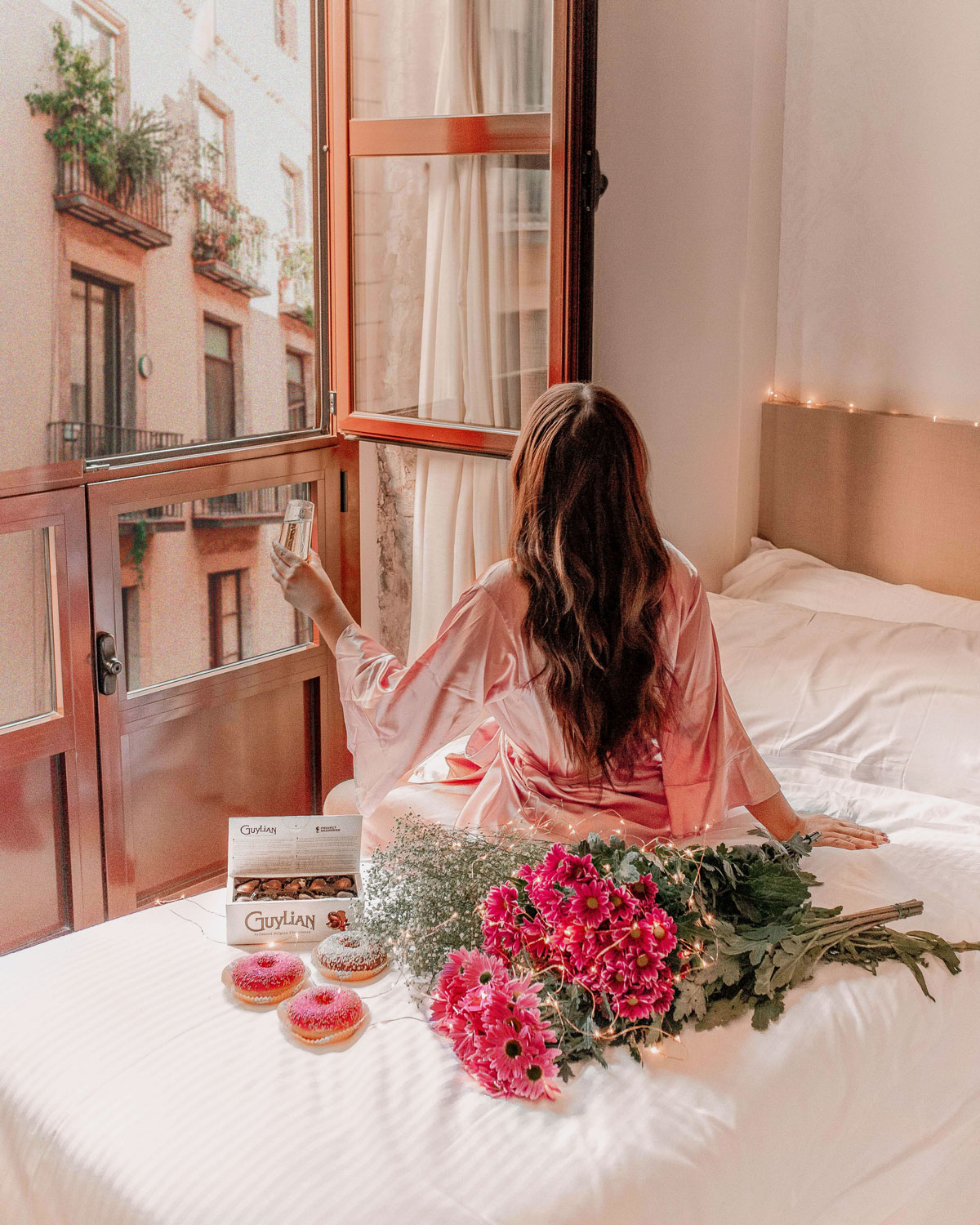 Since we were visiting over Valentine's Day, the hotel had clocked onto the fact that we wouldn't be spending it with our partners back in London, therefore they had arranged a chilled bottle of sparkling Spanish wine to be waiting for us on arrival — along with a box of chocolates. They definitely know the way to a girls heart! We couldn't have picked a better base for our stay in Barcelona with main attractions such as La Sagrada Familia just a short 20-minute walk away + and a 10-minute walk to the beach. What we appreciate most during our busy schedule, was returning to a spotless room each day and having the cleaners neatly arrange our belongings. I'm not sure about you but I'm particularly messy when traveling and I definitely noticed their team went above and beyond.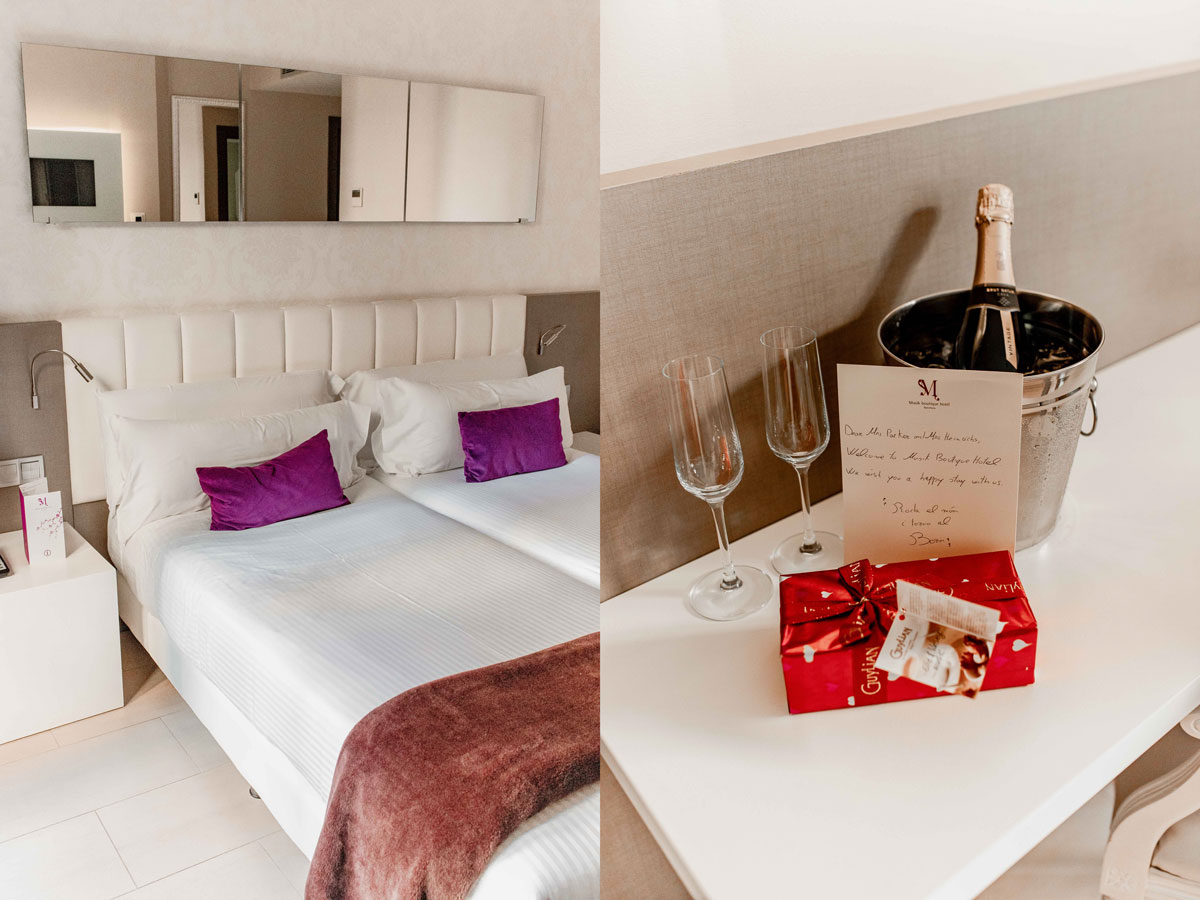 We had breakfast included in our package which was amazing considering a lot of cafes and shops in Barcelona don't open till midday. Meaning we were able to fuel up before setting off for each day, and for a budget hotel, their breakfast spread is considerably generous and definitely worth adding on to your bill.
Bookings can be made here from €89/night.
Other recommendations
Palau de la Música Catalana — stunning concert hall & architecture
Flax & Kale — healthy Flexitarian restaurant with gorgeous interiors
Dr.Stravinsky — for cocktails
Cervesería Catalana — tapas bar
Casa Milà — private residence designed by Gaudí
La Boqueria — large food & produce market
Barcelona Bucket list
Check out my ultimate bucket list for the top things to do in Barcelona. Save it to your Pinterest for an upcoming trip or post it on your Instagram stories & check of the places you've been.
If you want to see more of my travel recommendations for other popular cities or travel bucket lists, click the link below.
INSTAGRAM STORY TEMPLATES