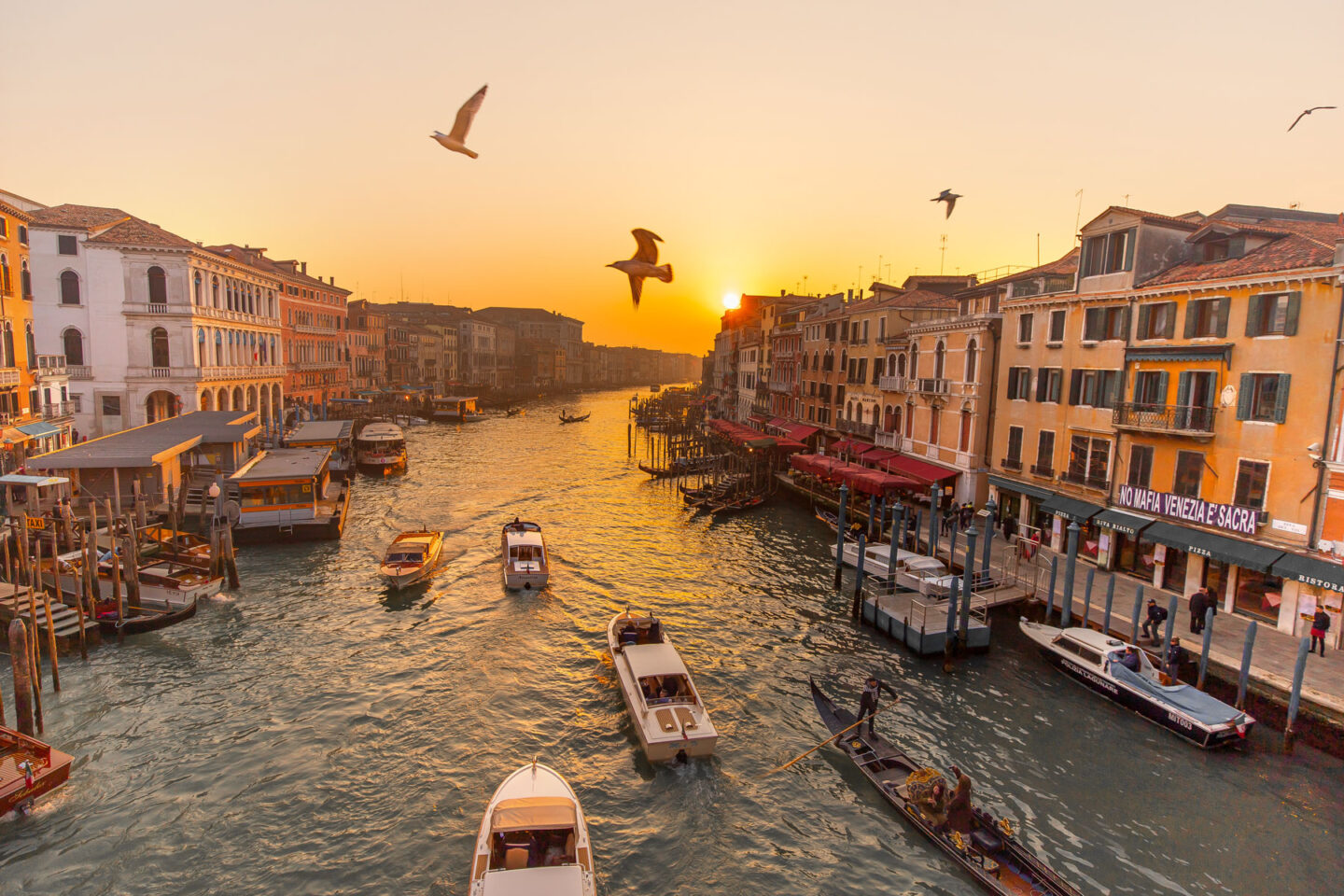 Venice, the floating city of tiny islands sewn together with hundreds of bridges, is often referred to as one of the most beautiful and romantic places in the world. Needless to say, my recent visit in February can confirm this notion. Venice has truly stolen my heart with its enchanting architecture, picturesque views and an endless supply of carbs. It's a place to get lost, in many senses, as you can lose yourself to the winding streets, the turquoise coloured canals and all the vibrant culture the city has to offer. It's a place for lovers, no doubt, but also for solo travellers who are eager to live La Dolce Vita. After spending nearly a week in the City of Bridges, I'm here to share with you my recommendations of the 10 best things to do in Venice as well as touching on where to stay, eat & drink.
The 10 best things to do in Venice.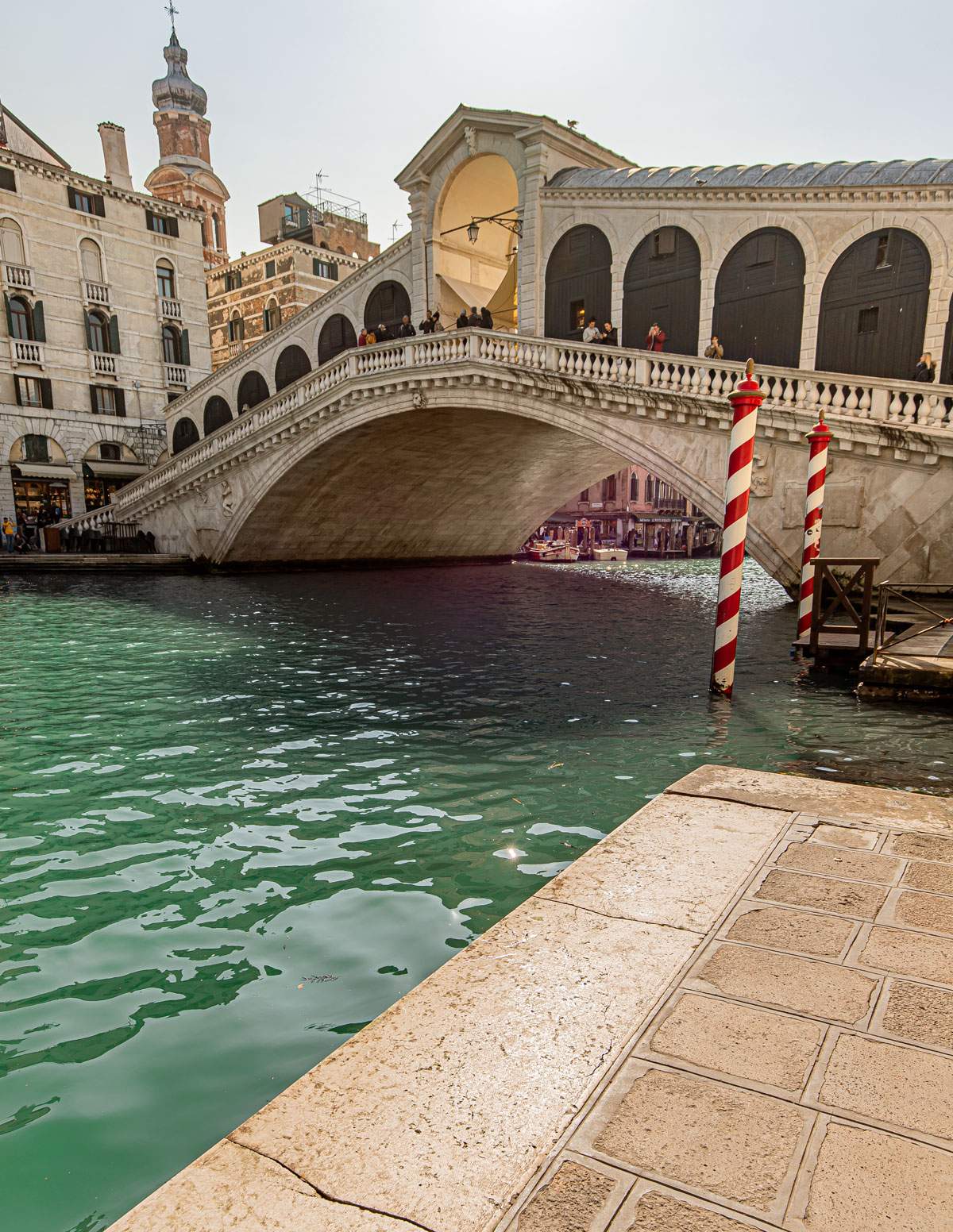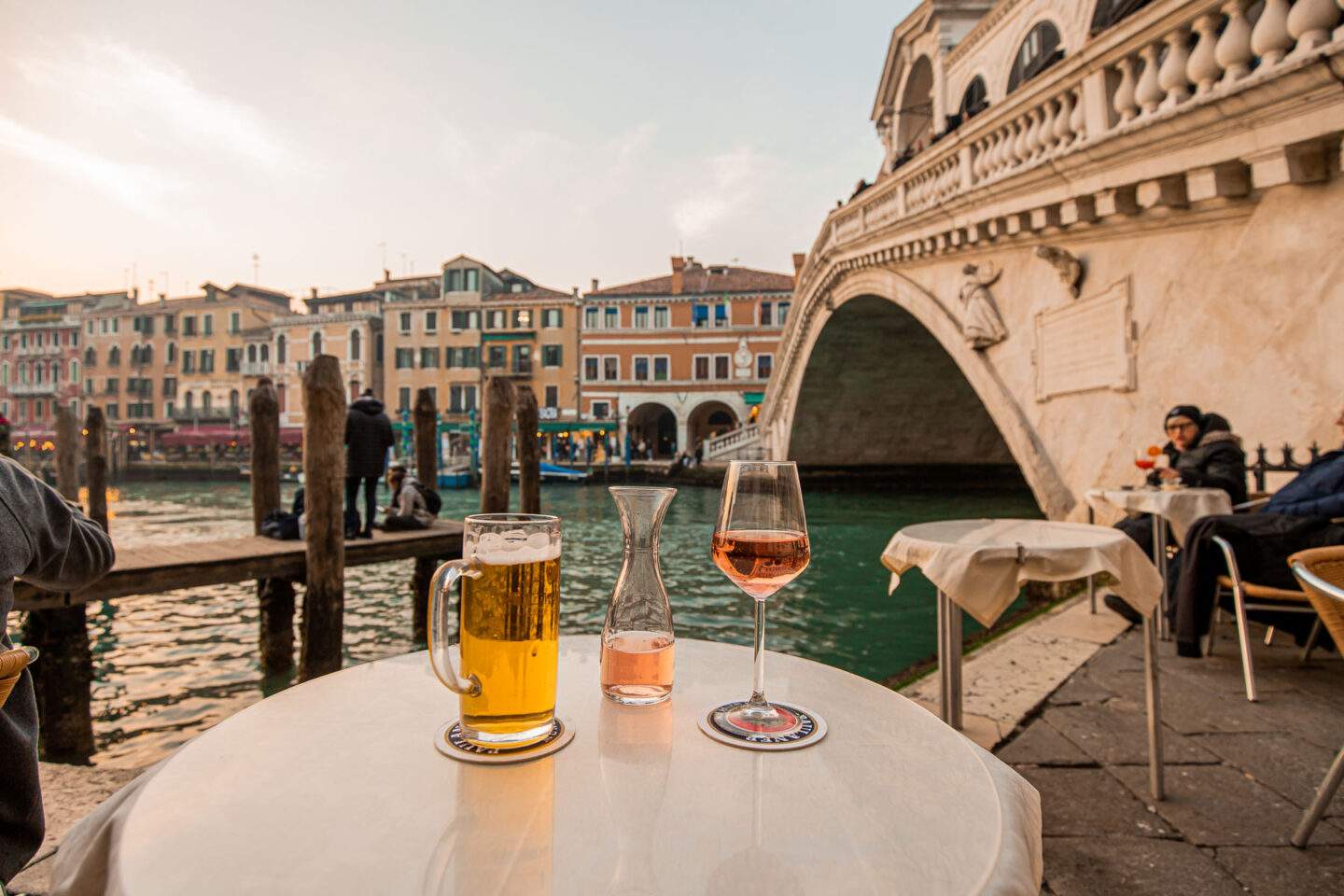 1 — Rialto Bridge

Rialto Bridge was one of our first stops in Venice. Even though it's undoubtedly swarming with tourists, it's a great spot to get your bearings of the city while soaking in a view of one of the most iconic bridges about (and trust me when I say there are a LOT of bridges). Walking over Rialto Bridge, you'll get an amazing view of the Grand Canal, so make sure to come here at sunset for a visual treat. We ended up grabbing a table right next to the foot of the bridge and even though admittedly this may have been a tourist trap, it was the perfect spot to take in all the sights and smells of the Adriatic Sea with an iced cold rosé.

You'll also want to get a pic of the bridge for the gram no doubt, and I'm here to tell you that you don't need to wake up at the crack of dawn in order to do this. In fact, I've got 4 different photo spot recommendations for the perfect picture of the Rialto Bridge, read my post – Venice Instagram Spots – to get these exact locations (Google Maps and all) with my top tips for getting the shot.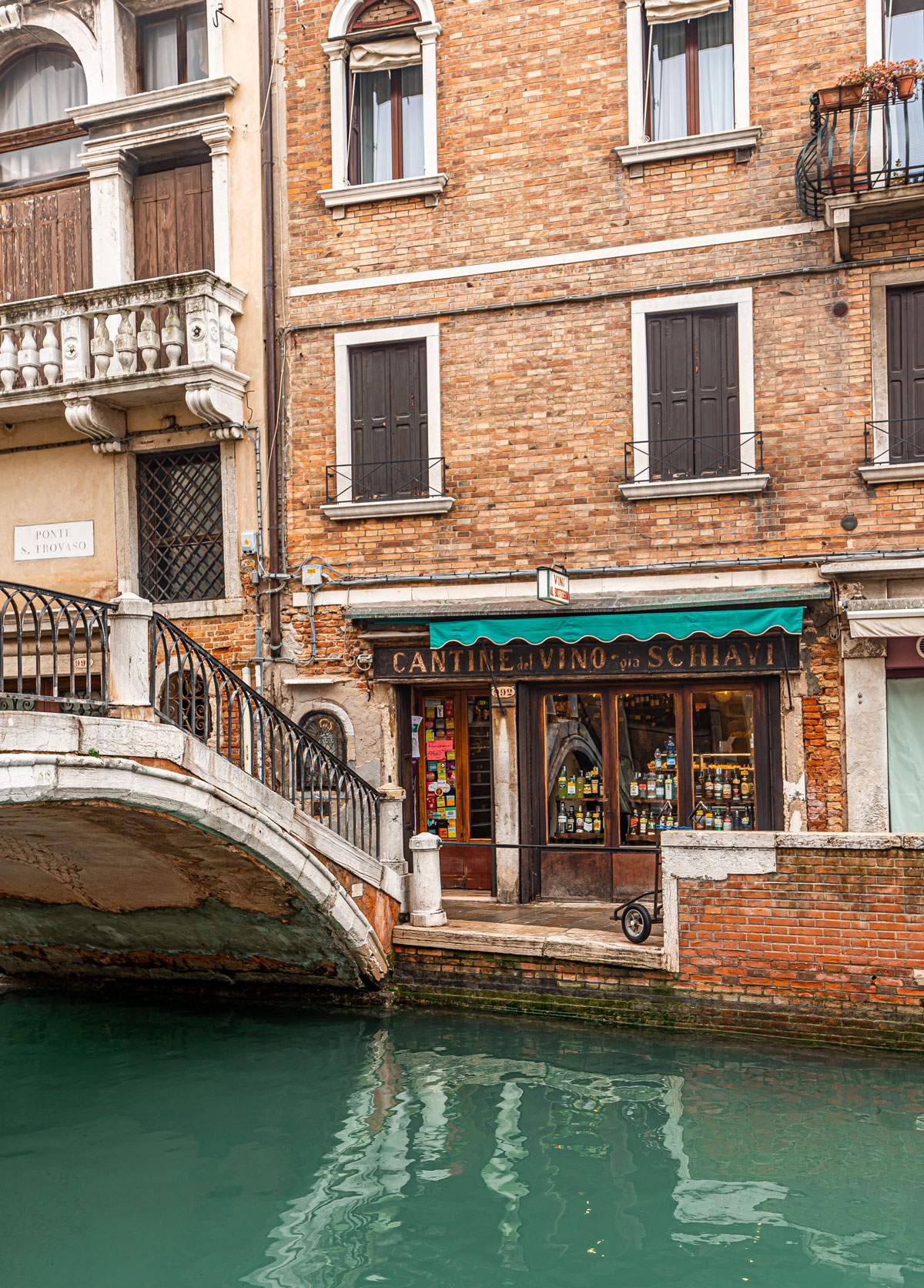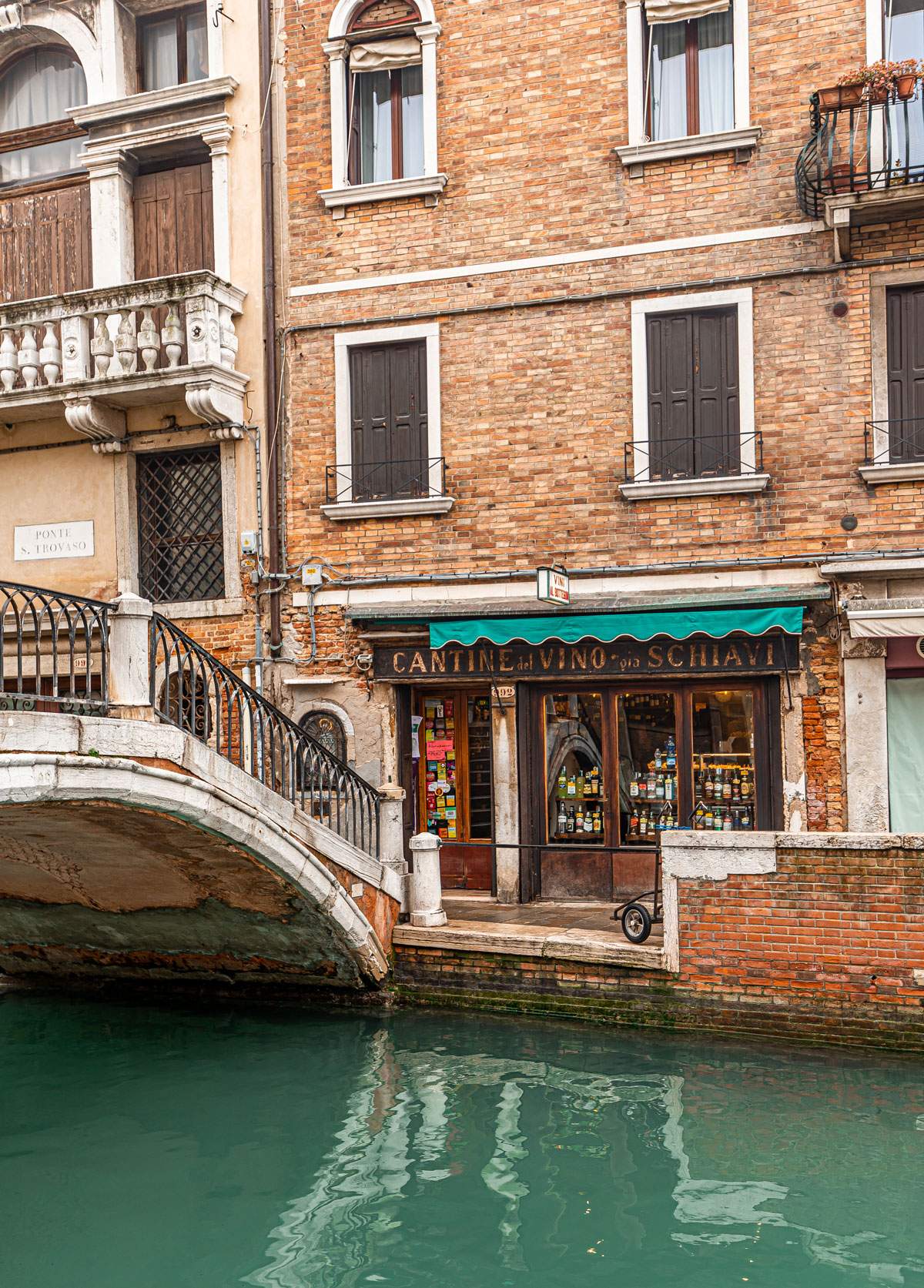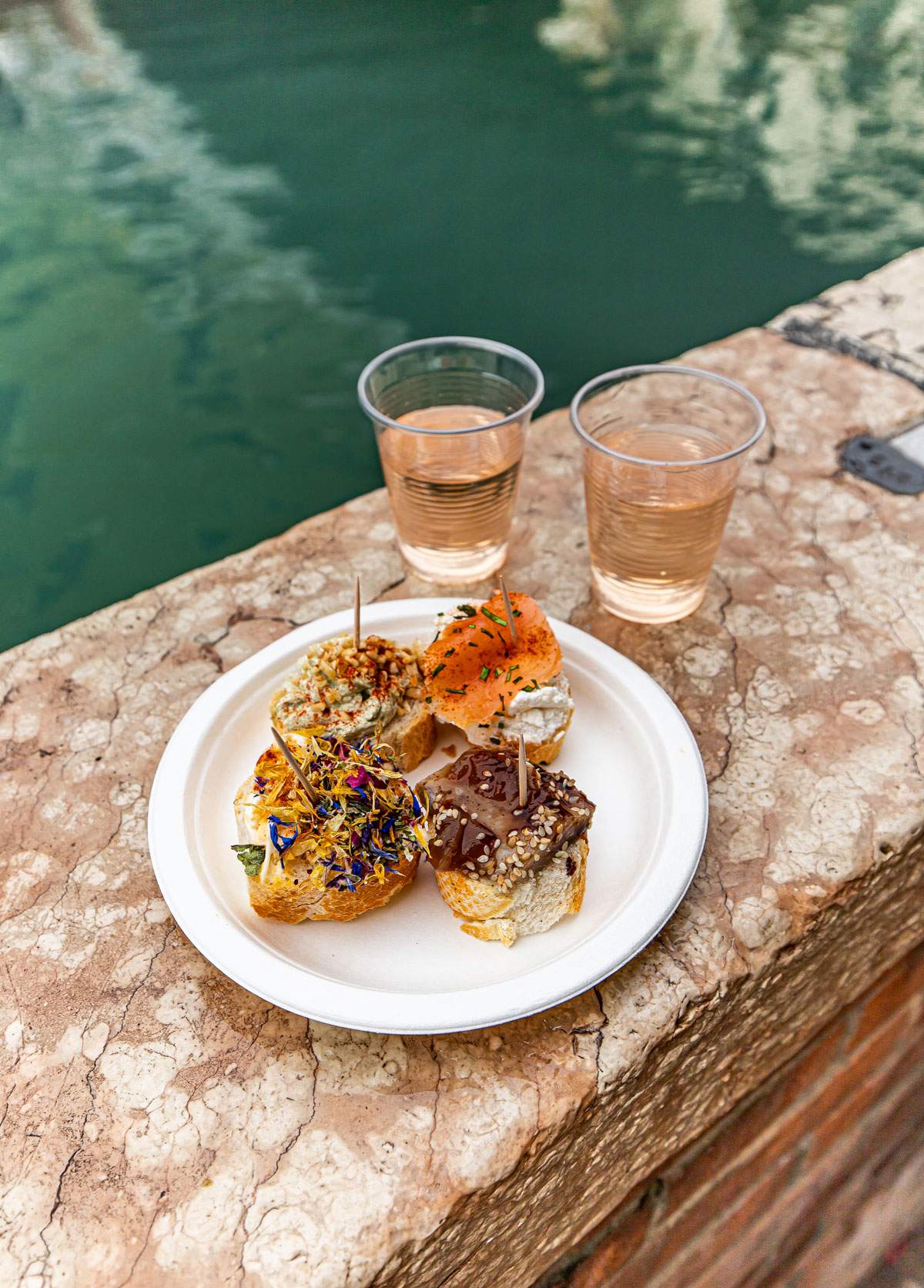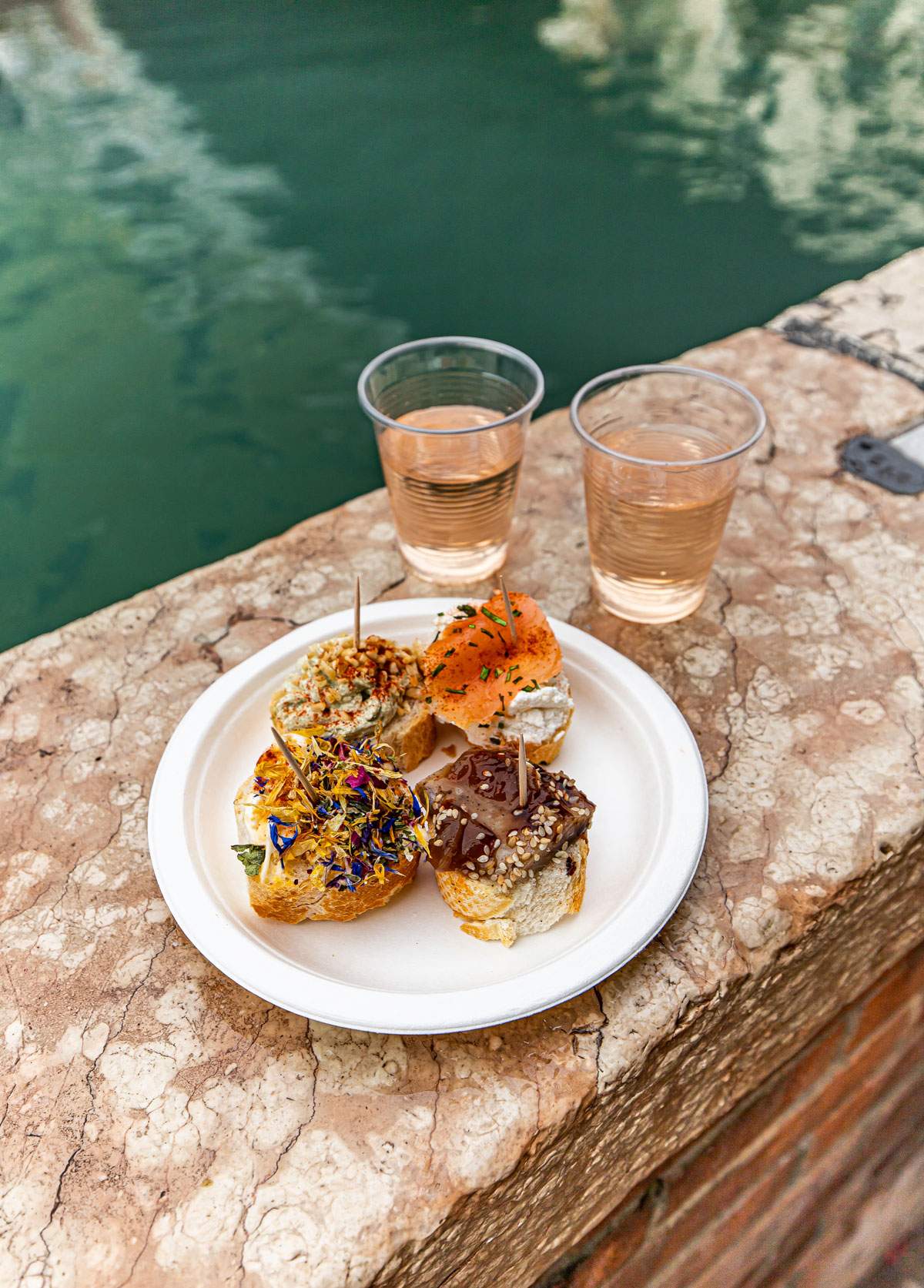 2 — Bàcaro

While the rest of Italy may be famous for its pizza and pasta, Venice is known for it's Cicchetti. Dotted across the city you will find countless  Bàcaro – which are wine/snack bars. Consider them a pit stop for a cheap drink & a snack. One of my favourite stops was at Cantine del Vino gia Schiavi, at this Bacaro you can get $1 glasses of wine and $1.50 Cicchetti. Typically you consume these standing up in a dine and dash fashion.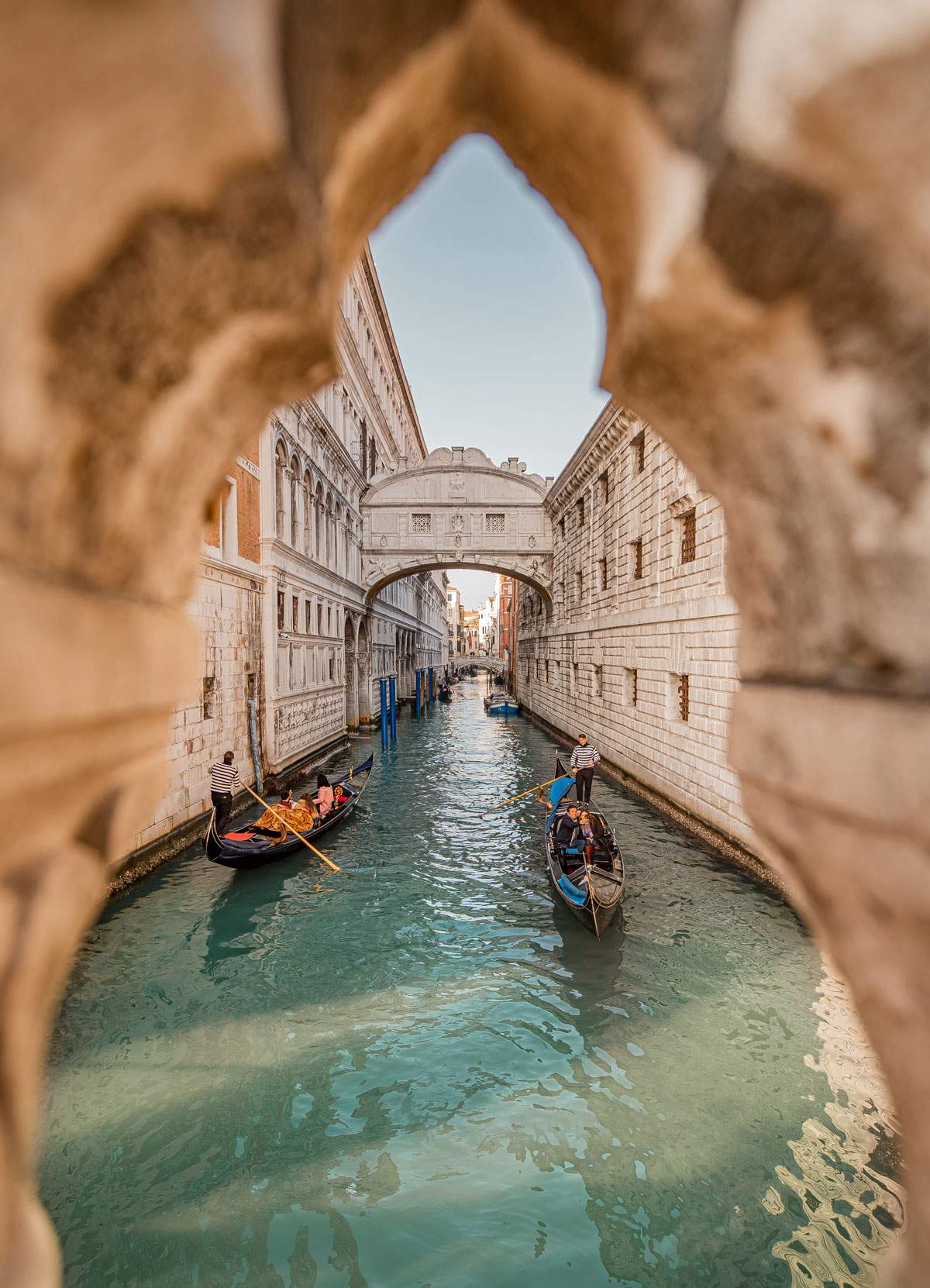 3 — Bridge of Sighs
How can a wee bridge be so famous? I mean just look at it. It's an iconic view of Venice, connecting the New Prison to the interrogation rooms in the Doge's Palace (which means if you actually want to walk across the bridge, you'll need to buy an access ticket to the palace). This 15th-century construction was dubbed the "Bridge of Sighs" as it was said that the convicted Venetian prisoners would let out a sigh at their final view of Venice from the bridge before being taken down to their cells. And hey, I don't blame them, I certainly let out a big sigh when I boarded my Easyjet flight home to London.
For tips on how to get the perfect photo with the Bridge of Sighs, read my other post – Venice Instagram Spots.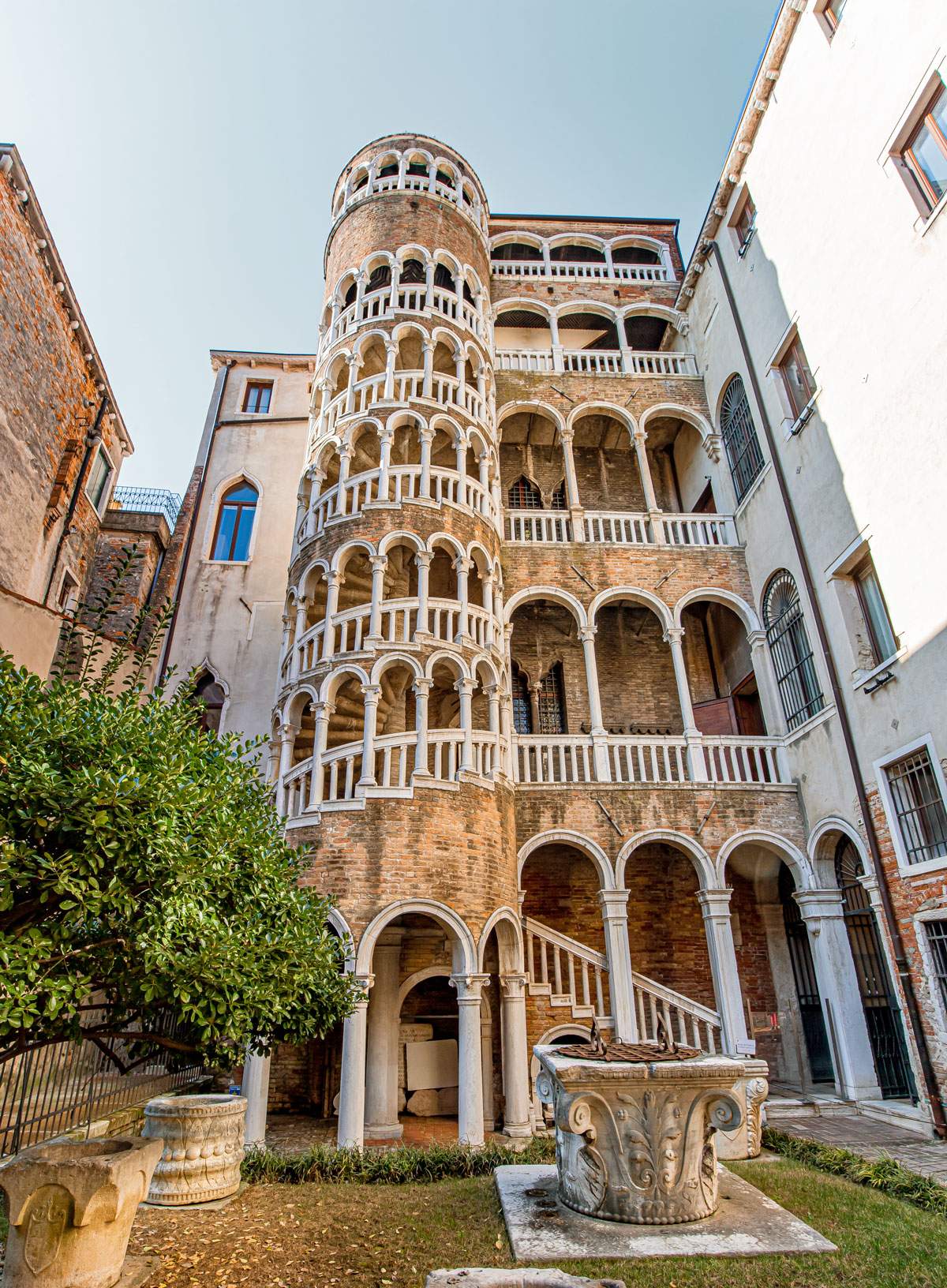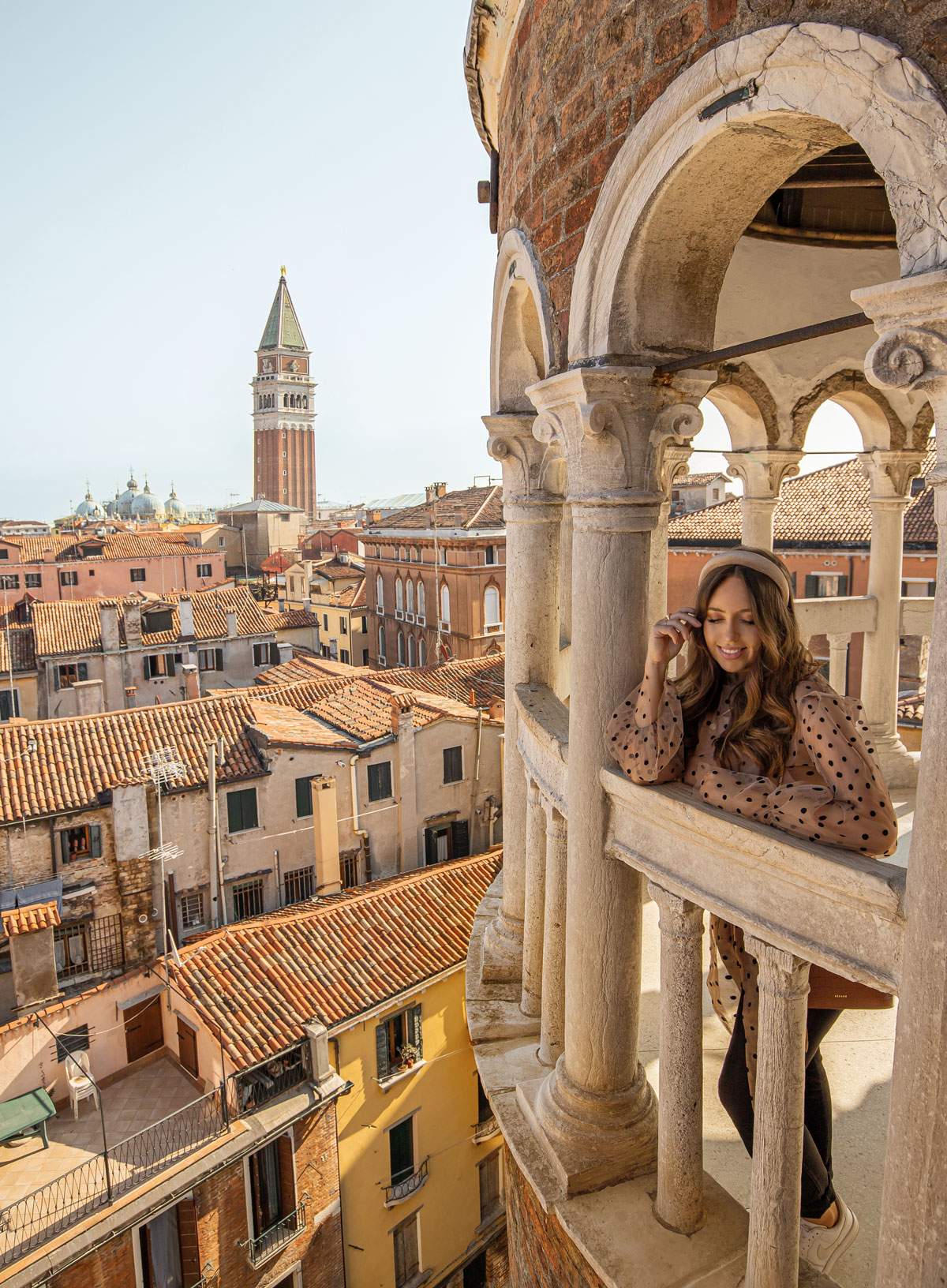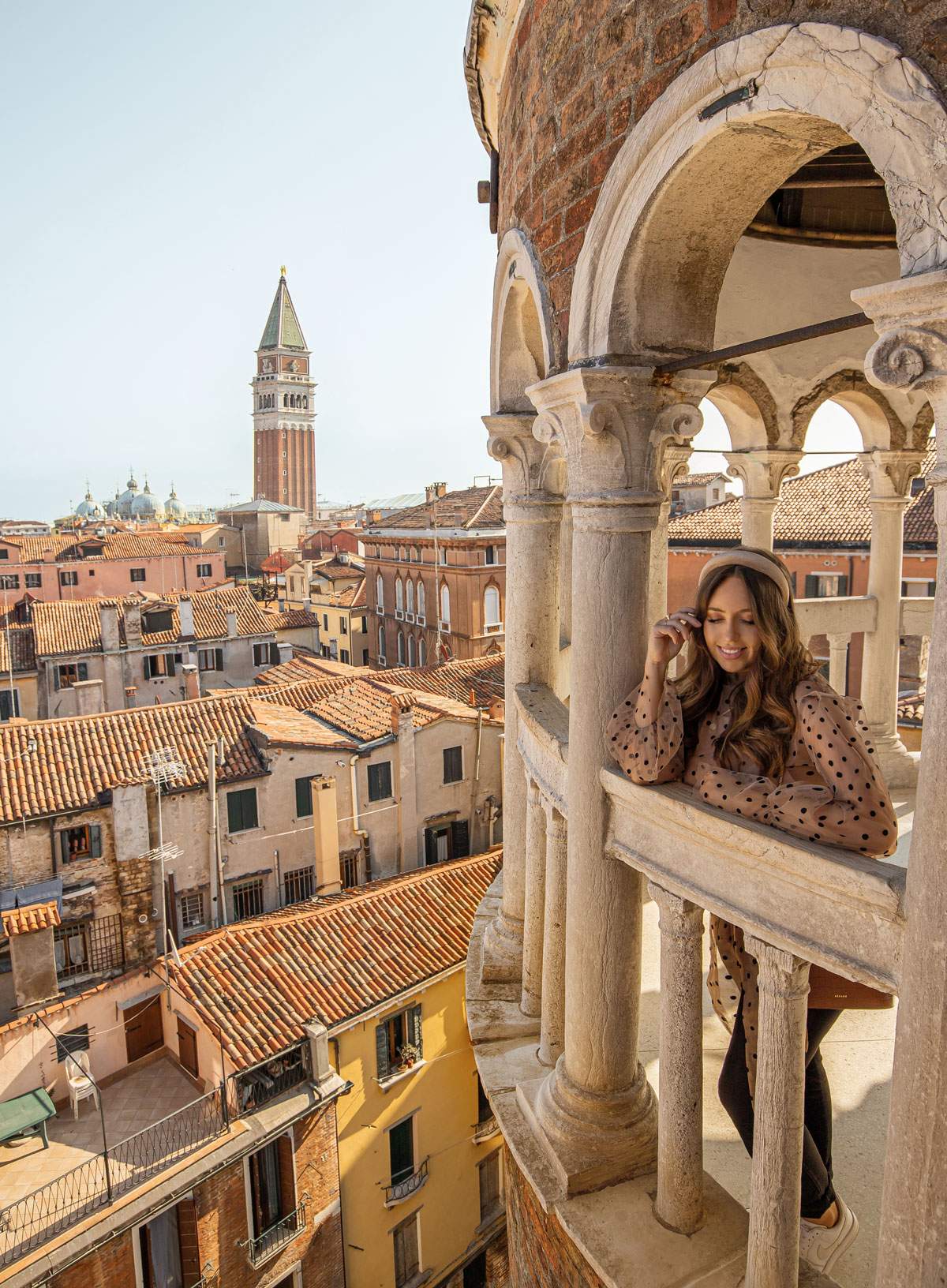 4 — Palazzo Contarini del Bovolo

Considering that Venice is completely flat, with no hills, mounds or even sky scrappers to get a view of the city, it means there are limited choices when it comes to getting a view from above. One of the best views in Venice is from the top of a spiral staircase, tucked away in San Marco. Climbing the steps of Palazzo Contarini del Bovolo will lead you to an impressive arcade, providing you with a perfect view of the towering St Mark's Campanile and the Venetian rooftops below.

It's only been open to the public since 2016, which means this palazzo is still a bit of a hidden gem. Entry will cost you £7 and also includes access to a small art exhibition on the second floor.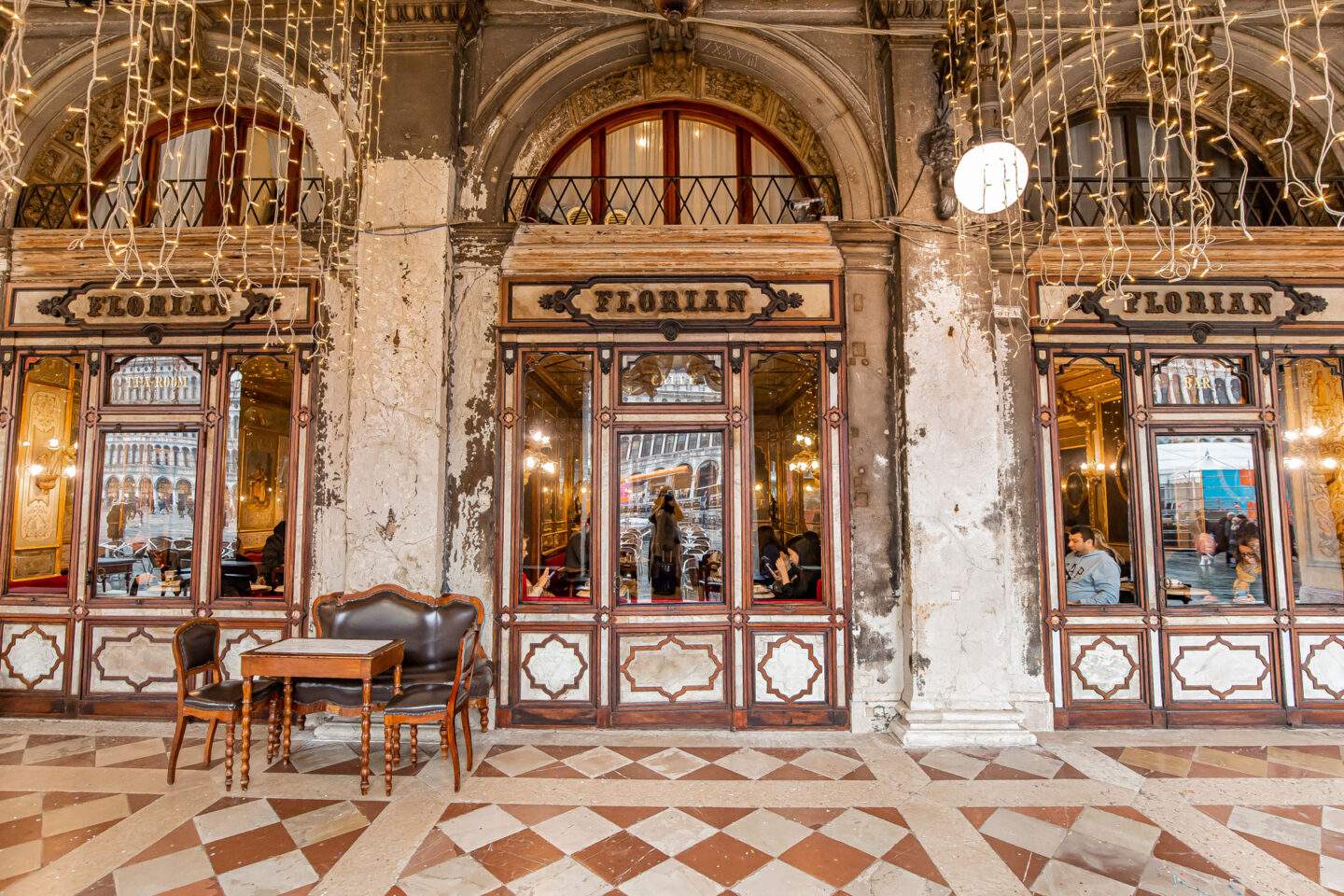 5 — Caffè Florian

On a typical foggy day in Venice, we sought shelter at Caffè Florian, the oldest coffee house in the world. Every inch of this cafe is overtly decadent and dripping in 18th-century details. The menu prices here are shocking (a cappuccino will cost you €10.50!) so my logic was that if you're gonna spend that much on a coffee you may as well spend a bit more and get a pimped-out frozen coffee for a few euros extra (stupid logic I know, but just hear me out).

Although the prices are staggering, the coffee and tiramisu we shared was without question the most delicious dessert I consumed while in Venice, I'll give them that. Plus the novelty of getting a caffeine fix in a place so full of history is really priceless.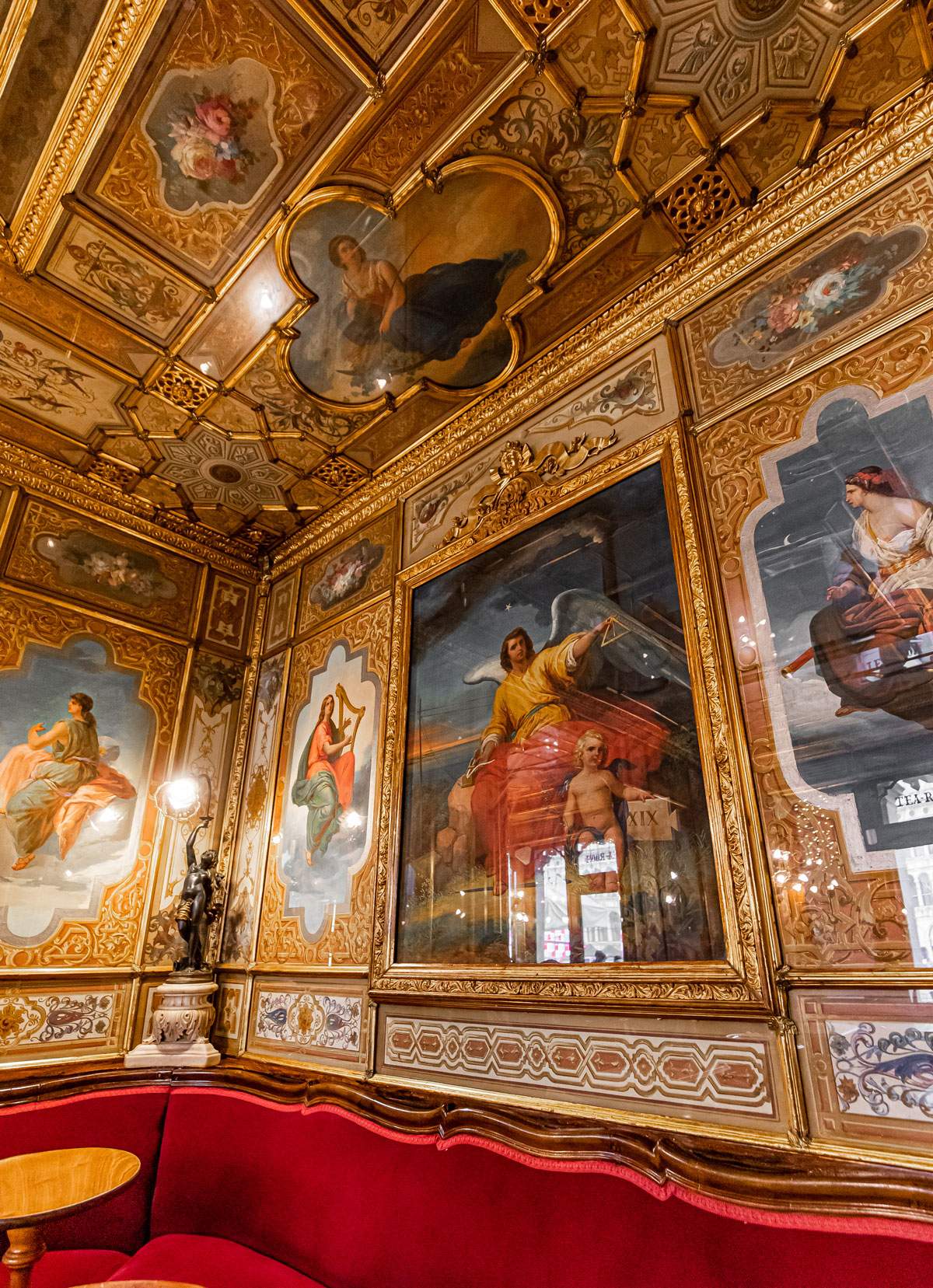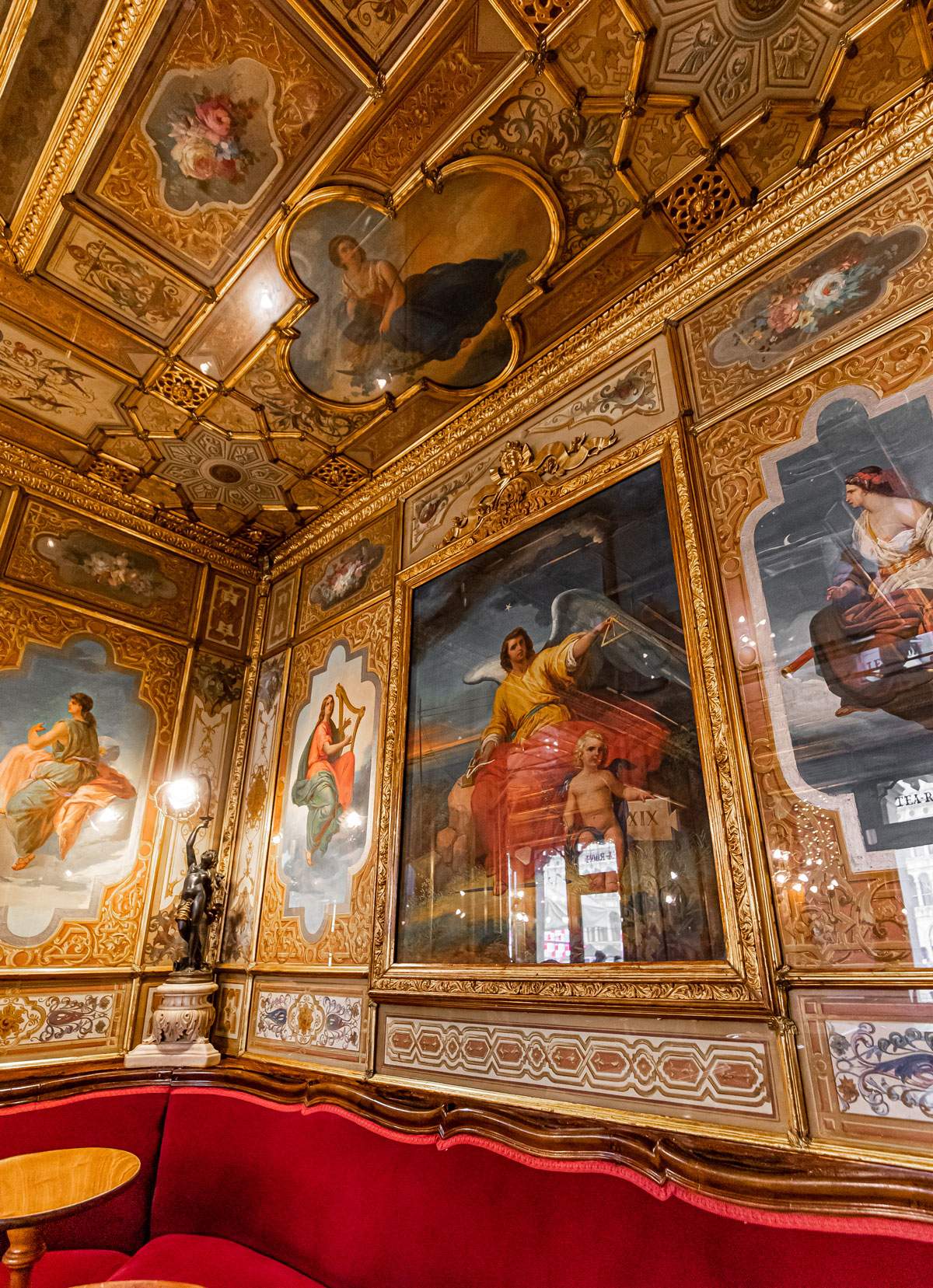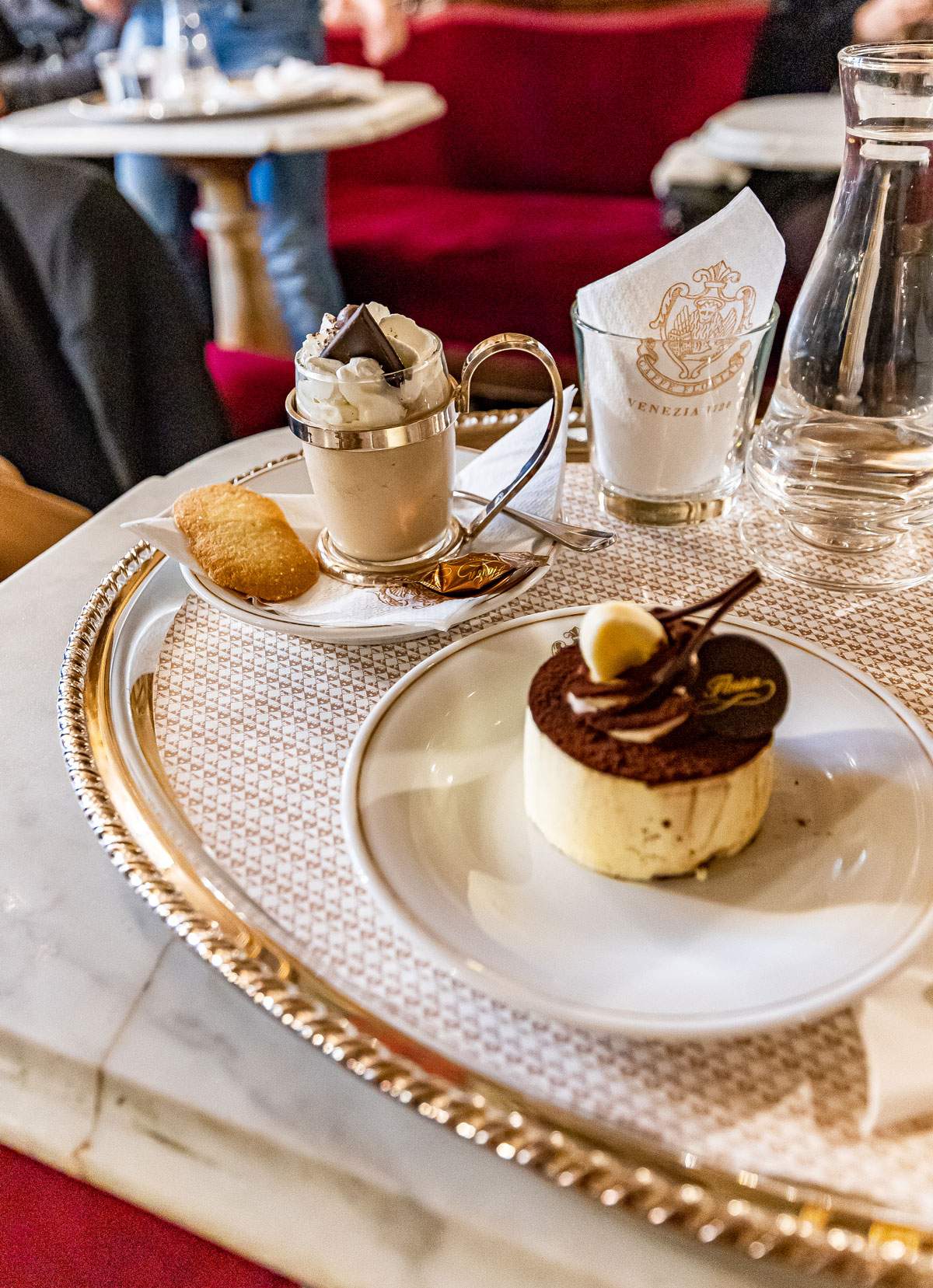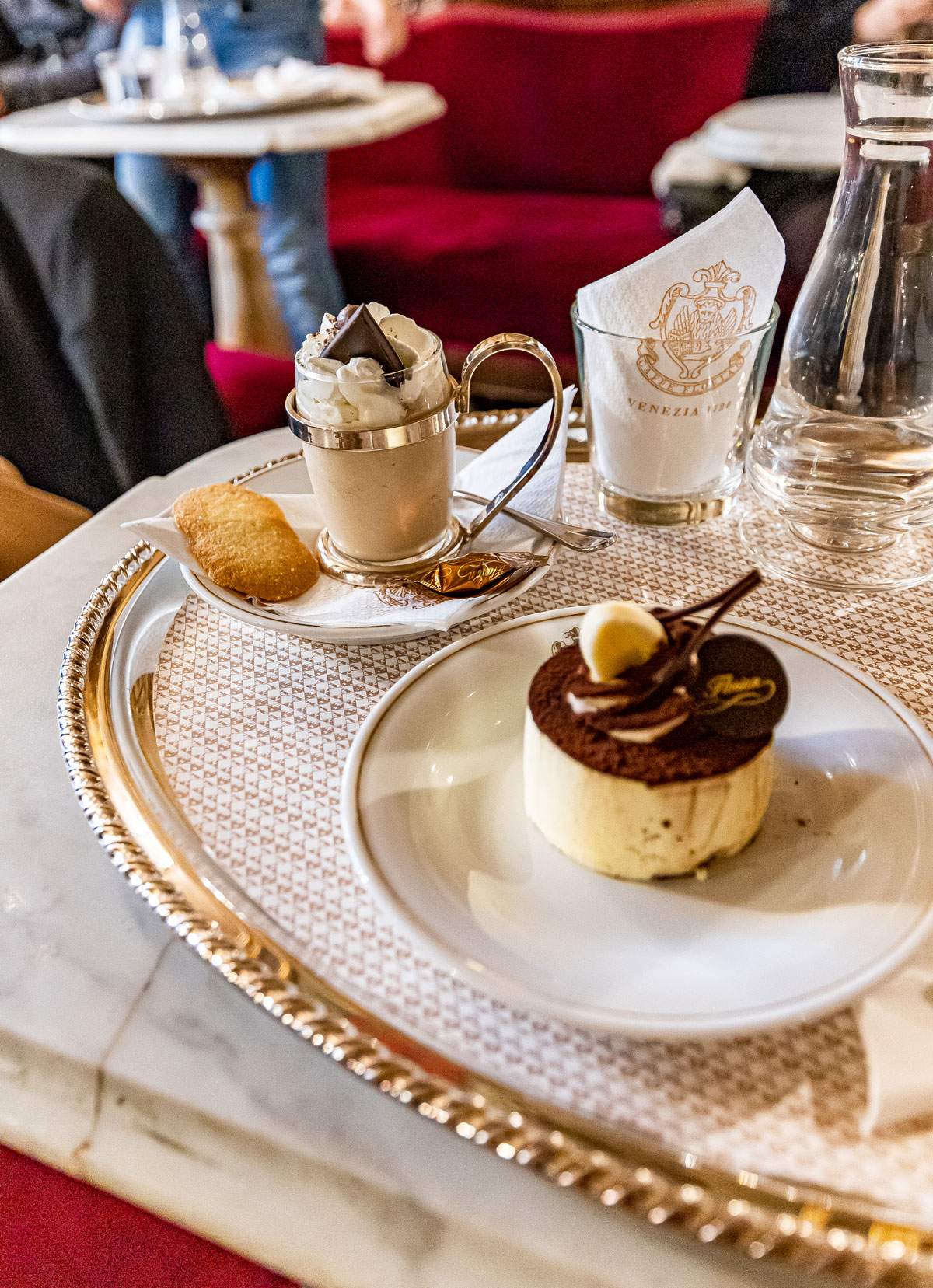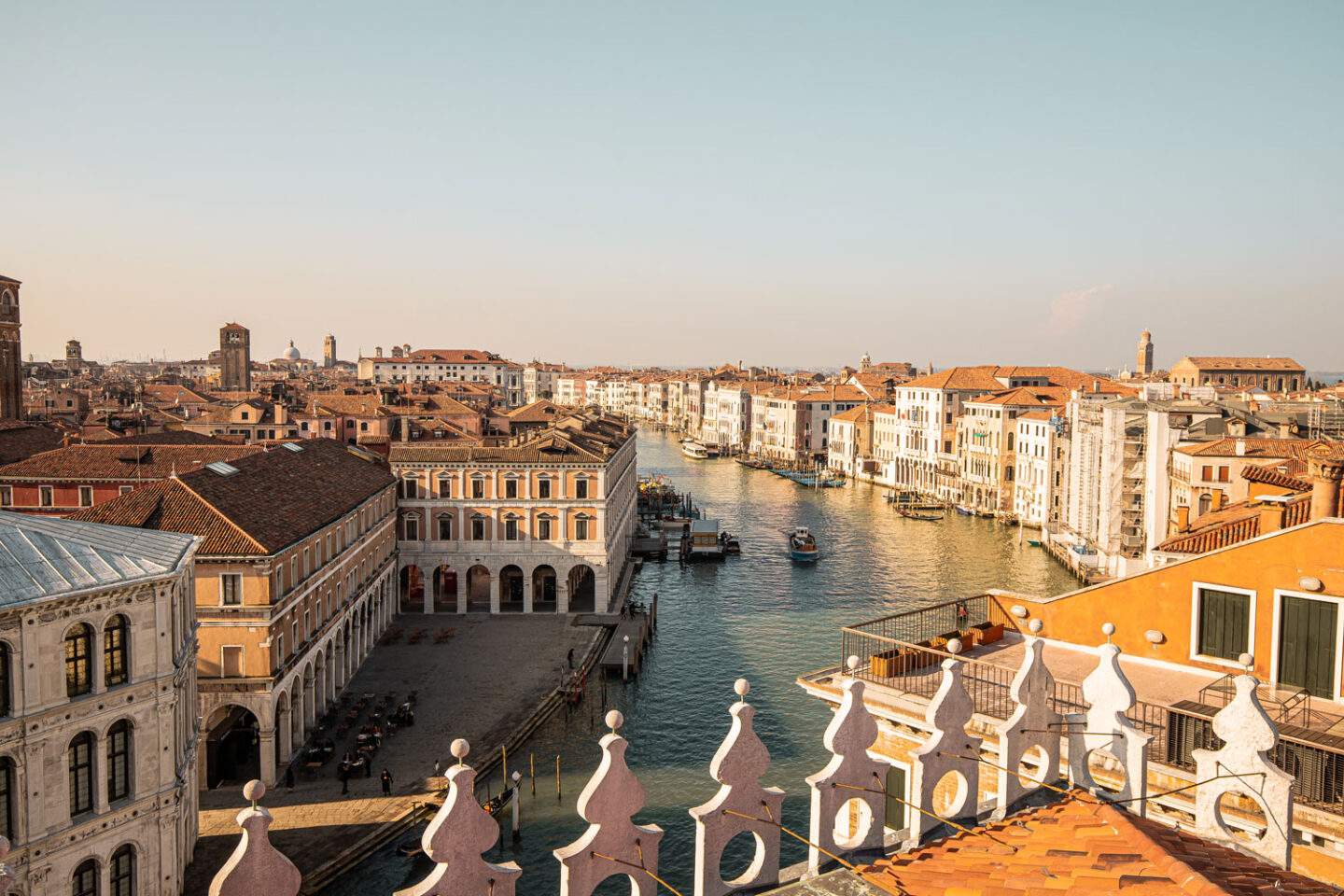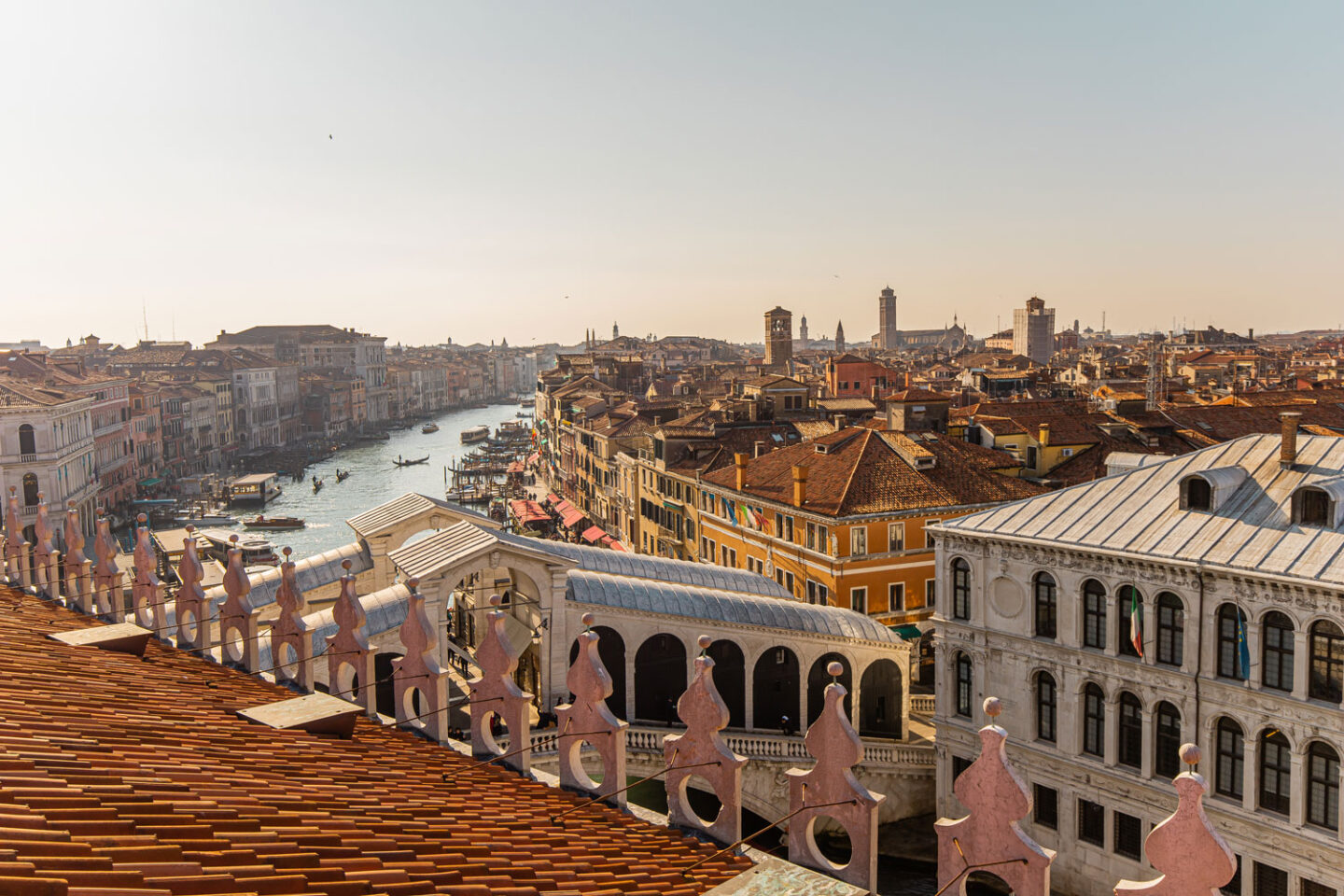 6 — T Fondaco Rooftop Terrace
The other best view of Venice is FREE to access from the rooftop of Fondaco Dei Tedeschi, a luxury shopping centre. You just need to book a viewing online here for your complimentary view of the Grand Canal. You'll be granted access to the rooftop for 15 minutes, which is enough time to soak in the views, grab a cheeky selfie and think of an exit plan so you don't spend all your money when existing through the department store (I failed and left with a newly purchased Diptyque Candle). While it is possible to walk in and get a viewing slot on the spot, in the busier months I strongly advise booking ahead of time so you don't miss out.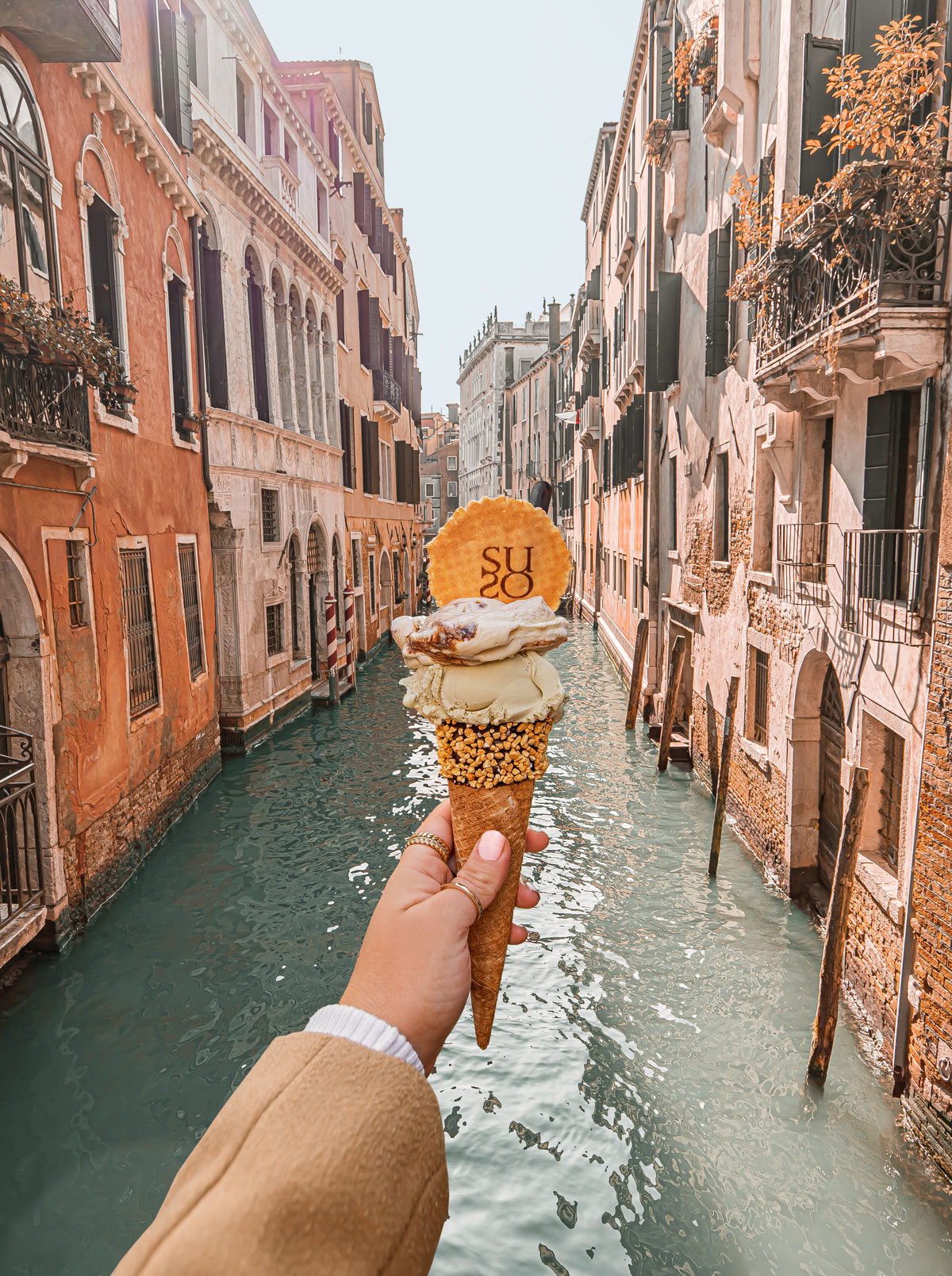 7 — Gelatoteca SuSo
You'll find the tastiest gelato in Venice at Gelatoteca SuSo and you'll just have to take my word for it. That and the words of thousands of other tourists who have confessed their love for this tiny establishment and its rich homemade gelato. I went for a double scoop serving of pistachio and tiramisu which was dreamy, to say the least. You'll find this little slice of creamy heaven just a few steps from Ponte di Rialto.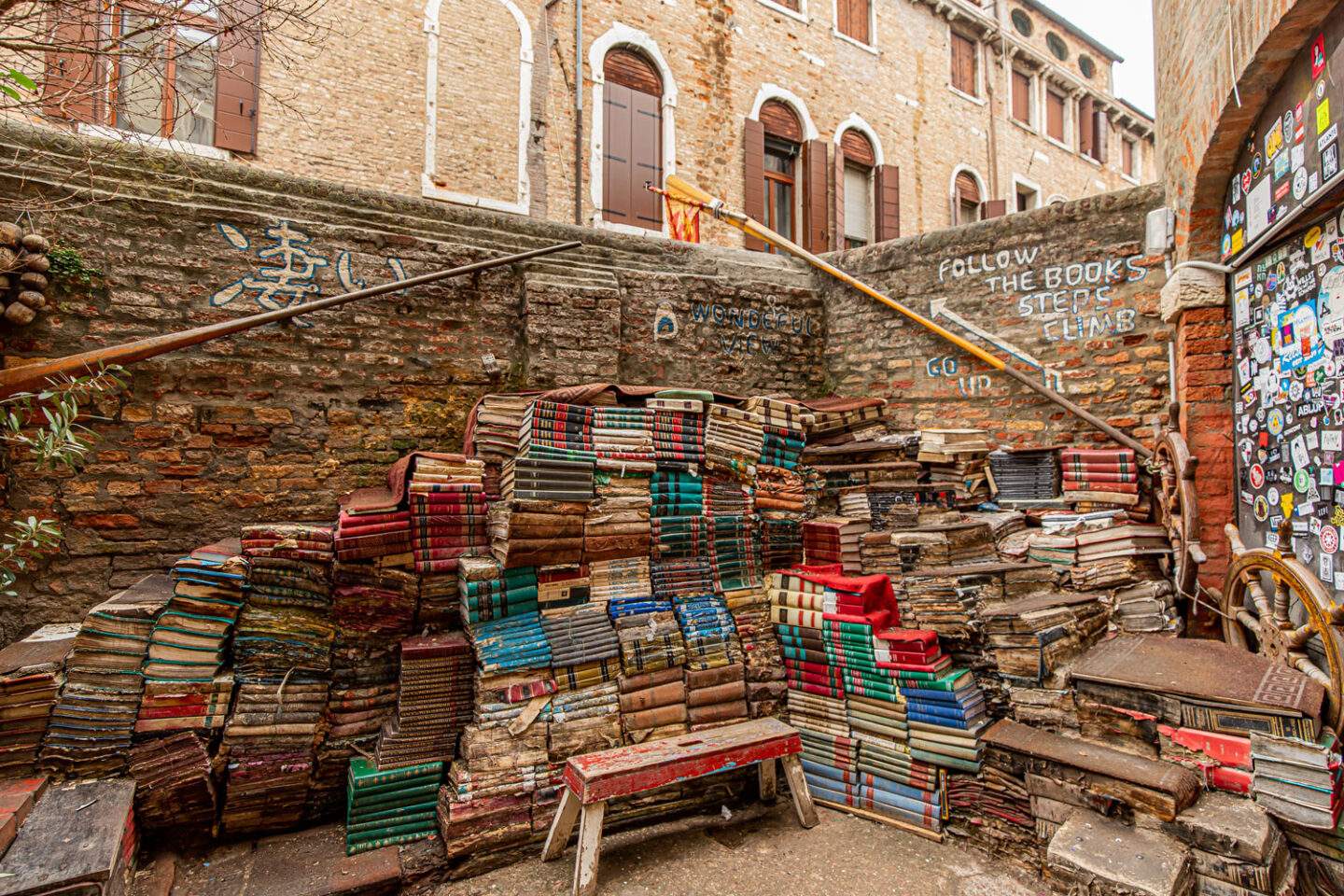 8 — Libreria Acqua Alta
The self-proclaimed "most beautiful bookshop in the world" and as someone who admittedly hasn't frequented many book stores since my university days, I'd have to say they're certainly not wrong. You can't miss a visit to Libreria Acqua Alta, bookworm or not.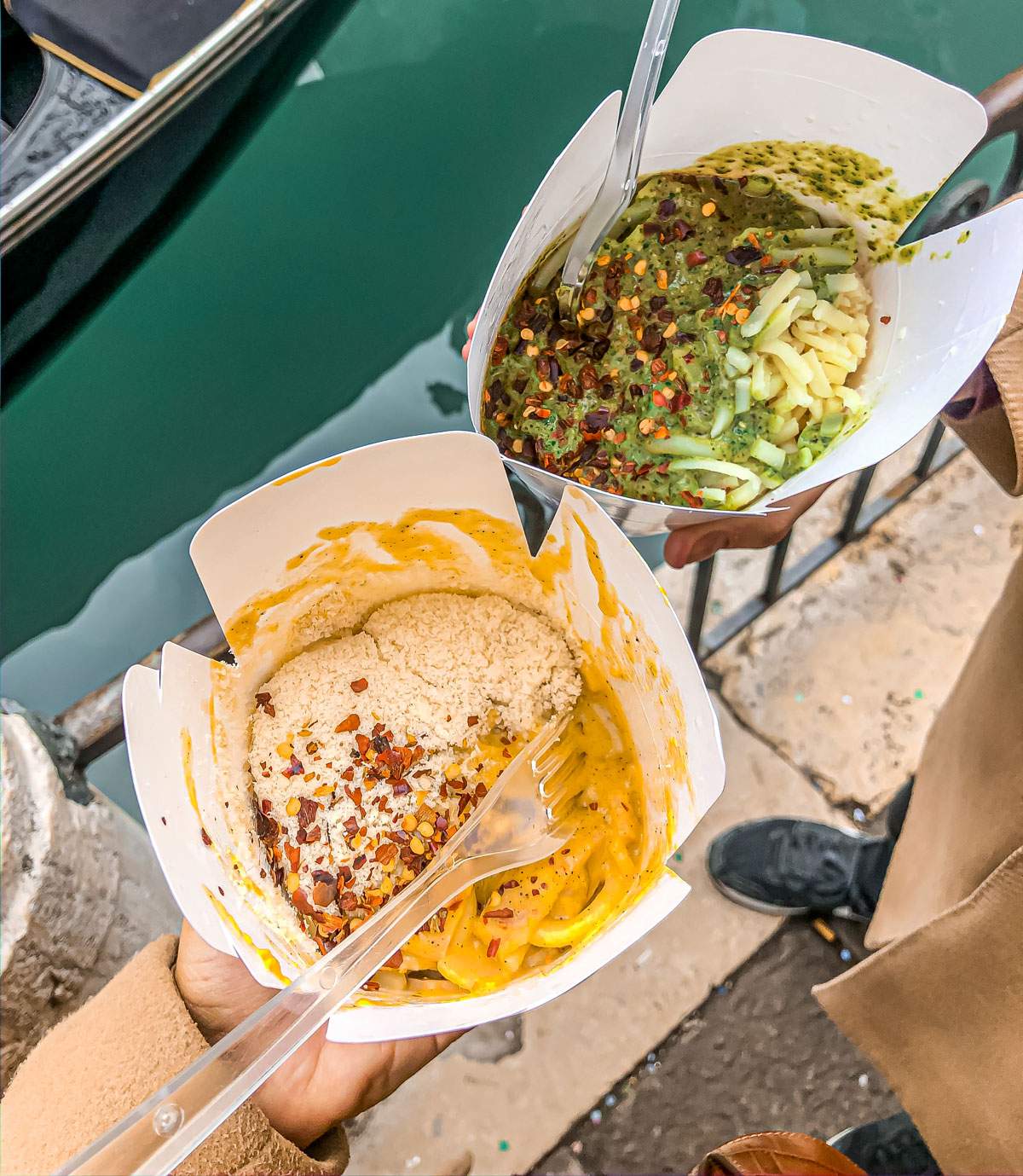 9 — Eat takeaway pasta from Dal Moro's
I didn't think you could beat a bowl of pasta until I ate a freshly made carbonara out of a takeaway box for the measly price of €8. Whoever said Venice was too expensive, send them to Dal Moro's. The take-out spot specialises in made-to-order fresh pasta with artisan sauces, which makes it the perfect spot to swing by and get your carb fix.
10 — Go on a Gondola Ride
Is paying for a Gondola ride in Venice worth it? Absofuckinglutely! If you are planning a trip to Venice you simply have to take a ride on a Gondola and I'm not taking no as an answer. I don't care if you have to eat baked beans in the weeks leading up to your visit, trust me when I say it'll be worth the cost. I mean, can you ~really~ put a price tag on what will be one of the most treasured memories of your life? Of course not. Also, you can totes do it for a reasonable cost too. If you're on a budget or travelling solo, you can book a spot on a group gondola ride on Viator.com with prices starting from £25 per person. If you're looking for a private ride, prices are between £80-£120 depending on the length of your journey. We paid £100 for a private ride that lasted 45 minutes and it was worth every cent. It was glam, it was romantic and it was the definition of boujee.

You can catch a gondola practically anywhere along the canals of Venice and unless you're travelling in summer, I wouldn't bother booking ahead of time. It's better to go about your day and as soon as the sun comes out, find a man wearing a striped shirt (not Where's Wally) and you'll be mere moments away from the ride of your lifetime. We boarded a Gondola at Ponte San Moisè which was the perfect spot as we didn't have to wait our turn to depart (gondola queues are a real thing people) which often happens from the more busy areas such as St Mark's Square. Our Gondolieri guided us around the sunkissed canals of San Marco before leading us out onto the Grand Canal where we were treated to a specular view of the Rialto Bridge. We then drifted peacefully down the Grand Canal to catch some up-close shots of the Basilica di Santa Maria della Salute.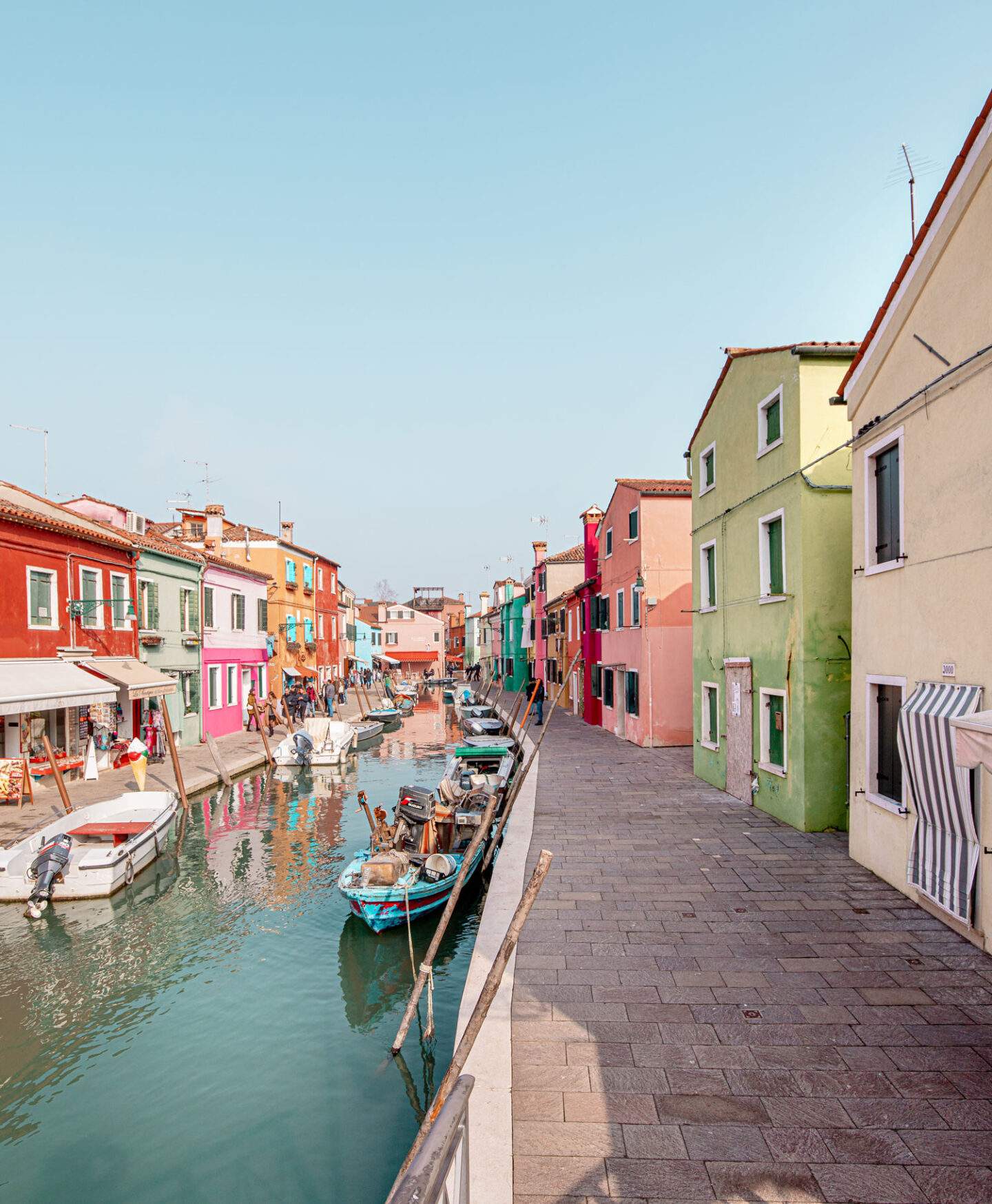 11 [Bonus] – Day trip to Burano
This tiny island is an Instagrammer's wet dream, however, the brightly coloured fishermen houses of Burano were painted shades of pink, green and yellow long before any social media apps even existed. The Venetian island is also famous for its lace-making and biscuit baking in case the rainbow streets weren't enough of a reason for you to visit. To get there you need to catch a ferry from Venice. There are a few spots you can catch one, the most accessible one being Zaccaria Pieta near St Mark's Square. Catch the ferry number 14 from here, for the short 40-minute journey – it's $15 for a return ticket, or if you have a water bus pass then your ride will be included.

It's worth noting that in summer, you may have to wait for several ferries before getting a chance to board one, so make sure to allow extra time for your visit to Burano. What is there to do on the island? Honestly, just have fun wandering, every corner there is a beautiful new sight. Just remember people do live in these houses (duh) so please be quiet and respectful. A half-day visit is all you'll need to take in the sights of Burano which means you can be back in Venice in time for Happy Hour.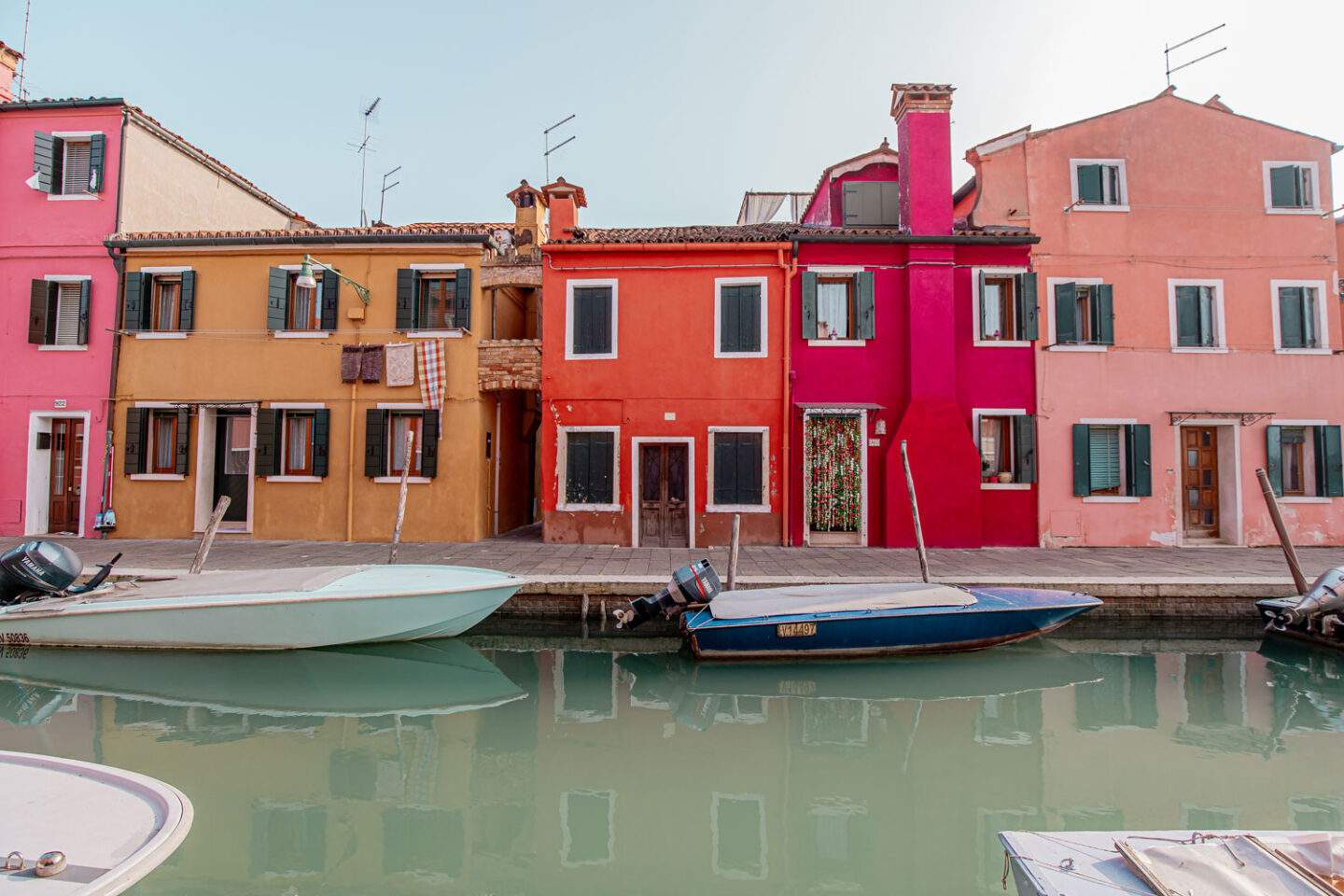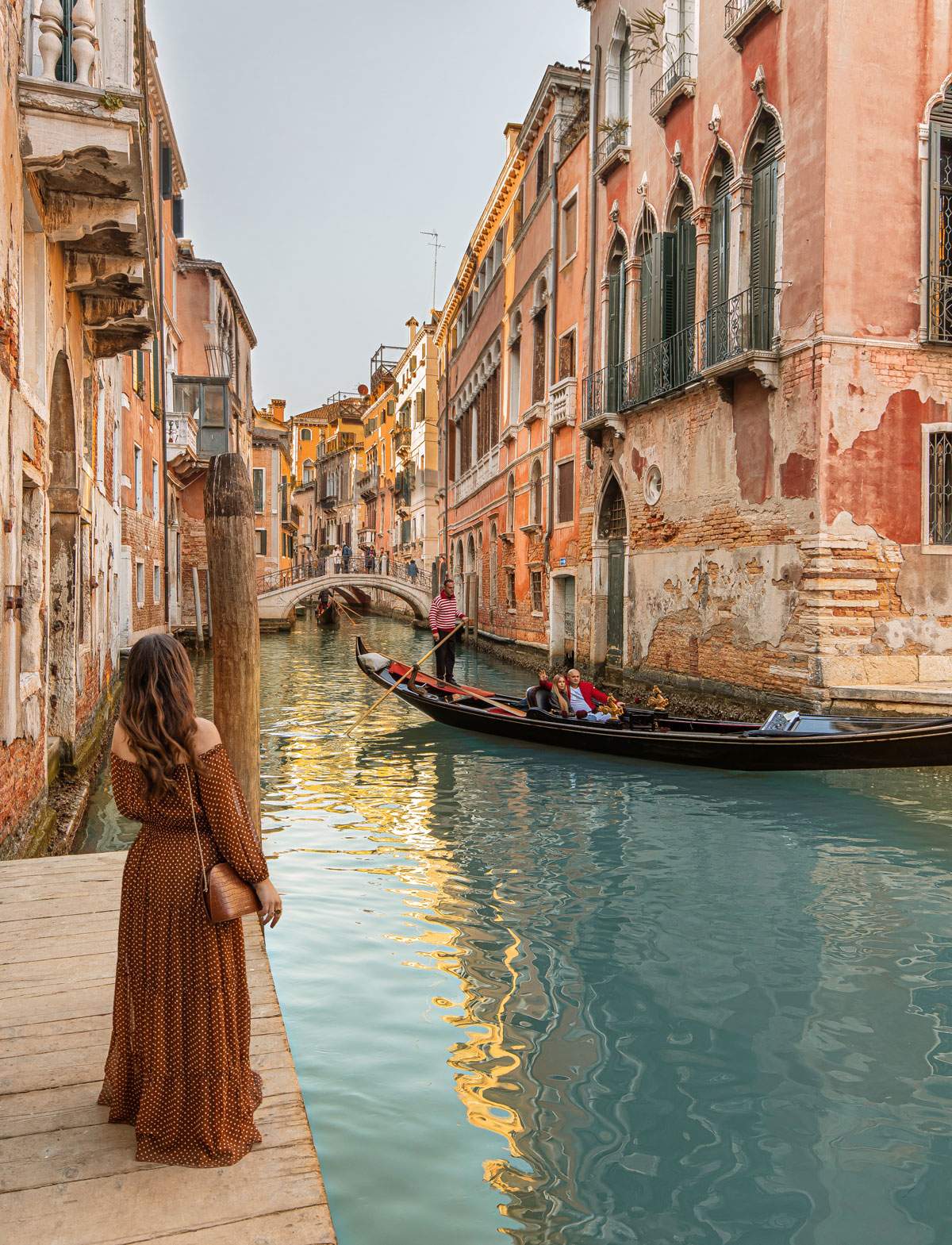 Related:
Want to get the best photos while in Venice? Read my post: 15 of the top Venice Instagram Spots.



Venice Bucket list
Check out my Venice bucket list below. Save it to your Pinterest for an upcoming trip or post it on your Instagram stories & check off the places you've been.
If you want to see more of my food recommendations for other popular cities or travel bucket lists, click the link below.
INSTAGRAM STORY TEMPLATES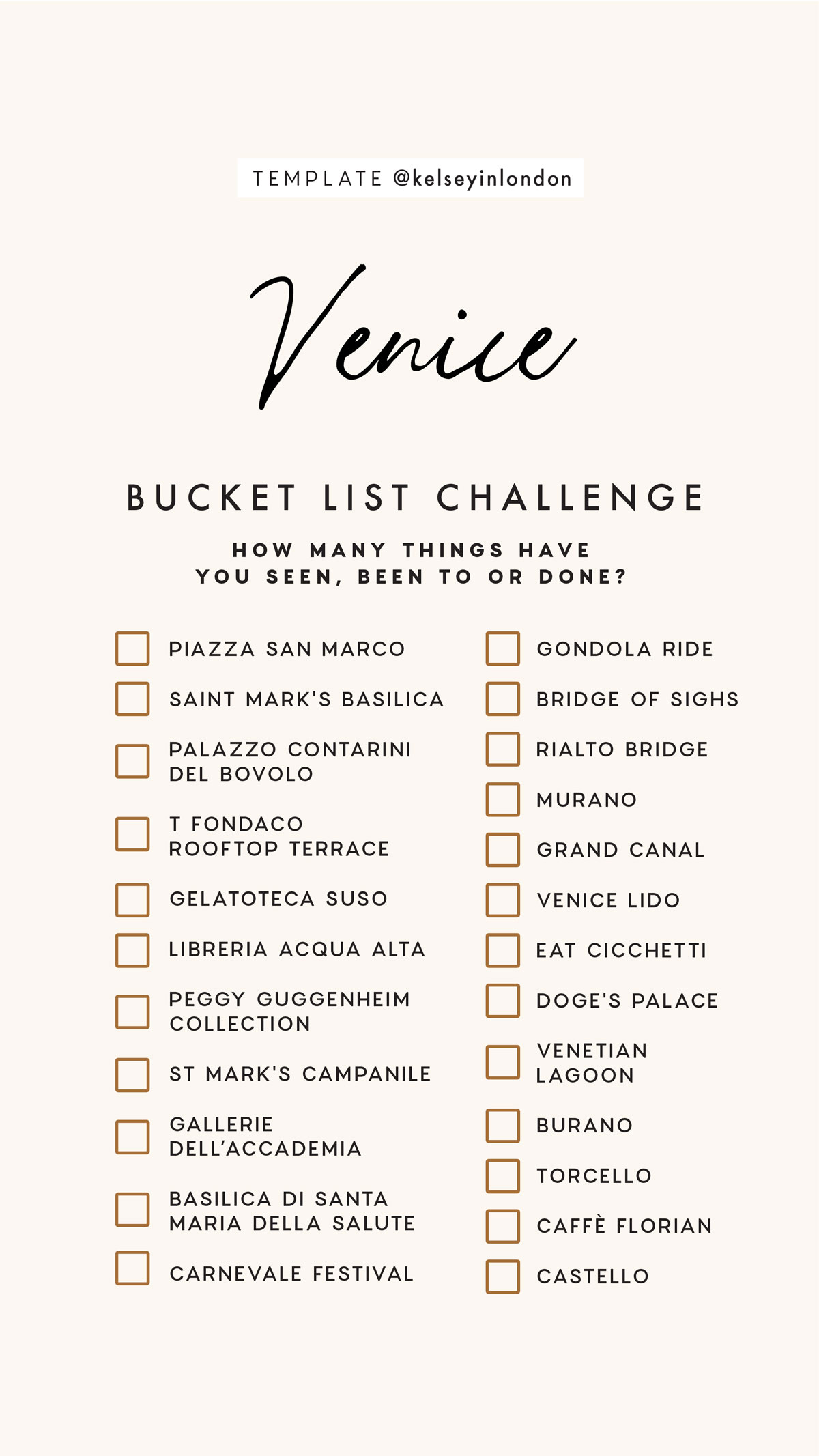 Enjoyed this guide? Pin it for later below! Follow me on Pinterest.