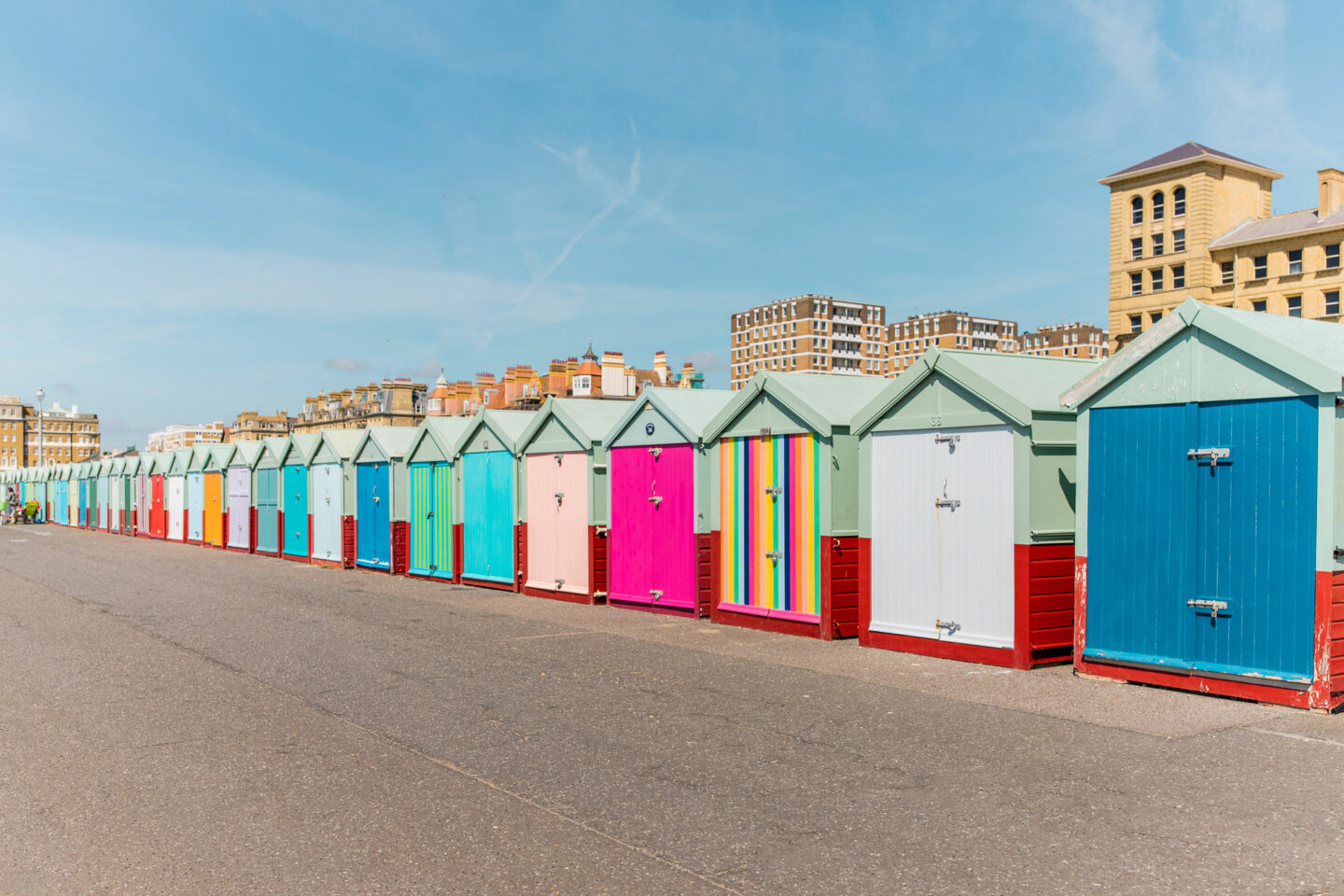 The next instalment in my UK travels saw me catching the train down to the charming seaside town of Brighton. I had visited Brighton previously on a day trip which is very achievable considering the journey from London is about as long as my favourite true-crime podcast. This time I decided to make a whole weekend of it, with my fellow blogger gal pal Kate, and get very well acquainted with this place full of colour, quirk and character. We were very lucky to work with Visit Brighton who organised this trip for us to ensure we saw the best of the best, and trust me when I say: we covered it all.
It's the perfect destination for a city escape and if you're planning a visit soon, read on for my top recommendations on things to do in Brighton featuring the best activities and places to eat, drink, shop & sleep.
Top things to do in Brighton.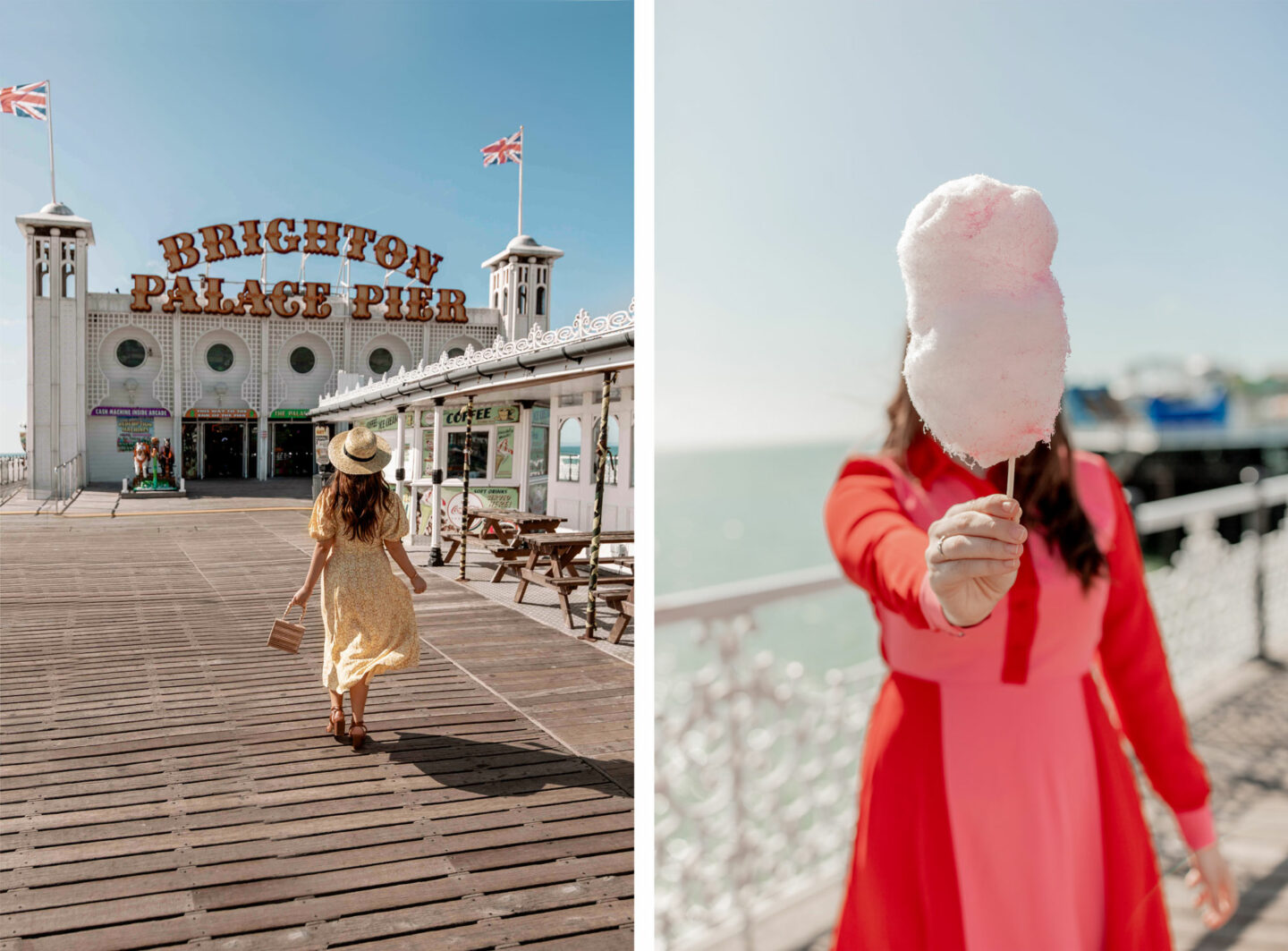 Activities
Brighton Palace Pier
No trip to Brighton would be complete without a stroll down the famous Brighton Palace Pier. A 1,722 ft long pier for thrill-seekers, foodies and Instagrammers. There's something for everyone with an offering of amusement rides, arcade games, cocktail bars and countless food stalls. Make sure to order the famous fish, chips & mushy peas combo – just watch out for the seagulls who will have no qualms swooping you in order to get their beaks around a crumb. Walking off the pier you'll find even more rides along Brighton Beach where you can park up for a day in the sun.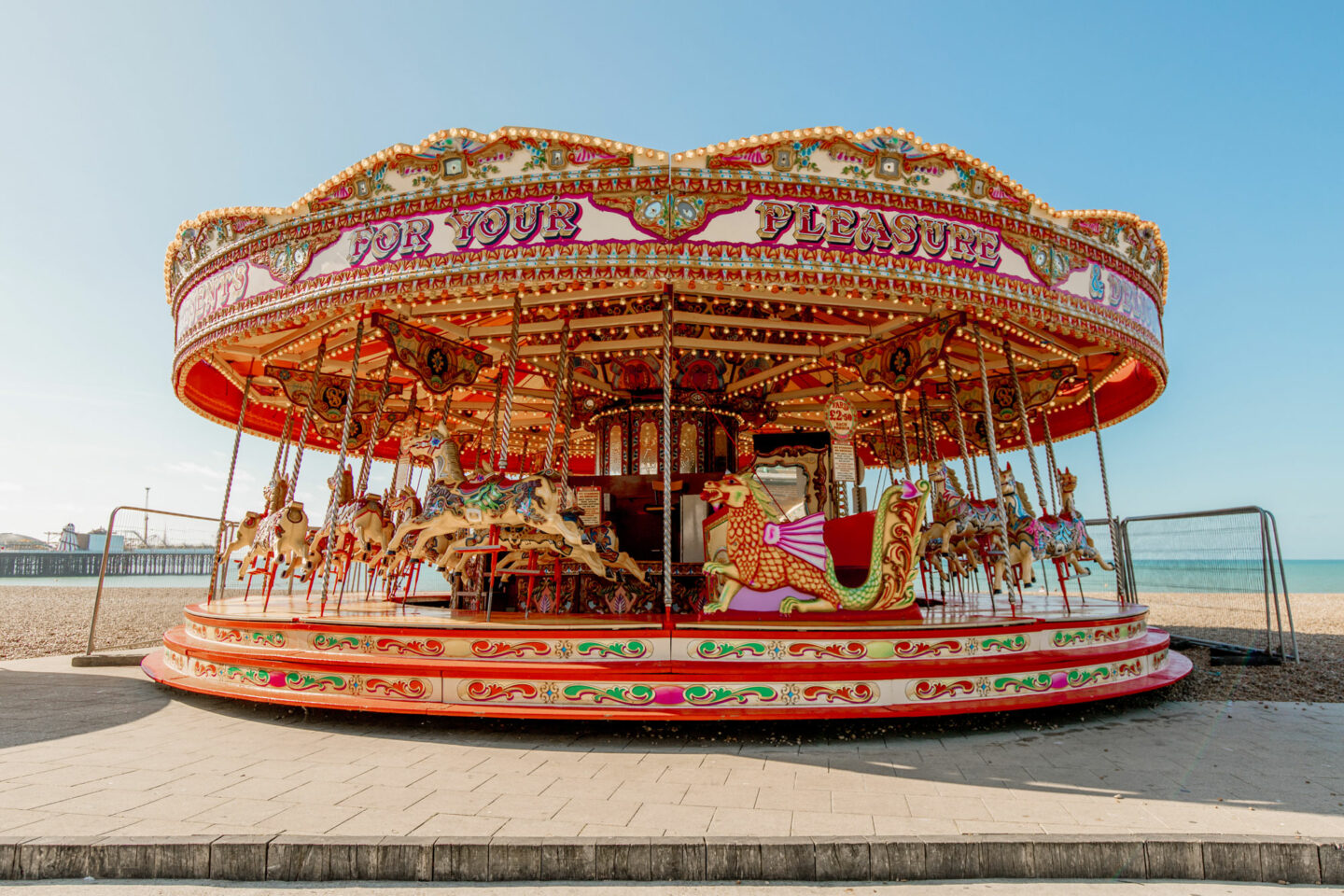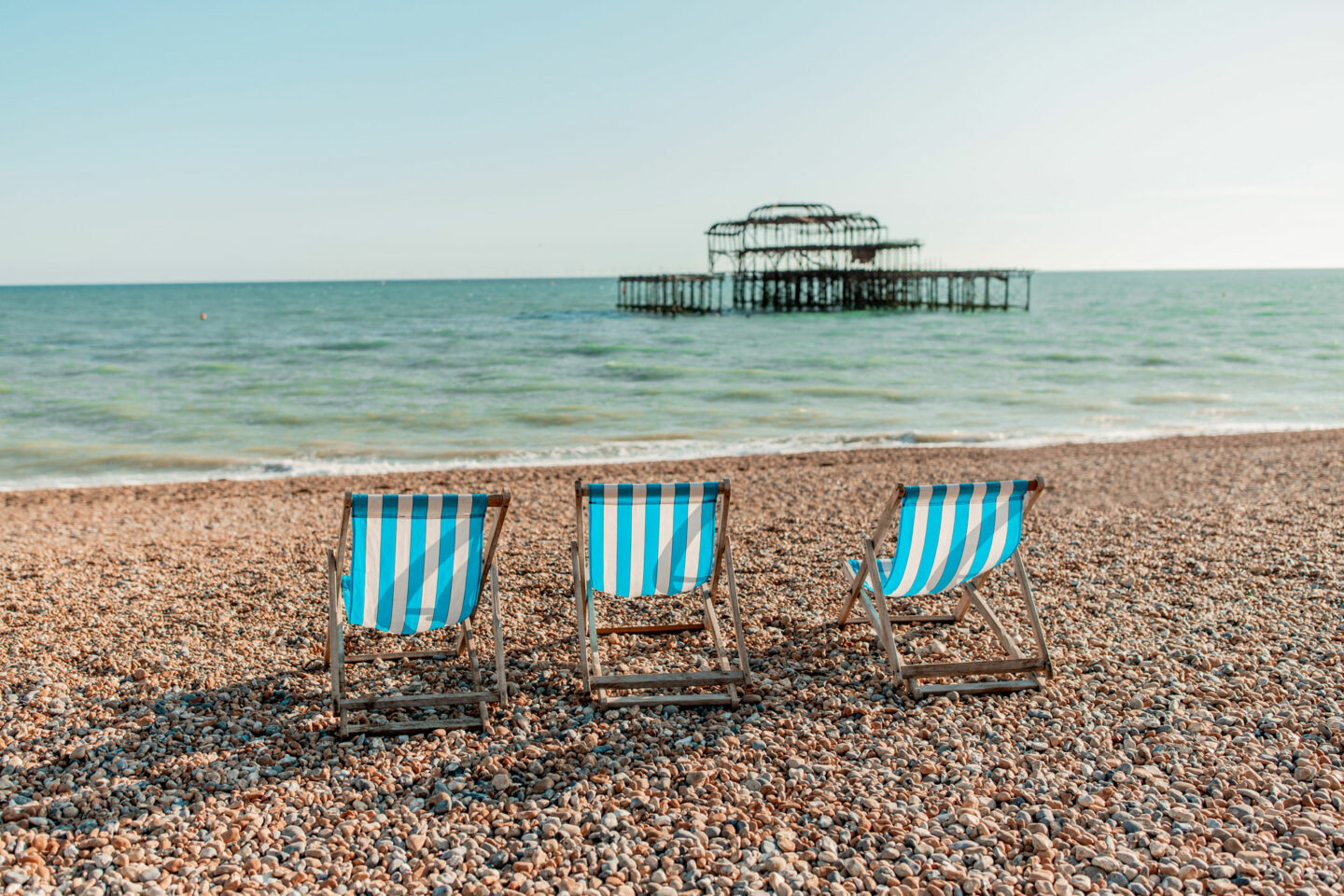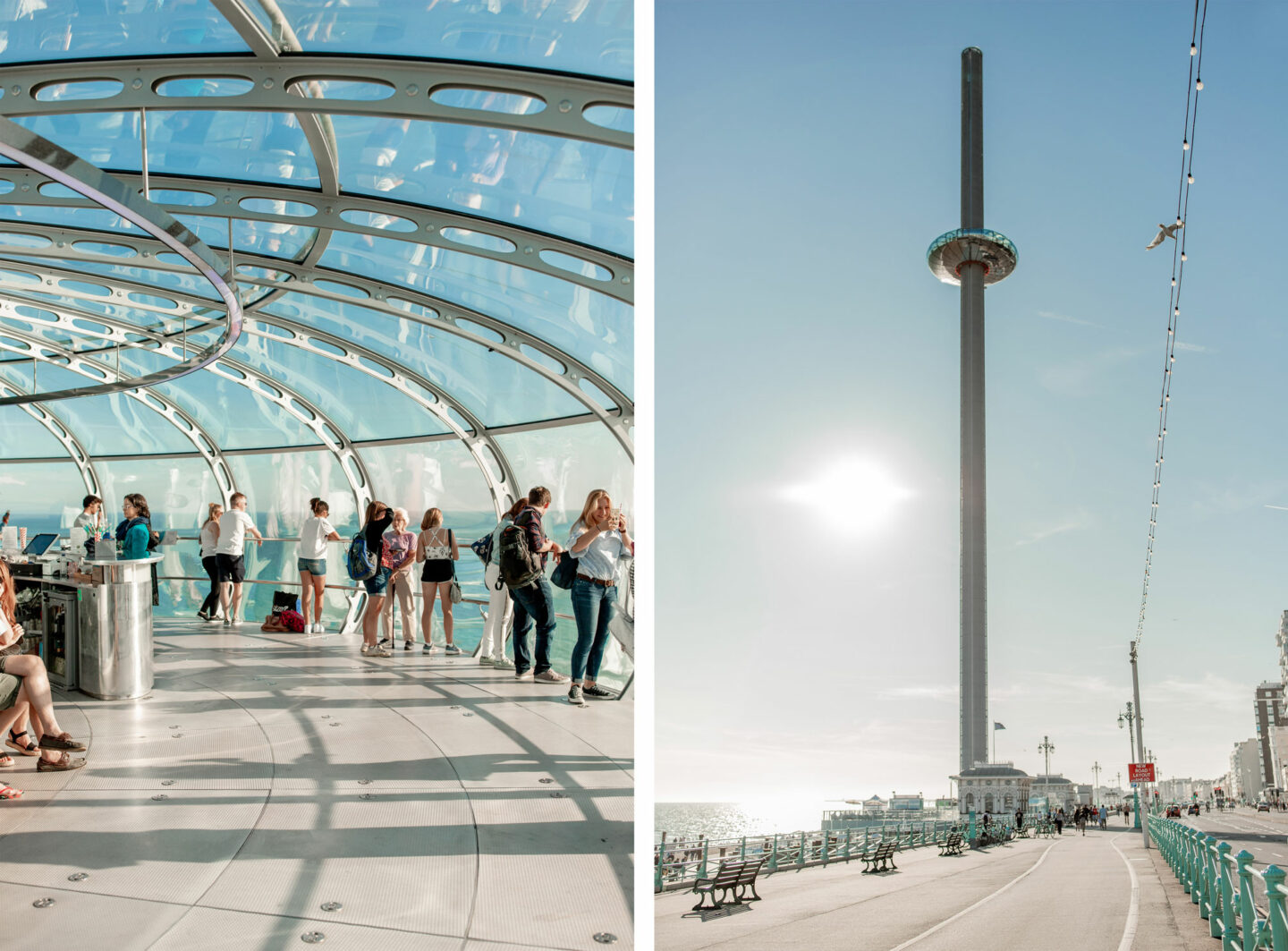 Best views — British Airways i360
You literally can't miss the towering i360 on the Brighton promenade, in fact, it's so tall you can even spot it as you exit from the main train station. This vertical cable car takes you a whopping 450 feet high, giving you access to 360-degree views over Brighton's Beach and coastline. It's designed by the same team behind the London Eye, making it another truly iconic destination in the UK.
On a clear day, you can see for 26 miles and dotted below you will notice lots of artworks painted onto various rooftops. The pod is incredibly spacious, fitting up to 175 people, and even has it's own sky bar which means you can enjoy the view with a tipple. Tickets are £14.85 or £23.85 with a glass of Nyetimber Classic Cuvée. Note: tickets are considerably cheaper when you book online.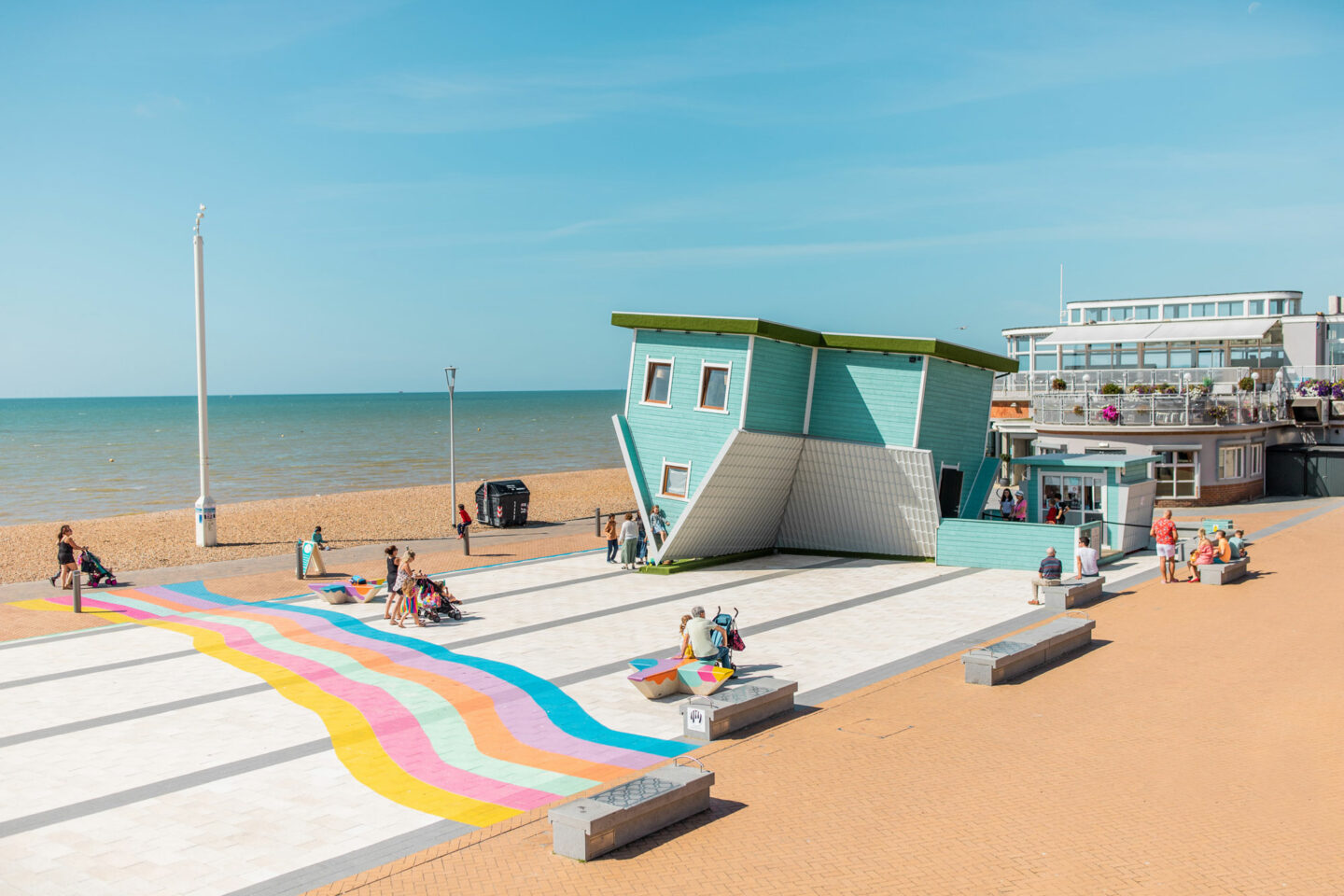 Upside Down House
Ever wanted to experience zero gravity but weren't willing to take out a small bank loan? The next best thing is to experience being upside down at Brighton's newest quirky attraction: the Upside Down House. Inside is what you would expect from the name: a literal house that's been turned on its head. Entry is £5 to get in, which is a bit steep for what is essentially just an opportunity to get a pic for the gram. My thoughts? Skip the queues and take a snap outside with this odd topsy turvy abode.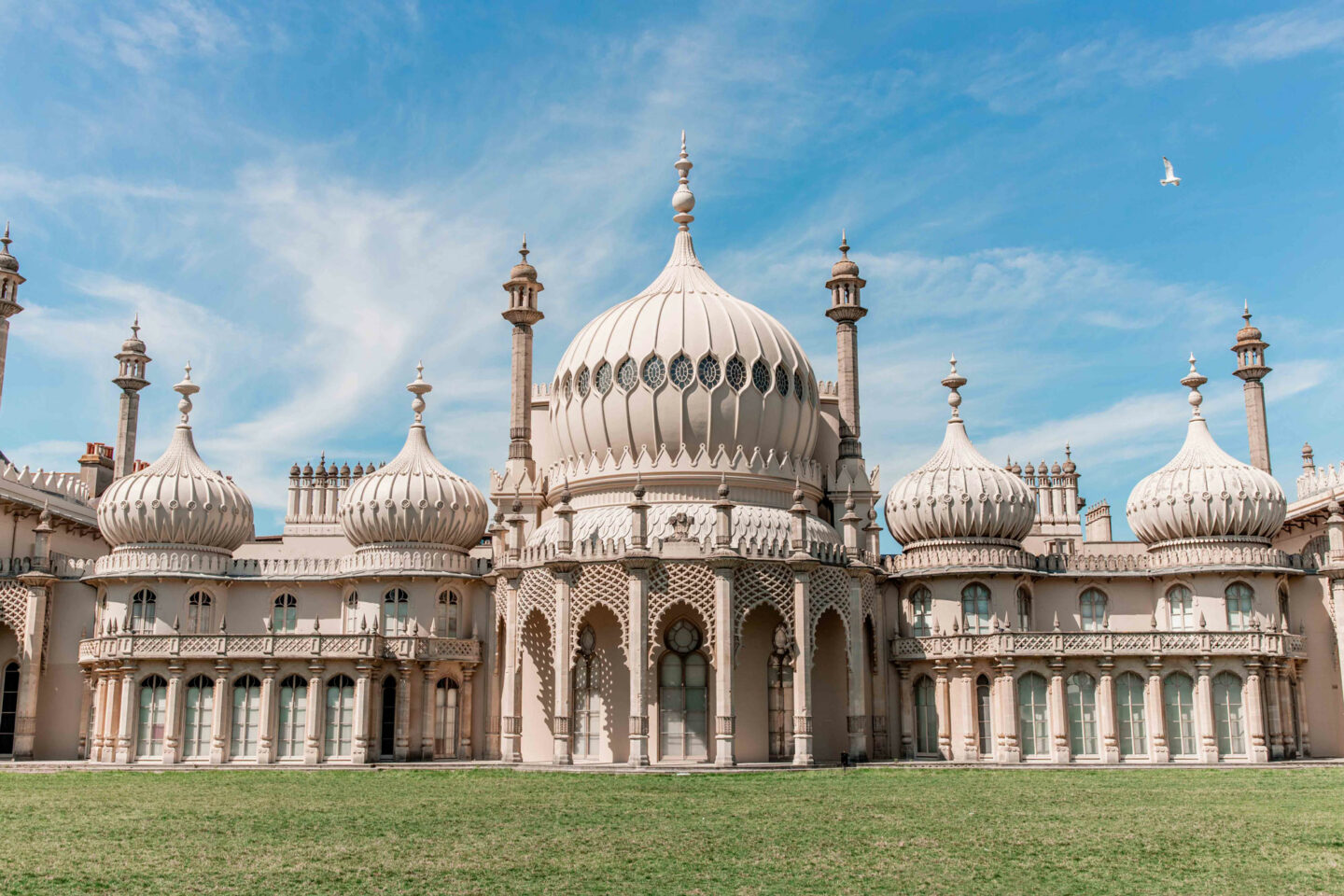 Royal Pavilion
This exotic palace in the middle of Brighton sticks out like a sore thumb, and a very beautiful thumb at that. This stunning building will instantly transport you to India with its Indo-Saracenic style architecture. Originally built as the opulent seaside pleasure palace for King George IV, the Royal Pavilion is now home to 19th-century chinoiserie and decorations on loan from HM The Queen. Make an afternoon of it, pack a picnic and spend some time lounging in the beautiful Royal Pavilion Gardens. Admission tickets can be bought here – it's definitely worth buying a Brighton Explorer pass which will give you discounted tickets to both SEA LIFE + BA i360 as well.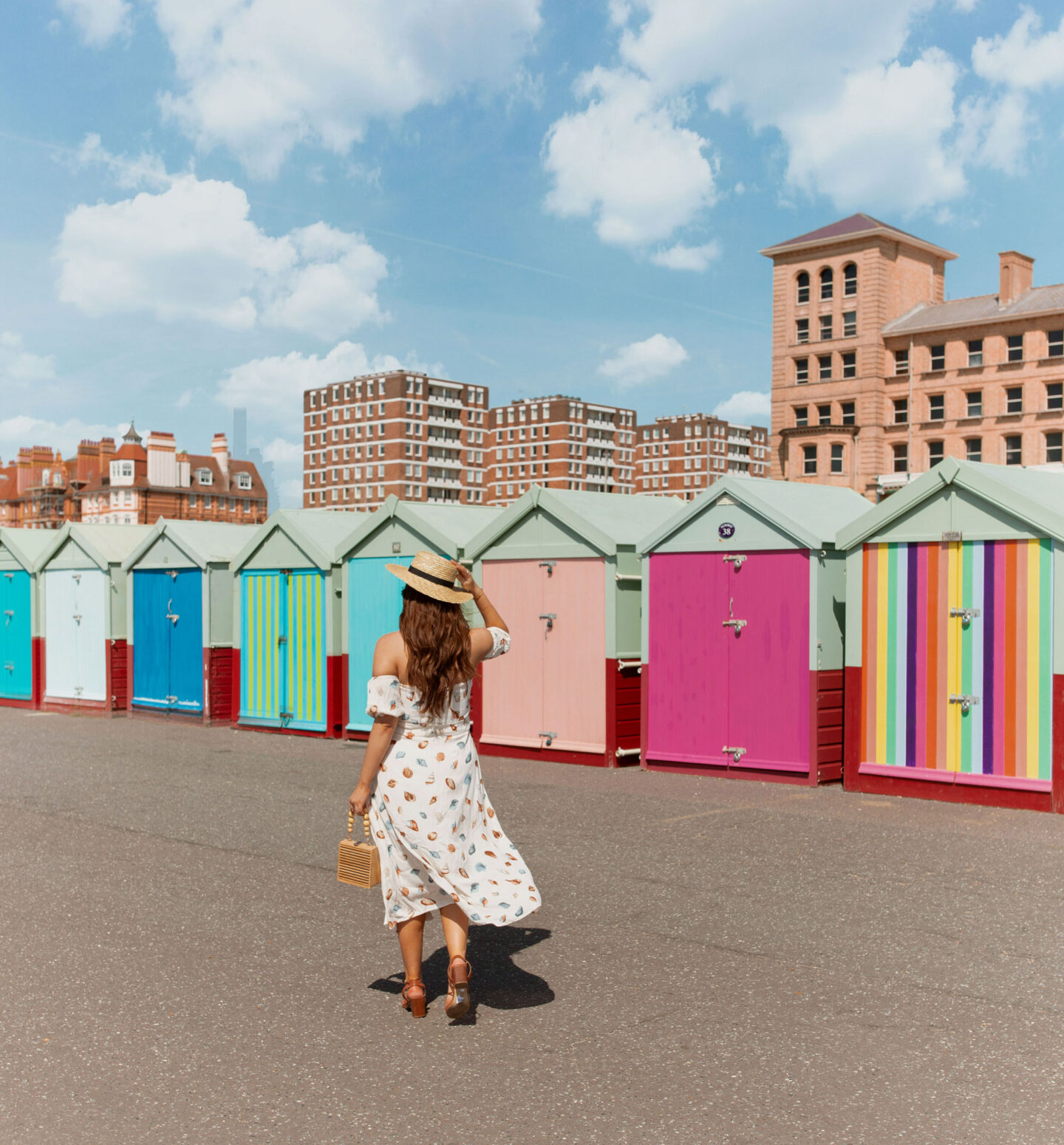 Brighton & Hove Beach Huts
If you're looking for an iconic Brighton shot for your gram, this is the place to go. I always love to share my favourite locations for a cheeky photoshoot in every city I visit, and Brighton is full of them. The brightly coloured beach huts are sadly not available to rent, however, they make for a perfect rainbow backdrop in this seaside town full of pride.
Shopping
Waiste Vintage
I don't know many stores where you can pick up a fabulous 1970s vintage dress and a monstera for your flat in one hit. Waiste Vintage, located on Gardner St, is a vintage lover's dream. There are racks upon racks upon racks of pre-loved gems. Don't forget to head up to the 2nd floor to check out Spiderplant, a house plant shop offering a large variety of unique indoor plants.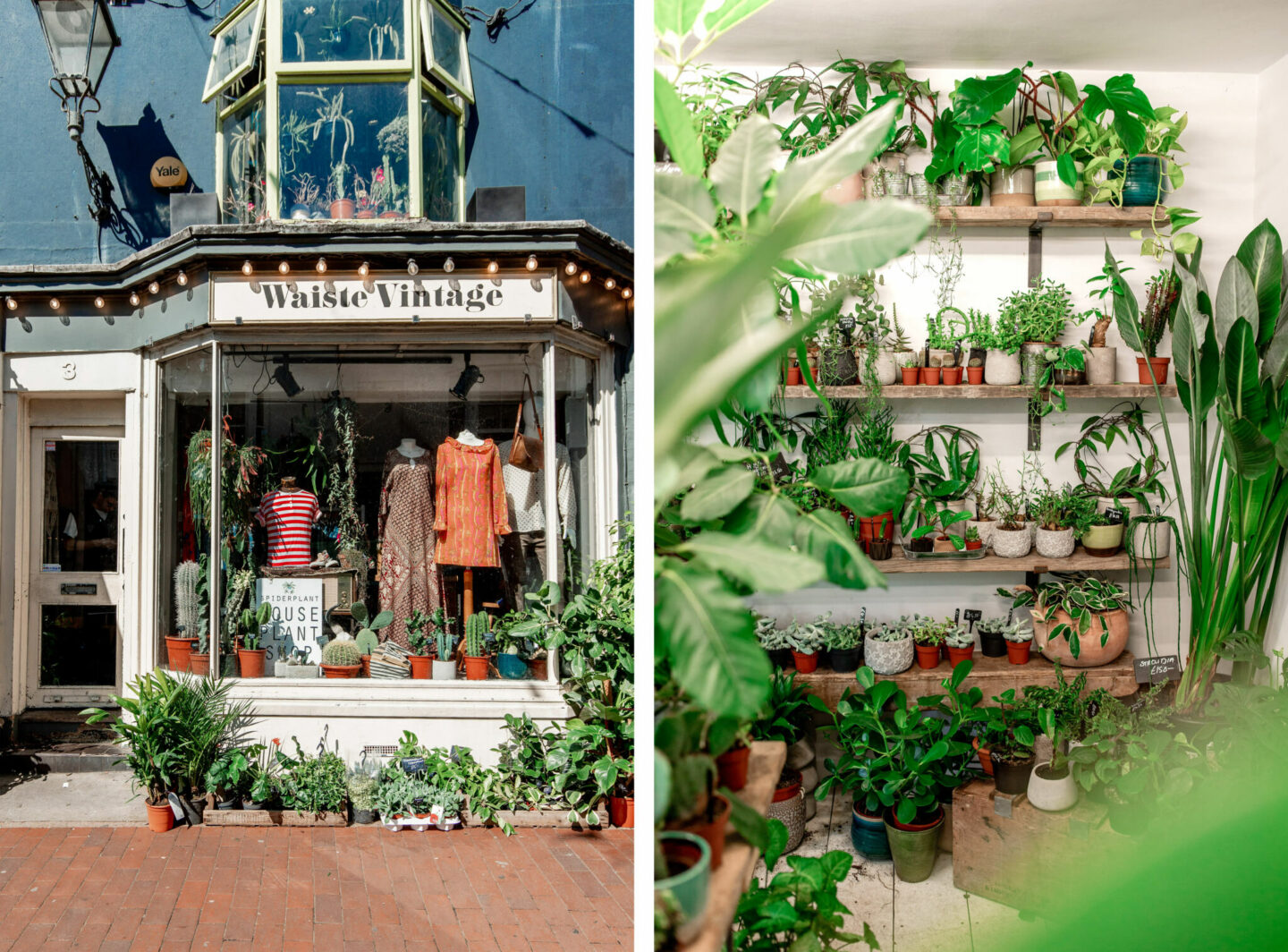 Magazine Brighton
Oh, I just love this creative store that passionately supports my notion that print will never be dead. At Magazine Brighton you'll find aesthetically pleasing books, independent magazines that cover all topics (nothing is taboo here) and a small selection of quirky gifts. It's the only magazine shop I've ever been able to buy all my favourite titles in one place – and now they have an online store too, which is dangerous for my bank account to say the least.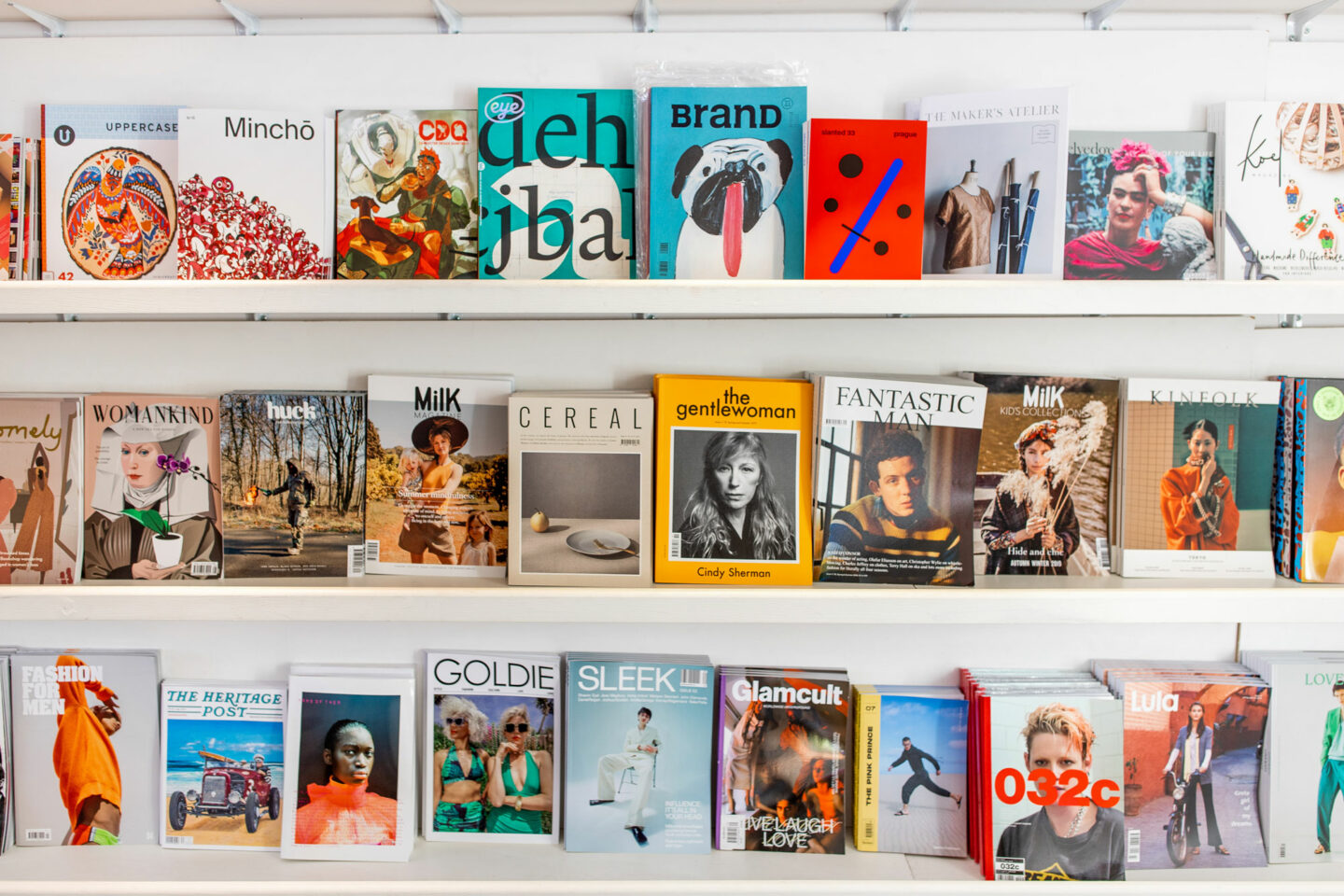 Snoopers Paradise
Stepping into Snoopers Paradise is the equivalent of hitching a ride in Doc Brown's DeLorean: you'll be instantly transported back in time through a journey of the decades. Snoopers Paradise is a massive flea market with hundreds of stalls selling antiques, bric-à-brac and all sorts of unique peculiarities. You could easily spend a few hours here and get lost in the art of treasure hunting.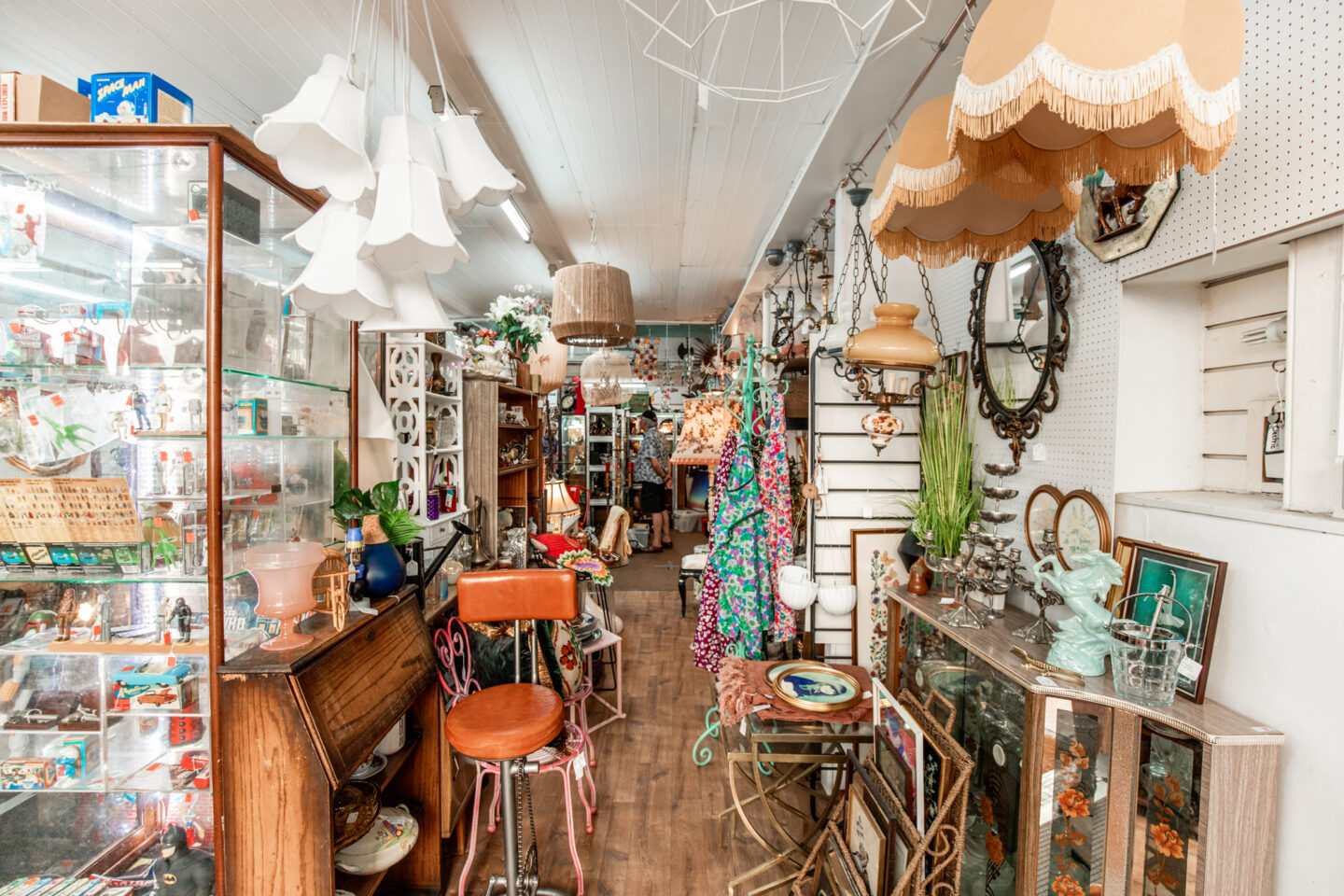 Where to stay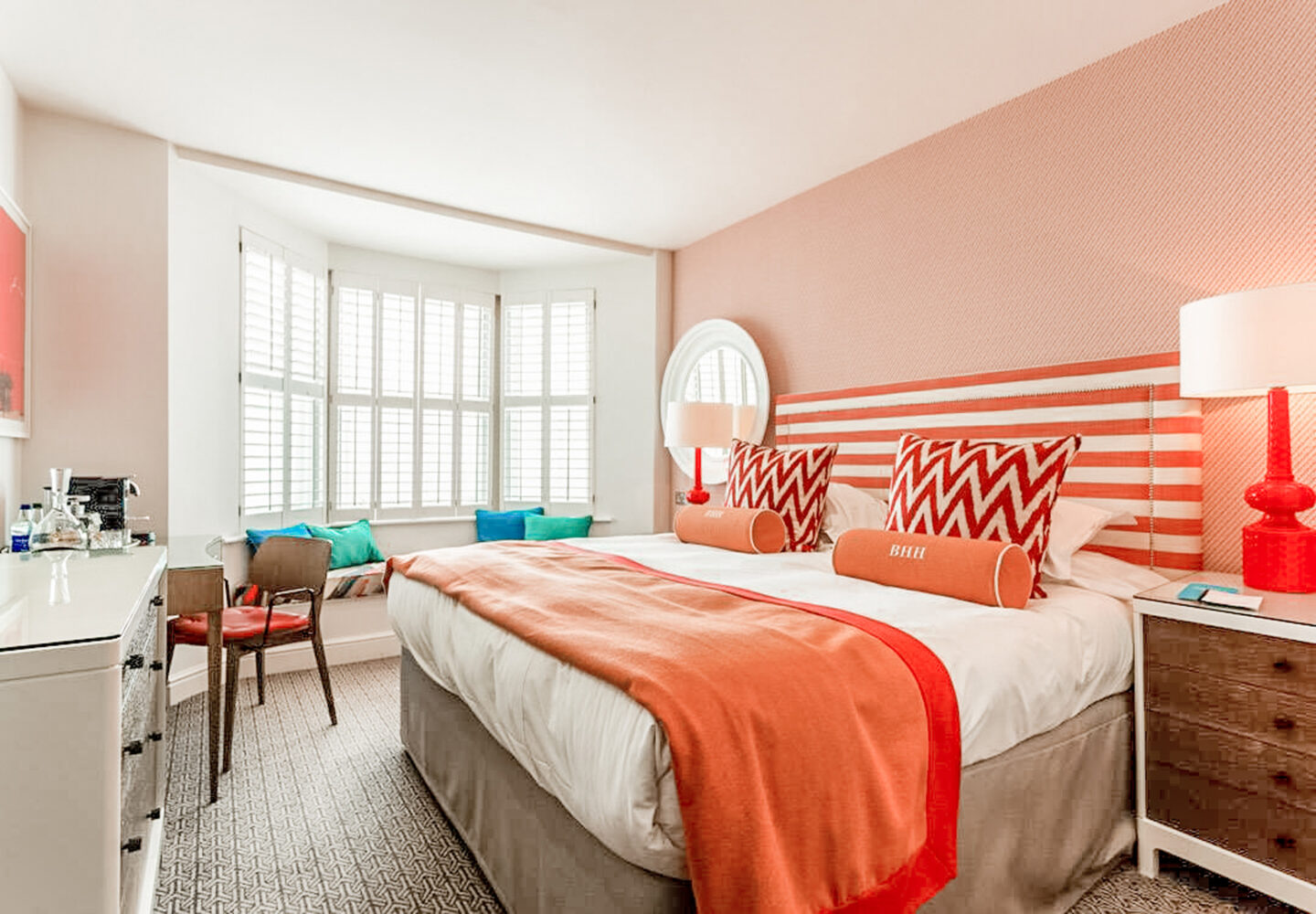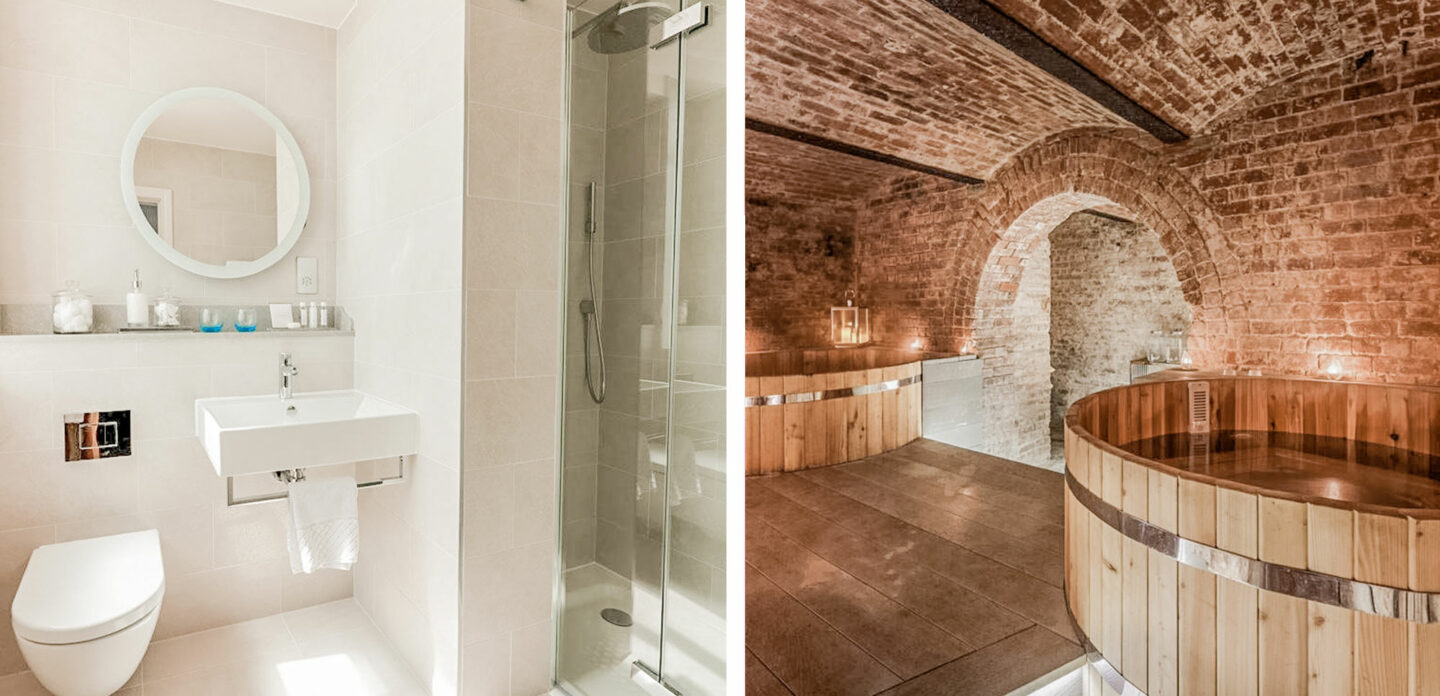 photos above [harbourhotels.co.uk]
Brighton Harbour Hotel & Spa

Located right on Brighton's promenade, the Brighton Harbour Hotel & Spa is in a prime position with seaside views and a very convenient 10-minute walk from the station. The rooms themselves are adequately sized with a delightful nautical theme and perhaps one of my favourite features I've ever experienced in a hotel room: there's a mini-bar with complimentary decanters of gin and sherry
Unpack, pour yourself a drink, and then head down to their famous HarSPA. It would be a shame to not dedicate a few hours to fully immerse yourself in the underground spa situated across several levels beneath the hotel (built within old smugglers' tunnels). The spa features a heated indoor pool, sauna, steam room, Scandinavian hot tubs ("togetherness tubs"), hydrotherapy pool, and gym (which I didn't set a foot in).
While we were extremely lucky to have visited Brighton during a heatwave, our room didn't have aircon which meant our nights were rather uncomfortably hot. If you're visiting during summer I would highly recommend checking that you can book a room with AC as this isn't a standard with all rooms. Don't forget to visit their on-site restaurant, Harby's Bar & Diner, I was eyeing off one of their brownie x s'more concoctions on their menu which I seriously regret not ordering. Don't make the same mistake I did.
Food & Drink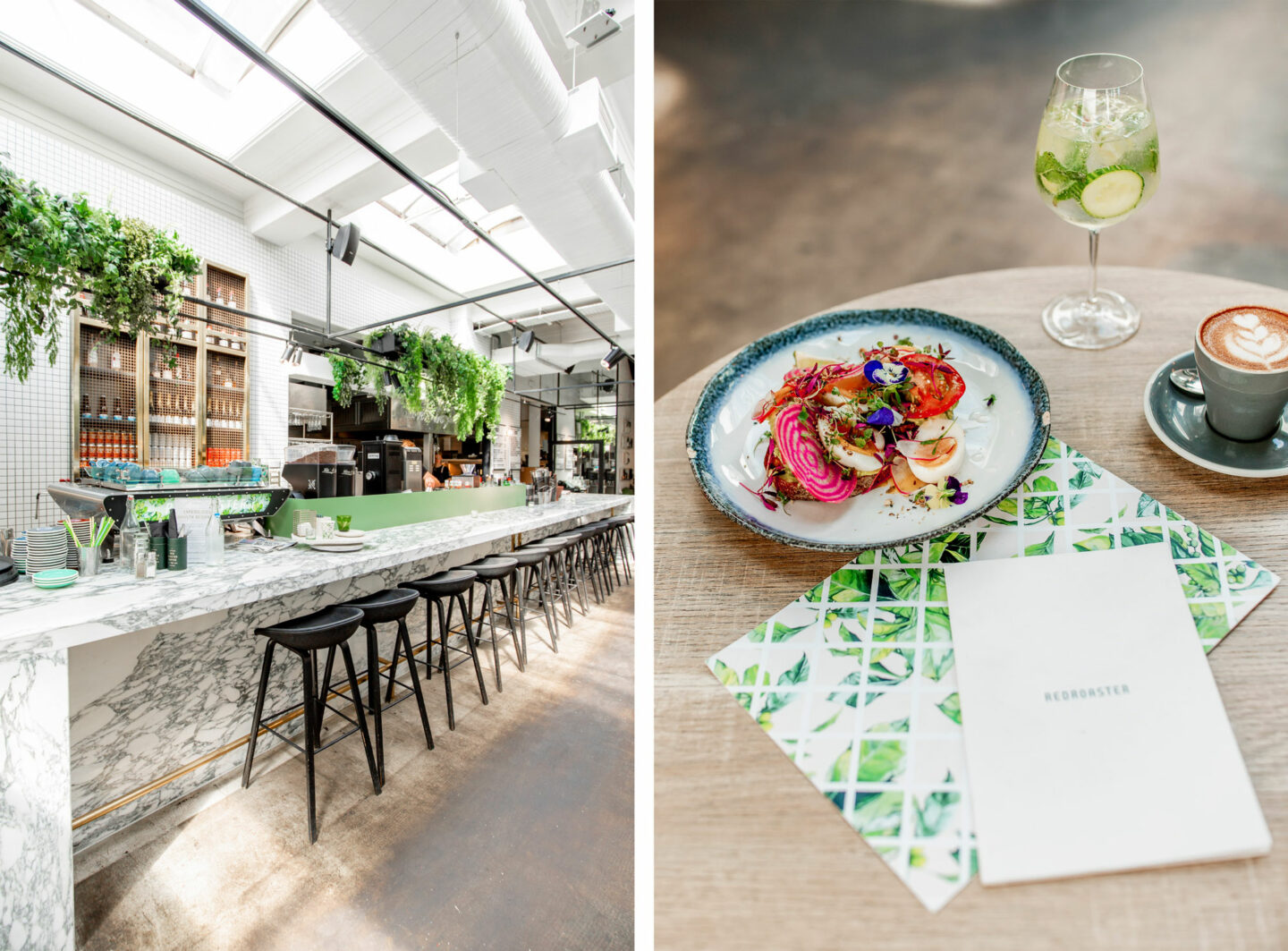 Best for brunch — Redroaster

Redroaster serves up their own rich blend of hand-roasted coffee, creative brunch dishes and sensational interiors, steering clear of millennial pink faux pas and instead embodying rich golds and lush greenery. Their menu is not your typical brunch menu (although they do a banging smashed avo), you'll find an array of fresh seafood dishes – I went for the fish tacos, accompanied with an elderflower G&T because it's always 5 o'clock somewhere right? I mean, at least that's what I tell myself to justify my adventurous brunch order.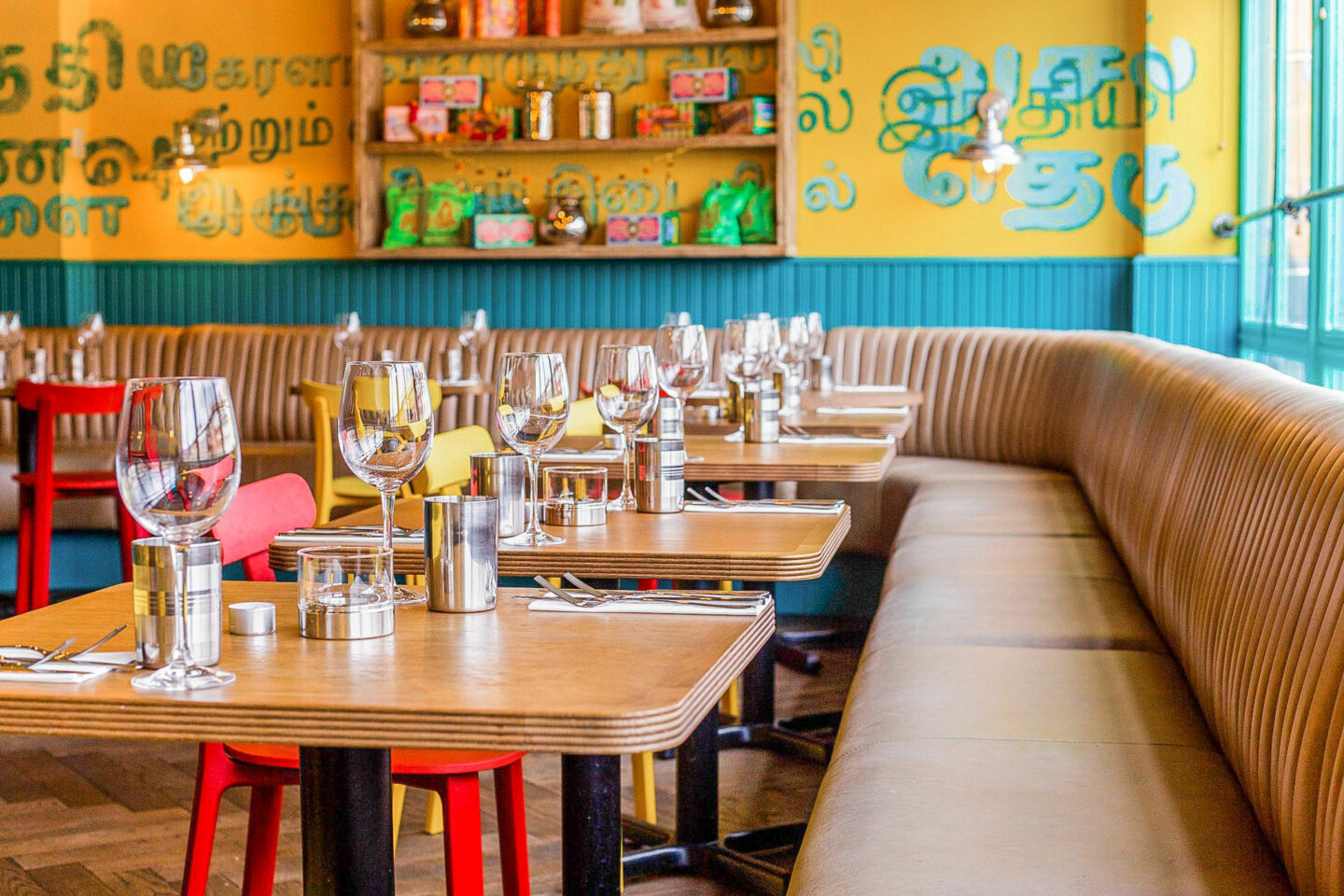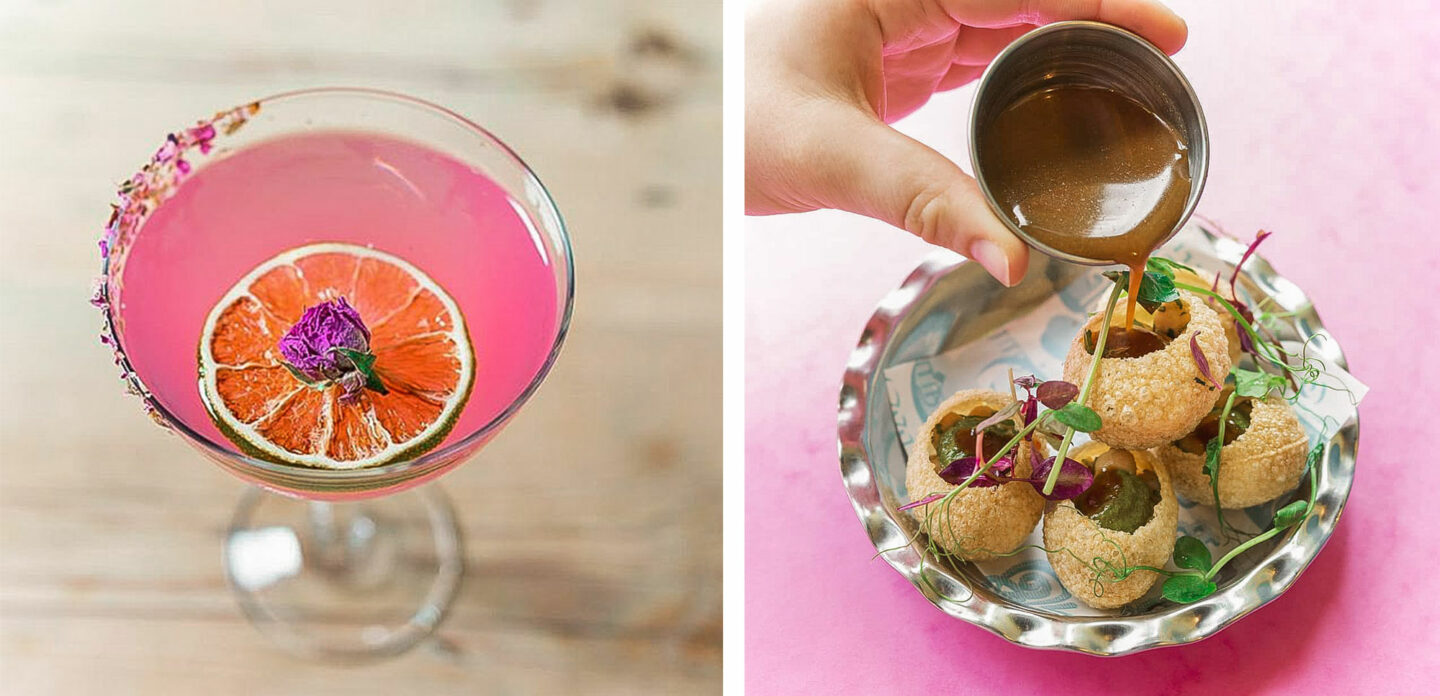 photos above [thechillipickle.com]
Dinner — The Chilli Pickle
The Chilli Pickle is a vibrant and colourful Indian restaurant that serves up award-winning street-food-inspired dishes and flavours. Their authentic recipes, fresh seasonal produce and passion for their travels throughout India provide you with a totally unique sensory experience. On the menu, you'll find an array of regional curries, creative street food and their signature Barbecue Surf & Turf.
I highly recommend ordering the Pani Puri, in fact, that's an instruction, not a suggestion. These crispy round-shaped shells are filled with a delicious chutney. You are instructed to pour the accompanying tamarind water in the shell before swiftly popping it into your mouth where it instantly melts, creating a literal flavour explosion.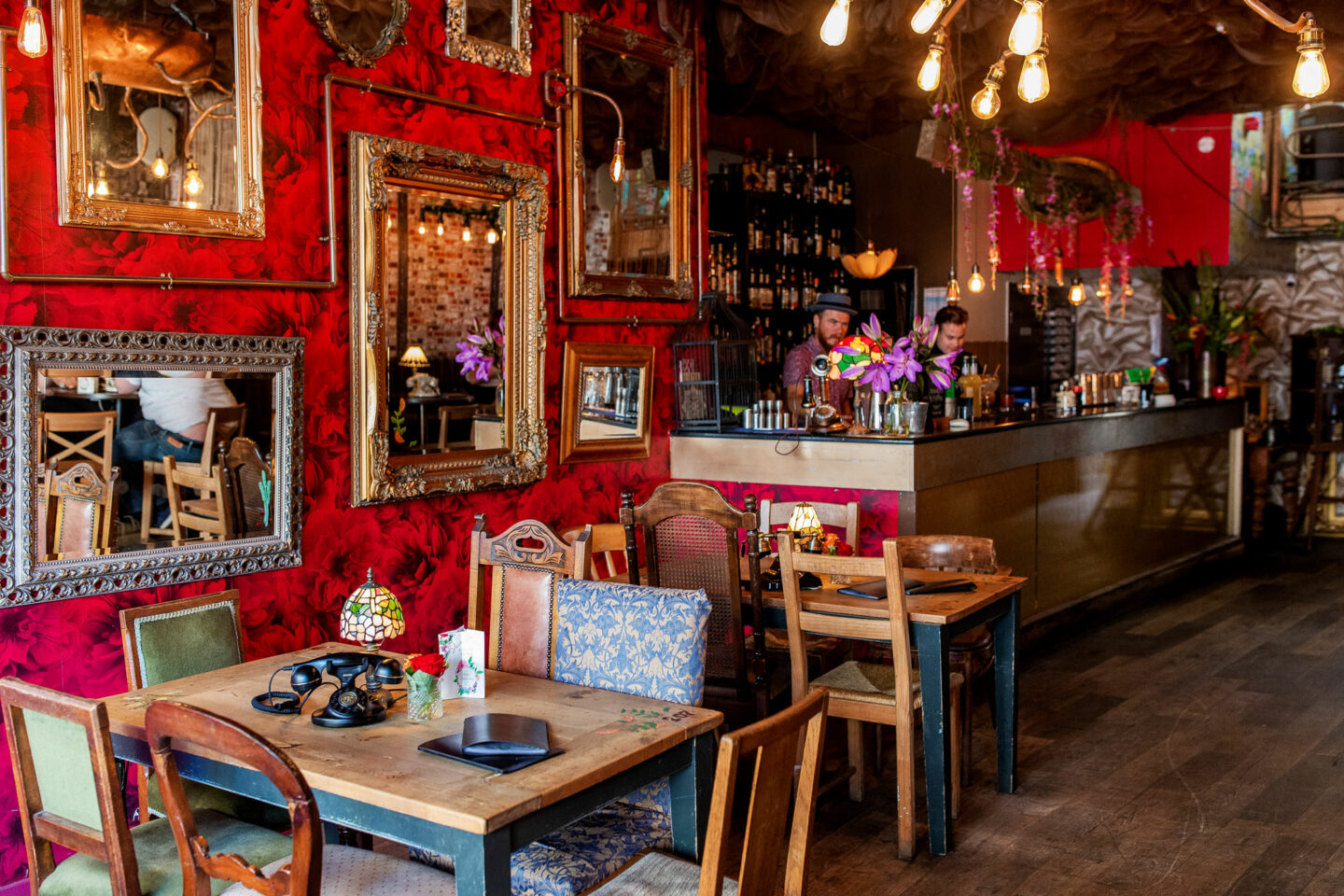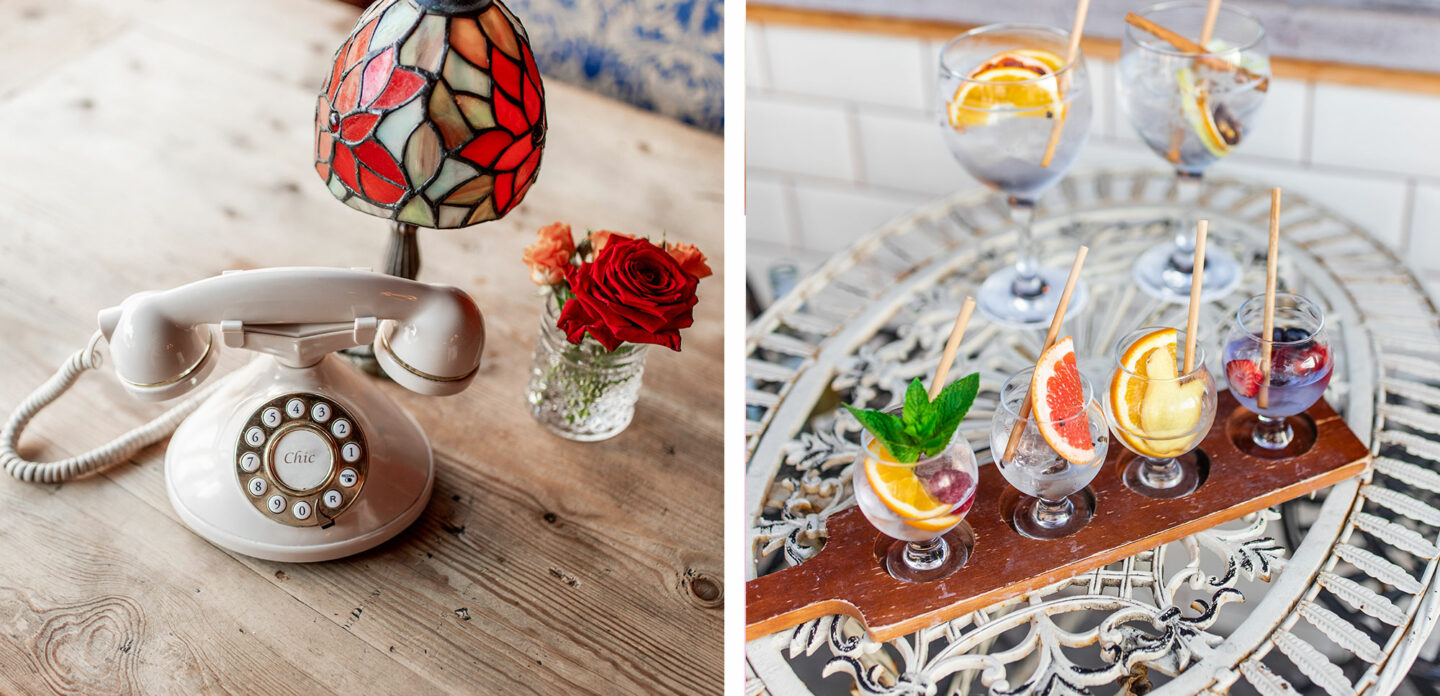 Cocktails at The Gin Tub
A trendy cocktail bar in Brighton & Hove where you can order a drink by dialling "0" on the antique telephone on your table? Beam me up Scotty, because I am in literal heaven. As a self-confessed Gin lover, coming to The Gin Tub was the equivalent of Charlie's visit to the chocolate factory. So many Gins, so many cocktails, so little time. You'll be overwhelmed by the number of choices (they have over 130 gins!), so I recommend ordering a Gin Slider – a board with 4 samples of different gins for you to taste. FYI Happy hour is between 5 pm–7 pm.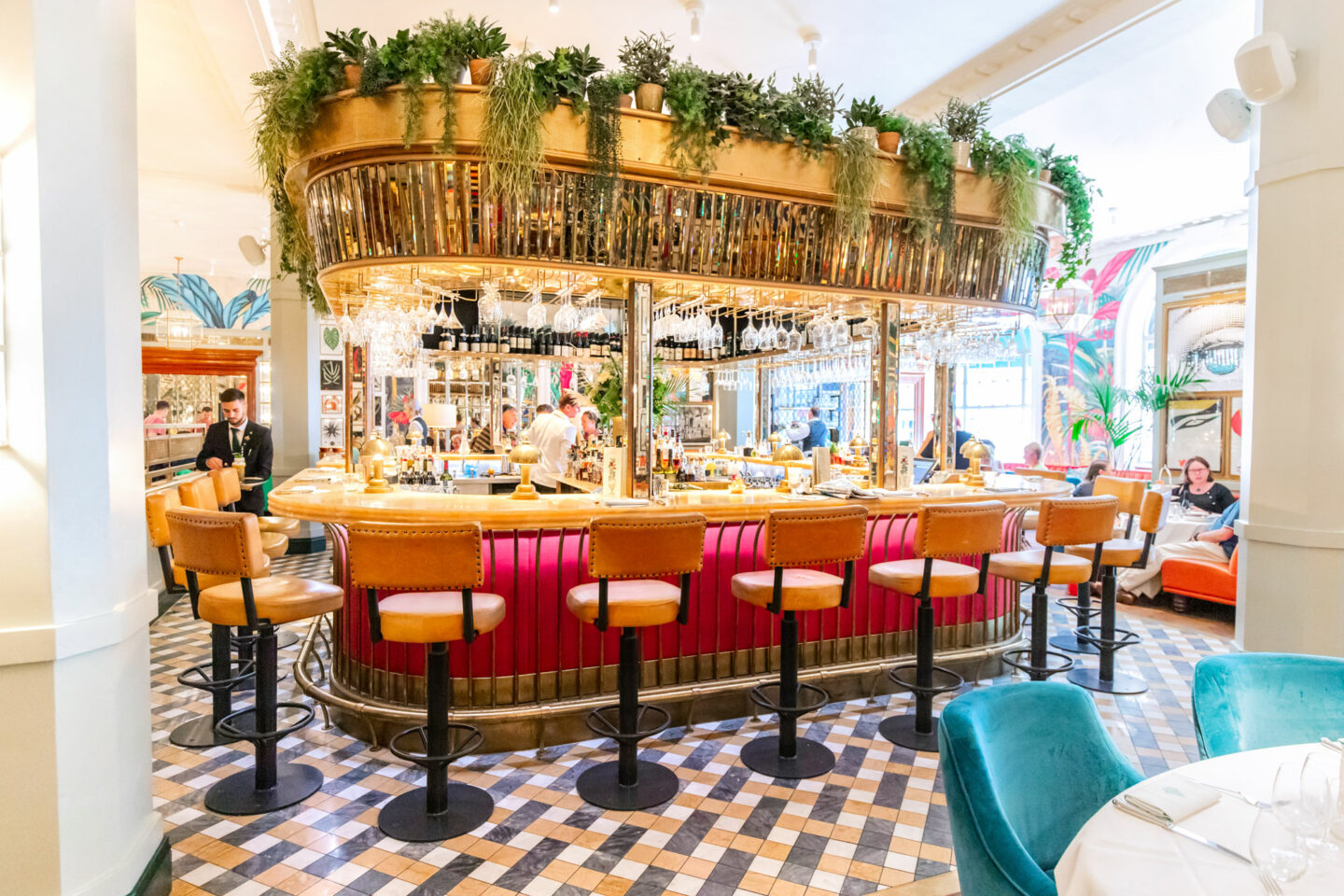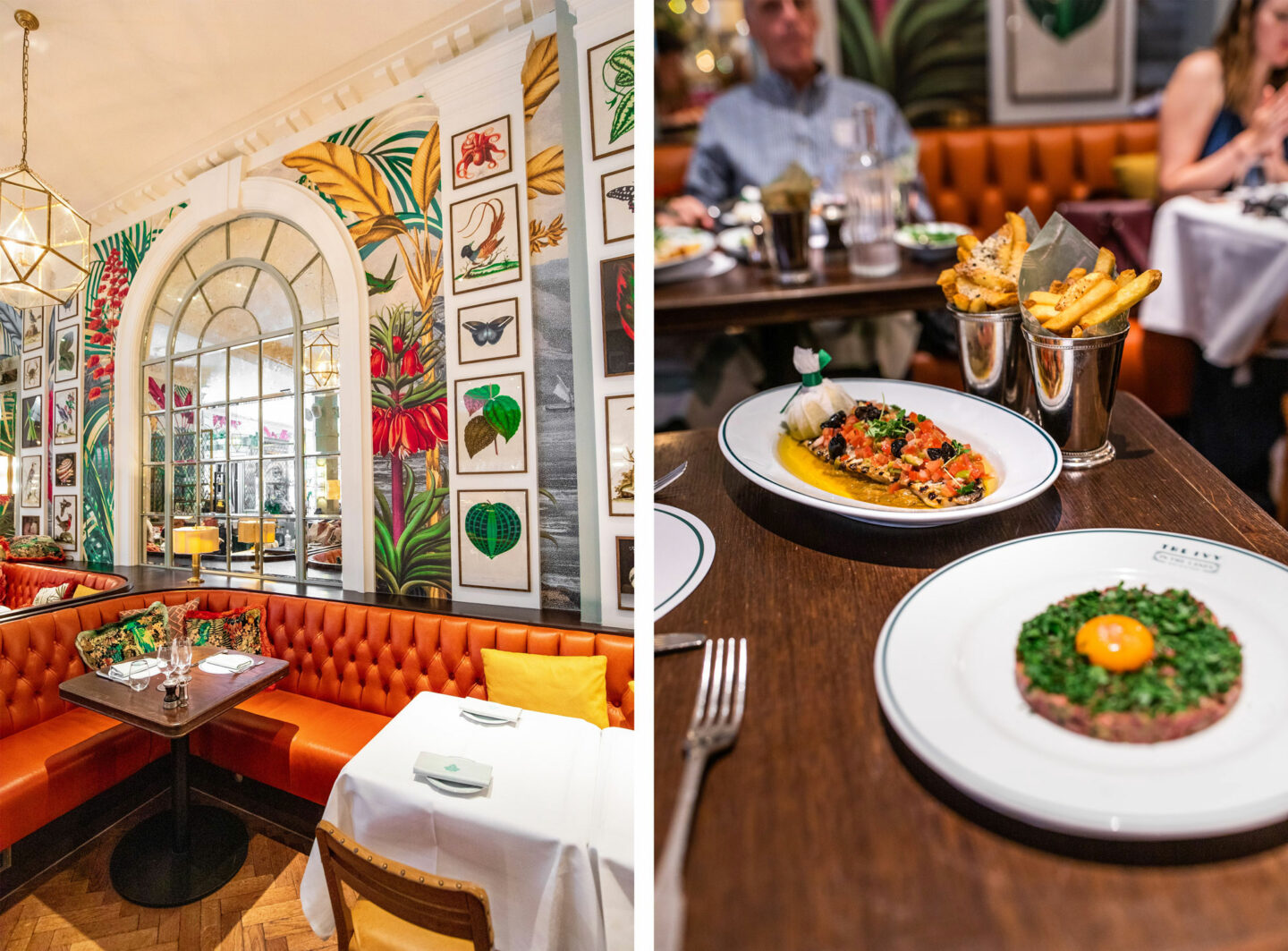 Lunch at The Ivy
The newly opened The Ivy in Brighton is a visual feast for the eyes and a literal feast for those looking for a somewhat upmarket dining experience that's still within the budget. Typically visitors at The Ivy will opt for their afternoon tea or brunch, however, we headed there for lunch to refuel before a marathon of shopping. To start, order the courgette fries and thank me later. For a main, I went for the steak tartar. The portions are big here so if you want to leave room for dessert I recommend sharing with a friend.
Oh, and ladies, bring your phones with you to the bathroom as you'll no doubt want to take a snap while you're there – nothing suss, it's only the most gorgeous pink bathroom I've ever visited, most likely bigger in size than my flat in London (the truth hurts).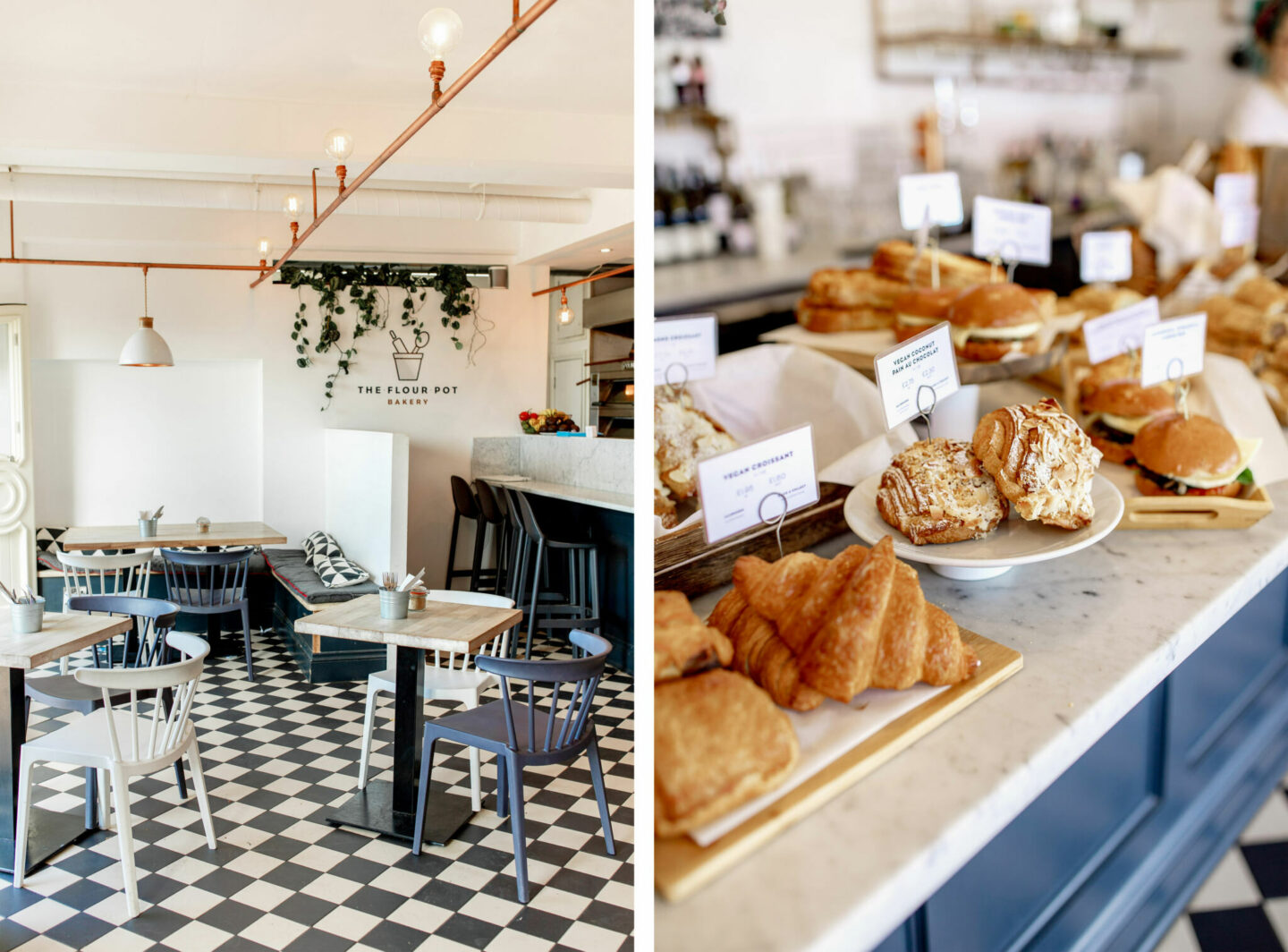 Coffee at The Flour Pot Bakery
SO many of you recommended The Flour Pot Bakery to me via my Instagram DMs and it certainly lived up to the hype. Hands down the best Iced Oat Latte I've ever consumed within the quarter-century of my life here on planet Earth. And if you follow me on Instagram you know I'm an Iced Coffee connoisseur, stemming mostly from the fact I'm an Aussie and where I'm from it was always too damn hot for a cuppa.
The brand has grown exponentially over the past few years with several locations in and around Brighton, with their latest opening on Portland Road. They have lots of vegan pastry options which is surprisingly still hard to come by in 2019 (except for Greggs, of course) and they now have a full kitchen location where you can order brunch or sip on wine from the tap and tuck into sourdough pizzas in the evening.
*This trip was part of a Press Trip with Visit Brighton. While our accommodation, meals and activities were complimentary – all words and opinions are my own.

Related:
Planning on more travel in the UK? Read my guide on Manchester here.
Brighton Bucket list
Check out my Brighton bucket list below. Save it to your Pinterest for an upcoming trip or post it on your Instagram stories & check off the places you've been.
If you want to see more of my food recommendations for other popular cities or travel bucket lists, click the link below.
INSTAGRAM STORY TEMPLATES