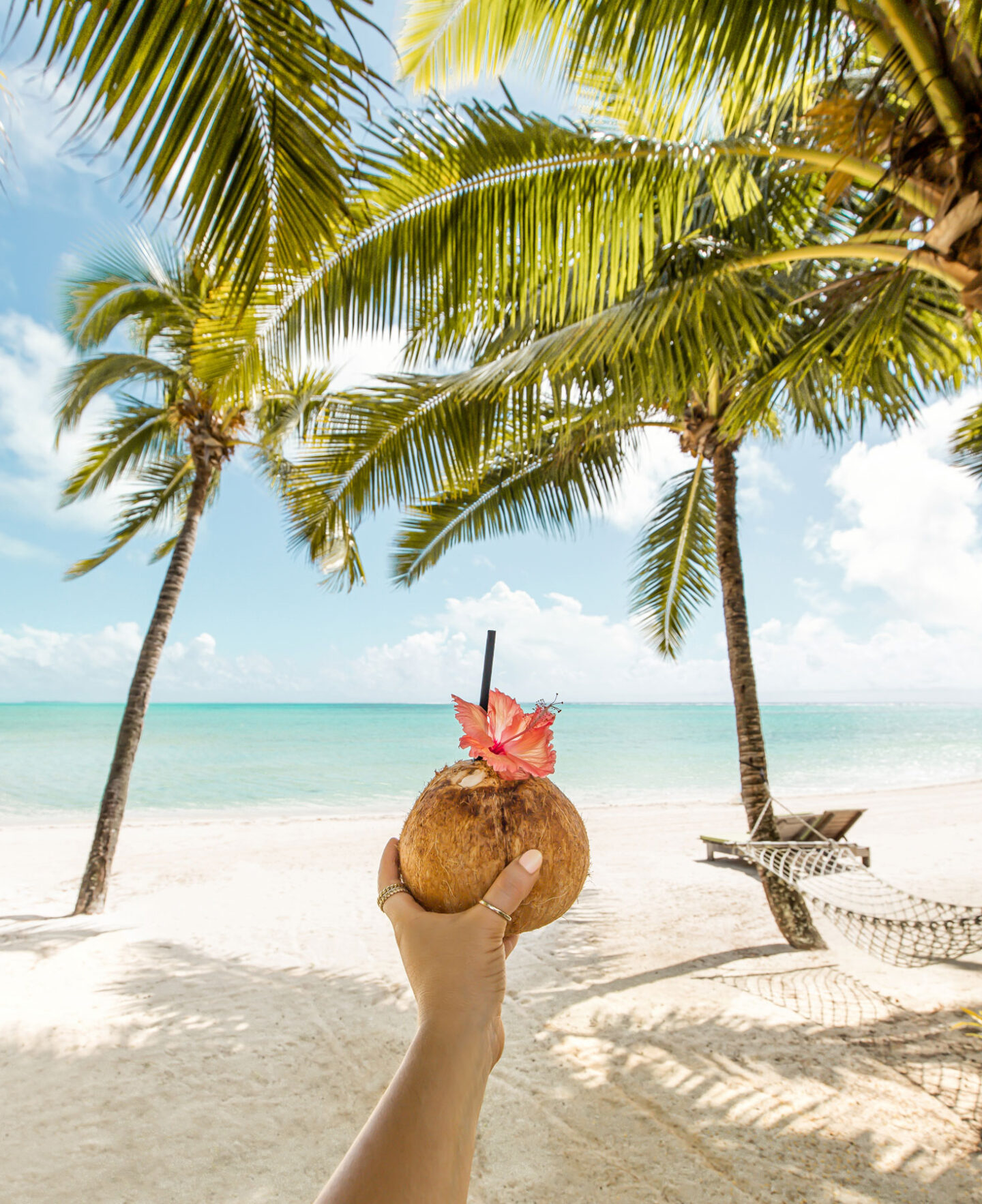 — This article was produced as part of a press trip, all words and opinions are my own —
Time slows down in the Cook Islands, and so should you. This little slice of paradise consists of 15 small tropical islands that are found sprinkled throughout the South Pacific Ocean, just 3 hours east of New Zealand. In fact, these islands are so tiny in size that they're easy to miss when looking at a world map. However, the Cook Islands are simply an unmissable destination if you're looking to relax, recharge and rediscover those unforgettable moments with your other half or family.
You'll instantly feel right at home when you arrive in Rarotonga, the largest island, where you'll be greeted with an echoing chorus of Kia-Orana (meaning "may you live long") and adorned with a sweet-smelling 'ei (similar to the Hawaiin lei). On Rarotonga, or 'Raro', there is never a moment of stress or hurry, everything runs on 'island time'.
You don't have to worry about getting around or getting lost in Rarotonga as there is one main road that wraps around the perimeter of the island. In fact, their bus service simply says "Clockwise" or "Anti-Clockwise", rather than a route number, so you know which way you're going. Raro is where all the action happens in the Cook Islands and where you'll find an array of restaurants, bars and nightlife, action adventures, family-fun activities and unique experiences.
Of course, a trip to the Cook Islands wouldn't be complete without a visit to Aitutaki, the second largest island and home to what is widely considered as the most beautiful lagoon in the world. Aitutaki is the closest travel experience to what I can only describe as heaven on earth. This is definitely the island for newlyweds or old souls who are looking for something a bit more peaceful and a whole lot more romantic.
White sandy beaches and crystal blue water aside, what makes the trek out to the Cook Islands special is closely tied to the incredibly friendly and warm nature of the locals who will fill your bellies with local cuisine and roaring laughter. And much like your stomach, your heart will remain full for the entirety of your holiday. Read on to discover my top recommendations for both Rarotonga and Aitutaki including where to eat, drink and sleep, as well as the top activities you can do in this perfect paradise.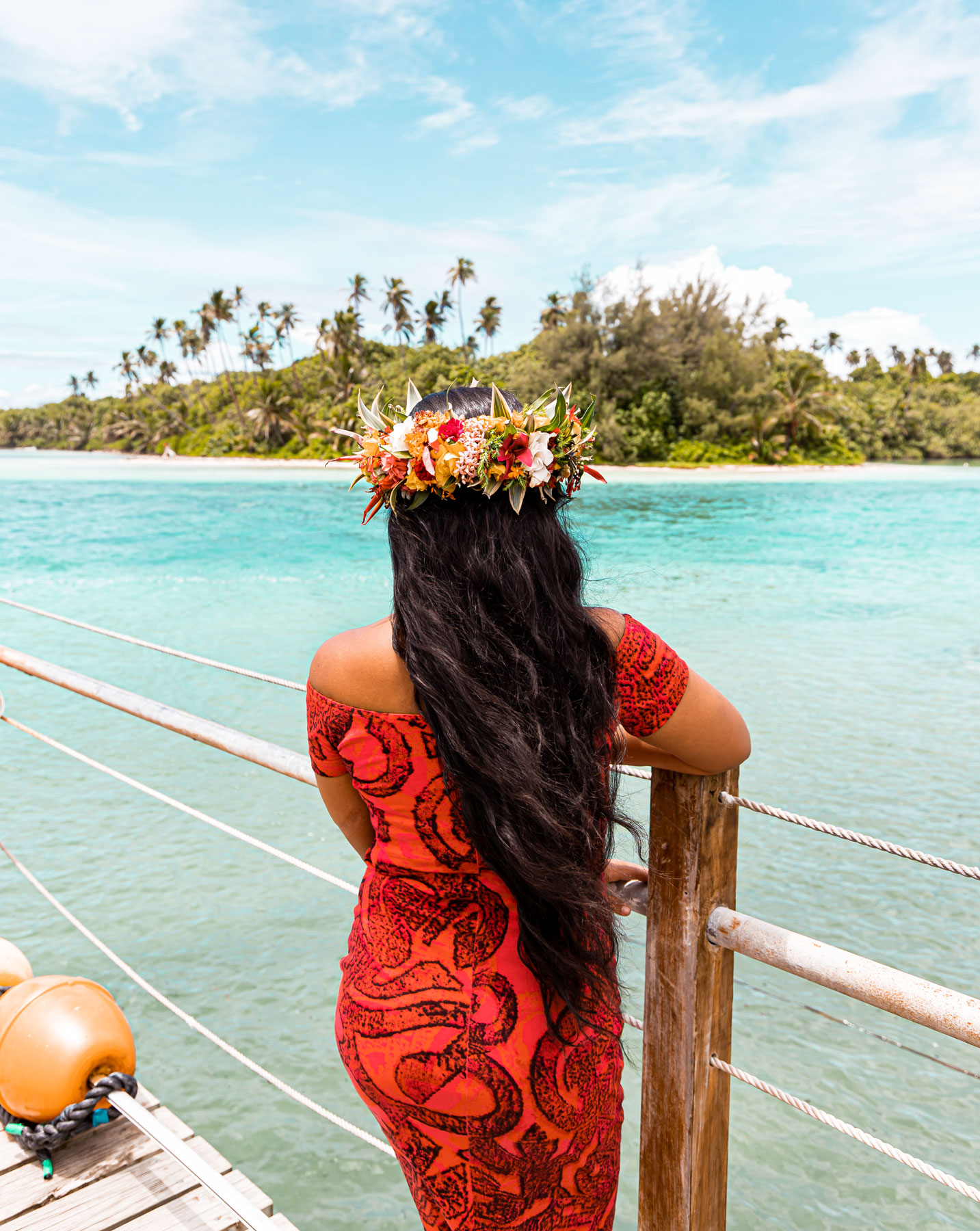 Cook Islands Travel Guide:
Rarotonga

Things to do in Rarotonga
---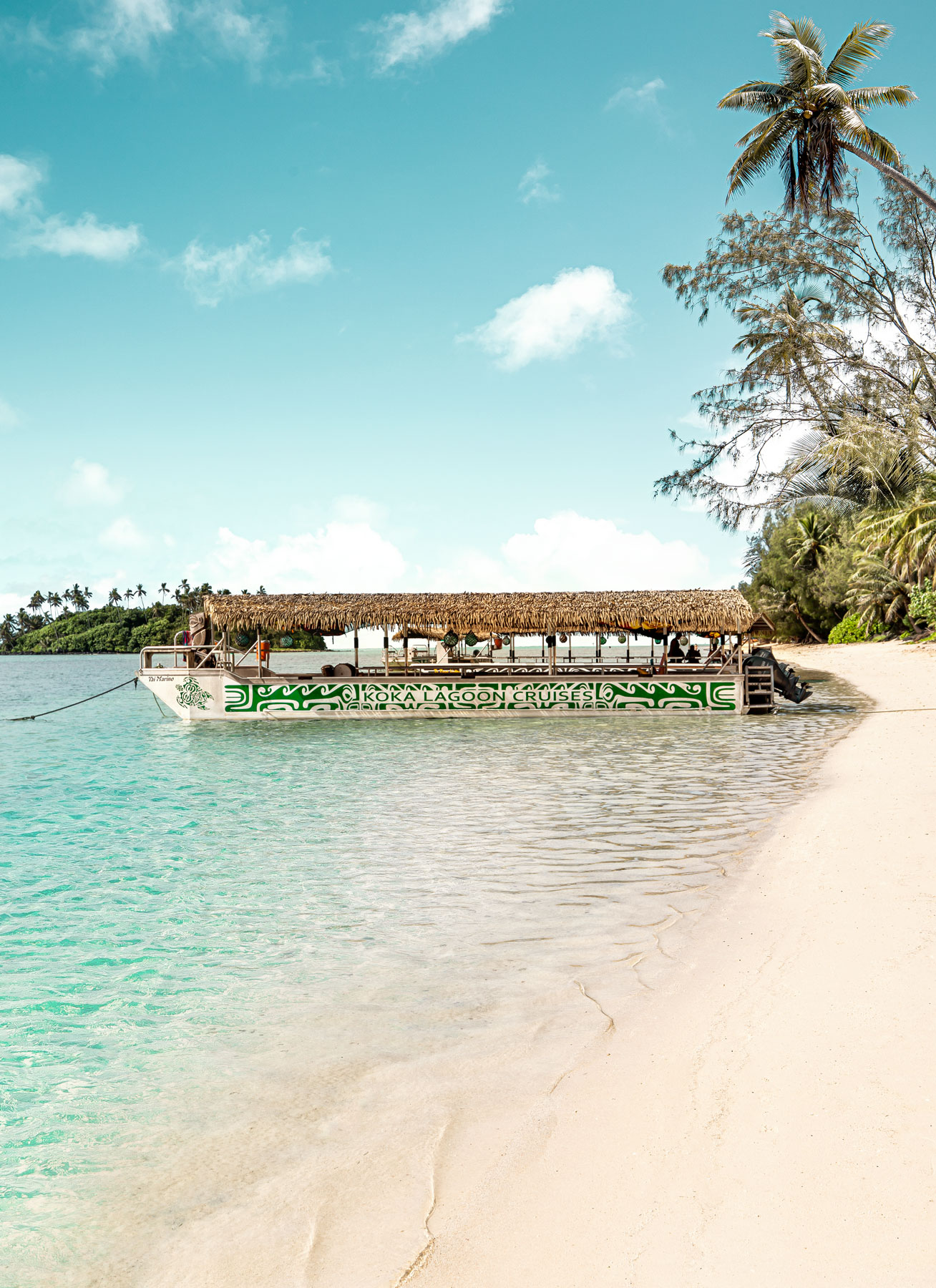 Set sail on the Koka Lagoon Cruise
A family-friendly fun day out on a glass-bottom boat with plenty of fish feeding, snorkelling, crab racing, and coconut tree climbing (but let's leave the last one to the professionals). Explore the calm Muri Lagoon with the energetic Koka Lagoon Cruise crew who will keep you entertained the moment you climb aboard with their ukulele playing, drumming and cheeky storytelling.
The cruise includes a stopover on Koromiri Island where you'll be treated to a BBQ feast with freshly caught fish and colourful salads. It's a fantastic day out and incredible value at £40 per adult & £20 per child, with snorkelling equipment and lunch included. Bookings can be made here.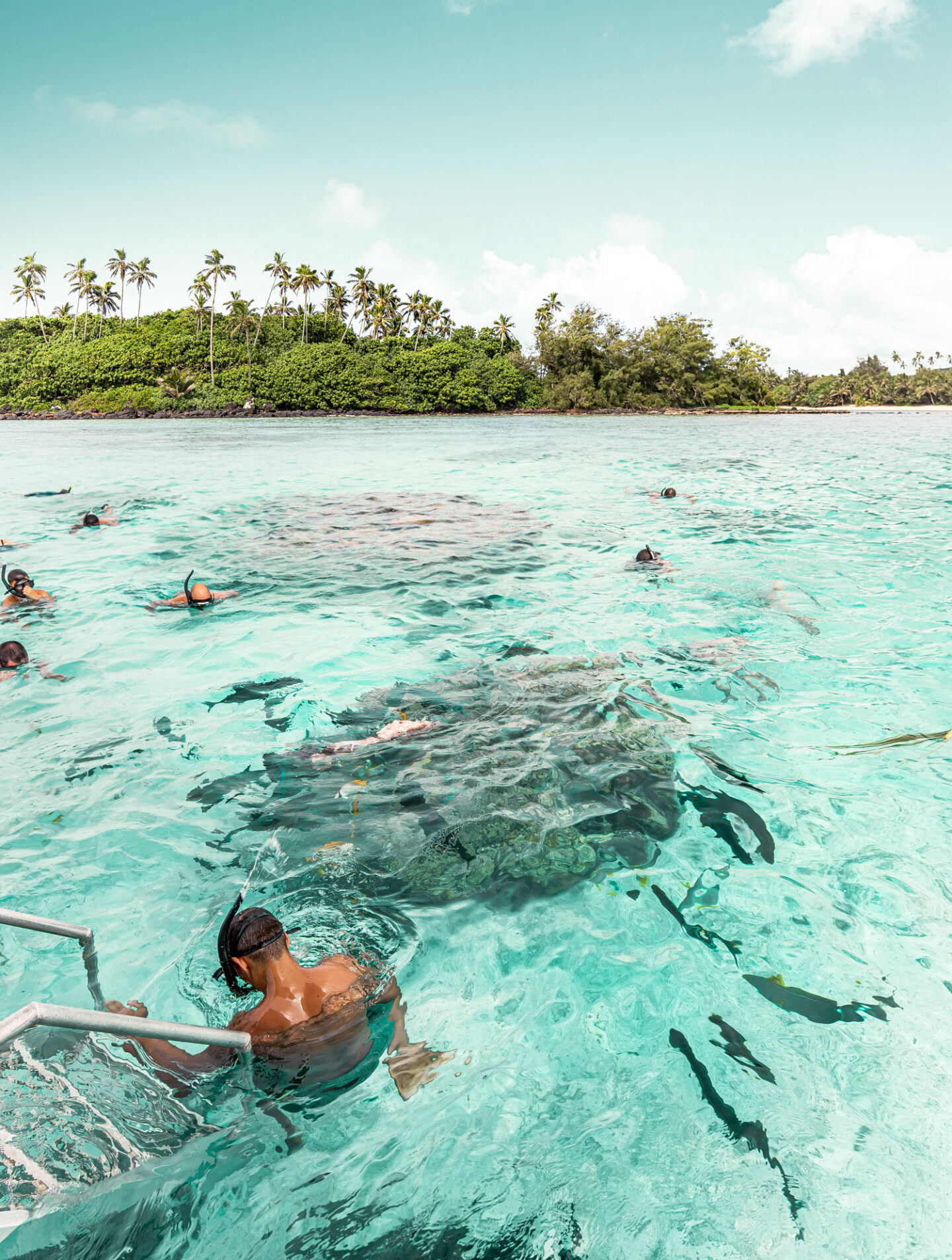 Go on a Discover Bicycle Tour
Go off the beaten track and discover the tropical hinterland of Rarotonga with an exclusive look at local flora and fauna as part of the Storytellers Eco Cycle Tour. You'll get a front-row seat (bicycle seat that is) to view the rich cultural heritage along the Ancient Coral Road, Art Metua. The Discovery tour consists of a 3-hour bicycle ride at a leisurely pace with plenty of stops for storytelling, fresh produce tasting and even the chance to husk a coconut (and drink it too!). The tour finishes with a local lunch and includes bike hire and accommodation transfers, so you'll only need to bring yourself, plenty of water and some sunscreen. Bookings can be made here.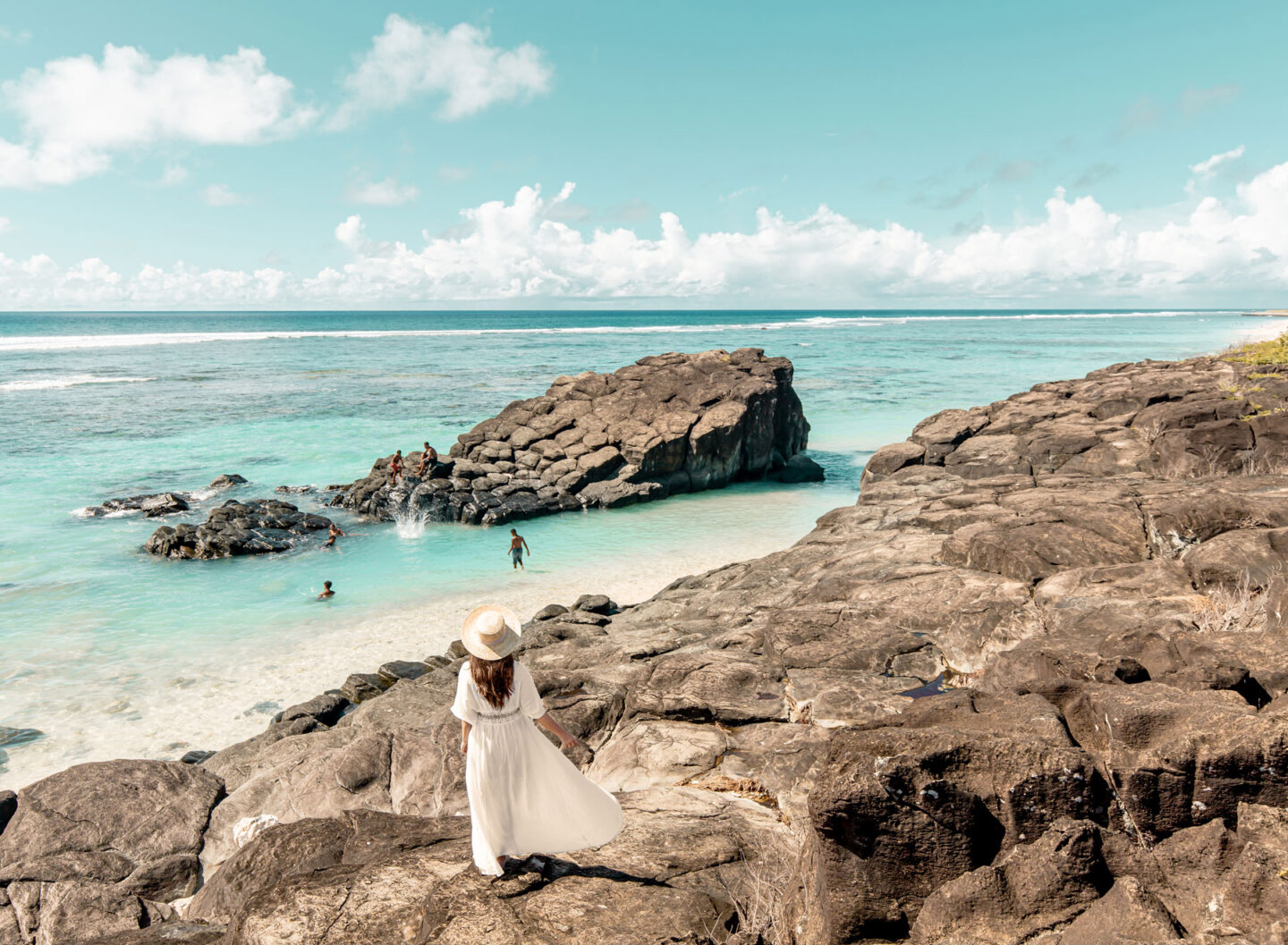 Sundays at Cook Islands Christian Church
Admittedly, attending church isn't on my normal holiday agenda however if you find yourself in the Cook Islands on a Sunday you'll quickly discover that next to nothing will be open and therefore a visit to a local Christian church is a must-do.

Sundays are sacred in the Cook Islands, it's the day of sleeping, eating and singing. Visitors are welcome to attend Sunday services where you will hear the most beautiful harmony of voices and traditional Cook Islands hymns from the locals. It's one of those experiences that will uplift you and make you feel at peace with the world. After the service has ended, you are invited to refreshments which is the perfect opportunity to mingle with the locals and hear more about the history of the island and the church.
Get to know the locals on a Progressive Dinner Tour
This is one of those experiences that I am thankful that money CAN buy because the Progressive Dinner Tour was easily the highlight of my trip to the Cook Islands. On this tour, you'll get to experience what life is like in the local villages and experience true Cook Islands cuisine, culture & lifestyle.
So what is it exactly? You'll be picked up from your resort and transported to the homes of three different hosts who will serve you first course, main course and dessert respectively. You will instantly feel like part of the family and feel welcomed with each host's generous hospitality and get to hear their stories first hand.
There is an abundance of food and drinks flowing and while you eat and socialise you can enjoy the traditional sounds from the small string band playing local music. It's one of those experiences that will leave you grinning from ear to ear and is very popular with visitors to the island. The tour operates on Mondays and Thursdays, bookings can be made here.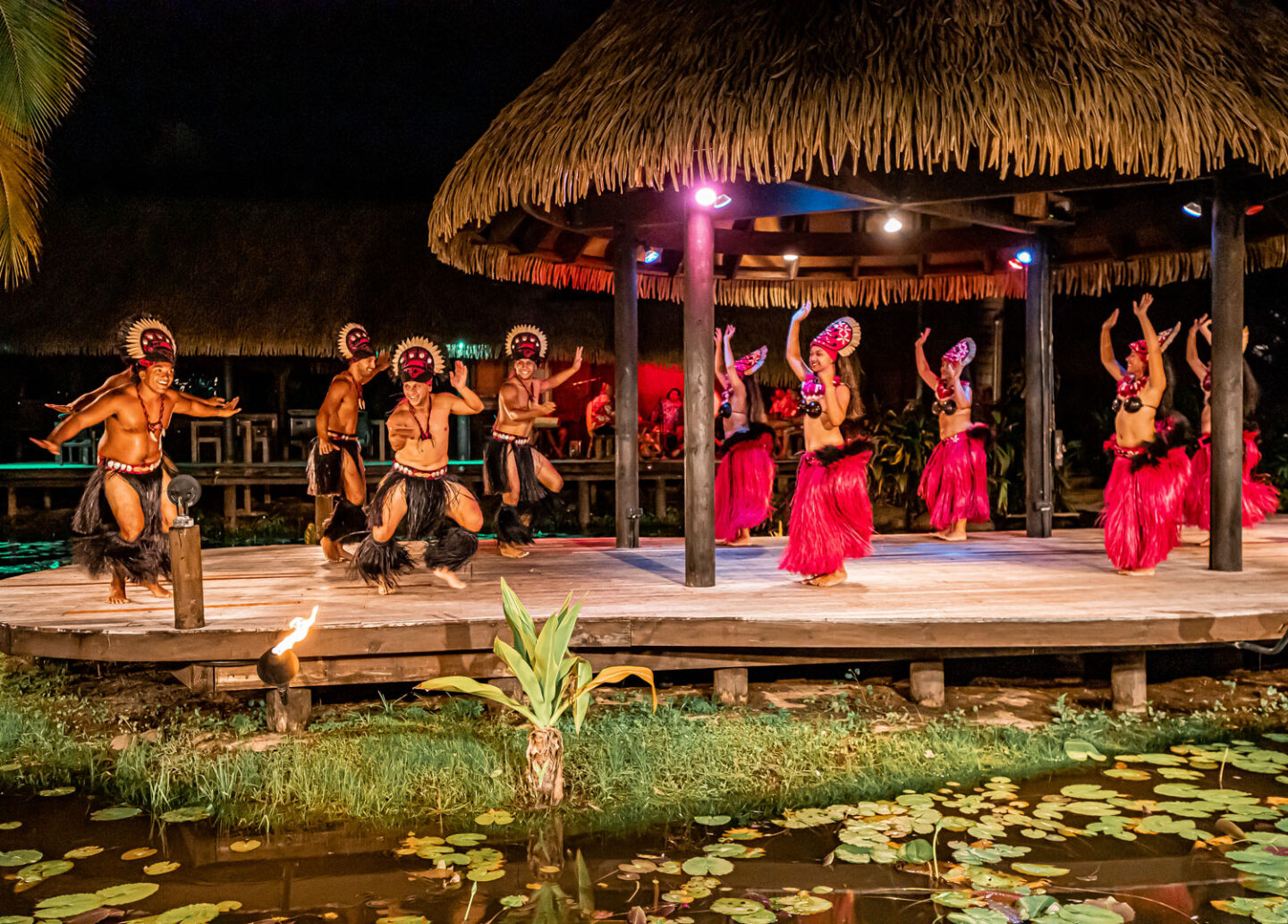 Island Night at Te Vara Nui Village
Liven up your evenings with a visit to Te Vara Nui Village for Island Night where you can experience the spectacular live over-water show and a buffet-style feast. Your evening entertainment will be performed by Raratonga's world-class dancers and musicians who tell the local story of 'The Legend of Tongaiti' through torchlight dances on floating stages, fast drumming and singing which echoes loudly through the waterfall garden.
It's a feast for both your eyes and stomachs, with a delicious flowing Island/Western fusion buffet, making it the perfect night out for families, couples and big groups. The Island Night operates every Tuesday, Thursday and Saturday and includes free transfers to your accommodation. Bookings can be made here.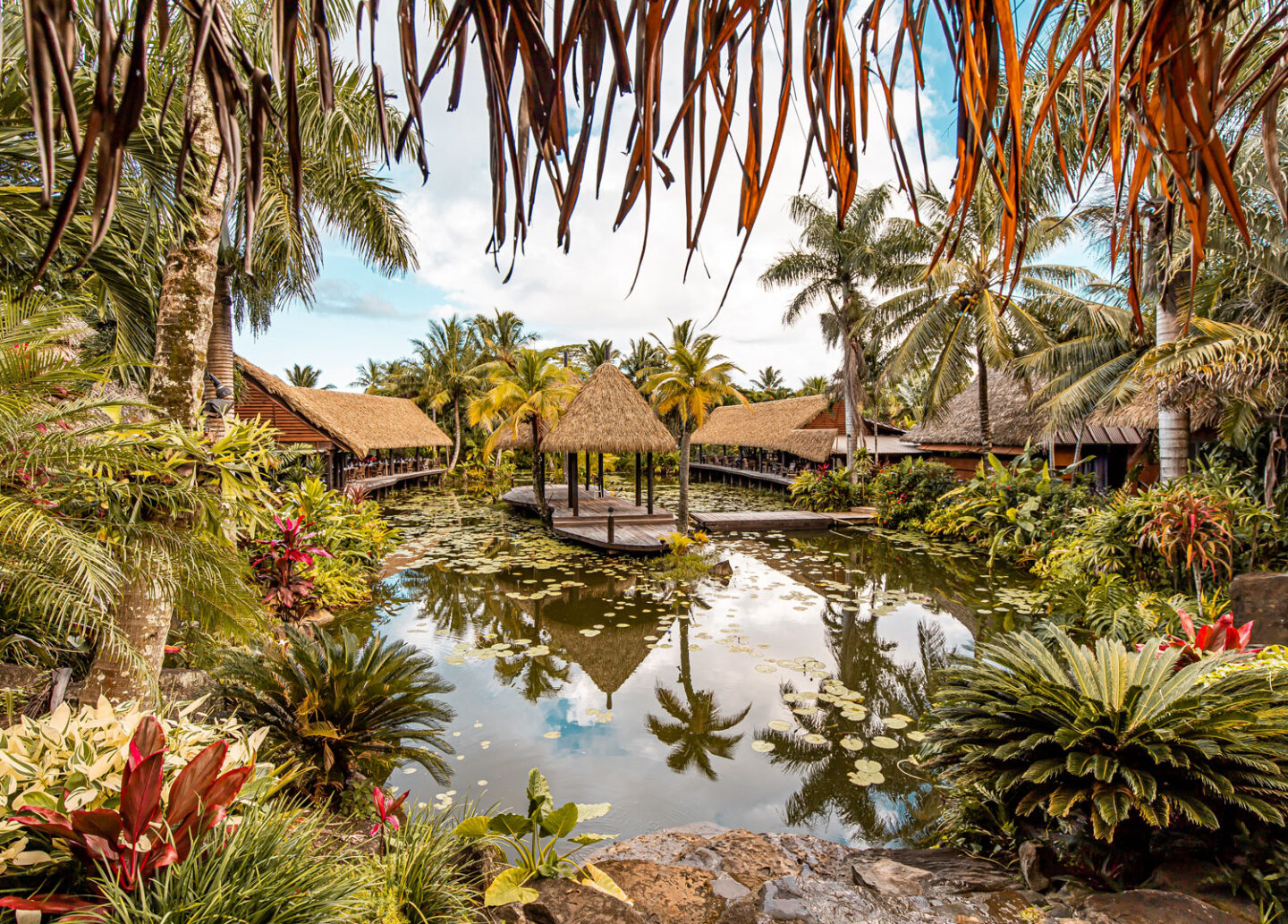 Where to eat & drink in Rarotonga
---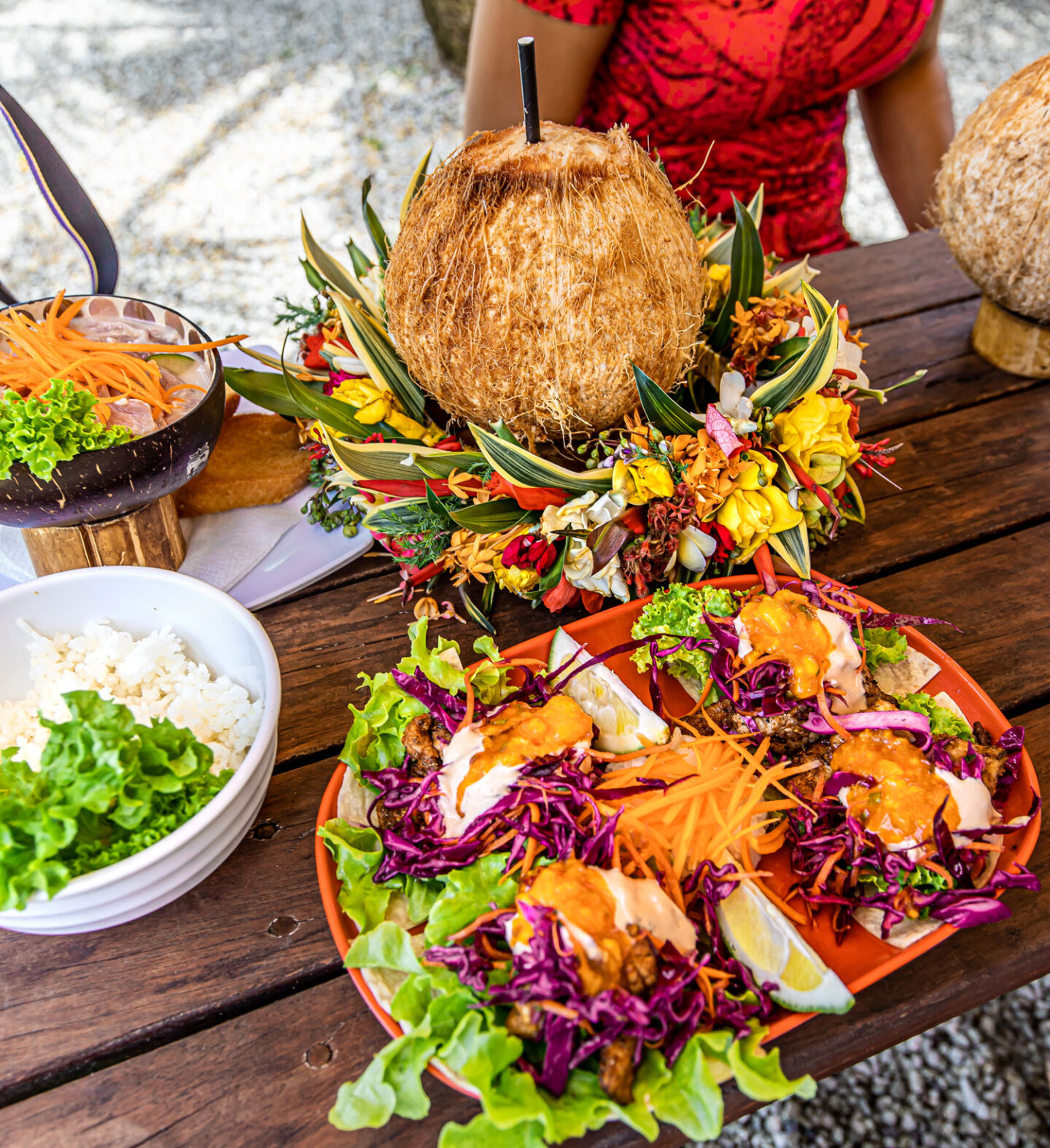 Lunch at The Mooring Fish Cafe
It's the locals best-kept secret that they are more than happy to share with visitors to the island. Make sure to grab lunch at the award-winning Mooring Fish Cafe located at Avana Harbour. Here you will find the freshest seafood on the island, I say that because we literally spotted Captain Moko deliver the catch of the day directly to the kitchen from our beachside table. Order the FOB (fresh off the boat) Sandwich with crumbed Mahi Mahi or the Spicy Tuna Tacos. Visit early in your trip otherwise you'll regret not having another chance to go back for a second meal, trust me.
Dine at Antipodes Restaurant
Kick off your flip flops and slip on your sandals and enjoy an evening at Antipodes, located above the Black Rock Beach. You'll instantly be transported to the Mediterranean at this stunning villa-style restaurant with al fresco dining and clifftop views. The menu features Latin flavoured dishes with a Pacific twist and a premium cocktail and wine list. Antipodes is one of the few restaurants that are open on Sunday in Rarotonga, so be sure to check out their Sunset Sessions every Sunday at 5.30 pm featuring local live entertainment and spectacular sunset views.
Muri Night Markets
For fussy eaters or self-confessed foodies alike, the Muri Night Markets are the perfect place to go for endless cuisine options and mouth-watering local street food. You'll find noodle tents, nachos, curries, pasta, burgers, crepes and all sorts of fried food at affordable prices. The market is on every Tuesday, Wednesday, Thursday and Sunday from 5 pm. Remember to take cash, otherwise there is an ATM located nearby. Arrive early as popular dishes tend to sell out quick!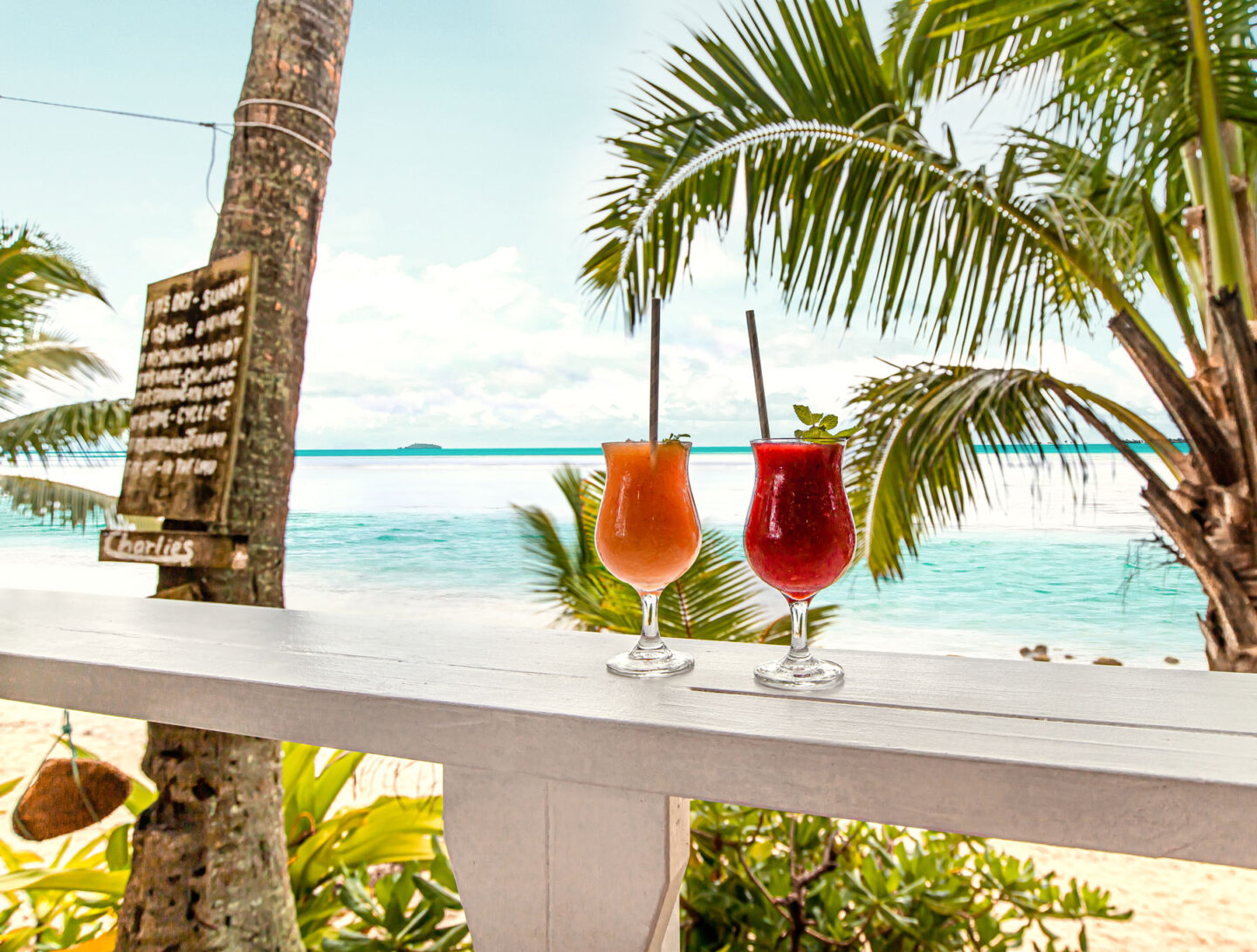 Cocktails at Charlie's Beach Bar
For the days where you have no real agenda on the island, head to Charlie's Beach Bar on Te Akapuao Beach. This venue offers everything you need; a relaxed atmosphere, friendly service, delicious cocktails, beach views and live music. While you're there make sure to check out their cheeky weather rock for the most accurate weather report you've ever come across.
Brunch at Beluga Cafe
This trendy urban spot in Arorangi Village serves up a banging brunch menu and phenomenal gourmet coffee. Beluga Cafe is the place to go to cure your hangover or catch up with any new friends you'll have no doubt made on the island. Inside you'll also find a small gift shop filled with local art, stylish homewares and gifts.
Where to stay in Rarotonga
---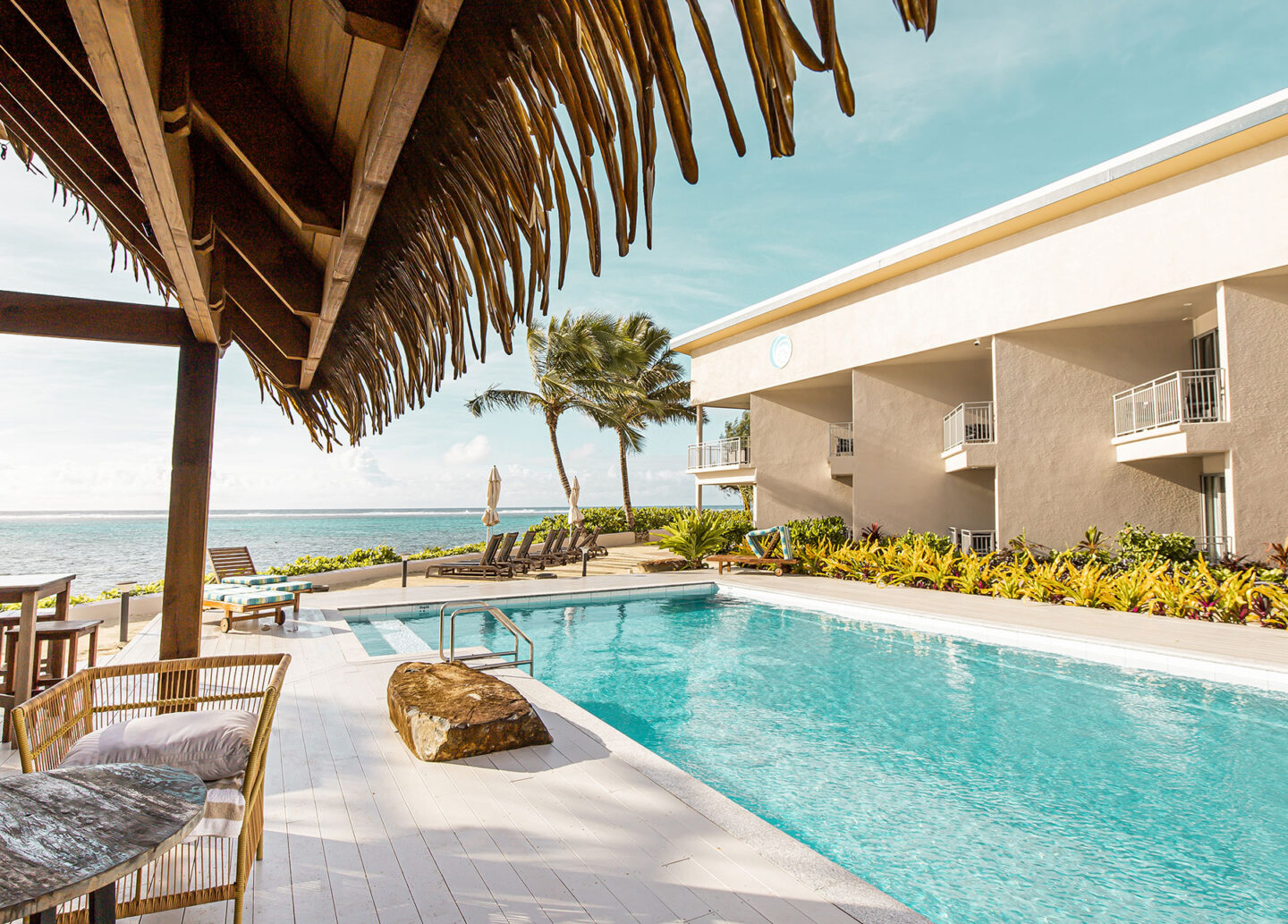 Moana Sands Lagoon Resort
Overlooking the peaceful Muri lagoon, Moana Sands Lagoon Resort features a range of 22 deluxe modern studios with beachfront views and a private patio or balcony. This adults-only accommodation is perfect for couples young and old who want to enjoy uninterrupted holiday time while in the Cook Islands. The spacious studio rooms are decorated with a modern Polynesian flare and feature a king-sized bed, flat-screen TV, room safe, air-conditioning and basic kitchen facilities (microwave and mini-fridge).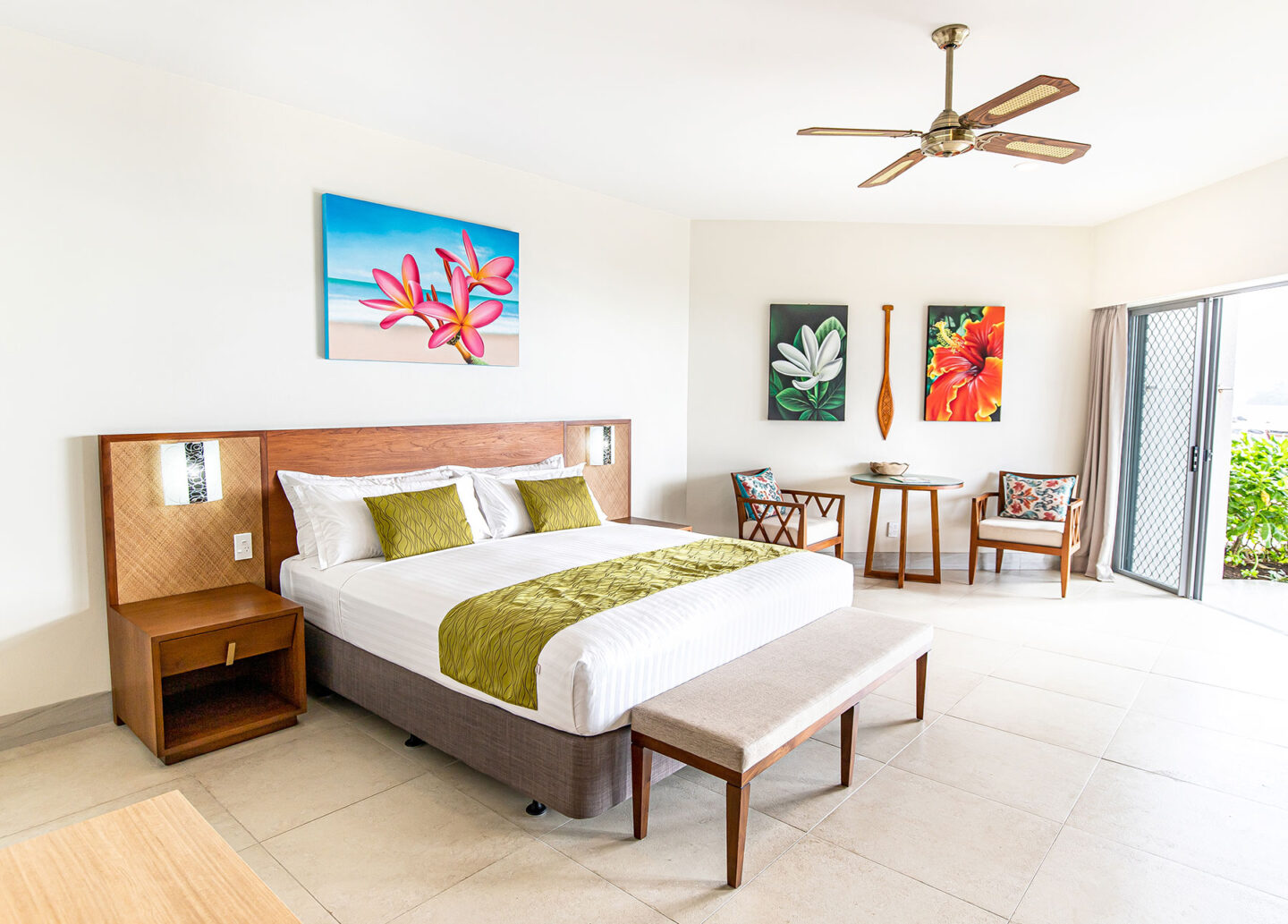 The resort has a stunning pool and deck area with lagoon views which can also be enjoyed from the Laguna restaurant and bar. Daily tropical breakfast is included along with free access to snorkelling gear and kayaks to use within the lagoon. Stay at Moana Sands Lagoon Resort and you're a hop and a skip away from the beach, a 1-minute walk from a shopping complex (bakery, liquor store, bar, care & gym) and a 10 minute walk away from the Muri Night Markets. Bookings can be made here.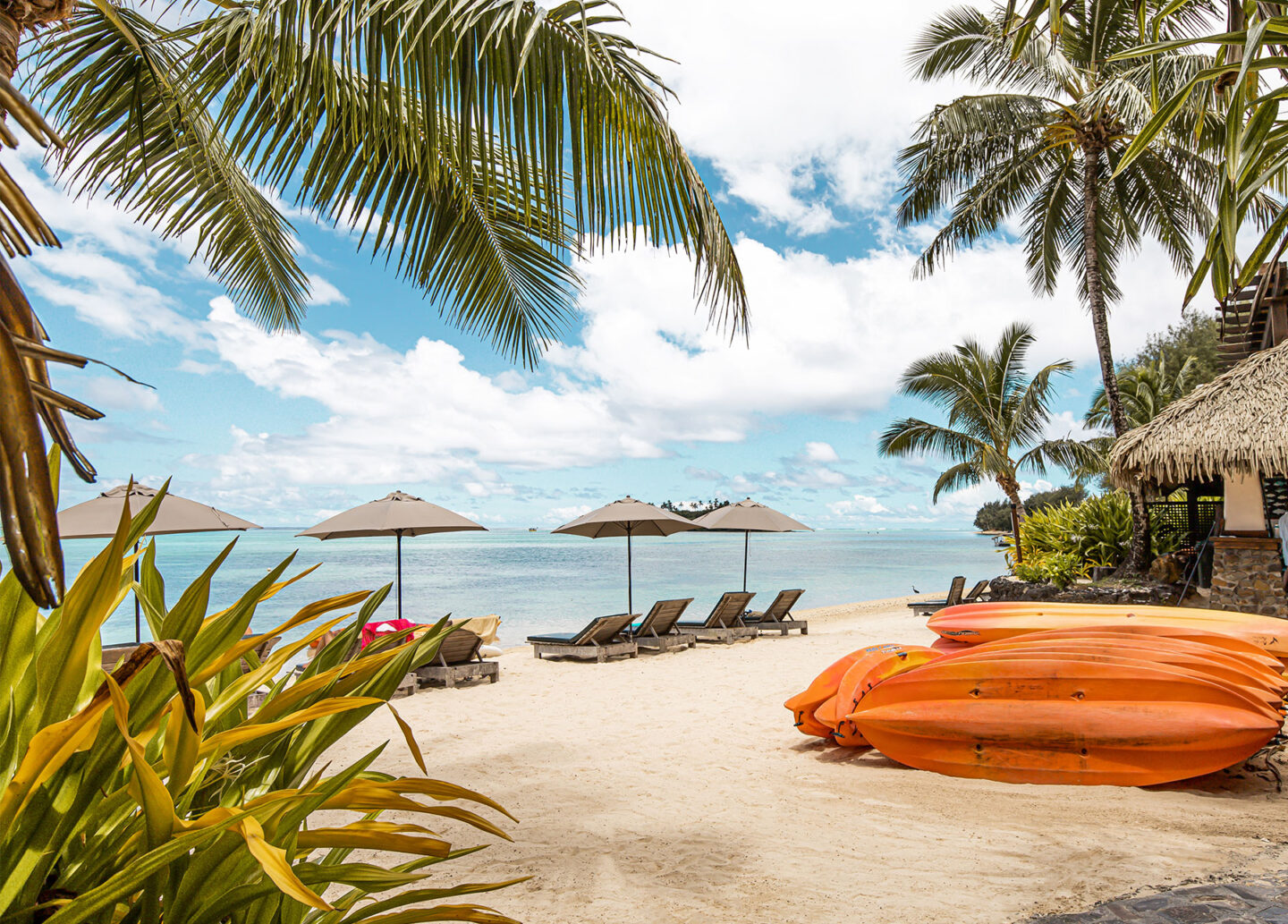 Pacific Resort Rarotonga
If you're after a family-friendly and activity-packed stay in the Cook Islands, check-in to the Pacific Resort in Rarotonga for a perfect holiday experience. This award-winning hotel is located on the white sands of the Muri Lagoon and has a variety of rooms available for families, couples or large groups. Beautifully landscaped gardens weave through the resort which also features an on-site restaurant, bar and hair salon.
If you've got children, then this is the place to book as the Pacific Resort Rarotonga offers a daily complimentary kids club which offers activities like crab racing, weaving, dance lessons and sandcastle making — I'm a bit jealous myself!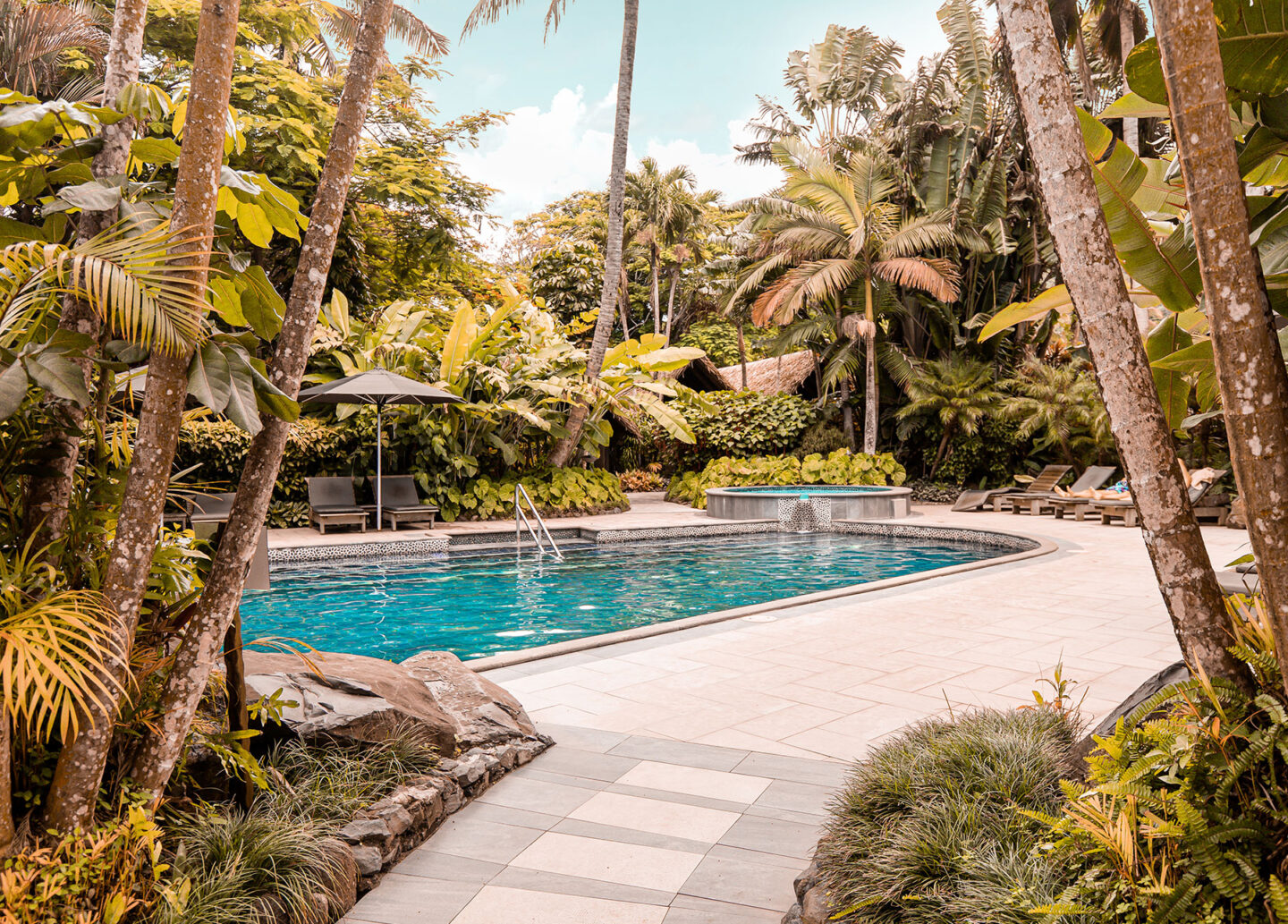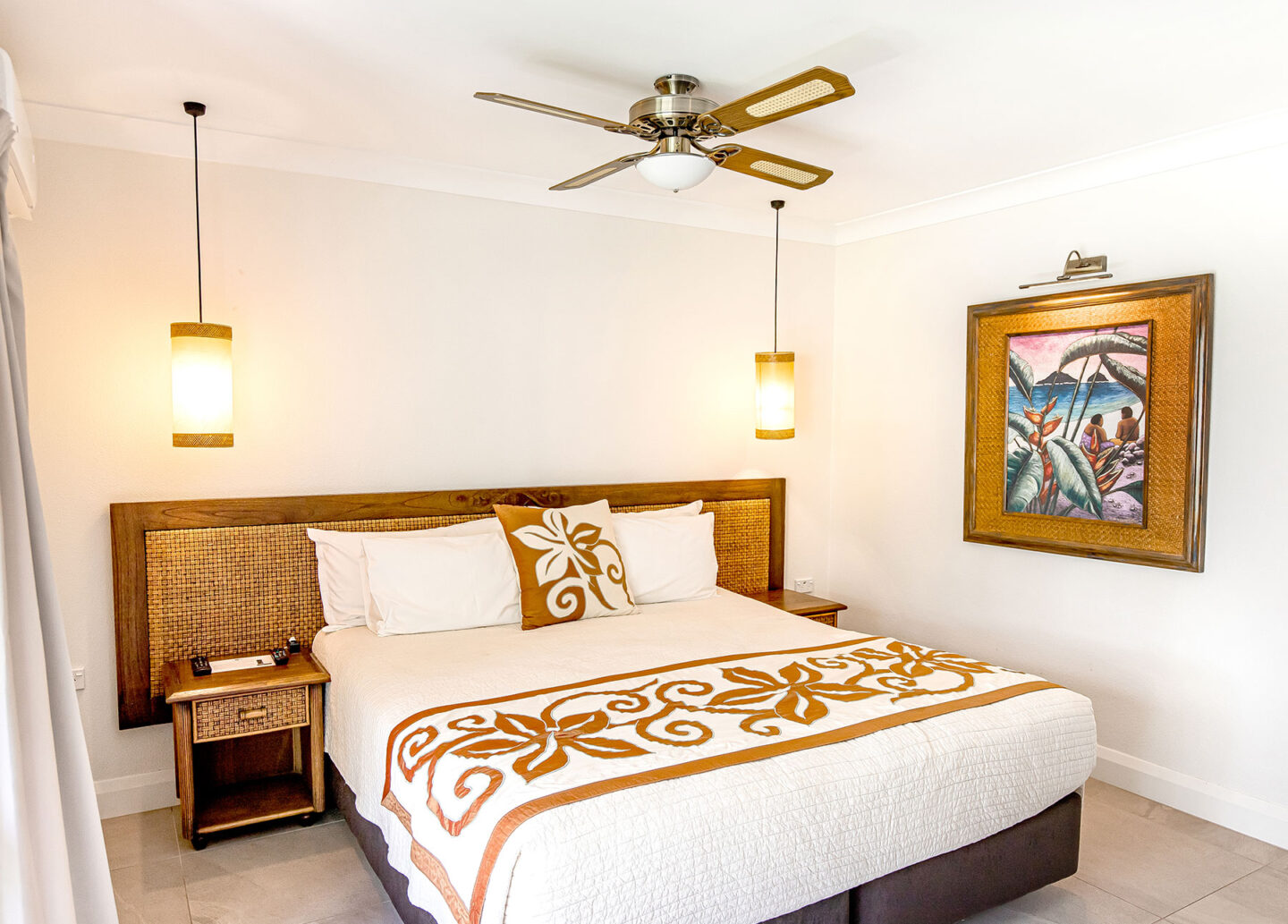 For adults, you have a lot of activities on offer including free access to snorkelling gear, kayaks and paddleboards which can be used to explore the nearby lagoon and get up close and personal with the colourful fish. Daily complimentary tropical breakfast can be enjoyed right on the beachfront at Sandals Restaurant. Don't forget daily Happy Hour at the Barefoot Bar! Bookings can be made here.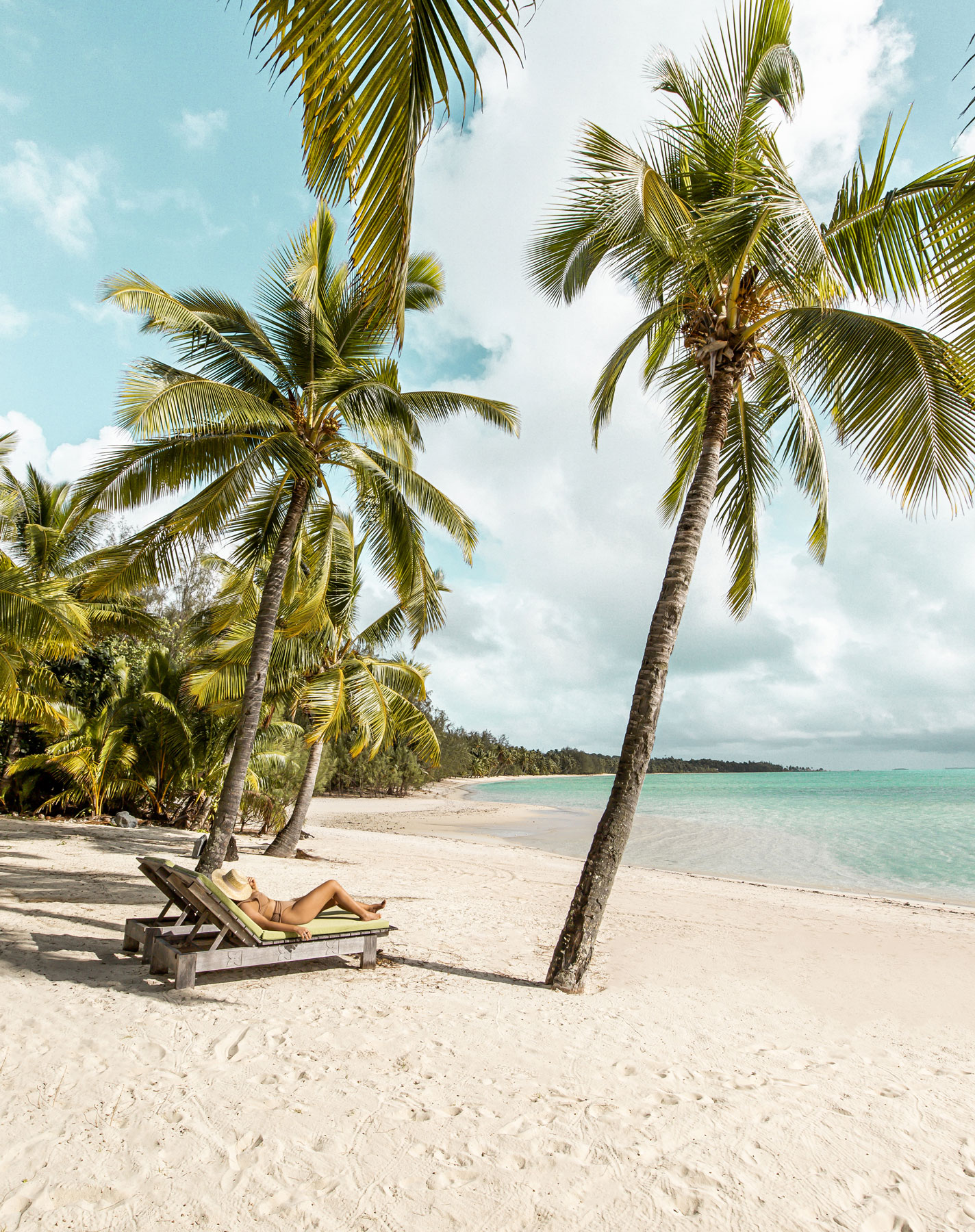 Aitutaki
Things to do in Aitutaki
---
Vaka Cruise to One Foot Island
Set sail on the crystal clear waters of Aitutaki's lagoon with the Vaka Day Cruise and visit the picture-perfect One Foot Island. This is an action-packed day out where you'll get to snorkel with colourful sea life, stroll on the white sandy beaches of various islands, swim in the pristine turquoise water and feast on a generous BBQ buffet-style lunch on board.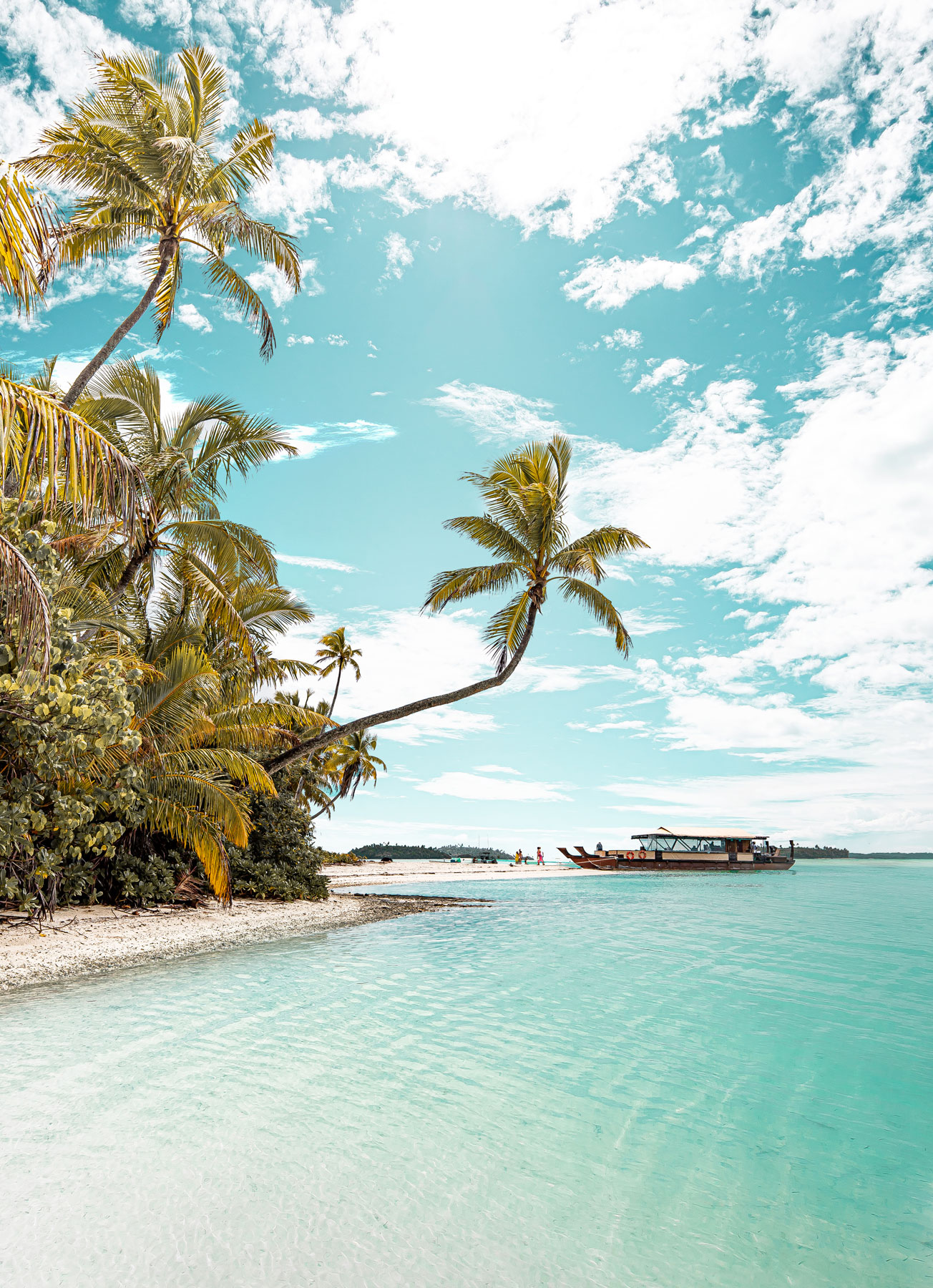 The staff on board the Vaka Cruise are without a doubt what makes the trip a standout (as if the scenery wasn't enough!). Not only are the crew incredibly friendly and attentive, but they will also keep you entertained with their fascinating stories, quick wit and talents. Throughout your journey on the lagoon, you will enjoy the soundtrack of the crews singing, drumming and ukulele playing.
Snorkelling gear and towels are provided however don't forget to bring your passport so you can get it stamped when you visit One Foot Island. Included in the tour are free transfers to and from your accommodation, bookings can be made here.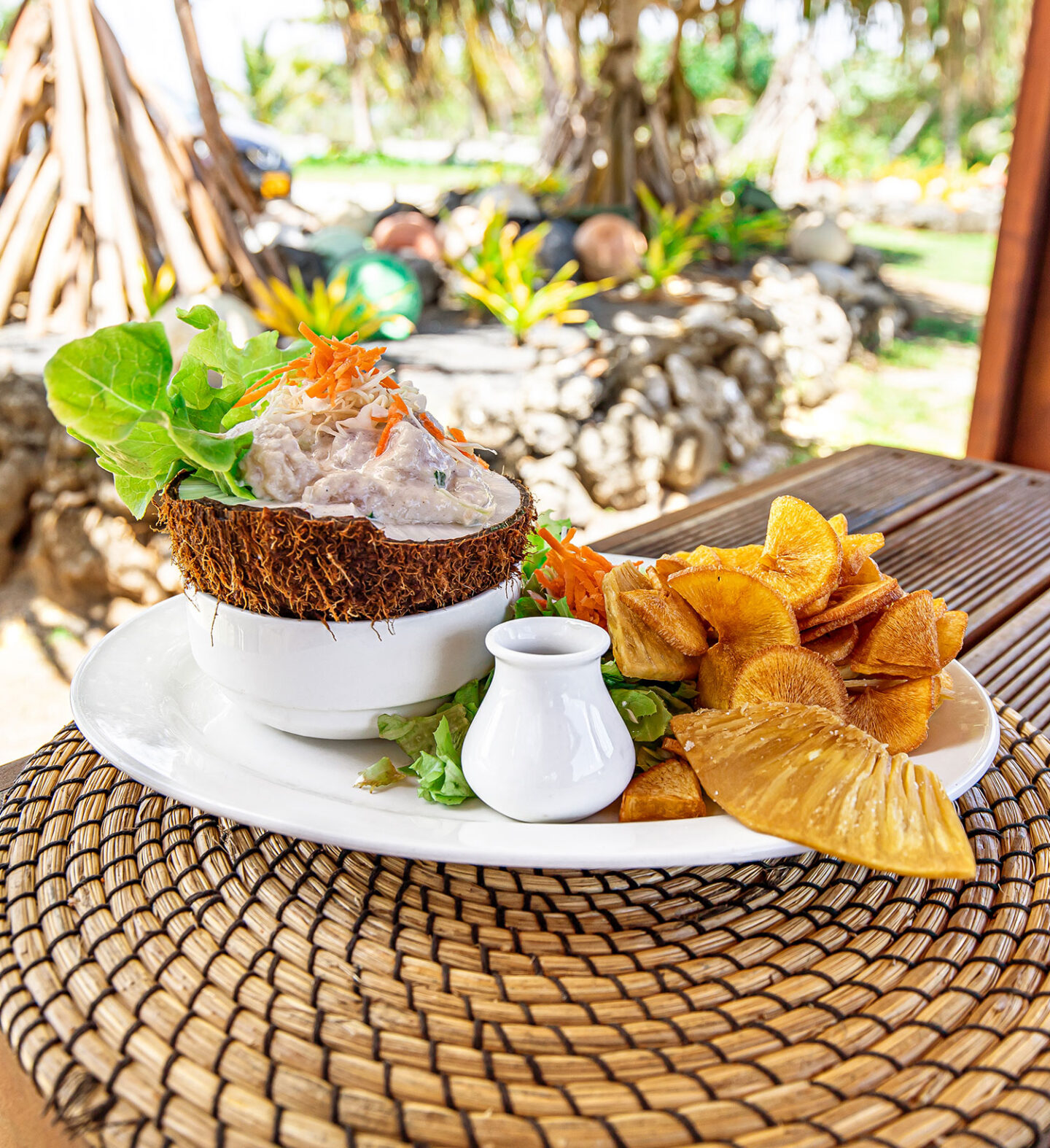 Lunch at The Boat Shed
You'll find The Boat Shed on your way to Ootu Beach, it's the perfect spot to enjoy a cool breeze, picturesque views and tuck into a delicious meal and a round of drinks. I highly recommend the local dish of Ikamata, a raw fish salad served with crispy local root vegetable chips. I lost count of the times I ate this during my time in the Cook Islands however my favourite serving was here at Koru Cafe along with their incredibly fresh Yellowfin Tuna sashimi.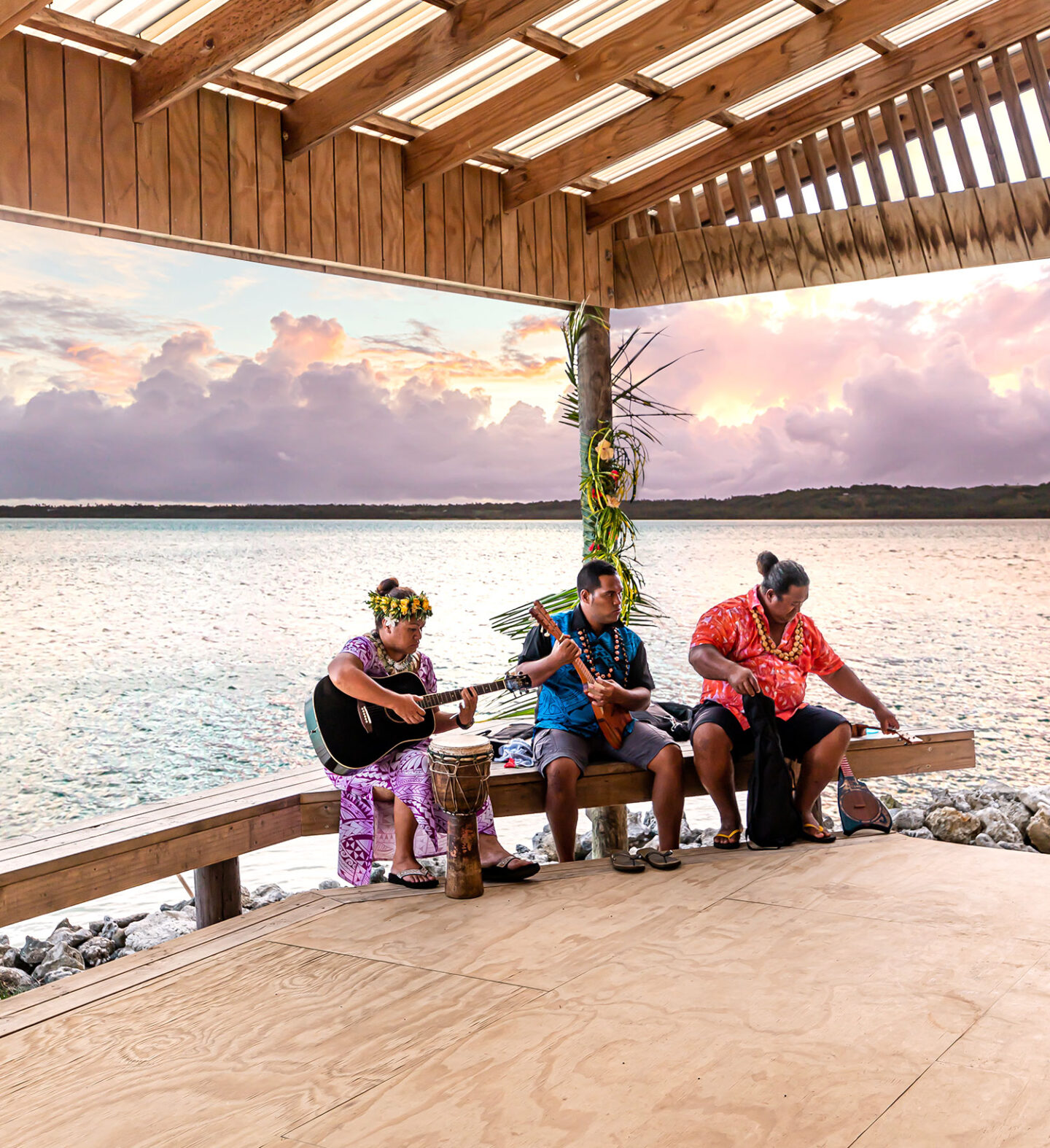 Island Night at Aitutaki Village
Head to the Island Night at Blue Lagoon Restaurant in Aitutaki Village to catch stellar sunsets, feast your way through a buffet of traditional Cook Islands cuisine and be entertained by the local dance troupe and fire performers. Island Night runs every Tuesday and costs £30 per adult & £10 per child. Enquire about bookings here.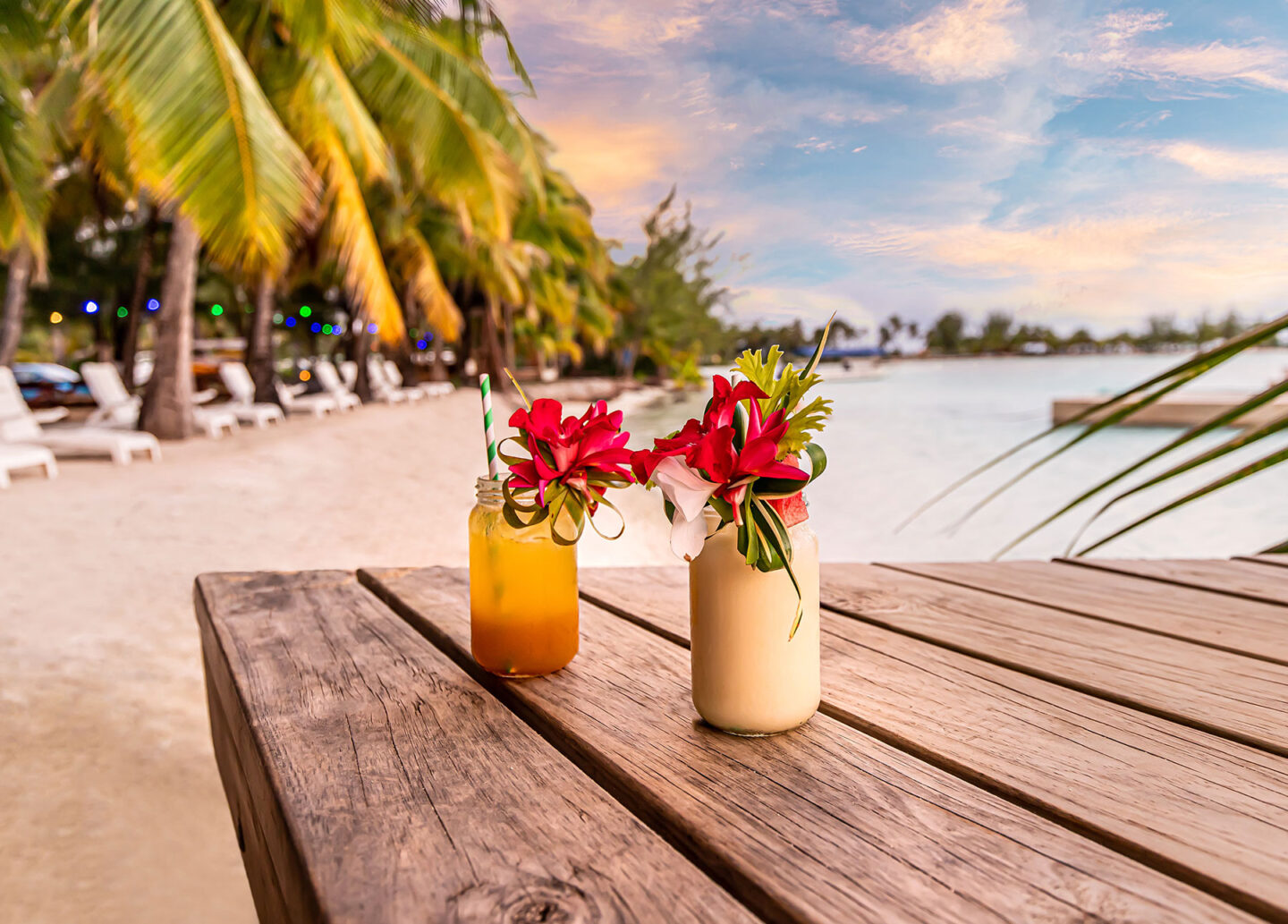 Where to stay in Aitutaki
---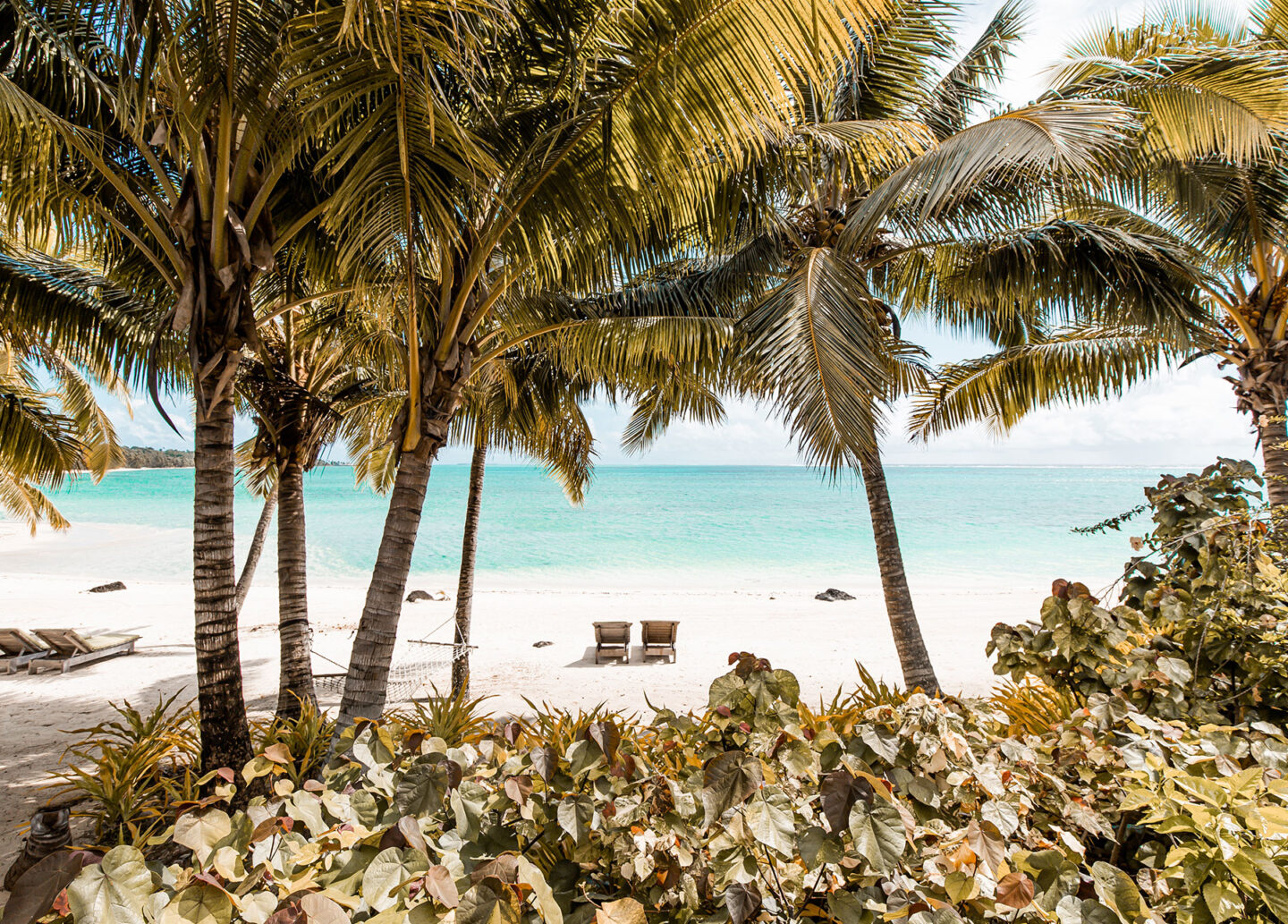 Pacific Resort Aitutaki
For newlywed couples or loved up old souls, look no further than the Pacific Resort Aitutaki for a multi-award winning 5-star experience that is the epitome of tropical luxury. Here you can sleep in a private beachfront bungalow with stunning water views across the Aitutaki Lagoon. All rooms have their own private sun deck, outdoor beach shower, air conditioning and entertainment system. You'll appreciate the small touches like a complimentary mask and snorkel set in your room along with a beautiful pacific style sarong which I was thrilled to wear for the remainder of my trip.
On-site there are two restaurants – Rapae Bay, a romantic, candlelit fine dining style restaurant, and Black Rock, an al fresco venue by the sea serving refreshing salads, succulent steaks and the islands' famous Ika Mata.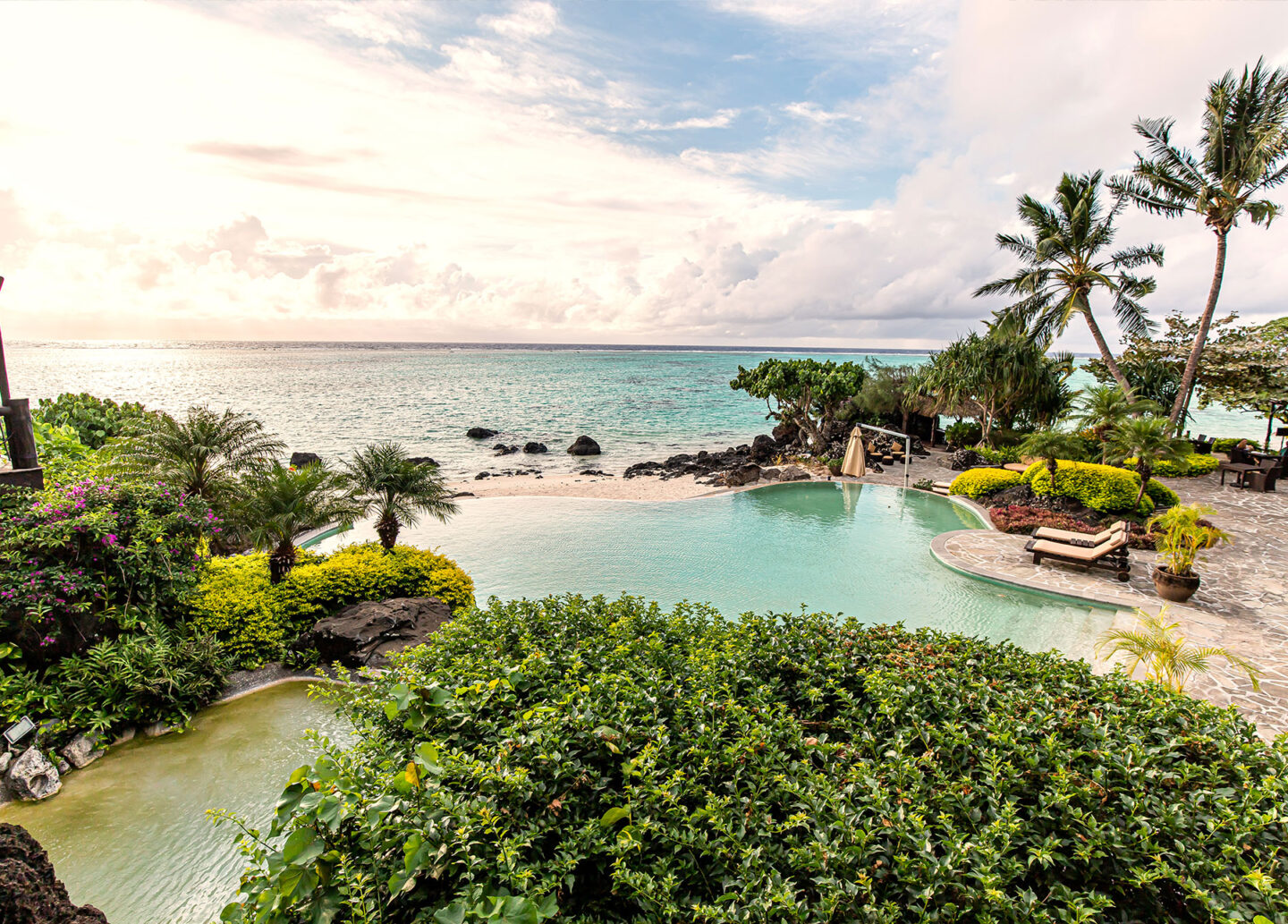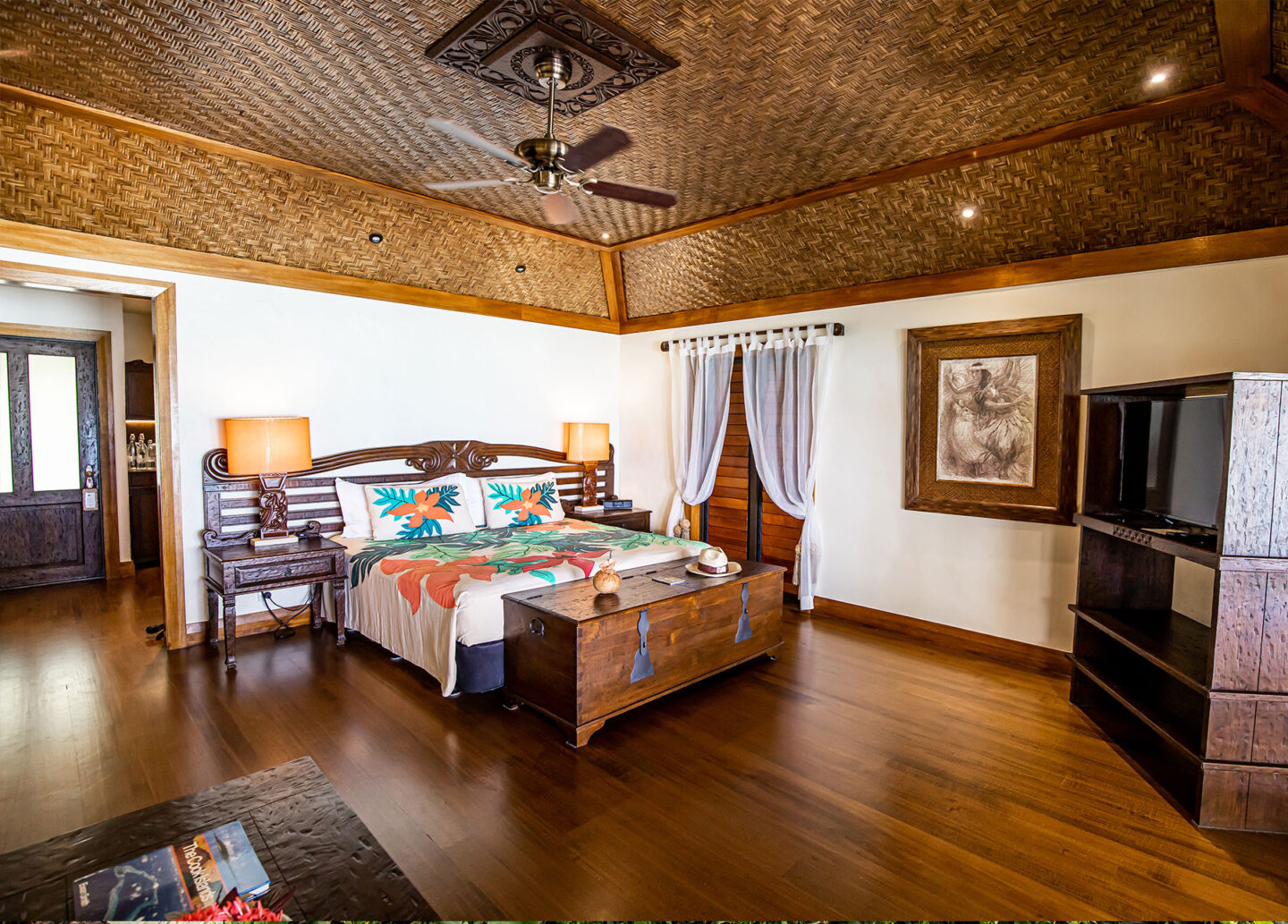 The infinity pool at Pacific Resort Aitutaki is something straight out of a luxury travel magazine and is the perfect spot to enjoy poolside cocktails (Happy Hour is every day between 4-5 pm). Every Wednesday, Pacific Resort hosts a weekly Island Night dinner and show where you will be immersed in Polynesian culture with live performances, island drummers, guitarists and ukulele players.
A full à la carte breakfast is served each morning, and you'll regret not ordering the French toast. Here for your honeymoon? Enquire about their private dining service where you can eat in a Bedouin-style tent on the beach. Very romantic indeed! Bookings can be made here.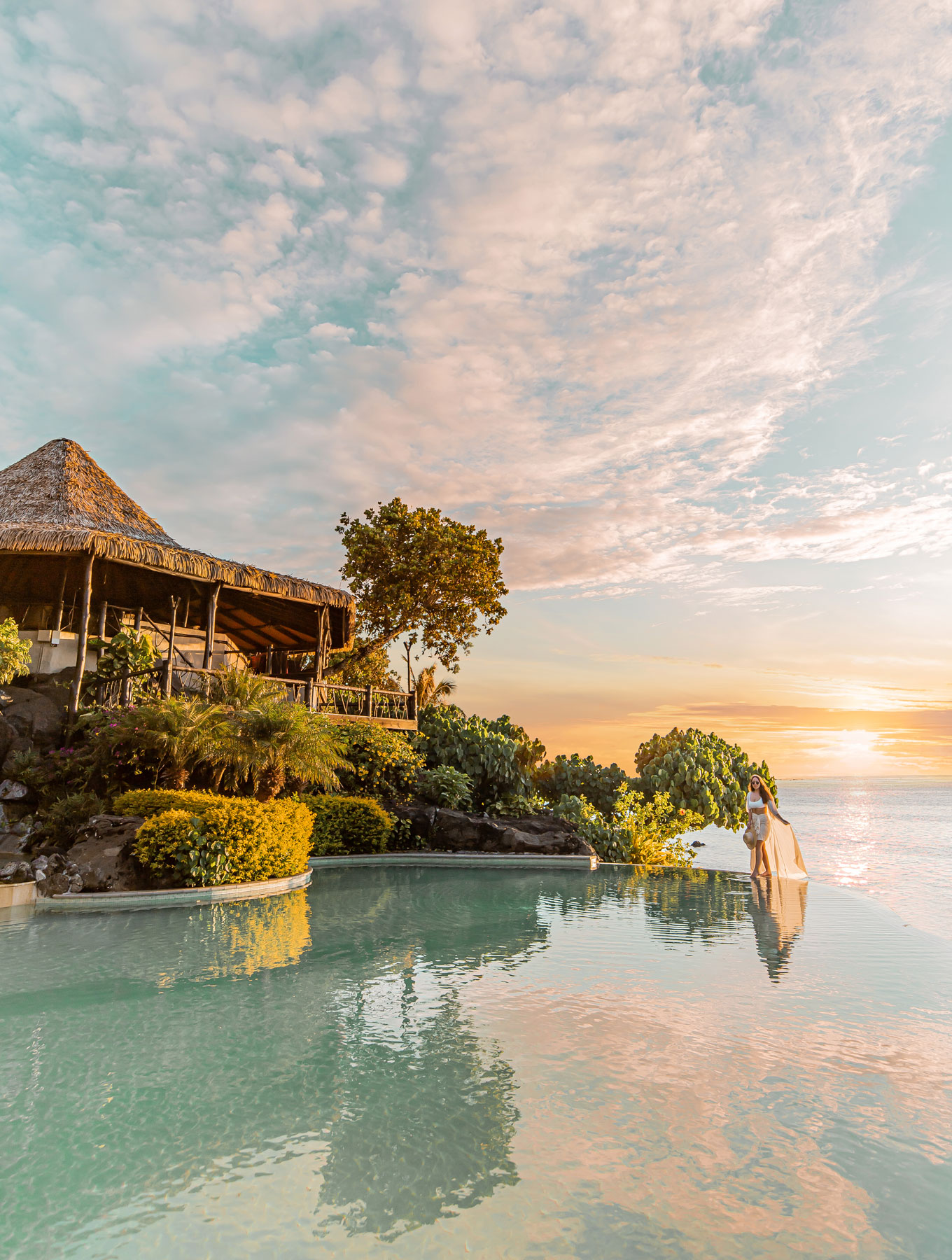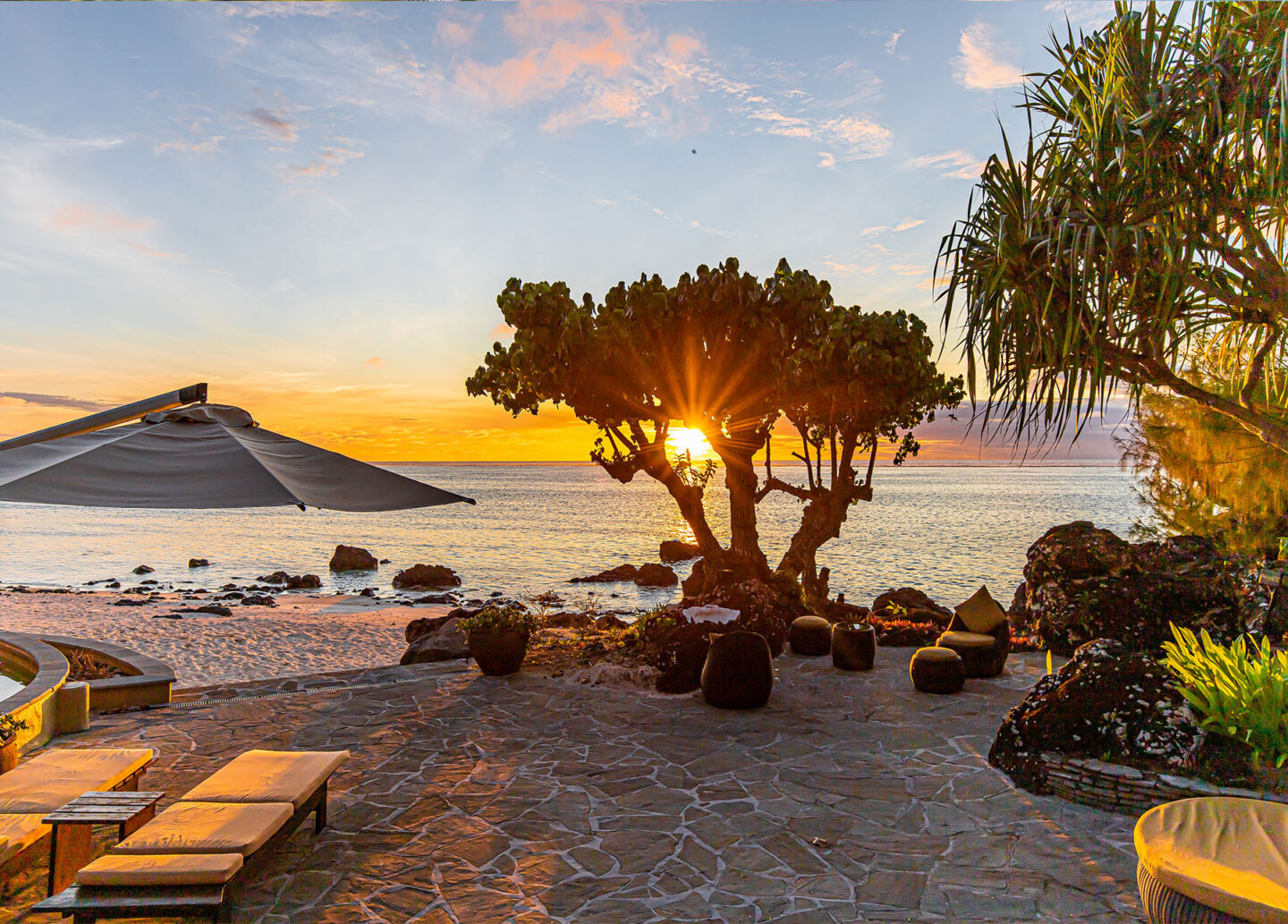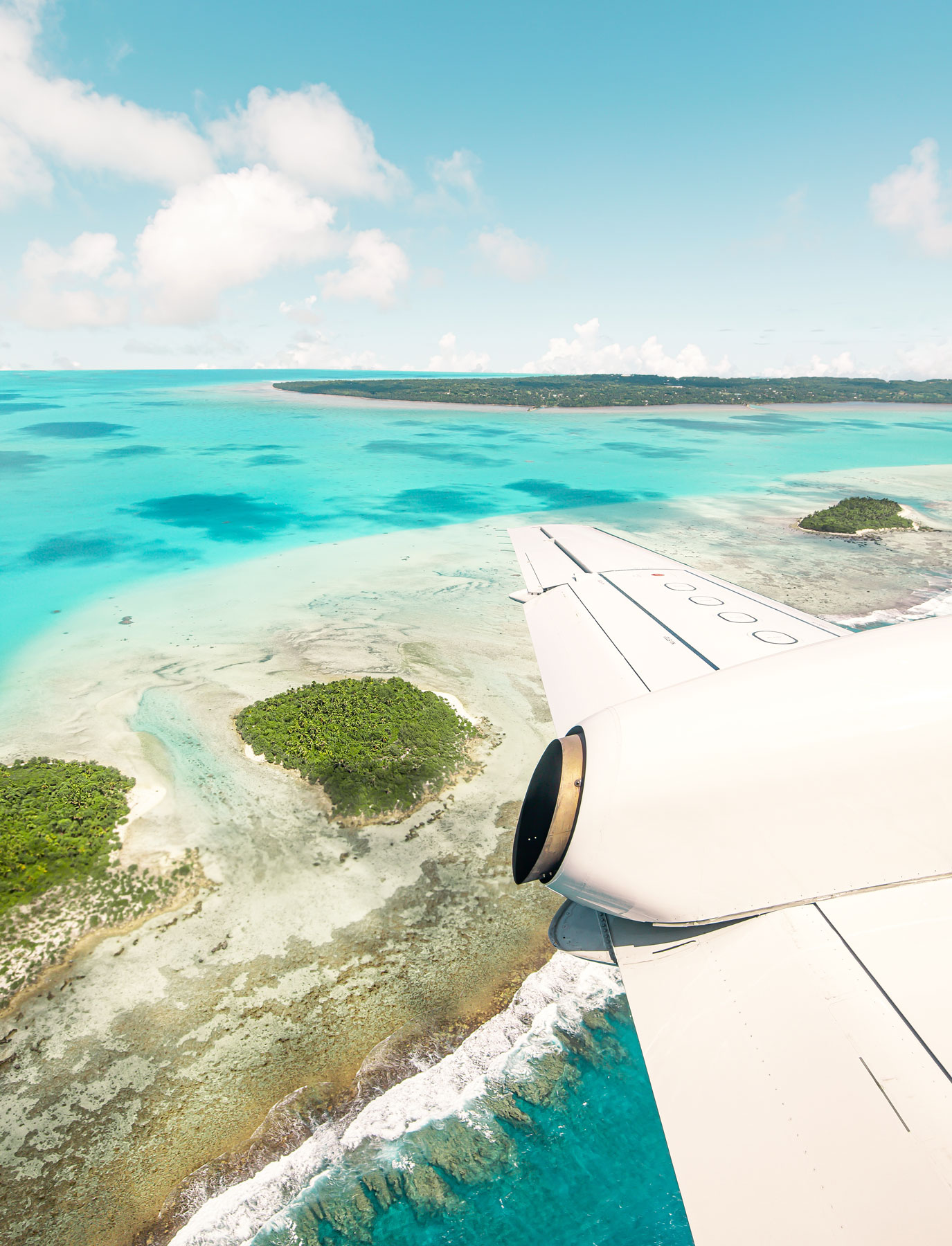 Related:
Want more travel inspiration? Read my newest travel guides here.

Cook Islands Bucket list
Check out my Cook Islands bucket list below. Save it to your Pinterest for an upcoming trip or post it on your Instagram stories & check off the places you've been.
If you want to see more of my food recommendations for other popular cities or travel bucket lists, click the link below.
INSTAGRAM STORY TEMPLATES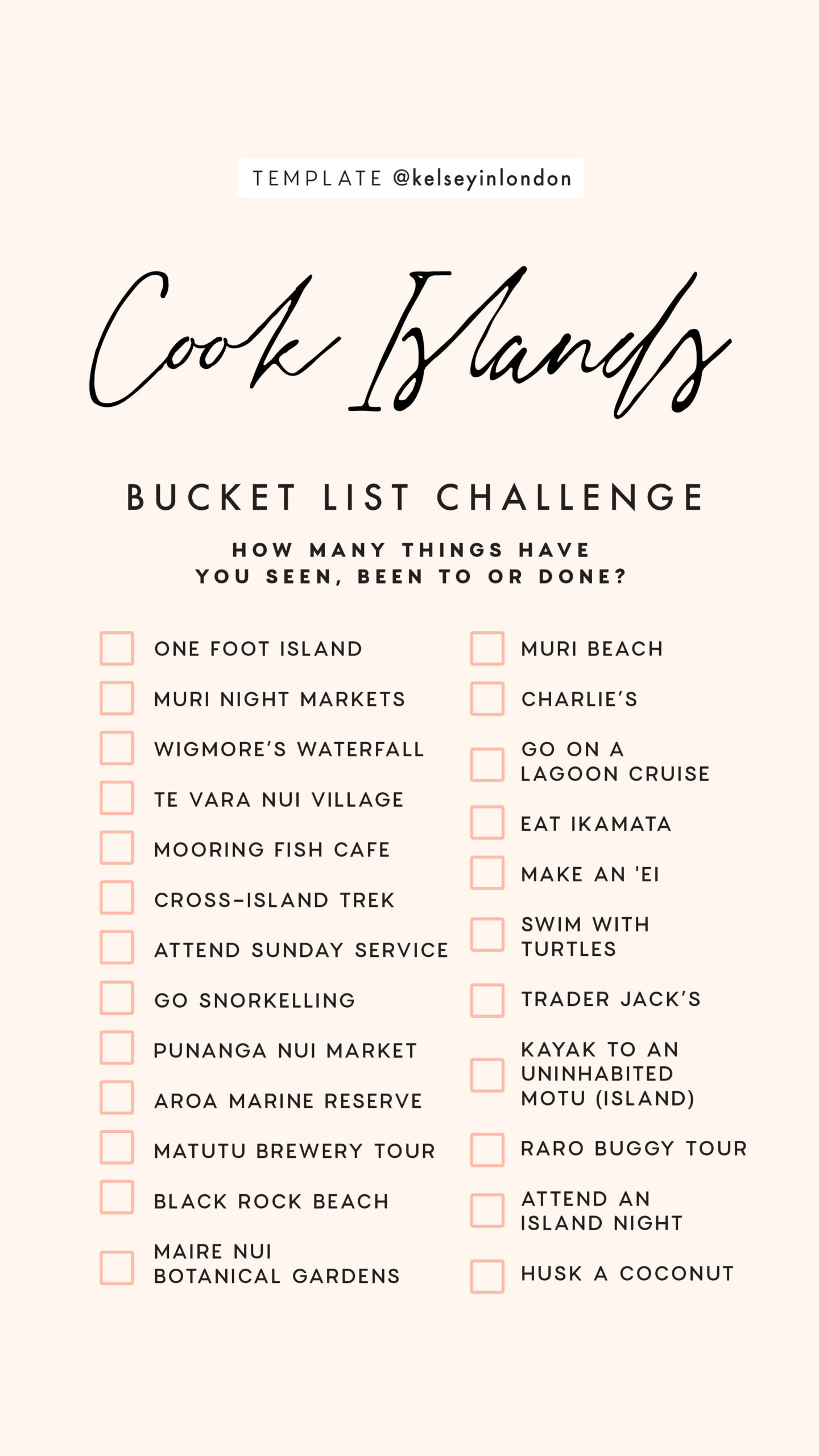 Enjoyed this guide? Pin it for later below! Follow me on Pinterest.