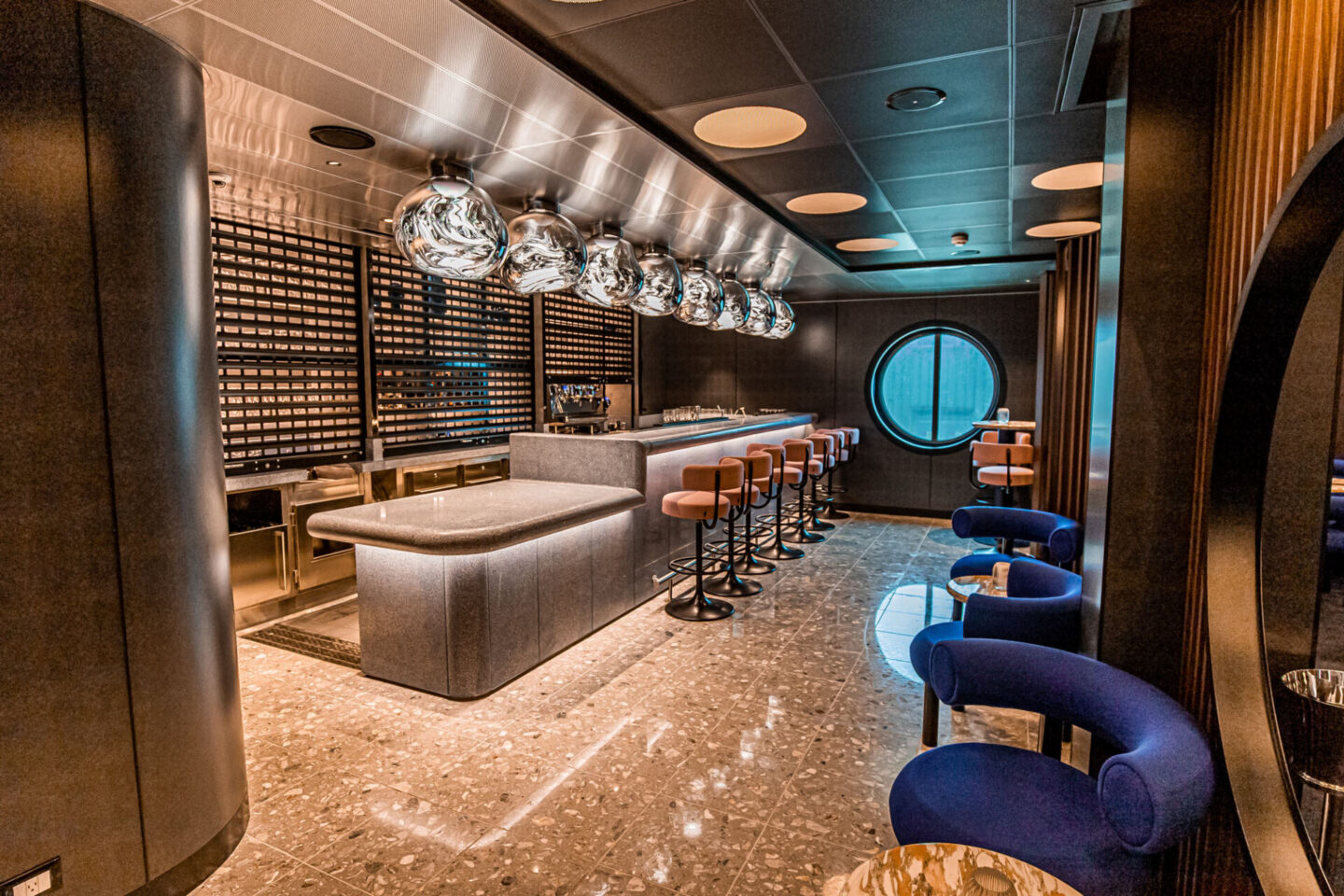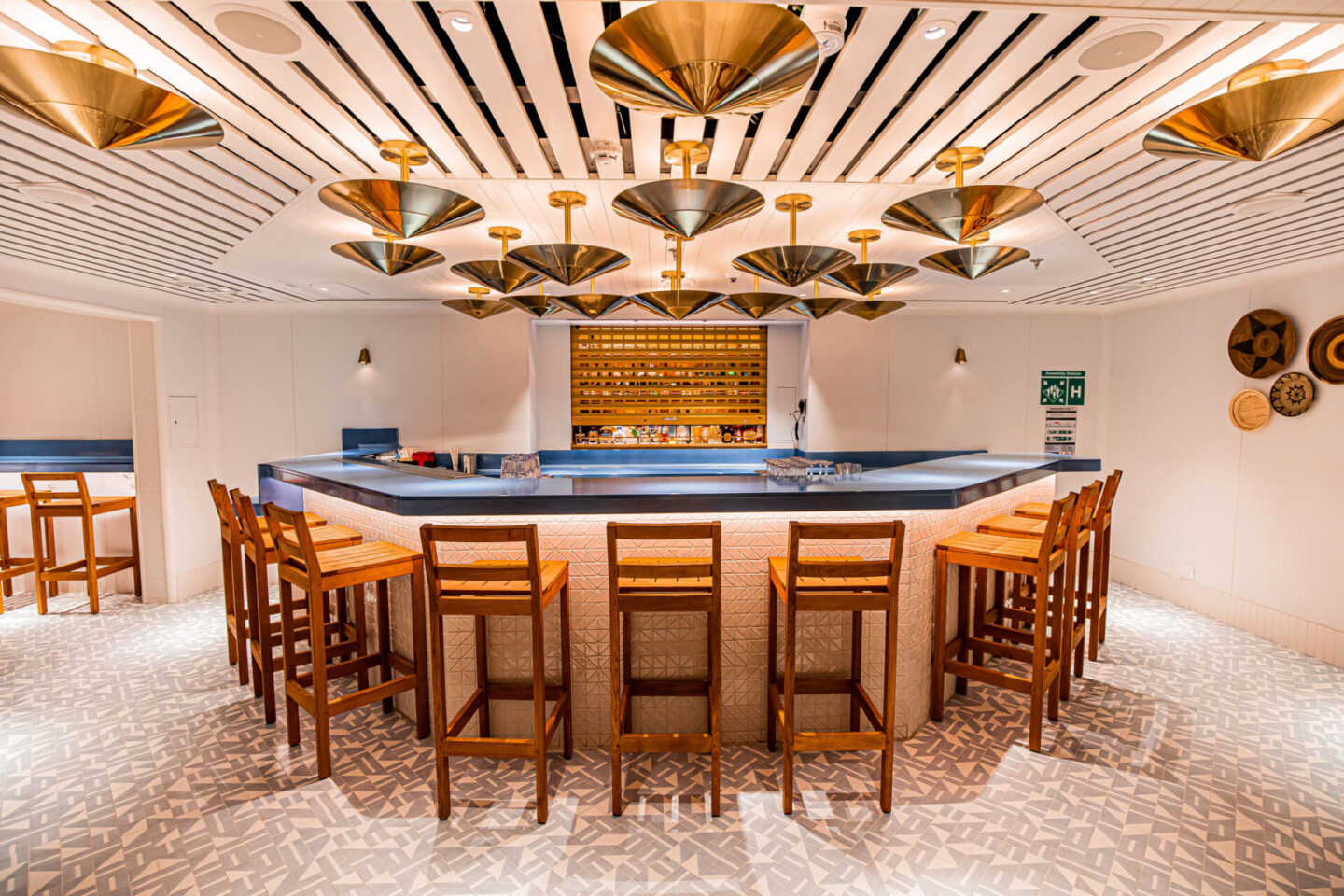 — This article contains paid content, all words and opinions are my own —
I'll be honest with you, I didn't think I'd be stepping onto a cruise ship into I was well in my 60s. However, after being invited to an overnight stay on Virgin Voyages' first cruise ship, the Scarlet Lady, my perception of cruises have been blown out of the water after experiencing an epic adults-only playground. I was gobsmacked by the sleek modern interiors (we're talking Tom Dixon sleek), thrilling live entertainment, delectable dining experiences and pulsating nightlife. I mean, if you're going to set sail, you might as well do it rockstar style a la Sir Richard Branson.
The Scarlet Lady Cruise ship has over 1400 cabins (80% of them with a sea view & balcony, complete with hammock!) with routes on offer including four-to-five-night sailing to Mexico, the Dominican Republic and the Bahamas, from the homeport in Miami. On board you will find multiple bars, restaurants, cafes, a shopping mall, night club, tattoo parlour, vinyl record shop, salon, spa, gym & casino – it's an 18+ theme park with exhilarating surprises waiting for you at every turn.
Even though we boarded at the not-so-tropical port of Dover in the UK, during a winter storm, the weather didn't stop me from enjoying an action-packed night I won't be forgetting any time soon. If you've never experienced cruise life before or if you're a regular sailor and looking for a different vessel to call your home for your next adventure, read on to hear my first impressions of the Scarlet Lady Cruise Ship.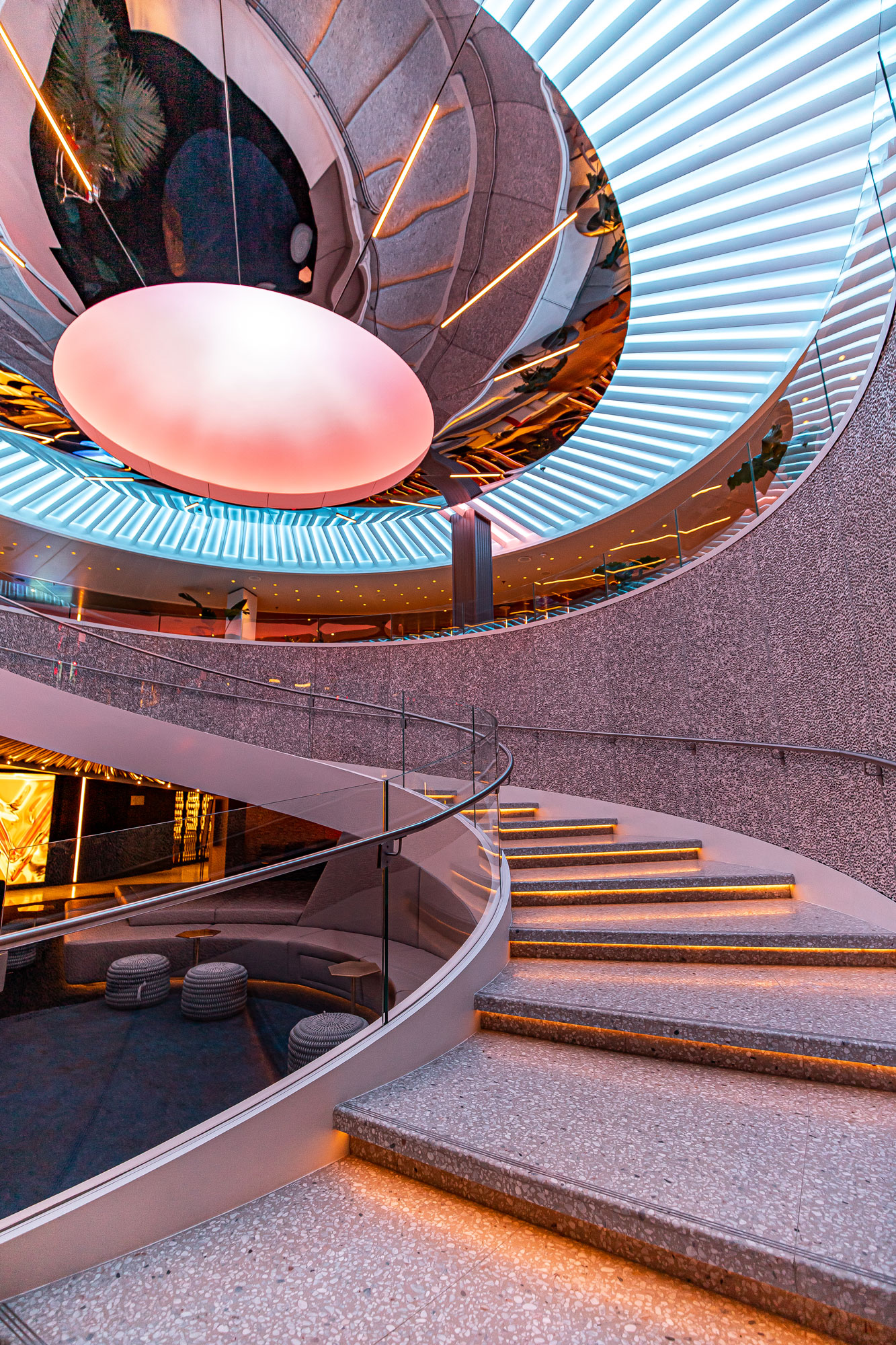 First impressions of the Scarlet Lady Cruise Ship
Food & Drink

With 20+ eateries & restaurants on board, you'll never have to eat the same thing twice on the Scarlet Lady – and if you do, it's because it would be a crime to not have a second round of the braised pork cheek. All food is included on the cruise and features a range of upscale dining, Michelin-starred menus and tasty casual eateries you'd expect to find in London, New York and Tokyo – no boring buffets in sight.
During our stay, we had a dinner reservation at Gunbae, a lively Korean BBQ restaurant. This is the place to go with a group of friends for a fun, interactive dining experience. You'll be sat at a round table with a cooking plate in the centre where you will roast marinated beef, pork & seafood. The waiters at Gunbae are incredibly enthusiastic and will invite you to play a traditional Korean drinking game, Sam-yuk-gu (3-6-9), where the losers take a shot of soju.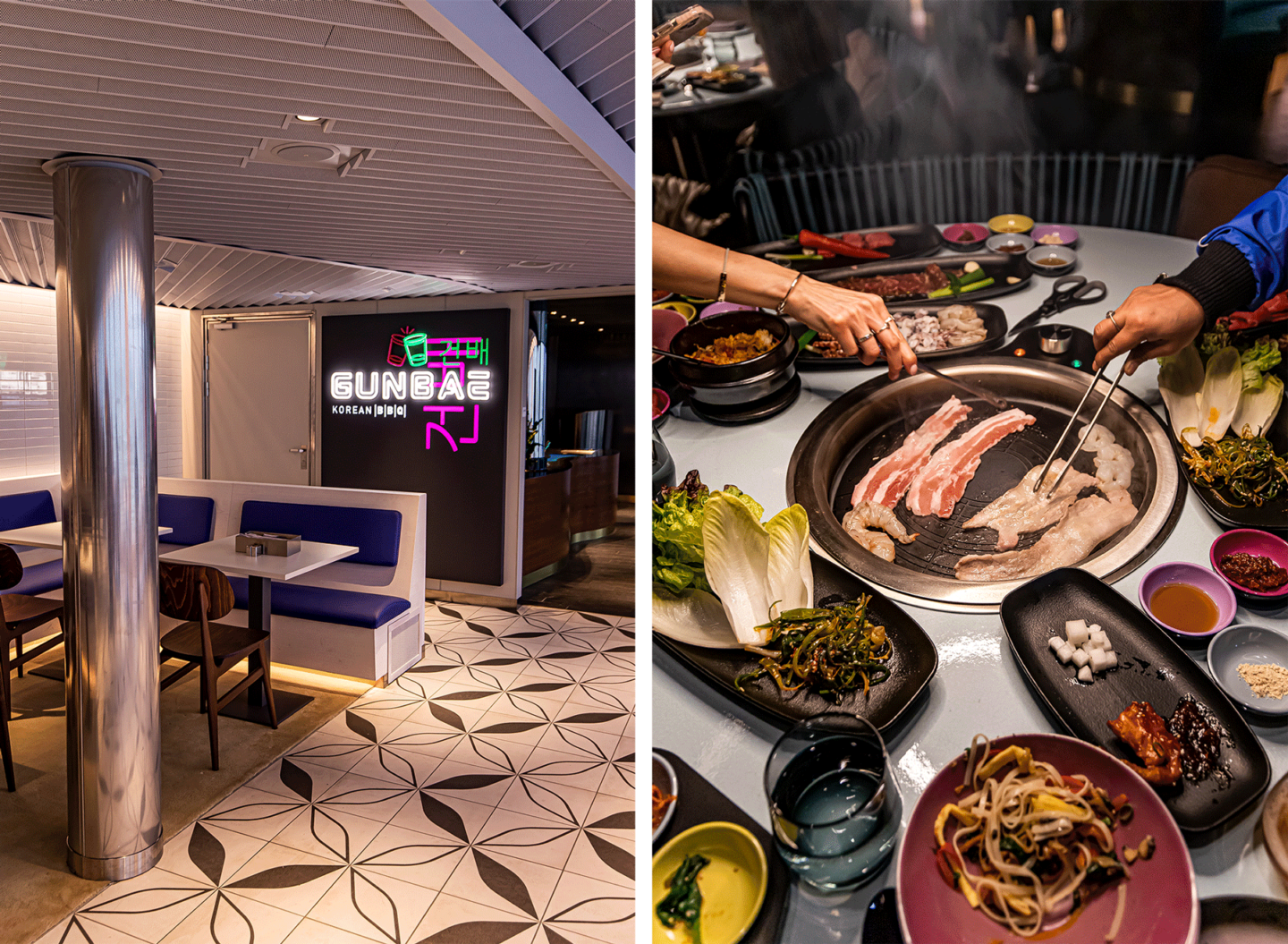 On the morning of our departure, we tucked into a three-course brunch at The Wake. This sophisticated steakhouse restaurant serves up some of the most delicious brunch items that would rival any cafe in Sydney or LA. We ate our way through Poached Shrimp, Soft Shell Crab Eggs Benedict and Brioche French Toast – all accompanied by artisan-made coffee.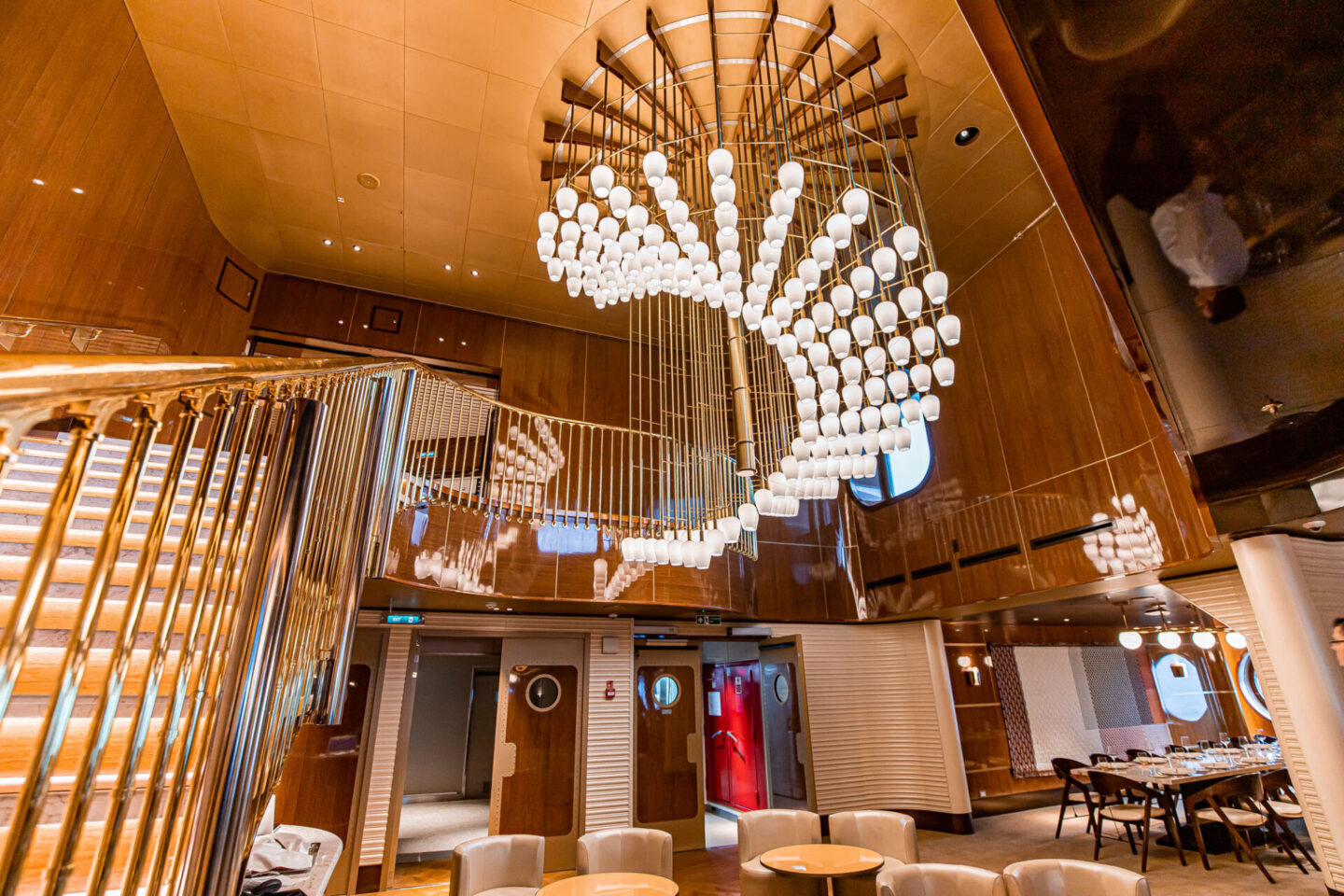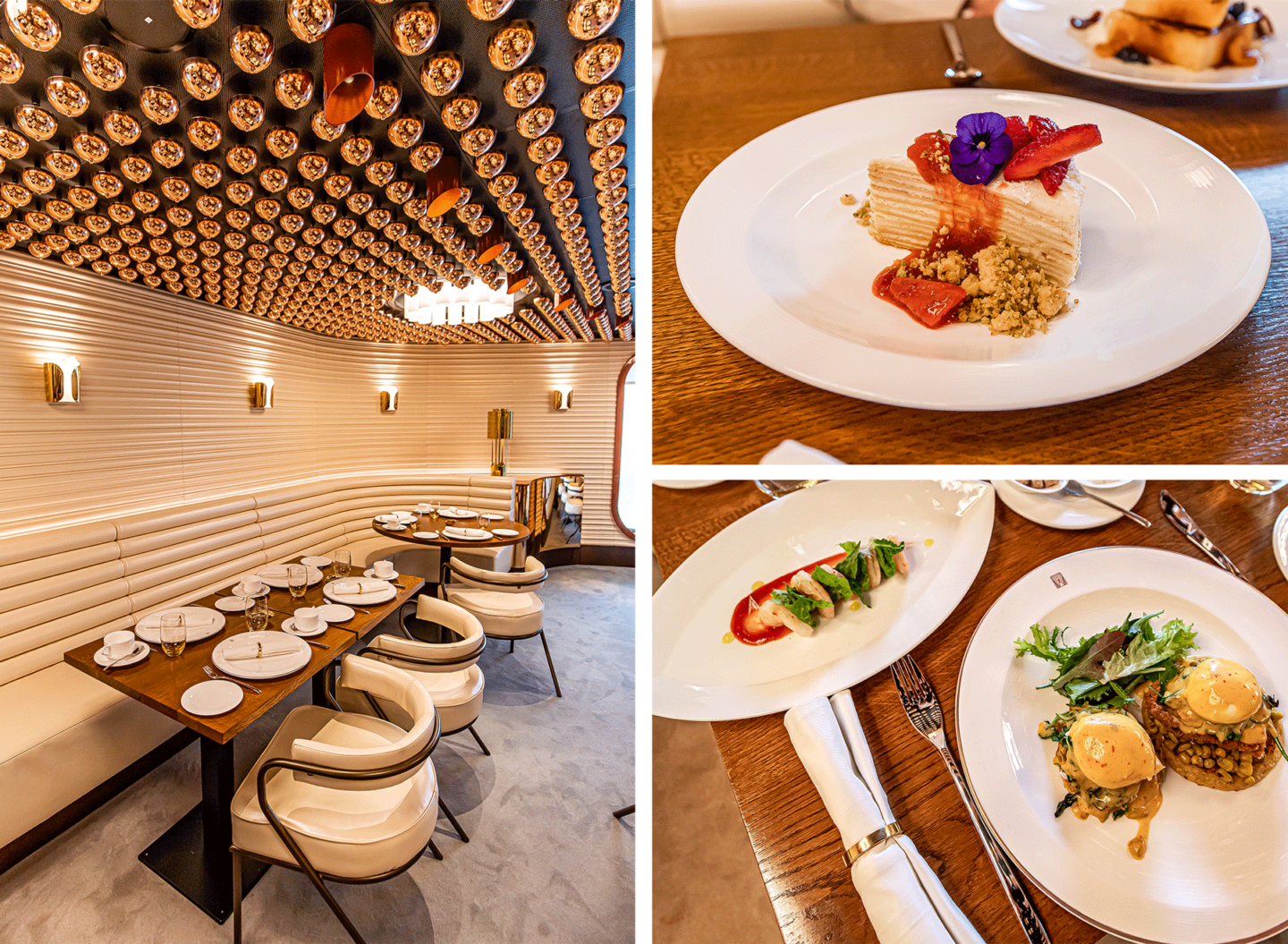 For bars, there's a venue for every mood and plenty of excuses to raise a glass. Sip, a posh champagne bar with delicious Moët, rainbow cake and interiors to match. For cocktail lovers, there's On the Rocks where you can request one of the mixologists to create a unique cocktail just for you. Beer connoisseurs, head straight to Draught Haus and order a round of craft beers or grab a growler to take with you back to your cabin.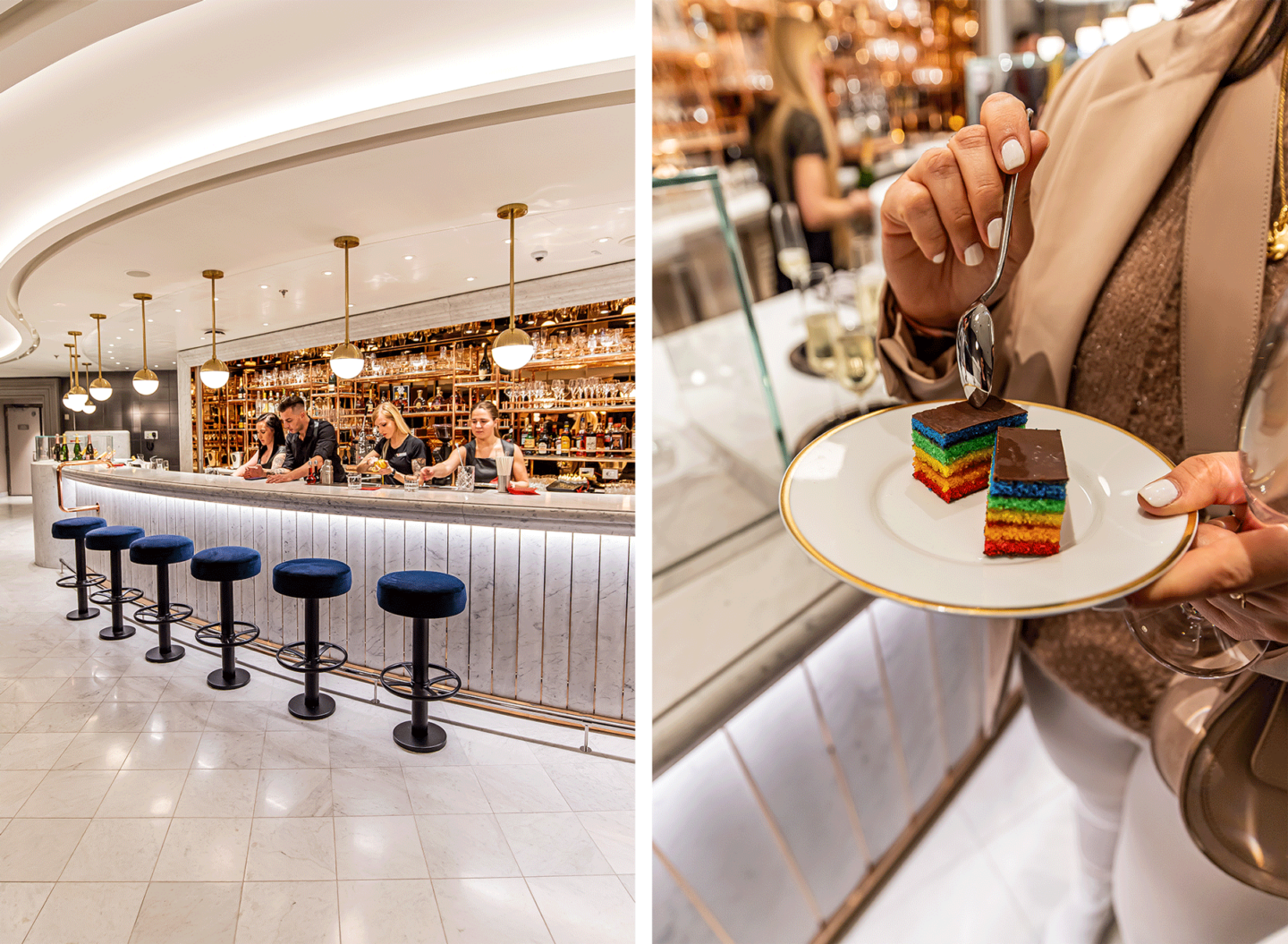 While alcoholic drinks aren't included in the standard package, Virgin Voyages offer reasonable pricing at around £4 for beer, £7 for a cocktail and nearly 50% of their wines are under £8 a glass. For a limited time only, if you purchase a $300 prepaid bar tab, Virgin Voyages will give you a bonus $100 extra to spend at any bar on board or at The Beach Club, which is a banging deal if you ask me! Click here for more details.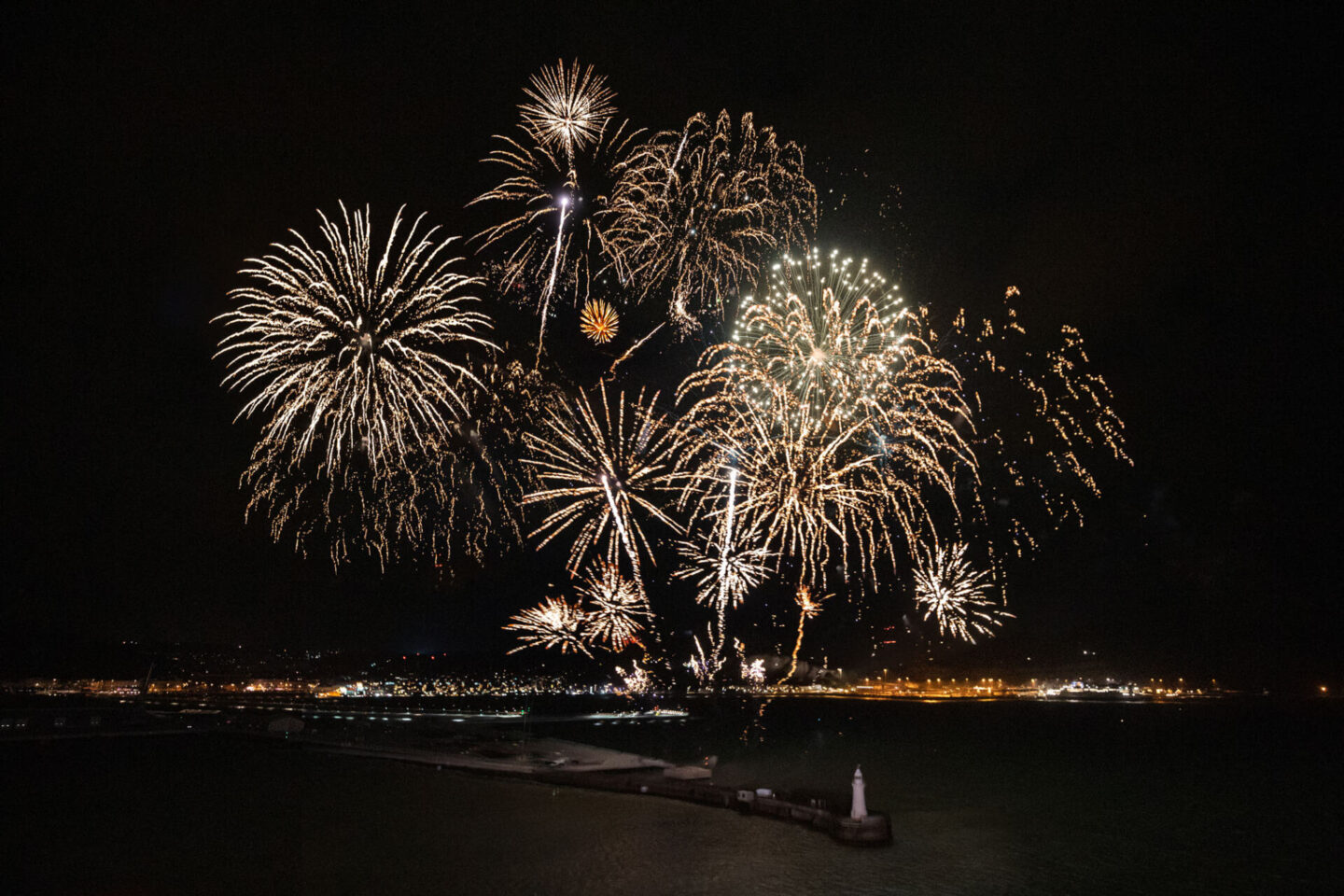 Entertainment & Nightlife

You'll never find yourself bored on board the Scarlet Lady cruise ship, with a thrilling variety of entertainment and events. Not your average pre-dinner show, this cruise features contemporary live performances in The Red Room, a large multi-form theatre where you'll be dazzled and delighted. We were captivated by the Duel Reality performance (produced by 7 fingers) which featured impressive acrobatics and elaborate circus tricks and treats.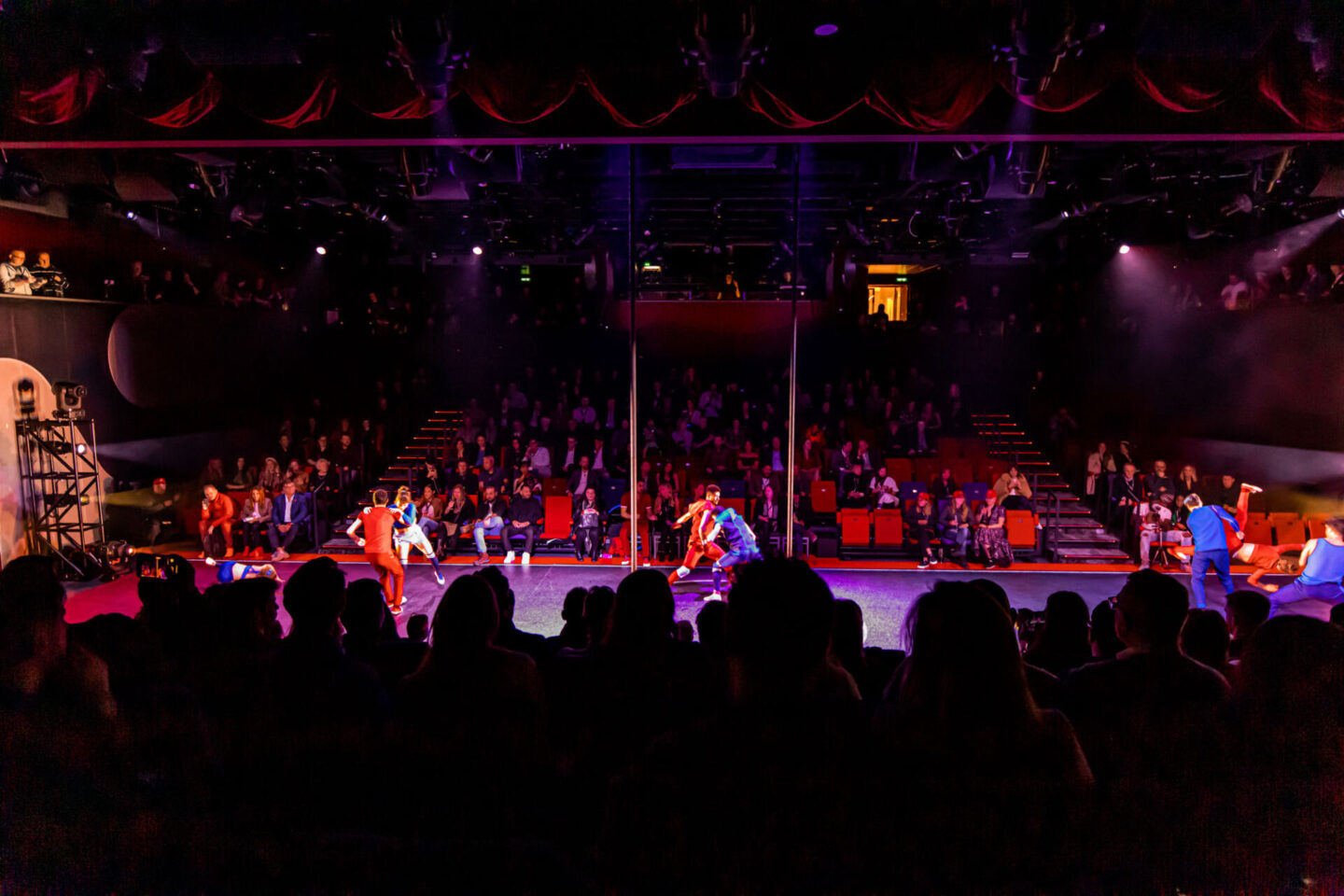 If you want to keep the party going, then head to the Scarlet Lady's very own night club, The Manor, which is open until the early hours of the morning. In here you'll find a moody party vibe across two storeys and three bars to refuel and keep you up on your party feet. Note: the entrance to The Manor feaures an epic light installation where you can get your Instagram fix.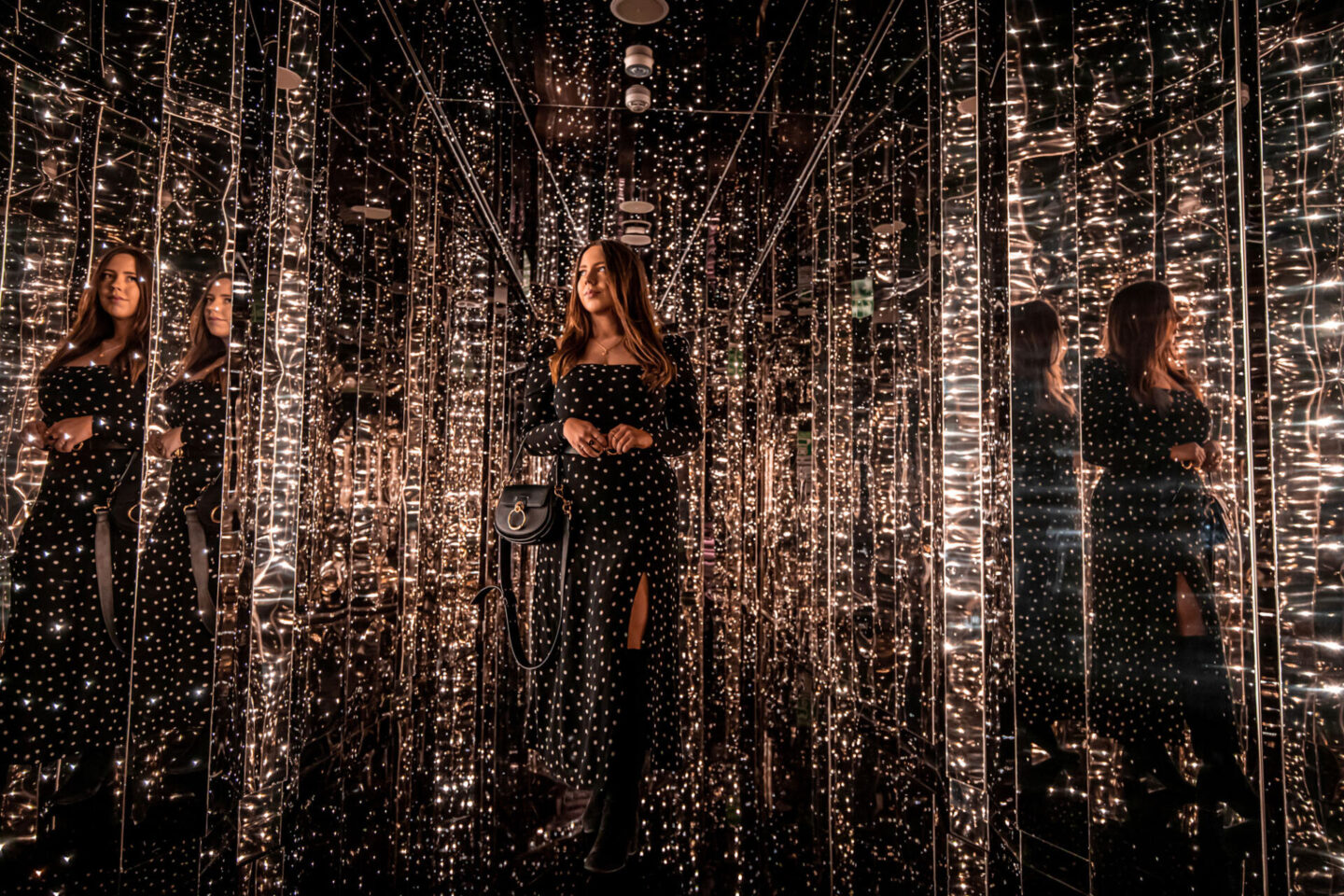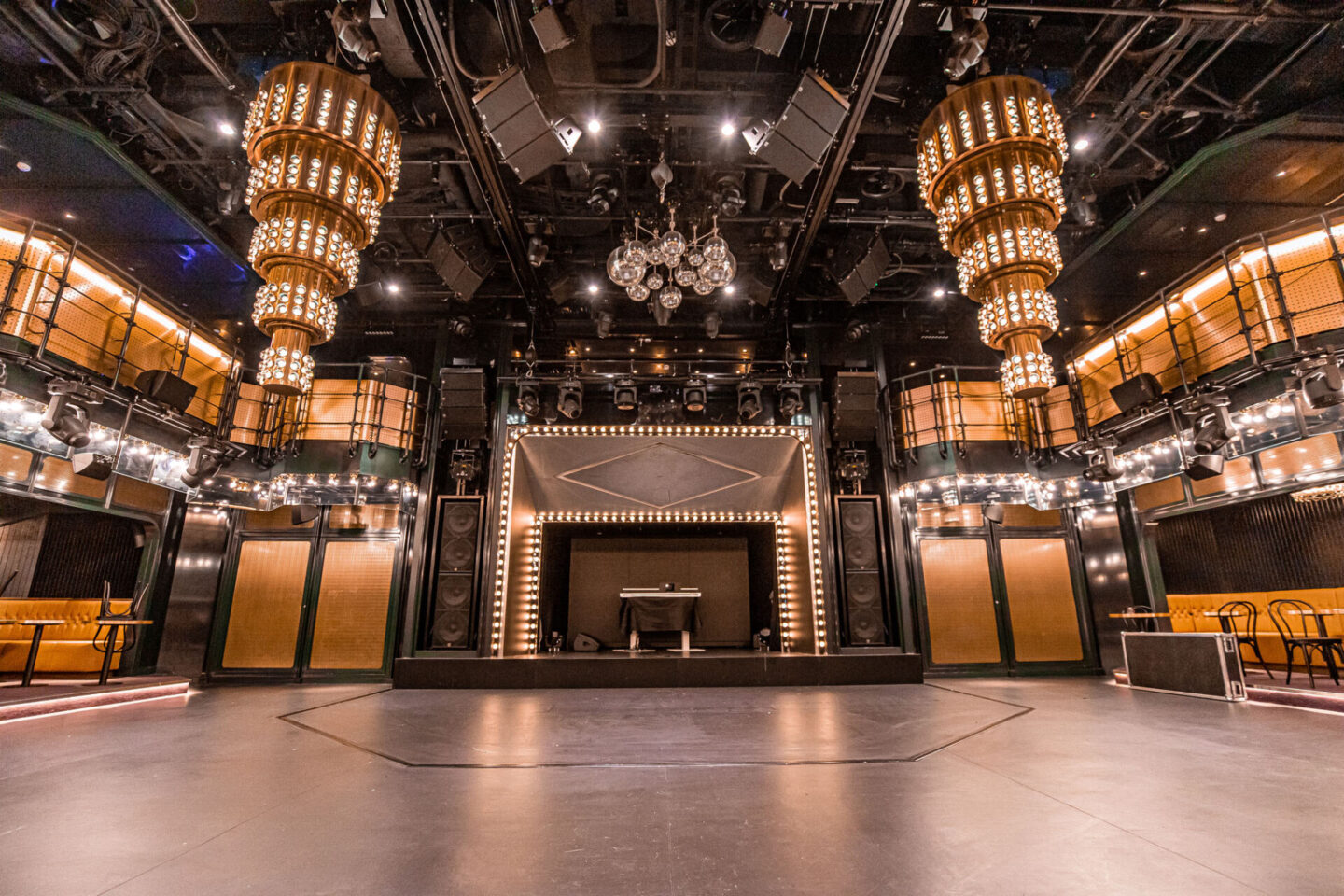 When setting sail with Virgin Voyages to the Bahamas, you'll get the chance to party at Richard Branson's private beach club in Bimini. Poolside parties, beach-lounging or slow-flow yoga, at The Beach Club you can choose your own adventure in the most tropical of settings. Not to mention Mark Ronson, along with Diplo, are set to perform at The Beach Club this year which means you'll get first-class entertainment on both land and at sea.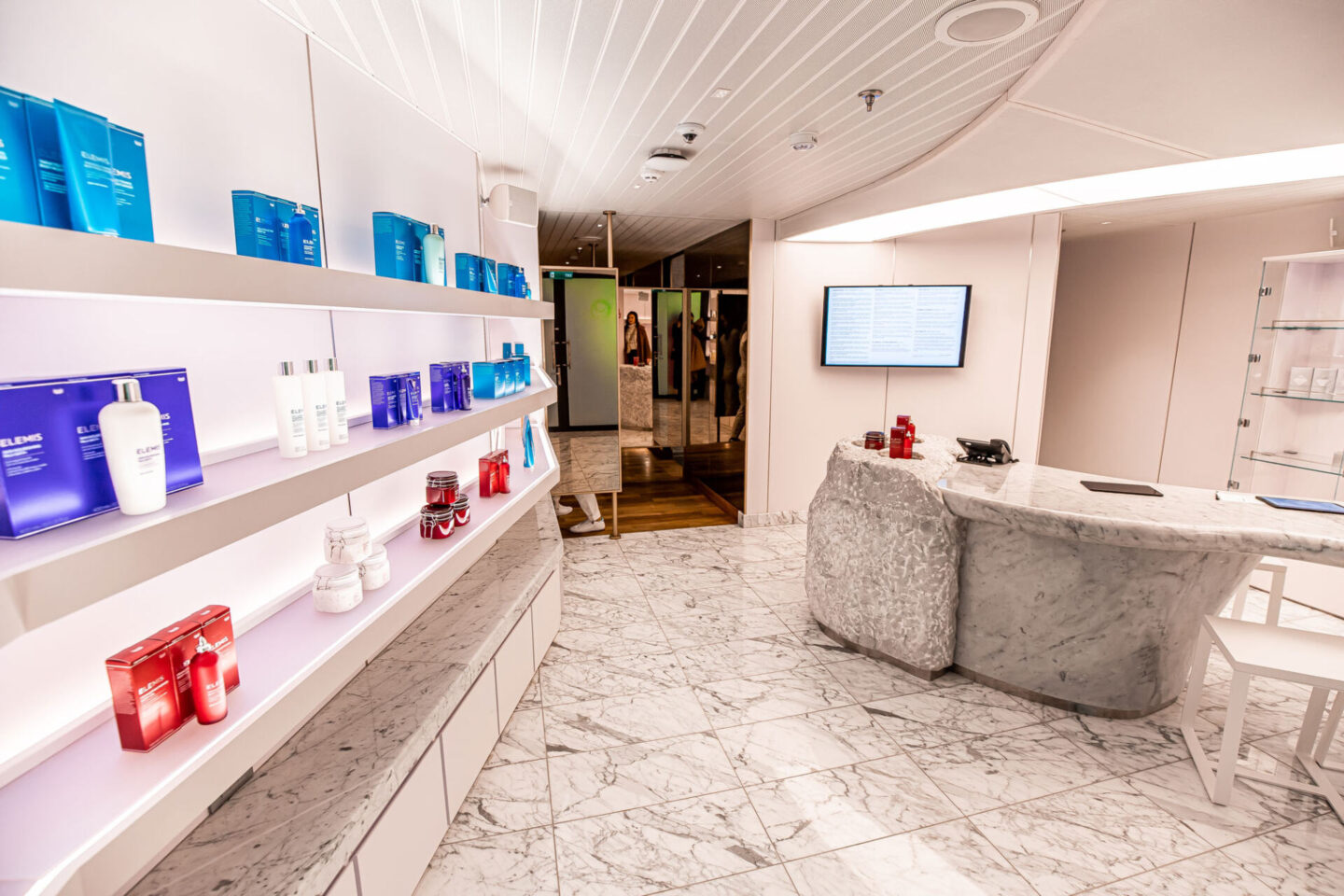 Gym, Spa & Well-being

Believe it or not, some people love to sweat it out while on holiday and if that's you, then you'll be spoilt for calorie-burning choice on the Scarlet Lady. There's a signature Virgin-red running track, the B-Complex gym, outdoor sun-rise yoga & meditation space, group workouts, a basketball court and an outdoor Venice-beach inspired gym. There are plenty of options for you to sweat it out or chill out – and refuel with a fresh-pressed juice at one of the many juice bars dotted around.
If you're looking for a more relaxing well-being experience while on board, the Redemption Spa is the place to go for all your self-care needs. The space itself is truly decadent and offers massages, treatments, hi-tech facials, a sizzling sauna and even a mudroom.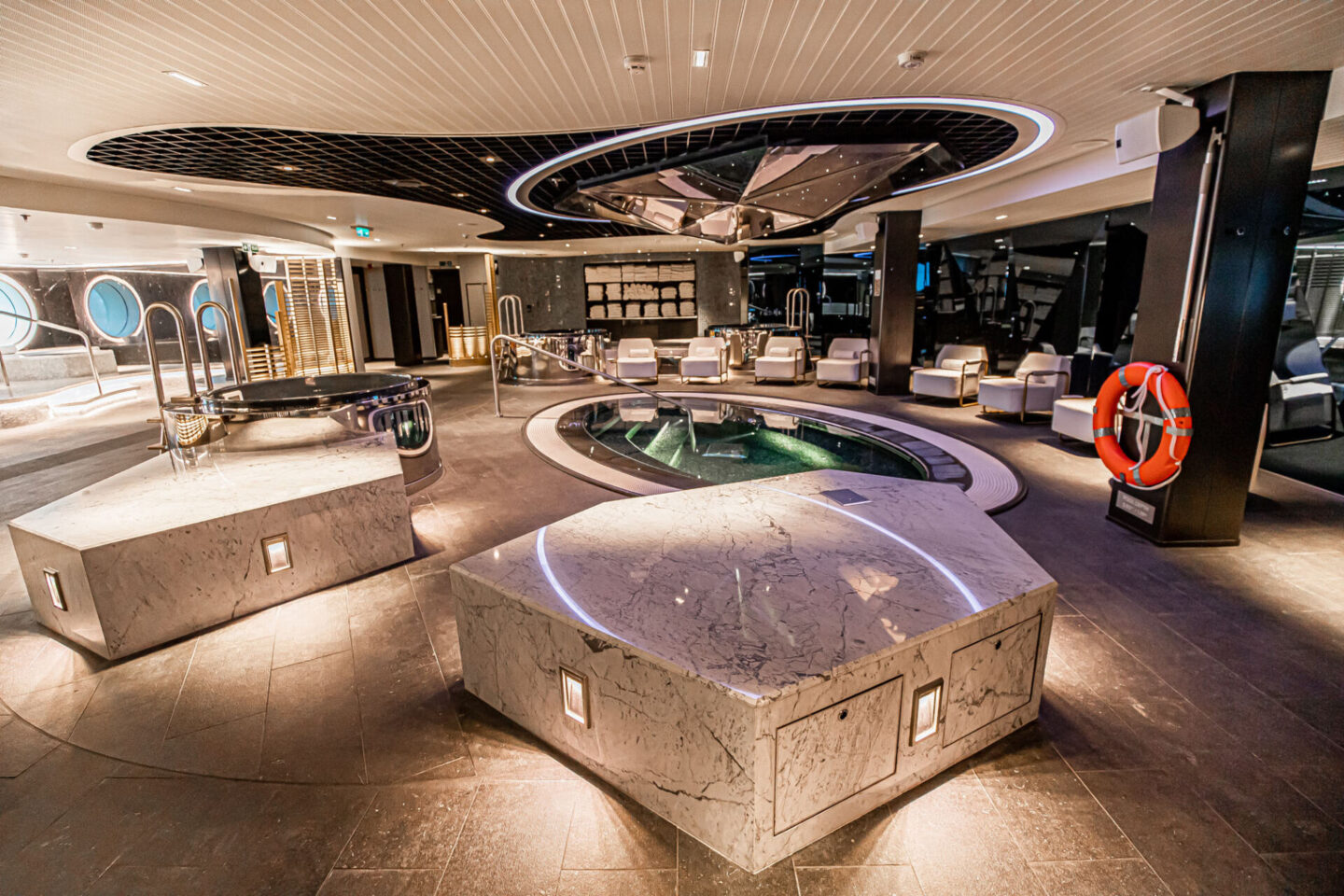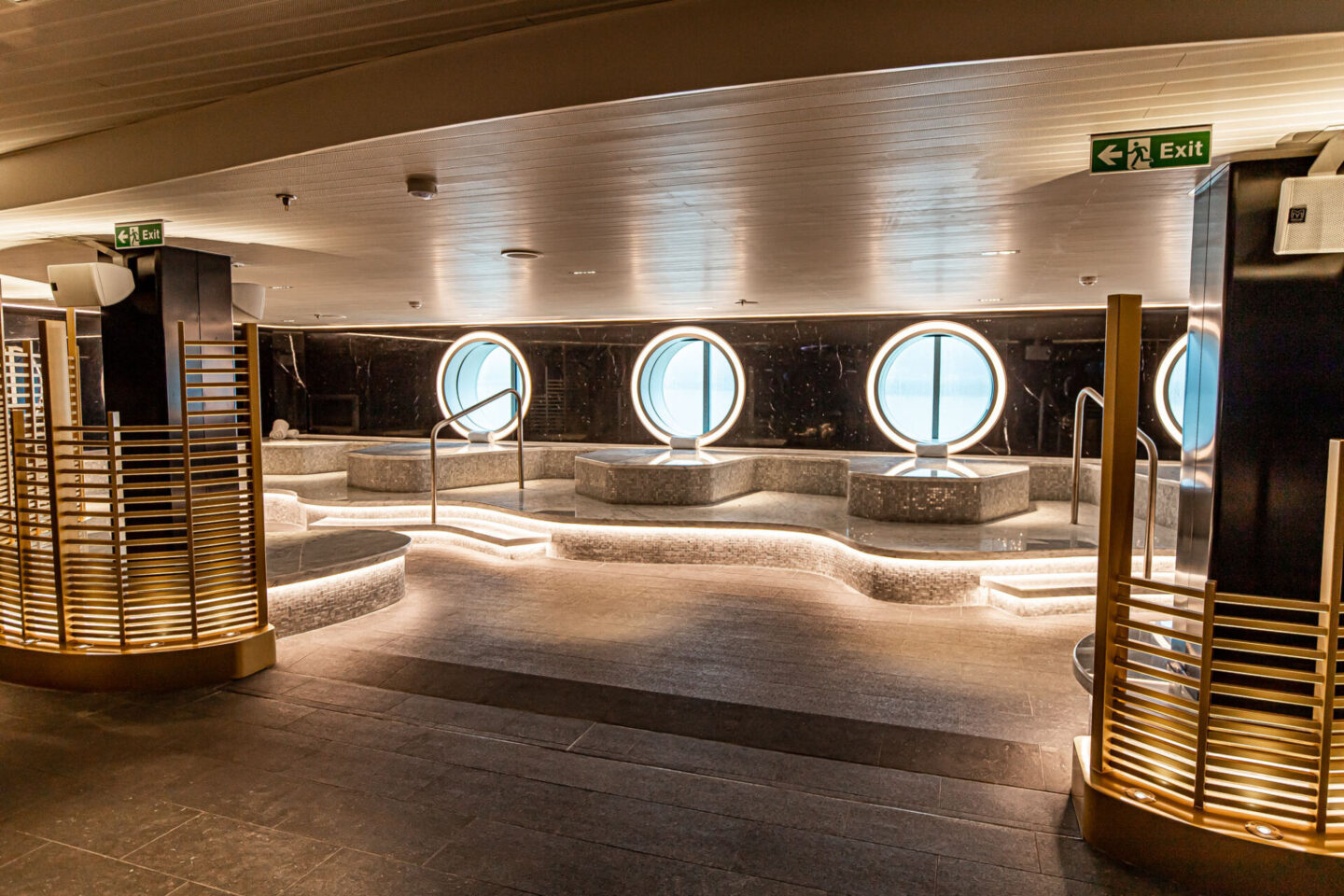 Furthermore, if you're all about the Treat Yo'self mentality (I know I am) then you can indulge and get your nails or hair done at the Dry Dock blowout bar, fancy that is. You can go one step further and get a rather permanent treatment done at Squid Ink – a tattoo studio where you can immortalise your best vacation ever. If body art isn't your style, strut on down to the ship's retail mall where you'll find designer handbags, jewellery and fashion.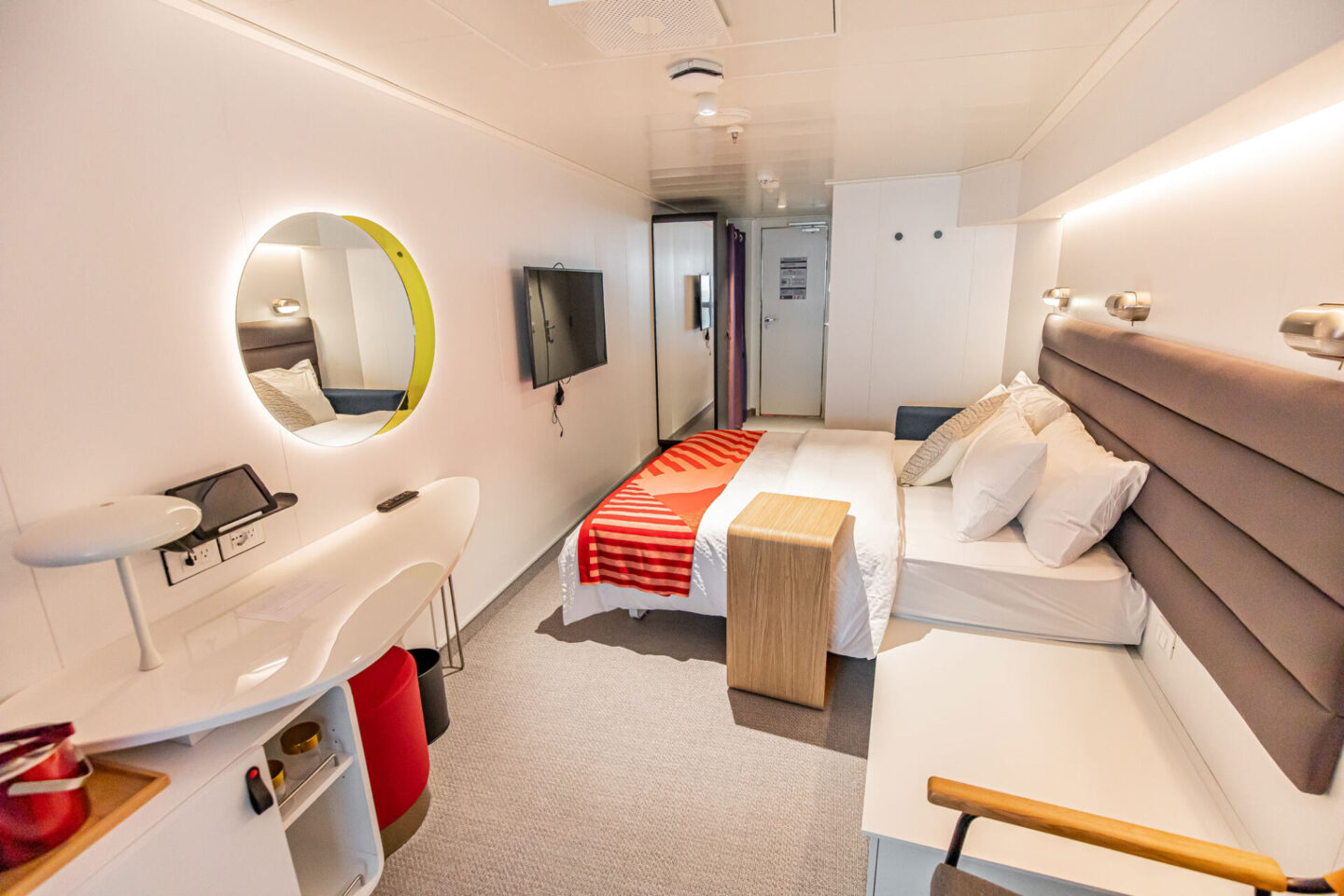 The cabin

While I doubt you'll hardly be spending much time in your cabin considering the aforementioned activities, staying in a Sea Terrace room you'll be pleasantly surprised by the amount of space and features on offer. The cabin is filled with high-tech features, as you would expect in 2020, including mood-matching lights, free WiFi, large flat-screen HDTV and a smart tablet where your favourite movie or complimentary pizza order is just a tap away.
On your private terrace, you can enjoy views of the Carribean while lounging in your very own hammock. Life goals. While the bathroom is on the small side, ladies will appreciate that there is a separate, spacious vanity area next to the bed where you can get your glam on.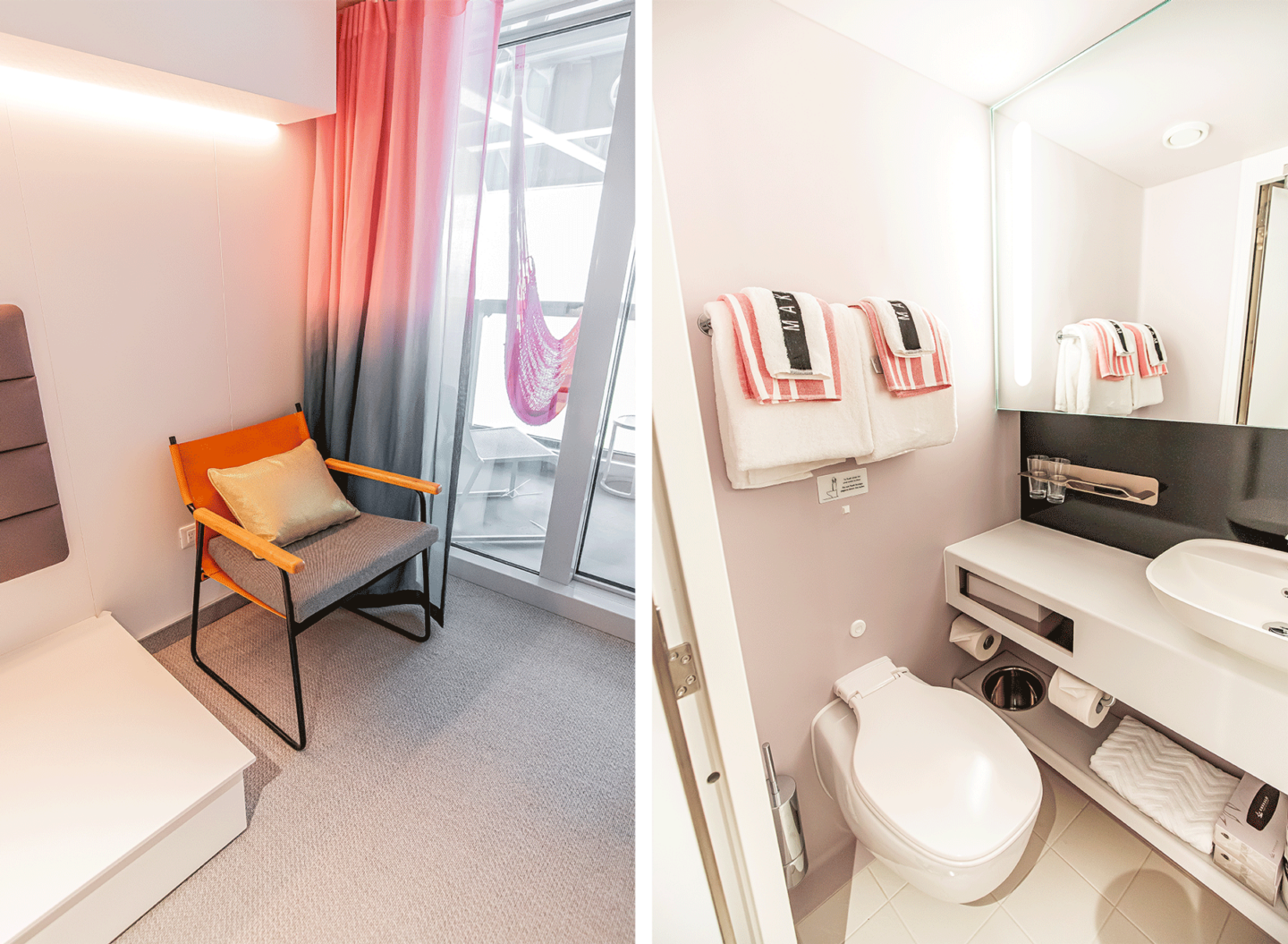 If you've got cash to splash (can't relate), then booking a suite will unlock access to Richard's rooftop, an exclusive deck for partying and cocktail drinking. Tom Dixon is behind the stylish interiors, who based the ships designs on his muse Grace Jones, which means you will be sleeping in rockstar royalty inspired dwellings.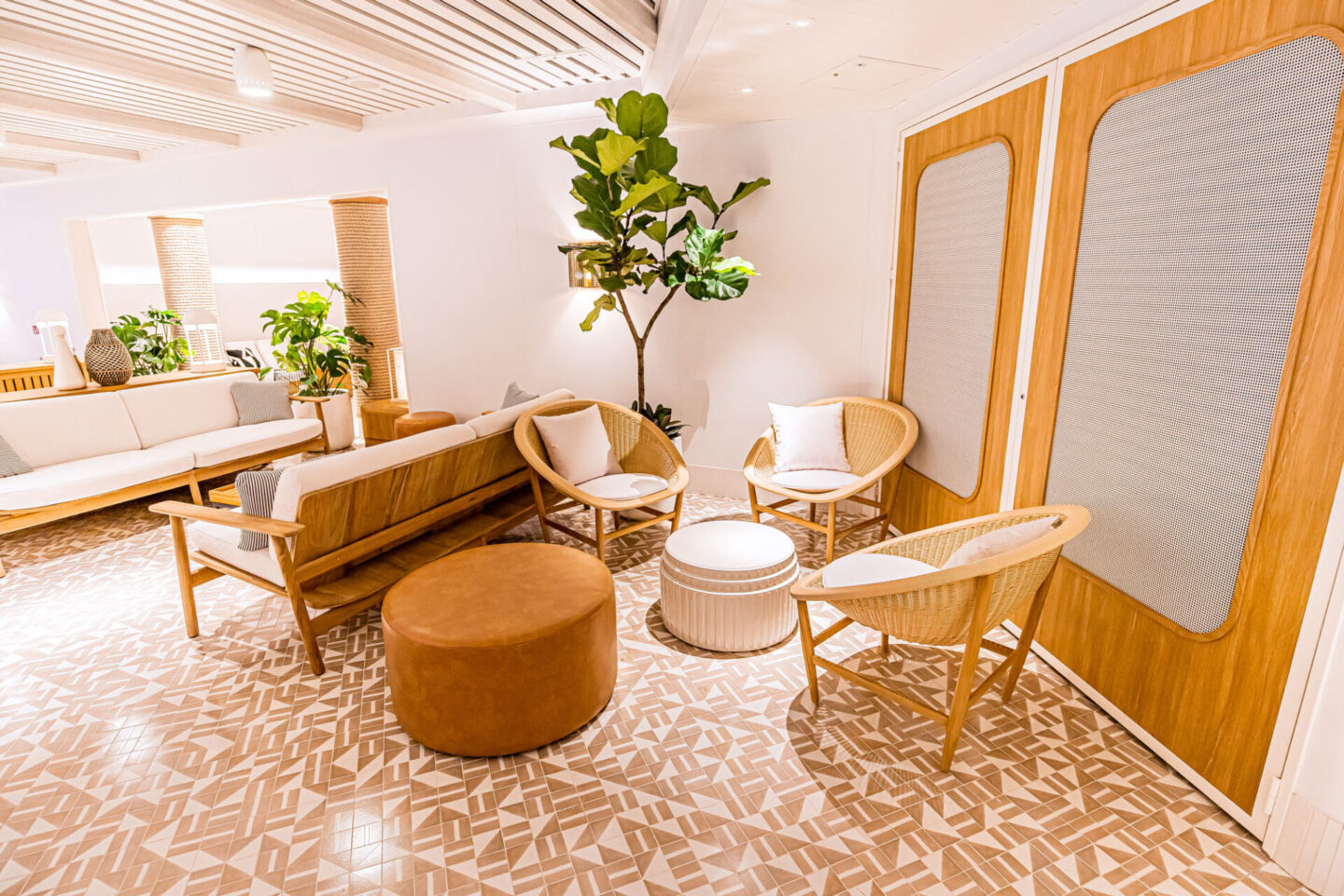 Sustainability

An honourable mention has to go to the Virgin Voyages team for putting together a decadent cruise that has made  sustainable choices and features throughout, so you can feel good for living it up and securing a healthy future for our planet.
Eco-mode sensors in the cabins will automatically close window curtains and turn off lighting and air conditioning settings when unoccupied. Single-use plastics are banned from the ship. In fact, the only plastic you can buy is the up-cycled ocean plastic sunglasses and other accessories in the mall. No buffets mean considerably less food waste, and all meals are made to order with responsibly sourced meat and ingredients.
To top it off, Virgin Voyages have pioneered technologies that transforms the ship's heat into clean energy and also purifies wastewater so that it's clean enough to consume. I'll drink to that!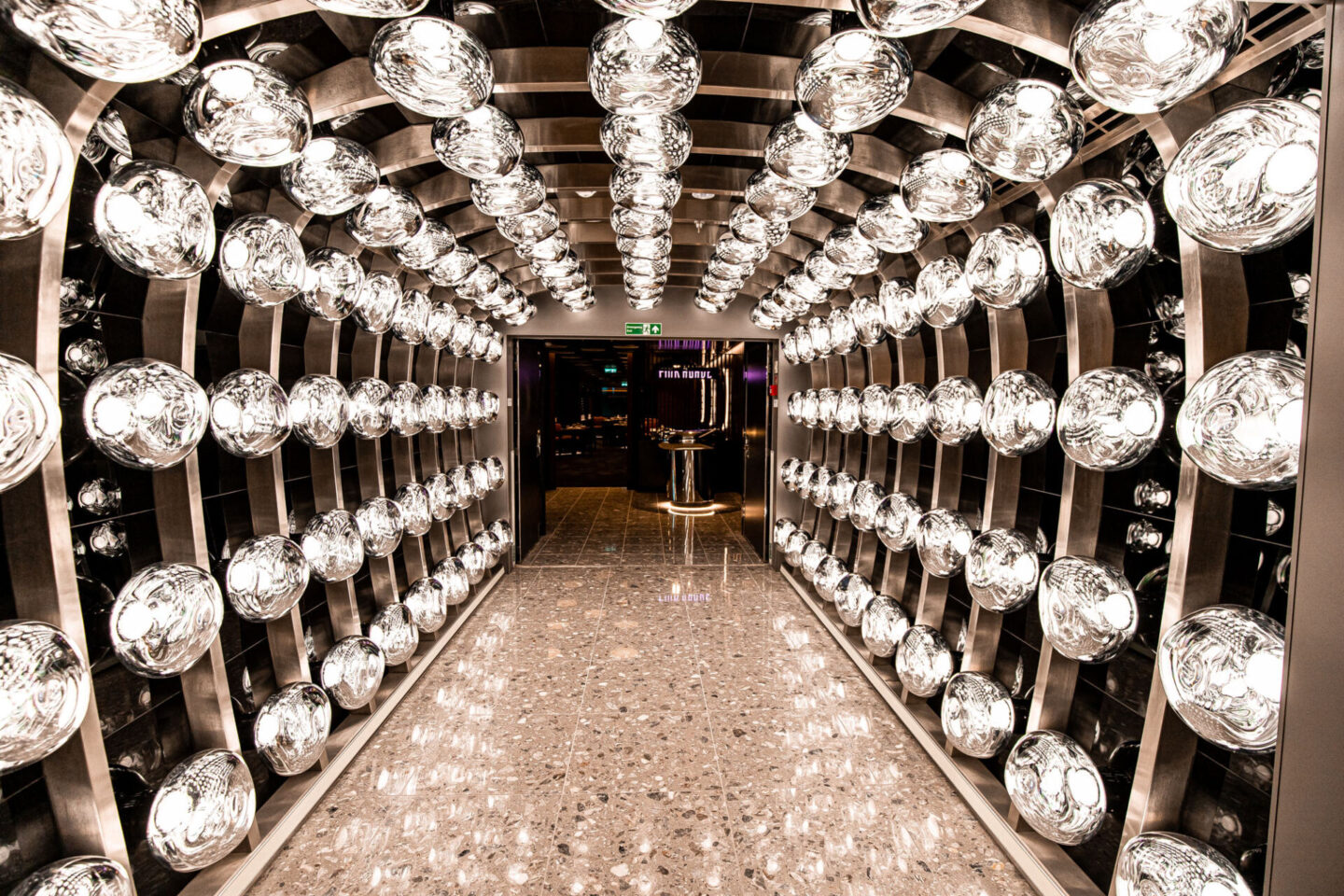 Final thoughts & details
The Scarlet Lady cruise is for 20-30 something adults who seek more from life. If you love to party and live your life in excess yet can appreciate a night in with basic beige food groups, then this cruise is for you. As a massive foodie, I would honestly consider going for the food alone – I'm still amazed at the quality of the restaurants and with all food (and tips) included, you can eat your heart out.
This cruise is perfect for couples or groups of friends who are both adventure-seeking and filled with wanderlust. Sailings for the Scarlet Lady's (Caribbean) will be departing in October 2020 and the Valiant Lady (Meditteranean) will set sail in May 2021. Book before the 30th of June 2020 for a bonus $500 credit that you can use to splurge on spa experiences and cocktail classes, yes please! More details on that amazing offer here.
Note: All bookings include food, basic beverages, tips, taxes, WiFi and workout classes. Virgin Voyages have released a new set of health measures to make your trip worry-free, click here to read their plan for tackling COVID-19.
Bookings can be made HERE.

Want more travel inspiration? Read my newest travel guides here.