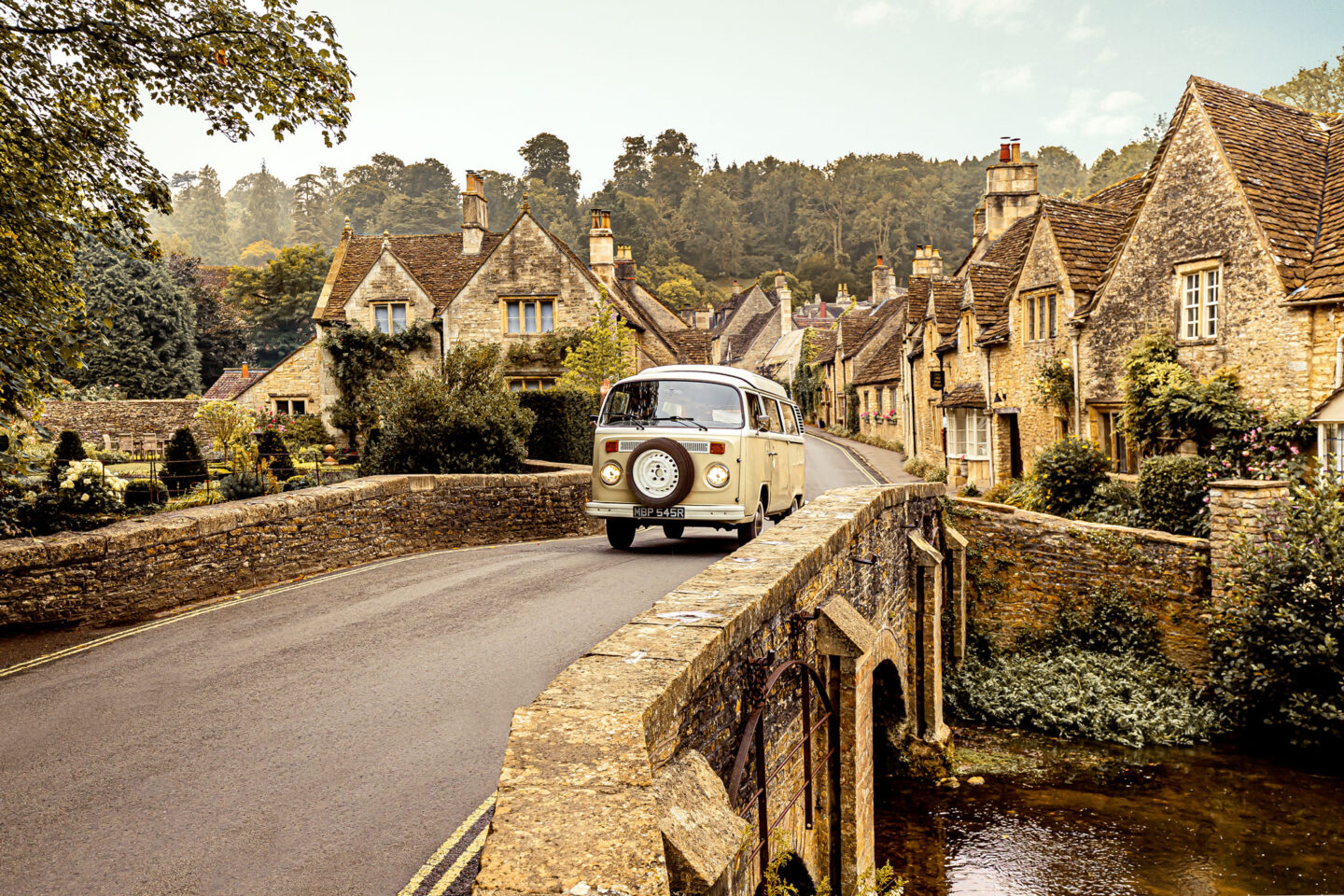 — This article was produced as part of a press trip, all words and opinions are my own —
What if I told you that travel in 2020 isn't cancelled? With more countries being added to the UK's quarantine list (or naughty list as I jokingly refer to it), the safest way to travel this year is to hit the road and explore your own backyard. You can do it in style too! For our UK Road Trip, we rented a classic 1976 VW Campervan from Camptoo – aka the Airbnb for hiring campervans.
Not only were we able to socially-distance with our accommodation on wheels, travelling in a camper gave us front-row seats to some of the UK's most beautiful destinations – all within a short drive from London. Our four-day journey saw us driving through the winding country lanes in Somerset and exploring the chocolate box towns of the Cotswolds.
Read on to discover our quintessentially British Road Trip itinerary which included copious cream teas, antique-shopping, village-hopping and playing fetch with 26 Golden Retriever (yes, really!).
UK Road Trip Itinerary:
Day One
London – Somerset
---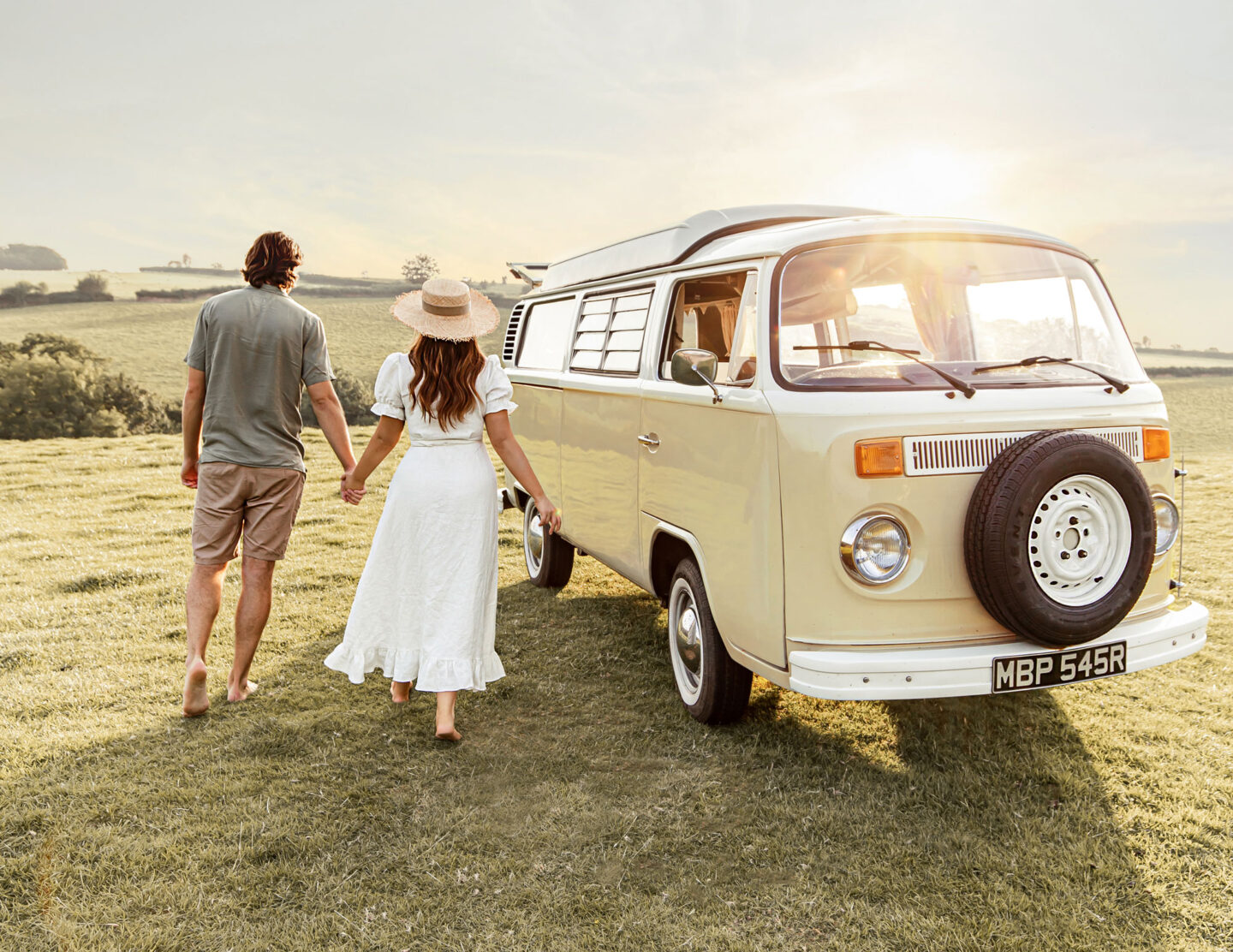 I've always dreamed of going off the grid in a classic VW campervan, so when I came across this listing on Camptoo it was like stumbling across a solid 10 on Tinder. I clicked "Request reservation" faster than I had ever swiped right on any dating app. Glenda was our 1976 camper and home for our UK road trip.
This ol' girl had been restored to glory with a new leather interior, new paint job, and a new engine which filled Justin with confidence that we wouldn't end up breaking down in the middle of nowhere! The main living area inside the van was fitted out with a fridge, a gas hob, sink, all the pots/pans/cooking essentials and a cute pull-out table for your romantic campsite dinners! The roof of the camper extended up to give you room to stand up and move around with ease, even Justin at 6,3" could stand upright no problem. The bench seating folds down to create space for the bed and the cushions double up as your mattress which actually proved quite comfortable. There were even dimmable lights fitted so you could find your socks in the dark or set the mood!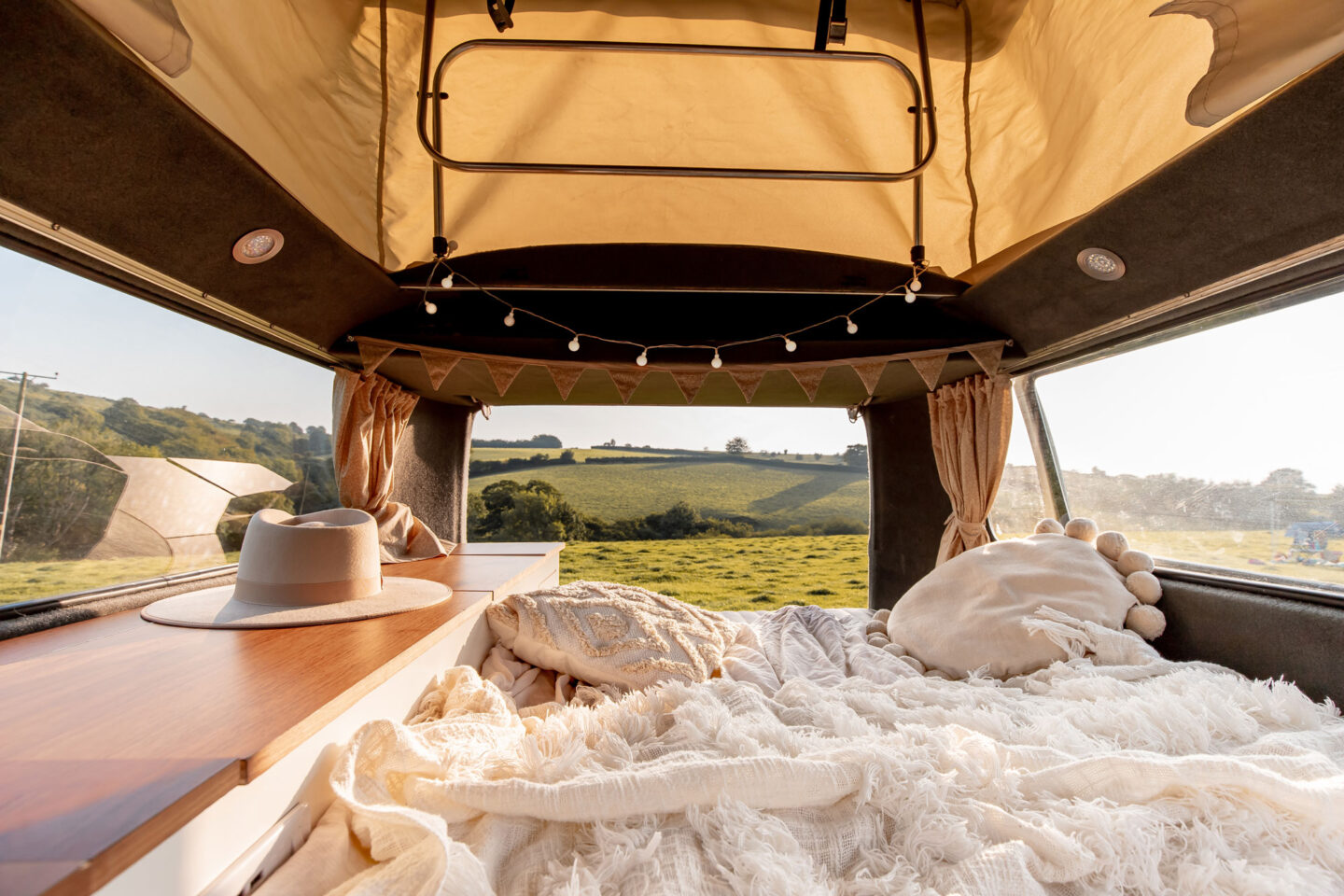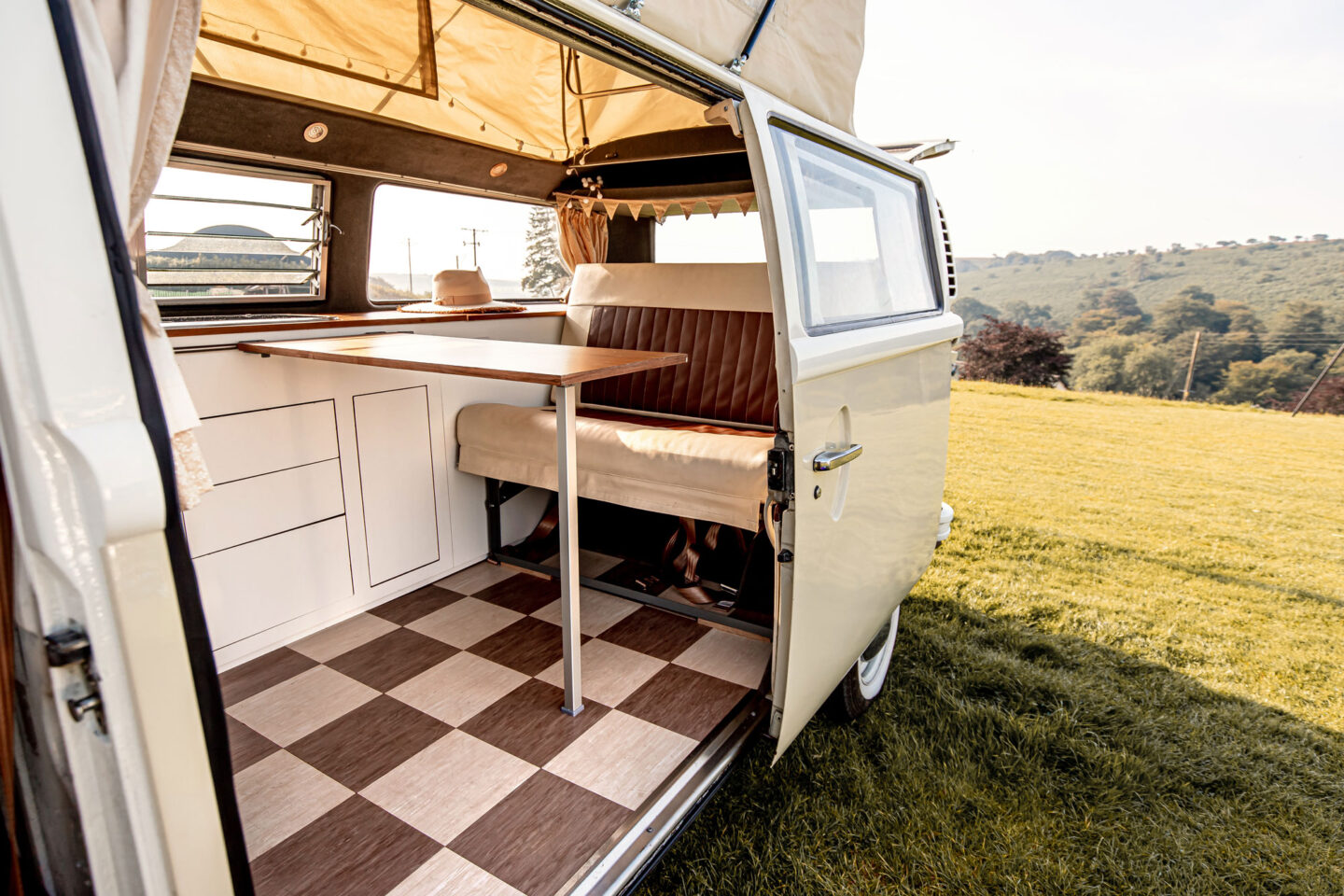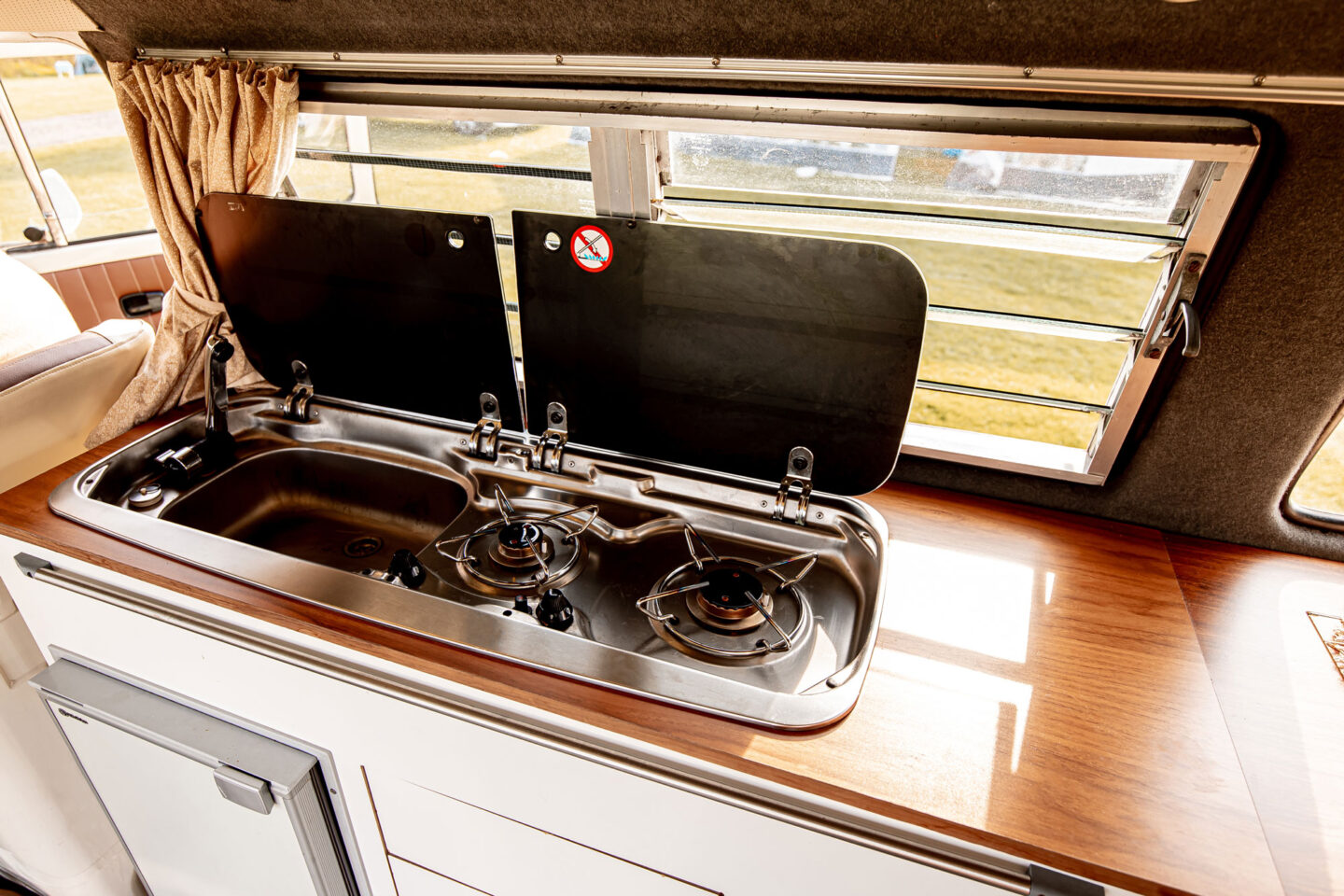 When we arrived to pick up Glenda, her owner was so helpful and attentive, giving us a tour of all the features and even took Justin out for a test drive so he could master the art of driving the van! With all the papers signed and keys in hand, we were excited for our campervenure to begin!
We set off on the road and were headed east to Forde Abbey – a privately owned former Cistercian monastery in Dorset and our first (intended) stop on our great British itinerary. However, we were against the clock and ultimately had to abandon this pit stop and head straight to our campsite. It wouldn't be a road trip if everything went exactly to plan now, would it?
View this post on Instagram
With our 4g signal getting weaker with every mile driven, an hour later and we had reached our rest area for the evening at Halse Farm. I'll admit, this location was in the middle of nowhere, however, pickings were slim as every retiree in England had booked out all the major campsites in Somerset months in advance. That said, Halse Farm is surrounded by beautiful scenery, rolling green hills dotted with cattle and free-roaming red deer, it was the perfect peaceful location we needed in order to switch off from all our big city stresses. It had all the amenities we needed and we took comfort in the social distanced measures that were put in place in the communal areas and heated shower blocks. We paid £20 for a touring pitch with electrical hookup for the night.
We parked up for the night and sank some G&Ts while watching the sunset and playing Connect Four. If that isn't a campsite cliche then I don't know what is!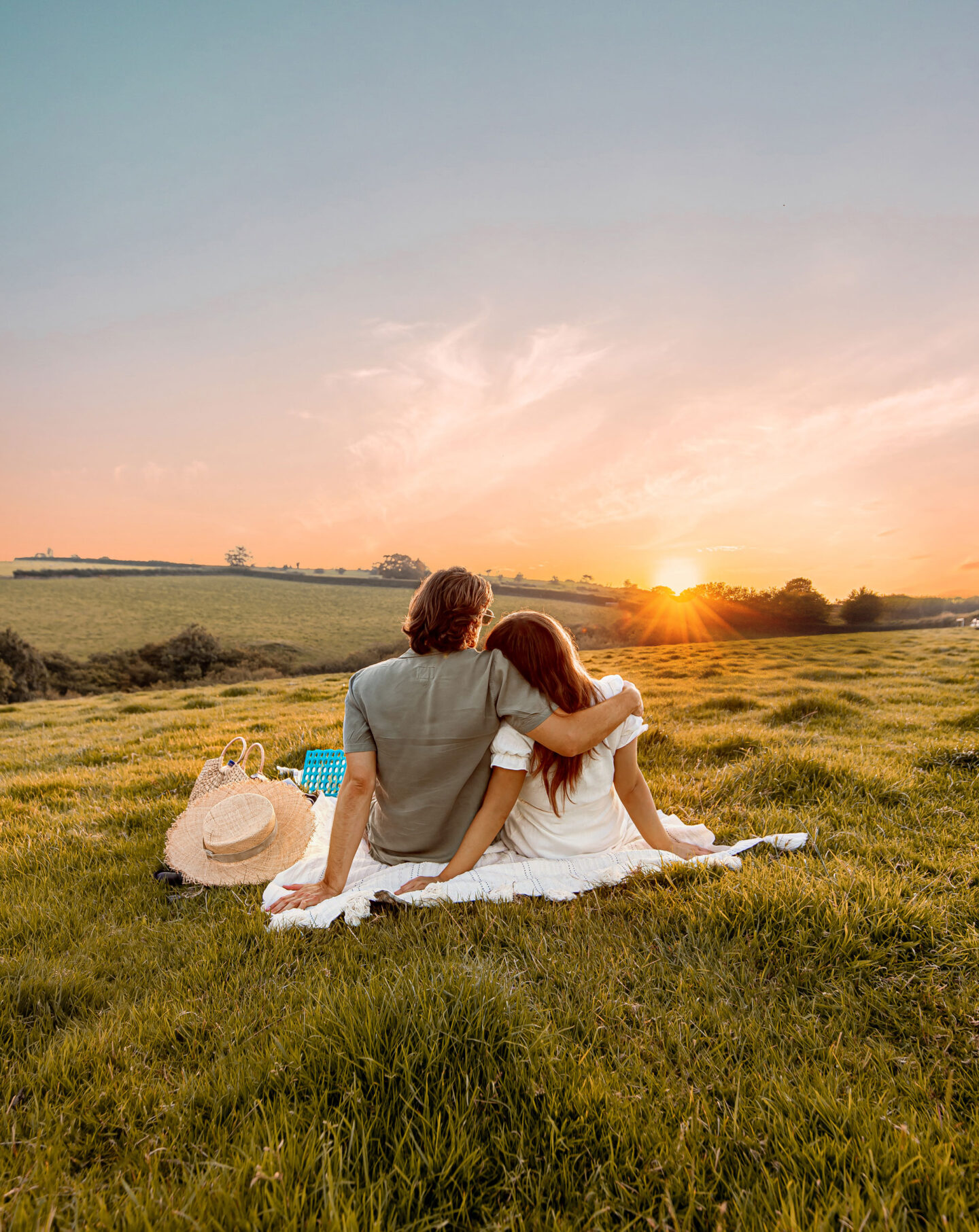 THE ESSENTIALS


Road Trip Packing List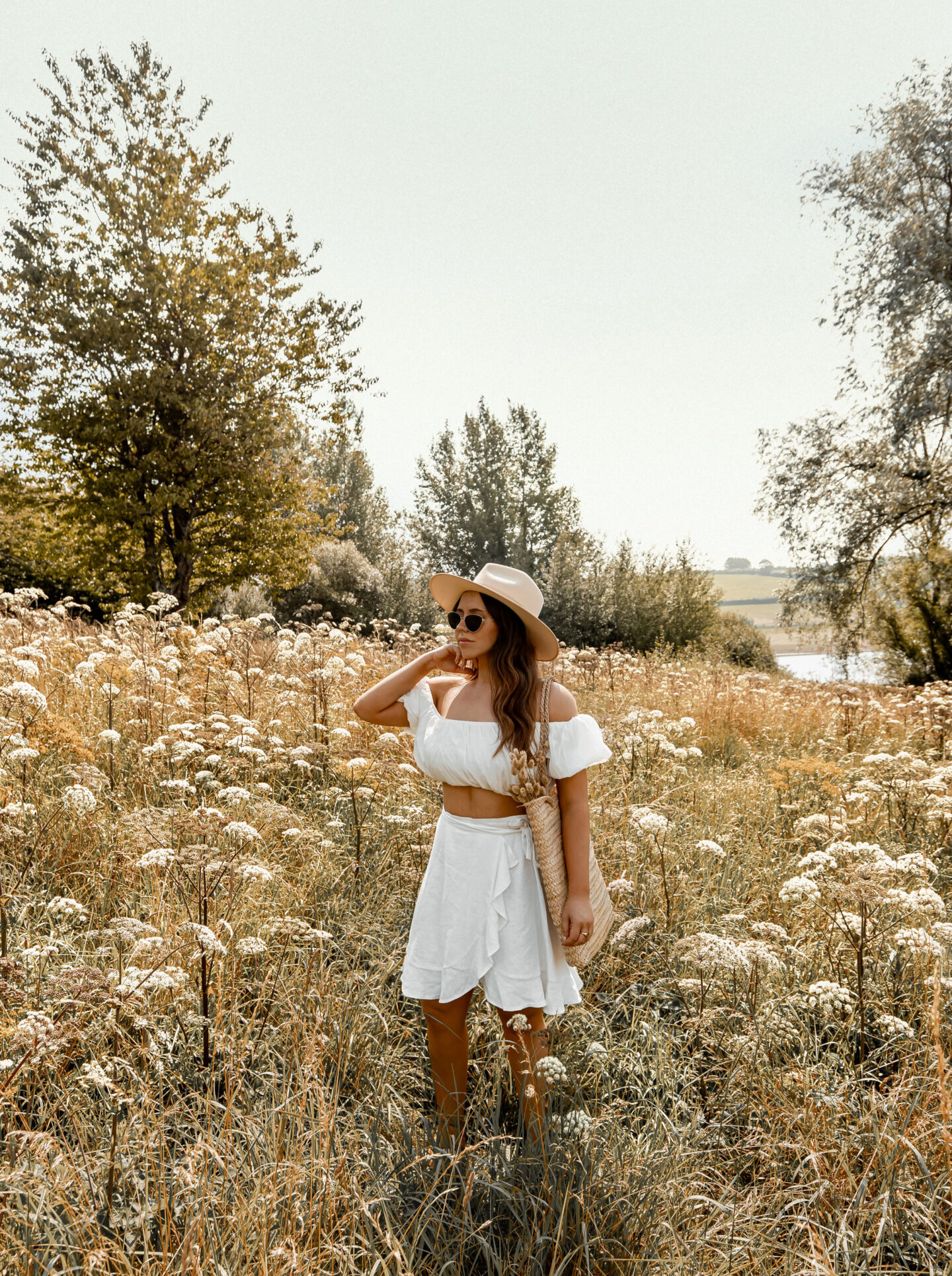 Day two
Somerset – the Cotswolds
---
We had a slow start to our second day. We packed down our campervan, left the Halse Farm campsite and set out to find a spot for coffee. We had some time to kill before a previously booked activity, so luckily we stumbled across the nearby Wimbleball Lake where we stopped to stretch our legs, sunbathe and watch the wind-surfers catch some air. This reservoir lake is open to the public however swimming isn't permitted. If you travel to this area, keep an eye out for one of the many charming tea rooms in Somerset, the perfect place to stop and get your caffeine fix.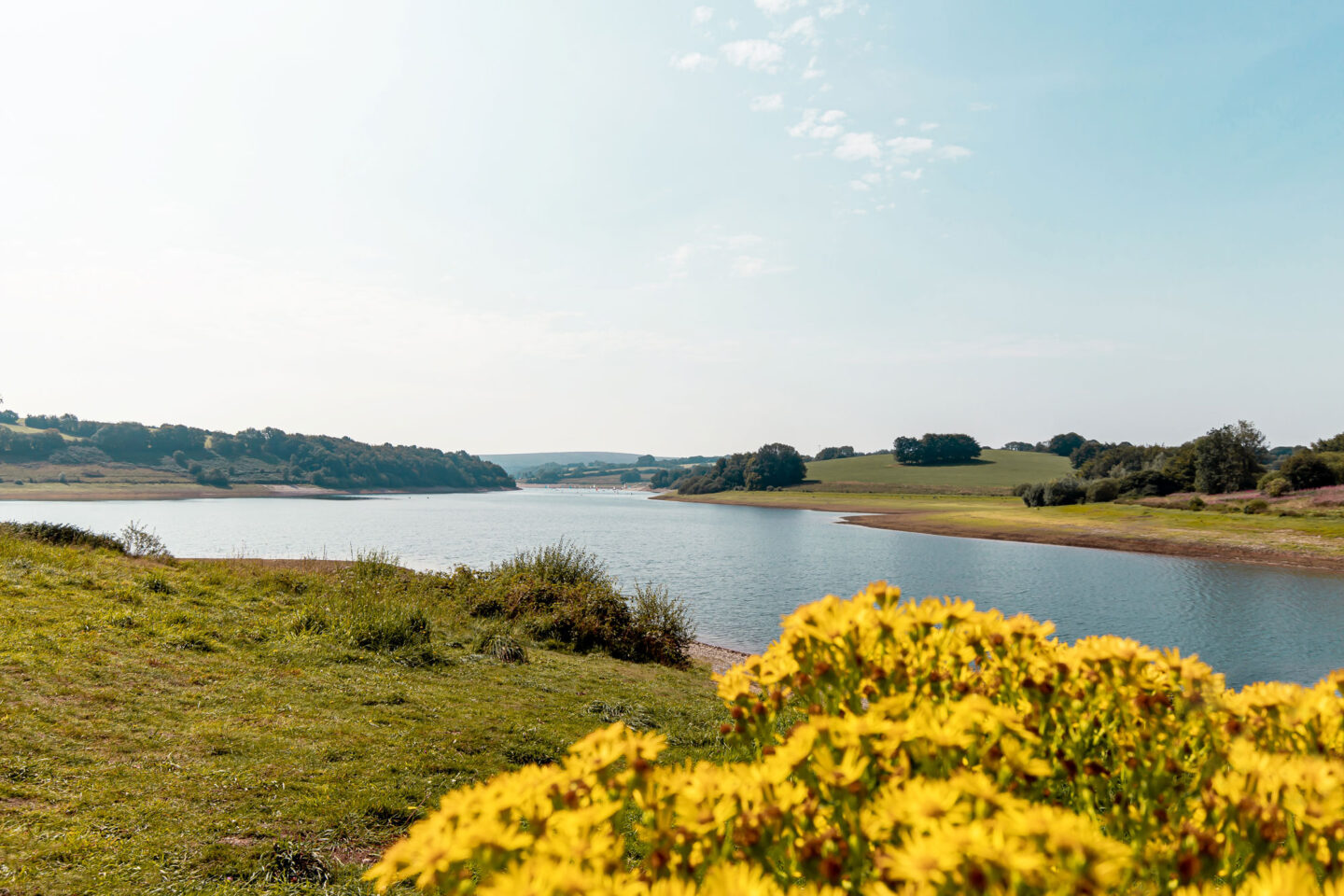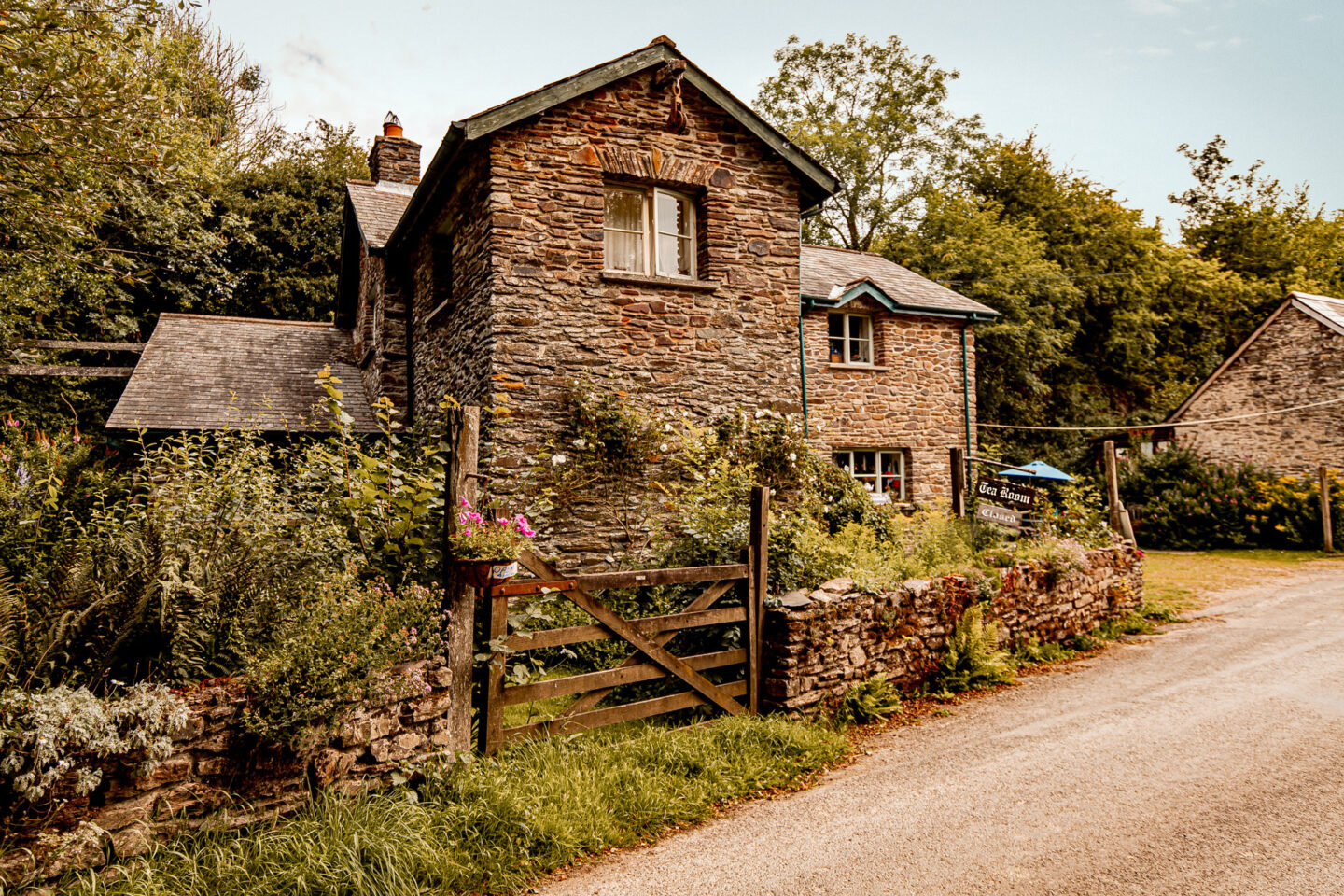 Continuing on to our next destination, we stumbled across yet another local gem – Chris's Crackers Junk Shop (the best in the South West). Definitely a must-visit for antique lovers where you will find all sorts of treasures, oddities and a large range of garden statues of lions and tigers and bears, oh my!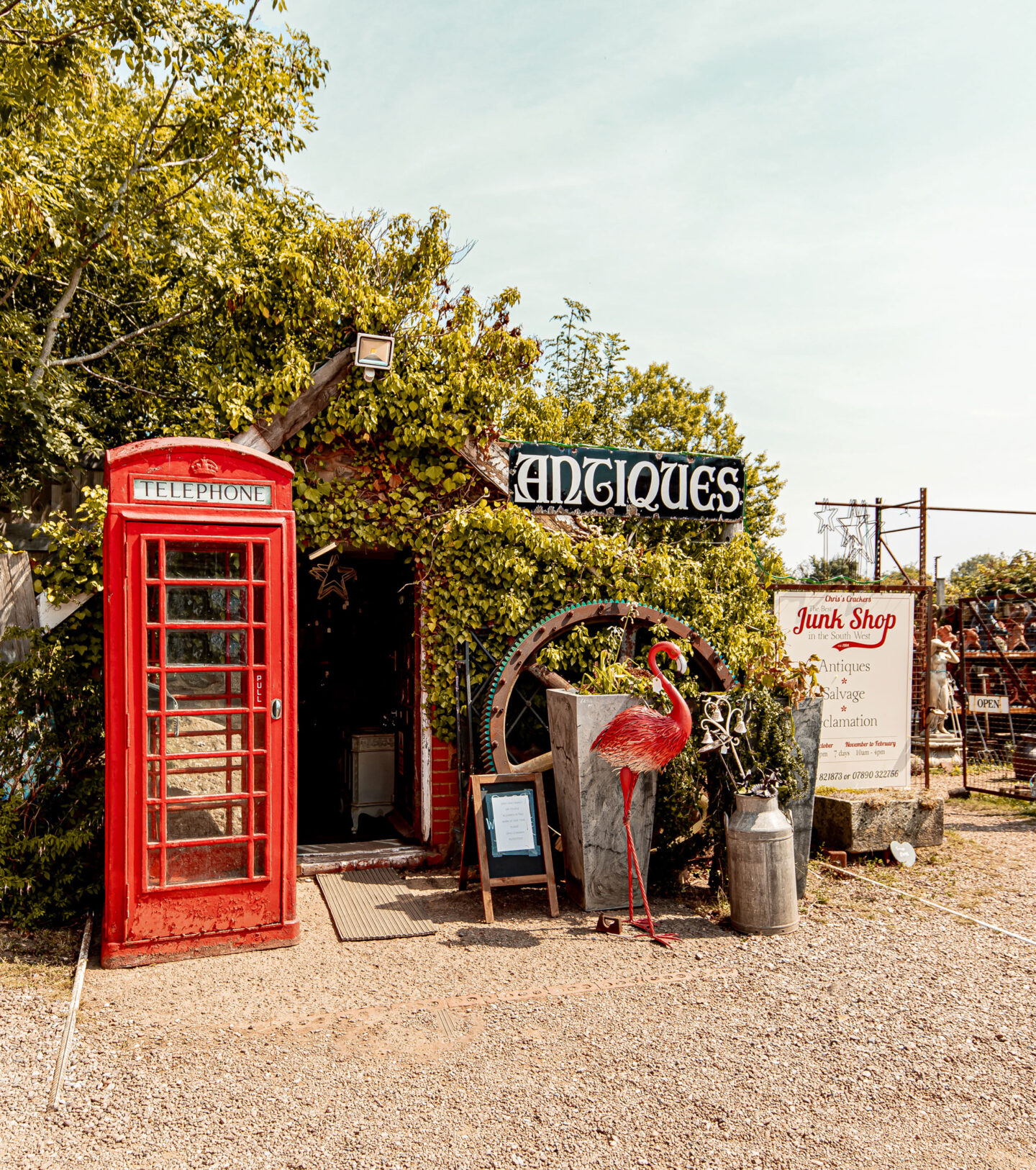 Next stop: Minehead. The coastal town of Minehead is famous for the family-friendly Butlin's holiday resort – however as a couple in our late twenties, that's obviously not what we were there for. In fact, our UK Road Trip was planned around a much more wholesome event, The Golden Retriever Experience.
Pick your jaw up off the floor, you read that correctly! A local Somerset family and their 26 Golden Retrievers offer an experience like no other where you can quite literally be drowned in cuddles and cuteness. You can book playdates of 2 or 4-hour sessions where you can play fetch, give tummy rubs and have lots of kisses with these beautiful doggos. If you really want to immerse yourself in doggy heaven you can book an overnight stay on the grounds, where you can take them out for walkies, have a twilight BBQ together, and wake up to even more cuteness!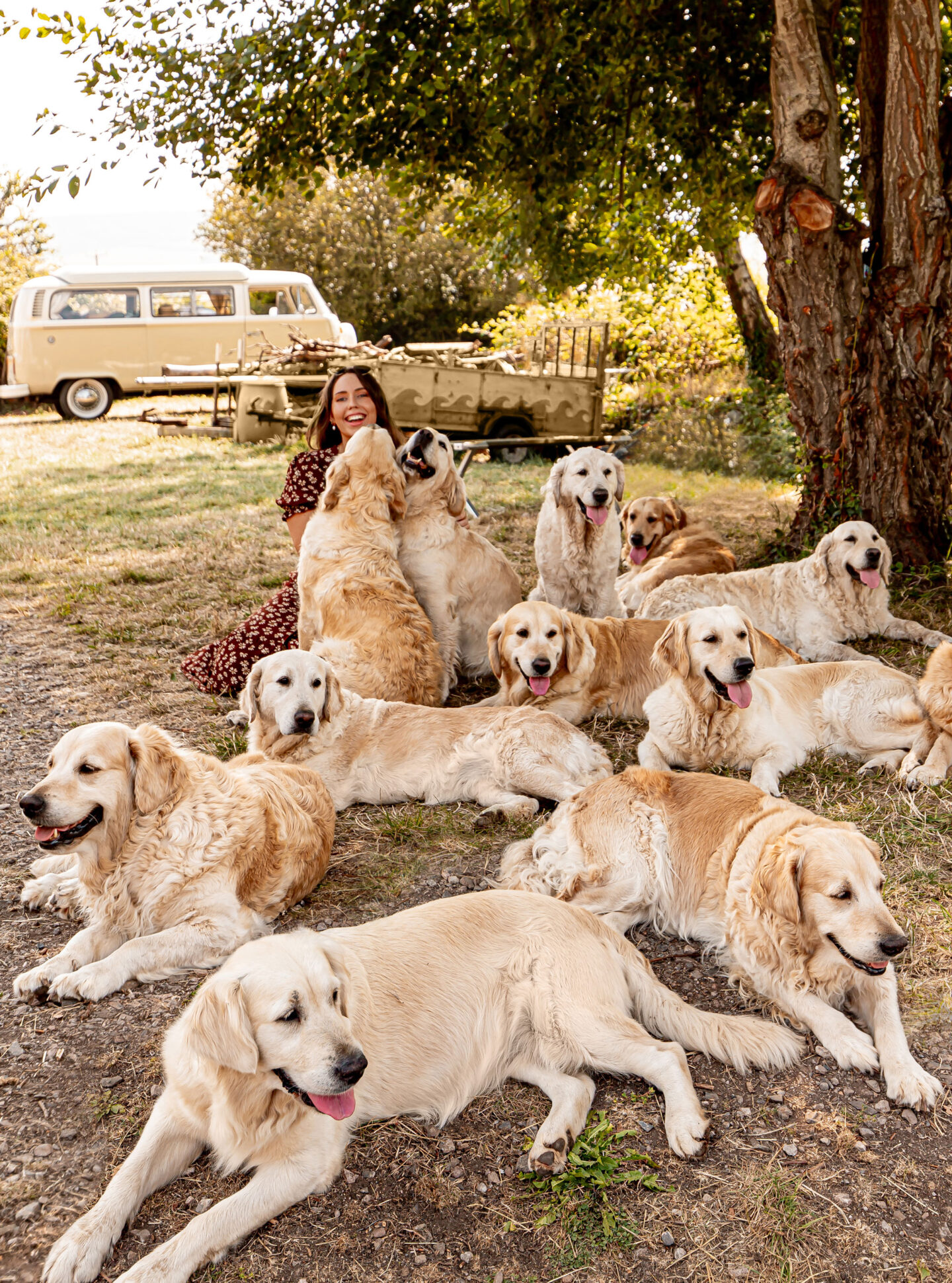 We paid £50/hour (£25 each) which is quite frankly more affordable than therapy but every bit as therapeutic! There really isn't anything like this out there, so if you're a dog lover this is a must for your bucket list! You can book your experience HERE.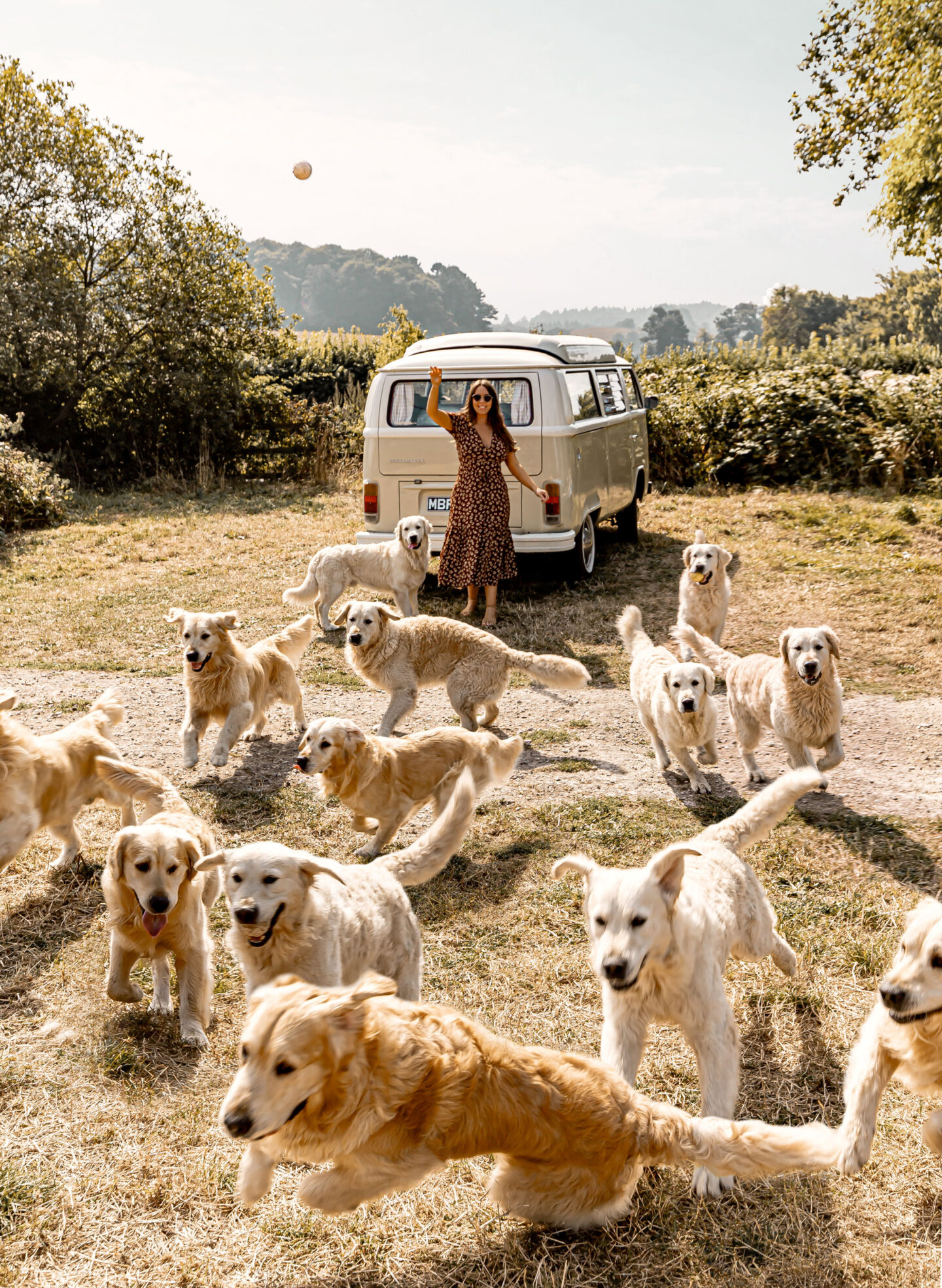 After that truly unforgettable afternoon in the sun, we hit the road to get to our next campsite. A few miles from Chippenham, just off the motorway, we found our no-frills field in which to park Glenda for the next two nights at The Moors. I wouldn't recommend this campsite if you're looking for a scenic stay, however it had a convenient location, friendly owners and affordable rates (£30 total for 2 nights).


Day three
The Cotswolds
---
No rest for the wicked this morning, we got our shit together and hit the road early for our 1-day whistlestop tour of the Cotswolds. For those of you who are not familiar with the Cotswolds (aka me before this trip), it's a huge area covering nearly 800 square miles across five English counties. It's not nearly possible to get around it in a day, so we tried to pack in some of the highlights and unmissable Cotswolds spots.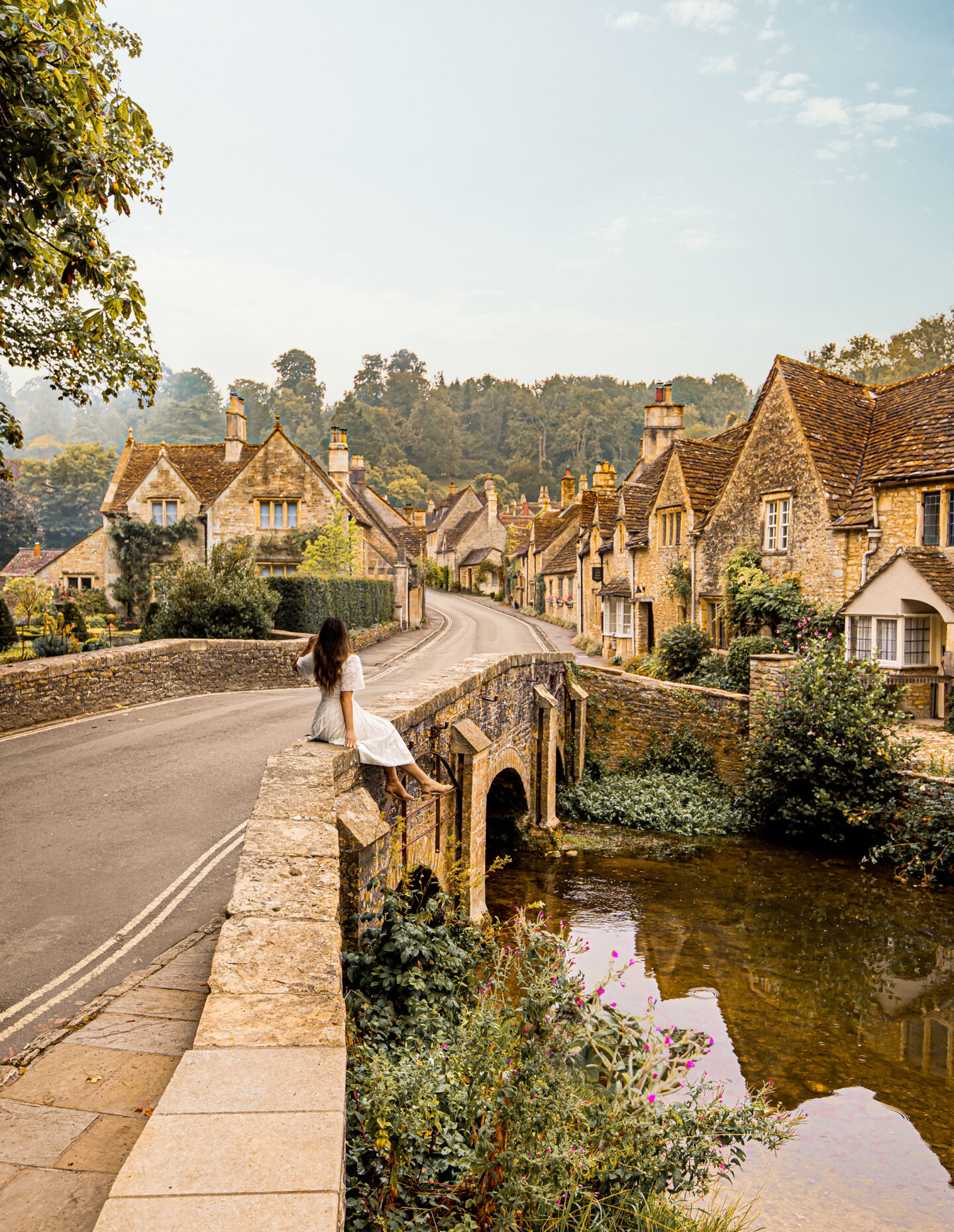 Castle Combe
Often hailed as the most beautiful village in England, this very famous spot is known to draw the crowds so we arrived at 8 am sharp in order to beat the British tourists to it. It was a cool misty morning as we walked through the sleepy village and with the other holidaymakers not up yet, we could fully appreciate the beauty of our surroundings, taking in the architecture of the 100-year-old houses and the remains of the ancient castle fort, listening to the stream and getting a few grambitious* shots. We bought a slice of carrot cake from a tiny, unstaffed house with an honesty box to put the money in, and honestly, I've never felt more British (even though I'm not!). We even snooped around The Manor House grounds, incidentally, gate crashing a supercar event with Bentley's, Aston Martin's and Ferrari's pulled up at the entrance – I had to persuade Justin against parking the campervan alongside them for a joke!
*Grambitious – used to describe a photo opportunity that presents difficulty or risk to the subject or photographer in the pursuit of an Instagram worthy picture.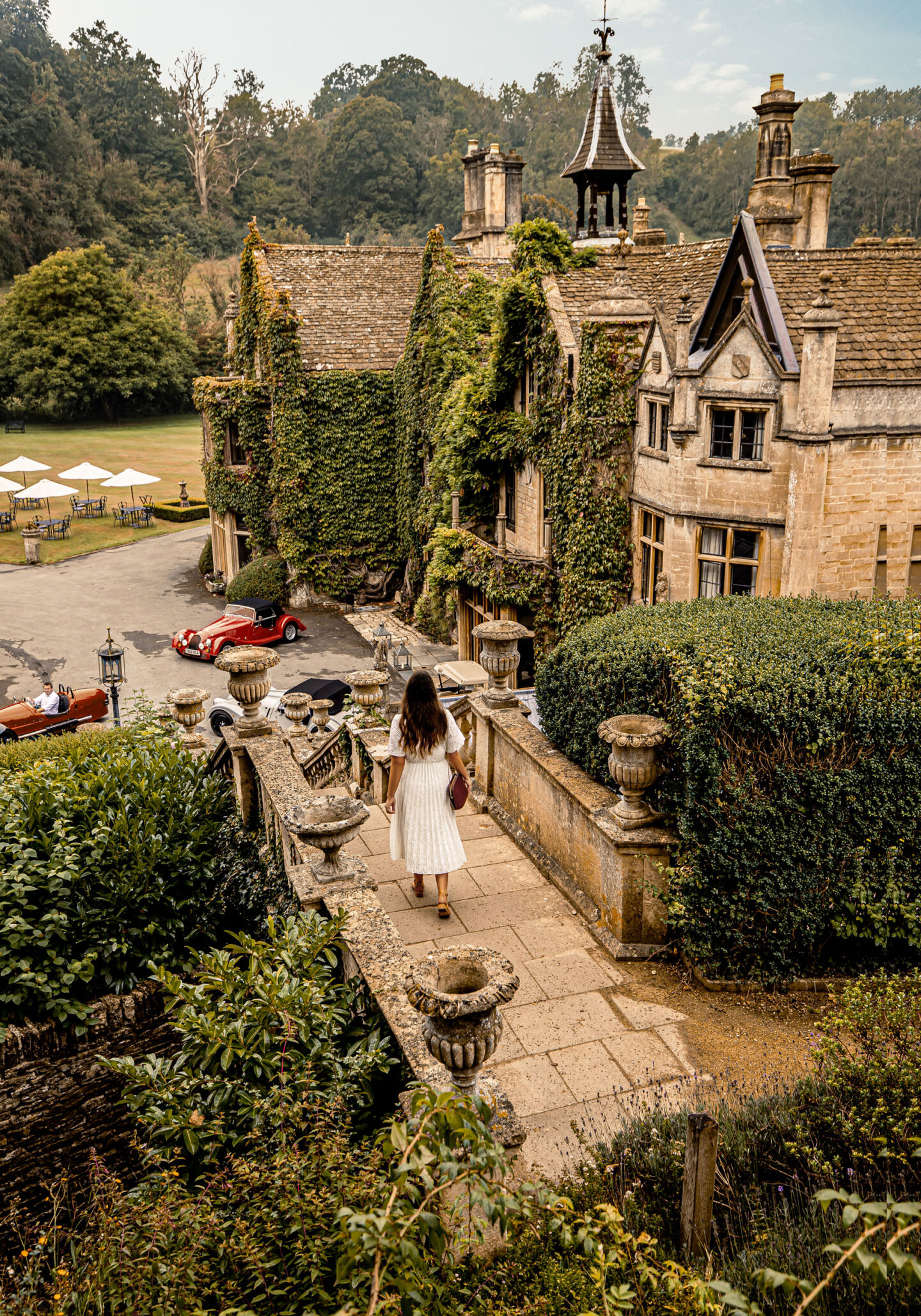 Stow-on-the-Wold
They say the more hyphens connecting a place name, the prettier the place will be. True to form, Stow-on-the-Wold is a picturesque British dream, filled with antique shops, small art galleries, tiny front doors, and reportedly the oldest Inn in England (The Porch House). Without an umbrella and the rain starting to come down, we slid into Lucy's Tea Room at the exact moment a couple were leaving – almost as jammy as the cream tea we then ordered! If you've ever eaten a cloud, then you'll have some idea of how fluffy and delicious this scone was *chefs kiss*.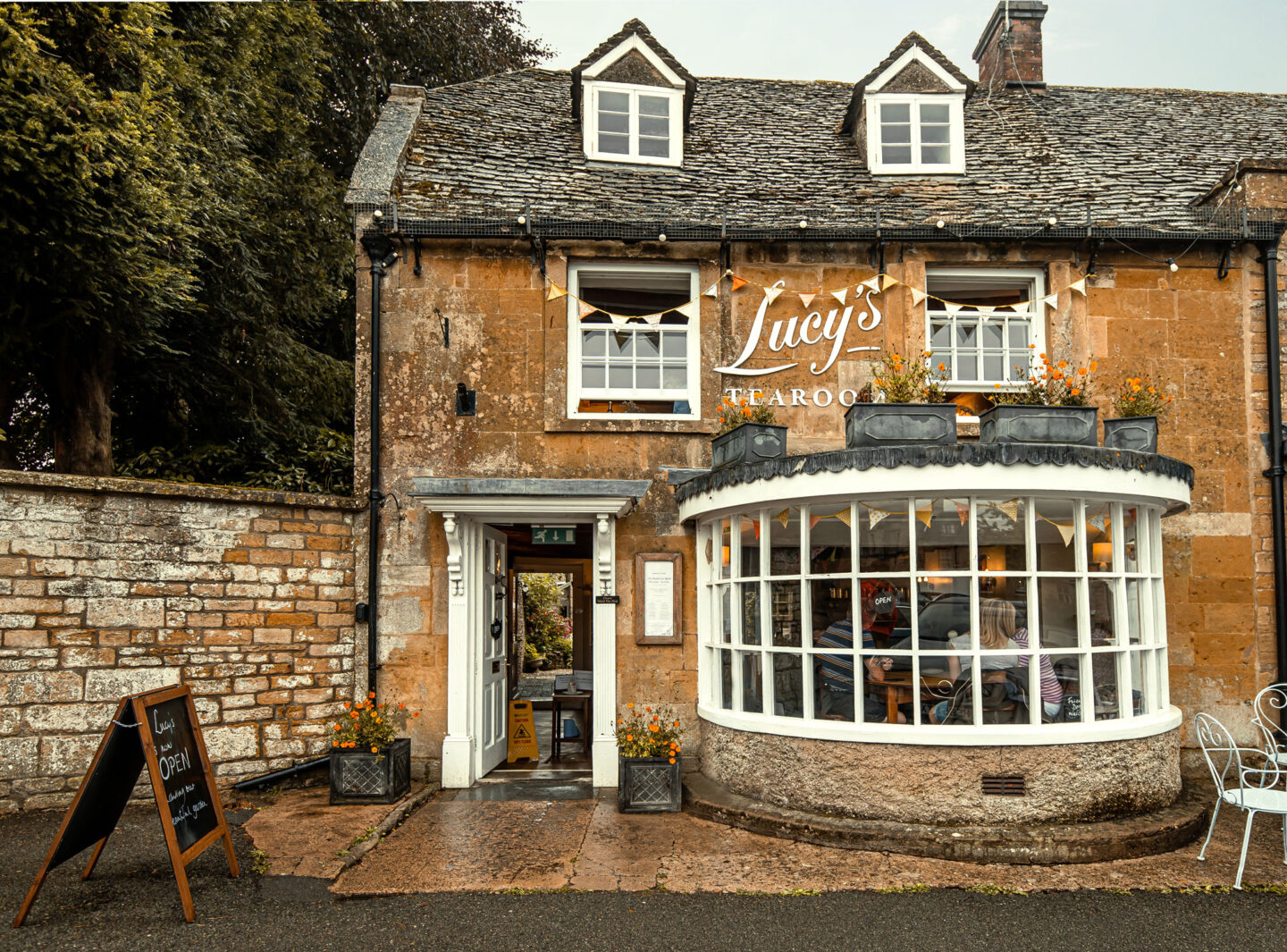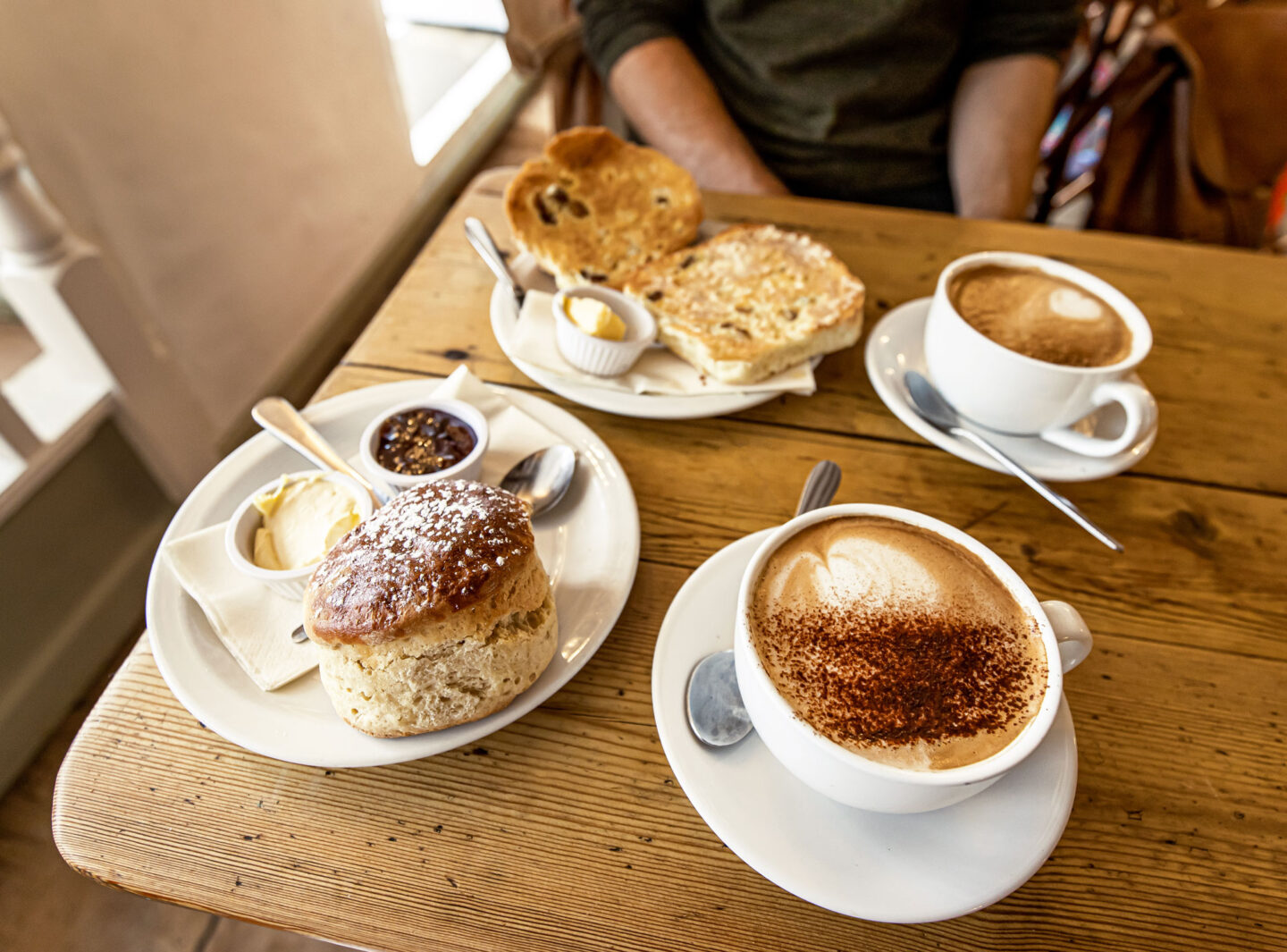 Also not to miss is the grounds of St Edward's Church – if you've ever wanted to live out a Narnia/Wind in the Willows/Harry Potter fantasy then check out the door at the rear of the church.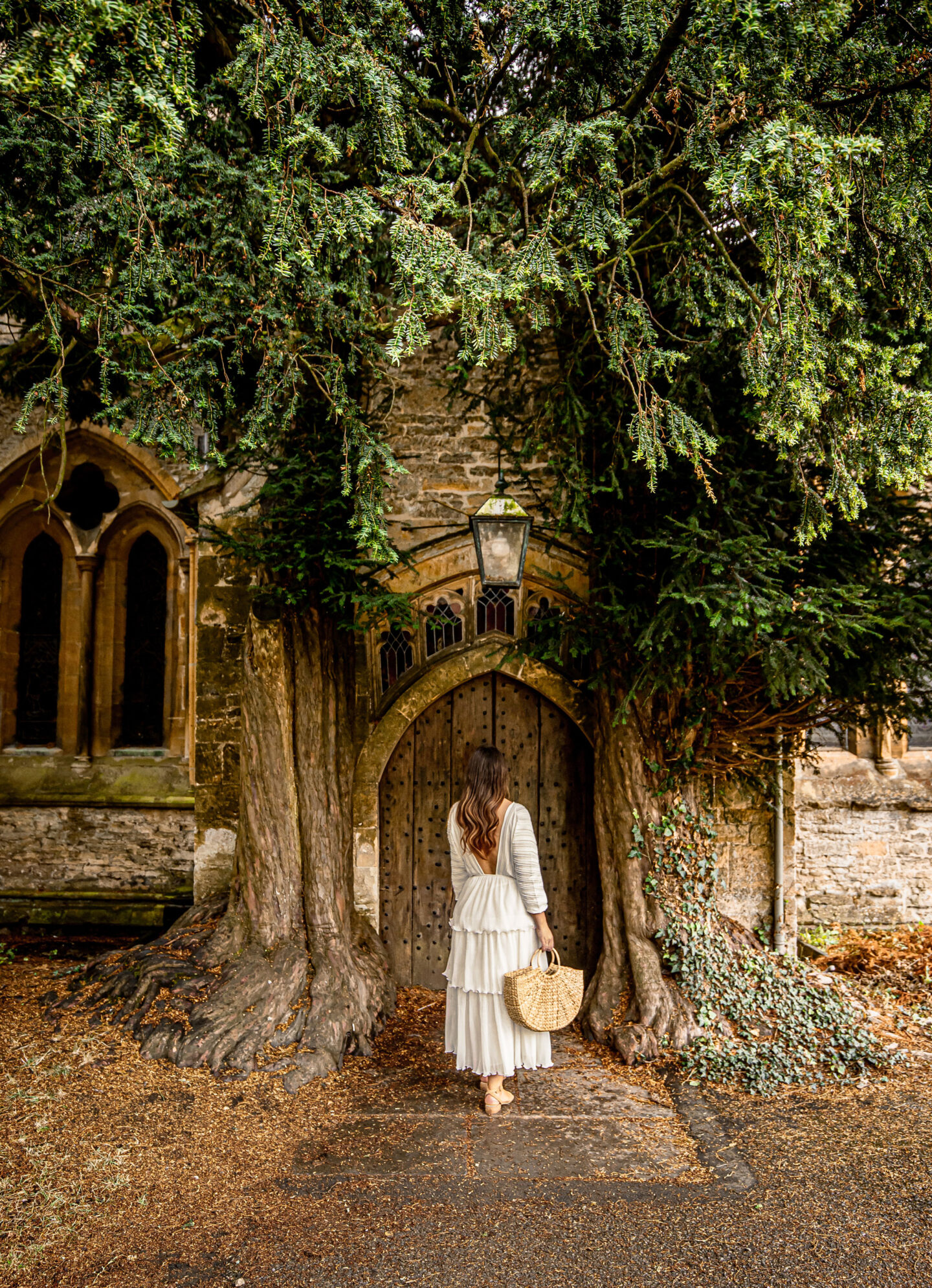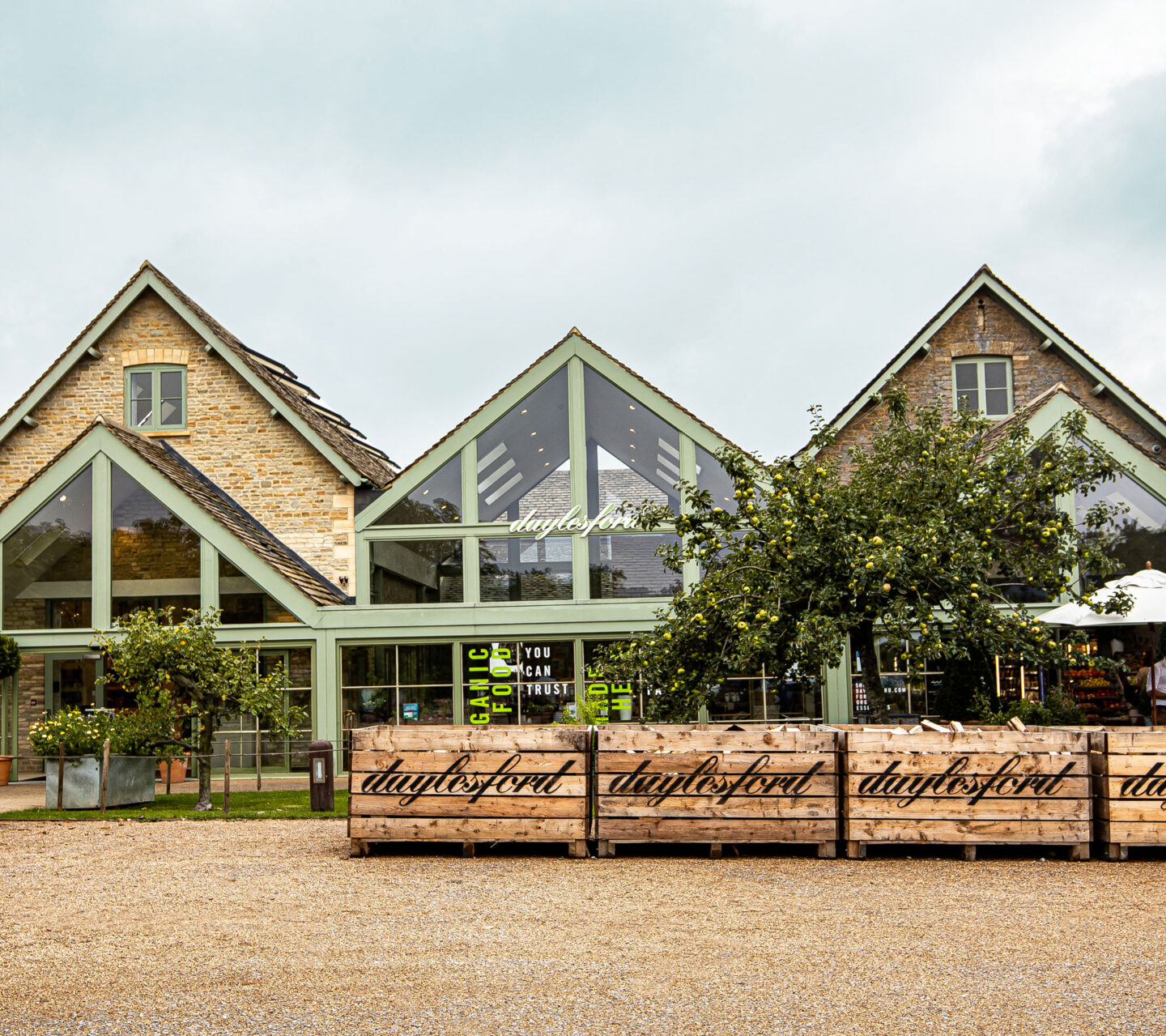 Daylesford Organic Farm
The Cotswolds is known for its amazing local produce and some of the best of it can be found at this middle-class mecca! Expect dogs, expect gilets, expect sustainably sourced, incredibly well-packaged food and drink! We dined in the accompanying restaurant, The Trough; which I suppose made us the incredibly well-fed pigs eating only organic food. I had the Sun-dried Tomato, Spinach & Adlestrop Tart, and Justin had the Grilled Flat Iron Chicken. After our healthy and hearty lunch, we were fueled to browse the Farm shop's amazing shelves of goodies, high-end homewares, and gardening accessories that you never even knew existed!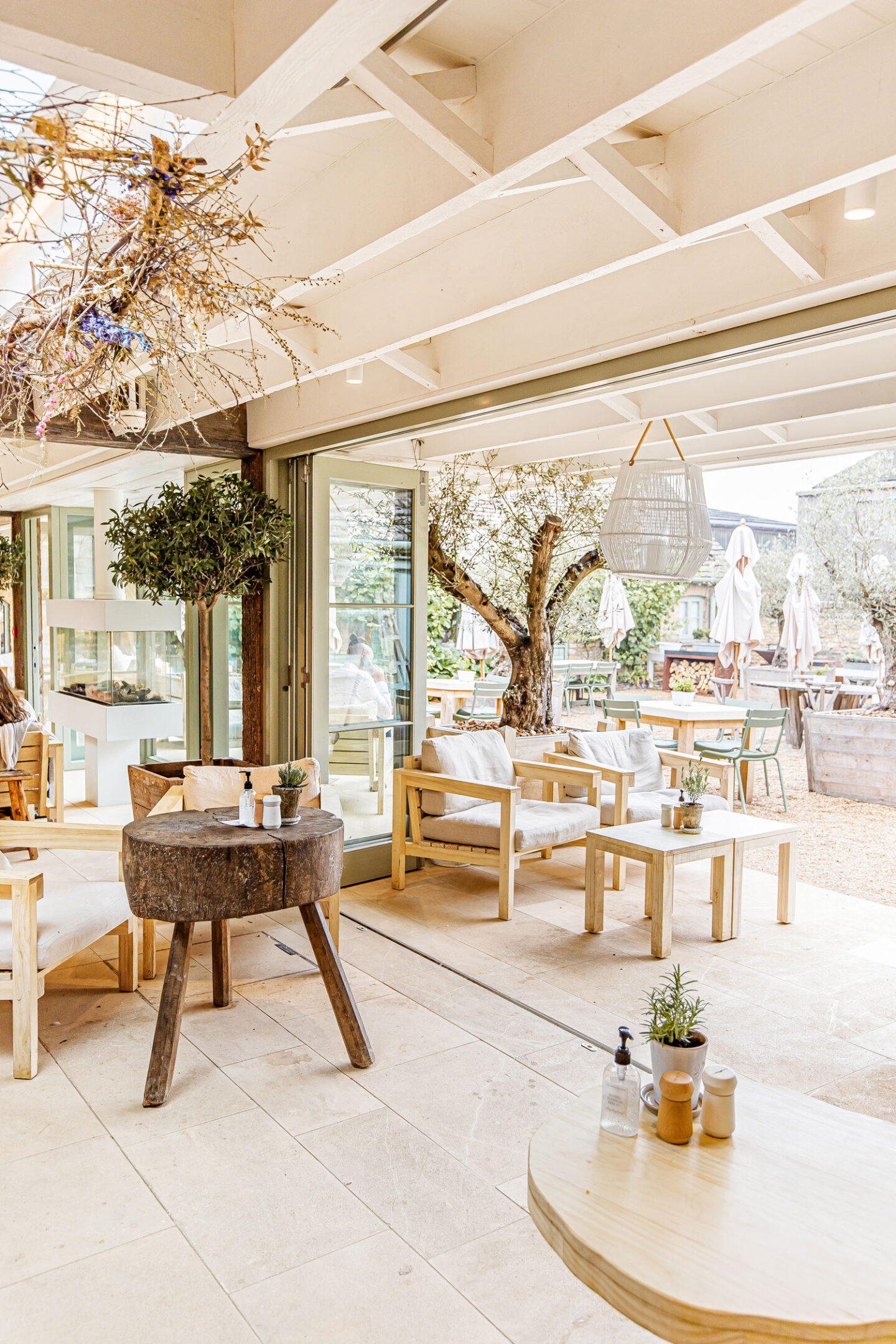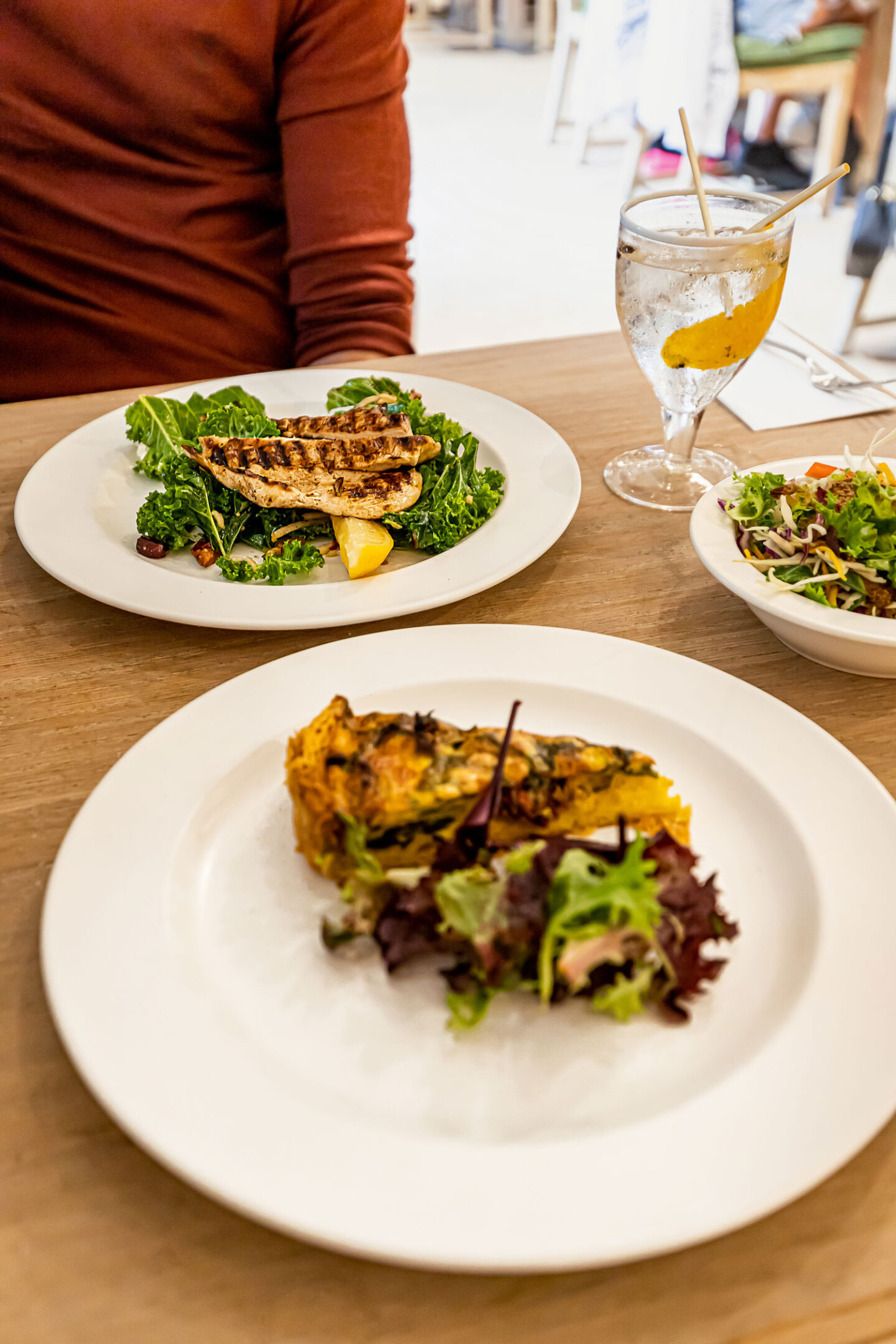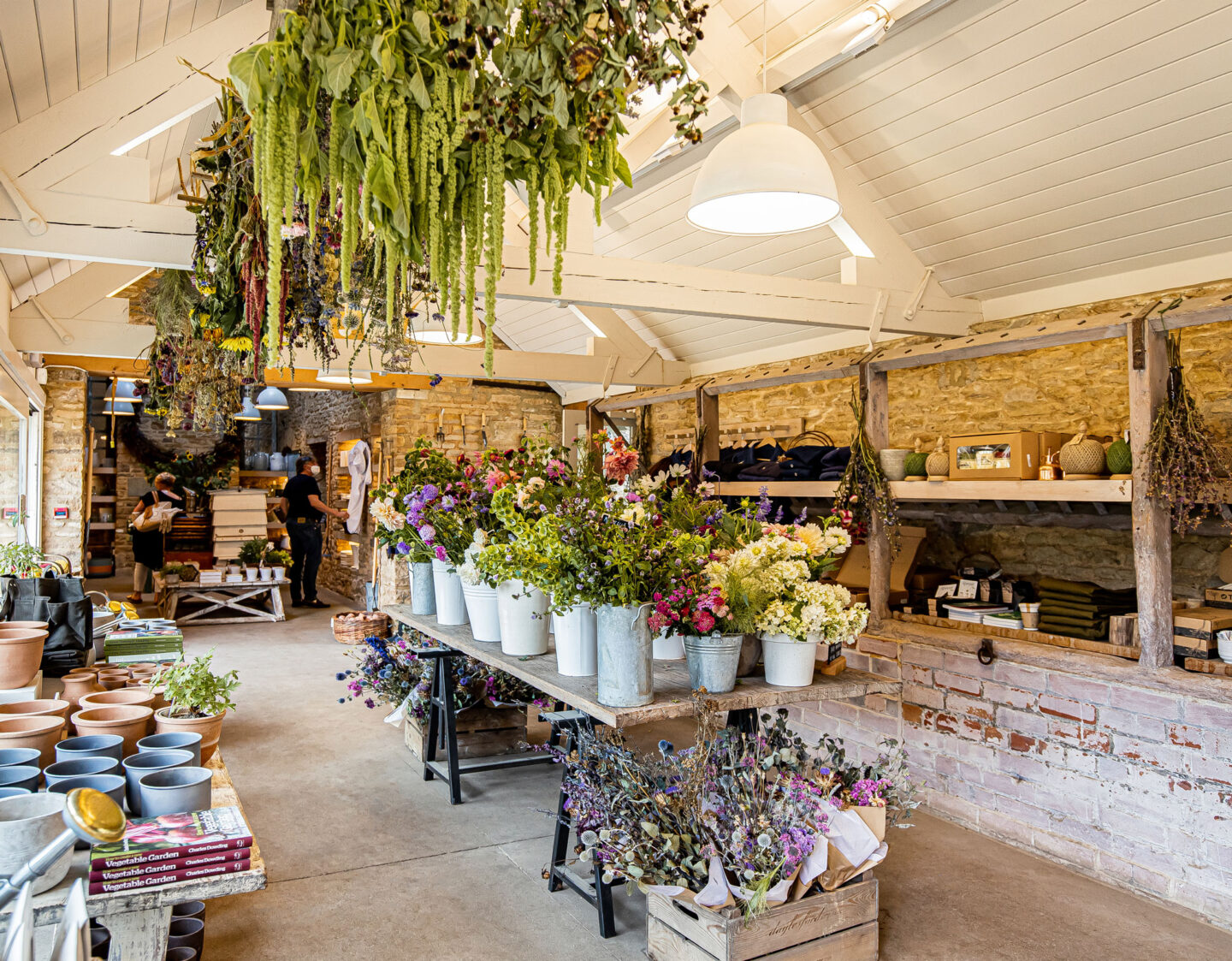 Bourton-on-the-Water
Another highly hyphenated handsome village, boasting lots of family-friendly attractions like Birdland, the Cotswold's Motoring Museum (the home of Brum), and a Model Village. Nearing the end of the afternoon, we spent our time walking up and down the riverside lanes, sampling local ice cream and watching dogs and children splash about in the water without a care in the world.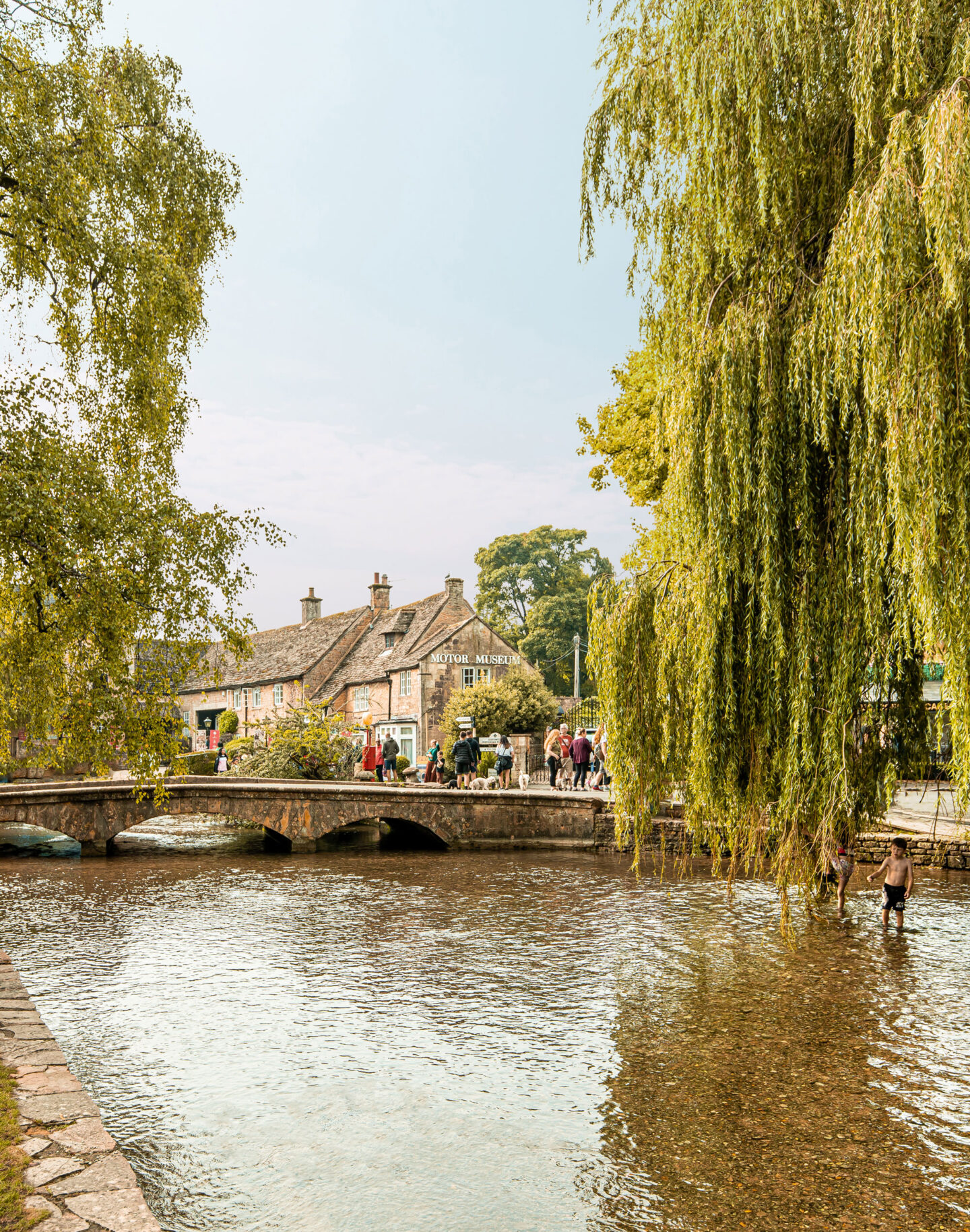 Day four
The Cotswolds – London
---
The last day of our UK Road trip was a total washout. Unsurprisingly, when you travel in England there is no guarantee of hot weather like there is in Santorini. However in a world pandemic, beggars can't be choosers, and we were feeling incredibly grateful that we had experienced a heatwave during the first few days of our trip.

On our way back to London we had planned on stopping by Somerset Lavender Farm, but decided to give it a miss because it was well and truly pissing it down. Which meant I missed on on the opportunity of taking a photo of the purple fields and aptly captioning it "Purple Rain". Alas, there is always next year! Somerset Lavendar is open May through to September.


View this post on Instagram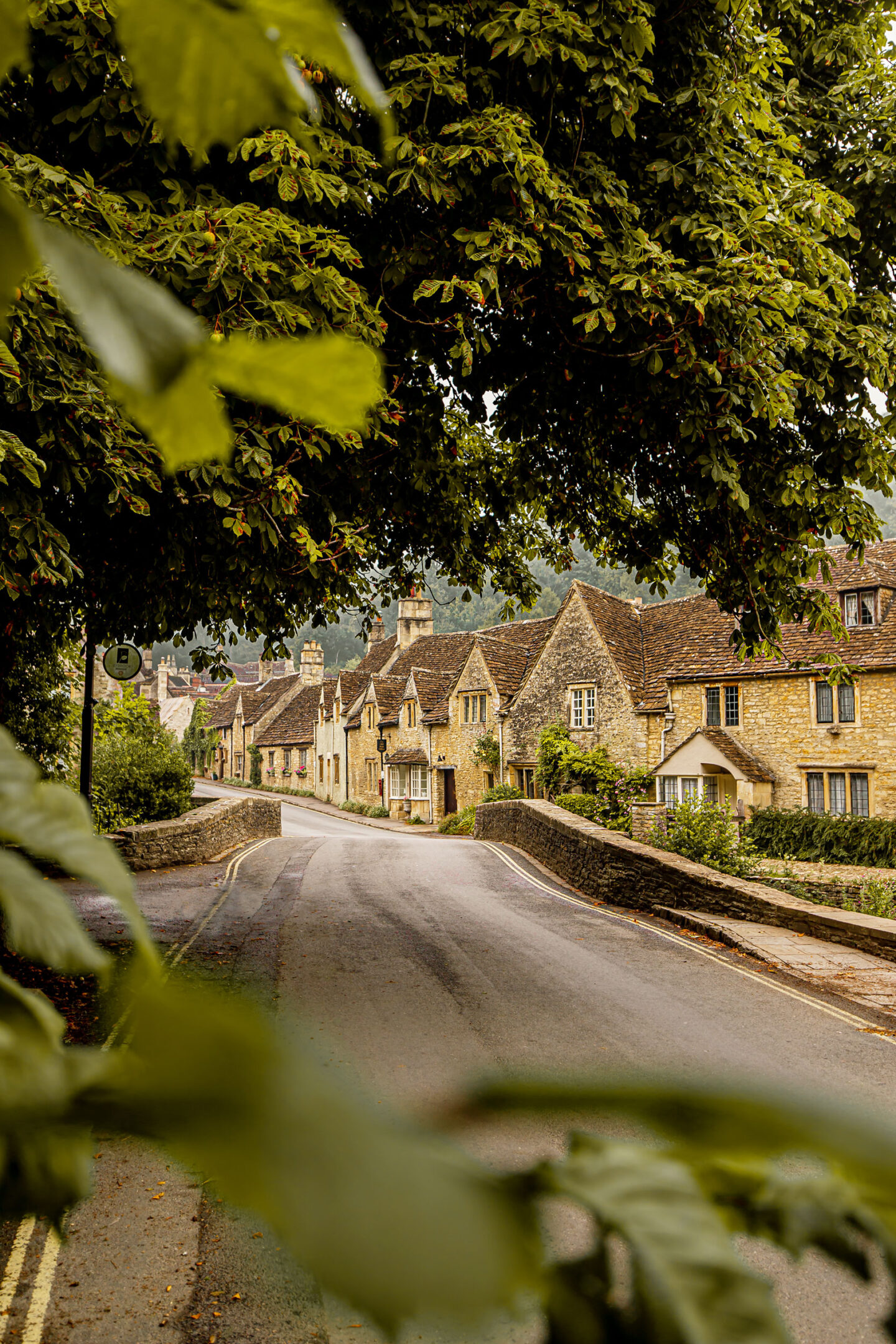 We made a beeline back to London to return Glenda back to her owner. It's safe to say we are now die-hard fans of the campervan lifestyle and this certainly won't be our last UK road trip. If you want to see videos of our journey, head to Instagram (@kelseyinlondon) and watch my Campervan story highlight.




Related:
Want more travel inspiration? Read my newest travel guides here.
Enjoyed this guide? Pin it for later below! Follow me on Pinterest.