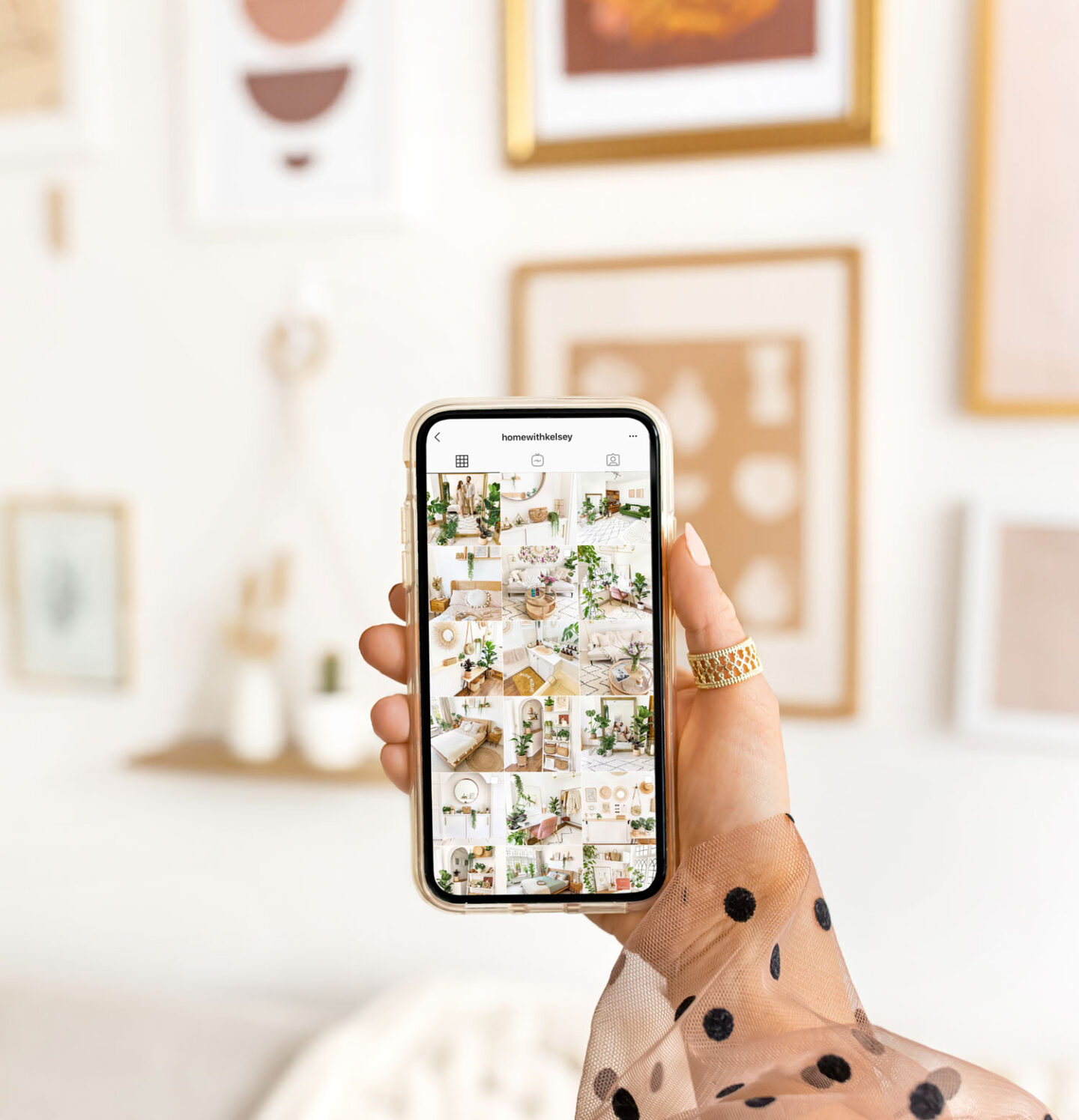 — This article contains affiliate links —
Like every other millennial, I used to use Instagram hashtags ironically. #Rawvegan on a photo of my Domino's Pepperoni pizza or #nomakeup on a selfie where I very obviously had a buttload of slap on. To be honest, I previously thought hashtags were a Twitter-exclusive thing and didn't give them the time of day.
That is until I did some research, developed a winning hashtag strategy and made hashtags my best friend. Since implementing my new strategy, I'll receive anywhere between 10,000 up to nearly 200,000 reach per post from hashtags alone.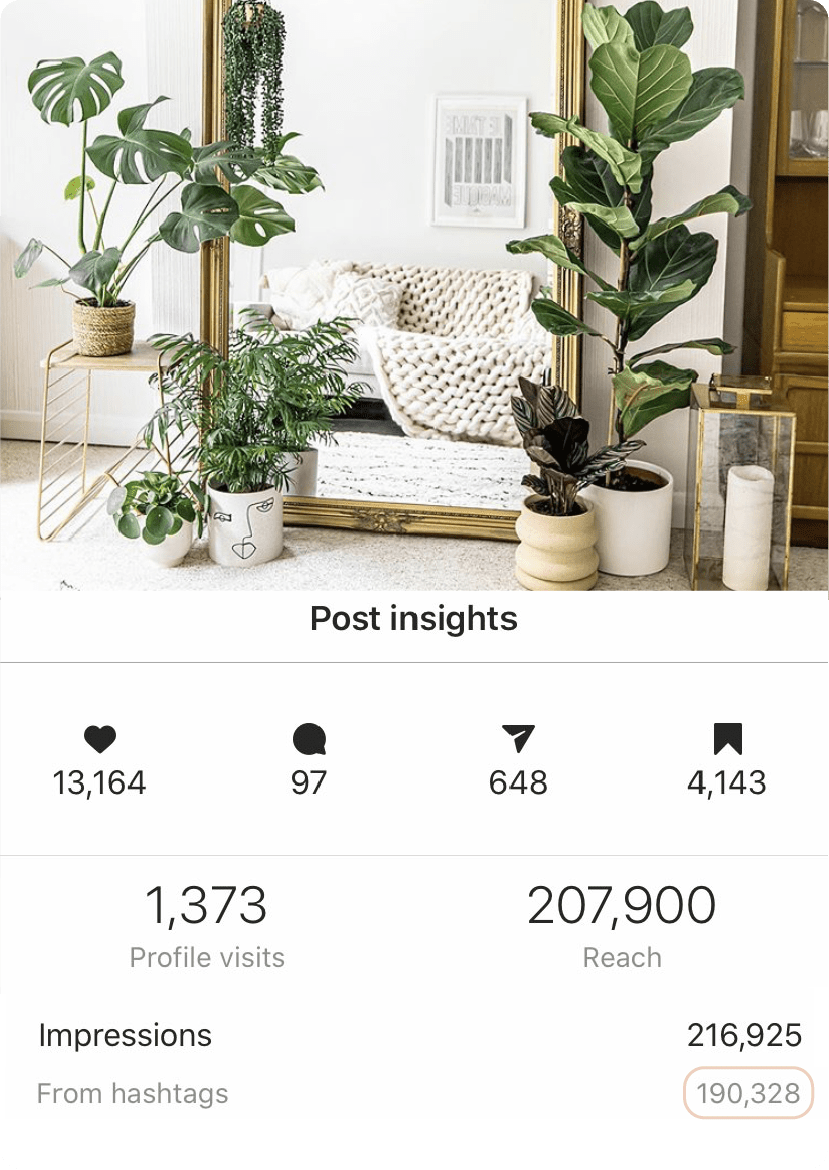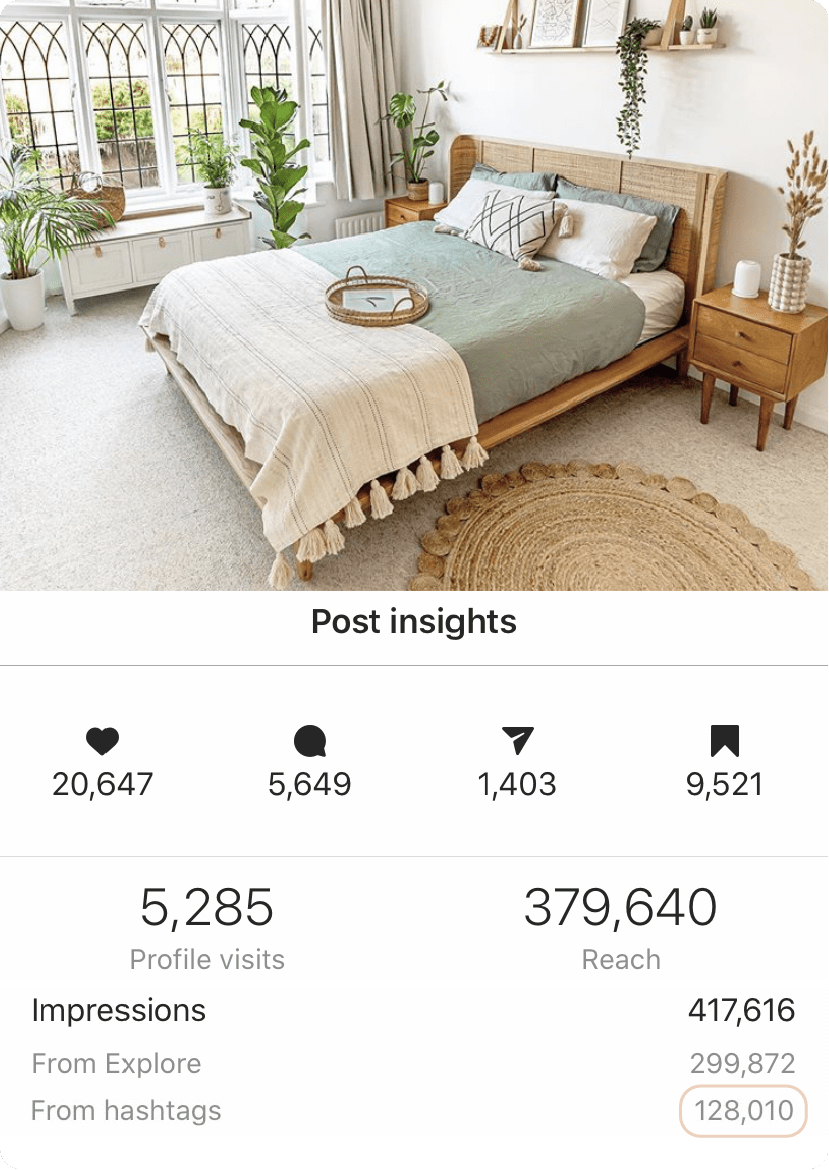 Instagram Hashtag reach is essential for gaining new followers as it's the only way you'll be able to organically reach people who don't already follow without having to spend any money on boosting your posts. If you're like me and would rather save your coin for Uber Eats, read on to discover everything you need to know about hashtags. No bullshit or rumours here.


15 things you need to know about Instagram hashtags
1. What are the benefits of using hashtags?
To put it simply: Hashtags = reach. More reach = more likes and more chances to attract new followers, new customers and new opportunities. Even a new partner if you're lucky! I attribute hashtags to one of the top strategies for growing my followers quickly on Instagram. You can read more about how I gained 10,000 followers (starting from 0) on Instagram in just under 6 months here.
2. How do hashtags work?
Think of hashtags as a way of categorising your posts and telling Instagram what your post is about. People use Instagram the same way they use Google and Pinterest, often heading to the hashtags tab to search for a particular subject or interest. They might be looking for a winged eyeliner tutorial or some inspiration for their upcoming trip to Mexico. When you use hashtags on your posts, you're able to get your content seen by people who don't already follow you.

Your aim is to get your post on the 'Top' page of a hashtag as this is the first page people see. While all posts using a hashtag will come under the 'Recent' tab, sorted chronologically, if your post makes it to the 'Top' page you will get a lot more visibility and in turn a lot more reach, likes and engagement.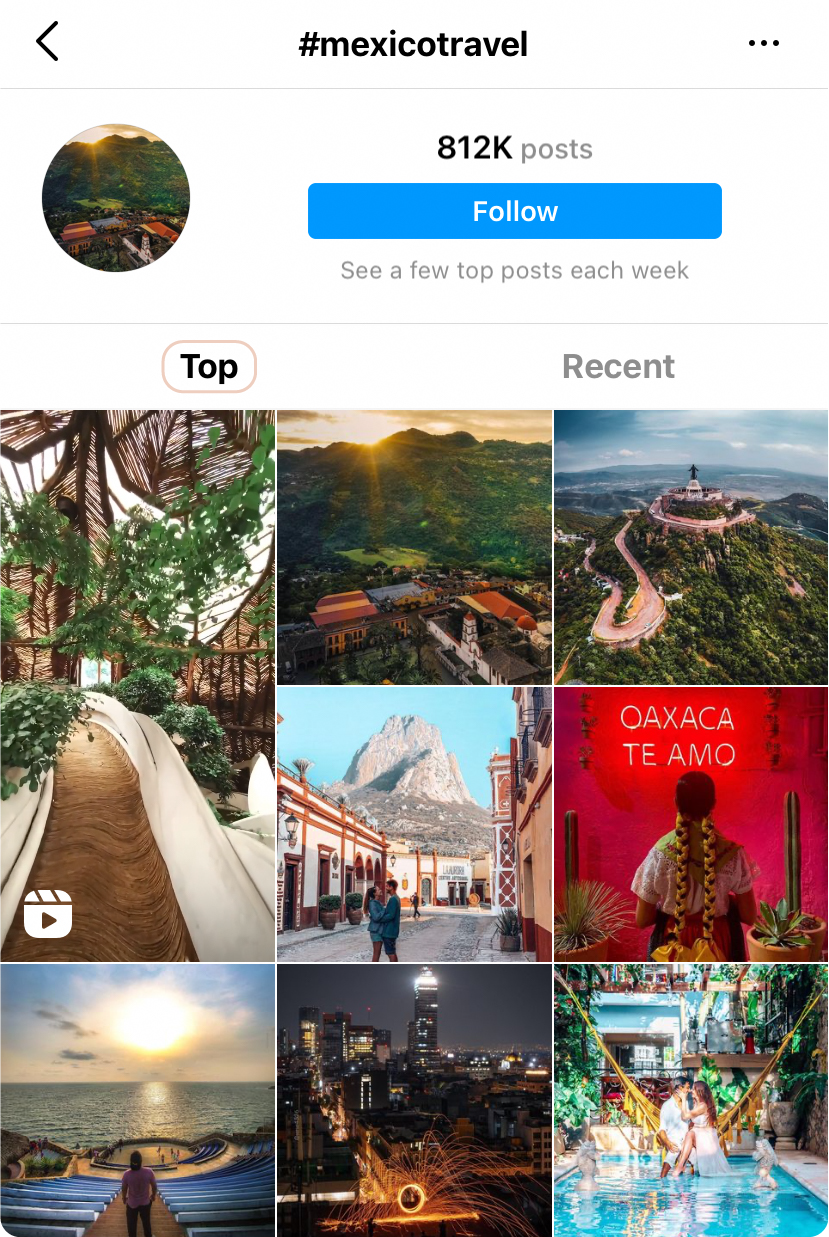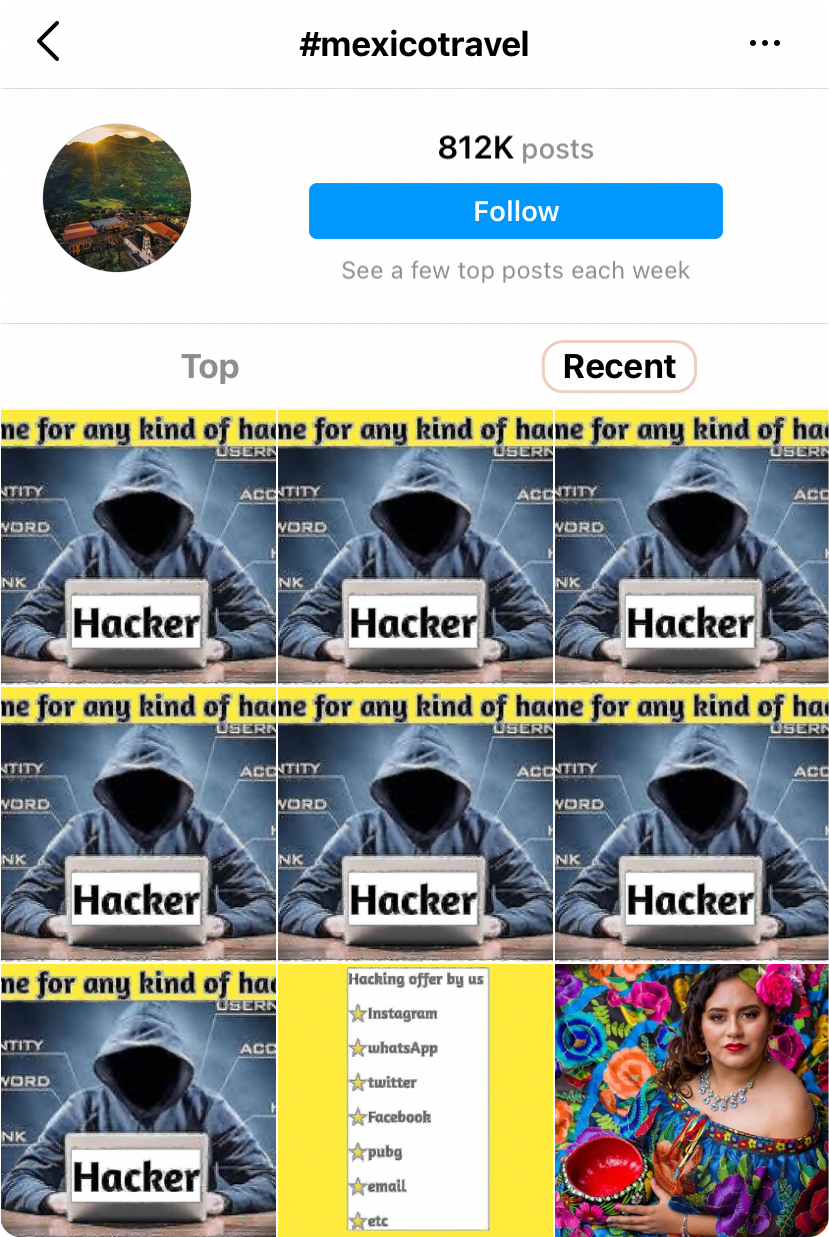 For example, if you look at #mexicotravel, you'll notice that the 'Top' page of this hashtag is visually exciting and eye-catching, whereas the 'Recent' tab is often filled with spam or low-quality posts. This is why users will spend most of their time scrolling through the top page rather than the recent, they want to see the best of the best. So how do you get your post to hit the top page? Keep reading to find out.
3. How many hashtags should you use?
Always use 30 *RELEVANT* hashtags. 30 is the maximum amount of hashtags Instagram will let you use on any given upload. For ages, there have been rumours floating around that you should only stick to 3 or 5 hashtags because quality over quantity right? Well usually yes, but if you can use 30 quality/relevant hashtags rather than only 5, then you have 25 more hashtags working to help your post reach more people.
There was a study done that analysed over 65,000 posts and found that 9 hashtags were the ideal hashtag number for optimum post-performance. What that study didn't take into fact was the quality of each individual post comparatively. If your photo is shit, it's never gonna perform well, hashtags or not. So this data is highly irrelevant unless you consider the actual content of each post.
Instagram won't penalise you in any way for using all 30 hashtags. While Instagram is agreeably annoying, they're not sadistic. Go for thirty.
Update: on the 28th of September 2021, Instagram came out with this post where they recommend users 3-5 hashtags per post. In the same week, from using 30 hashtags on both my interior + travel account I received 50k + 30k reach from hashtags respectively on a single post. My advice? Experiment and see what works for you! If using 5 hashtags gets you 100k reach, amazing! For me personally, I'll keep using 30 hashtags unless I see my hashtag reach dropping and currently it's consistently strong.
4. What kind of hashtags should you use?
You should aim to use a mix of relevant & community hashtags for reach post. Personally, I like to use 25 relevant hashtags and 5 community hashtags respectively.
Use relevant hashtags that relate directly to your image.
It's best to use whatever hashtags relate directly to the actual image you are uploading. Say you're a fashion blogger yet you're about to post a snap of your Sunday brunch, there's no point using a bunch of fashion-related hashtags on a pic of your poached eggs. Users scrolling through #ootd aren't going to bother engaging with your breakfast because that's not what they're there lurking in #ootd for. Instead, use hashtags that relate to your photo such as #brunchgoals and #eggfast.
Use community hashtags to connect with like-minded people.
These hashtags are a bit harder to come across however a good place to start is your location. Search for your city and see what relevant hashtags come up – ie #Bristolbloggers #BristolMum #BristolCreatives. Then think about your lifestyle, are you vegan or love DIY? There's a community hashtag for that. Of course, there's #CreativeGalGang which is a community hashtag I set up for my influencer support group – Creative Gal Gang. Members of my group can use this hashtag on their posts as a way to connect and support each other online.
5. Should you use popular hashtags?
Absolutely not. Avoid them like the plague. Popular hashtags like #coffee are way too generic and overused. Let's not beat around the bush, there's no way your post is going to be noticed in a sea of 126 MILLION uploads.

I recommend sticking to hashtags that currently have 1 million posts or less so that your post isn't competing with millions of others to get seen or noticed. For each upload, use a tiered approach. For example, you could use 10 hashtags that have 1million & under posts, 15 hashtags with under 500k posts and 15 hashtags with under 200k posts. Mix up the split of these for each upload and stay well clear of hashtags that have over 1 million posts.

Try to avoid hashtags that are too niche as well. Avoid hashtags with less than 5000 posts as chances are not many people are actually looking at or following this hashtag which means you won't get much additional reach from small hashtags.

Note: Please experiment with this as it really depends on the size of your account. If you are already seeing good results with hashtags, try to introduce some more popular hashtags (over 1 million posts) in the mix.
6. How can you find the best hashtags to use?
Let's take the example of #coffee above. We already know to avoid using this hashtag as it's oversaturated, so how do you find the best hashtags to use that are niche and relate directly to your flat white?
Simply head to Instagram, type in the most generic word that relates to your image, in this case 'coffee', and scroll down the list of suggested hashtags and note which hashtags have less than 1 million posts.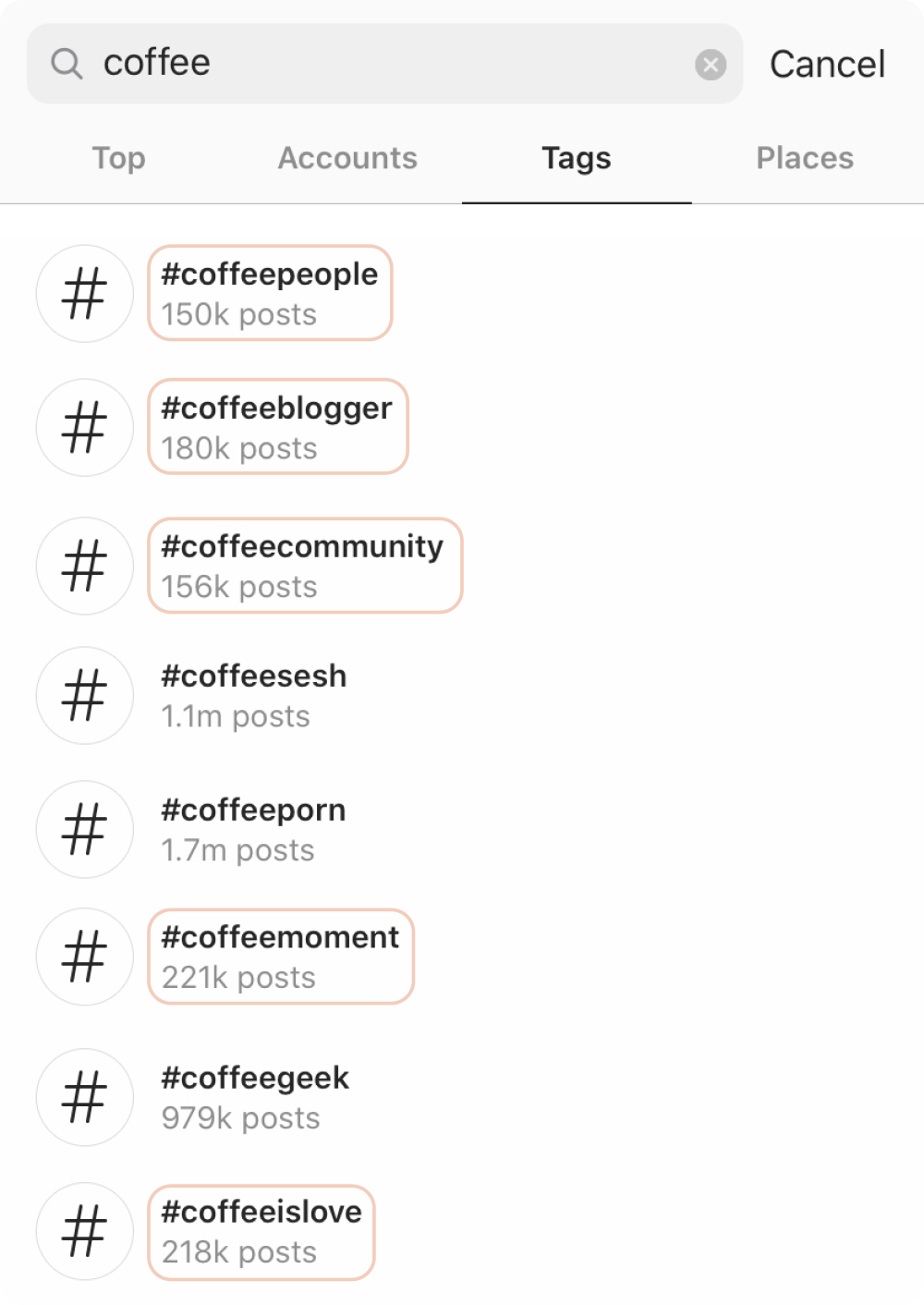 Another way I find hashtags is by using the app & website Flick. On Flick, if you search for a keyword like "coffee" you'll be presented with a list of relevant hashtags that don't necessarily have the exact keyword in it. For example, for "coffee", Flick suggested using #cappuchino and #coldbrew. You can also use a smart filter which will automatically remove any hashtag suggestions that are too competitive or too small to provide good results based on your account performance. This is the kind of data you need in order to have a decent chance of hitting the 'Top' page of a hashtag. I try to stick to hashtags with 'Medium competition' (see below).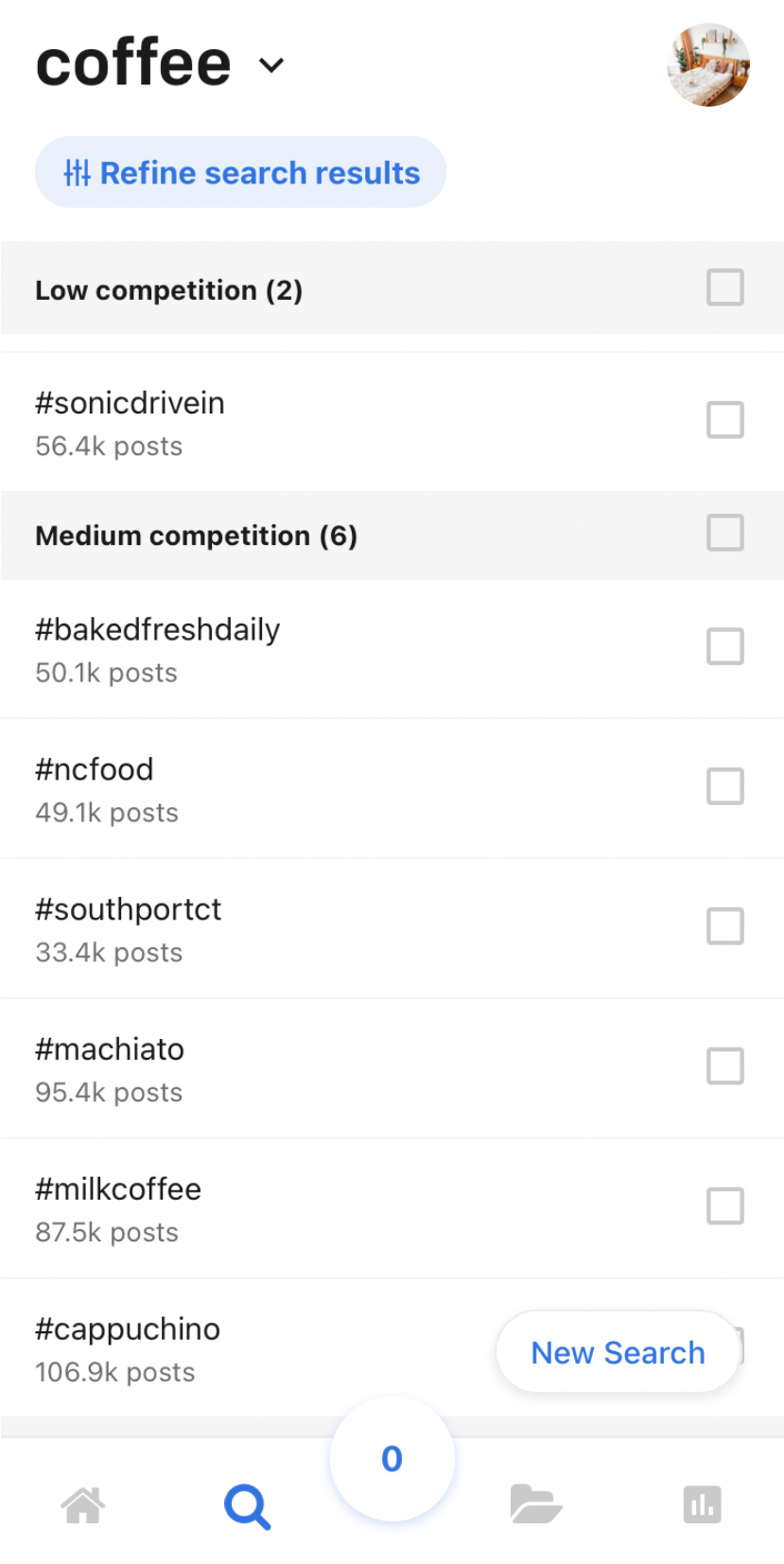 7. Should you use the same 30 hashtags on every post?
Unless you plan on uploading the same photo every day, then I imagine your content is going to change from post to post – and so should your hashtags. For example, on @kelseyinlondon I post about travel, so therefore I have various hashtag collections for each destination I post about. I've got 30 hashtags for Paris, 30 hashtags for Italy, 30 hashtags for Morocco and so on. Similarly for my interiors account @homewithkelsey, I switch up my hashtags depending on what room in my home I'm posting a photo of. My hashtag collections are sorted by Bedroom, Living Room, Kitchen, Office, Bathroom etc.

If you post about food, you might sort your hashtags by the type of cuisine or ingredients or simply Breakfast / Lunch / Dinner. I would recommend spending a day researching all the different content pillars you post about, find 30 hashtags for each category and have this saved so that the next time you post you're good to go, hashtags at the ready.
8. How do you manage your hashtags?
Once you've created a few hashtag groups, you'll want an easy way to store and access these. One way you can do this is by using the Notes app on your iPhone. I personally use Flick as an easy way to save and organise my favourite hashtags. I can create hashtag collections on my laptop and then access them on the go via the Flick mobile app. Whenever I post on Instagram, I open the Flick app and go to the collection I've previously created and copy all hashtags and then add them to my Instagram post, too easy!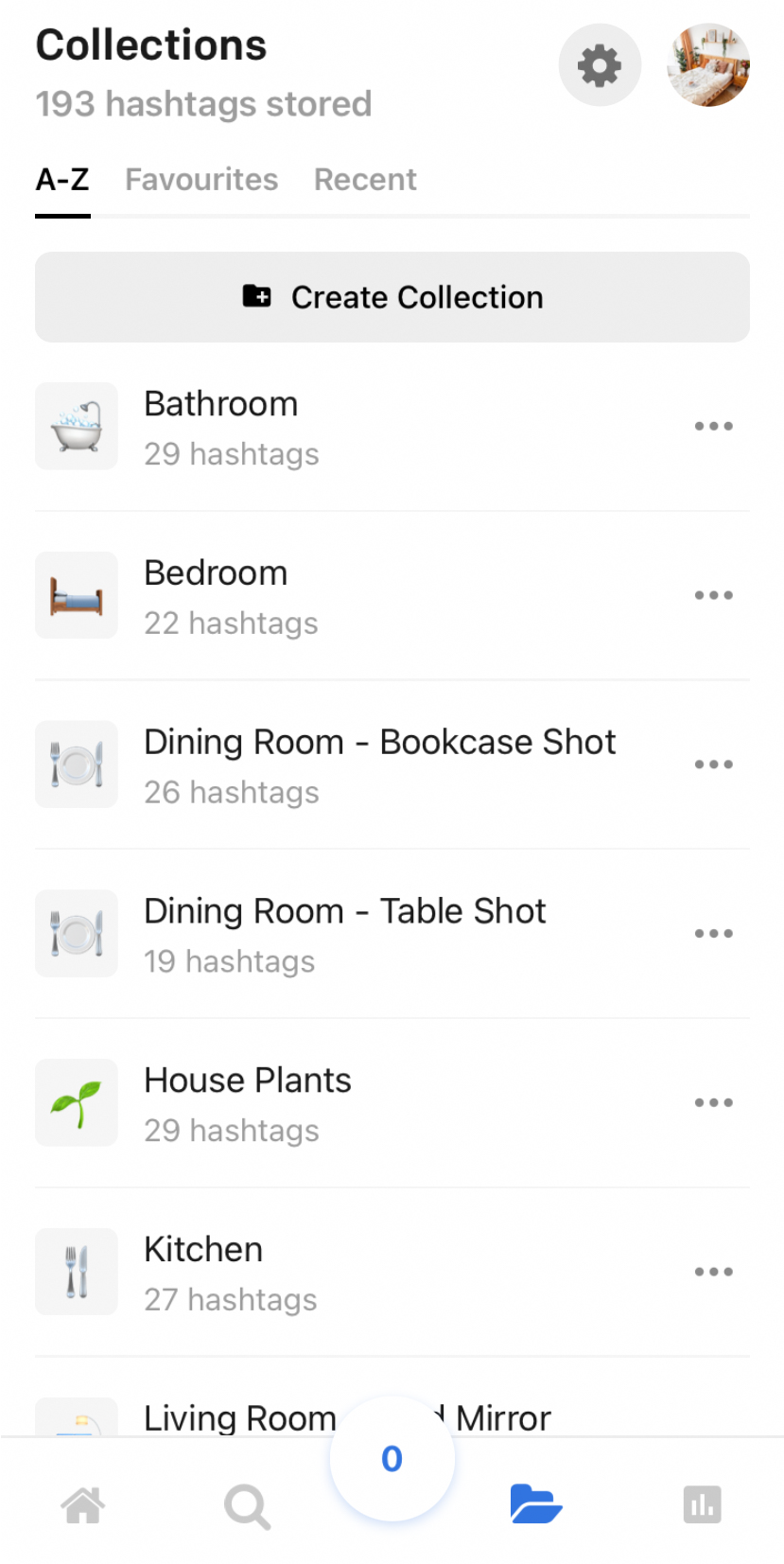 Tip: once you create a hashtag collection on Flick, within 7 days they will give you a list of suggested hashtags you should be using that are similar to the ones in your collection. Currently, this feature only seems to be available on the desktop version of Flick.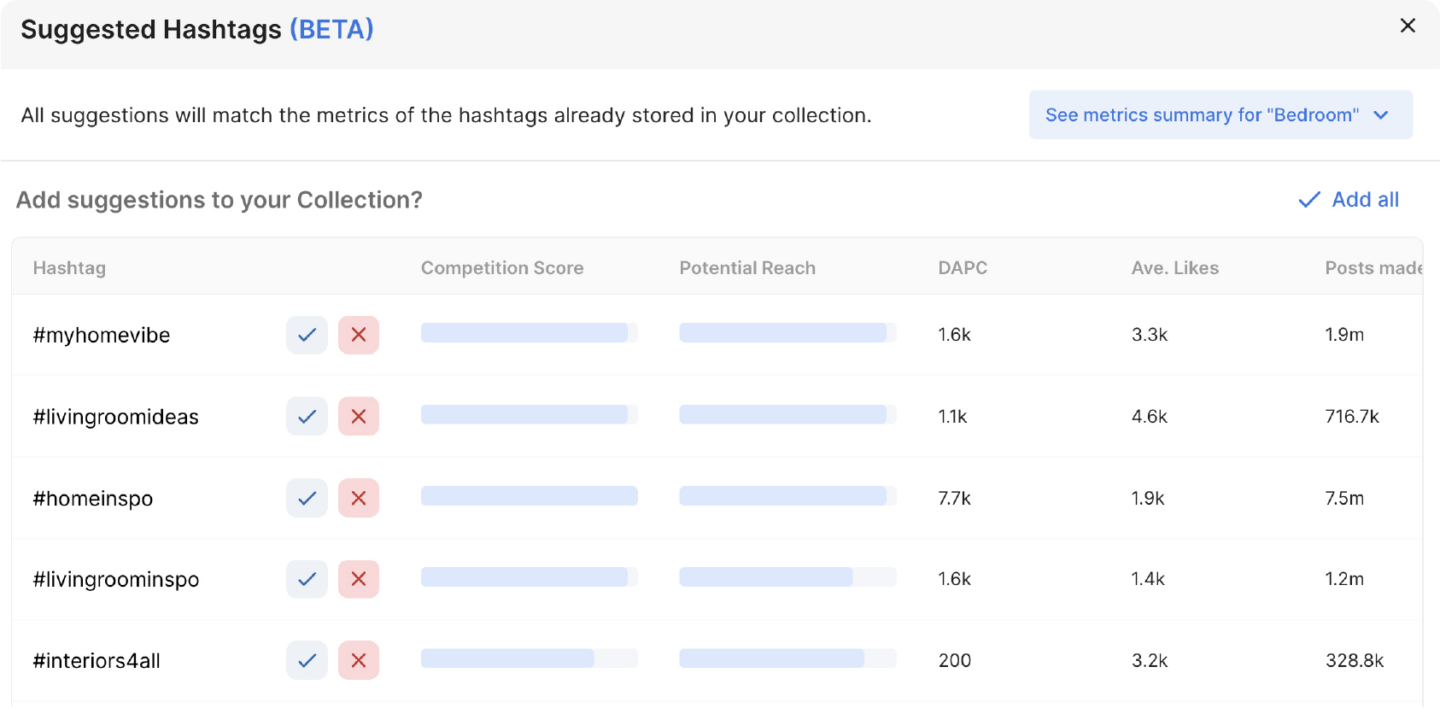 9. Should hashtags go in the caption or as a comment?
Okay so my previous advice was to stick your hashtags in a separate comment below your post, for years I still had great hashtag reach doing it this way. However, recently Instagram officially announced that your posts will be more searchable if you have hashtags in your caption, so that settles that then!
10. How do you know if your hashtags are actually working?
Try to regularly review your post insights to see the exact number of reach you are getting from hashtags. Remember, results from hashtags will always fluctuate from post to post, this is totally normal. It's impossible to get the same number of reach on every post. In the past, I always checked the hashtags I used to see if my post hit the top page. But to be honest with you, it was very time consuming to individually check each of the 30 hashtags, so now I use Flick to monitor how my hashtags are performing.

With Flick, you can actually get a detailed breakdown for every post and see which exact hashtags you did or didn't rank for. It'll show you which posts you hit the top 9 for as well, which is the sweet spot. I recommend using Flick for at least a month before reviewing your analytics so that is has enough data. After 30 days, Flick was able to tell me which hashtags were my top performing and giving me the best resulsts and which hashtags were consistently not providing me with any results. Having such detailed anaytlics like this means I can easily improve my hashtag reach by knowing exactly which ones to stop using.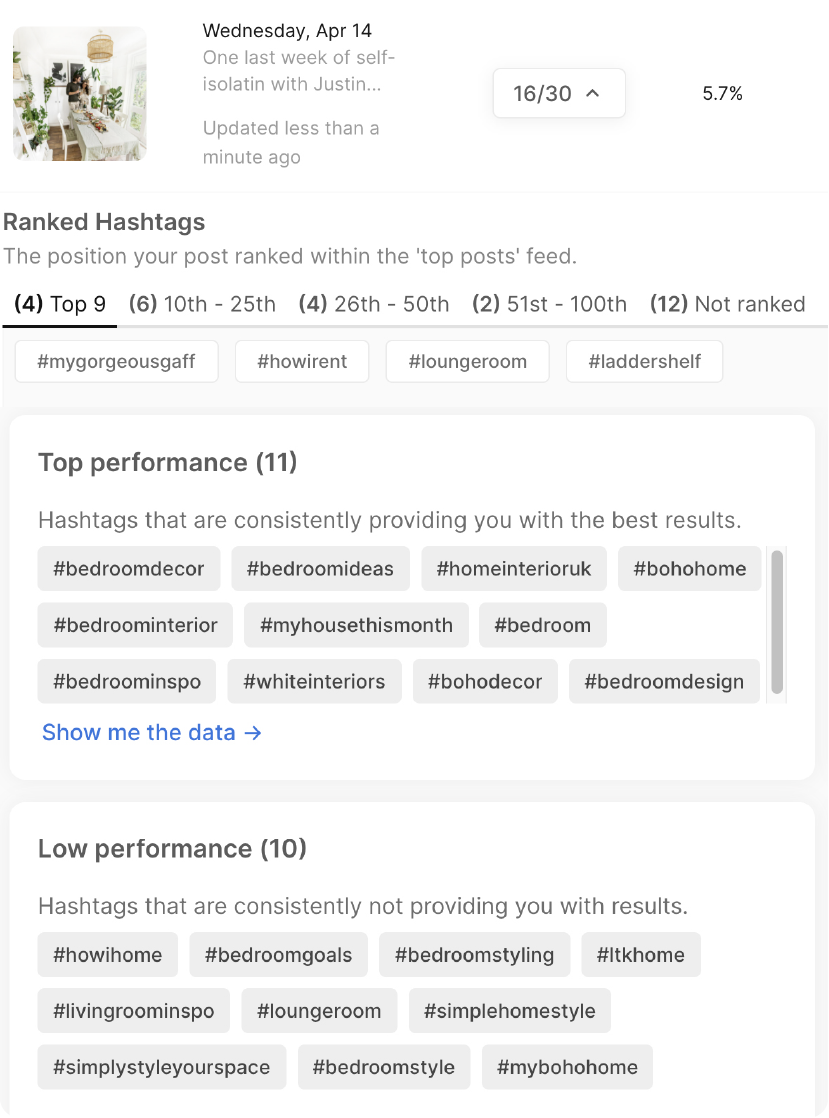 11. Why do hashtags work better on some photos but not others?
It's normal to get inconsistent reach on hashtags from post to post. Because hashtag results can differ a lot even on similar photos. Even if you've done the hard work and researched 30 relevant hashtags, it still doesn't mean you're guaranteed to be hitting crazy reach and engagement on all your photos.
Say you've even uploaded two 'similar' photos of your nails with the same #nail relevant hashtag groups but one post went bank with hashtag reach but the other was a bit meh? Blame the photo, not the hashtags. Even though you may think the photos are similar (and as equally lovely), there might be one key difference that is essentially the secret ingredient to the success of that post. It may be something as simple as the colour of nail polish or even your lighting.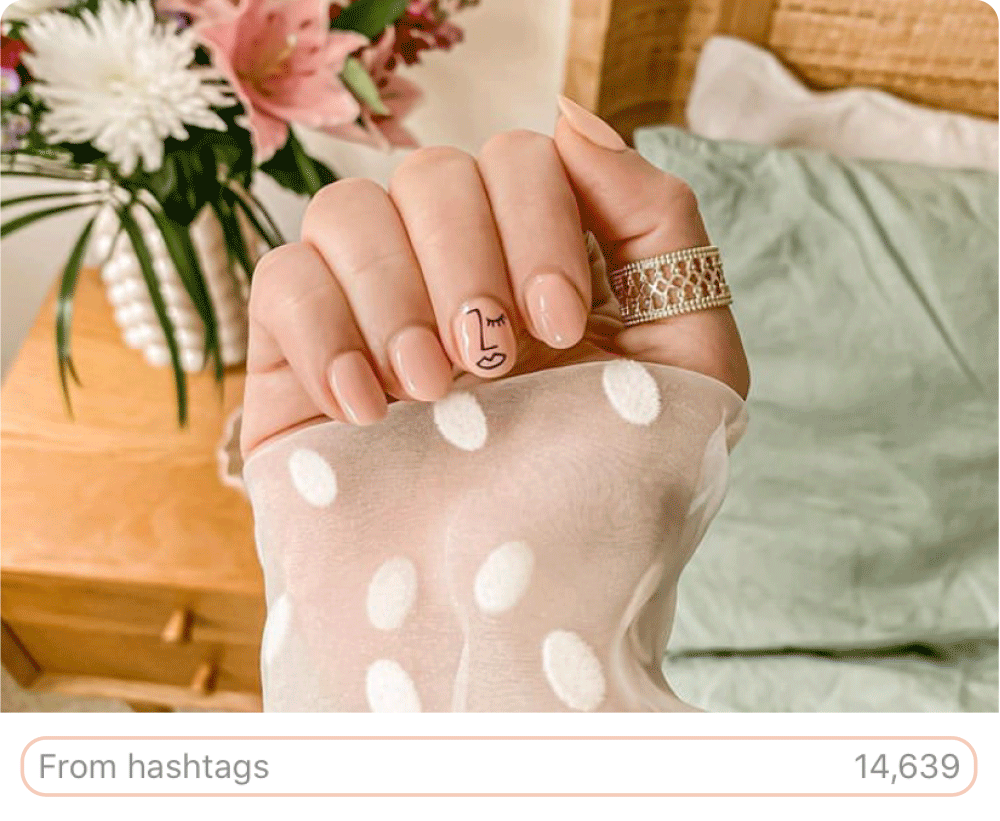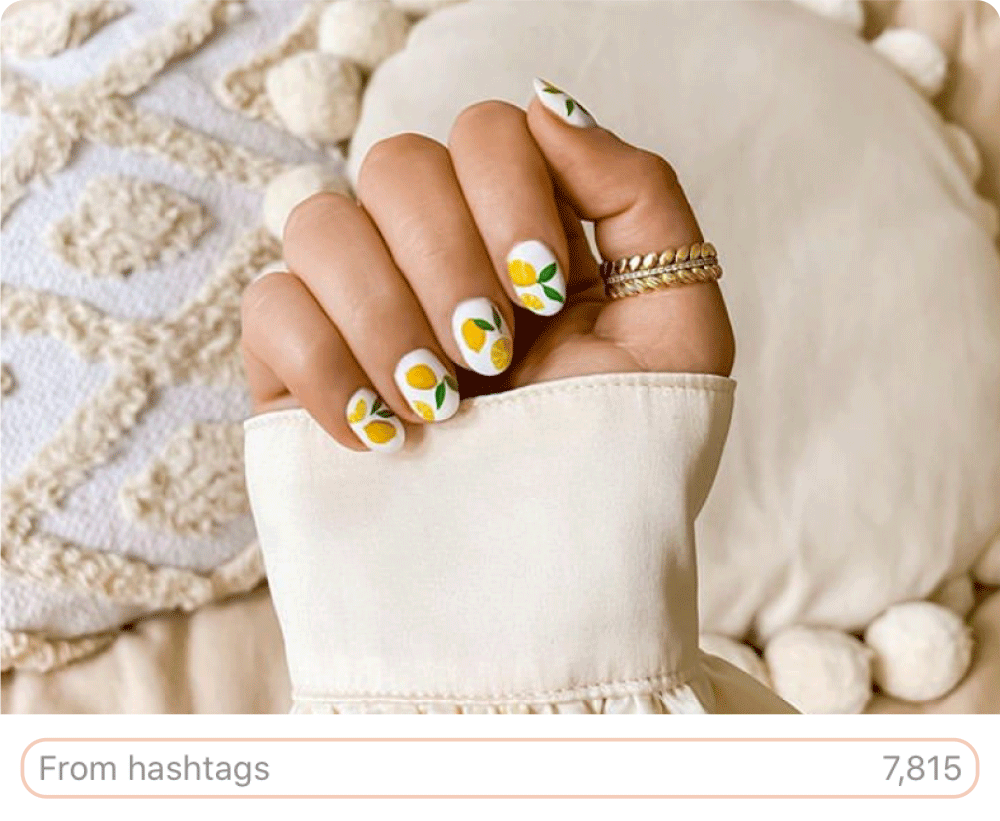 12. Do hashtags work on carousel / album posts or IGTV?
Note: Carousel post = Instagram feed post with more than 1 image (album)
Yes, but only about 10% of the time. This is only something I discovered by chance earlier this year as I realised I was never getting any decent hashtag impressions on my carousel posts and yet my single image posts would get thousands in comparison. Speaking to fellow members of Creative Gal Gang – many influencers had a similar experience. The same goes for IGTV. If you look at the top page of any hashtag, you will notice that 90% of the posts are single-image posts, and only a select few are carousel posts or IGTVs.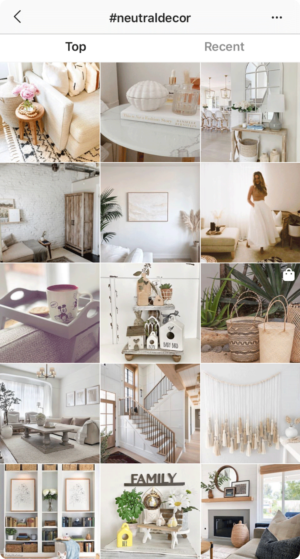 That doesn't mean you should avoid posting carousels or IGTVs, it's just that more often than not you won't receive a decent amount of hashtag reach for them. You'll still great engagement from your followers as carousels can be extremely valuable. Let me explain.
The below two posts both feature photos of my hallway. The first image is a single image post, 6k likes + 114 reach and 31k of that was from hashtag reach. From this post, I gained 417 new followers. The second post was a carousel post, it still received a similar amount of engagement & reach: 5k likes + 127k reach, however you'll notice you can't see any hashtag reach at all in my insights. From this post, I gained half as less new followers (234) as the single image post.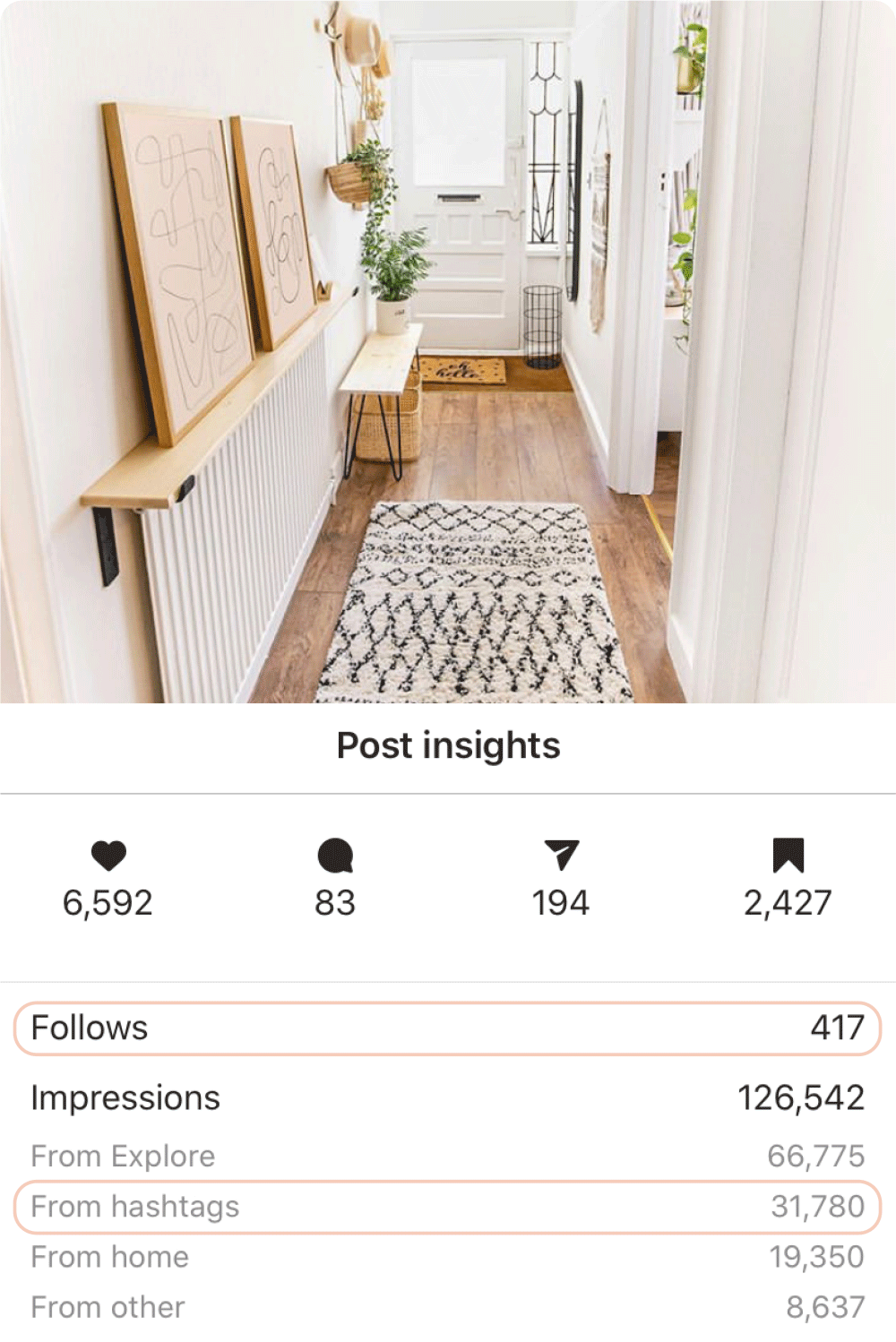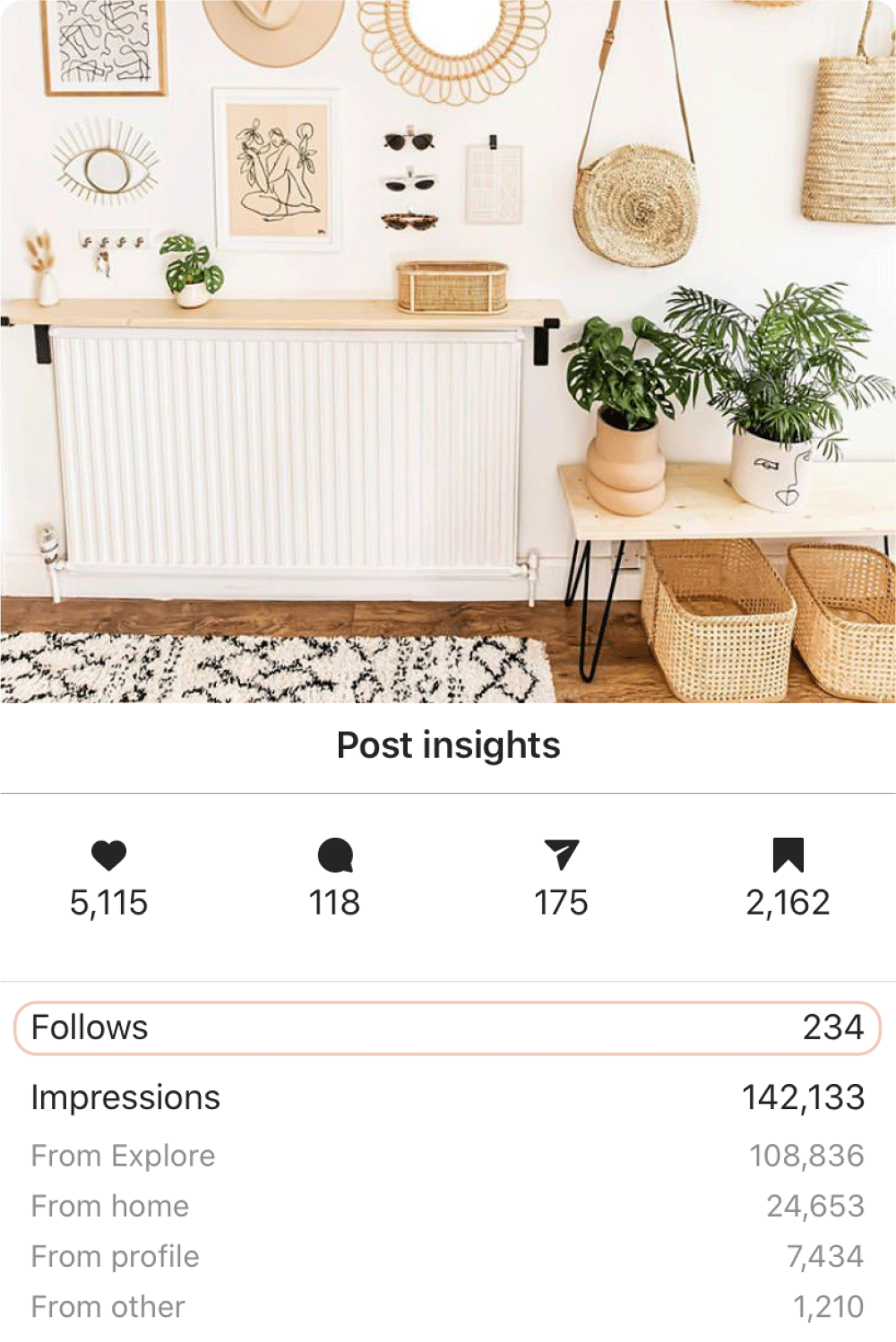 I'll be honest and say I have no idea why Instagram's algorithm only lets 10% of carousel posts/IGTV get high hashtag reach. However, since this discovery, I started only posting single-image posts and as a result, I've been consistently receiving thousands of hashtag impressions on all posts and growing followers as a result.
What about the extra photos then? Save them for your stories! Mention in your feed caption that you've shared some outtakes or outfit close-ups on your stories. This will give your followers a good incentive to watch your stories.
13. Do hashtags work on Reels or Guides?
Hashtags definitely work on Reels! However, until Instagram releases insights for Reels we don't have any way of knowing how much reach our Reels received from hashtags. In the meantime, keep using 30 hashtags on your Reels so that more people can find your videos. If you look at any hashtag page, you will see that a large section of the top page is taken up by Reels.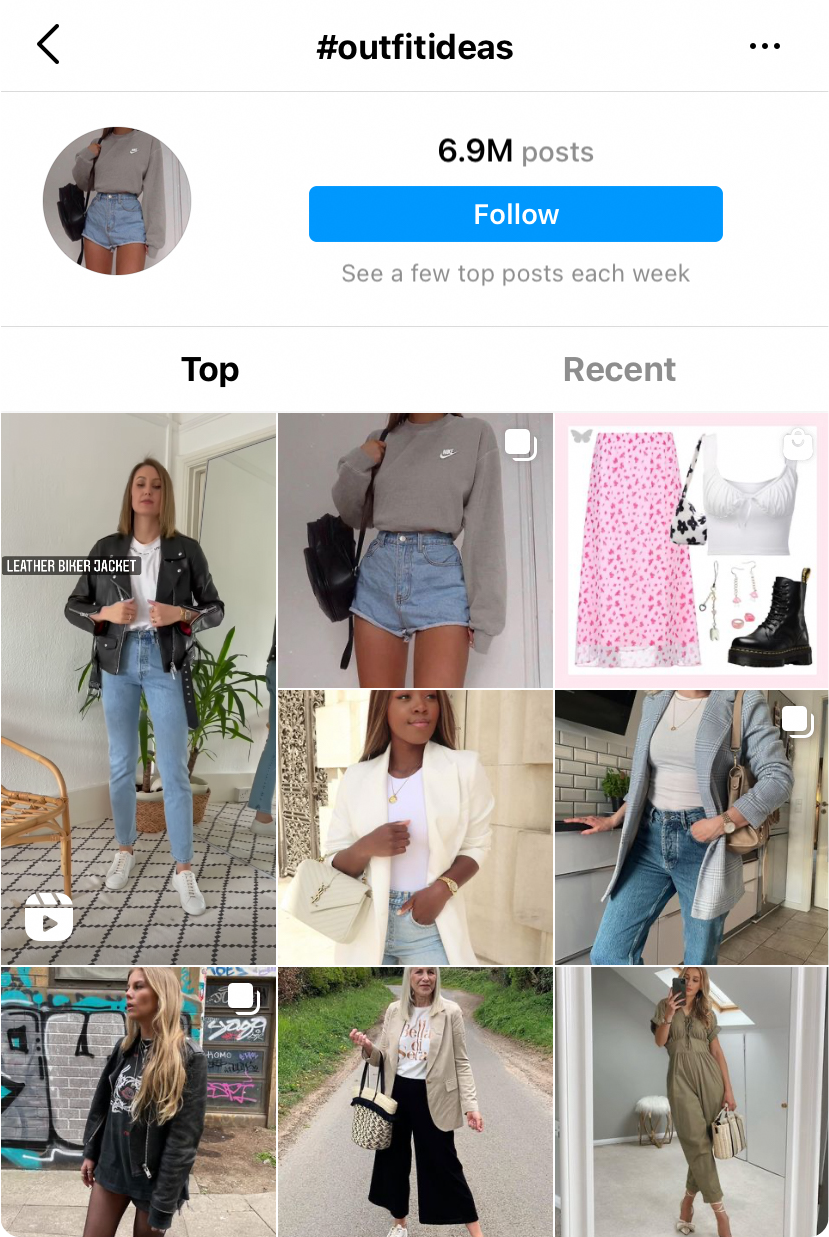 In regards to Guides, I've yet to see any Guides show in either the Top or Recent tab under a hashtag nor do we have insights available for Guides so all we can do is wait until Instagram rolls out insights for Guides as well.
14. What about banned hashtags?
Banned hashtags do exist. If you use a banned hashtag your posts will stop showing up in all hashtags and the explore page, which is what people often refer to as a "shadowban". Instagram has officially confirmed this (read here).

You may think that you're not using a banned hashtag, however, you'd be surprised at which hashtags are on Instagram's naughty list. #Beautyblogger and #Bodyconfidence are both unsuspecting hashtags however they are banned by Instagram.
How to check what hashtags are banned? The easiest and most official way is to check on the Instagram app itself. Simply look up a hashtag in the search bar and Instagram will tell you if that hashtag is banned or not, like below: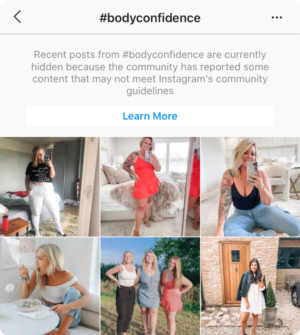 15. Do hashtags work on bikini / lingerie photos?
I love me a sassy bikini photo. To me, they ooze confidence. However, did you know that Instagram shadowbans bikini / lingerie photos? Yep, it's true. I've had it happen to me multiple times, and so have many fellow Creative Gal Gang members. I've even had photos where I'm wearing fully clothed in a maxi dress however I received minuscule hashtag reach all because I've got a bit of cleavage out.

read here "While some posts on Instagram may not go against our Community Guidelines, they might not be appropriate for our global community, and we'll limit those types of posts from being recommended on Explore and hashtag pages. For example, a sexually suggestive post will still appear in Feed if you follow the account that posts it, but this type of content may not appear for the broader community in Explore and hashtag pages."

Really Instagram? It's frustrating that even in 2020, women are being censored because of their bodies. However, I get why it's important to have the AI to be able to scan images for nudity and swiftly remove it from the app. It's just unfair that their robots can't tell the difference between a bomb-ass selfie and actual porn.

Here's an example. The below two photos of mine are very similar in aesthetic, pose and style. However one photo I've got my cleavage out, no shame in that of course. I used the same hashtag group on both photos however one post received 12,000 hashtags impressions whereas the cleavage shot only received 43!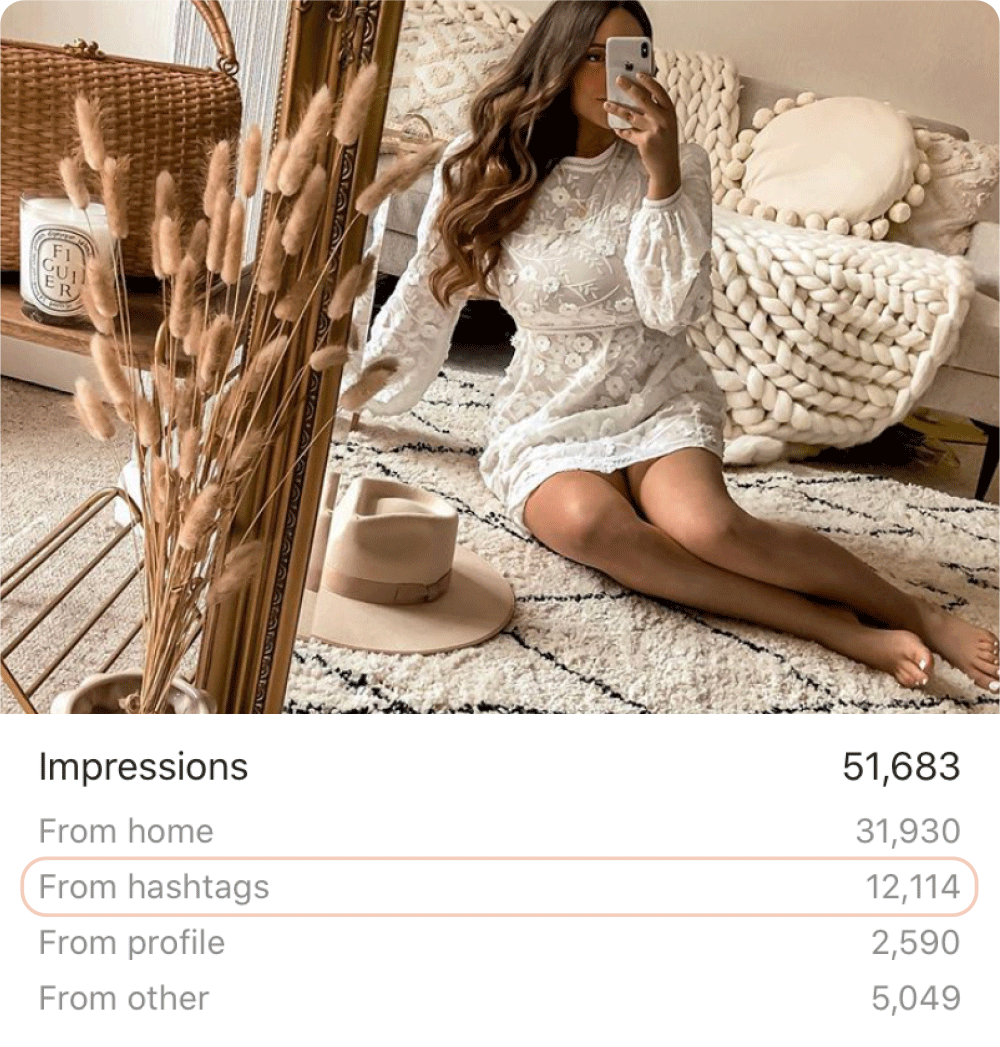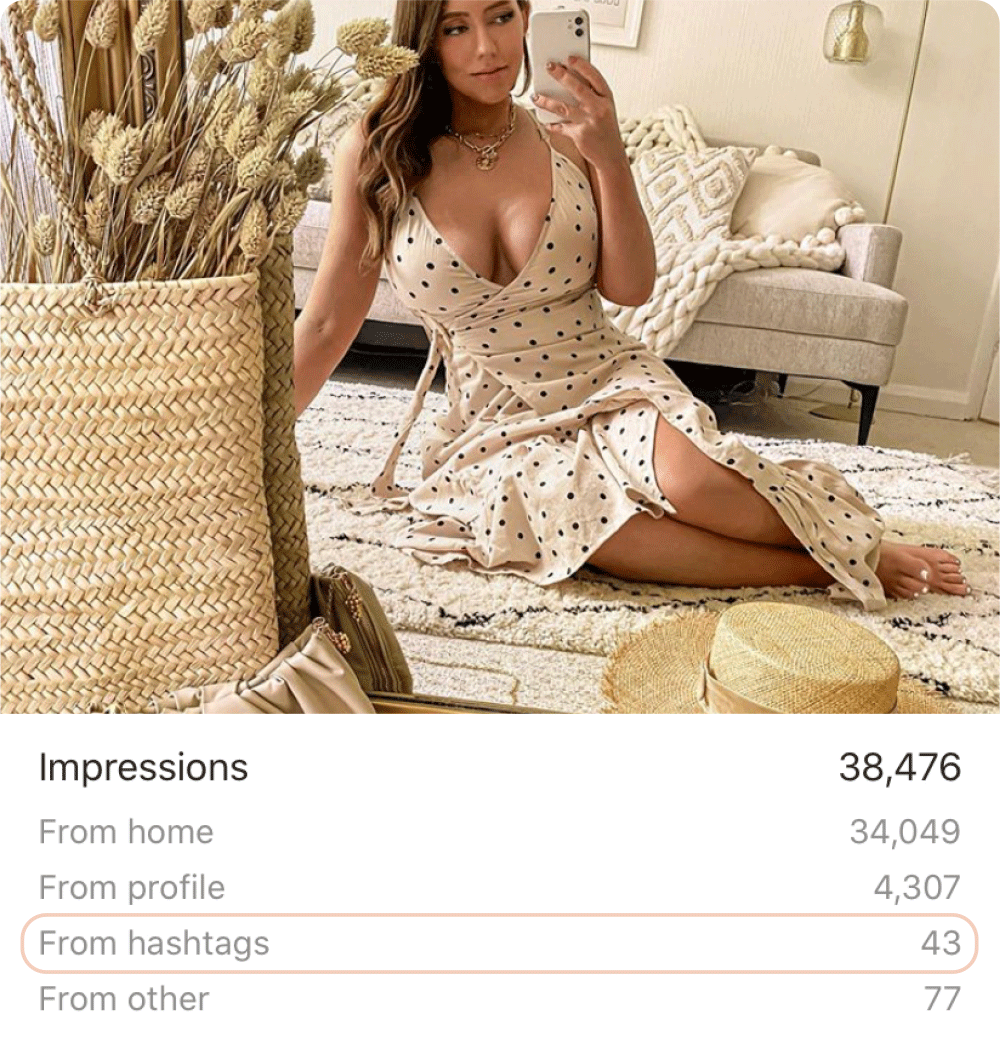 Final thoughts? Post the damn bikini photo! You're still likely to get a great amount of engagement from your followers who see the post anyway. Don't let Instagram's AI stop you from doing your thing.

I hope you learned something new about hashtags from my no bullshit guide. From implementing all the previously mentioned points in this blog post, I am now growing at a steady rate of new followers every month on @homewithkelsey with these Instagram hashtags strategy. If you want to take your Hashtag strategy to the next level, I highly recommend using Flick for all the reasons I mentioned in this article.

If you want help determining which hashtags will work best for your account, check out my Instagram coaching services HERE. I would love to help you achieve your Instagram goals!


Related:
Enjoyed this post? Read more Instagram & Blogging tips here.

Loved this post? Save these pins to your Pinterest