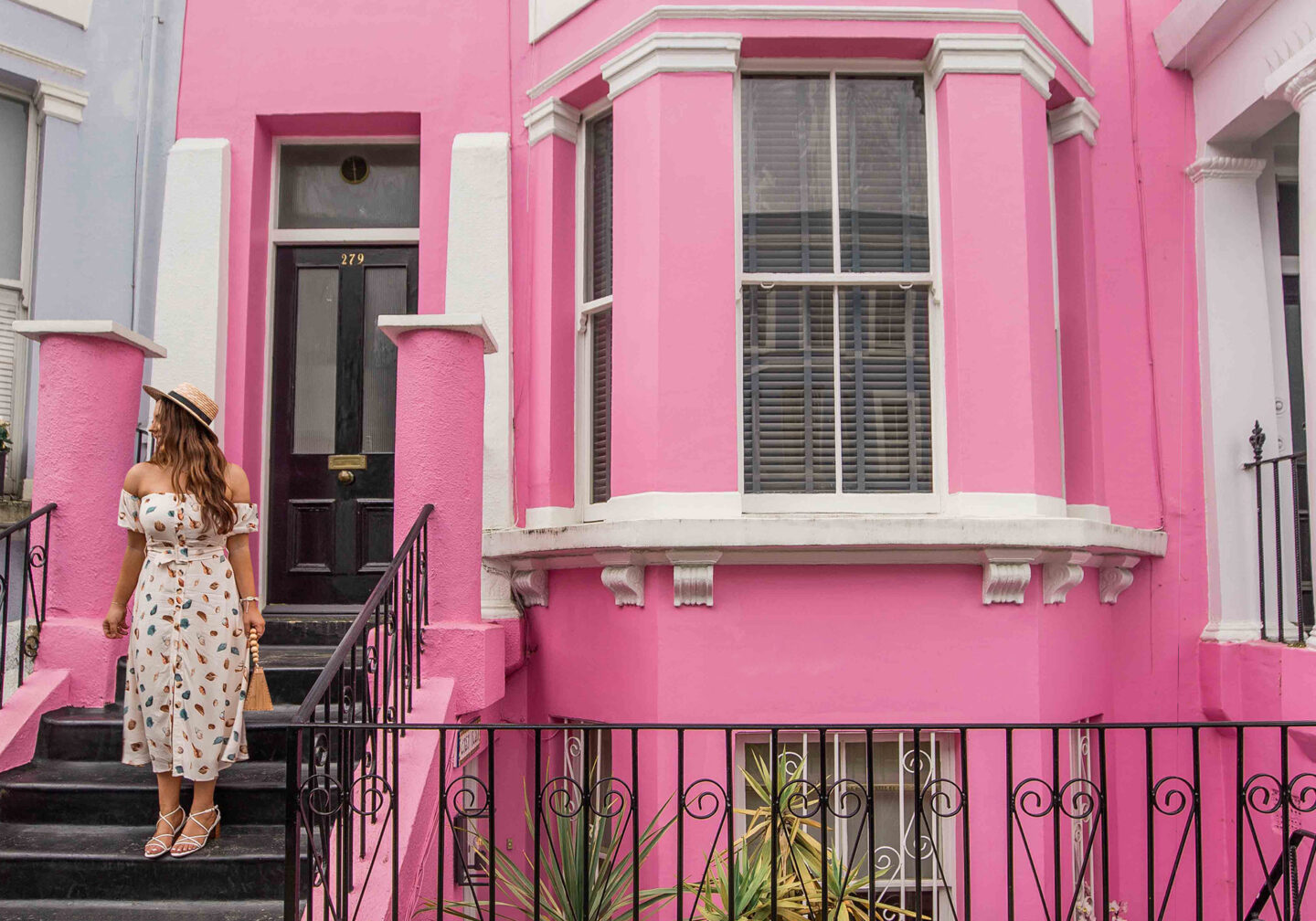 Notting Hill has always been my go-to area for finding locations which are undoubtedly perfect for the gram. From the iconic rainbow houses, cute cafes and the seasonal flowers of wisteria and cherry blossom – Notting Hill has some of the best London Instagram spots.
Last month I had the absolute pleasure of hosting an exclusive Notting Hill photo walk and workshop with Adobe. Ten lovely ladies joined me on a tour of three of my favourite West London locations. We hit the streets with our cameras and phones before reconvening with a cheeky glass of prosecco (it was the weekend after all!) as I taught everyone how to take their photos to the next level with some easy editing tips in Lightroom.
My top 3 London Instagram spots in Notting Hill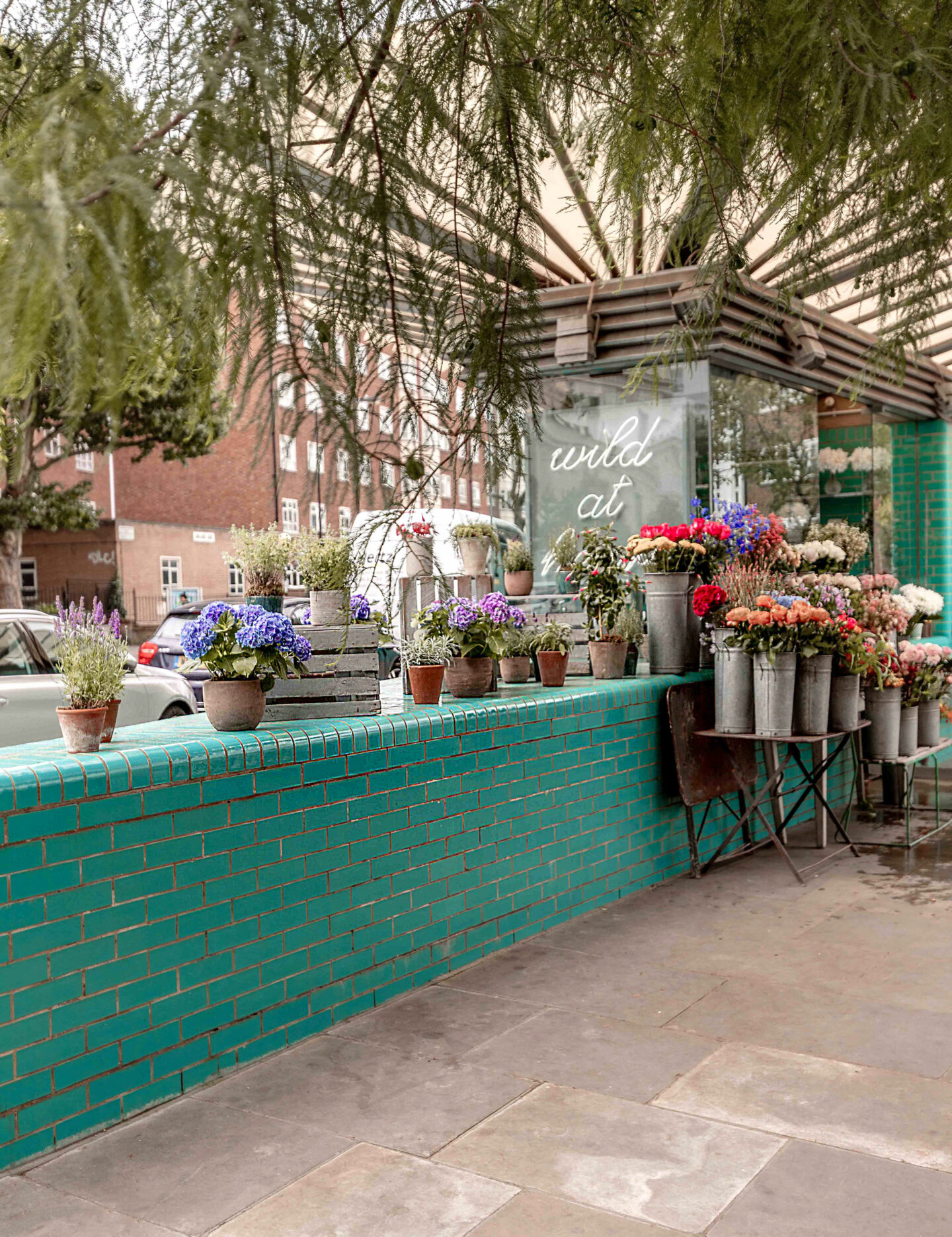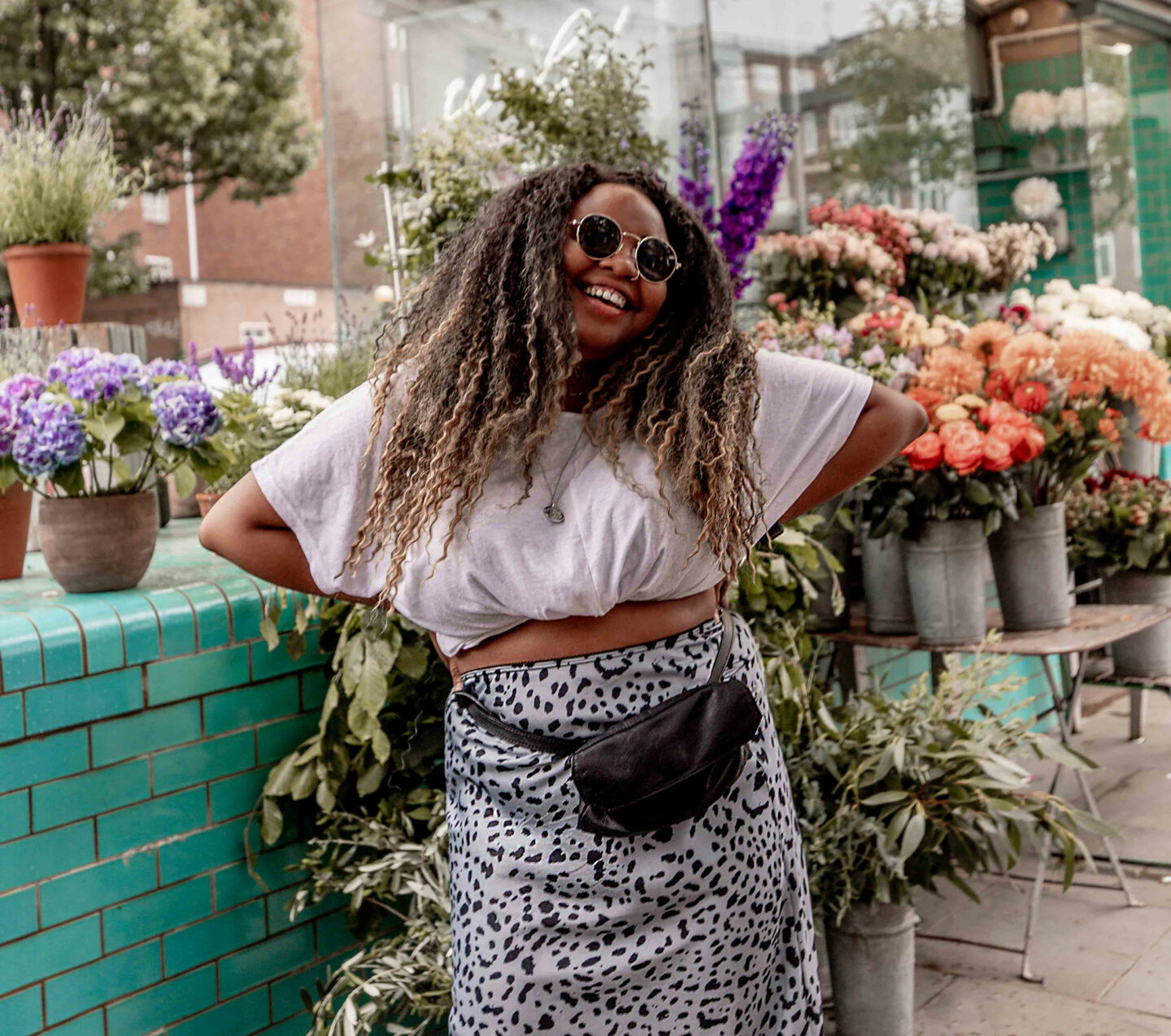 Above: Florence from @ajourneytoseven
Location 1 — Wild at Heart
222 Westbourne Grove
We began our stroll at Wild at Heart, a florist in the heart of Notting Hill, which you may have recognised from my Instagram before. This place is literally bursting with colour, the beautiful turquoise tiled wall makes for a picture-perfect backdrop. I love the quirky neon sign there and the rows of vibrant flower bouquets!
Above: Jane from @mygoldmine
Note: I used the Colour Mix tool in Lightroom to quickly change the colour from purple to pink, no mask needed!
Location 2 — Lancaster Road
specifically around 30 Lancaster Road
Next stop was at the famous Lancaster Road, this street is filled with rainbow-hued houses and is such an iconic Notting Hill shot. There are various different spots you can choose to take a photo on this street, depending on your desired look or mood. I find it's best to choose a coloured house which contrasts with your outfit. This makes the colours pop and provides a richer palette for your image, giving you more to play with when editing in Lightroom. Important: Please be mindful and considerate when taking photos outside residential properties and keep all noise to a minimum.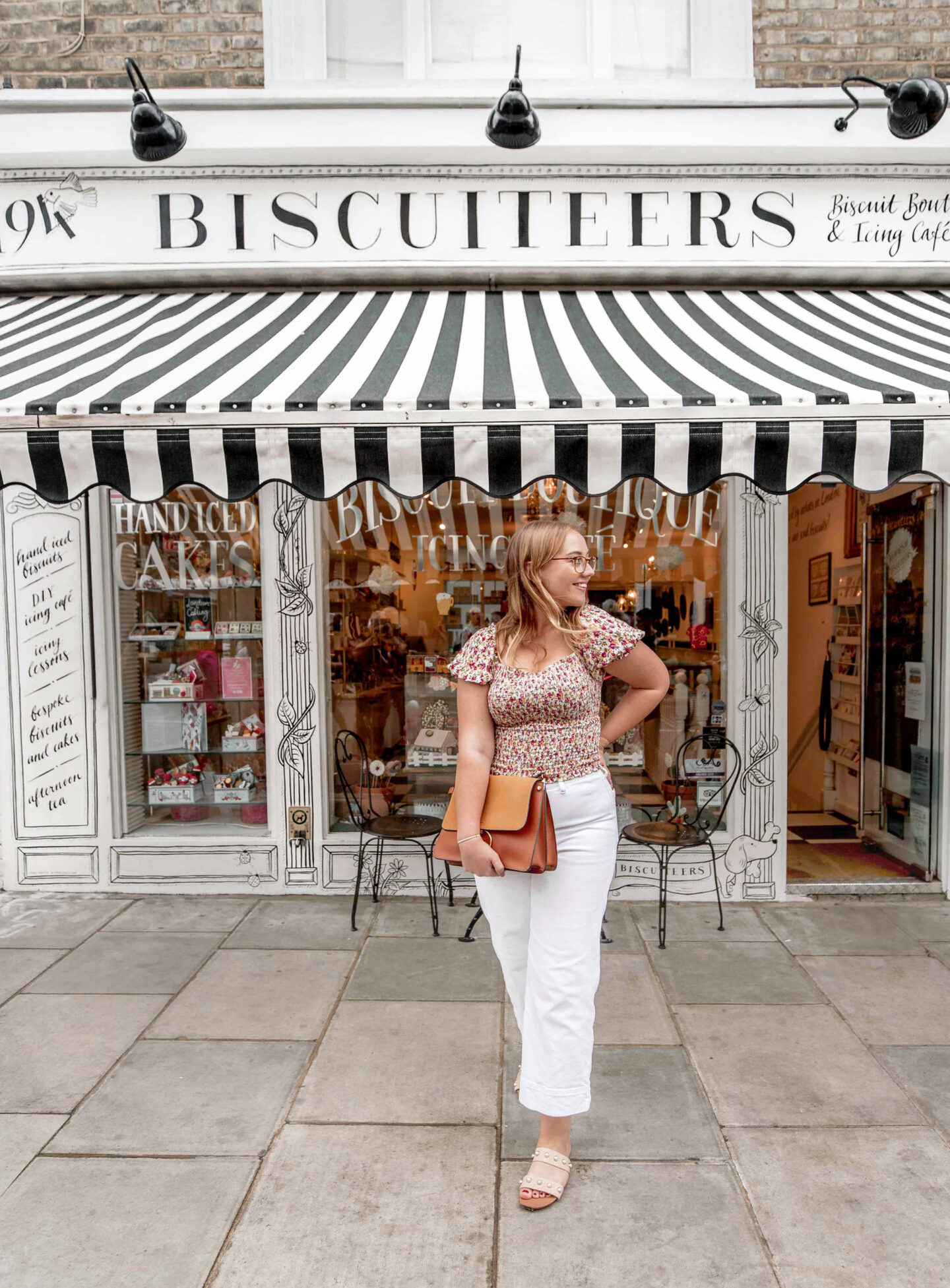 Above: Hayley from @travelinyourtwenties
Location 2 — Biscuiteers
194 Kensington Park Rd
Lastly, we finished up at Biscuiteers, a luxury biscuit boutique (yep, it's a thing). The storefront looks something straight out of a fairy tale book which is what initially caught my eye. For a change of scenery, the monotone colour scheme provided a good contrast to all the colour we'd seen previously in Notting Hill. When taking café shots, I live by the rule that 'more is more.' Order a coffee AND a cake – treat yourself! Don't know what to do with your hands? Easy, just use these as props in your photo. This results in a more candid and natural-looking pose.
We got so many amazing shots along the way, so then it was time to head back, review and work a little magic in Lightroom. I walked through how I edit my photos, how to make a Lightroom preset (don't forget to download my FREE preset here) and how to use the healing brush tool to remove any unwanted objects from photos (ciggies and chewing gum be gone!).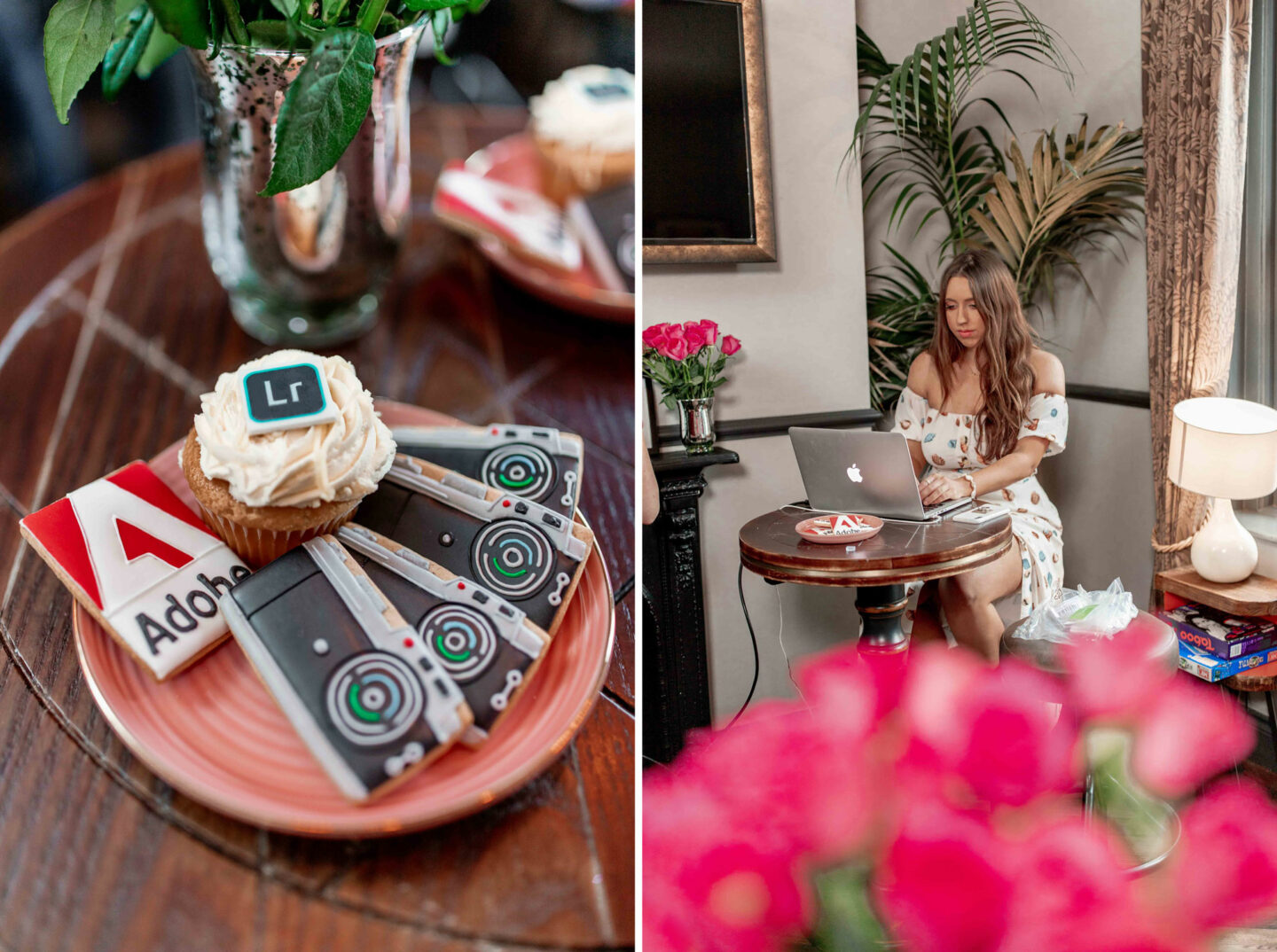 It was so inspiring to connect with all the creative ladies who attended. And as someone who spends a lot of her time online and behind a screen, I am truly grateful for the opportunity to meet you guys IRL. I know a lot of you wish you could have joined me in London, which is why I'm excited to announce that I will be hosting a Livestream on the Adobe UK YouTube channel at 7-8pm on Tuesday 27th of August.
I'll be doing a live demo and sharing more hacks for using Lightroom. I'll also be talking about my Instagram journey to date – how I got started and how I turned my passion into a career. Click here, to sign up now for the Livestream so you don't miss it! You'll be able to send in questions during the stream, but feel free to send me a DM on my Instagram and let me know if there is anything Lightroom/Instagram/photography-related you want me to cover during my Livestream.