The city famous for its tanneries, food and bustling souks – Fez is definitely a must-visit on your next adventure to Morocco. Although our visit was short we were able to fit in so much of this vibrant city while also scheduling in some much needed R&R. Here's my 48-hour guide on the top things to do in Fez Morocco.
Top things to do in Fez, Morocco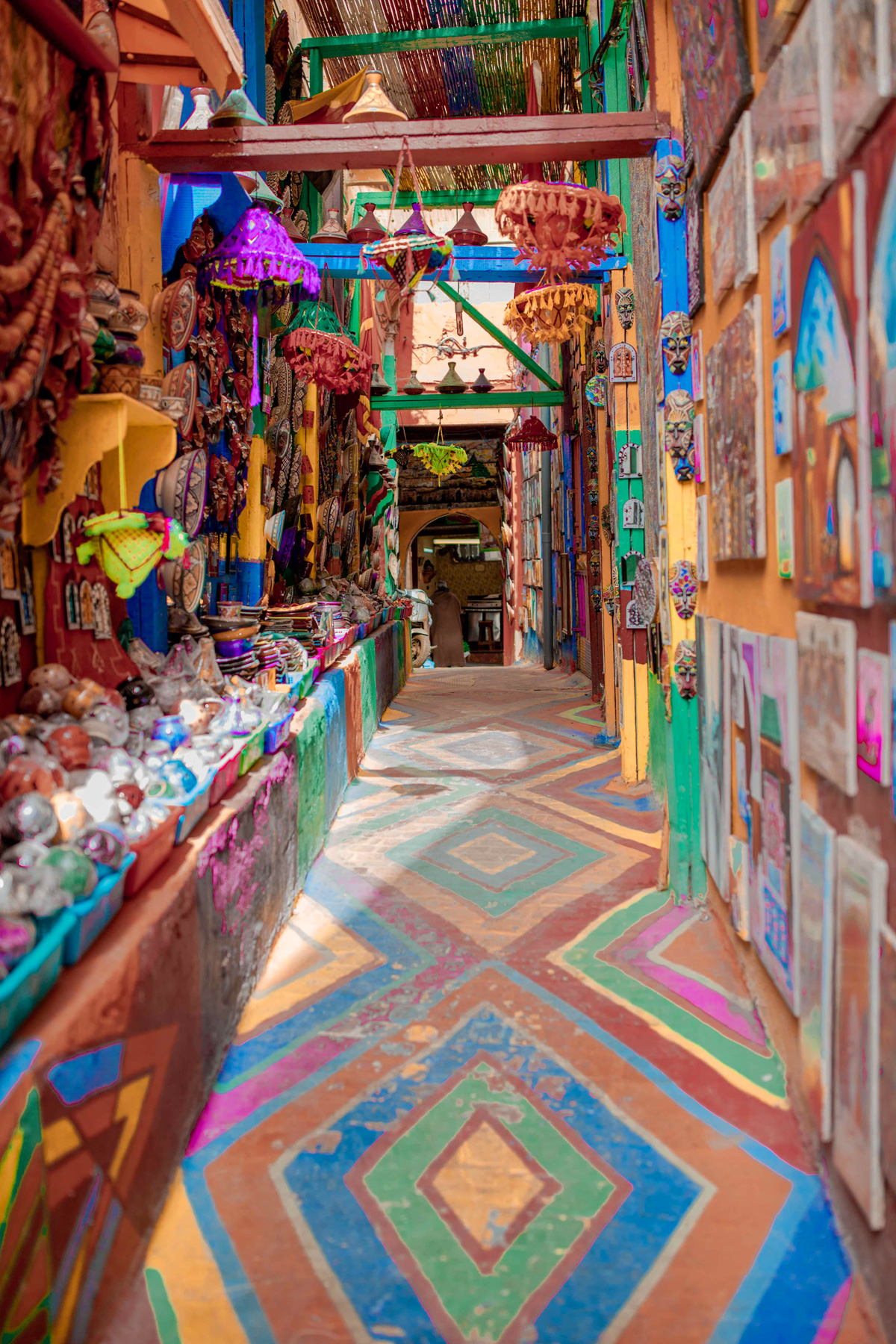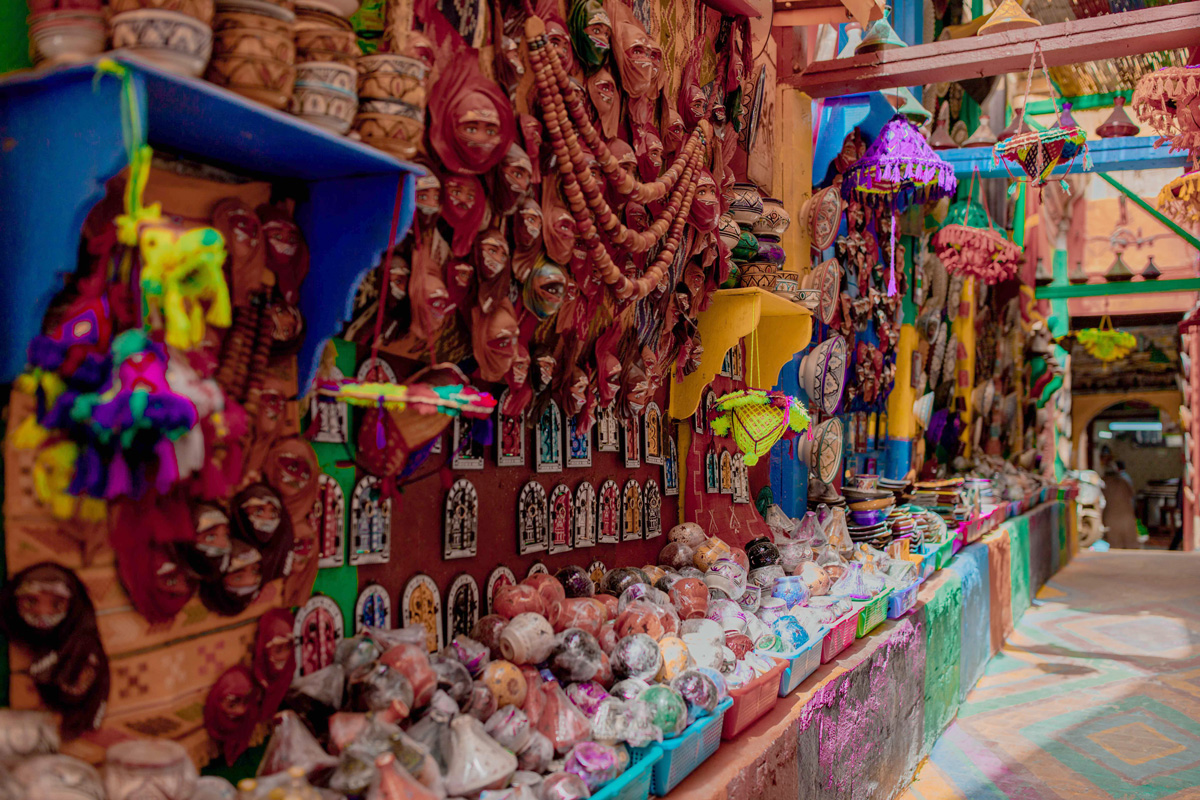 Walk down a rainbow street
Rainbow Street Art – Rue Talaa Sghira, Fès, Morocco
This tiny alleyway is a colourful explosion tucked away in the maze of the Fez Medina. Here you will find vibrant mosaics, paintings, rugs and rainbow creations. It's not hard to find either, just punch in 'Rainbow Street Art' in Google Maps.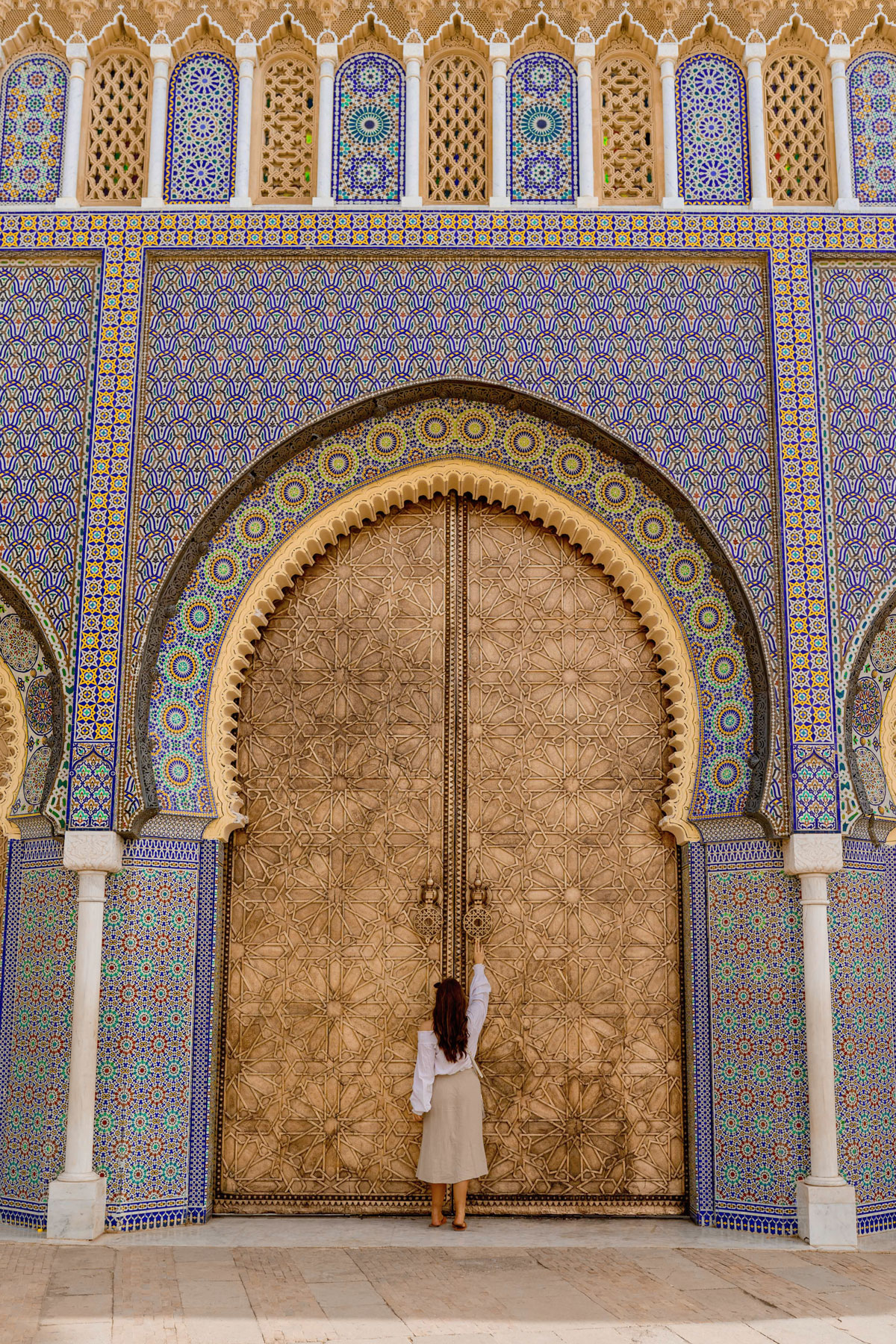 Knock on the palace doors
Dar El Makhzen – Fès, Morocco
You might not be able to enter the Royal Palace of Fez, but you can at least try. The palace is located on the west side of the city and features the most intricately beautiful golden front doors. Try the classic knocking pose, it may be a little contrived but if you can't get in, at least take a snap and pretend you did.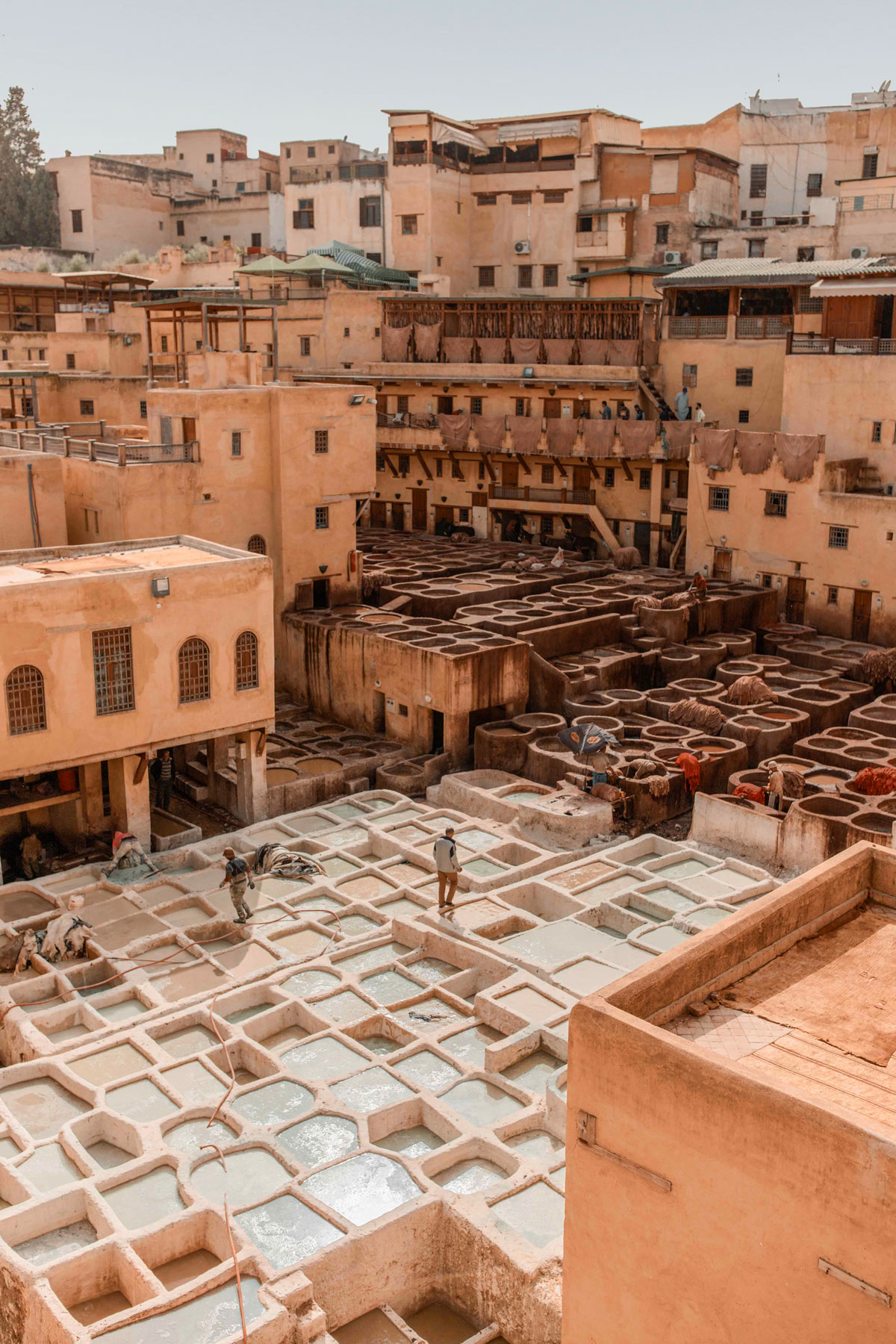 Visit the tanneries and brave the smell
Chouara Tannery – Hay Lablida, Rue chouara, Fès 30030, Morocco
The Chouara tanneries are a bit difficult to get to but if you're an independent woman like me and Destiny's Child, then you only need Google Maps to get there. Head to this shop which you can enter to get a good view of the tanneries. Once inside, you'll be offered a bunch of mint leaves. Don't ask any questions, just grab them and say thank you (shukran in Arabic). Then when you reach the rooftop you'll finally realise what the mint is for – the tanneries stink of absolute shit.
To be honest I really don't understand the appeal of this tourist spot other than to tick something off your bucket list and boy am I a fan of bucket list ticking. When you're ready to leave, you'll be asked by someone to exit through the gift shop a la Banksy. Just a heads up: if you don't buy anything in one of the shops, when you try to leave through the final door you will be asked to pay a fee. I suggest a tip of 10 dirham will do for a view that's accompanied by a smell of Satan's crotch.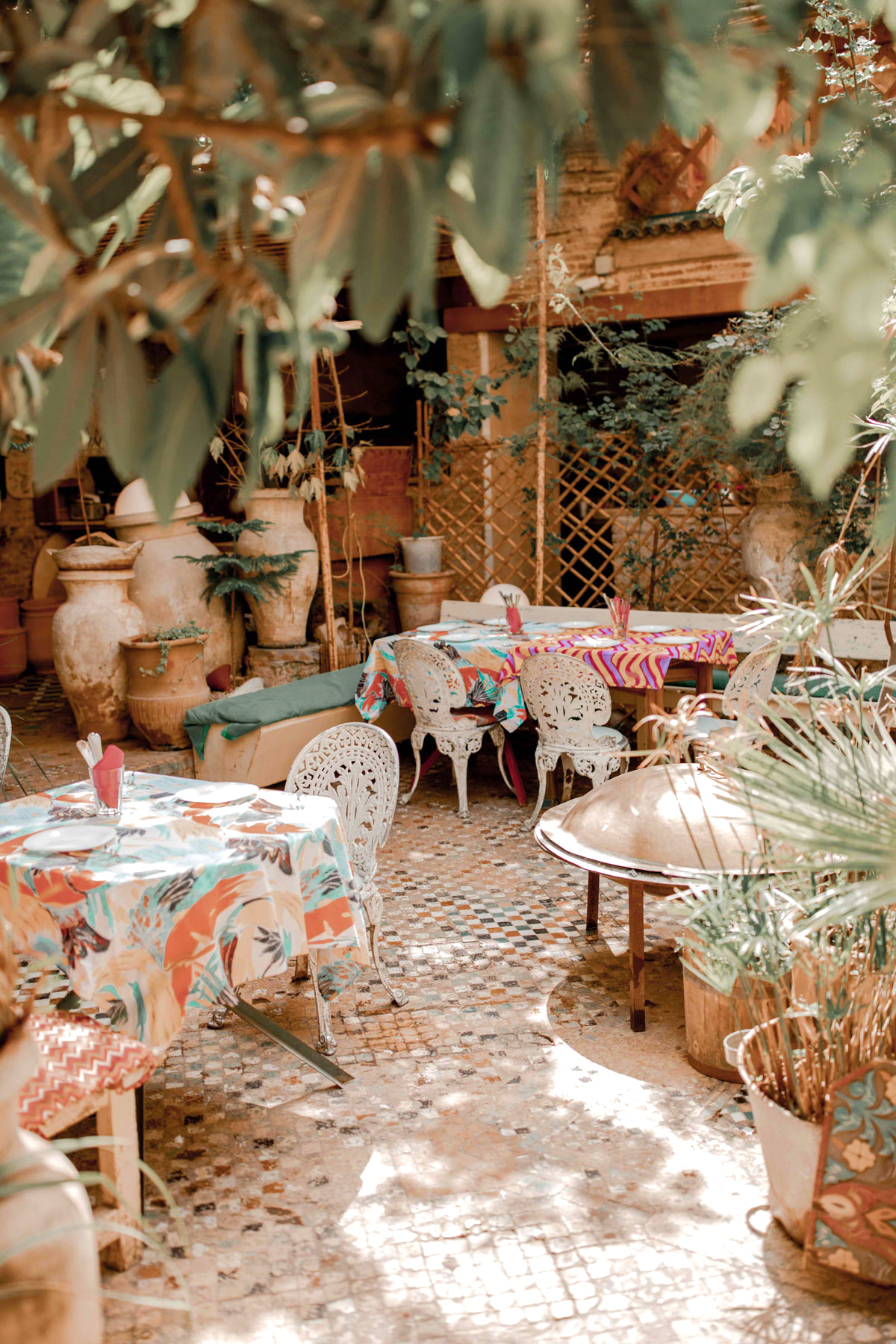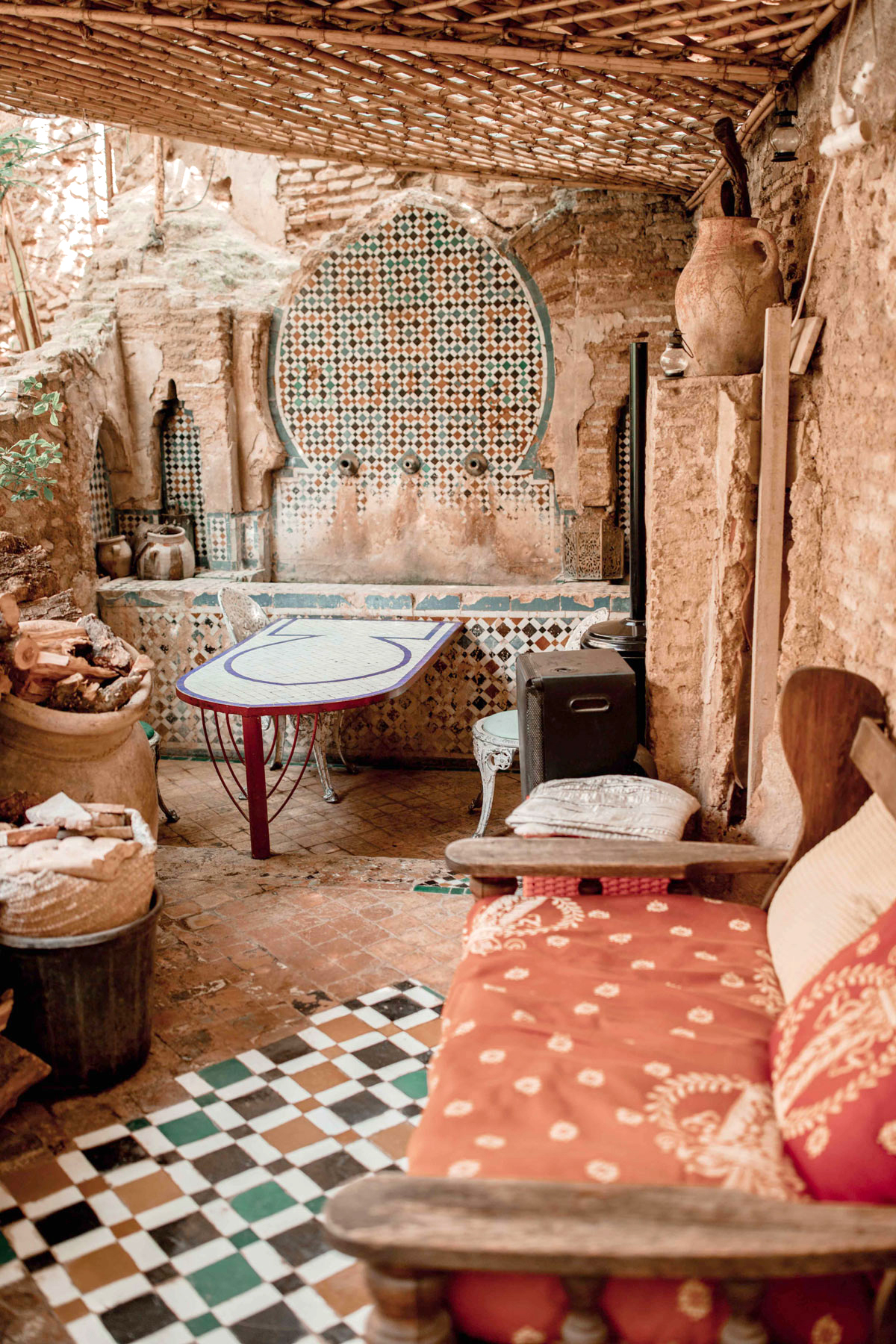 Eat in a secret garden
The Ruined Garden – 15 Derb Idrissy Sidi Ahmed Chaoui Medina 30110، Fes
Located in the alleyways of the Fez Medina, you'll find The Ruined Garden: a beautiful green oasis serving seriously cheap Moroccan food.  You may even spot their local resident: a tortoise by the name of Grandpa who is apparently "the fastest tortoise in all of Morocco". Ain't he cute? Sit amongst the foliage and sip on some homemade lemonade to cool down. Hint: they open daily at 1 pm however some cheeky local kids will tell you it doesn't open til 2 or 3 pm in a bid to get you to come to another restaurant. Ignore them, the sign outside clearly says 1 pm.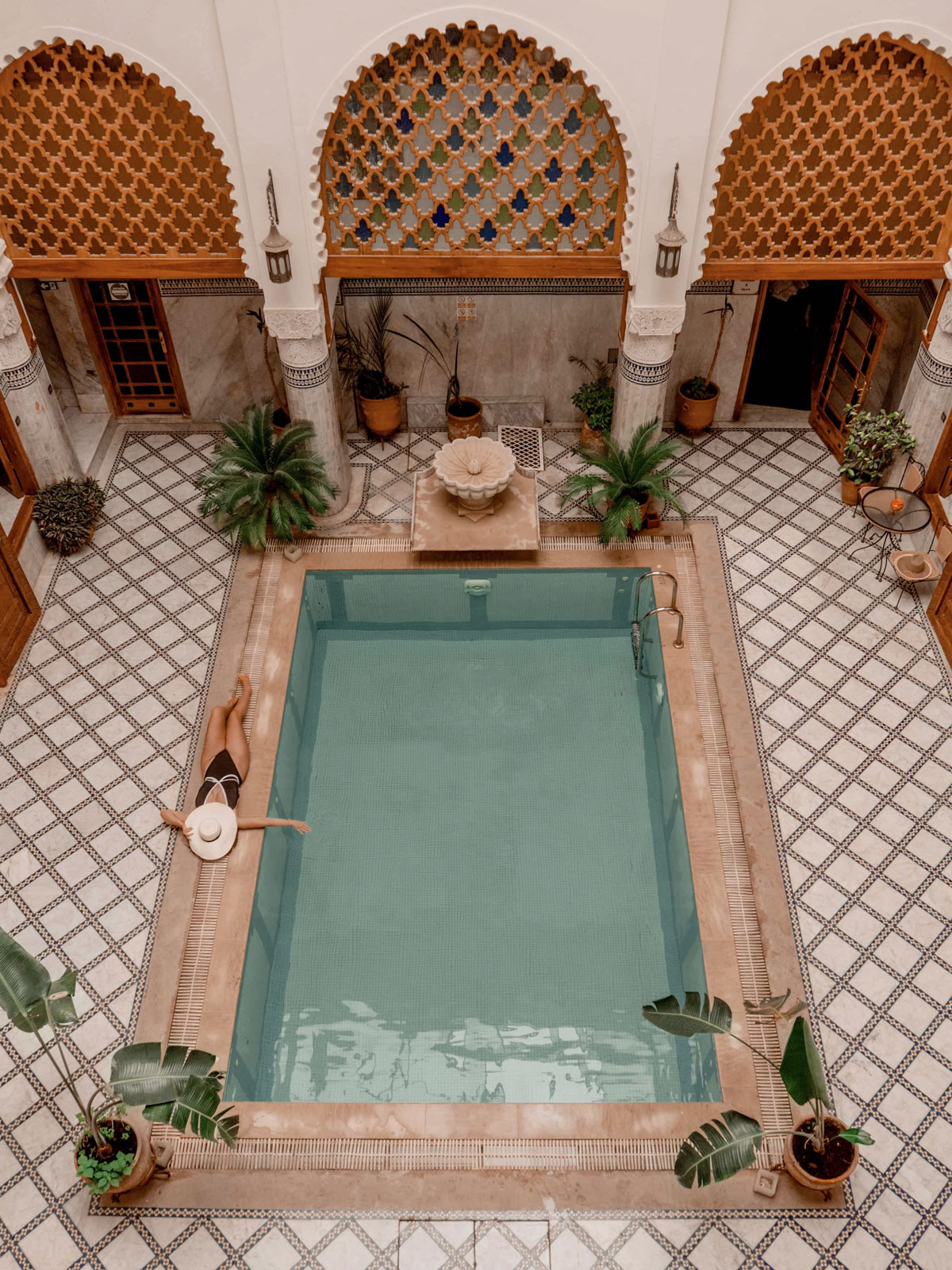 Relax at your riad
Fez boasts some of the most beautiful Riads and it would be a crime to only sleep in them. Most Riads have either a beautiful rooftop or tranquil courtyard pool – or if you're lucky: a rooftop pool. Dedicate some time out of your trip to relax by the pool or sunbathe. Hint: Riads are one of the few places in Morocco that serve alcohol too.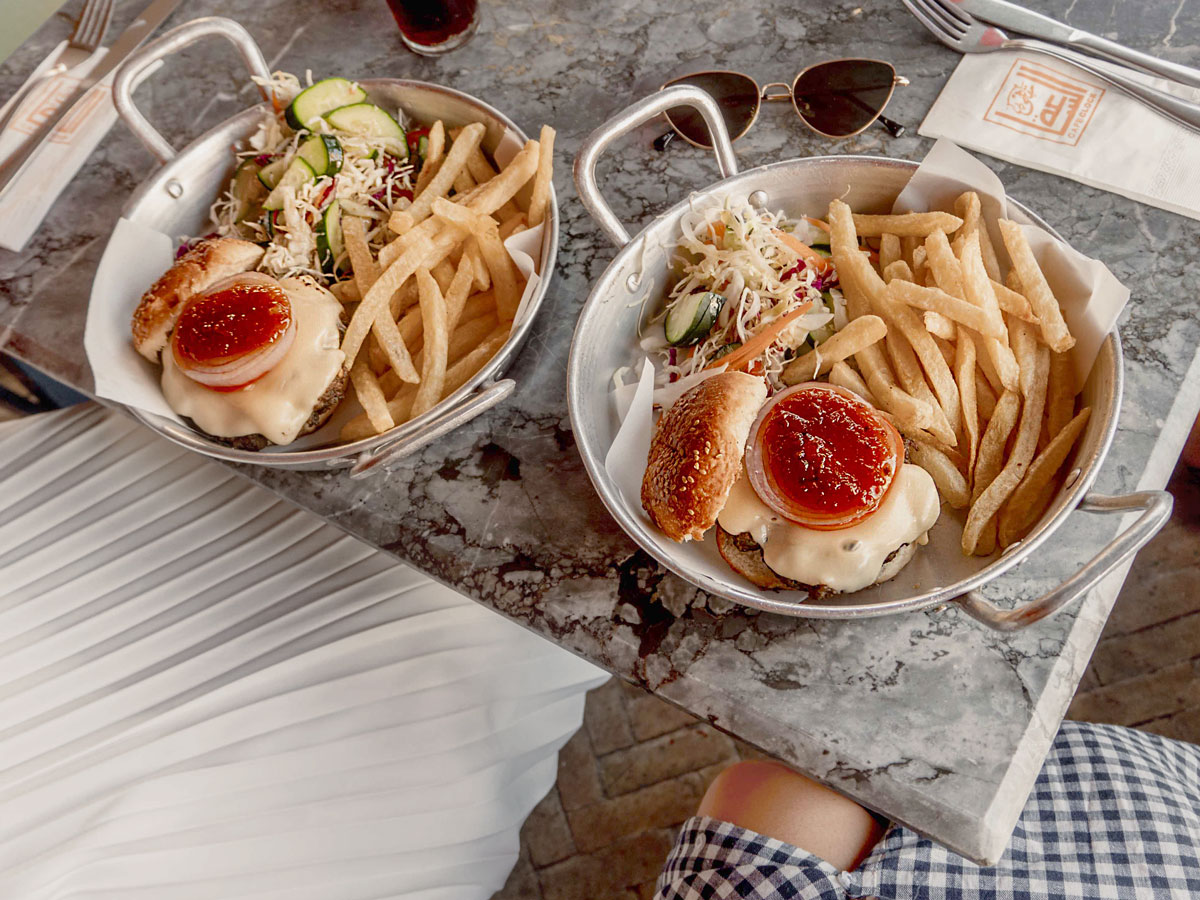 Eat a camel burger (or don't)
Café Clock – 7 Derb el Magana, Fes
You wouldn't stumble across Café Clock on a stroll through the media, it's tucked in a wee alleyway just a 5-minute walk from Fez' Blue Gate. It has an amazing rooftop terrace with lots of levels where you can bask in the sun and tuck into some bloody good food. Their most famous menu item? Their camel burger, which was bloody delish!
Try a traditional Hamman
Having near-boiling hot water thrown at you and being scrubbed to the inch of your life might sound like war torture but in Morocco, it's called Hamman. It's traditional spa treatment that will leave you feeling oh so zen and a trip to Morocco wouldn't be complete without treating yourself to this customary experience.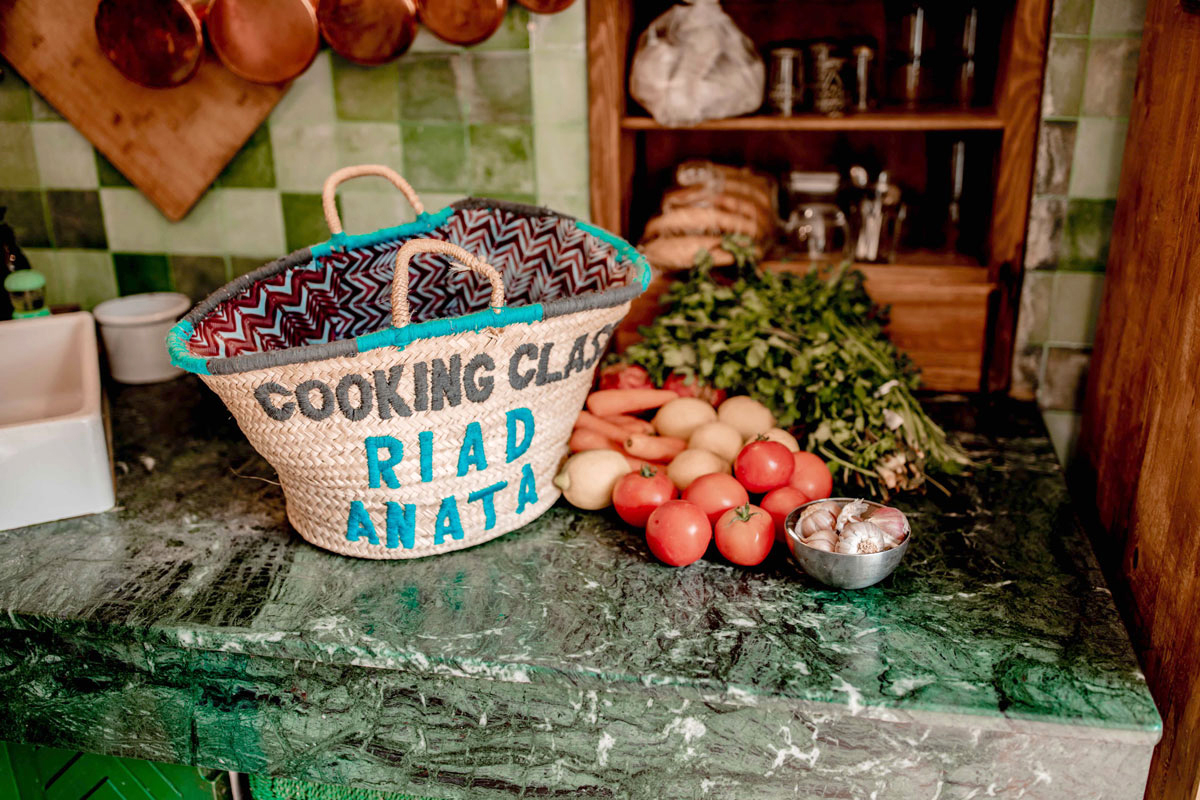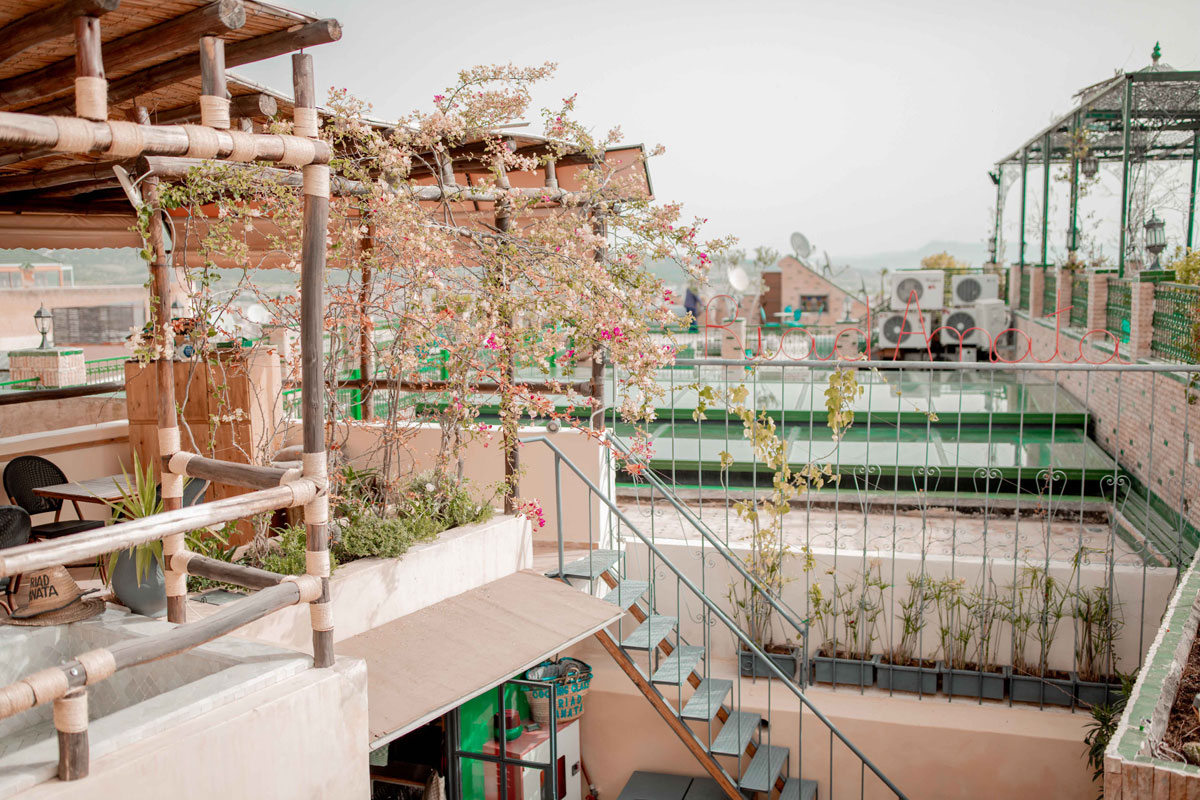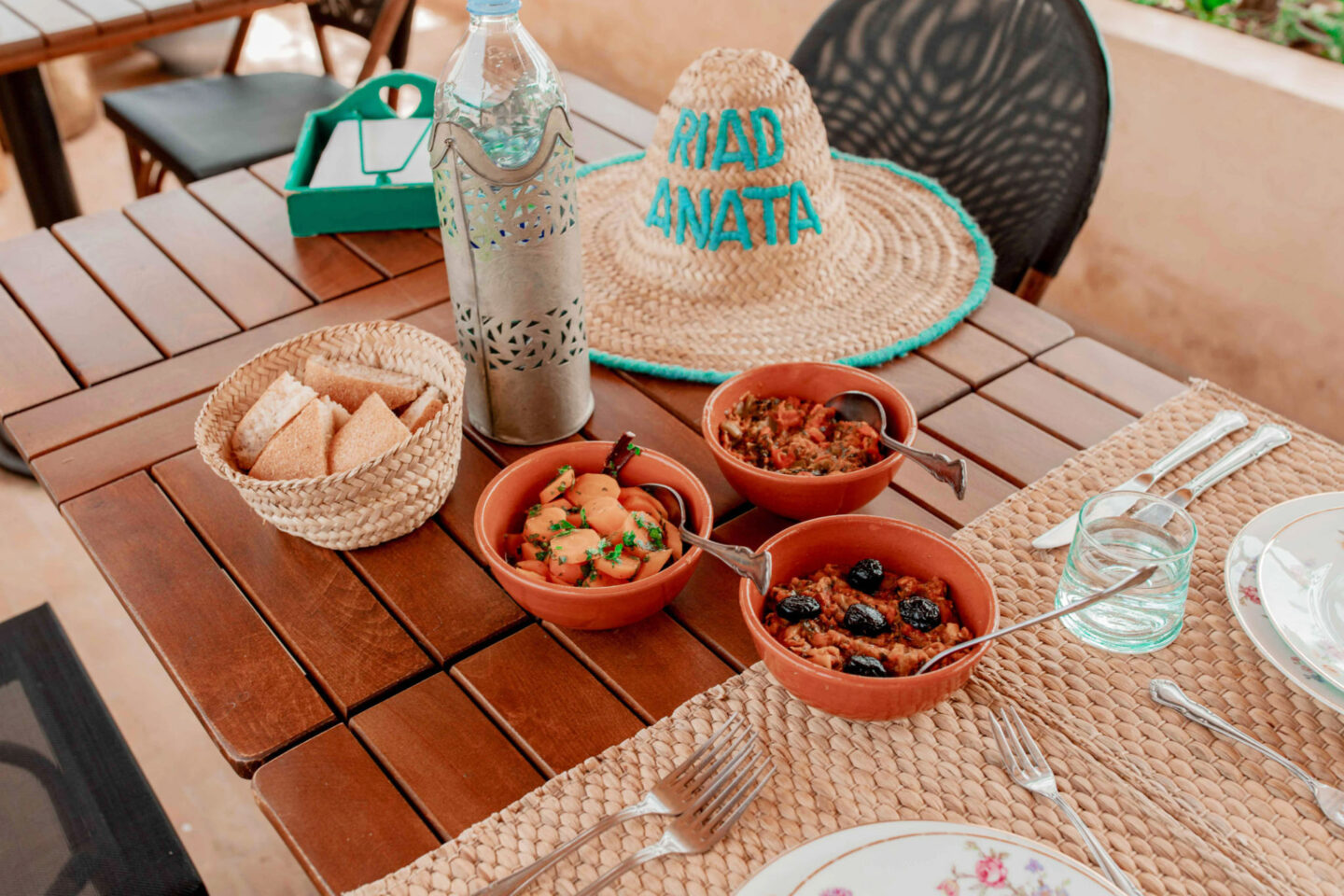 Learn how to cook Morocco cuisine
Fez is the culinary capital of Morocco and after eating your way through many a tagine, you'll be dying to learn how to cook the national dish yourself. In the heart of the city, you can learn how to cook a delicious 3-course lunch at Riad Anata. The class is run by Samira who is so passionate about her family cooking traditions. She'll escort you to the local markets where she'll teach you how to haggle and pick the freshest produce.
The markets in Morocco can be overwhelming for even the most seasoned traveller, so having Samira as our guide was invaluable and we picked up some useful tips which were incredibly helpful for the rest of our trip. Our time in the kitchen was a bundle of laughs and we learned so many new skills and techniques. I couldn't have had more of a perfect experience and can confidently say I ate the best tagine of my entire Morocco trip (not biased at all, even if I did help to make it!) at Riad Anata.

Related:
Looking for more things to do in Marrakech? Read my guide to Marrakech here.
Enjoyed this guide? Pin it for later below! Follow me on Pinterest.