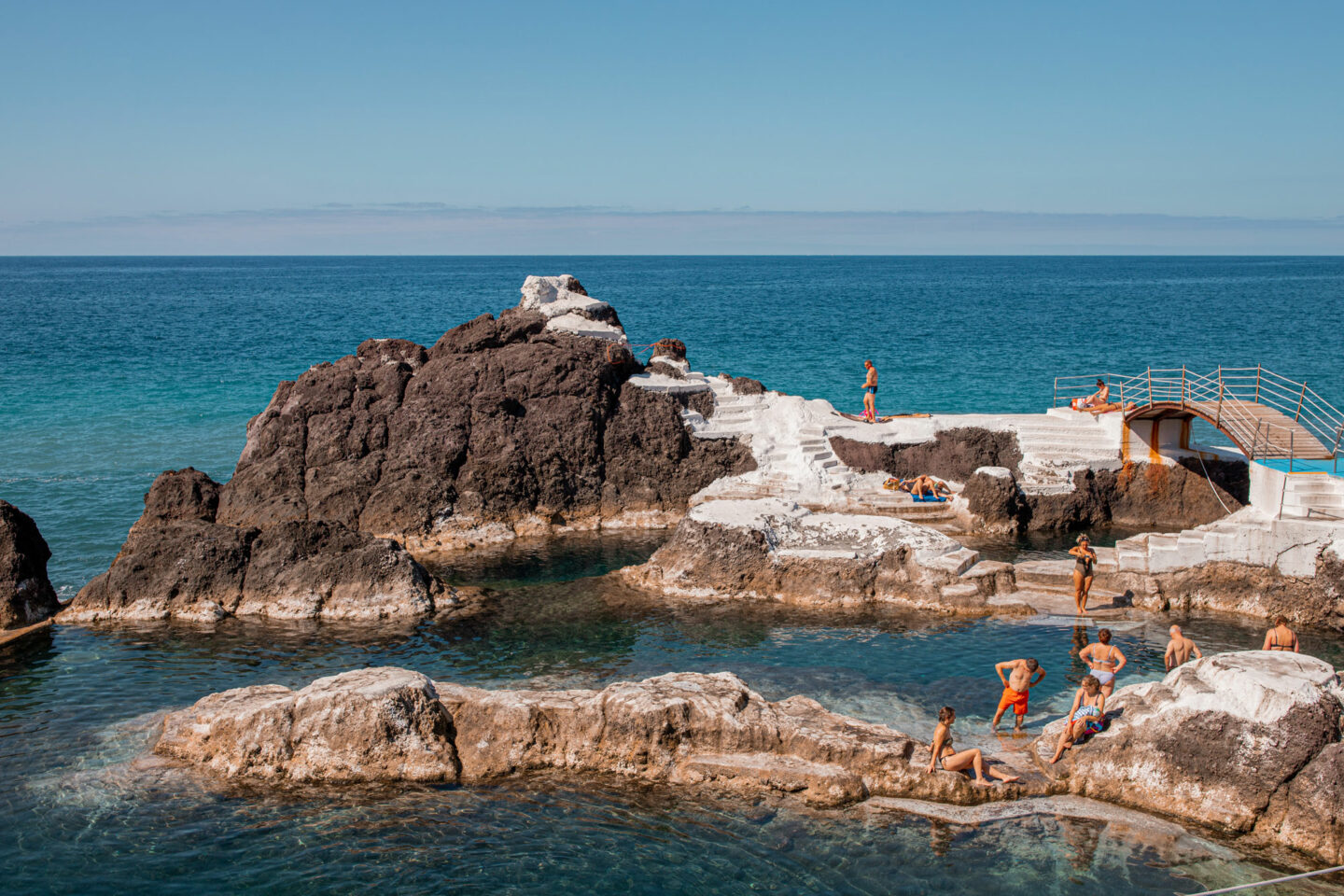 Madeira – the almost untapped islands are a tropical destination offering adventurous nature trecks, blissed out sunbathing and a side of Portuguese culture that's unique from that of the mainland. We hiked up mountains (to chase waterfalls, yes literally), we indulged in local delicacies, eating at remarkable restaurants, and mostly we chilled out in the sun, forever surrounded by panoramic views, lush nature and endless stretches of the Atlantic Ocean.
This visit was part of a gifted press trip with Visit Madeira, however all opinions are my own. Read on to see what we got up to during our stay in Funchal, Madeira.
Top 10 things to do in Madeira.
Activities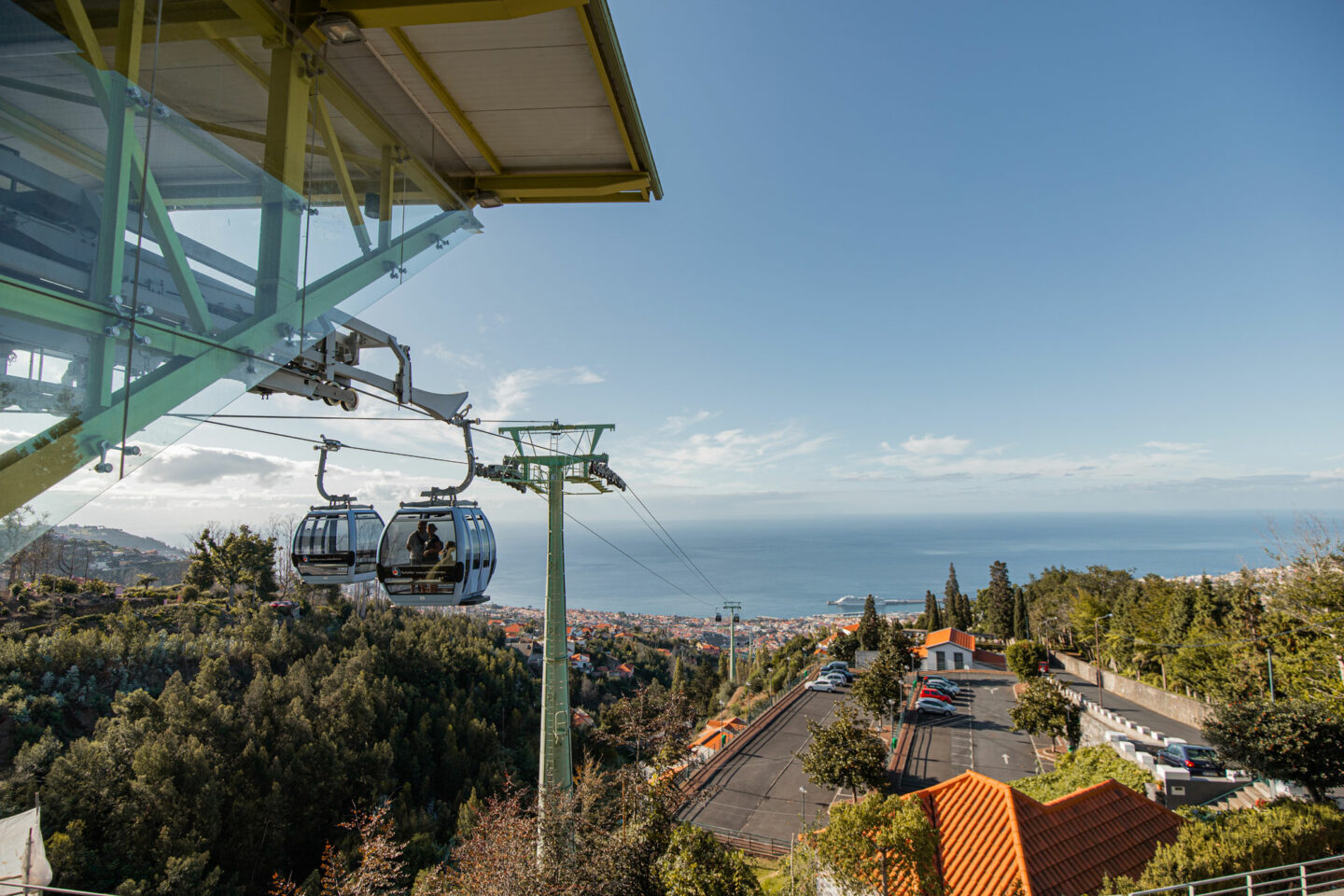 1. Ride on the Cable Car

The most efficient/novelty way to ascend up the very steep Funchal slopes is to catch the Madeira Cable Car. The destination? We hitched a ride up to the Monte Palace Tropical Gardens and you can conveniently buy a combo ticket to both attractions for 31,40€. Along your journey in the glass cars, you'll be treated to sky-high views of Funchal, surrounded by the Atlantic blues. The journey itself only lasts 15 minutes but is definitely not one to miss. No need to book tickets in advance, you can simply purchase a ride at the station.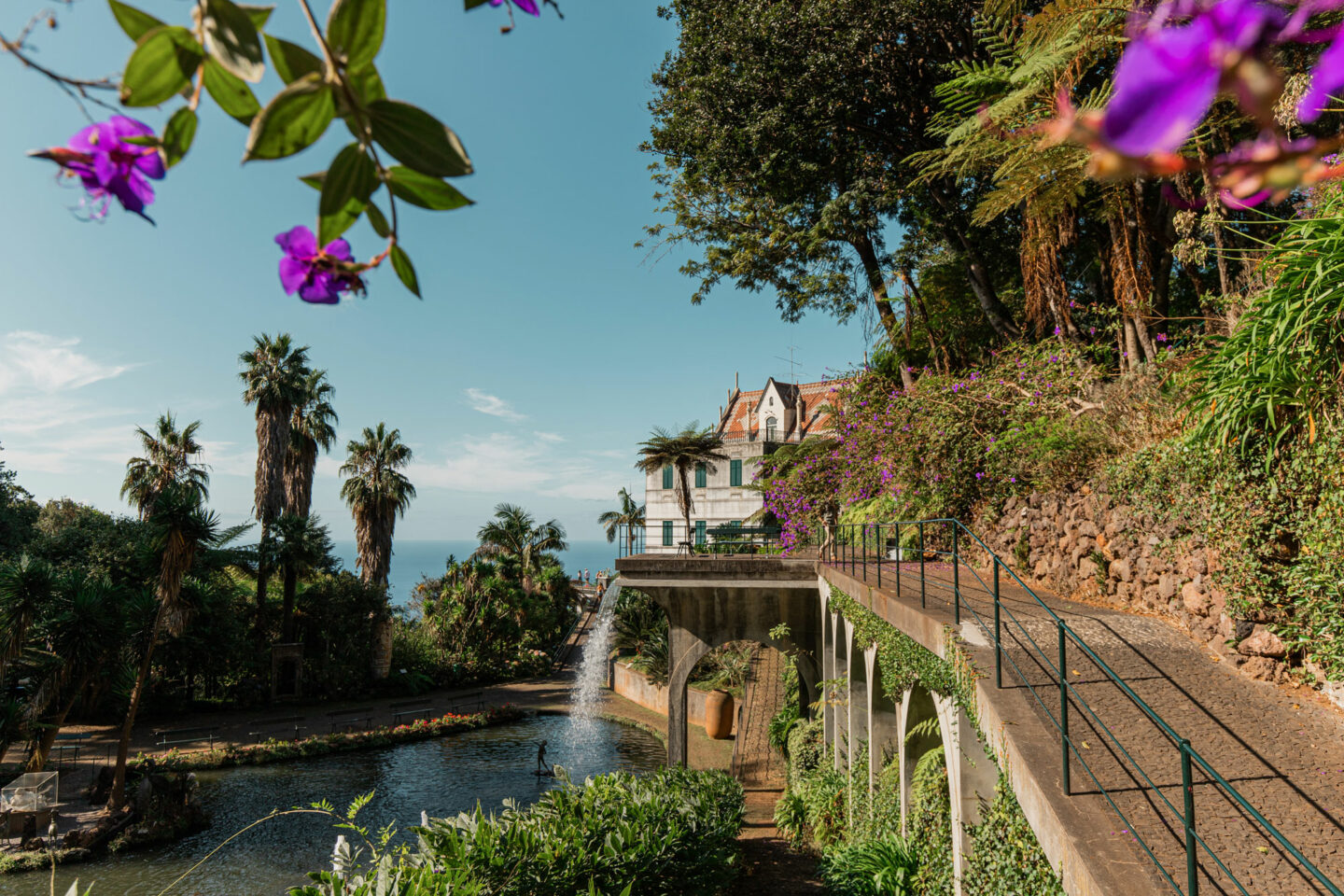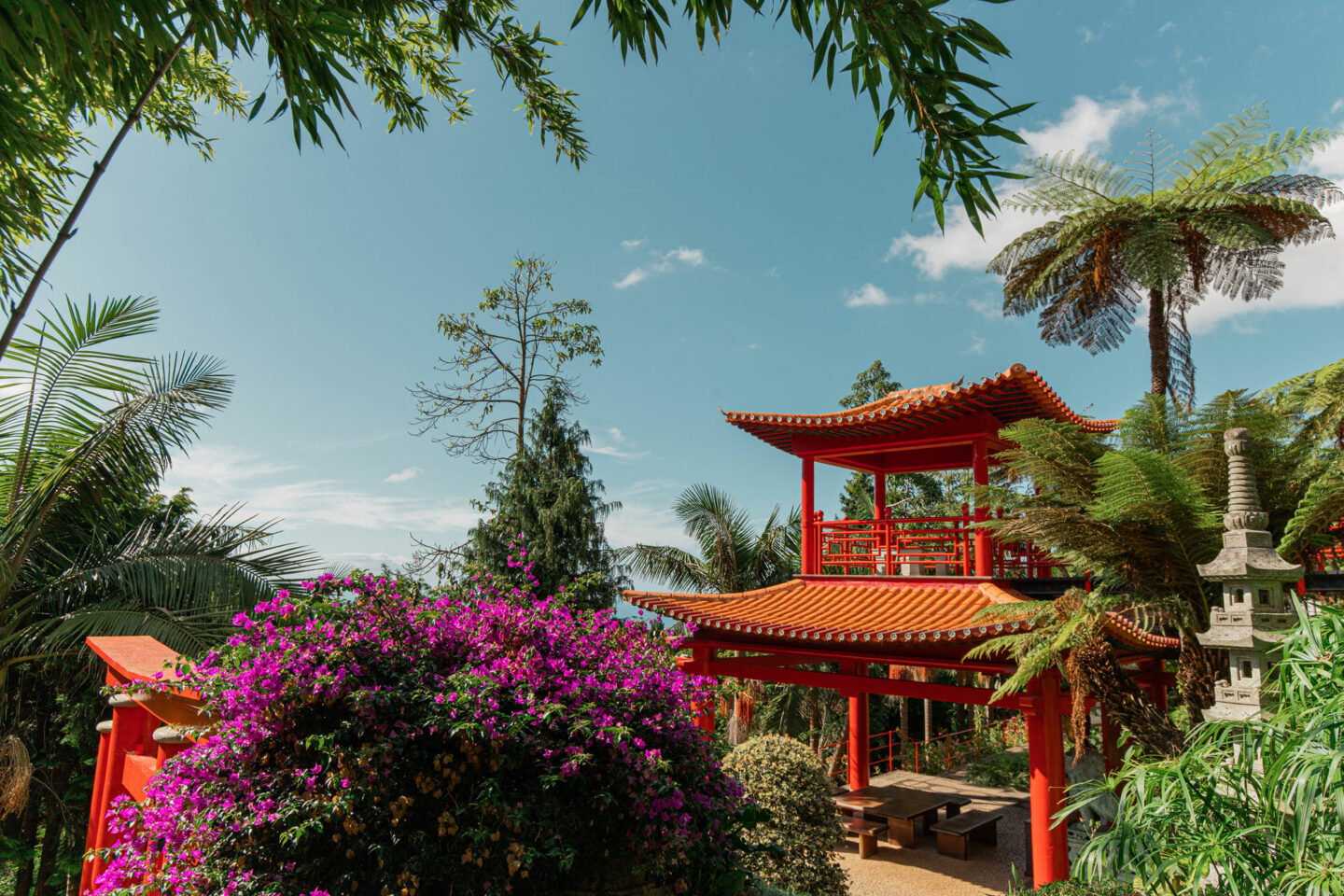 2. Visit Monte Palace Tropical Gardens

When we finally reached the top of the beautiful cable car ride, we had a full morning to explore the magical Monte Palace Tropical Gardens. Once a lavish 18th-century hotel, the site was bought by José Berardo in 1987 and transformed into a tropical public attraction, covering 70,000 square meters of exotic plants, lakes, fountains and wildlife.
As you stroll through the gardens, you can admire the beautiful ceramic tile collection portraying the history of Portugal, including the most important social, cultural and religious events. If you get the chance to visit, I'd recommend wearing some shoes with some serious grip for the steep cobbles that wind around the gardens – I spent a fair amount of time gripping Justin's arm like a vice.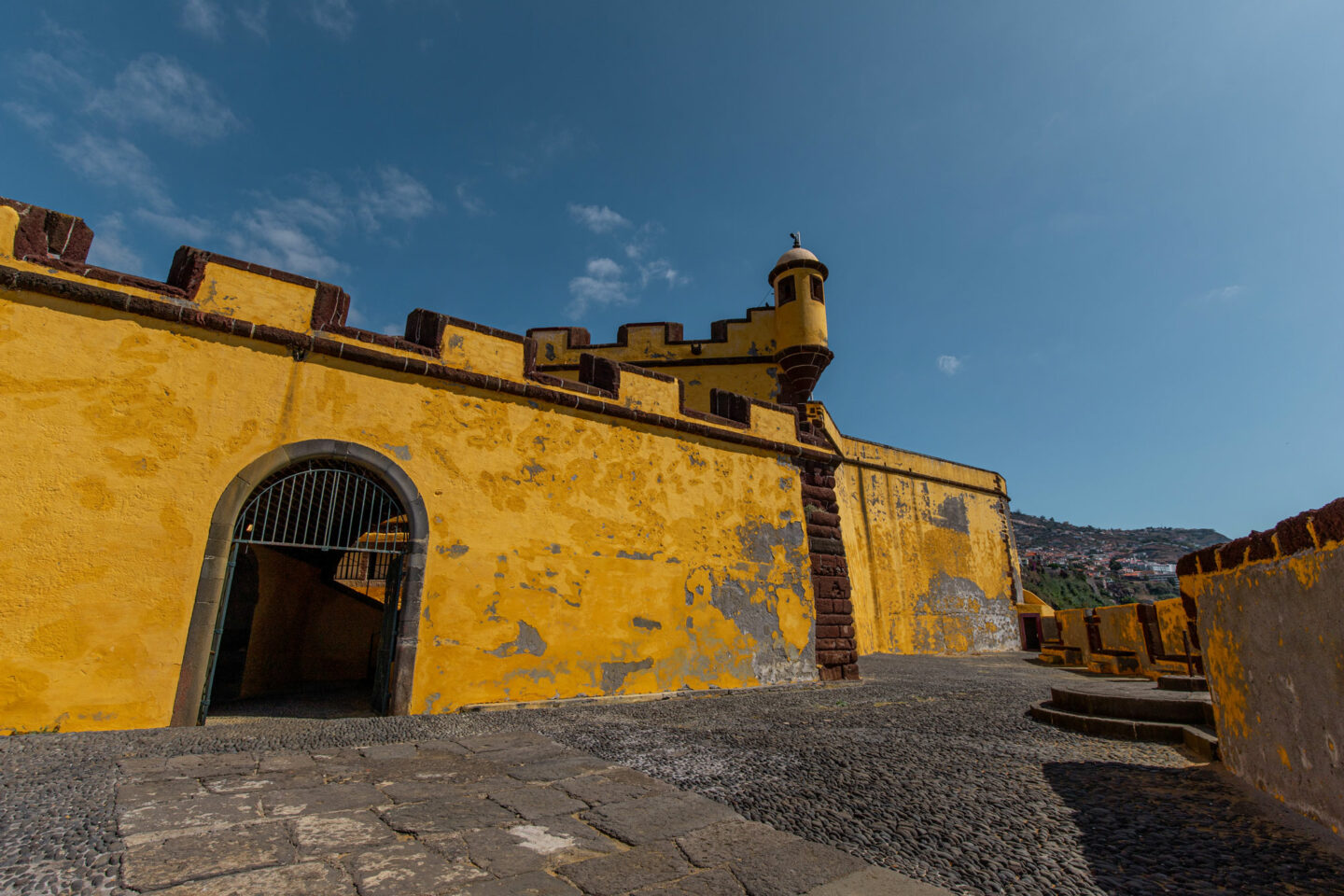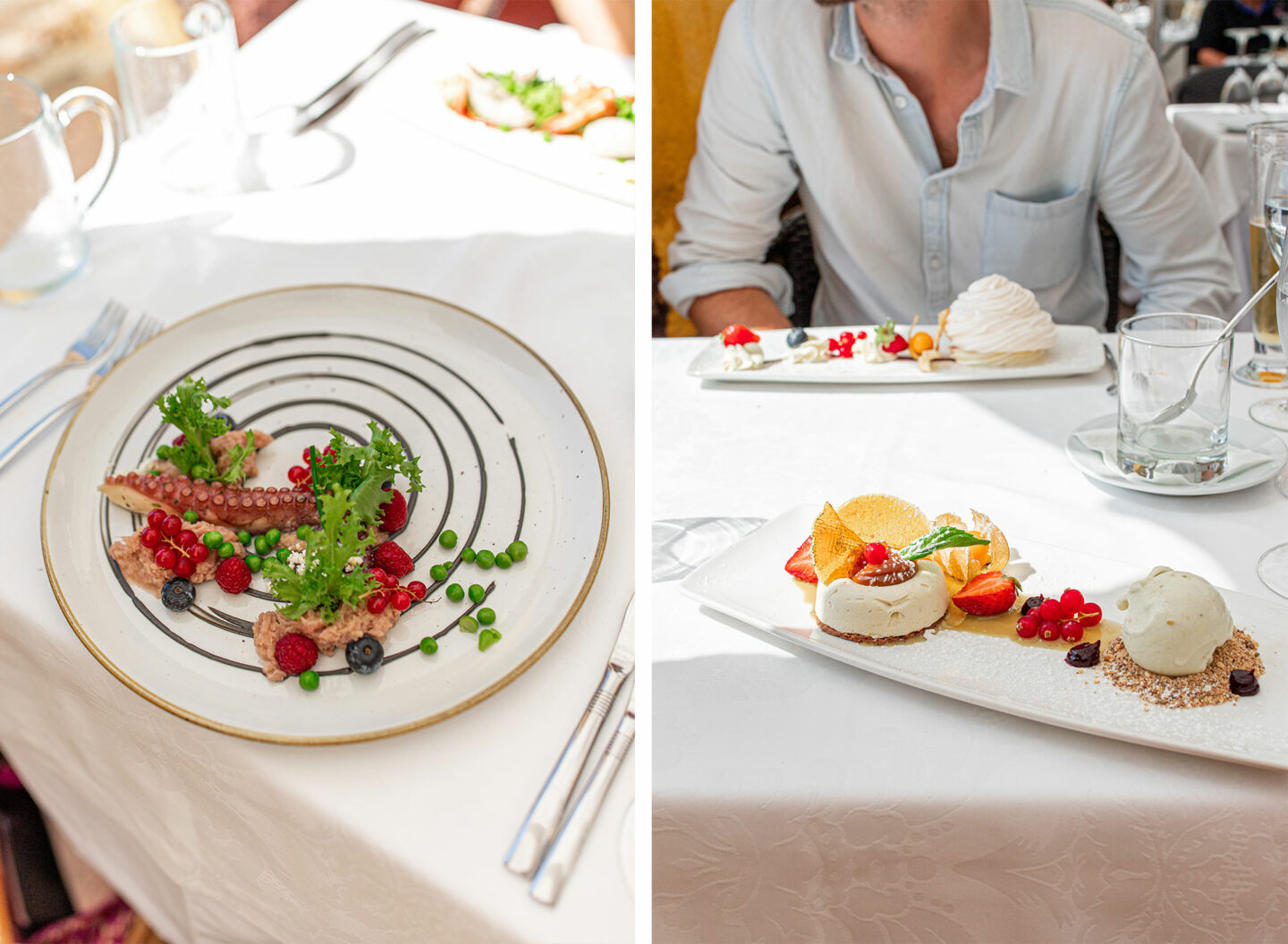 3. Lunch at Restaurante Do Forte

This restaurant is located within the walls of the historical fortress of São Tiago. Constructed in 1614, the bright yellow coloured walls of the fortress is reminiscent of the palaces in Sintra on mainland Portugal. At Restaurante Do Forte you will be seated in a romantic setting, with a view of the sea to enjoy whilst eating your way through a diverse gastronomic menu featuring international cuisine with traditional Madeiran ingredients.
Not only is the restaurant in a stunning location, each dish that came out was an edible work of art! We started with the seafood trilogy of scallop, shrimp and squid. For mains, Justin and I both tucked into their Surf & Turf – Beef fillet with prawn and sea bream + roasted shallot cream, the beef was incredibly succulent and pair perfectly with the accompanying vegetables. For dessert, I had the Pistachio delight – caramel, meringue kisses, gooseberry gel + pistachio sponge which was (almost) too pretty to eat.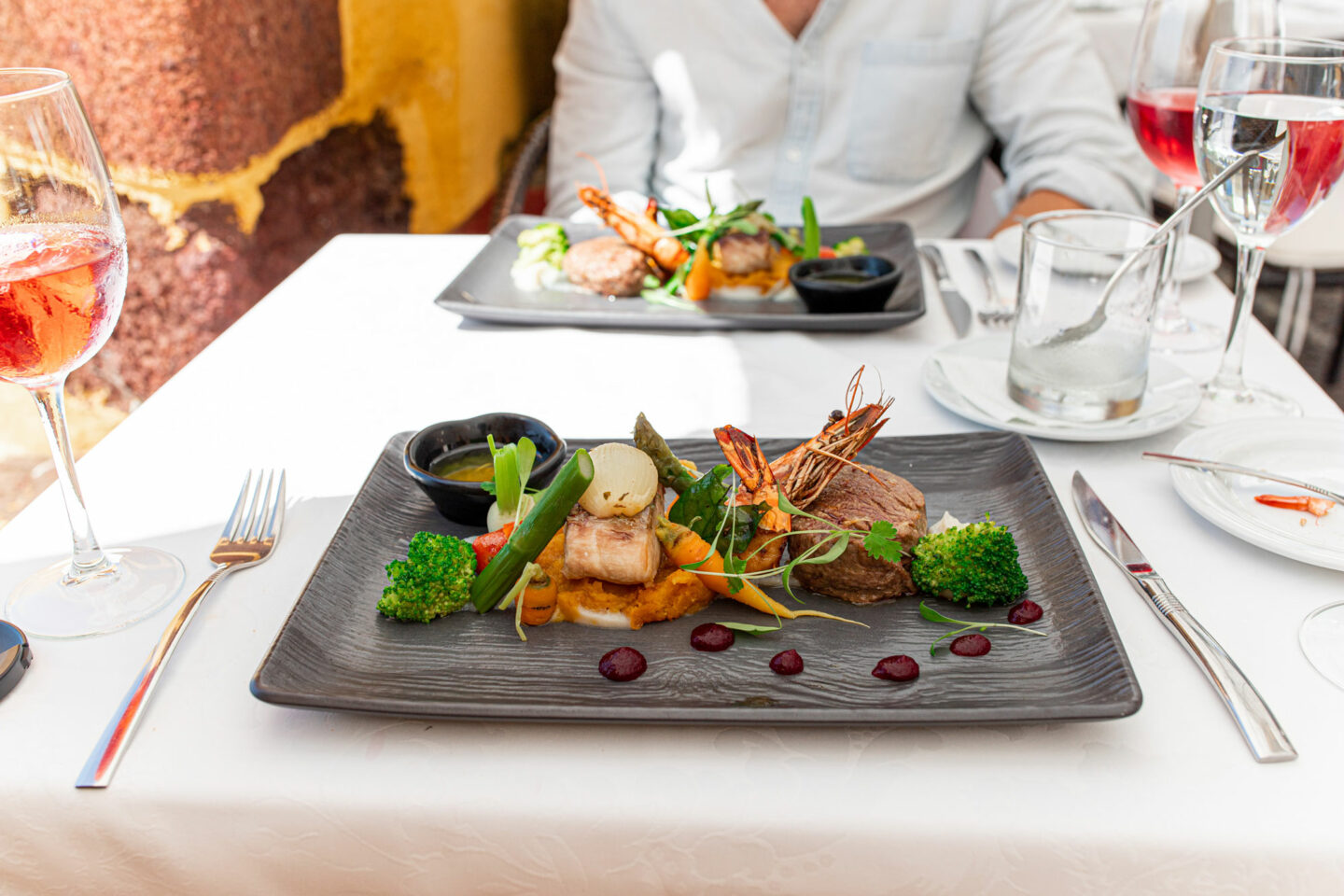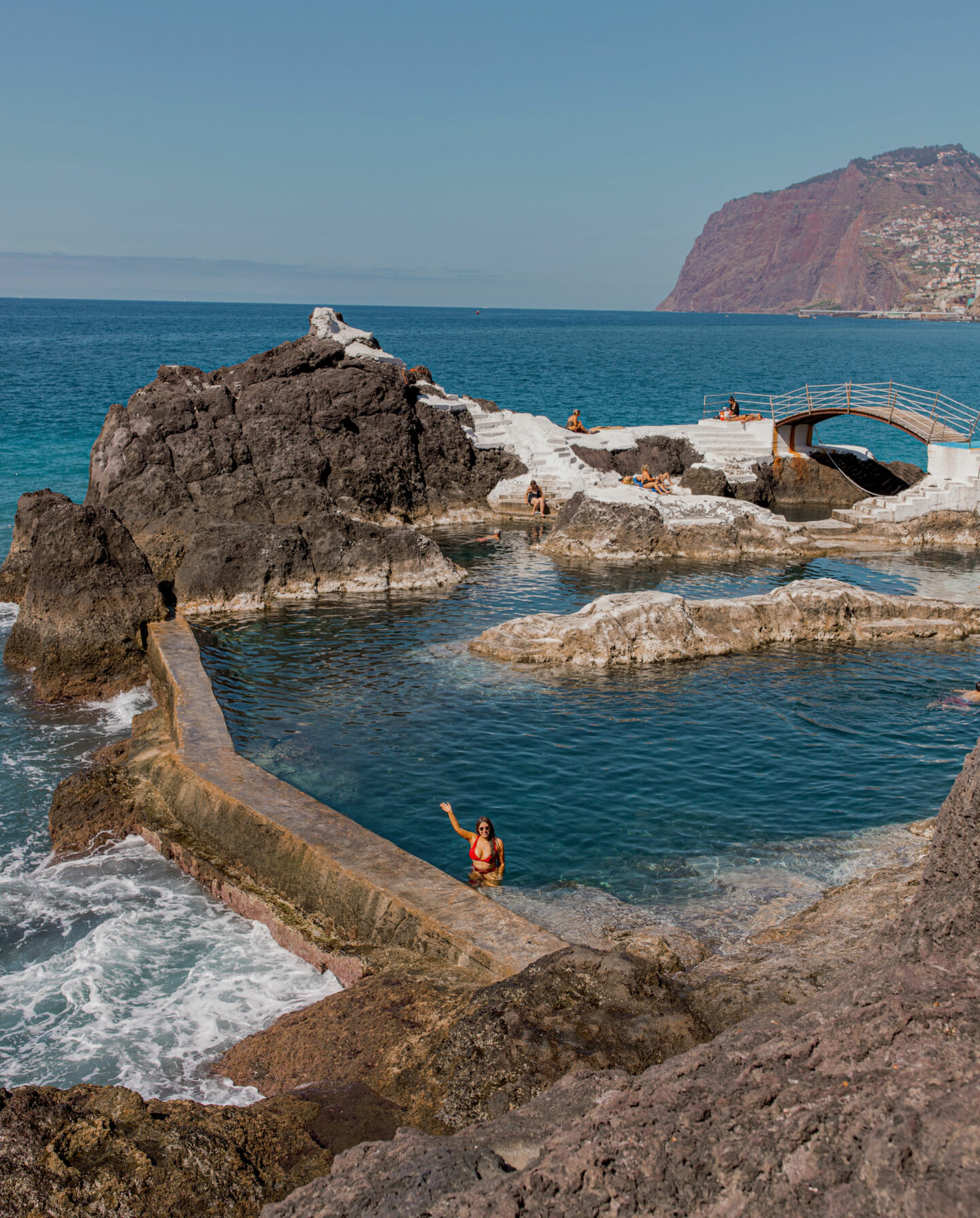 4. Swim at Doca do Cavacas
For our last day in Madeira we went to Doca do Cavacas – a complex of natural pools with direct sea access. It costs a measly 2€ euro to get in and an additional 4.90€ for two sunbeds + an umbrella for the entire day, a solid good deal if you ask me.
We came here on a weekday which I would highly recommend doing, as obviously a spot as gorgeous as this is completely rammed on the weekends, and spaces are limited. We spent a few hours chilling in the sun and then headed up to the actual restaurant of Doca do Cavacas, where I enjoyed some fresh garlic prawns, of course. Will there be one holiday where I don't eat them? I hope not!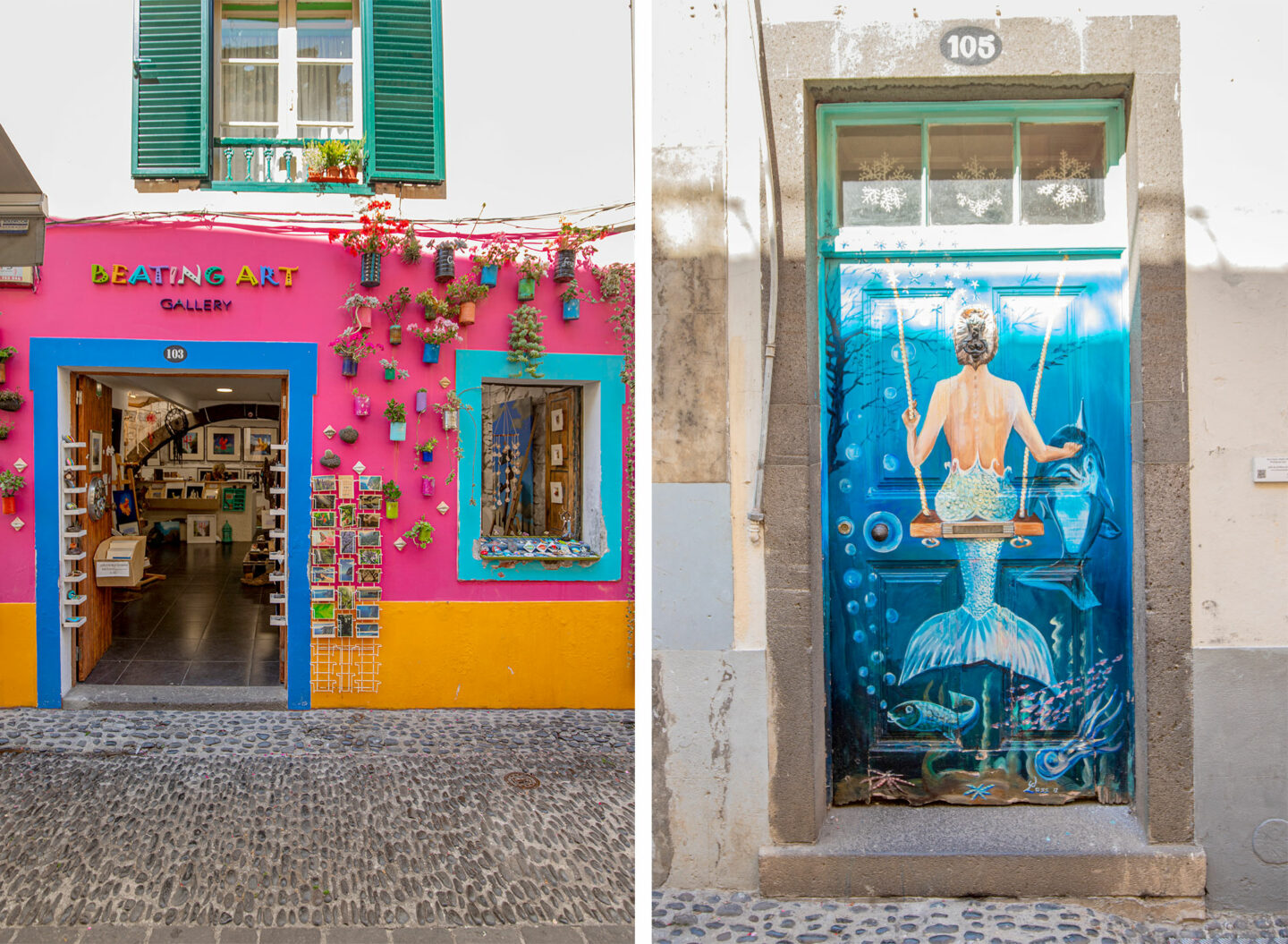 5. Explore Zona Velha (the old town)
In the charming backstreets of Funchal's old town, Zona Velha, you will find over 200 painted doors as part of the aptly named Painted Doors Project which transforms this area into an outdoor art gallery. Head to Zona Velha for a lively atmosphere, it's where Funchal's hottest nightlife venues and restaurants are located with most of the action taking place on Rua de Santa Maria. Walking through the narrow cobblestones streets of the Old Town will also lead you to the beautiful Socorro Church.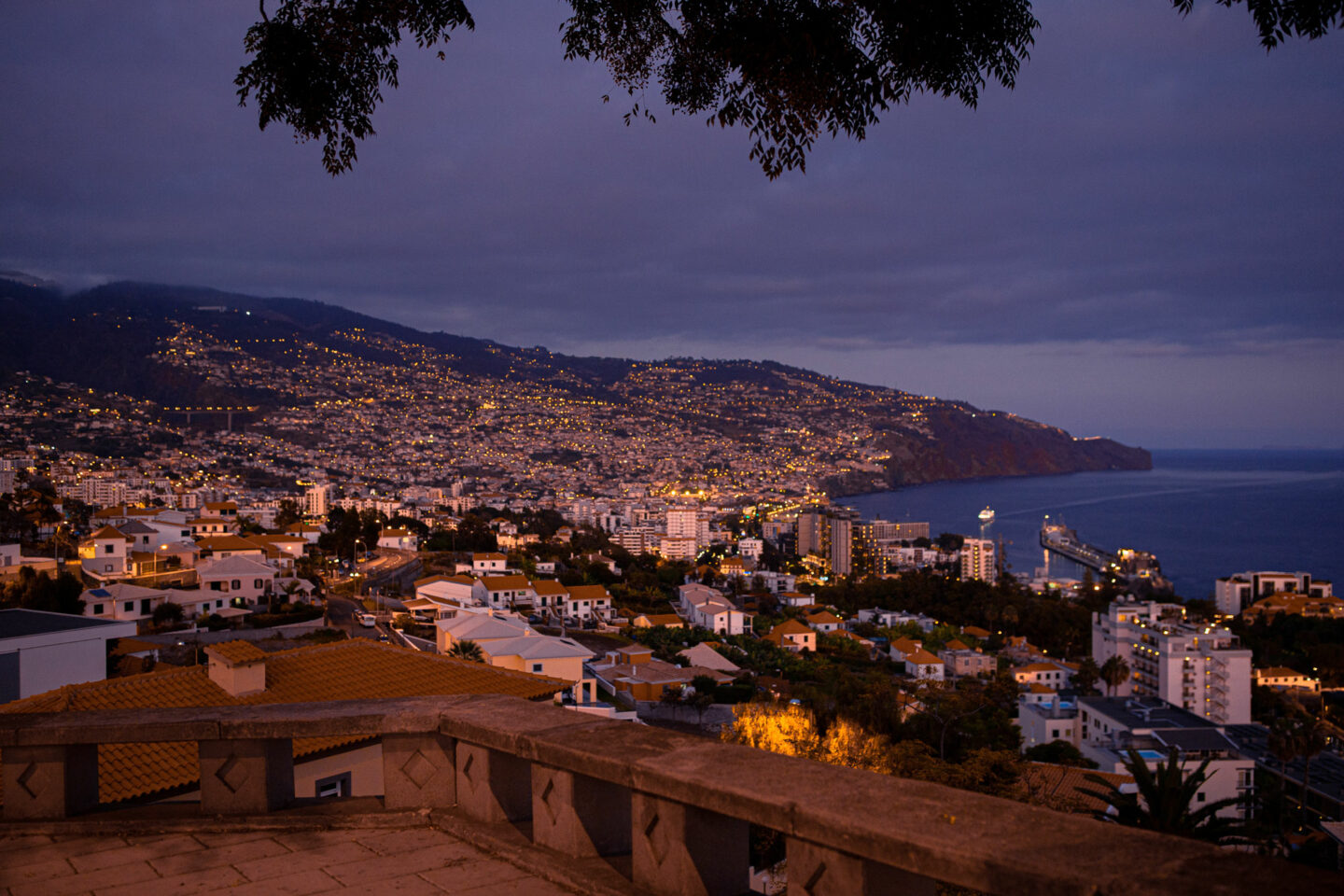 6. Enjoy the best views of Funchal
While there are plenty of "miradouros" (viewpoints) dotted around the hilly slopes of Funchal – we got a tip-off from the locals to head here for the best panoramic views of the town and harbour below. One evening we packed our bags with a few bevvies and caught a taxi to this spot (don't attempt to walk because the climb is V unforgiving). We watched the sun drench the town in a golden-red glow before setting behind the clouds and watching the hills light up in a mesmerising sparkle.
7. Immerse yourself in traditional Madeiran culture
On the first night of our visit, with no real agenda, we stumbled across a leaflet from our hotel advertising a "Typical Maderia evening" with traditional Madeiran food, music, dancing and free-flowing booze? Hold my phone.
We arrived at the restaurant excited at the prospect of unlimited grilled meat + drinks and an unlimited chance of being dragged up on stage to embarrass ourselves! We quickly realised that we were by far the youngest people in the place by a solid 30 years. However, we fully embraced the hilarity, making a toast with the elderly couple sat opposite us on the table and proceeded to drink a bottle of white in the space it took them to drink their first glass!
The grilled meat was incredible, made all the more enticing by being hung high above the table on massive iron skewers! Justin quickly ate himself into a beef-based coma by the time the cultural Folklore dancing began….and then found himself being grabbed by the dancers decked in bizarre-looking hats. He was soon enough at the back of a conga line – fully knowing he couldn't break off at the risk of starting ANOTHER CONGA LINE.
For 30 euro each including a transfer/to from the hotel – it was banging deal for our first night in Madeira where we soaked up their local culture, dishes and alcohol! Booking can be made here.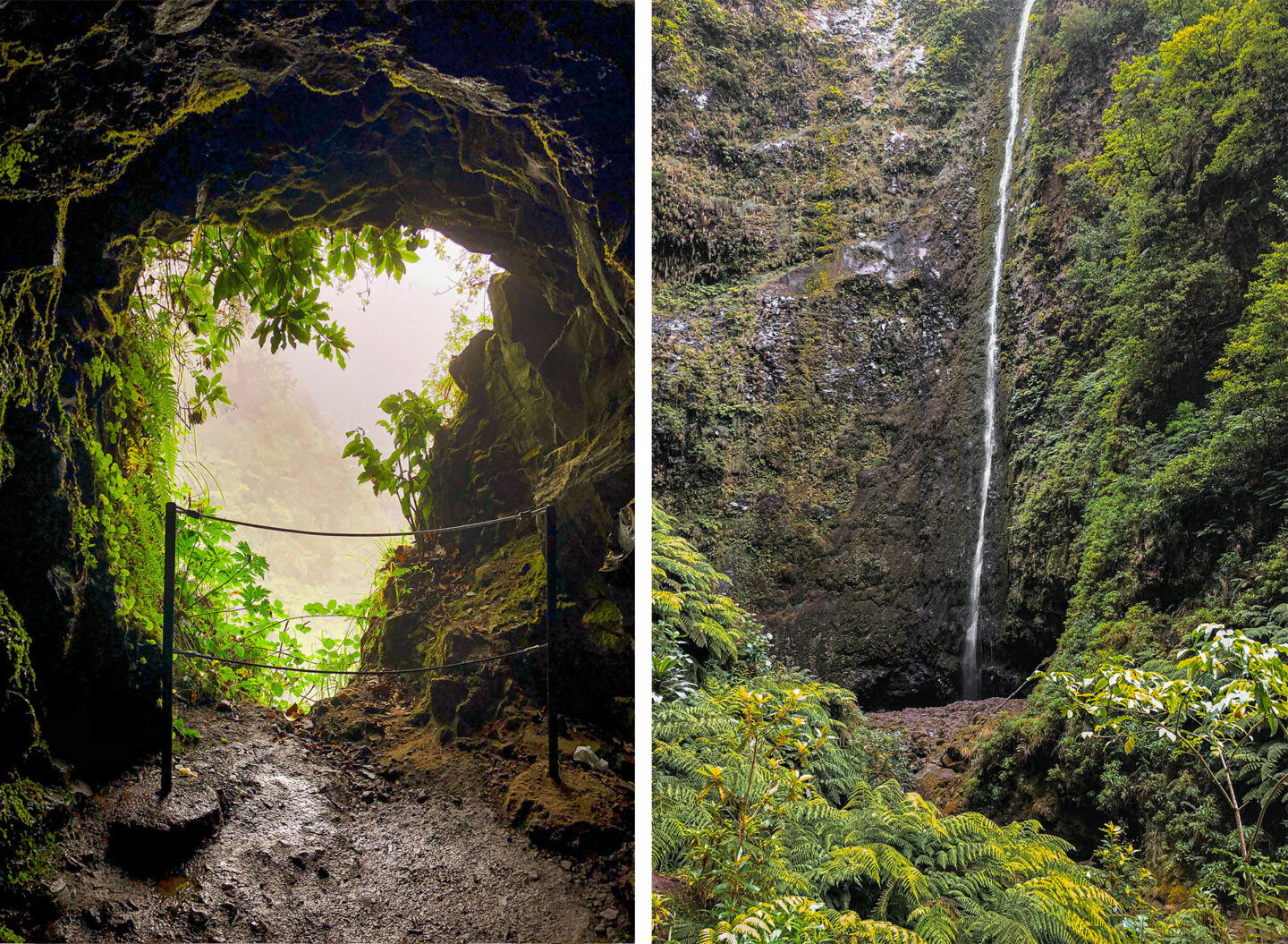 8. Go on a Levada Walk
Much as I love a glam holiday moment, you can't beat going for a good ol' hike in the forest and Maderia has some incredible trails to explore! We were lucky enough to have a private guide to accompany us on a famous Levada walk.
"Levada" is a Portuguese word derived from the word "levar" – which means to carry. These mini-canals are irrigation systems developed to distribute water from the rainfall heavy and wet regions along far distances to banana plantations, vineyards, fruit orchards and vegetable gardens. They wind around the mountains of Madeira, making them ideal walking paths for keen hikers.
We hit the Levada do Caldeirão Verde track which was about an hours drive from Funchal. The walk was so beautiful but not without it's scary moments. There are very narrow paths with huge drops to the side and small tunnels to squat your way through #legday! The highlight of the walk found us at the base of a 100ft waterfall that left us with a slight neck ache staring up at it.
Our guide packed us a picnic, so we tucked into sandwhiches, refreshments and a famous pastel de nata to refuel for the long sun-drenched forest walk back. I highly recommend booking a guide, not only is it cheaper than catching a taxi (as transfers to/from your hotel are included), but you'll have the added comfort of safety, experience and lunch is included too!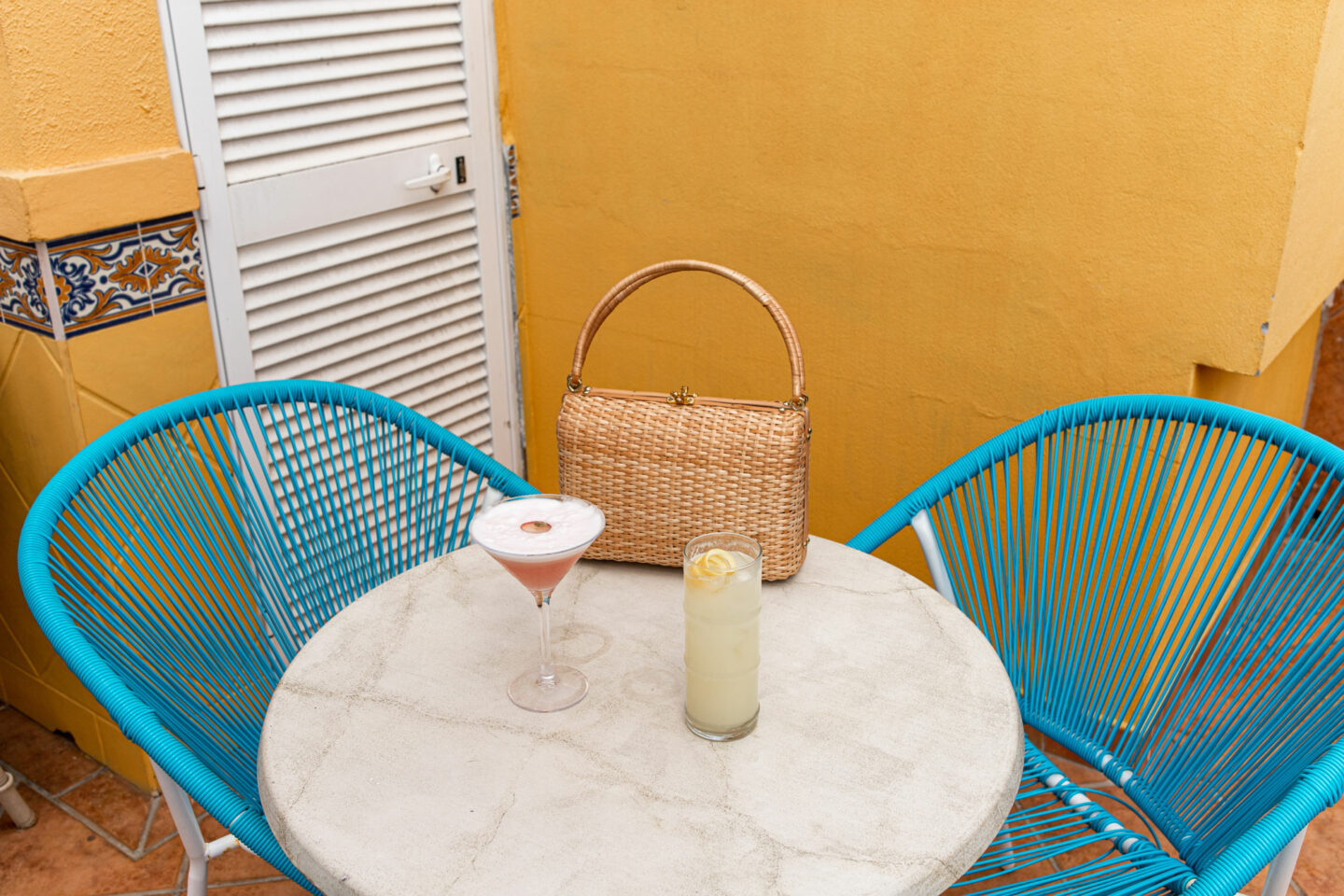 9. Drink cocktails at Sé Boutique Hotel's Rooftop Bar
An Instagrammable rooftop bar serving delicious cocktails will always call to me like a siren. Sé Boutique Hotel's terrace bar is open to the public and can be accessed via the hotel lobby. There is no cocktail menu here, just sit back and relax and let their barman, Rui, do all the work, he's the expert after all. He made us their signature drink 'The Flamingo', which went down smoothly and quickly. Come here for sunset and enjoy the 360° views over the city of Funchal. Stay to mingle with the locals and guests of the hotel, it's the perfect way to start an evening in Funchal.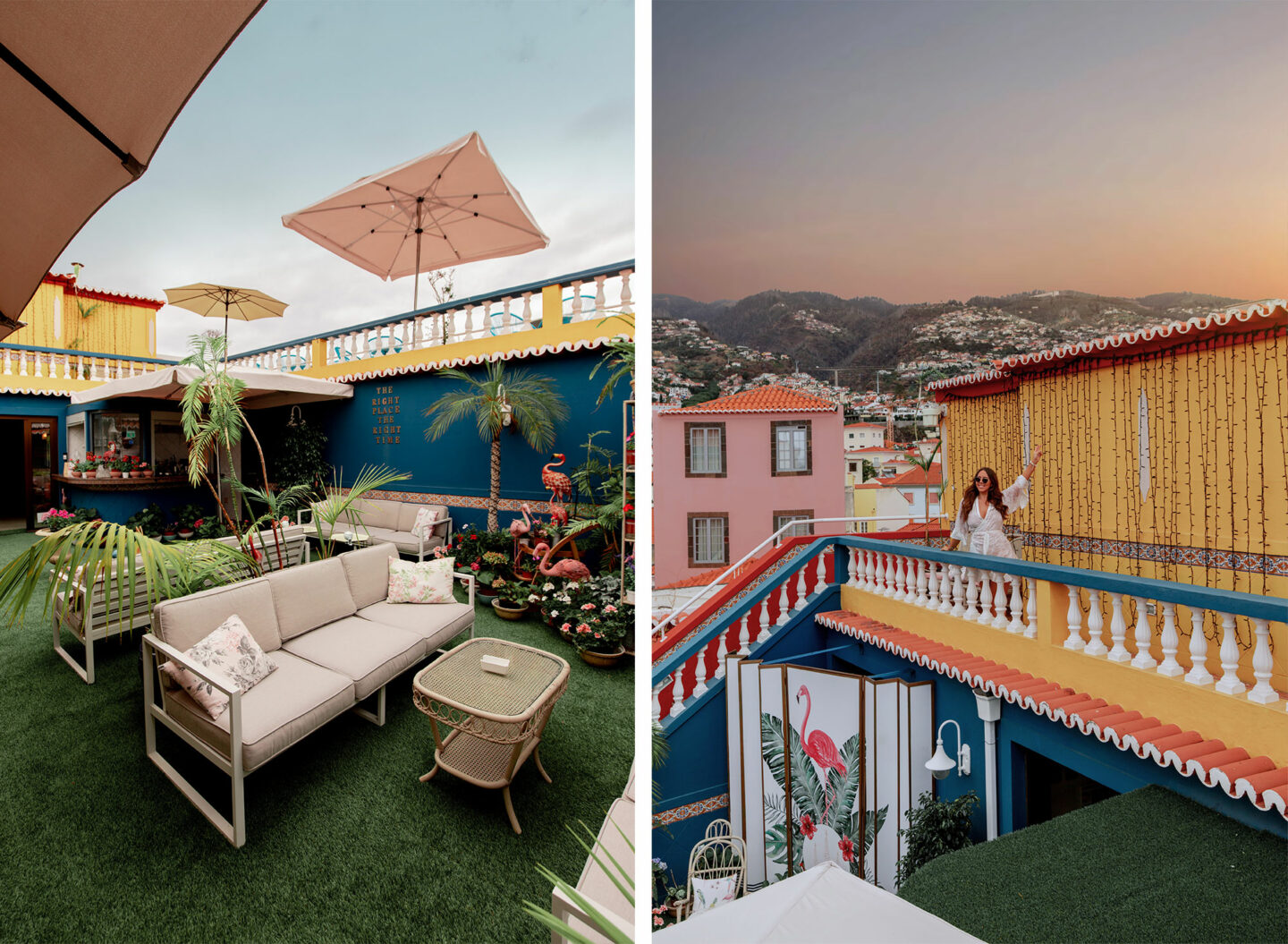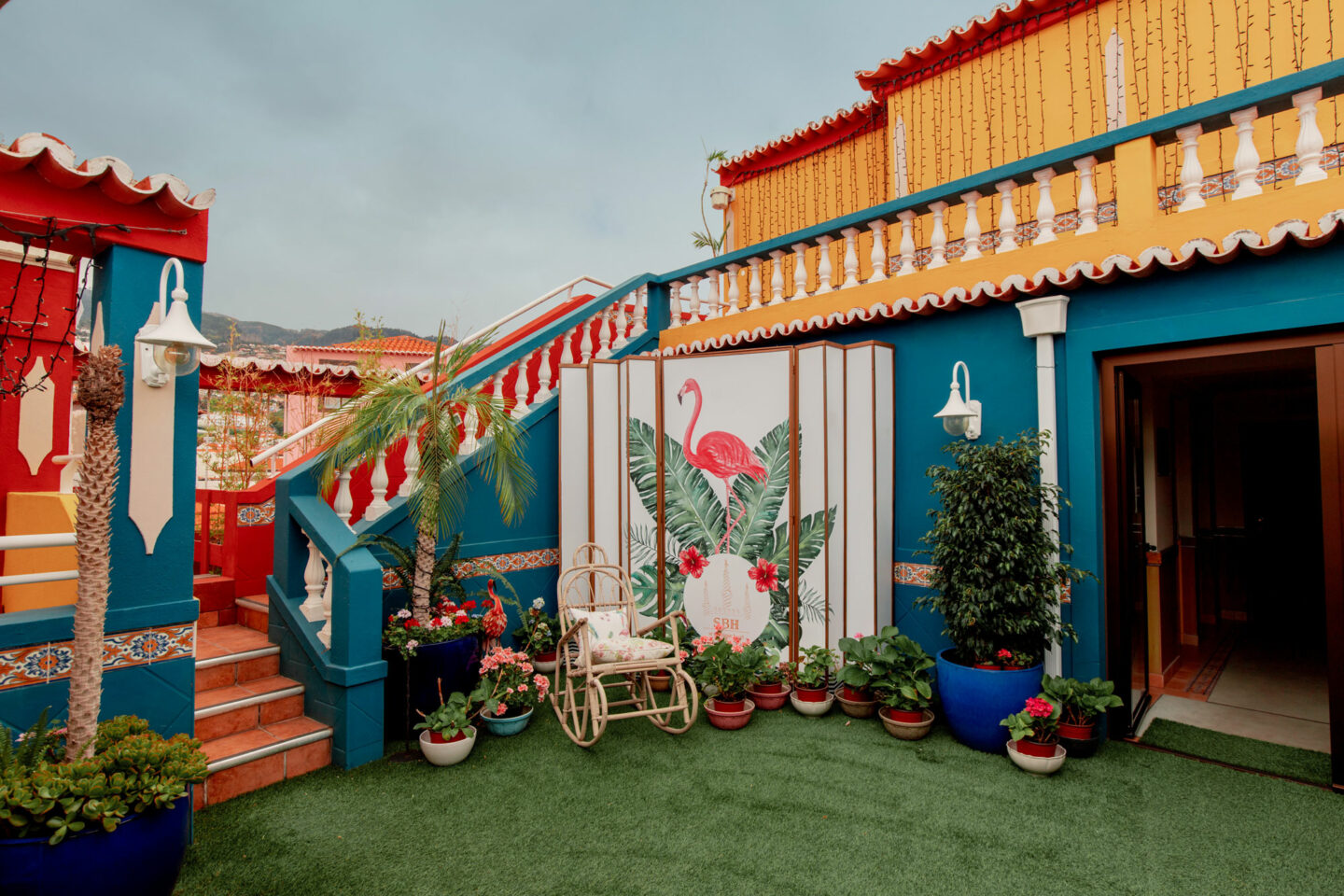 10. Dinner at DC Atelier Restaurant
Wow, what an experience. If you're visiting Madeira to celebrate a birthday, an anniversary or simply the fact you're a fabulous human being – then treat yourself to a monumental fine dining experience at DC Atelier Restaurant located at the Nini Design Centre Restaurant. The design centre was born from the talents of Portuguese interior designer, Nini Andrade Silva. Built into the jagged rocks of the old fort, the centre's design features take inspiration from Nina's favourite art subject: pebbles. Everything from the elevator, furniture and right down to the serving plates take on some form of a pebble-like shape or texture.
The restaurant is located on the top floor boasting views looking back at the town of Funchal, which at night is illuminated by thousands of twinkling lights. The menu features fresh seafood and re-interpretations of traditional Madeira dishes with Atlantic cuisine.
We started with the warm Tiger prawn salad with a red wine reduction, and as I write this I am hit with an instant pang of sadness as I realise I will never be able to eat this dish anytime soon (until my next visit to Madeira, of course). It was THAT good. For mains, we divided and conquered two different portions of meat – lacquered duck + the catch of the day with a mustard crust and potato terrine. Dessert was the Salty Caramel Cheesecake which a work of art in itself – again the design nodding to the pebble theme of the restaurant with caramel balls sprinkled throughout.
Where to stay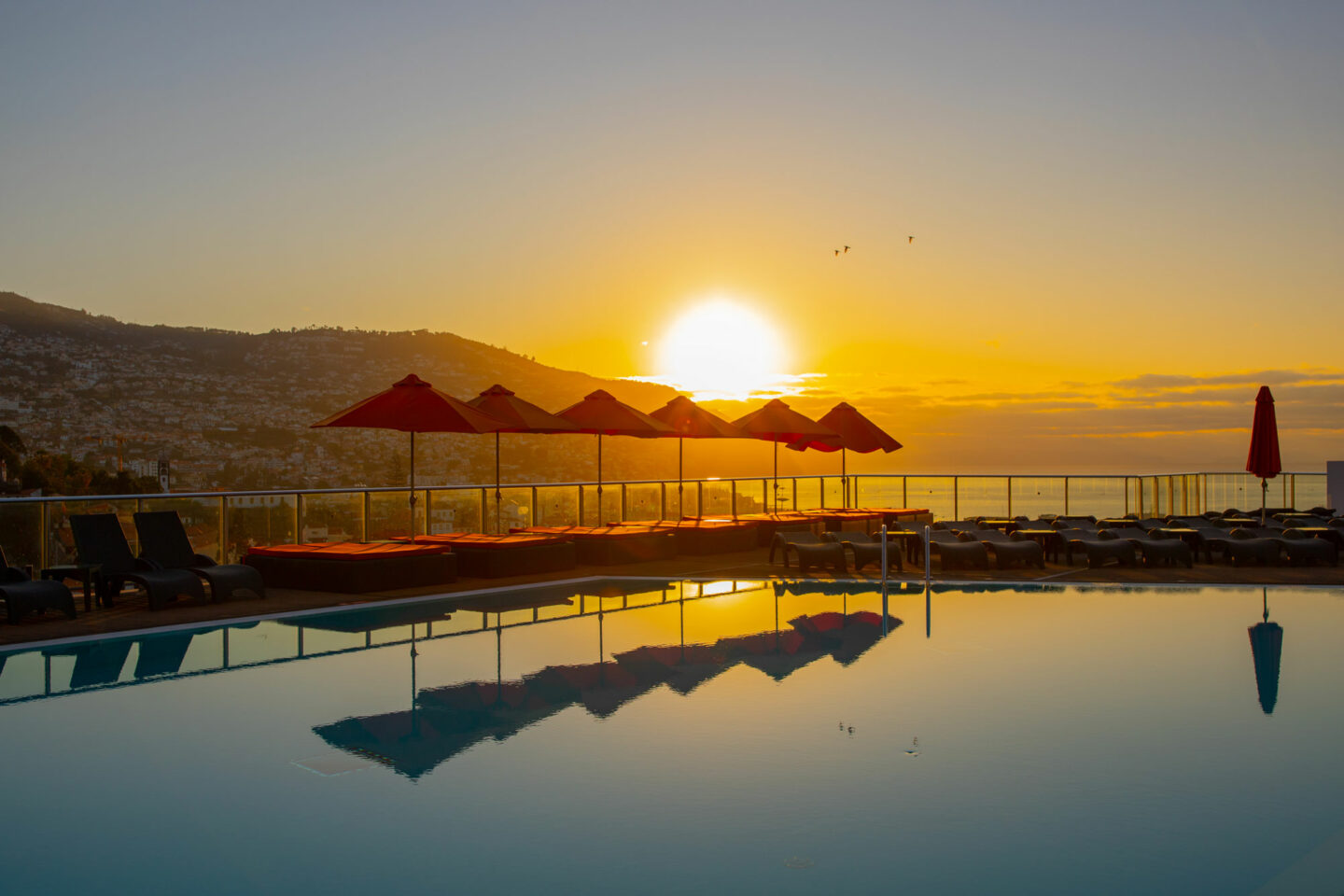 Four Views Baía

Located in the centre of Funchal, the Four Views Baía hotel is in a prime position, with epic views of the bay of Funchal. We were welcomed by the lovely hotel staff who gave us a great rundown of the local spots in the area and showed us to our incredible suite on the 11th floor. The view from our balcony (which mind you, if you saw from my Instagram stories then you would have seen was three times the size of our room) was simply breath-taking!
On top of everything, our suite had it's own hot tub bath with floor to ceiling windows so we could watch the sunsets from the tub! The decor is sleek and modern, and the room featured a small kitchenette, LCD TV and free access to their spa. The hotel offers a range of entertainment, head on down to their Woogie Boogie Bar for various evening events and activities.
The standout of this hotel is undoubtedly their outdoor swimming pool where you can chill and take in the views of the Funchal harbour and surrounding hills. There's also a heated indoor pool for those visiting Madeira in the slightly colder months.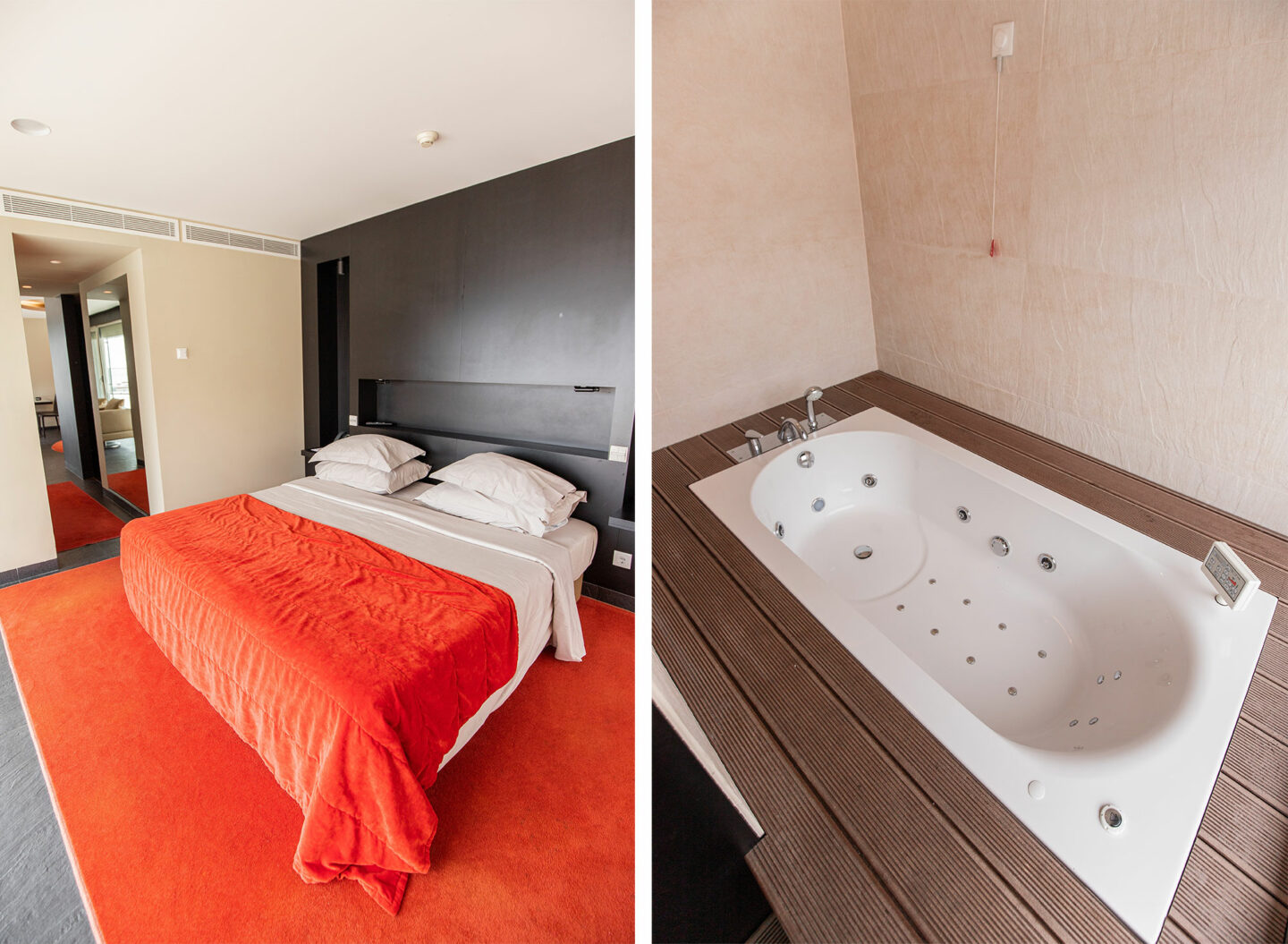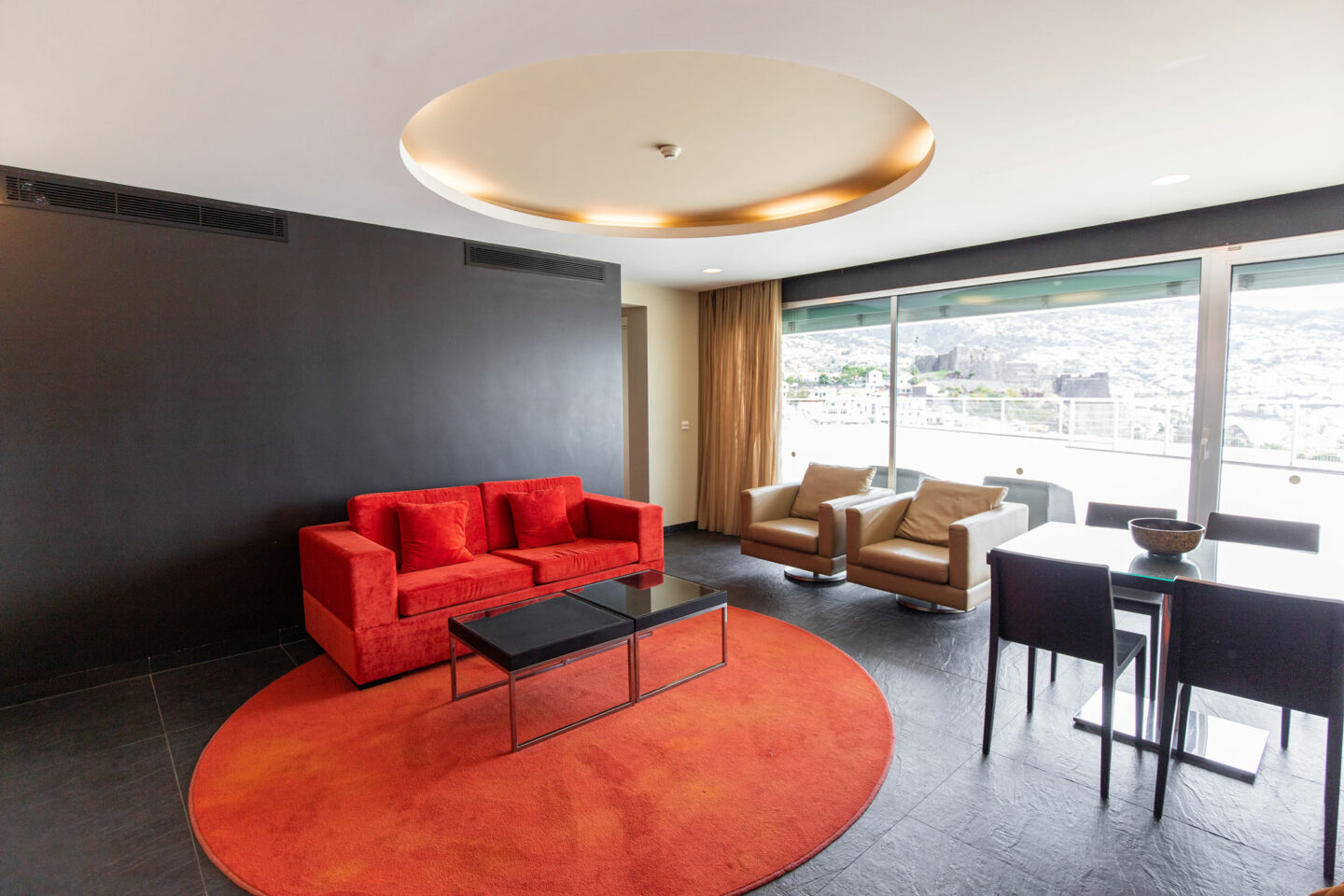 Related:
Planning a holiday? Read my travel guides here.
Madeira Bucket list
Check out my Madeira bucket list below. Save it to your Pinterest for an upcoming trip or post it on your Instagram stories & check off the places you've been.
If you want to see more of my food recommendations for other popular cities or travel bucket lists, click the link below.
INSTAGRAM STORY TEMPLATES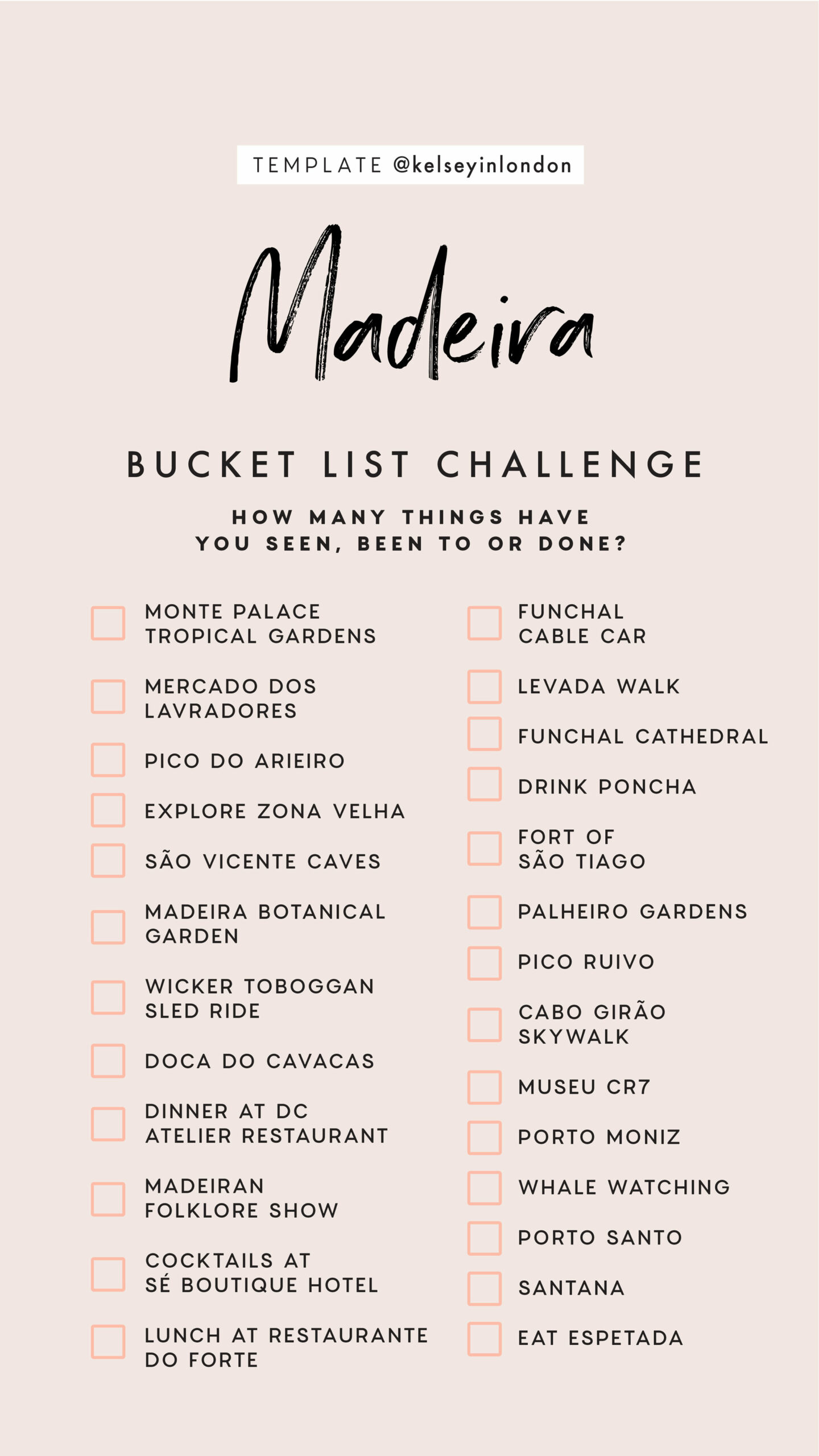 Enjoyed this guide? Pin it for later below! Follow me on Pinterest.