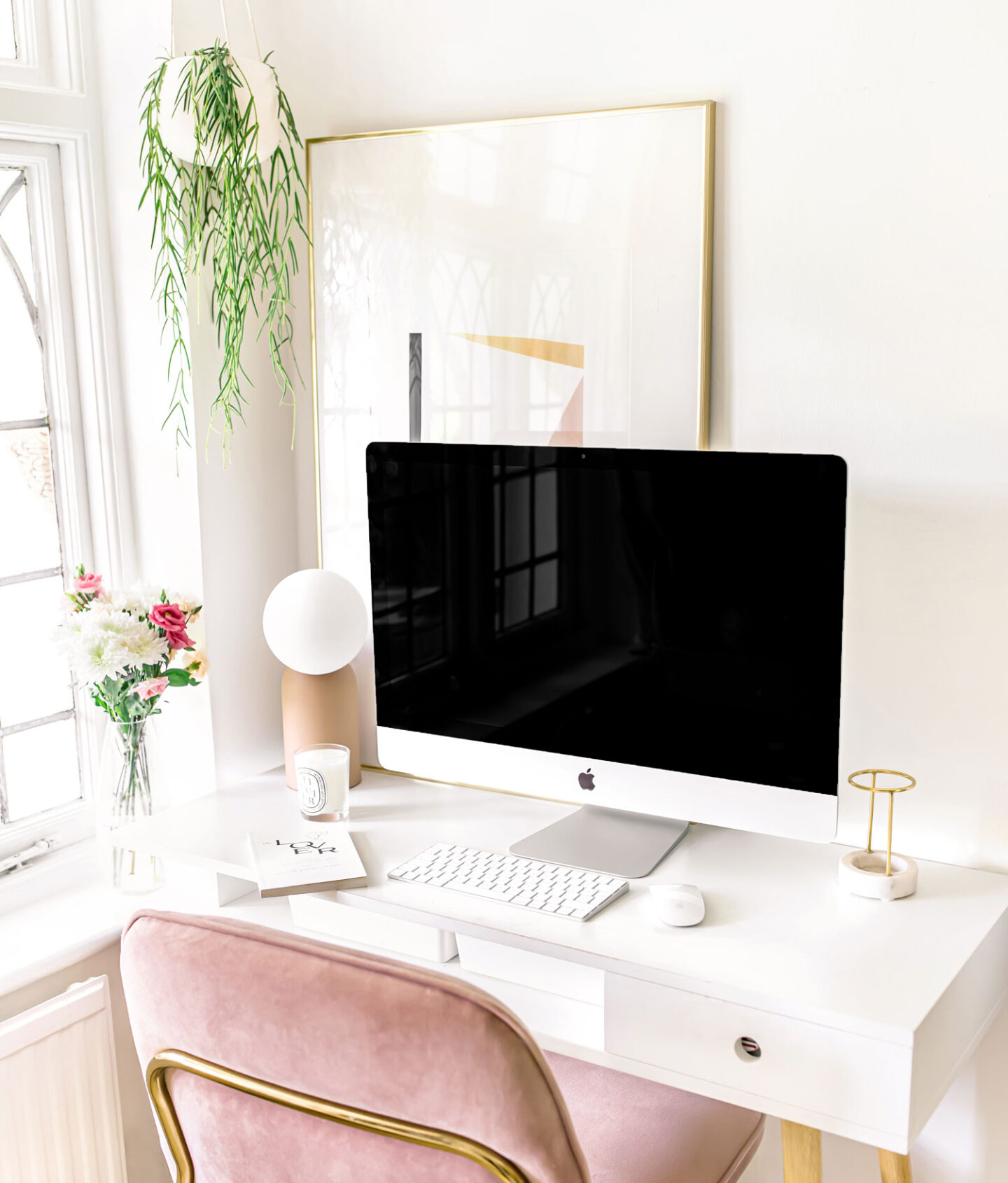 When it comes to reaching 10,000 followers on Instagram, this isn't my first rodeo. I've been active on Instagram since Valencia was the most used photo filter and I am incredibly grateful that this social media app has led me to build many friendships and opportunities through my page @kelseyinlondon.
It took me many, many years to organically grow this account to over 100,000 followers and many mistakes were made along the way – in fact, I'm internally cringing at the thought at some of the selfies I used to upload, but I digress.
However, when I created a new account for my interiors addiction – @homewithkelsey – I was beginning at ground zero again, though this time with a great wealth of knowledge and a few notches on my belt. Through the following tactics, I was able to quickly grow 10,000 followers on Instagram in just 6 months time. Update: I have now reached over 130,000 followers after 2 years of starting this account.
While having lots of followers isn't the defining point of how successful you are in life, (I mean, so long as I can eat my overpriced avo on toast then I'm happy), reaching 10k is extremely sought-after for most influencers and businesses as it means you can get the swipe-up functionality for Instagram Stories. This is an invaluable tool that will help you easily direct your customers to your website, e-book or even just so you can easily link to a funny cat video.
Read on to learn how exactly I was able to reach 10,000 followers on Instagram organically, no smokes and mirrors here.
How I gained 10,000 followers on Instagram in less than 6 months
I picked a niche and stuck to it.
Growing a community on Instagram is a lot easier if you stick to a niche. This is something I massively failed to do with @kelseyinlondon — an account which started as a private personal page (think drunk selfies and blurry photos of my brunch), which then evolved into a space where I shared a bit of my graphic design work, my outfits and my travels around Europe. In hindsight, it was a bit all over the place let's be honest.
It's incredibly daunting starting a new account on Instagram, especially when the app is so oversaturated. Fortunately, no matter what you're interested in, there are always going to be thousands of people who are as equally as into something as you are.
I've always loved interiors, stemming from the fact my parents owned an antique store when I was younger. I have a deep-seated love for Mid-century teak furniture and turns out, so do a lot of other people. I love to take photos of my home, so when I started @homewithkelsey, I was clear that I was only going to share interior content and I haven't deviated from this.
When you stray from your niche, it's harder to grow. Let me explain: if you've always shared book reviews on Instagram and one day you suddenly began to post makeup selfies, your followers would become confused and unfollow you because beauty tips are not what they signed up for. Pick a niche and stick to it. Or start a new account entirely to showcase your latest obsession.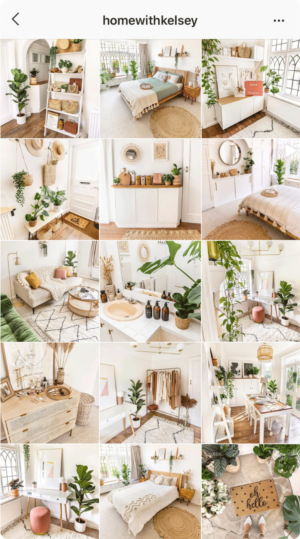 I had a clear aesthetic from day dot.
With my interiors account, I shared high quality and beautiful imagery from the get-go. Unlike @kelseyinlondon where my followers had to witness my "awkward teen stage" of Instagram, the one where I was experimenting with different filters and horrendous outfit choices.
Having a strong aesthetic for your feed is my go-to tip when someone asks me how I grow so quickly on Instagram. When a potential new follower is viewing your profile for the first time, you have less than a second to grab their attention so you better believe that your feed has got to look banging.
I've written a guest post on the Adobe blog with a lot more detail on how to create the perfect Instagram feed aesthetic. I'm able to easily achieve an aesthetically pleasing feed by using my Presets to edit my photos, you can learn more about my editing filters here.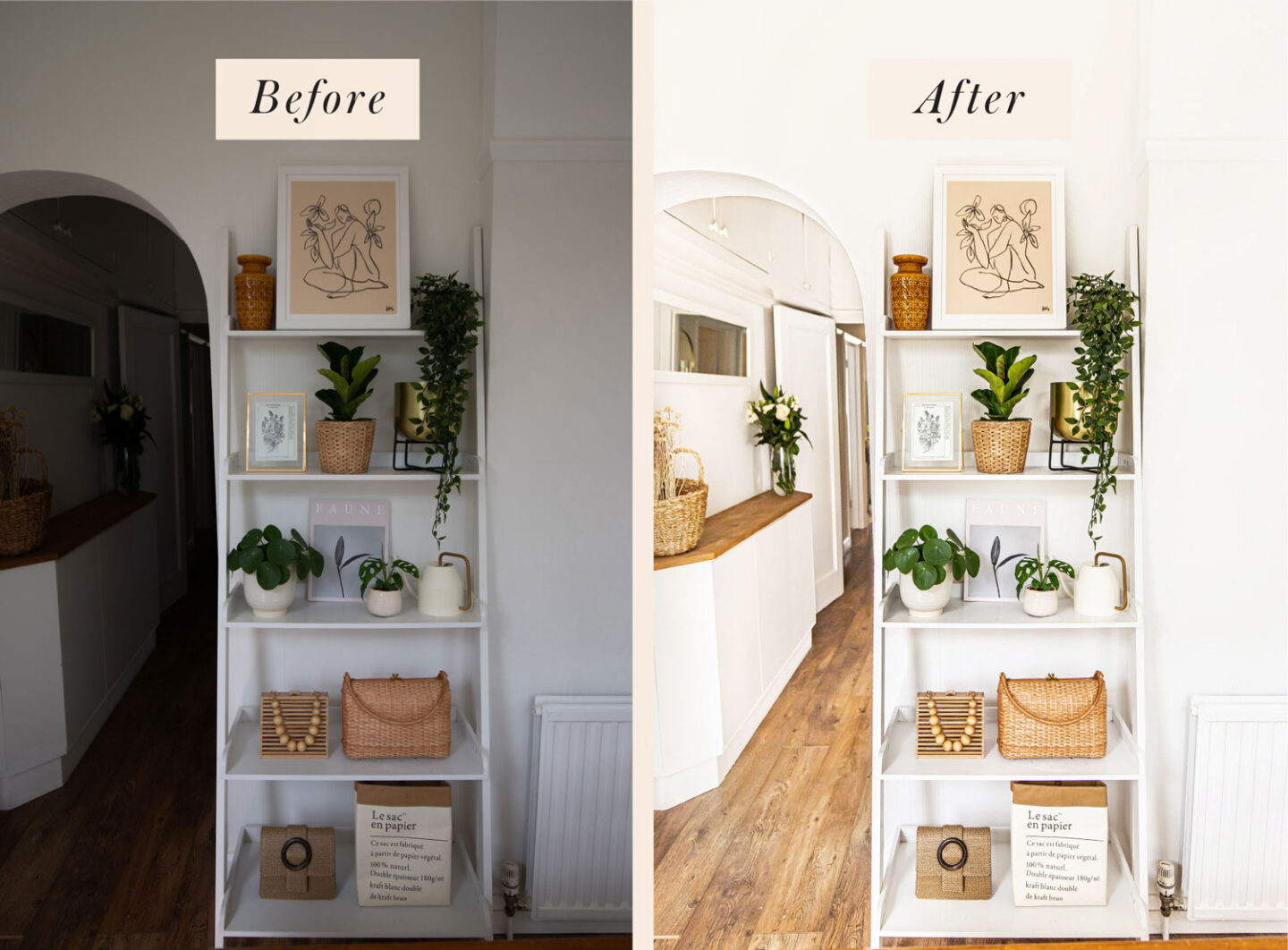 I also find that having a beautiful feed makes your account more "shareable" – especially by other influencers & bloggers. Which leads me onto my next point.
My photos are reposted, a lot.
I wouldn't have grown so quickly if it wasn't for being reposted by accounts that were a lot bigger than mine. By having a beautiful feed, I am regularly included in other bloggers & influencers 'Follow Friday' round-ups. By always tagging the brands that feature in my photos, I've often reposted by big homeware brands like Dunelm, MADE.COM and Primark (who have a whopping 8 million followers).
I often get shared by community and inspiration pages like @apartmenttherapy (2.7 million followers) and @liketoknow.it (3.5 million followers). Each time I'm featured on someone else's Instagram I have gained a few hundred or even over a thousand new followers.
I made hashtags my best friend.
Did you ever use to use hashtags ironically? Because me too. That is until I did some research, developed a winning hashtag strategy and made hashtags my best friend. Since implementing my new strategy, I'll receive anywhere between 10,000 and up to 100,000 reach per post from hashtags alone.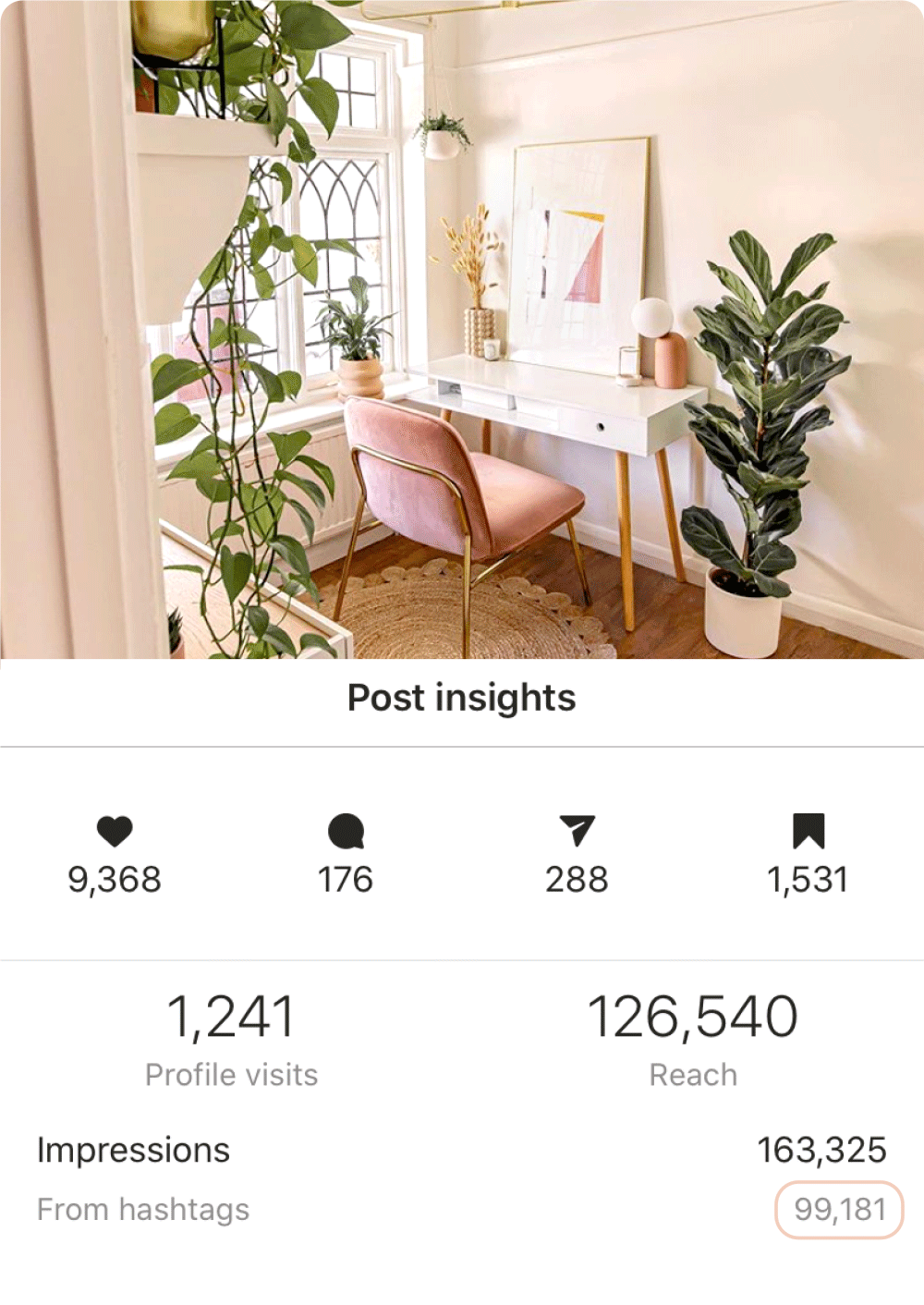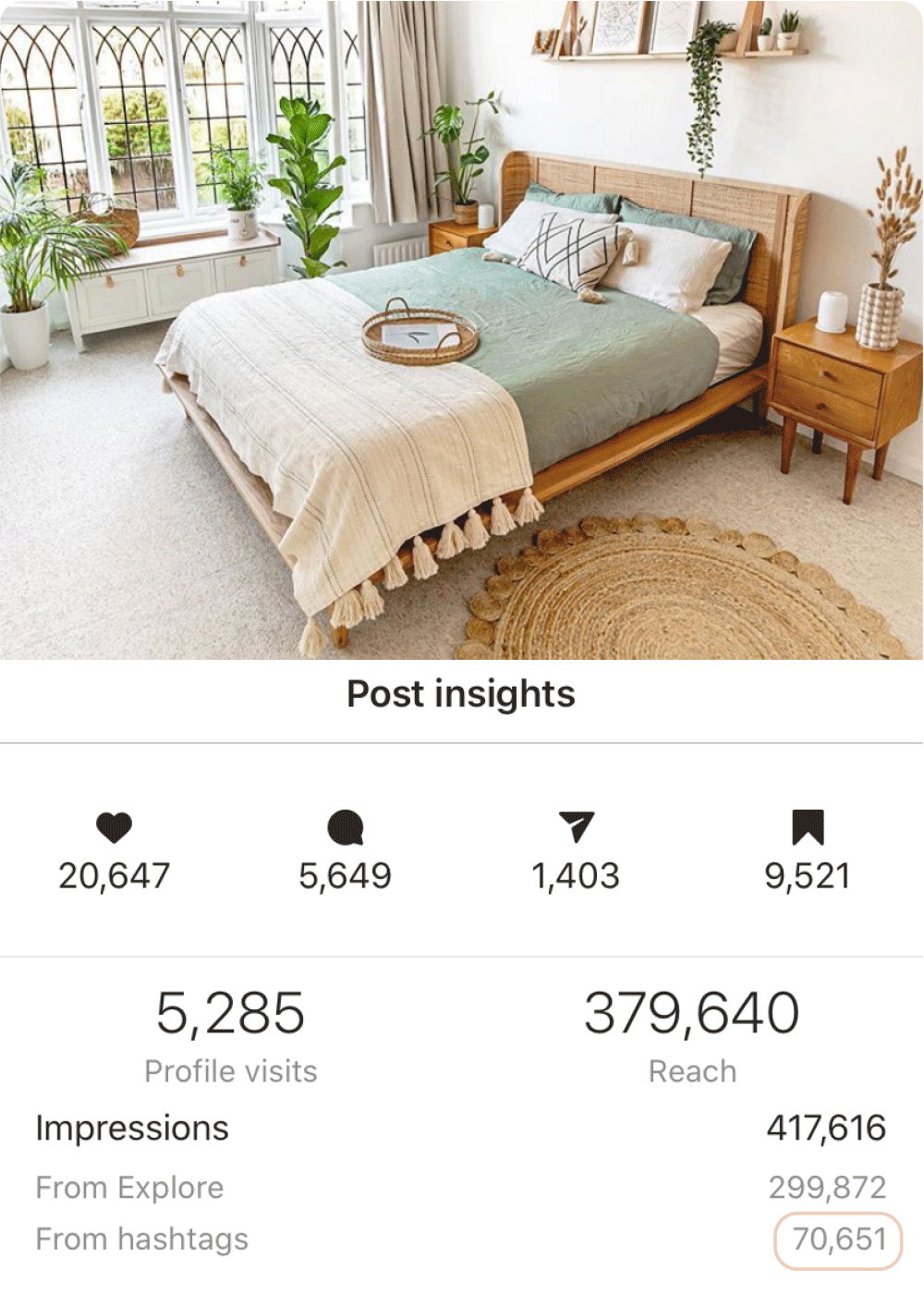 Hashtag reach is essential for getting new followers on Instagram as it's the only way you'll be able to organically reach people who don't already follow without having to spend any money on boosting your posts.
Click here to learn more about my hashtag strategy and everything you need to know about hashtags.
I post Reels.
I'll be honest – I was really really reluctant to get into Instagram Reels. I thought they were a bit cringe and I hadn't previously made much video content before. I've made peace with the fact I simply do not have time to commit to a seperate video platform like TikTok or Youtube – however I eventually gave in and gave Reels a crack and let me tell you, I wish I had got on it a lot sooner!

I've had half a dozen Reels go viral (over 1 million views each) and as a result, in June 2021 I gained 30,000 new followers – that's 1000 new followers every day! In 10 years of being on Instagram, I have never seen growth like this before nor have I ever had a photo post reach over 1 million, it's just not possible.

Reels aren't just dancing videos or self-acclaimed gurus pointing at floating text. There's DIY tutorials, recipe creations, travel inspiration – many different types of video content that you can make work for your niche.
My advice? Make your Reels short, snappy & sweet. It's really important that the first 2 seconds of your video is exciting/eye-catching so people stop scrolling and watch your video in full. The internet has ruined everyone's attention spans so make sure to get your point across quickly. I edit all my Reels in Adobe Rush (on my computer when possible or on my mobile if I'm out and about). There are plenty of other video-editing apps you can use like InShot.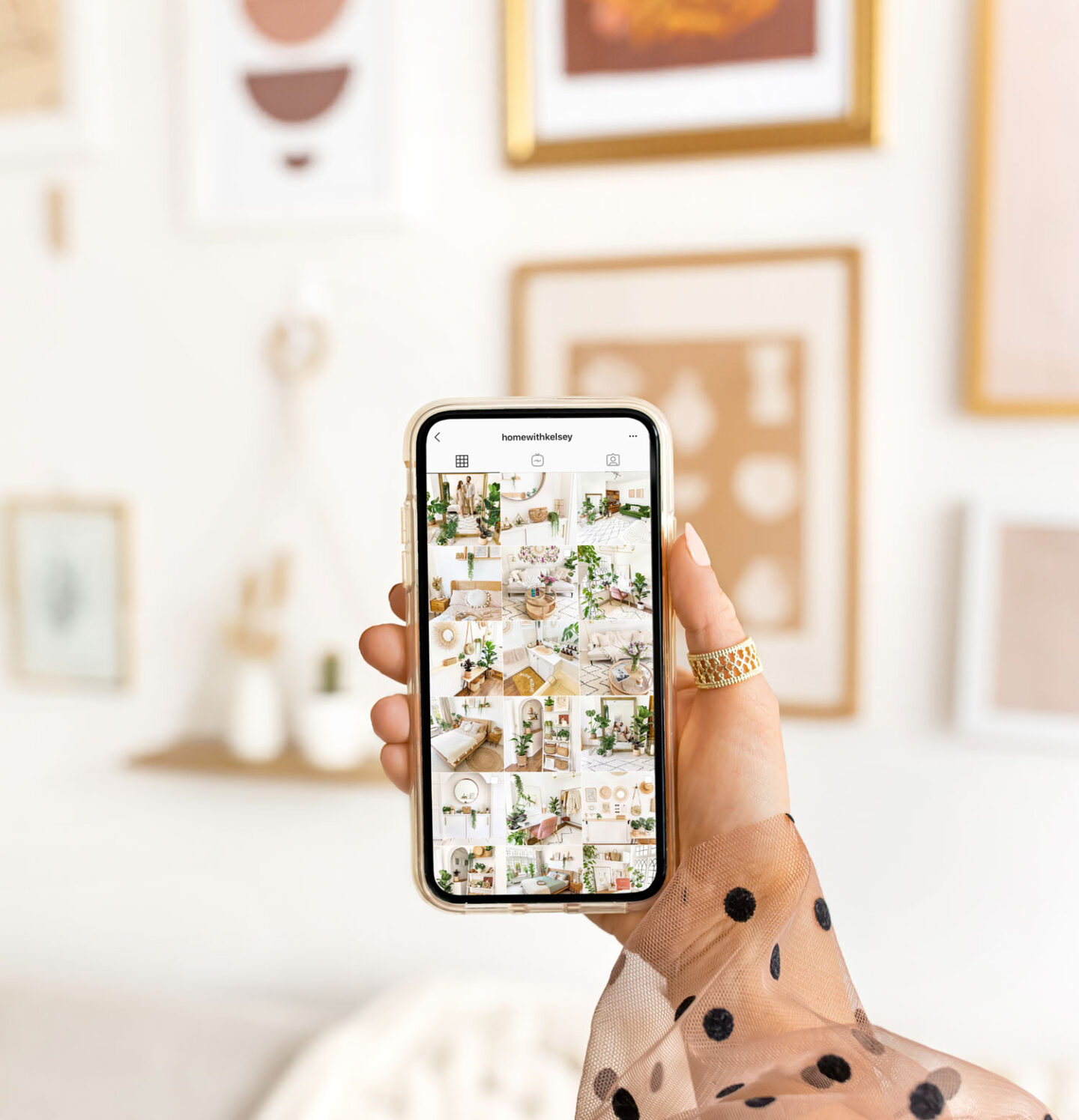 I post consistently.
I'm a firm advocator of quality over quantity, however what's equally as important is to make sure you are posting consistently. I've always posted 5 times a week on weekdays, with weekends off because that's my me time and nobody can fuck with that. Before Instagram became my full-time job, I would post on my lunch breaks at my agency job, replying to comments in between mouthfuls of my Pret salad.
Posting consistently is key to gaining followers on Instagram, especially if your hashtag strategy is on point. Every new feed post upload is a chance to reach a new audience outside of your existing followers.
When I looked at my insights and saw that individual feed posts would often bring me 2000 or 500 followers each time I posted, you bet I wasn't missing out on any of my 5 weekly uploads. Pick a time of day and a schedule that suits your lifestyle and remember to not burn yourself out. If you ain't in the mood to post, give yourself permission to log off and pour yourself a glass of wine.
Here's a handy hint I find a lot of people don't know about. On Instagram, go to Insights > Content > Posts. On this page, sort by "Follows" and you can see which posts have gained you the most followers (see example below). This is an incredibly insightful nugget to have up your sleeve.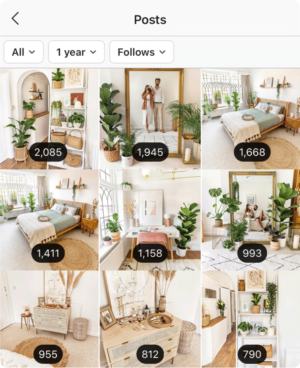 I listen to my followers.
Give the people what they want dammit! Pay attention to your insights and serve the content your followers are clearly hungry for. The best way to figure out what photos your audience loves the most is to go on Instagram and navigate to Insights > Content > Posts. On this page, sort by "Engagement".
Here you can compare your highest performing posts to your lowest-performing posts and spot trends which dictate the type of content your followers are vibing the most with.
Looking at my insights below, it's clear that my followers love wide-angle photos of my bedroom, my ladder bookcase, selfies with my boyfriend and my office. Looking at my lowest performing content I can clearly see that bathroom shots and close up details aren't up to scratch. That doesn't mean I'll never post a photo of my vanity sink again, it just means I make sure to regularly focus on creating and sharing new photos that are similar to my top-performing posts.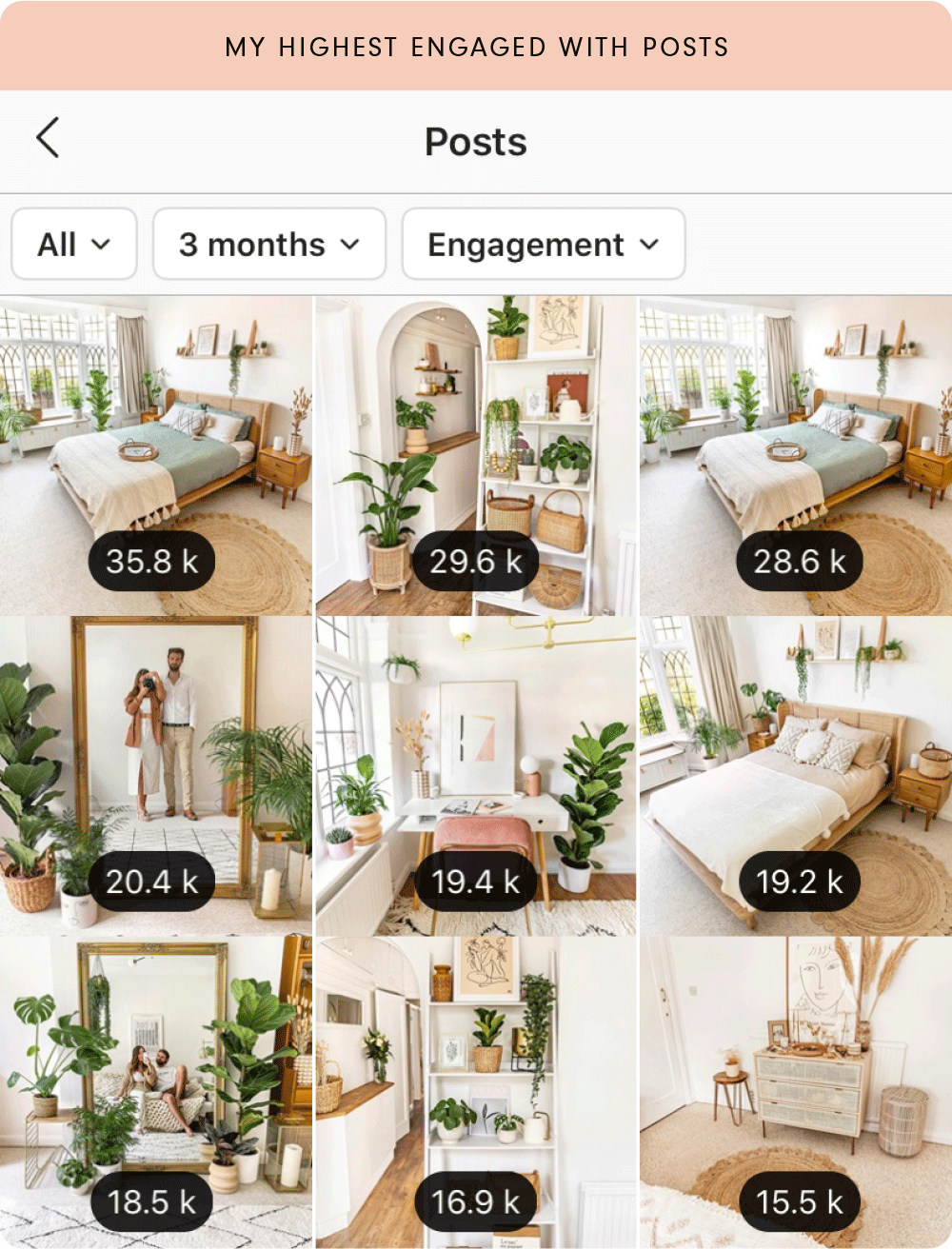 Meanwhile, on @kelseyinlondon my epic travel shots get the most engagement, however, my flatlay photos don't get nearly as many likes so I generally try to avoid posting them if I can.

From implementing all the previously mentioned points in this blog post, I am now growing at a steady average rate of 10,000 new followers every month on @homewithkelsey with only organic, authentic tactics.

If you want help determining which type of content you should be focusing on in order to gain followers, check out my Instagram coaching services HERE. I would love to help you achieve your Instagram goals!


Related:
Enjoyed this post? Read more Instagram & Blogging tips here.
Loved this post? Save these pins to your Pinterest