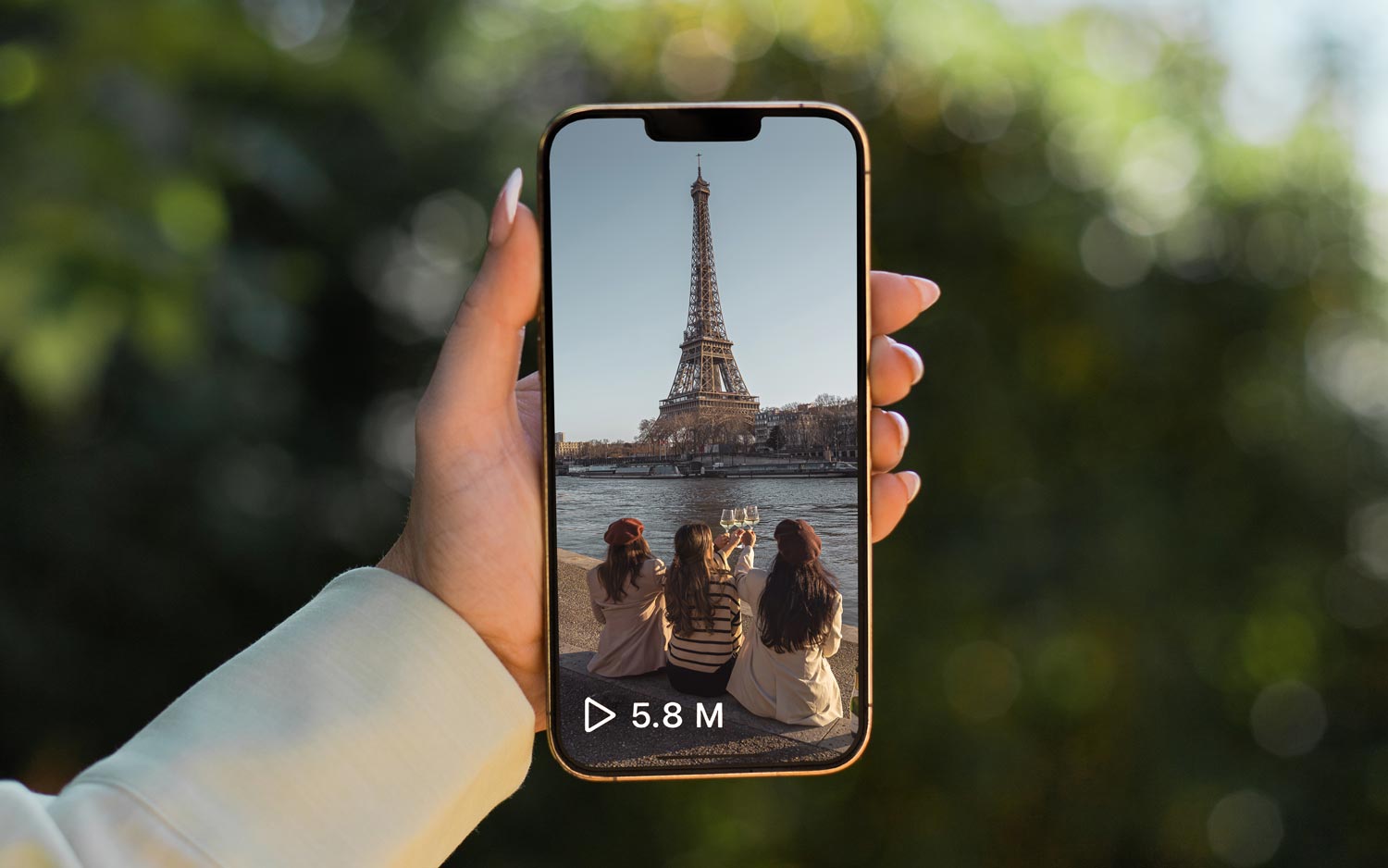 I know everyone rolls their eyes when an influencer says "I've been getting SO many questions about…". But really, I genuinely have. The question I get asked every single day, without fail, is: How do I make Reels? Which I find very flattering. I'm proud of the videos I've created and I'm grateful others seem to resonate with them.
We've all seen accounts we love go viral because of Reels. It's an exciting time on social media and we would be lying to ourselves if we said we didn't want a slice of the pie. You see, previously it was never possible to reach 1 million people on an Instagram photo post unless you were a celebrity. But with Reels, you can reach millions regardless of your follower count or social status. Over the past 12 months, I've gained over 200,000 new Instagram followers on my account @kelseyinlondon — all thanks to Reels.

A year ago, I was very reluctant to start posting videos. I'm a passionate photographer through and through. I thought TikTok and Reels were only for people who could dance, and I can't dance to save my life. How wrong I was! Video content is so much more than hitting the woah or lip syncing. With video content, you can inspire a shit load of people to feel more confident, start a DIY project, cook a recipe or travel to a destination they've never even heard of before.

In this post, I'll be covering everything you need to know about how I make Reels go viral. From what equipment I use to film, to how to find trending audios and down to the specifics of my upload settings. I've tried to cover as much as possible in this guide so if there is anything specific you need advice on, please leave a comment below and I'll do my best to help 🙂
What apps do you use to edit Reels?
I use Adobe Rush on my computer to edit my Reels as I find it so much easier to edit precisely using a mouse rather than my finger. However, if I'm editing on the go I will use Adobe Rush on my mobile too. InShot, CapCut & Splice are other great apps you can use on your phone to edit Reels. Unless you absolutely have to, avoid editing within the Instagram app. It's a lot more time-consuming, it's buggy and you can risk losing all your drafts.

How do you edit the colour of your Reels?
Editing the colour and brightness of a video is a step that shouldn't be missed when making Reels. Look at how the below video files looked originally, they are overexposed and flat. With a few quick editing adjustments, I can bring back the vibrancy and depth using either Adobe Rush or Adobe Lightroom. (See reference images below)
I've created a range ready made Video Filters that you can use to transform your videos in just one simple click.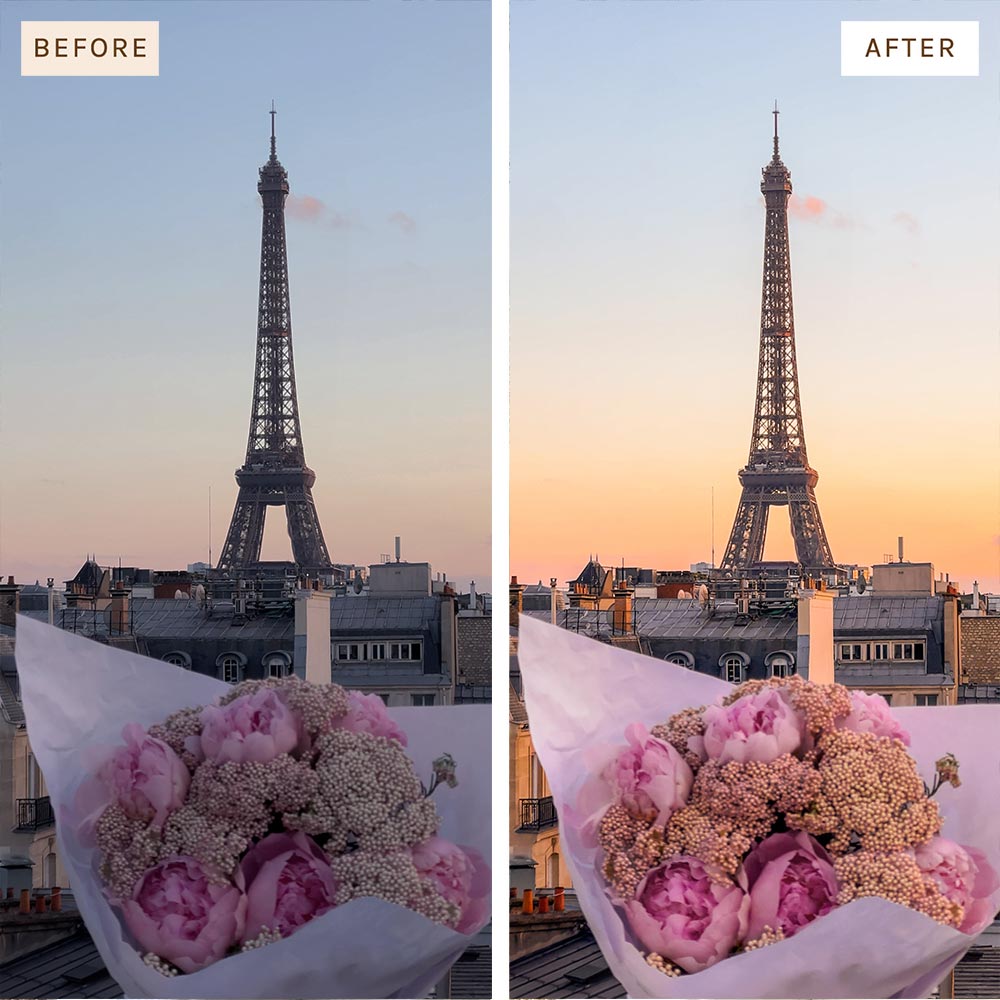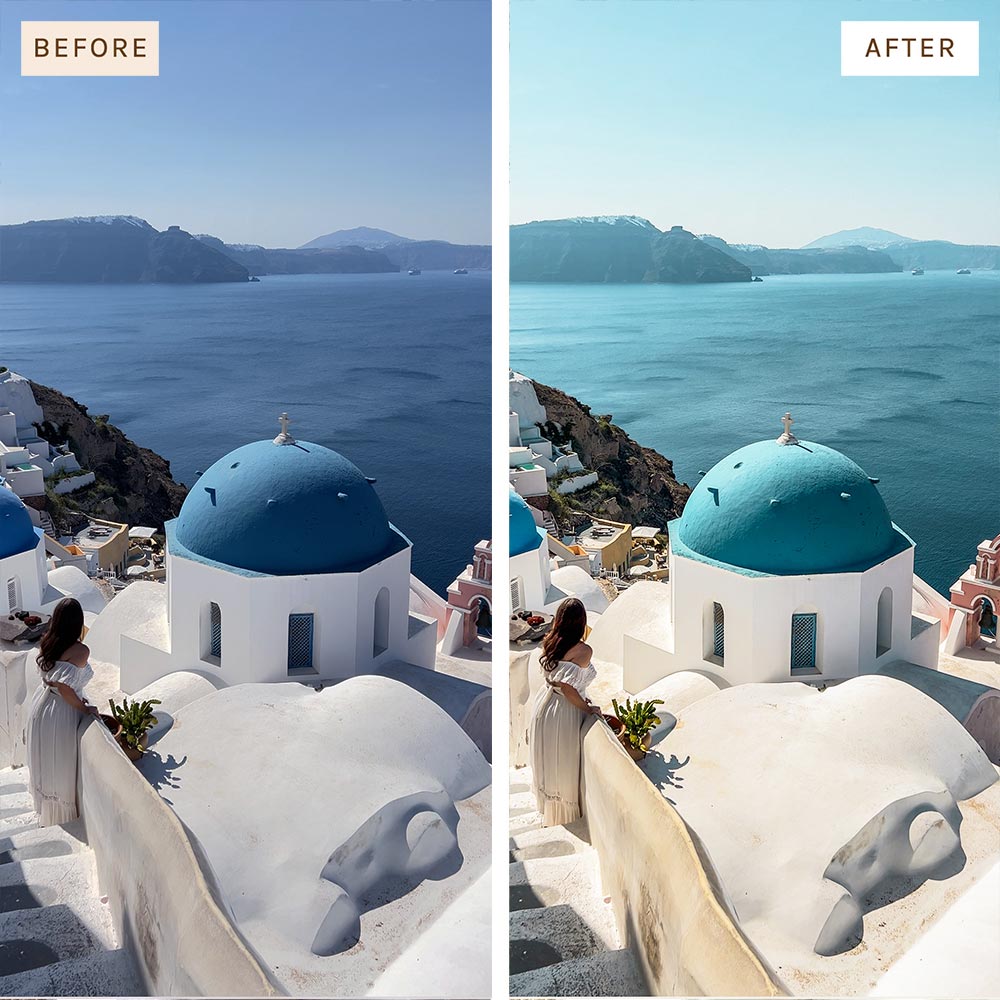 What camera & equipment do you use to film Reels?
You really don't need a fancy or expensive camera to make beautiful, viral Reels. I film all my videos using my iPhone 13 Pro Max. The difference between the cameras on the 13 and 12 is huge. So if you can afford it, I would really recommend making sure your iPhone is the latest model. 
I also recommend using a gimbal. This nifty little device is what I use to make my videos look super smooth. You can get one for under £100 on Amazon. This is the exact one I use which has an inbuilt tripod and selfie stick. A decent tripod will also help you film from various different angles and is what I use to film transitions. This is my go to tripod that I use with both my dSLR camera & iPhone.
How do you upload high-quality Reels?
If you've watched my Reels, you'll notice they are usually sharp and non-pixelated. The number one mistake I see people make is not wiping their iPhone lens before filming, it makes such a difference. I see a lot of videos that look blurry because there is still grease/dust on the camera lens. The second thing that'll improve the quality of your Reels is your camera, exporting & upload settings. Below are the exact settings I use:
CAMERA SETTINGS
I record all my videos in 4K at 60 fps (frames per second). To change these settings on iPhone, go to Settings > Camera > Record Video and change to 4K at 60 fps.
Make sure to have HDR Video turned off – unfortunately most editing apps do not support HDR format.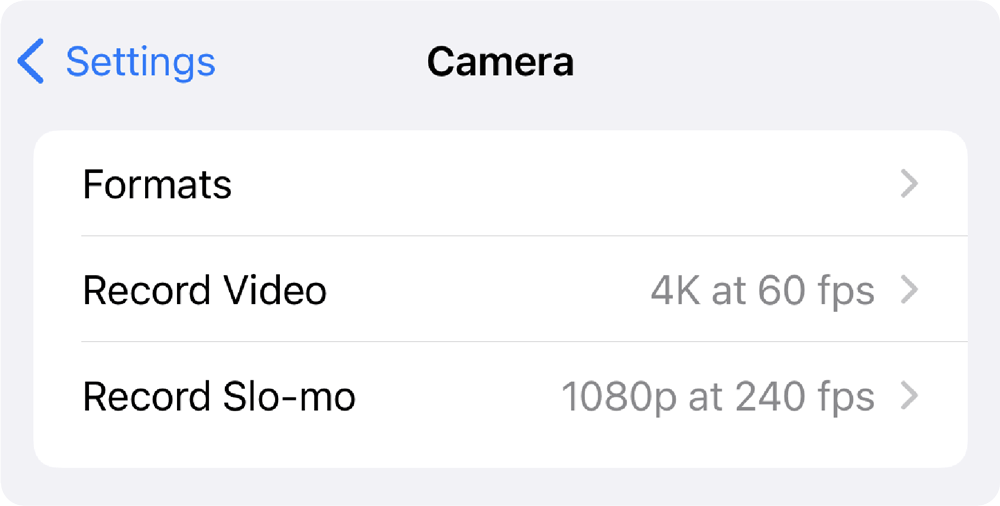 EXPORT SETTINGS
I export all my videos to 4k at 30 fps. Depending on what app you use to edit, you'll be able to select these settings once you've clicked export or share video.
UPLOAD SETTINGS
Make sure you have high-quality uploads turned on. To do this on Instagram, go to Settings > Account > Data Usage and make sure High-quality uploads is turned on.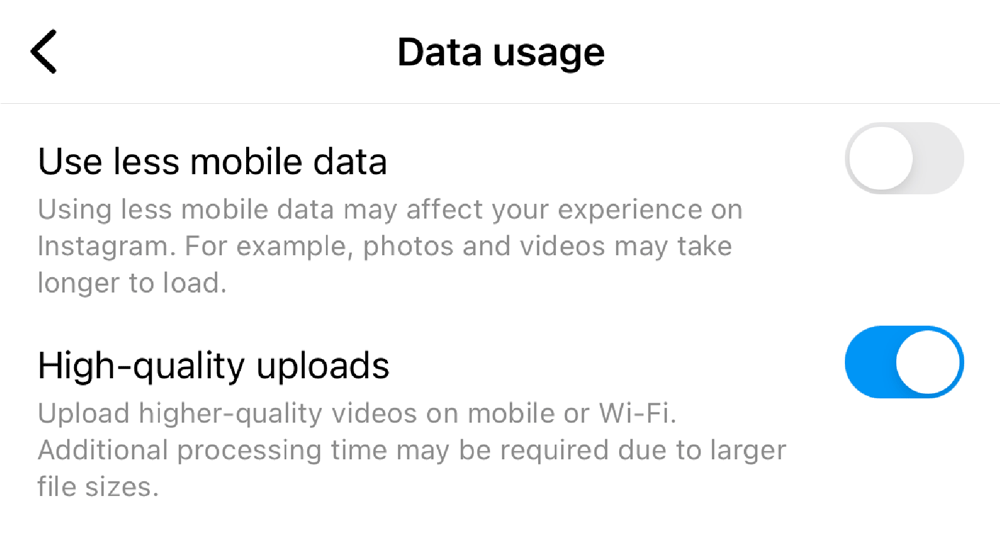 How do you find trending audios for Reels?
I wish there was an easier way to do this, but alas, Instagram doesn't like to make our lives easy. Here's what I do: I simply open the Reels tab on Instagram and start scrolling. As I scroll, I make a note of any audios I find with the trending arrow sign and save them. If you don't see the trending arrow sign, make another Instagram account with a separate email and see if it's visible on your second account.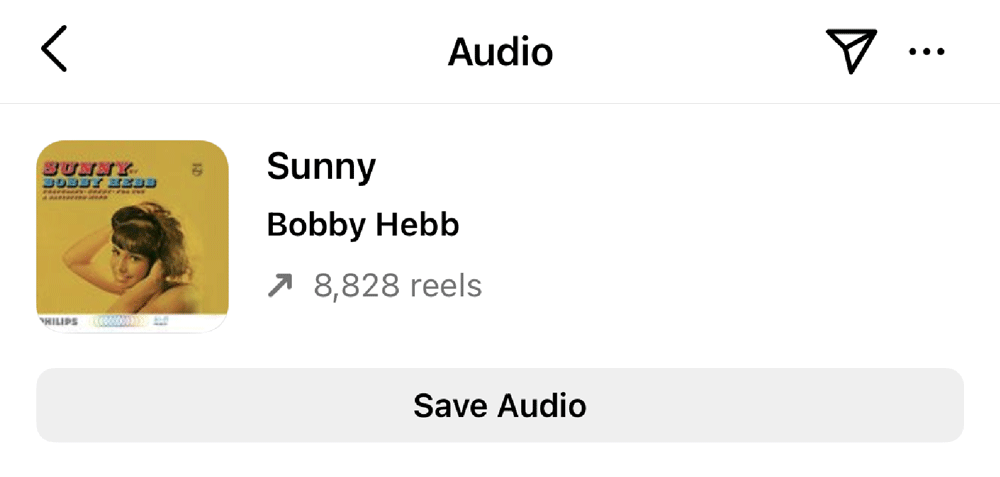 Look for audios that have less than 15,000 videos on them. If they have over 100,000 videos, it's going to be hard to rank on that audio and appear at the top of that audio page. By the time a trending audio has over 200k videos, trust me, everyone is sick to death of hearing it. 
I also make a note of the songs and audios I see on my TikTok For You Page. Audios that trend on TikTok usually trend on Instagram two weeks later. You can be ahead of the curve if you pay attention to TikTok trends.
Be aware and stay tuned to music news. Any time a major artist releases a new album (think Drake, Harry Styles or Beyoncé), their songs are always trending on Instagram. Make a note of any upcoming album release dates and make sure you use those songs on your Reels ASAP.
Don't just use an audio just because it's trending. It's really important that it actually fits the vibe of your video. Also lastly, you do not need a trending audio to go viral. It can help but it's not crucial. The most important thing is to focus on the quality, content and value of your Reel.
How do you add trending audio to your Reels?
Of course, you can easily do this within the Instagram app. However, if you're adopting my "Create once, post thrice" method, you'll want to add audio to your videos using an external app. So how do I do this?

Once I have found a trending audio on Instagram, I screen record that song. I then import that video file in Adobe Rush and extract/separate the audio. I'll make sure to edit on beat to the song. Then when I go to upload on Instagram, I go to the audio page and upload my video from there. On the music settings, I put my camera audio at 100 and the trending audio at 1. This means I don't need to waste any time trying to sync up the audios, this used to drive me crazy. My video will now appear on the trending audio page. It will not work if the trending audio is at 0 – if you do this, your audio will appear as original.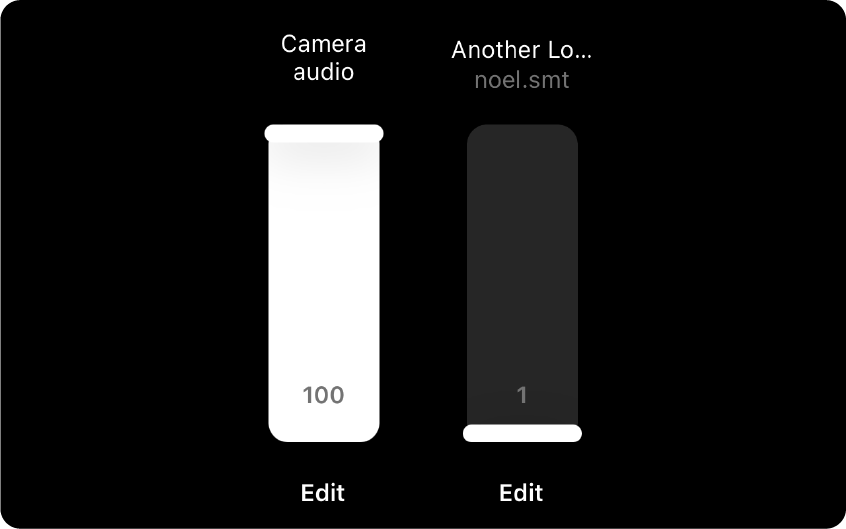 How to edit your Reels to be on beat/in sync to music?
Making sure your video is on beat and in time to a song is crucial. Watching a Reel that is on beat is just so much more satisfying to watch. It'll help increase your chances of going viral too.
Within both the Instagram and TikTok apps, there is inbuilt editing functionality that allows you to insert clips and have them appear on beat without any additional effort.
I've personally never used this feature as I prefer to edit all my videos in Adobe Rush. The way I edit on beat is by looking at the waveform for an audio track and seeing where the beat/spike is. I line up each video clip with the spike of the music beat (see example below). 
This is easier for some songs compared to others, so sometimes I have to do this by ear. This is something that will become easier with practice.

What content should go in my Reels?
If you want your Reel to go viral, the content of your video has to be valuable. Valuable Reels are either educational, informative, inspiring, entertaining or relatable. Before creating a Reel, make sure you ask yourself what value will this video give? If you're just posting for the sake of posting, then chances are it will be very difficult for your Reels to ever go viral. Create with purpose and passion and an aim to enrich the lives of the viewers watching your video.

By now, you should have already identified your niche. I've previously talked about the importance of having a niche on Instagram. If you normally post recipe videos and start uploading trending dance videos, then you might go viral for all the wrong reasons. You'll also risk gaining followers who aren't interested in your foodie content. Stick to your niche and let that guide what kind of content you should create.
How do I get people to watch my Reels?
If you want people to watch your Reel, it needs to have a HOOK. Something to entice viewers to actually stick around and watch the full video. This is why the first two seconds of your Reel are SO important. You want to grab someone's attention so they don't scroll past your post. Make sure your first clip is the most visually exciting and eye-catching video. 
If it's relevant, add text or a CTA (call to action) to the start of your video to let viewers know what it's about. Some examples include:
You HAVE to try this 5-minute recipe 
5 ways to style a blazer
My secret for taking perfect photos 
10 vegan restaurants in London
Easy cat eye makeup tutorial
My biggest regret when it came to starting my business
3 must-have gadgets for new mums
Do you remember these hair trends from the 90s?
Ikea Furniture Upcycle Ideas
Need more help with this?
How long should my Reels be?
Your Reel should be no longer than 20 seconds and ideally between 5—15 seconds long. Let's face it, social media has ruined everyone's attention span so you need to get your point across quickly before they lose interest. I only recommend creating Reels between 30—60 seconds if you are uploading a very detailed tutorial or a hilarious, captivating story time.
What time should I post Reels?
Posting on Instagram should suit your schedule. There is no magic time to post that will increase engagement or views. 
However, with video content, it's helpful to be mindful of when you think viewers will actually have time to watch a video with audio. Now that most of us are back to our morning office commute and early morning fitness sessions, people are more likely to watch videos in the evening and on weekends.
Be mindful that a lot of people watch Reels without audio (they may be in bed next to their sleeping partner or around children). So make sure your Reels have captions for those who are hard of hearing or watching without audio. As always experiment and see what posting times work for you.
Should I post my Reels to other platforms?
Absolutely. "Creat once, post thrice" is a motto I came up with to explain my social media strategy. What I mean by this, I create one video and post that exact same video on three different platforms: Instagram, TikTok and Pinterest. You could even take it a step further and post it on five different platforms, sharing to Facebook and YouTube Shorts too.
I simply do not have time to create unique content for each different platform so this is how I make the most of my Reels. I create with Instagram in mind first as it's my main platform. The process of posting that same video to TikTok and Pinterest is only an additional 10 minutes of my time.
Don't just leave your videos sitting on your camera roll or hard drive. Make sure to upload them to as many platforms as you can for maximum visibility. The benefit of editing your videos in an external app (like Adobe Rush or InShot) is that you don't have to worry about removing any annoying Instagram or TikTok watermarks.
How often should I post Reels?
When it comes to Reels, posting consistently is really vital if you want a chance of going viral. Please note that it's very normal for your views on Instagram to be wildly inconsistent. Take a look of my Reel views below, they vary from over 2 million to 20k views within the same week.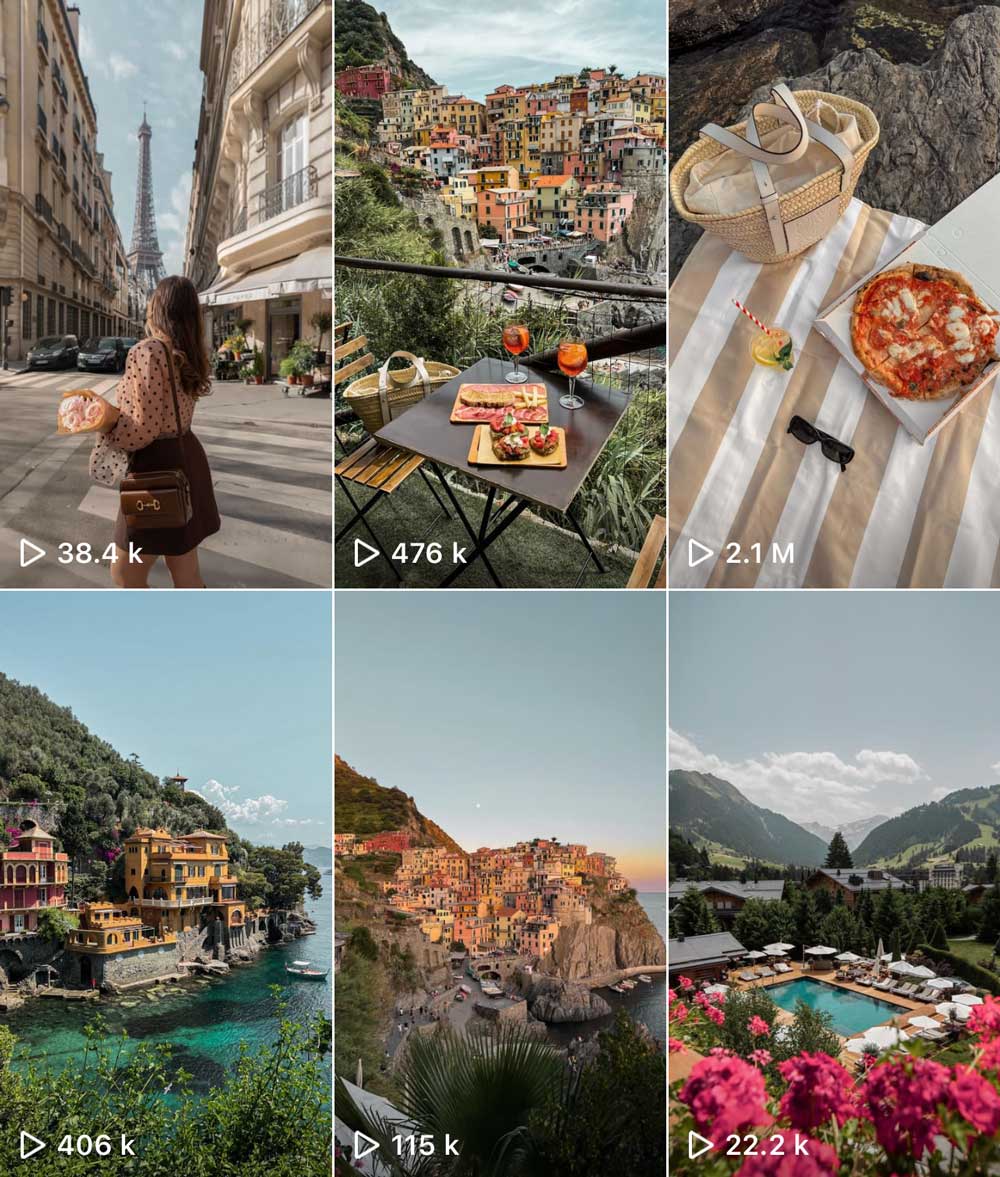 Not every Reel you post is going to go viral. Think of Reels like darts. The more darts you throw at the board, eventually one will hit bullseye. The more Reels you upload, the more chances you'll have for it to go viral – but I think that's pretty obvious already. 
I try to aim to post 3 to 5 Reels a week, depending on my schedule. Sure, I'd have better results if I posted 10 Reels each week, but I'd also have no social life and time to look after myself. Do the best you can with the time you have available. 
It's more important to be consistent than to post 20 times in one week and then disappear for 2 months because you burnt yourself out. Remember to take healthy social media breaks. I don't tend to post on weekends and if I'm away on holiday, you won't see me posting at all.
What should go in a Reel Caption?
As Reels are a lot more time-consuming to create compared to photos, people often tend to forget about the caption. Captions shouldn't be an afterthought. A caption that has value will get a lot of saves. The more saves and shares a post has, the more likely Instagram will push your Reel to the Explore/Reels tab, resulting in more views.
Encourage saves by having as much information as possible in the caption. If you're a travel blogger, this could be a summary of recommendations for the city you're featuring in your video. If you're a fashion influencer, in the caption you can list all the items you are wearing.
Captions are also searchable, like Google. So it's important to make sure they have keywords. Again, think about what people would search for. "Neutral Outfit Ideas" "Dog-Friendly Hotels" "Sustainable Clothing Brands". Don't just let your video do the talking, make sure your captions are descriptive as possible.
What hashtags should I use on my Reels?
Just like captions, hashtags are equally as important. While Instagram doesn't give us the insights on exactly how much reach we get on a Reel through hashtags, they do help with reach.
 I've had a 1-on-1 training call with someone who works at Instagram and they confirmed that hashtags do matter as they help Instagram work out what your video is about. I've written a detailed guide on how to find the best hashtags in this post here.
Why aren't my Reels going viral?
Honestly, there could be many reasons why. Your video was a bit dull. You didn't wipe your camera lens before filming. Your audio sync was off beat. I think we can all honestly say there is always room for improvement. But maybe you've tried absolutely everything and you feel like you're still not getting anywhere?
I want to talk about privilege for a second as I think it's so integral when it comes to who is successful on social media. Let's not beat around the bush here: if you're white, slim and beautiful – you won't need to make much of an effort to go viral on Instagram. The system works in your favour. The system also works against marginalised groups. It's unfair and it's why representation and inclusion matter. It's so important we strive for this in our communities both online and offline.
There is also privilege on social media when it comes to money. If you can afford to buy designer handbags and stay in luxury hotels, you have more chances of going viral. There is also time privilege. If you have more time to film & edit, you have more chances of going viral. It's not fair to compare a single working mother of three to a uni student who lives with their parents.
The reason I am saying this is a reminder to not compare yourself to others. Be patient, work hard at your craft and remember that there is simply no one else like you. That's the magical thing about the internet is that you are always going to find people who care about you. Your Reel doesn't have to reach 1 million people for it to matter. Even if it reaches 1000 or 100 people, that's still a lot of bloody people.
Learning videography & video editing is a skill that takes people literally years and years to master. It's a whole different ball game to taking photos. Be kind to yourself, you will get better with practice. If you feel like you could benefit from having some personalised feedback and advice on your Reels, please send me an email and enquire about my coaching calls.
I truly hope you've learned something new from reading my post and that it will help you with your goals, whether that's growing your online business or simply getting more views on your dog's Instagram page. I'm here to help.
Tickets are £14.85 or £23.85 with a glass of Nyetimber Classic Cuvée. Note: Tickets are considerably cheaper when you book online.
The Polish eat more soup than any other country in the world, 3.8 BILLION litres of soup each year to be exact! That's 103 litres of soup per person. 
Tickets are £14.85 or £23.85 with a glass of Nyetimber Classic Cuvée. Note: Tickets are considerably cheaper when you book online.