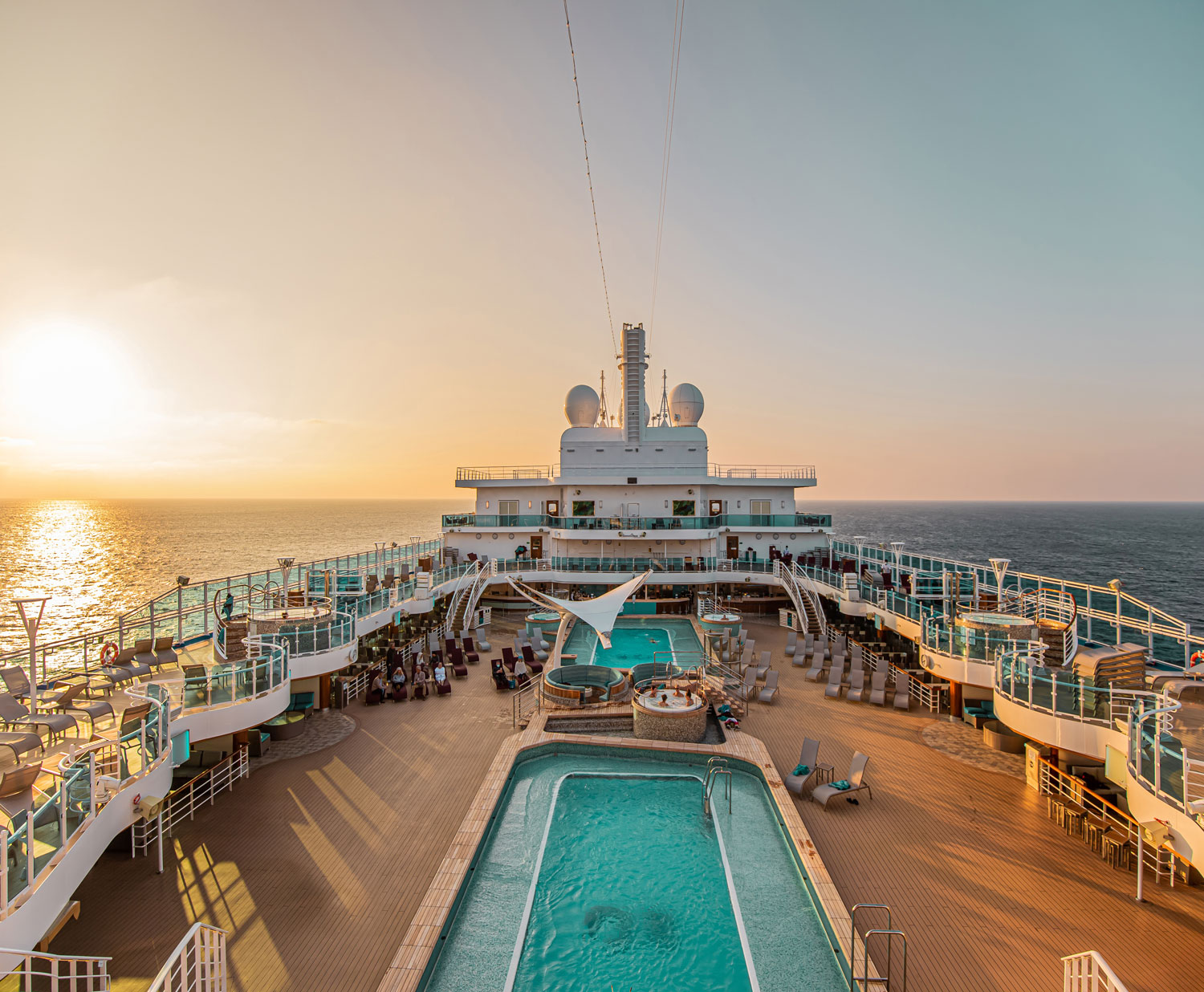 — This article contains paid content, all words and opinions are my own —
Cruising is making a highly anticipated comeback in 2021 with Princess Cruises leading the way with their royal fleet of cruise ships. With international cruises back on, I had the opportunity to set sail on the Sky Princess for a one-of-a-kind Summer Seacation experience – think of it as a staycation, only at sea! This mid-week cruise departed from Southampton and thanks to Captain Tuvo we literally chased the sun along the English Channel towards the south of France, meaning everyone on board enjoyed five days of sunshine while the rest of England were drenched in rain. While normally the value of cruising is getting to see the world in style and waking up in a new destination, this Seacation cruise was the perfect opportunity to enjoy everything the Sky Princess has to offer on sea days.

If you're curious to find out whether the cruise life is the life for you or if you're a seasonal cruiser and you're itching to book your 2022 cruise, keep reading for my full review of the Sky Princess and what you can expect on board.
Review of the Sky Princess
Book your 2022 Cruise Now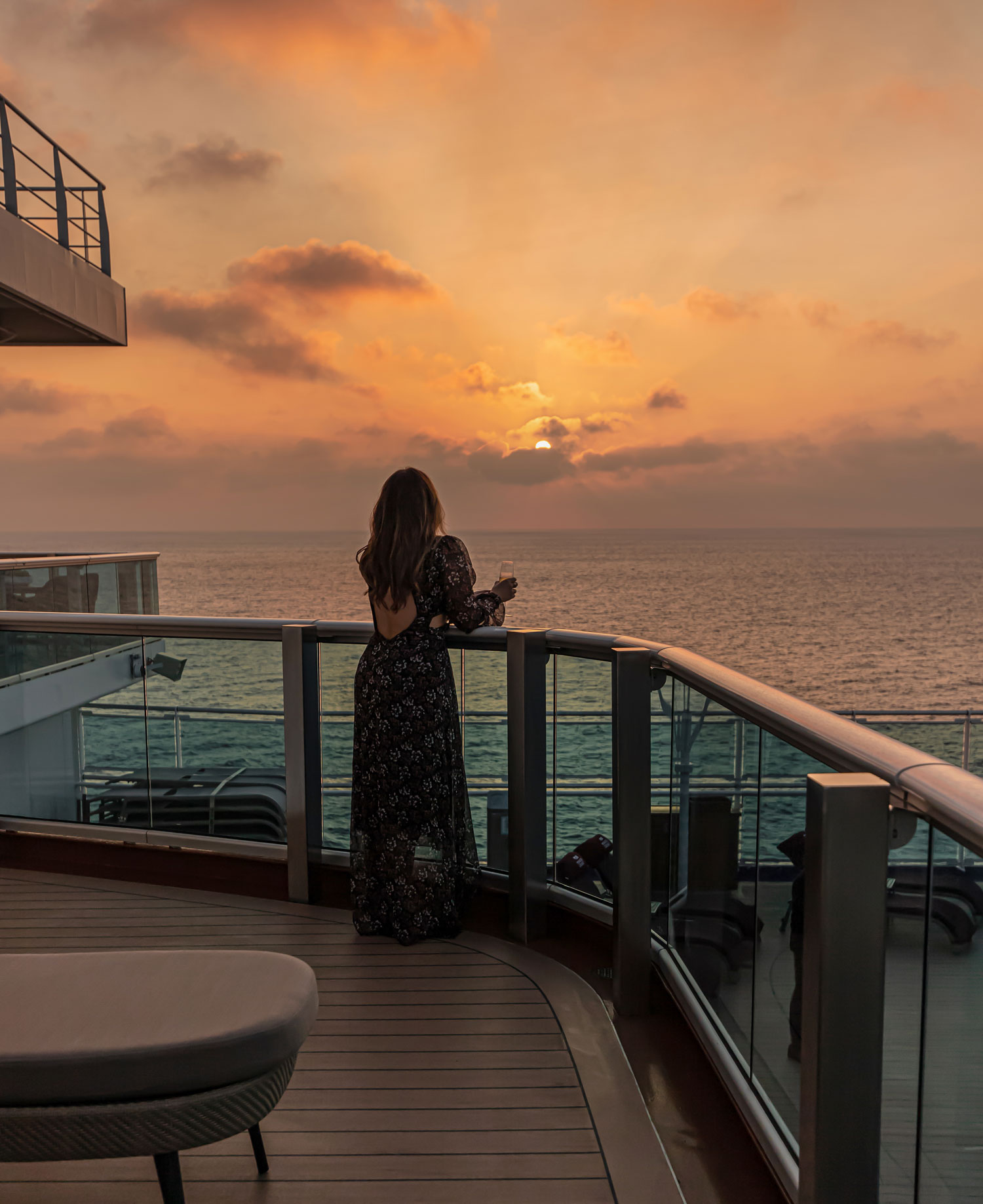 Balcony or Interior? Mini-Suite or Suite? Port or Starboard side? There's a lot to consider when choosing your lodgings on board the Sky Princess and ultimately it comes down to your budget and the context of your trip. If you're planning on partying it up in the Mediterranean, then an affordable interior cabin is more than suitable and a no-brainer considering you'll only be there to sleep. On the other hand, if you're booking a cruise for your honeymoon or to celebrate an anniversary then it's worth upgrading to a mini-suite with a balcony so that you can enjoy the Ultimate Balcony Experience, more on that latter, however.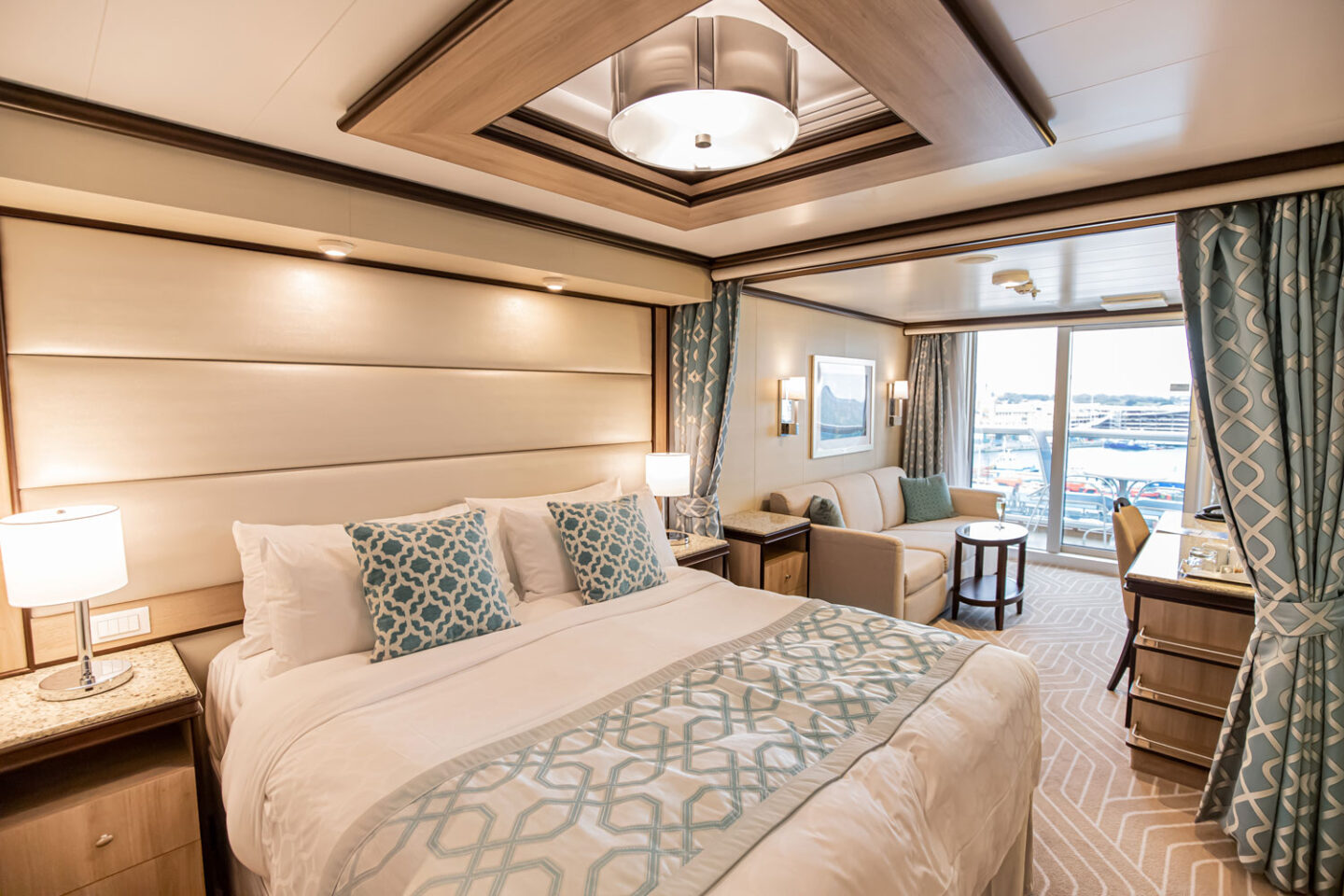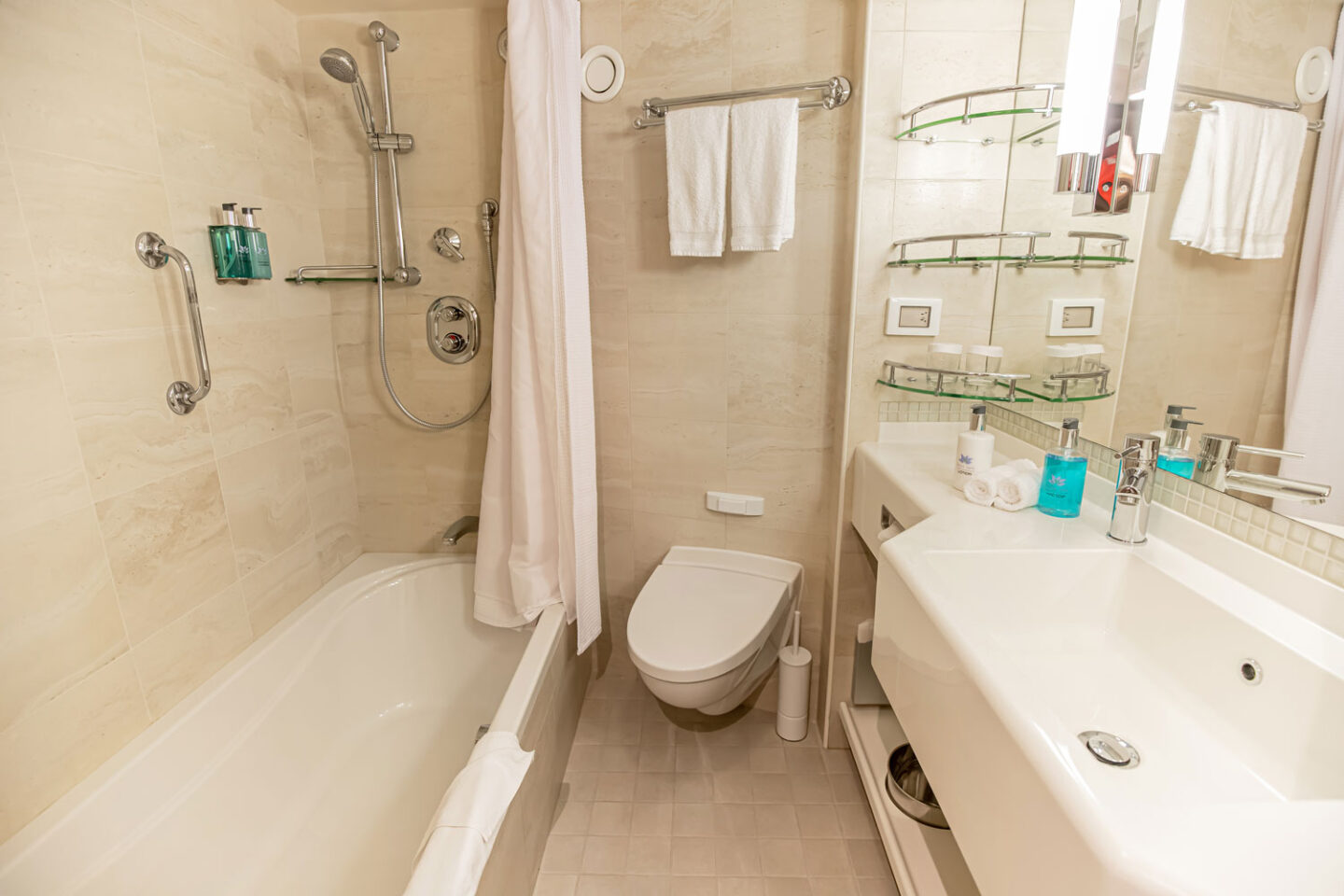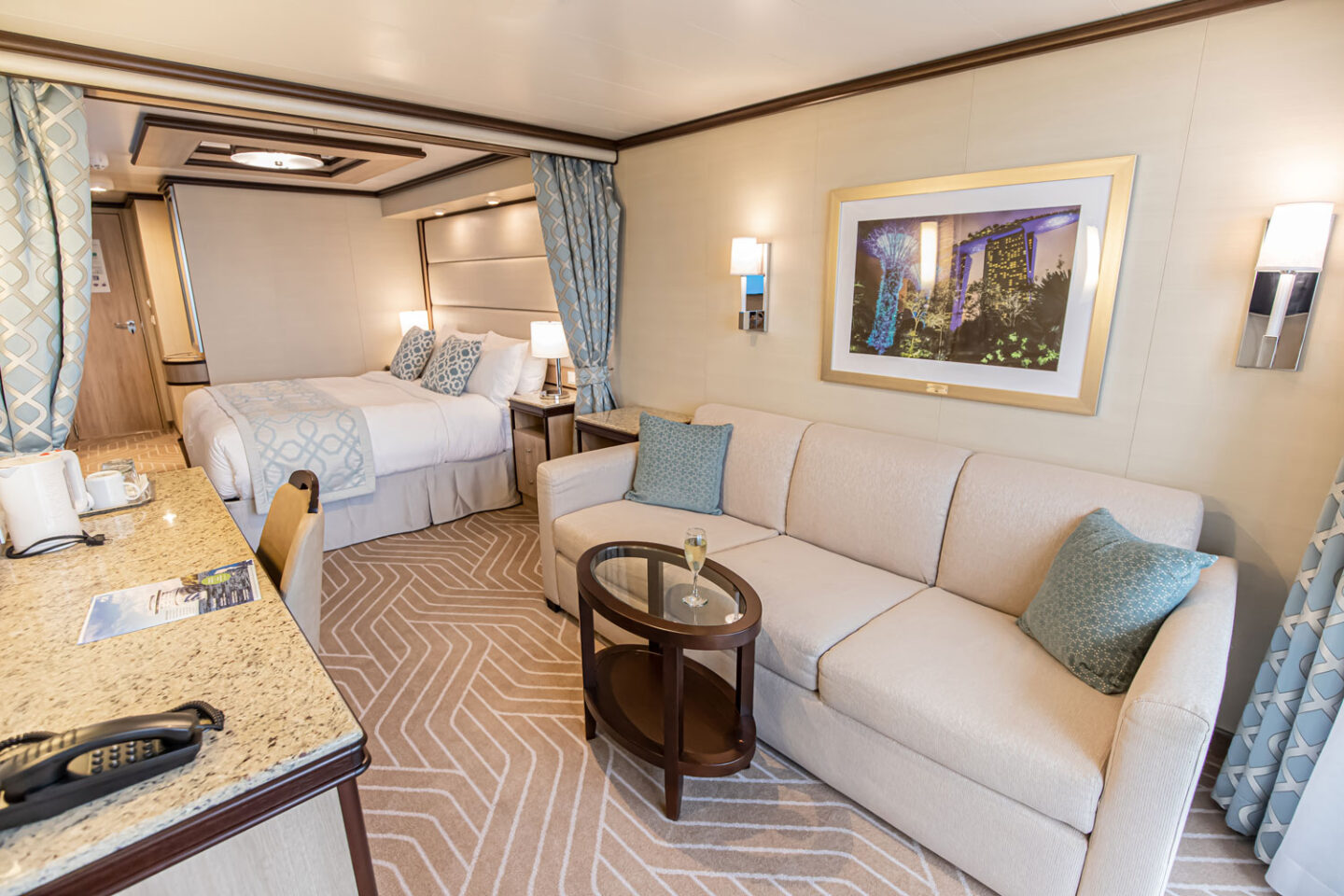 When checking into my Sky Princess Mini-Suite I was not expecting a large room that was bigger than my last three London rental bedrooms combined, nor was I expecting a glass of bubbly and chocolate-covered strawberries awaiting my arrival – just the touch of luxury I deserved after harrowing 12 months. I wrongly assumed accommodation would be on the smaller side which was naive for me considering how big the cruise ship actually is. I was more than comfortable in my spacious 323 sq. ft stateroom complete with a bathtub, private balcony, separate lounge area, desk, two flat-panel TVs, walk-in wardrobe,

If you enjoy the finer things in life and want to make your cruise a trip to remember, consider booking yourself into the 1,873 sq. ft Sky Suite with a 270-degree panorama ocean view best enjoyed from the wrap-around deck, with a glass of champagne and all the luxury trimmings.

If you're prone to seasickness, make sure to book a stateroom in the midship rather than towards the bow or near the stern. I didn't experience any uneasy feelings during my trip however it's recommended to stick to the middle where there is less movement if the ship comes across rough waves. 
A friendly word of advice, make sure to pack stretchy jeans and trousers in anticipation of what will most likely be the best culinary experience of your life, you'll thank me later! You will be truly spoilt for choice when it comes to the cuisines of this cruise ship. There is a large variety of food and restaurant options included within the standard Princess Fare. And it's not just buffet food either, the fare includes complimentary 3-course à la carte dining (make sure to order the Duck duck l'orange!), authentic Neapolitan pizzas from Alfredo's Pizzeria, cuisines from all around the globe in the World Fresh Marketplace and an endless supply of pastries, burgers, hot dogs, tacos, fries and soft-serve ice cream.
I highly recommend booking into at least one of the three Specialty Restaurants on board. There's Bistro Sur La Mer for modern French dishes, traditional Italian fine dining at Sabatini's Italian Trattoria and Crown Grill, an upscale steakhouse restaurant. While these speciality restaurants do have an additional cover charge, you'll be blown away by the value and what's included. Where else can you get a 4-course meal with steak & lobster for $29? The standout restaurant was by far Crown Grill! If you had to pick only one Specialty Restaurant experience, then go for that and order the devilishly indulgent Black & Blue Onion Soup because I'm still having dreams about it.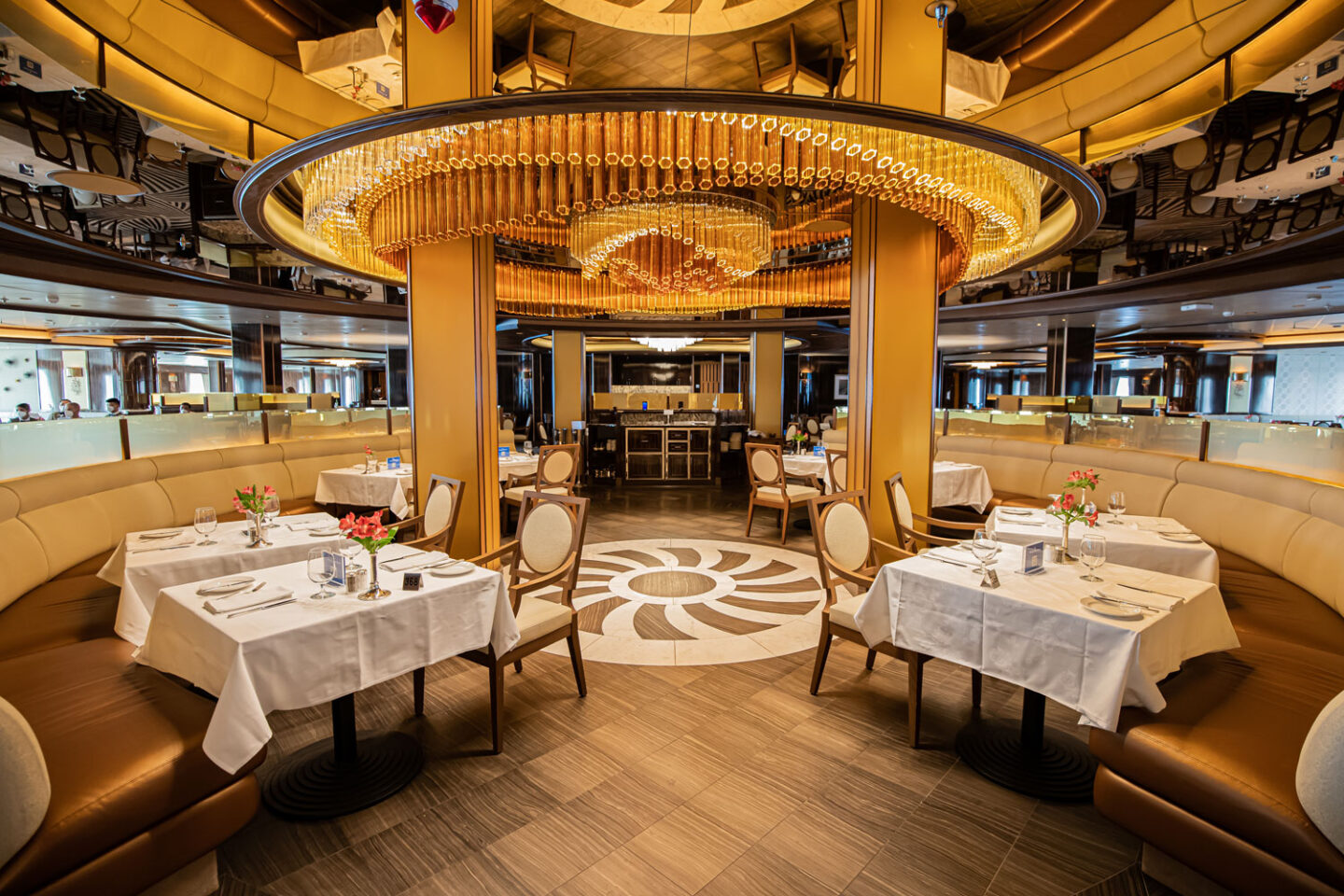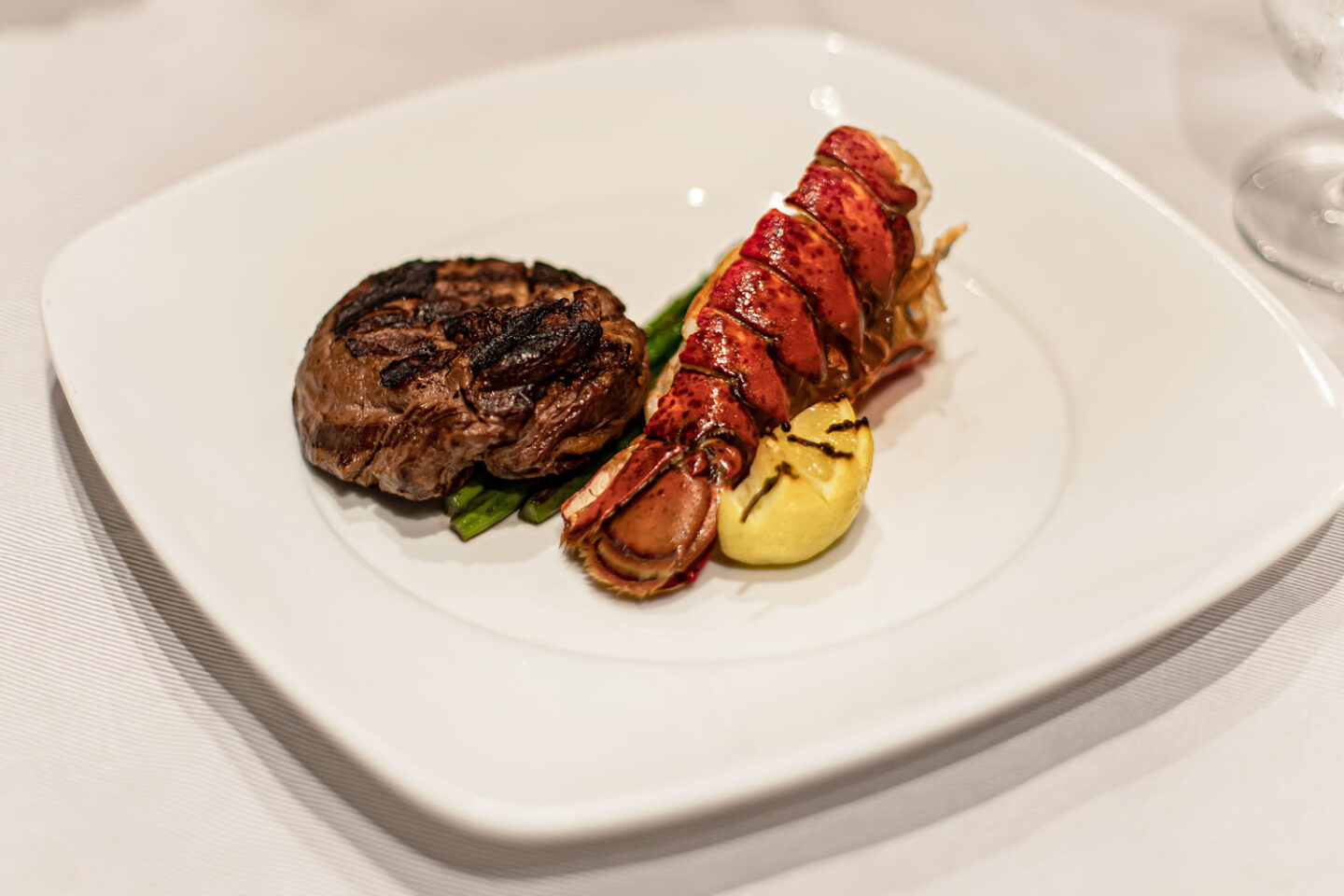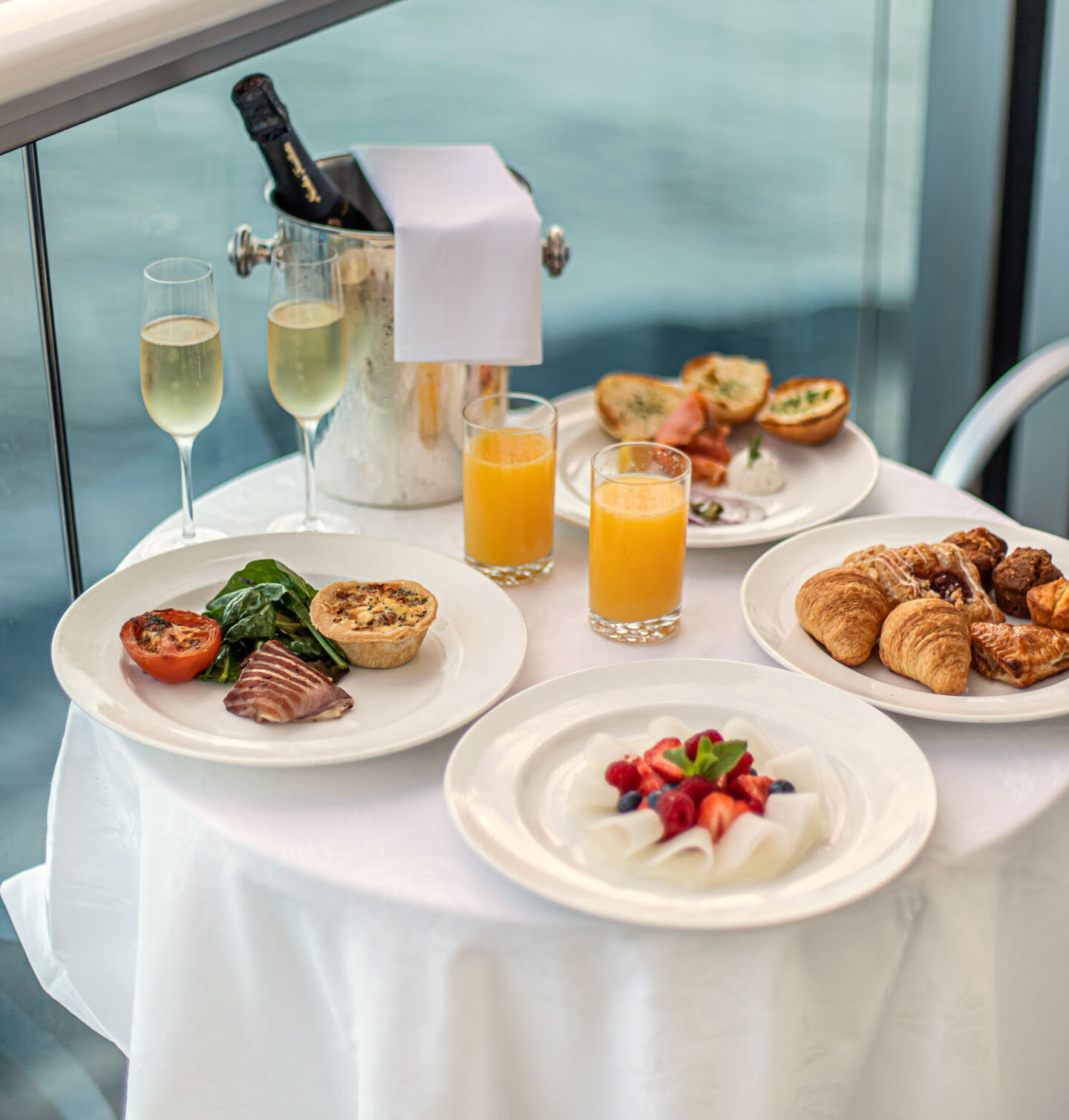 If you're celebrating a special occasion while sailing, the Ultimate Balcony Breakfast is just the dose of romance and luxury you need in your life. For a cost of $45 per couple, you will be served a luxurious breakfast on your very own private balcony, and that includes a bottle of champagne. I'm blown away by the value of these additional experiences. I mean how perfect would this be for newlyweds, an anniversary or birthday or even a proposal? 
There are plenty of gluten-free and vegan options – the crew will already be aware of your dietary requirements ahead of your trip which means you'll have specially made dishes and enviable desserts. There didn't seem to be any halal meat available however with the amount of delicious seafood and vegetarian items on the menu, you'll still have trouble deciding which dishes to choose from.

To avoid queues and wait times, simply make a dinner reservation in the Dine My Way section in the MedallionClass app.
RESTAURANTS ON THE SKY PRINCESS
 Inclusive dining 

Everything that's included within the standard Princess Cruise Fare.
Main Dining Room
À la carte dining with cuisine by award-winning Chef Curtis Stone.
Alfredo's PizzeriA
À la carte dining – freshly prepared sourdough pizza.
World Fresh Marketplace
Huge buffet-style eatery with endless options and cuisines.
Chocolate Journeys 
Delectable chocolate desserts made by world-class pastry chefs.
International Café 
Open 24/7 – Coffee, cakes & late night snacks.
The Salty Dog Grill
Burgers, Tacos, Hot Dogs & Fries by the pool on the top-deck.
Slice Pizzeria
Grab a slice on the go from the top-deck
ICE CREAM
Complimentary soft serve chocolate or vanilla ice cream
24/7 Room Service
Order food through with free delivery via OceanNow®, anywhere on board.
 Specialty Dining 
Specialty fine-dining restaurants with a cover charge packed with value.
CROWN GRILL Voted Best Cruise Ship Steakhouse for a reason!
Sabatini's Italian Trattoria Handmade pasta & authentic Italian family recipes.
Bistro Sur La Mer French bistro-style dining with modern dishes created by Chef Emmanuel Renaut.
Ultimate Balcony Dining Luxurious champagne breakfast served on your private balcony.
 Extras
Even more treats & cuisines available on board with an additional charge.
AFTERNOON TEA Traditional afternoon tea service served daily in an elegant dining room.
gelato Delicious authentic gelato & waffles in the gelateria.
Ocean Terrace Sushi Bar Premium seafood rolls and sashimi.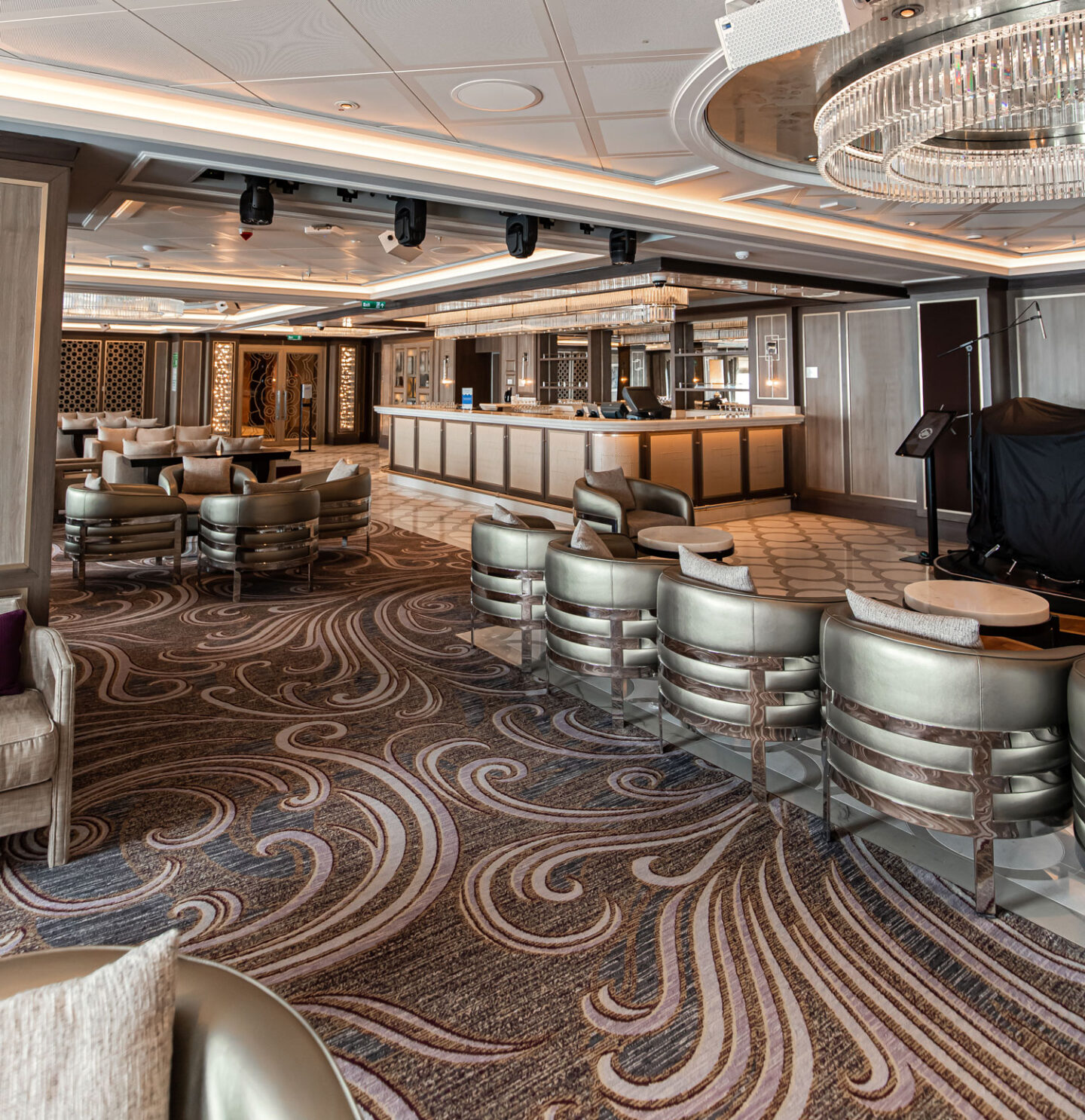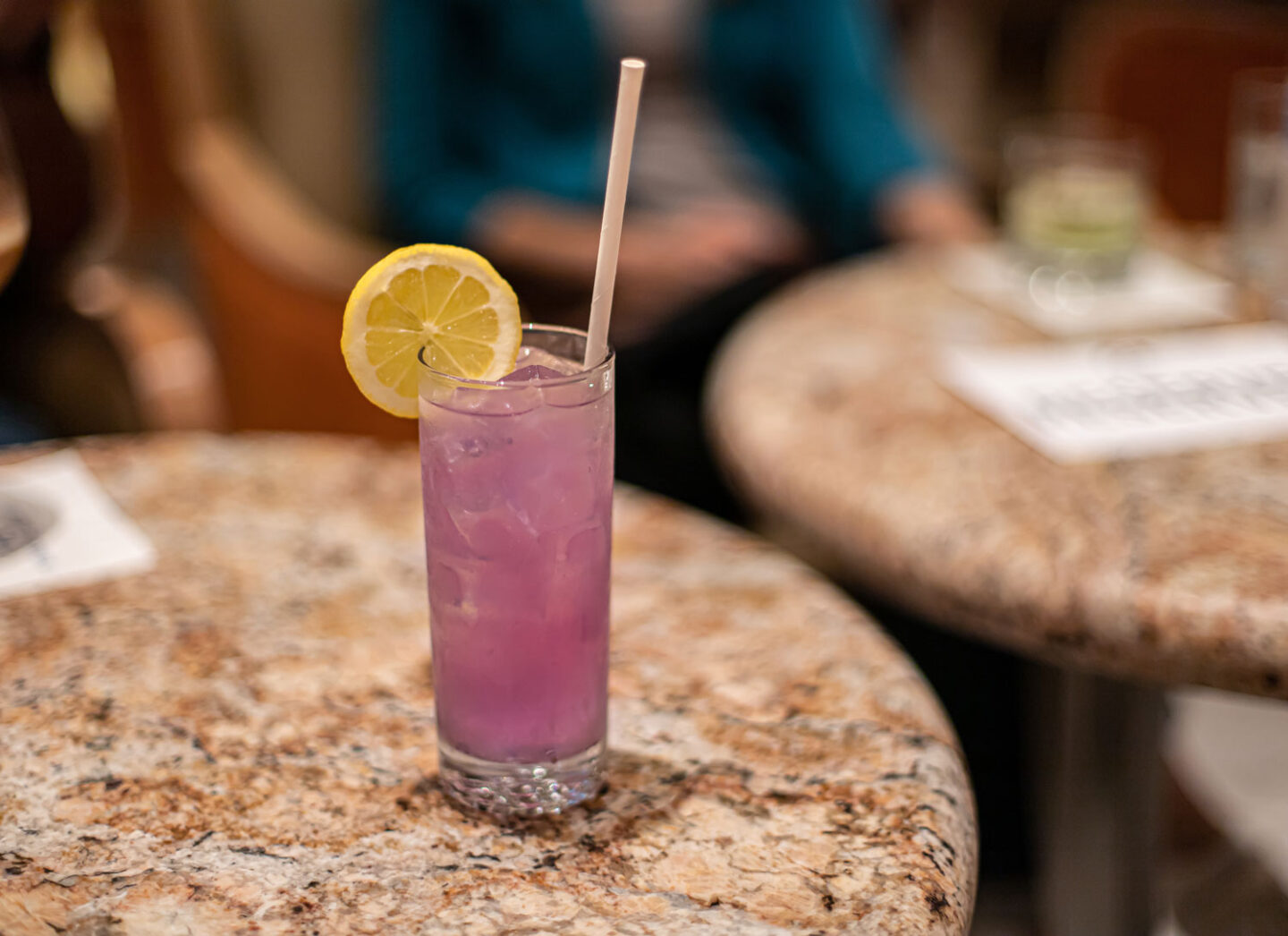 There are numerous bars (13 to be exact) throughout the Sky Princess with different vibes for different occasions, ranging from casual poolside drinks at the Wake View Bar, to lively jazz at Take Five and refined wine tasting at Vines Wine Bar. On the first night of the cruise, I headed to Good Spirits at Sea for a live immersive cocktail class where we were taught how to create a concoction of delicious alcoholic creations. Here you will find ten different cocktails and rumour has it if you try all of them before the cruise is over, you will receive a complimentary Good Spirits T-shirt as a badge of honour. My favourite was the Butterfly, a tasty blue gin cocktail that magically turned purple when stirred. 
If you consider yourself a wine connoisseur, then you'll have to book yourself into the wine tasting and blending experience at Vines, voted one of the Best Wine Bars at Sea. In this hands-on experience, you'll learn how to blend wines from Napa Valley. For $37pp you'll get to taste Cabernet Sauvignon, Merlot, Cabernet Franc and Malbec and create your perfect blend of red wine. My favourite part? You'll be served a complimentary cheese platter and if there's anything I love more than wine, it's charcuterie!

To enjoy the full experience of all the wonderful bars on board, make sure to purchase a value-packed Drinks Package.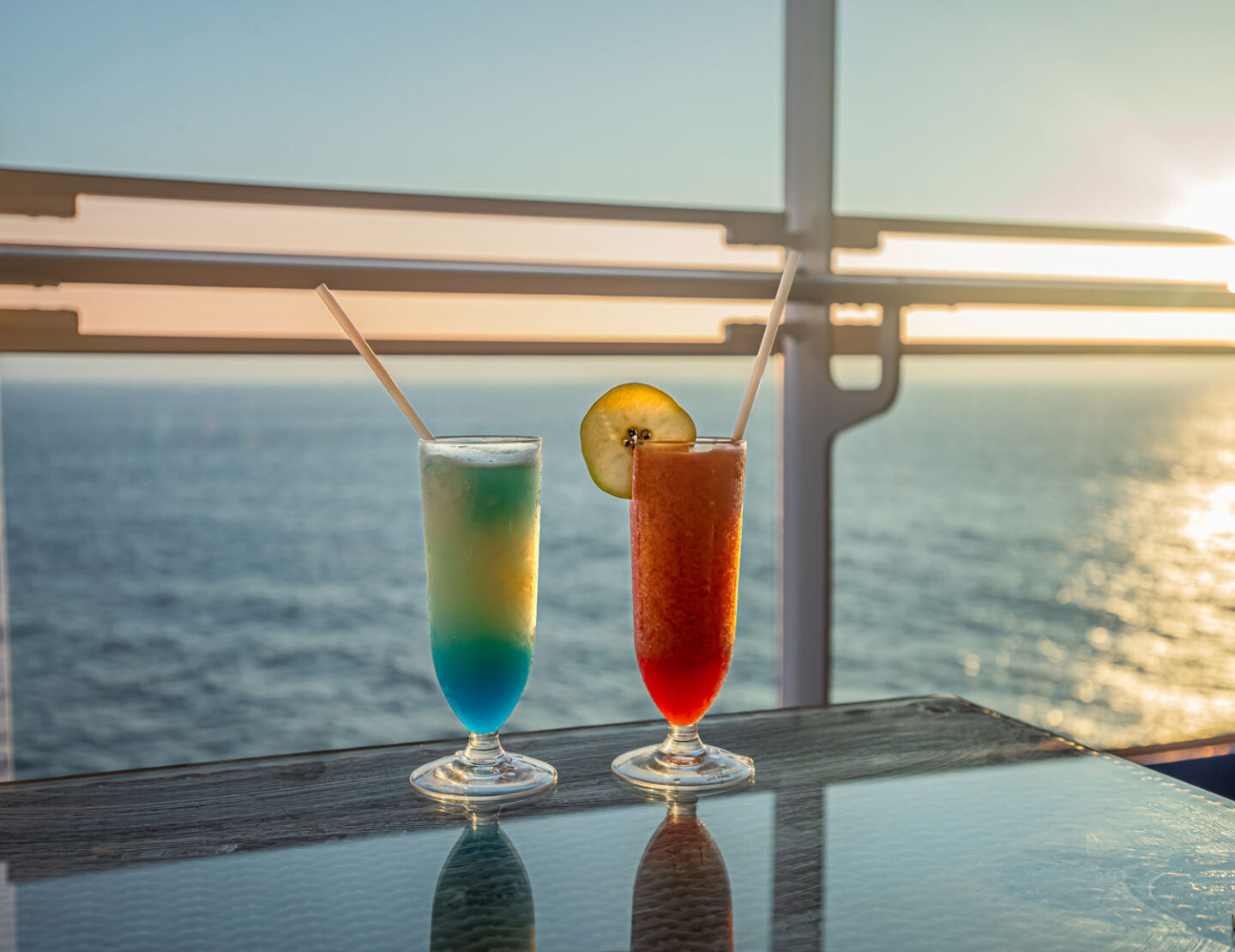 While food is included within the standard Princess fare, there are a few options when it comes to drink packages that are packed with value. There's always something to raise a glass to while cruising, and with the MedallionClass app you're only ever minutes away from your next round of drinks so to make life easy I recommend going for the Princess Plus Fare. 
It's a no brainer! For an extra £30pp per day, you can get the Princess Plus Fare which includes FIFTEEN alcohol drinks (cocktails, wine, beer, spirits) per day  + unlimited specialty coffees/teas/sodas, which came in handy for my iced latte addiction. Also included is unlimited Wi-Fi and crew gratuity. This is mind-blowing value considering £30 will only just about get you two cocktails in London.

Even if you don't drink alcohol, the Princess Plus Fare can still prove excellent value as it includes crew incentive ($15.50 per guest per day for mini-suites) and unlimited WiFi ($9.99 per day) plus unlimited premium coffees, teas, fruit juices, hot chocolate and non-alcoholic mocktails.
Book your 2022 Cruise Now
Just because you're on holiday doesn't mean you need to completely abandon your wellness routine. On the Sky Princess, you'll have access to a state-of-the-art Fitness Center, an outdoor jogging track, basketball court, free workout classes (such as Zumba & Yoga) & wellness workshops, making it possible to eat your cake, stay on track and align your chakras, because we all know calories don't count on holiday.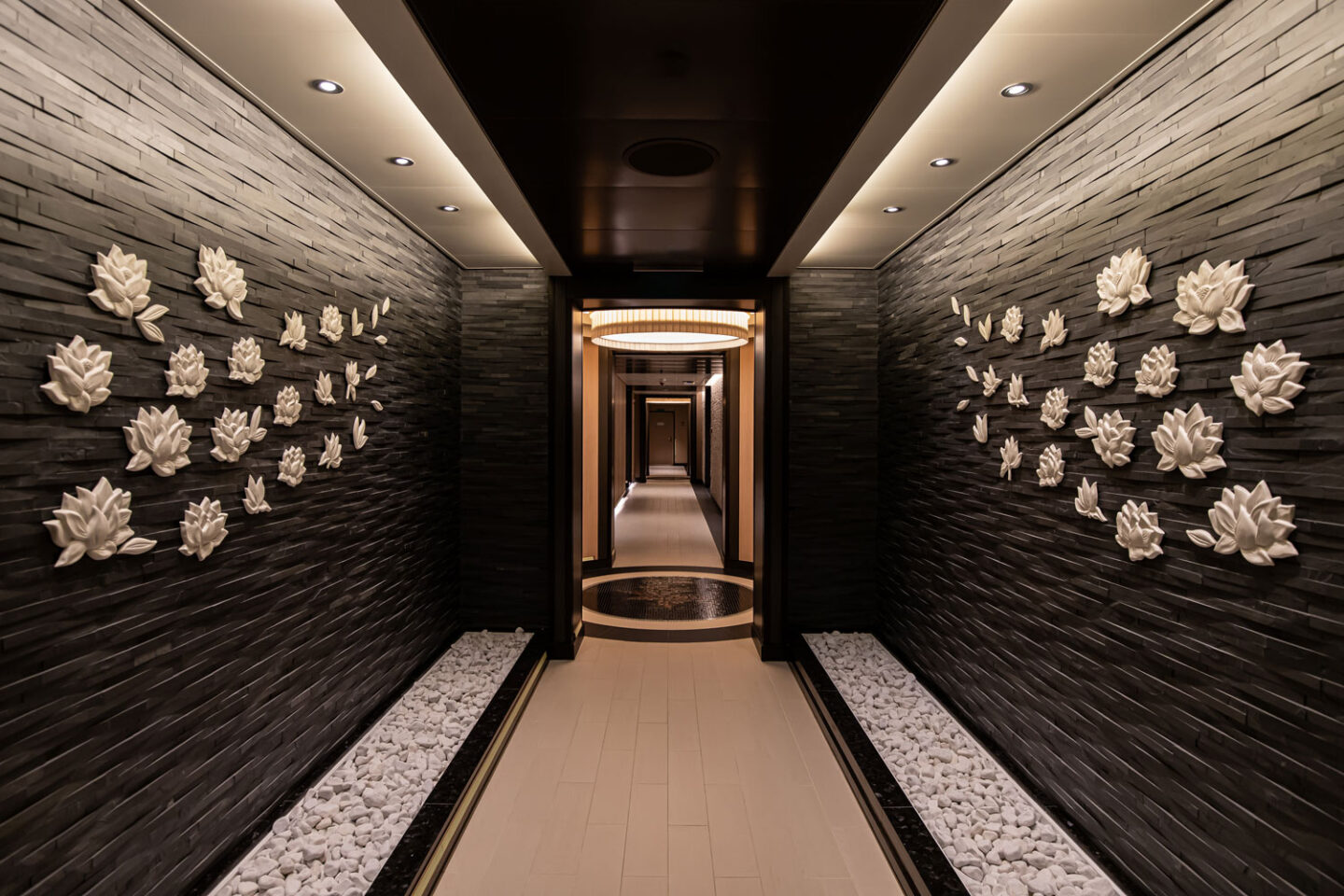 On the fifth deck of the Sky Princess, you will find a tranquil oasis, The Lotus Spa, as if there wasn't already enough places to unwind on board. The Lotus Spa is your destination to truly switch off and indulge in one of 50 spa or salon services and treatments. I had the pleasure of experiencing an aroma hot stone therapy massage, it was my first and definitely won't be my last! I appreciate that the therapist took the time to get to know me on a personal level, chatting through my worries and concerns and assured me that I would be looked after.
After my  75-minutes of pure bliss was complete, the therapist chatted through personal recommendations for me to continue on my wellness journey which is not something I've experienced before in previous spa visits. A common theme on Princess Cruises is that all crew go above and beyond.  Within the Lotus Spa, you'll want to spend most of your time in The Enclave, which has a hydro-therapy pool, heated stone beds and steam and sauna rooms that will leave you feeling rejuvenated. Access to the spa is $50 a day or $79 for the entire length of your cruise. Treatments and salon services cost extra.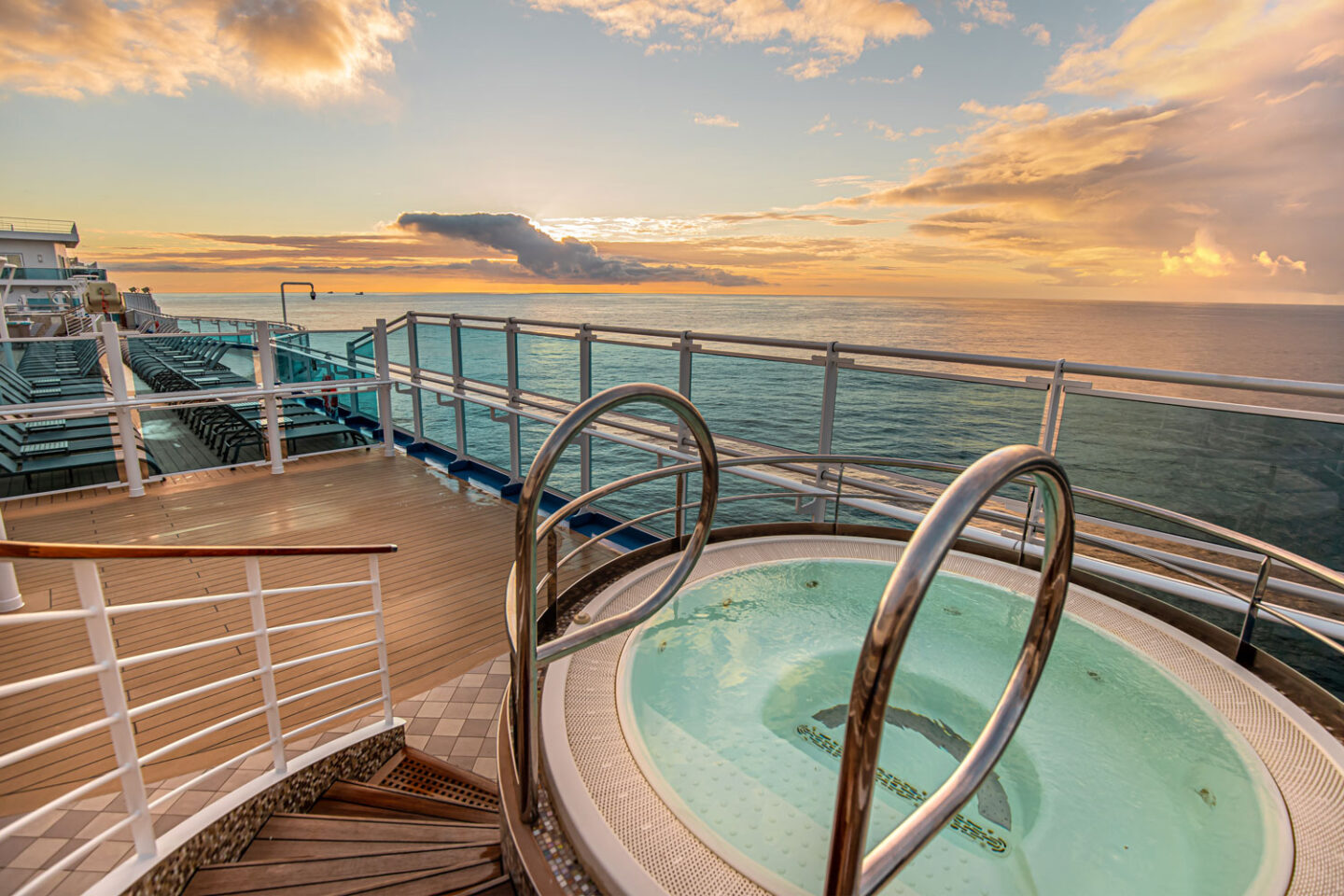 There's never a dull moment on board the Sky Princess with world-class performances in the Princess Theatre featuring Broadway-style productions, opera performances, magicians & illusionists and late-night comedians. For an after-dinner show, I highly recommend catching a one-of-a-kind performance of Rock Opera featuring a plethora of Broadway hits (for Greatest Showman fans, you'll be in luck!), avant-garde fashion and a spectacular light show. Admittedly I'm not a massive fan of musicals, however, the cast performed a lot of classic rock songs which is more my vibe.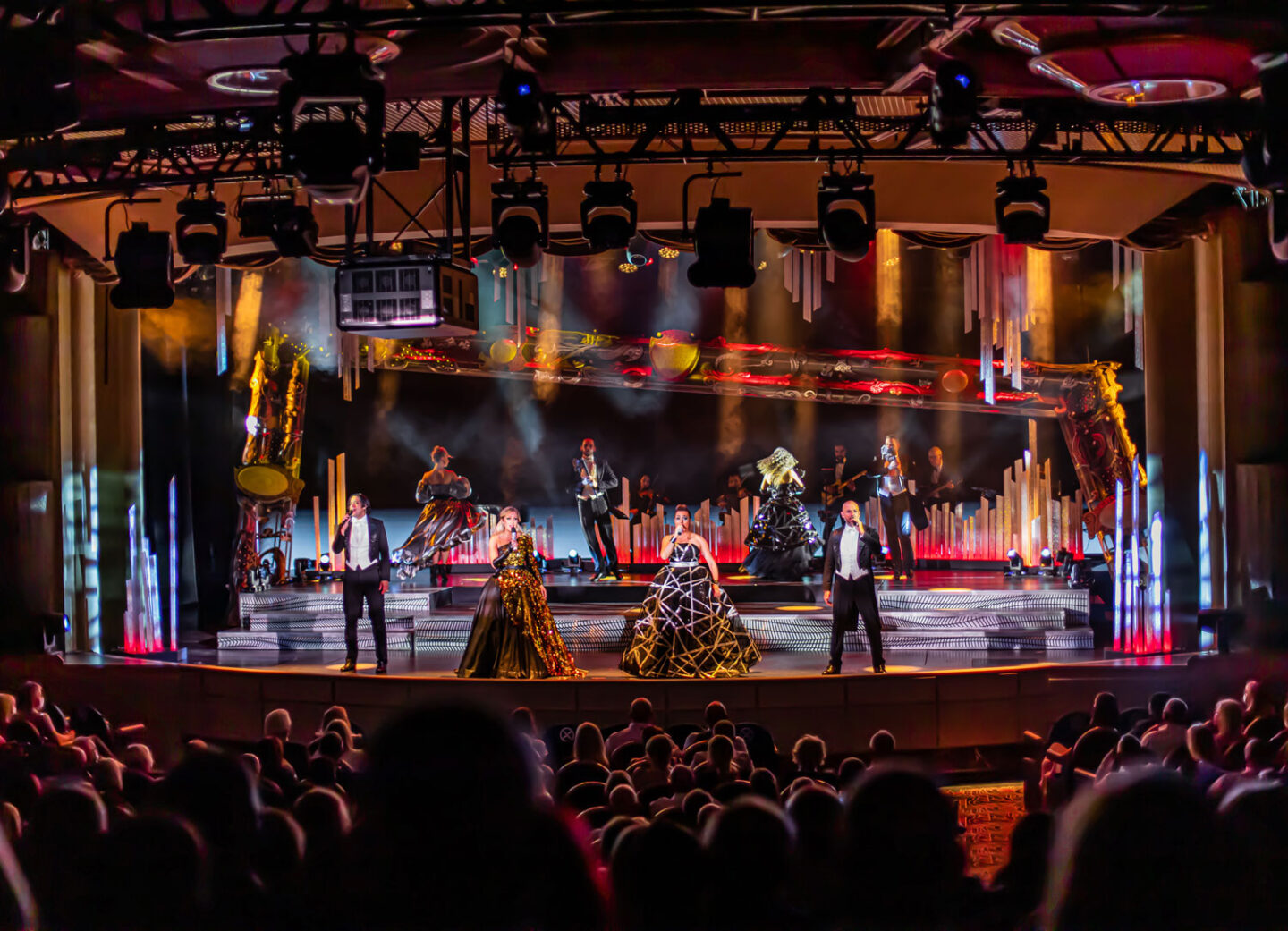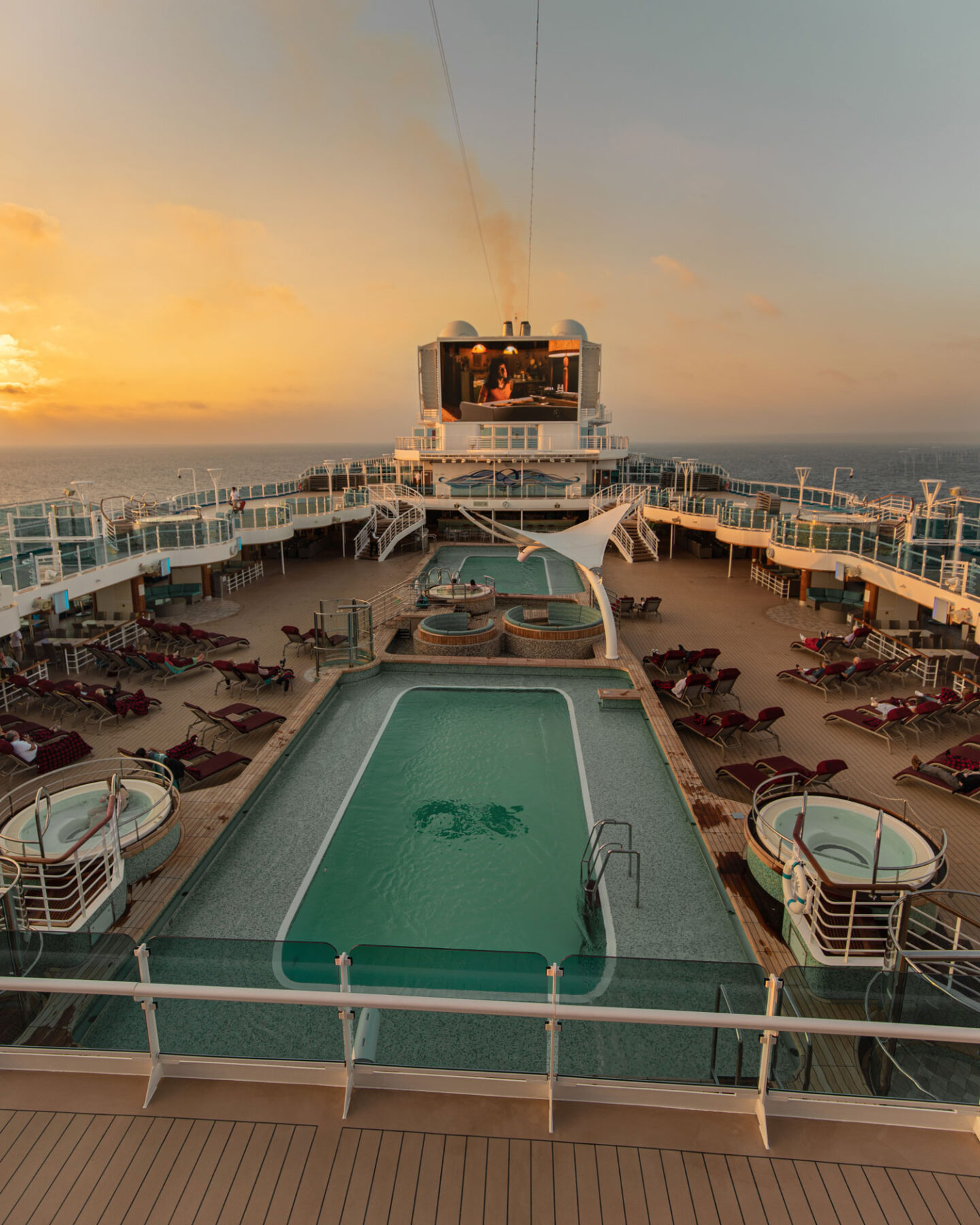 Want to keep the party going? Dance the night away in the Vista Lounge with nightly music from live reggae and mariachi bands who are bound to get you out of your seat. In the Piazza, you'll always find something going on, from relaxing live piano or string quartet performances to acrobats and jugglers. 
Fancy sunbathing and watching your favourite newly released movies and cinema classics? Order snacks through the MedallionClass app directly to your sun lounger and watch a movie on the giant 300-square foot screen, Movies Under the Stars, located on the lido deck.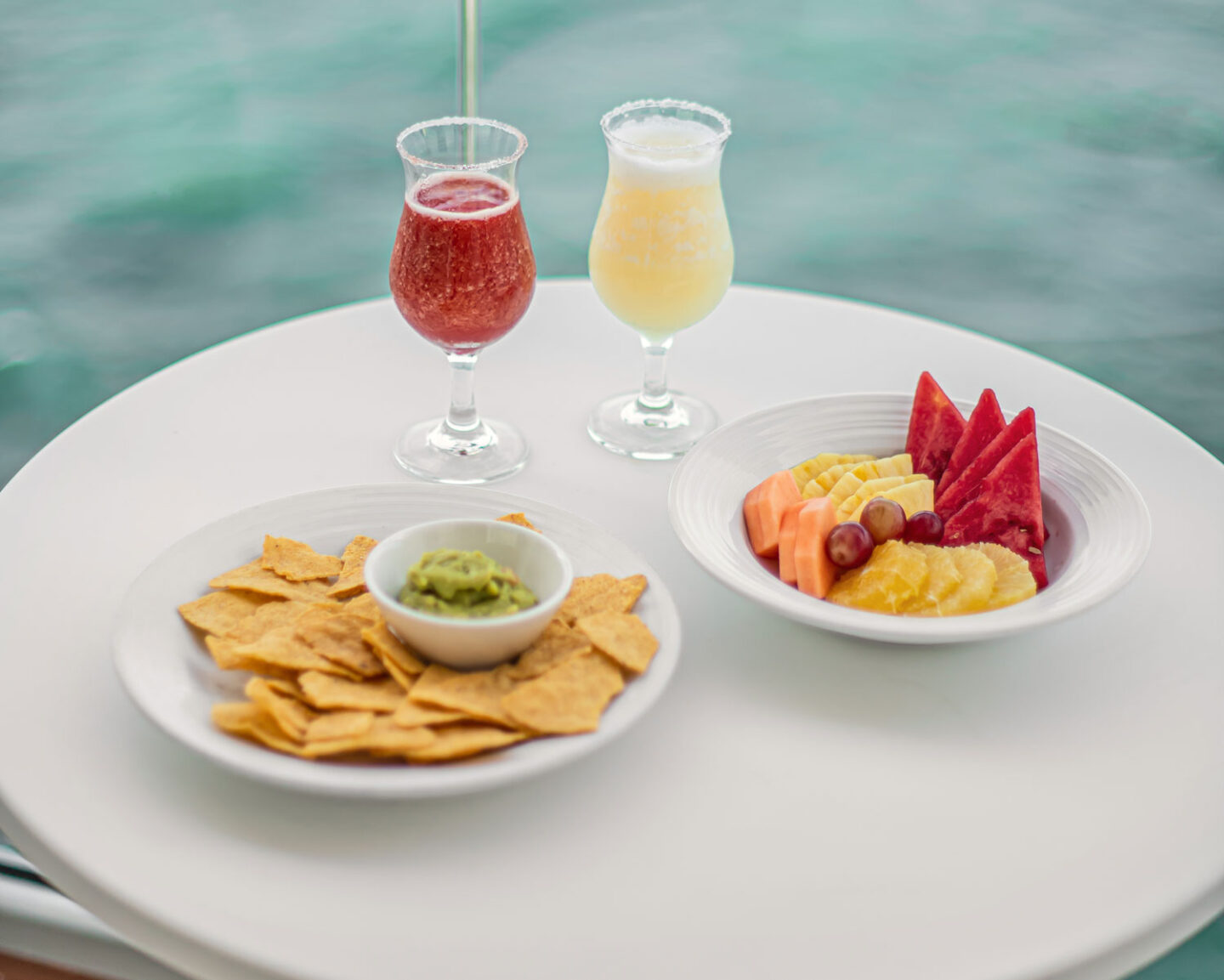 OceanMedallion + MedallionClass
You'll find that one of the (physically) smallest features found on Princess Cruises makes the BIGGEST impact when it comes to creating an unforgettable experience that is unlike anything else I have experience in cruising before. The OceanMedallion is a wearable round disc (no larger than a 10p coin), that every guest receives and which links to the free MedallionClass smartphone app. Both of these revolutionary technologies are unique to Princess Cruises and has paved the way for the future of cruising.
Think of it like your own personal assistant, both the OceanMedallion + MedallionClass app are there to help your stay be as seamless and as personable as possible and will unlock all the amazing features that Sky Princess has to offer with the touch of a finger — and in some cases without! 
One of my favourite features of the OceanMedallion was that it unlocked my stateroom before I had even reached the front door. Nothing worse than digging around for your room keys in the bottom of your bag after a boozy night at the bar. The medallion also acts as your payment method and helps the crew locate you on the ship so they can deliver your mojito to you as you're lounging on the sun deck, now that's what I call service
Contactless Boarding
Super fast boarding with your OceanMedallion
OceanNow
Get Food & Drink delivered to you directly, anywhere on the ship
Keyless Stateroom Entry
Perfect for when you're hands are full (cocktail or coffee to go anyone?)
TrulyTouchless Payment
Tap your OceanMedallion on board for easy contactless payment
Shipmate™
Easily locate your loved ones on board using GPS
OceanView
Watch TV and movies on your mobile or stateroom TV
Dine My Way
Make dining reservations through the app
OceanPlay
Play interactive games directly from your smartphone
JourneyView
See what activities & events are happening and make reservations
MedallionNet
Access the internet anywhere on board (note: Wi-Fi packages are extra)
Ocean Compass
GPS Route Planning – easily find your way around the ship
Make sure to download the MedallionClass app ahead of your cruise journey so you can make the most of your trip prior to embarking.
You needn't worry about getting cabin fever at any point during your cruise as there is simply an endless roster of activities. So much so that it's virtually impossible to spend two days the same on board the Sky Princess. There's champagne art auctions, mini-golf, trivia nights, tax and duty-free shopping, wine tasting, arts and crafts classes, LGBTQ+ get-togethers, DJ sets, complimentary massage tasters, cocktail classes, pampering parties, basketball tournaments and many shows and performances to keep you entertained. All these activities are included at no extra cost to guests.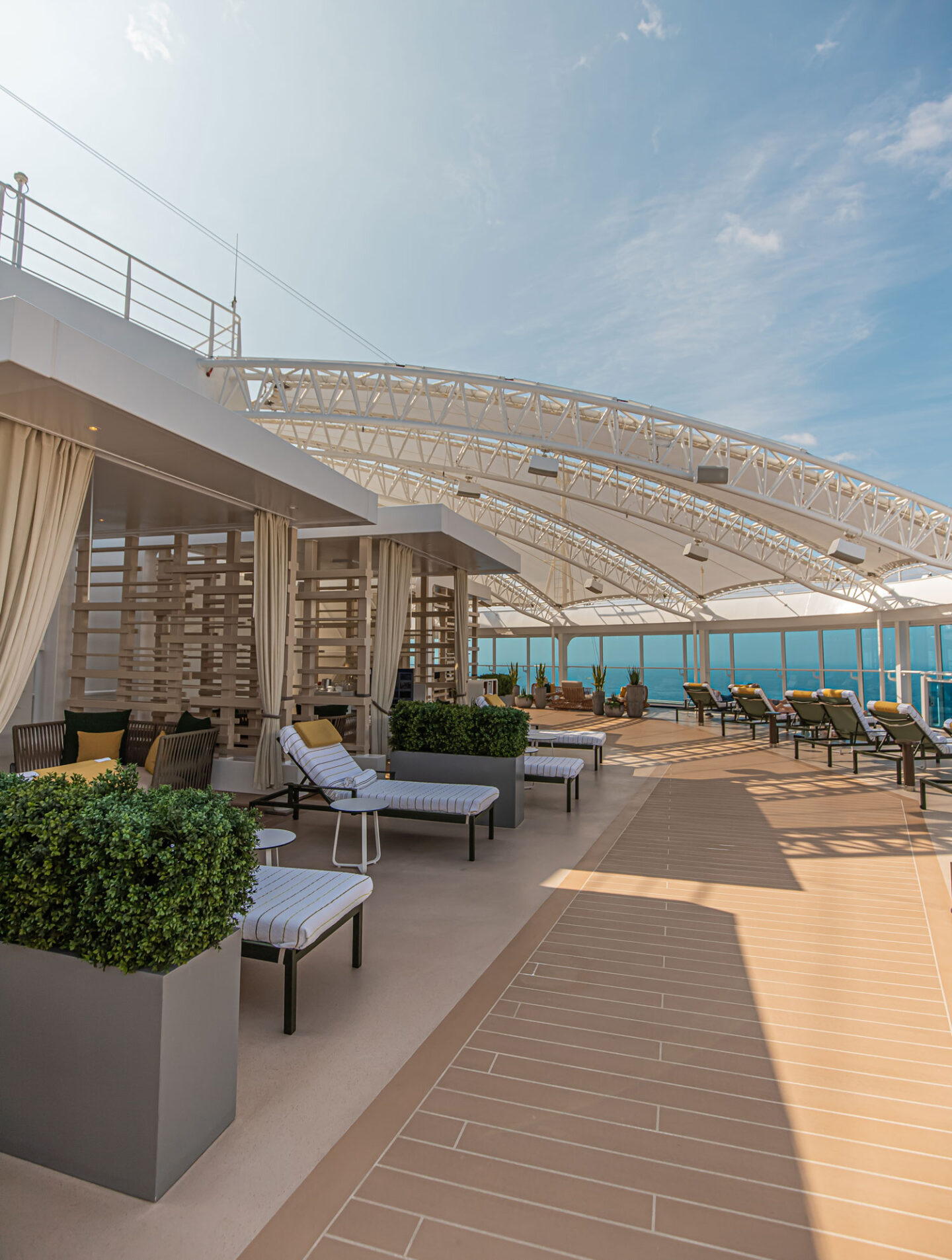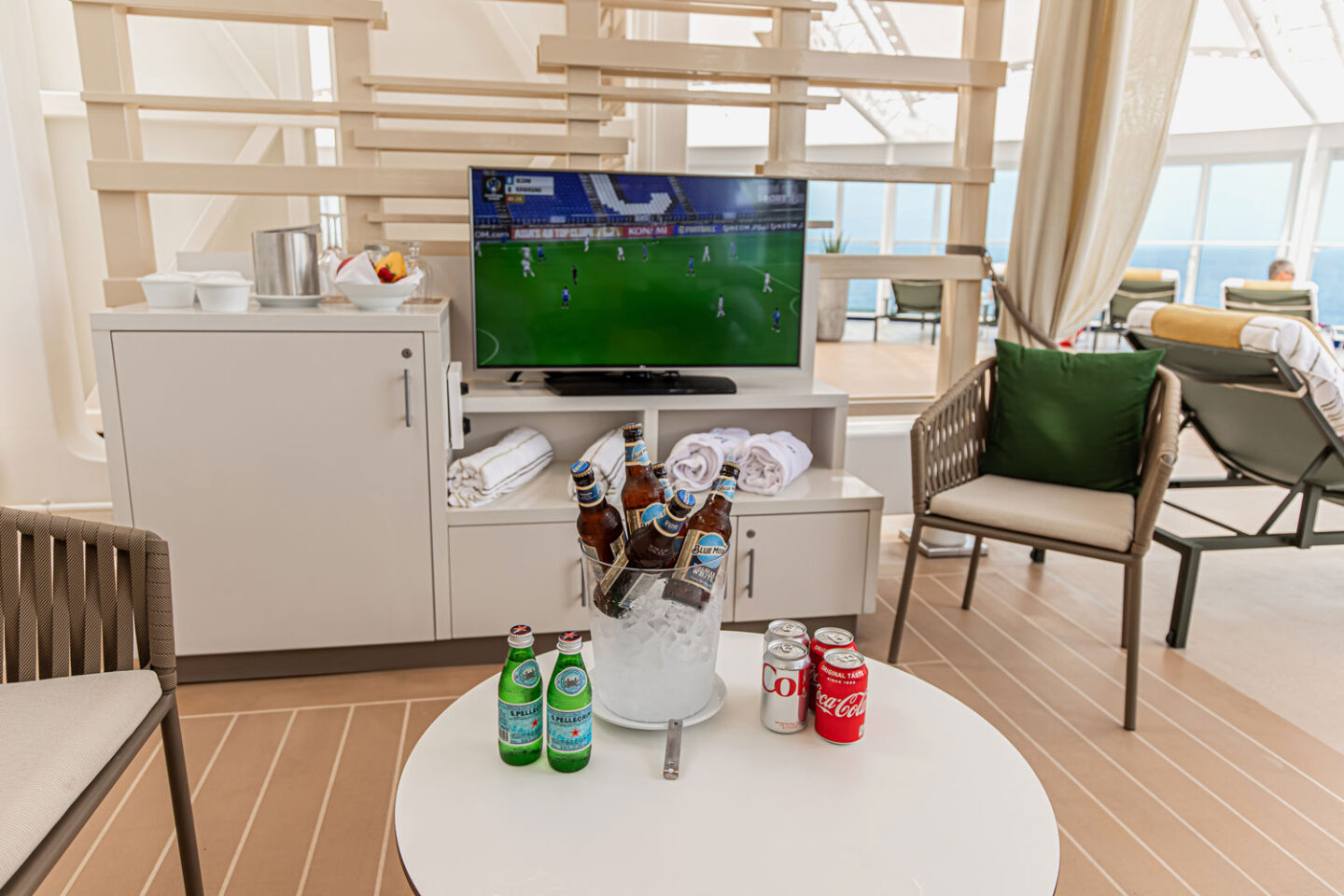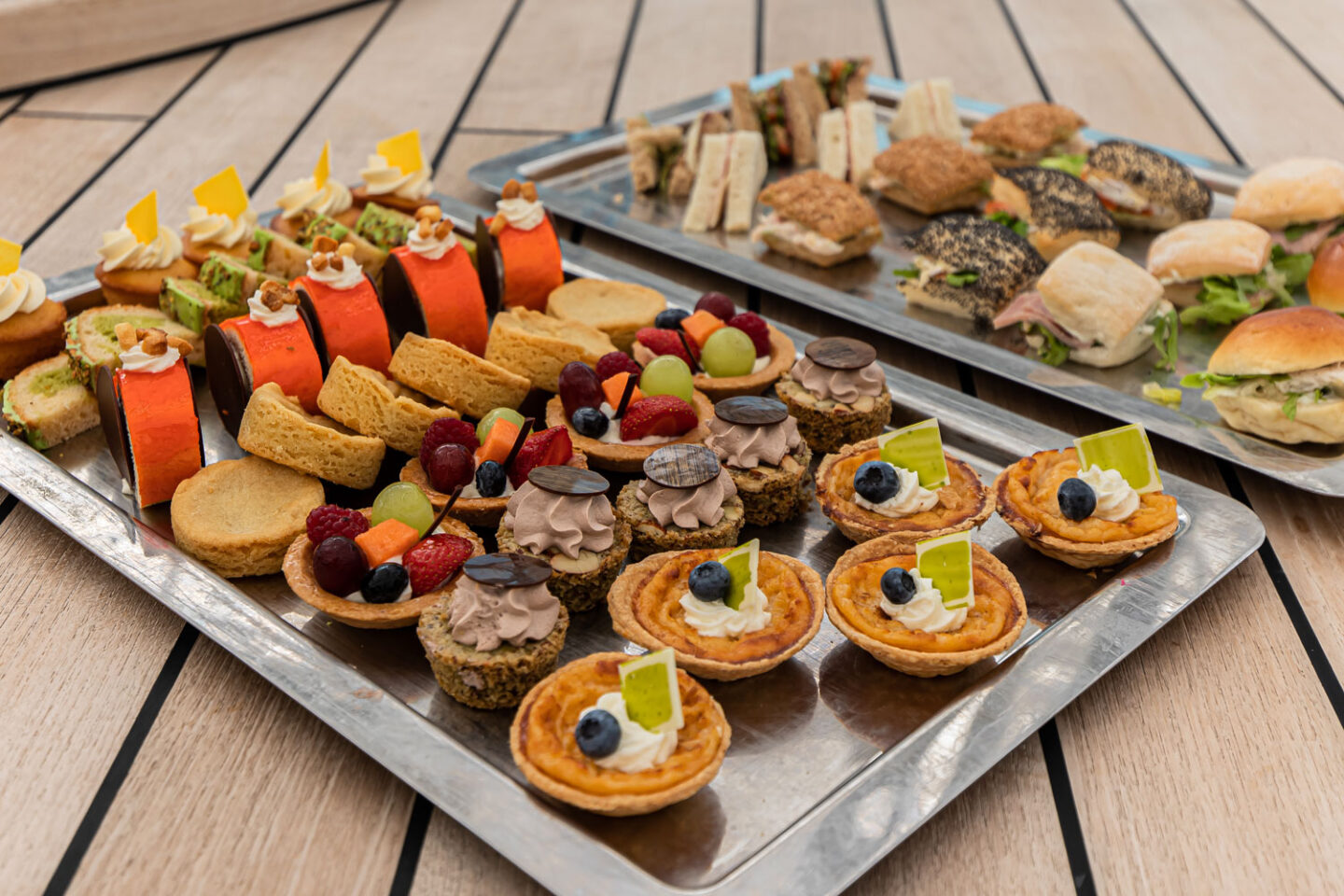 You'll be surprised to know that even with so many options, one place I kept coming back to each day was The Sanctuary – a luxurious adults-only retreat/spa area located on the top deck. Here you can reserve a plush sun lounger and enjoy open-air sunbathing without a worry in the world.
Entry to The Sanctuary is an additional charge of $20 for half-day / $40 for full day. If you're travelling with your family or mates, you can hire an entire private cabana for $140 for half-day / $220 for full day which comes with its own lounge & TV area, and includes a complimentary bottle of wine or spirit, or a bucket of beer.
Make sure to book in for an afternoon slot at The Sanctuary so you don't miss out on the complimentary afternoon tea that's served each day at 4pm.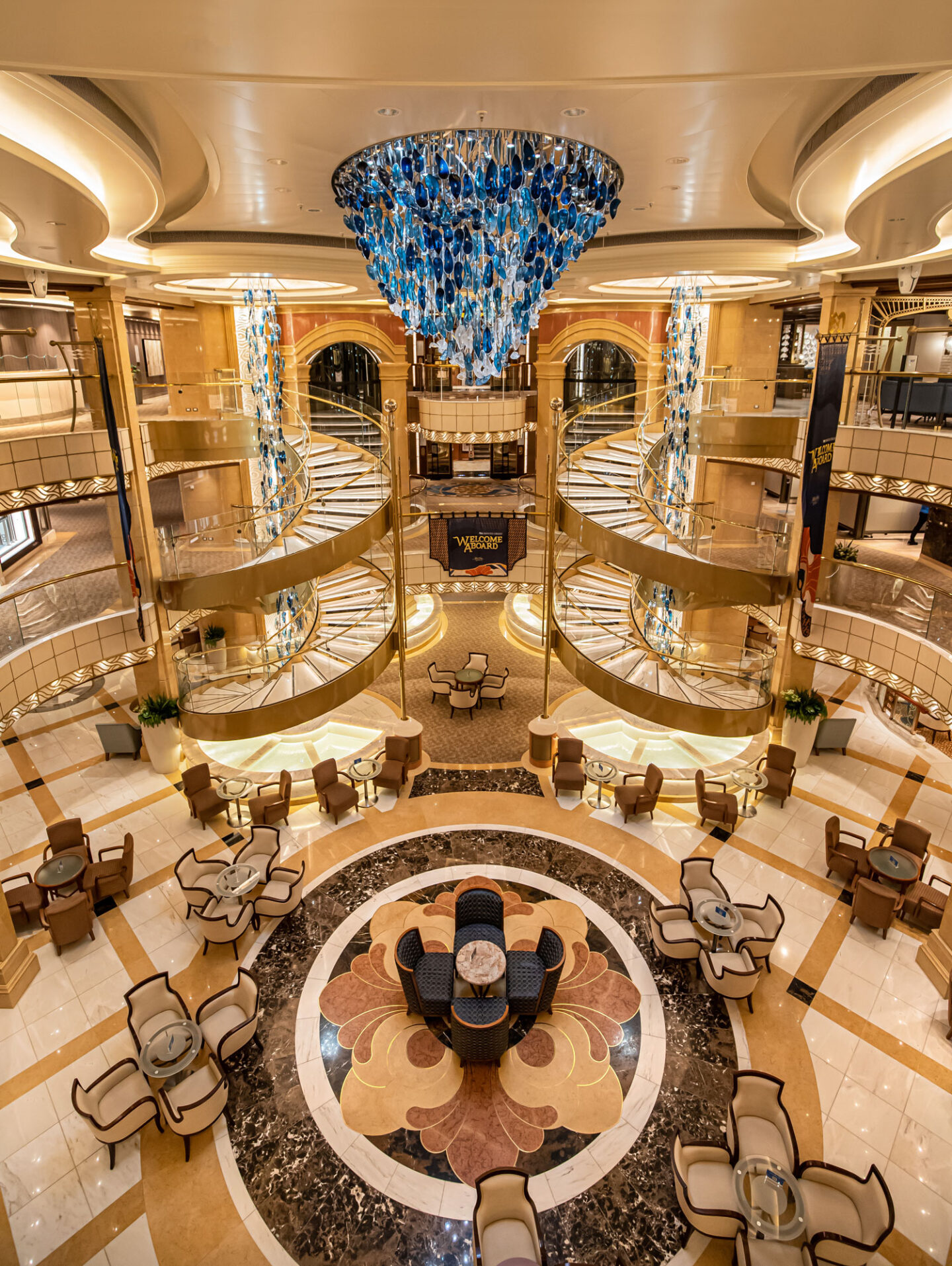 Sunsets at sea, hot stone massages, cocktail classes – while it's hard picking my favourite thing about cruising, the aspect that has stood out to me the most is the remarkable service I experienced from the crew on board the Sky Princess. You can tell the crew genuinely love their job (and who wouldn't!). The crew are so personal with everyone on board, they make you feel like you're part of the family, often cracking jokes with you when serving your dinner. Within 24 hours into the cruise, the barista at the International Café had remembered my coffee order "Iced Coconut Late to go for Miss Kelsey". I can't even remember my age some days, let alone the names of people I've barely met. Nothing is ever too much trouble and every wish is made possible from the fantastic Sky Princess crew.

Crew gratuity isn't included within the Standard Princess Fare and is charged from $14.50 per guest per day depending on your stateroom category, however, if you opt for the Princess Plus package, crew gratuity, drinks and Wi-Fi will be included in this add-on.

Now I can't imagine high-speed internet is the first thing you think about when planning a holiday. That being said, staying connected while at sea is important, at least so you can upload your photos to social media to make your friends jealous, am I right?
The Princess Cruises Wi-Fi is described as being the best "the best at sea" however if I'm being honest I found it rather slow. While the speed on my mobile was decent I did find the connection on my laptop was on the slower side. That being said, I can't imagine you'd want to be using the Wi-Fi that much as you'll be too busy having the time of your life.
When it comes to COVID-19 & cruising, Princess Cruises has ensured your health is their highest priority. As the world reaches higher levels of vaccination, COVID-19 protocols can change month-to-month so the best thing you can do is look at the regularly updated COVID-19  policy on the Princess Cruises website.
On my trip in September 2021, it was a requirement for all guests and crew members to be fully vaccinated and to test negative only hours before boarding. COVID-19 tests are provided at check-in at no extra cost to guests. Everyone was wearing masks inside the ship with the only exception when eating and drinking, of course. Surfaces were constantly being wiped down by the crew, the ship was spotless and you're always only a few steps away from a hand sanitisation station. Honestly, I actually felt a lot safer on this cruise than I do in my day-to-day life in London. I mean think about how gross the tube is during non-COVID times, let alone during a pandemic.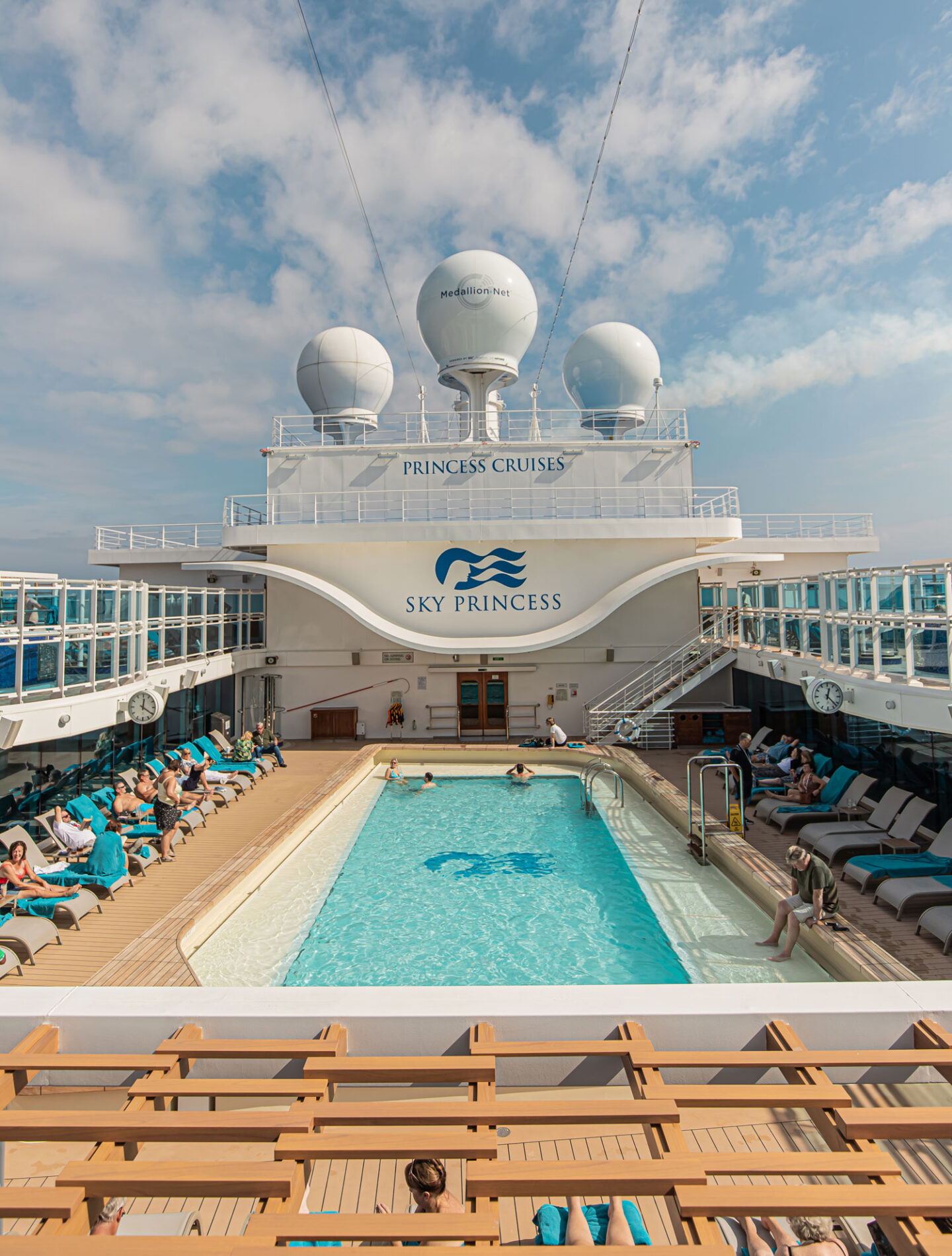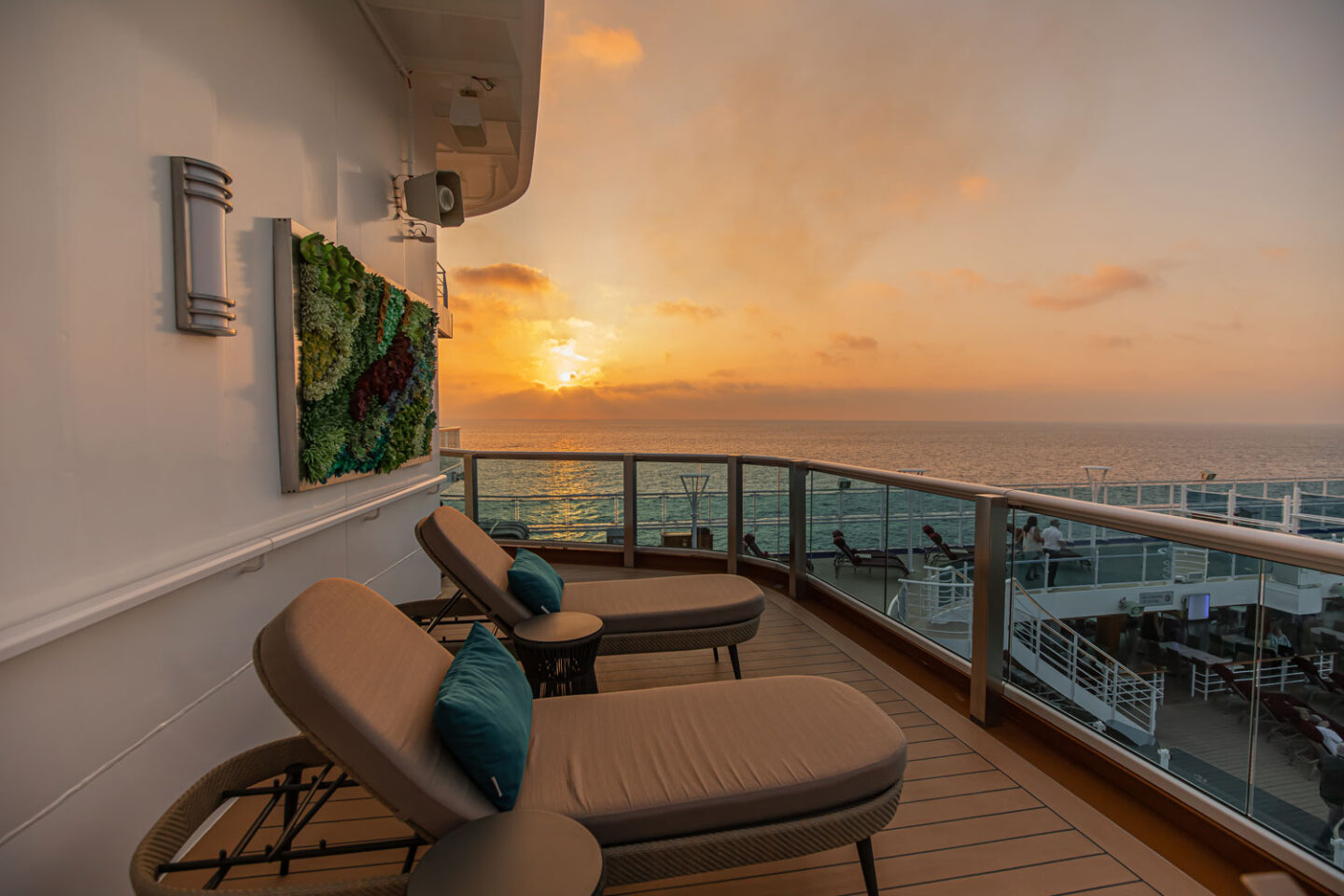 Never did I think I would have set sail on multiple cruises before I had turned 30. I think there is a common misconception that cruises are expensive or for retirees only – well think again! What I love about cruising is that you can really make it your own experience, whether that's late-night salsa dancing or sunrise yoga. This was my second time on a cruise ship and it certainly blew my expectations out of the water, thanks to the Sky Princess crew. There's really something for everyone on board with endless activities, restaurants & bars to check out in between ports, making it an unforgettable experience for millennials, newlyweds and families alike.

I've certainly got the cruise itch and I am dying to experience a cruise week where I can sail further than the English channel. I've got my eyes set on a Mediterranean cruise next stopping in Rome, Venice and Florence. The Seacation was a fantastic experience and gave a taste of what cruising life is like and showed me how much fun you can have on sea days. What definitely surprised me the most is the value and how affordable cruising is. International cruises are back from October 2021, with balcony staterooms starting from £499pp. Considering how much is included within the standard fare, holidays with Princess Cruises are an affordable way to see the world in style, saving hundreds on flight/train costs and making priceless memories that will last a lifetime.
xx Kelsey